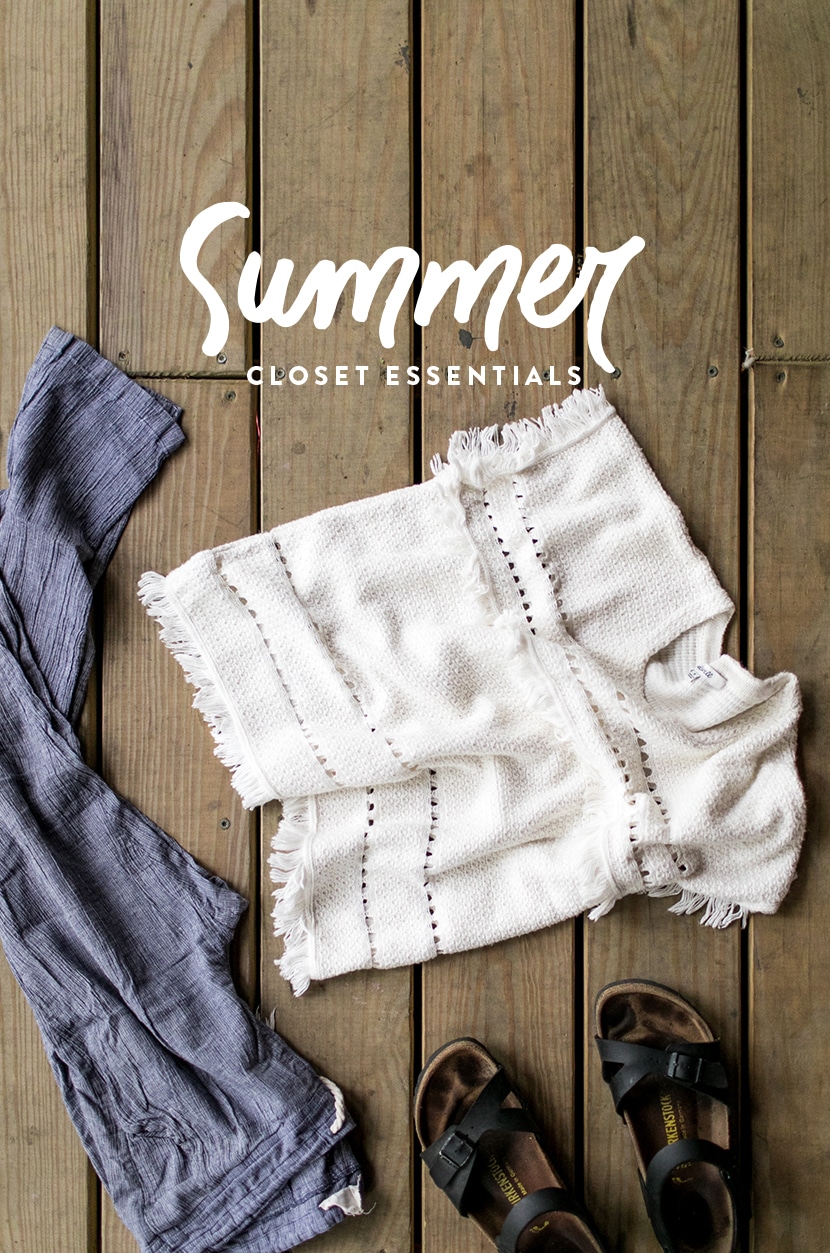 Ahh summer! These are the months for tank tops and shorts with your favorite leather sandal. They are meant for bikinis with a glass of wine and going for runs that end with you cooling off in the water. The season is for sure here with how warm some of these days have been lately and so I felt it was well passed time to share this season's edition of A Seasonal Closet. Just like spring, I put together a full list of items + I also created a worksheet for you to print to help minimize your closet down to just what you need.
Now, this is slightly different than a capsule wardrobe. For a seasonal closet, I am focused on giving you a list of the essentials you need, but you may have some items you love and wear beyond these suggested ones and that is okay. I believe you should have things in your life you love but have the essential items to build off of from there. I have more than just these items in my closet for summer, but I could also exclusively live out of the items on this essentials list at the same time and for the most part I do. Beyond these items, I have a handful of other items I personally love and enjoy that I wouldn't call essential, but are worn and loved. Very important, right? More than anything the goal for the Seasonal Closet is to make it an intention to set aside time to become aware of what we have, toss what we haven't use, and put away what we no longer need for the season at hand. This gives us purposeful time to check in with what we have so we can enjoy what we have. That is the concept of the seasonal closet, which I probably will repeat in the fall as well.
That all said, I personally have been working to find items that are from companies that lead with purpose behind them. Since I spend so much of life focused on being purposeful with our food, home, and life, I felt it was about time to start investing my wardrobe in quality items from companies working with a goal behind what they do and are brands we believe in. Now, some items I have yet to find a source I feel good enough about to fill in for certain brands so you will see some of them still lingering and I would love if you shared suggestions for other ones. These days quality items are more readily available and more companies are emerging doing great things so the more we support them the more the fashion industry will follow suit. I understand that at times this means these items cost more so it isn't always possible to fill your closet each season this way, but my hope is that maybe one item a season will need replacing and you will choose to fill it with one of these awesome brands in hopes you are supporting something good as well as investing in a quality item for your life. It is a process there is no doubt and doesn't happen overnight, but even over the years my closet has slowly shifted itself and many of the items I suggest below I own and that is why I suggest them. More on this as I break out each item.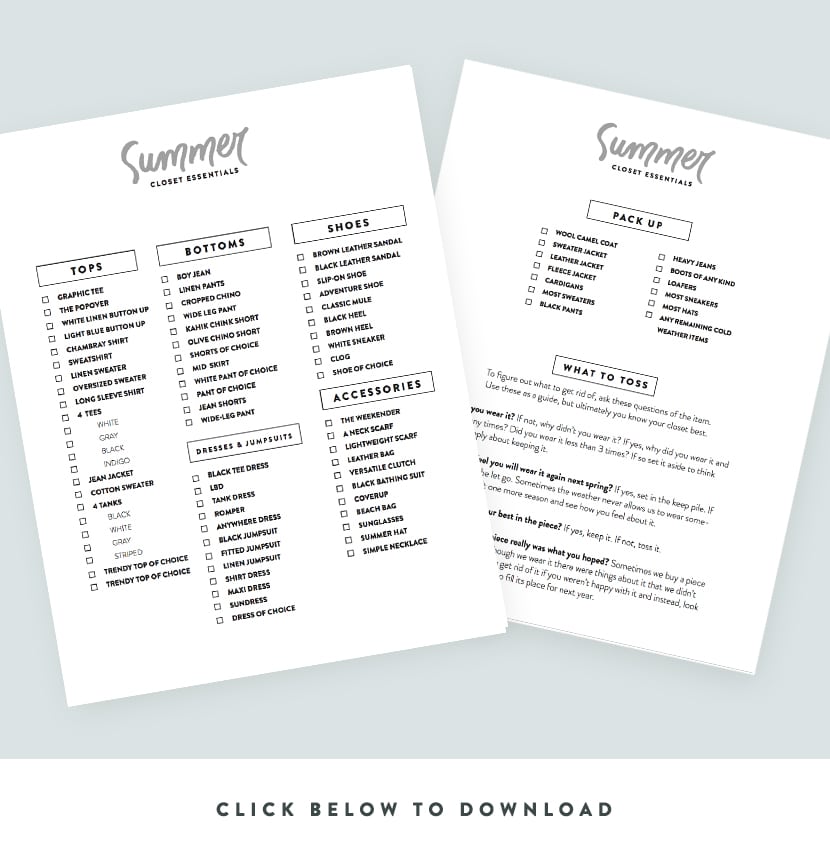 Before jump in, here is your download that I made so you can check list your closet. Then you can refer here if there is an item you need to add in or replace.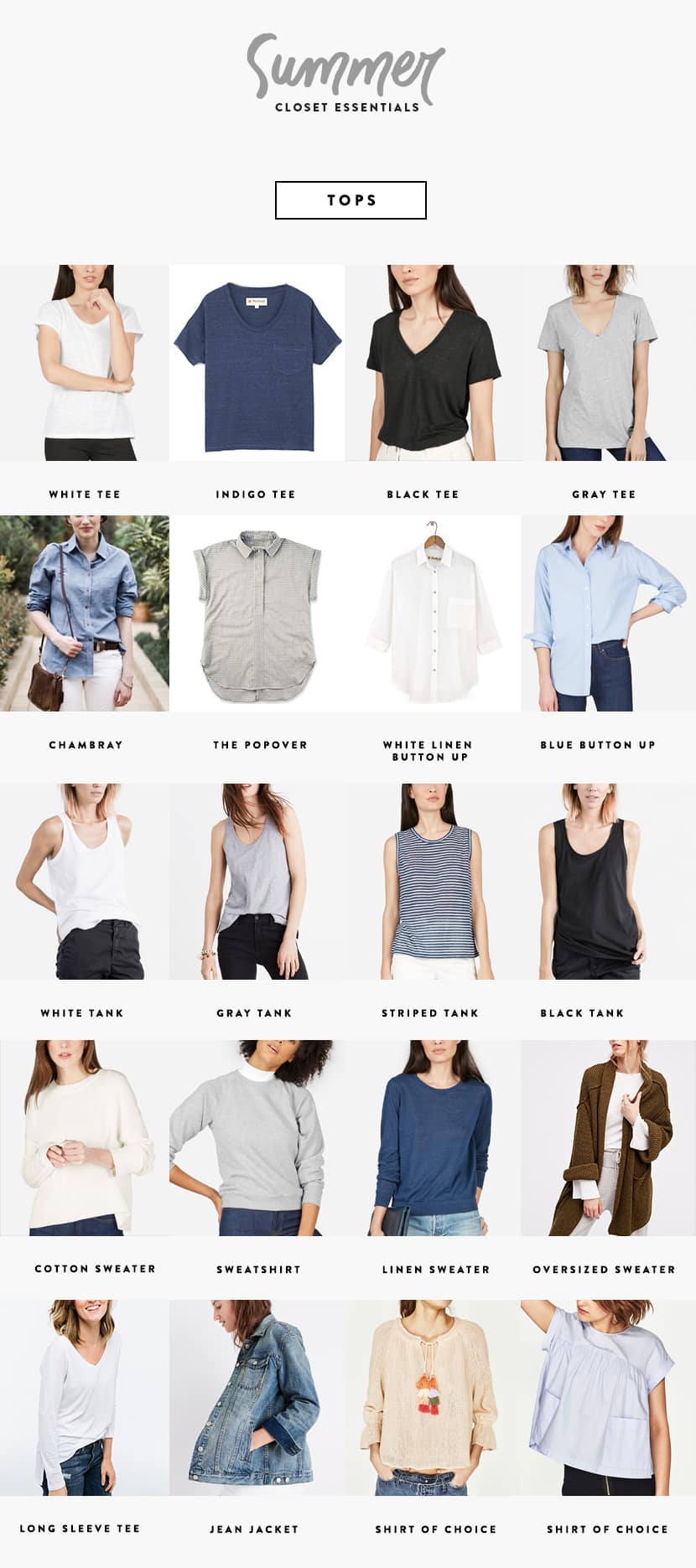 4 Tees:
I live in tees so I have more than these, but when I think about which ones are essential, I come down to these 4 colors in my closet. They are the most versatile and easy to dress up or down. I suggest Madewell and Everlane (white, gray, and black) for most of your shirts, but those shirts from Mollusk (indigo) are still some of the best as well.
Chambray:
You cannot live any season without a chambray so know that every season you will see this included as an essential in my closet. It is one of those workhorse items you have to have and having a great one is important.
Popover:
I think a popover is such a great item to have on hand throughout the summer. I love tossing on like this one from Jcrew on after swimming over my suit or tucking it into a skirt to go out at night.
White Linen Button Up:
This item is on rotation all the time in my life. You have seen me wear it this spring a few times and now it is being worn with shorts to the market, bike riding, or over a bathing suit. I love this one from Mollusk.
Blue Button Up:
I love a great button up (clearly) but the light blue in summer is the best. This one from Everlane is pretty great, but Tradlands has one as well I would suggest. Personally, I like ones that are light weight and accept wrinkles as a part of their look.
4 Tanks:
Similarly to the tees, I kept to the basics here, but I do have a couple others as well. I live in the ones from Everlane and Madewell the most when it comes to basic colors. Then I always keep a striped one around as well.
Cotton Sweater:
I know it is summer, but if you live in the midwest there are at times cool days especially on the water that need sweaters so I have a few I wear this time of year still. I lean towards ones that are loose and casual but still nicely made.
Sweatshirt:
On the same note as the sweater, a sweatshirt is extra nice as well. I actually keep my gray one from a local t-shirt store that says "Up North" as my go-to, but this gray one is also one I love.
Linen Sweater:
I know, you didn't think linen could consume your closet anymore, did you? Well, a sweater like this is a must. Linen knits breathe really well, but on a cool day in the summer they are perfect especially on the water. I love this one in indigo.
Oversized Sweater:
This is also known as the beach bonfire sweater. It is essential! I have one from Zara that has a pattern on the bottom and tassels and I wish I could suggest that one because it really is perfect, but this one from Mollusk was the best I could find without being 100% artificial fabrics. I suggest finding one with a high content of cotton in it so it breaths and wears well.
Long Sleeve Tee:
I always keep one in my closet this time of year. I toss it over a tank on a cool morning and night after a really hot day. This linen shirt collection from Everlane looks so comfy and the fit is really good!
Jean Jacket:
This is the only jacket I wear all summer. You don't really need anything else really. This one from Tradlands is awesome and super similar to the one I have from Levi's that I love.
2 shirts of choice:
I think you should always have room on your essentials list for trendy pieces that you my cycle through over the summer. I love This raw Finish Tank and this embroidered top. They are really cute and fun additions to my closet of basics.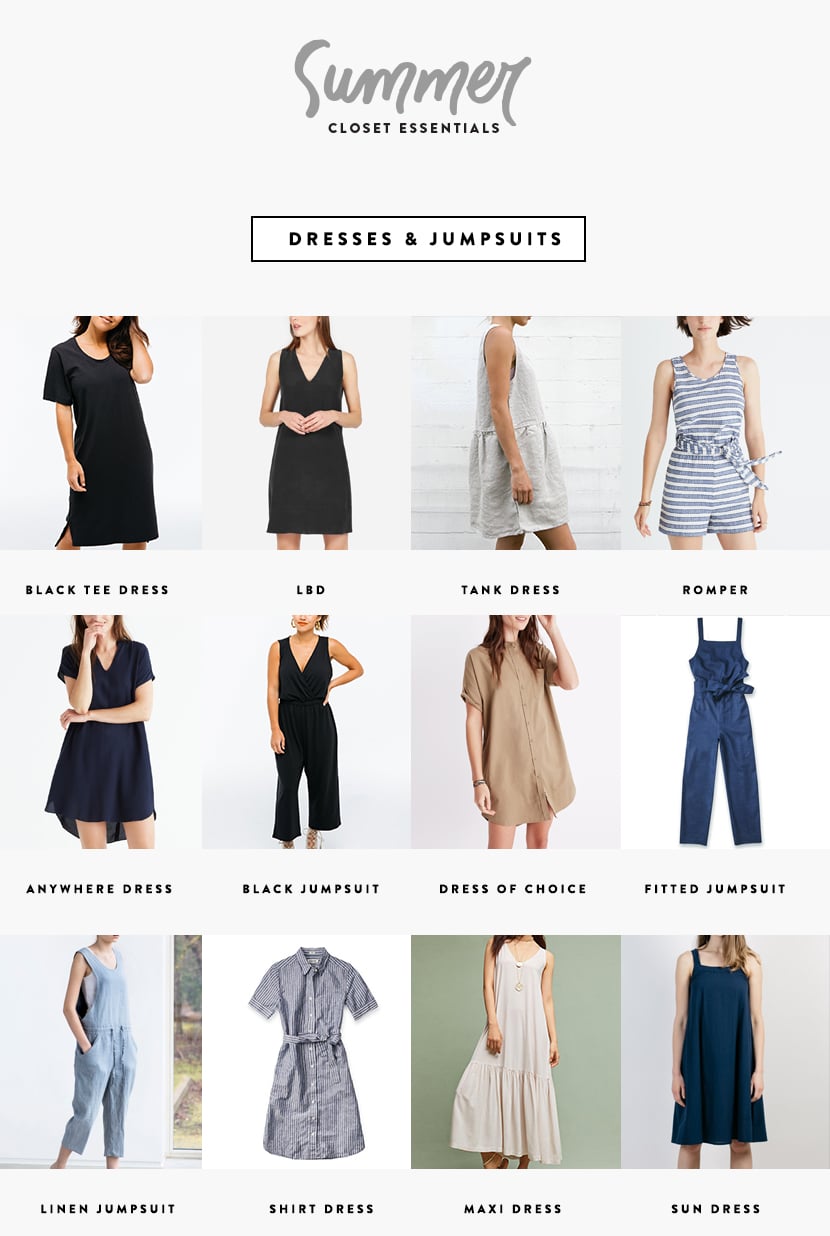 Black Tee Dress:
The most essential item for summer. I love this one from FashionABLE made of Pima cotton. I wore it in my 3 outfits for everyday post and have worn it quite often already this summer. It is a wonderful dress for anything.
LBD:
If you are only going to have one nice dress in your closet, have a Little Black Dress. I know black isn't very summery, but it is classic, clean, and hides sweat. So if you have to have one go-to nice dress get one like this one from Everlane.
Tank Dress:
There are hundreds of styles you can go for with a tank dress, but no matter what it is essential so find one you really love and will wear a lot. I am eyeing this one from Jungmaven in 100% hemp linen. It looks so comfy and casual. Totally my type of dress.
Romper:
It isn't for everyone, but I have one similar to this one above and I wear it a lot. It has pockets and is great with sneakers. I love how simple it is and easy to get dressed when I wear it. I also love that it can be dressed up or down. It has gone to nice restaurants and on hikes.
Anywhere Dress:
I am leaving this one in your hands, but you should have at least one dress in your closet that is your anywhere anytime dress for summer. Meaning you can wear it for literally ANYTHING you may have on your plate for the season. I have one very similar to this one from Madewell and going on 3 years now it is just now starting to show the everyday wear, but it has served me well and is always a hard one to pack up at the end of the summer season.
Black Jumpsuit:
I love this one from Need Supply and it is on sale. You can dress it up or wear it to hang out in in the morning while drinking coffee. You can also treat it a lot like overalls if you wanted to.
Dress of choice:
Another place to fill in the blank of a dress you feel would fit will with some trend you want to enjoy this season. I love this super simple shirt dress, but you can choose whatever you want.
Fitted Jumpsuit:
I am a jumpsuit fan, clearly. I love having a well-fitted jumpsuit that I can wear for casual weddings or out on a date or even to an event. It is a perfect item to have on hand during the summer because it requires little thought and can be extremely flattering.
Linen Jumpsuit:
I love a loose fitting linen jumpsuit on warm days. Toss a tank or tee underneath and it is similar to wearing overalls. I love this one from Elizabeth Suzann and finally thinking of pulling the trigger on it.
Shirt Dress:
An awesome dress to have during these warm months. Once again another item like the fitted jumpsuit that can be worn to casual summer weddings or to events where you need to dress up. This one though gives you the option for no pants, which is even better. This dress is wonderful because you can convert it into a shirt as well. This is a true shirt dress.
Maxi Dress:
I always have one maxi dress in my closet this time of year. I love them for afternoons relaxing at home or evenings sitting on the porch and reading. This one is really beautiful and perfect.
Sundress:
For those really hot miserable days in the summer, this is an essential to have. You want something that basically makes you feel like you wear nothing. I love this one from OffOn Clothing.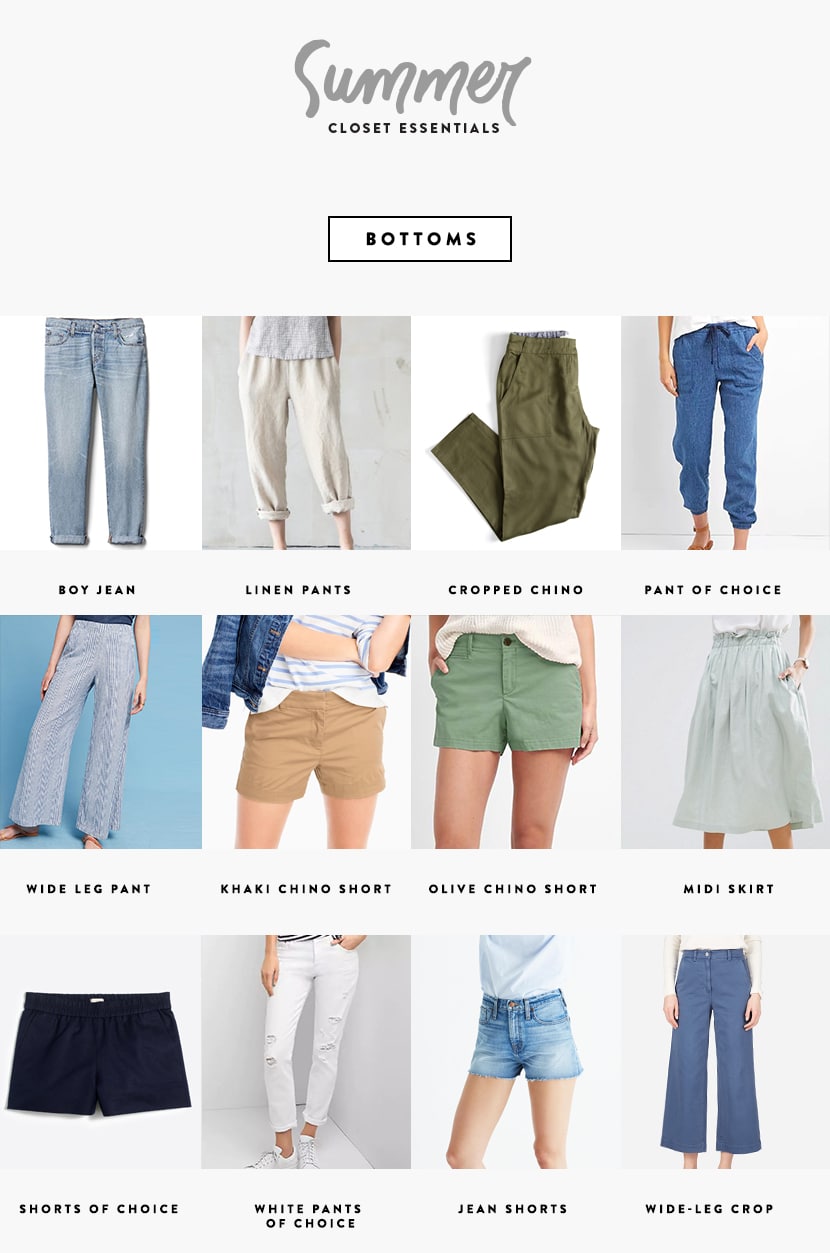 A note: I had a hard time finding other brands than these suggested making pants I could recommend. I have tried a lot of brands, but in all honesty, I continue to come back to Gap for my pants. They fit me the best and because of that, that is what I feel good about suggesting. If you have found others, please suggest them in the comments. I would love to give some a try!
Boy Jean:
A great loose-fitting denim this time of year is essential. I don't wear much else in the denim pant department other than a light boy jean like these ABLE Denim.
Linen Pants:
I will be living in these guys all summer because sometimes I don't want to wear shorts and want to also be comfy so these are the winners. They work great on the beach or on cooler relaxed days.
Cropped Chino:
I love a great chino in the summer and a cropped one is the perfect way to enjoy the season. These ones from Everlane come with a semi-elastic waist and are relaxed but still well structured.
Pants of Choice:
I have these ones and they are awesome for casual days or dressing up. I have them in a couple colors and love them!
Wide Leg Pant:
I wore these yesterday and I love them. The wide leg means they are loose and comfy so it is similar to wearing a dress but more structured and as a mom, you can sit comfortably on the floor with your little one.
Khaki and Olive Chino Shorts:
I live in these all summer and these two colors are my favorite. You can choose others that fit your style better, but I personally enjoy these ones.
Midi Skirt:
I am still on the hunt for the right one for me, but I do love a midi skirt in the summer with a t-shirt. It is a classic, simple, and relaxed look while still looking nice. Perfect for a shower or dinner with friends.
Shorts of choice:
Depending on your life, I think you should have at least one more pair of shorts. I always try to find some beach-friendly style.
White Pants of Choice:
There are lots of different types of white pants out there, but you should have at least one type. I have overalls and a wide crop right now.
Jean Shorts:
As I write this I am wearing mine. A pair of jean shorts took me a while to find but I have to say Madewell does it the best from my personal experience. They cut them in a more boyfriend style even the high waisted ones and they are really great.
Wide-Leg Crop:
I just got my first pair and though I have yet to wear them out of the house I am in love. I thought as a short-legged woman these wouldn't work, but I am very wrong. These are great and I believe they are now an essential at least for this year. Everlane has some so great that they are on backorder right now so I would suggest checking their's out.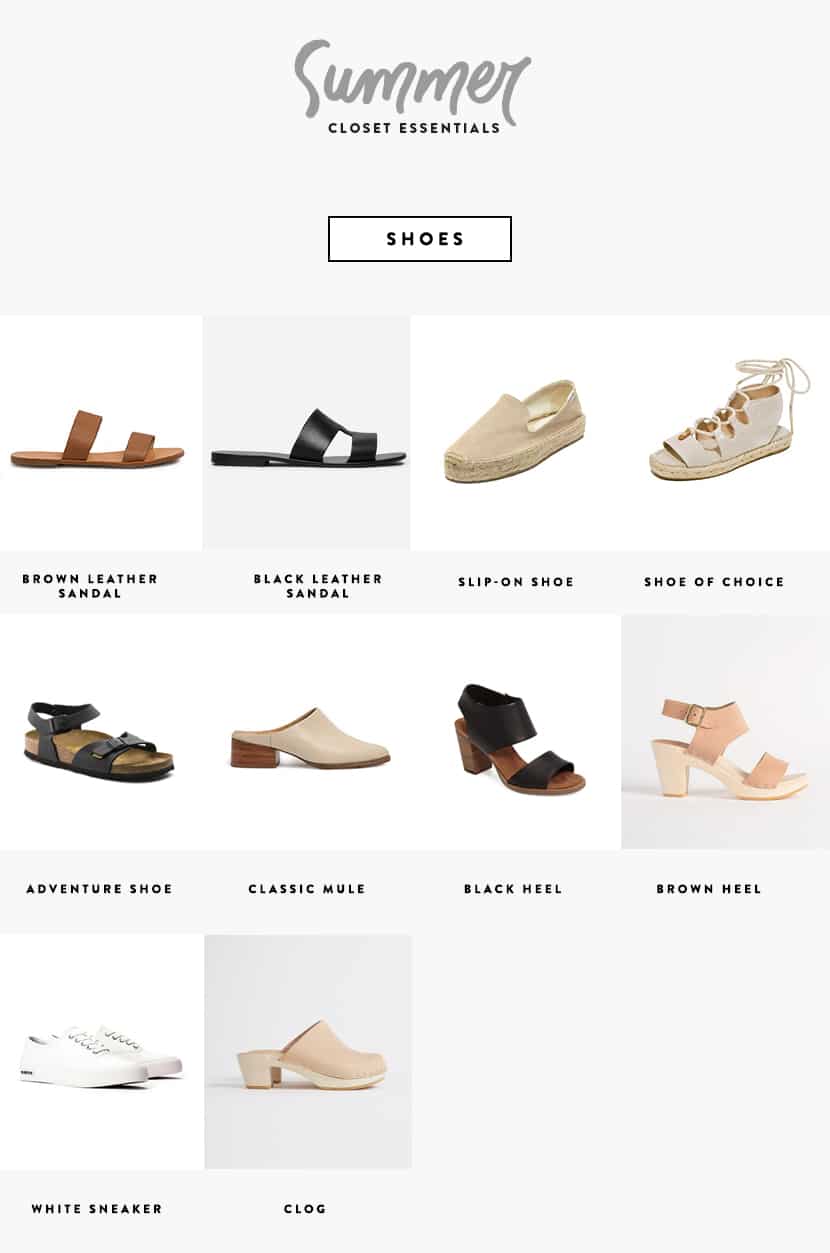 Brown Leather Sandal:
Everyone has a different style they like and I have a couple different styles I like, but these ones are my current favorites.
Black Leather Sandal:
I love these slide ons from Able. I have had another pair of sandals from Everlane and in about 5 years time I ran them into the ground and just had to replace them. They make amazing shoes and these new black ones are so cool.
Slip-on Shoes:
I live most of the summer in my Soludos. They are so comfy and easy to wear. It is so important to me to keep a pair of shoes I can slip on and off all summer by the door and these do the trick for me. They work great on my bike, in the garden, or just to take the trash out.
Shoes of choice:
Depending on your lifestyle you will want to fill this one appropriately, I need a good sneaker most of the summer and Vans usually do the trick for me.
Adventure Shoe:
We do a lot of hiking and adventuring around here, so I have a shoe that can do the work with me. I love my Chacos, but some people don't need that kind of adventure shoe so I will suggest these as another option.
Classic Mule:
These are to go with those boy jeans or wide-leg crops. Thank me later. These will be worth it.
Black Heel:
These will go with your LBD or any other outfit that will pair with black.
Brown Heel:
Just like the black heel you need a brown one as well. Always good to have one of each that you love and can wear with dresses and pants throughout summer. These clogs are the perfect casual meets dressy for summer.
White sneakers:
They are the classic shoe of summer, so I always make sure I have a pair I can wear. I love these but there are tons of other options out there as well. Just make sure your's can be worn without socks and don't give you blisters.
Clog:
These will be used more at the end of the season, but have them on hand because they are so awesome to slip on and off. Invest in your clogs because they will last forever if you buy the right pair.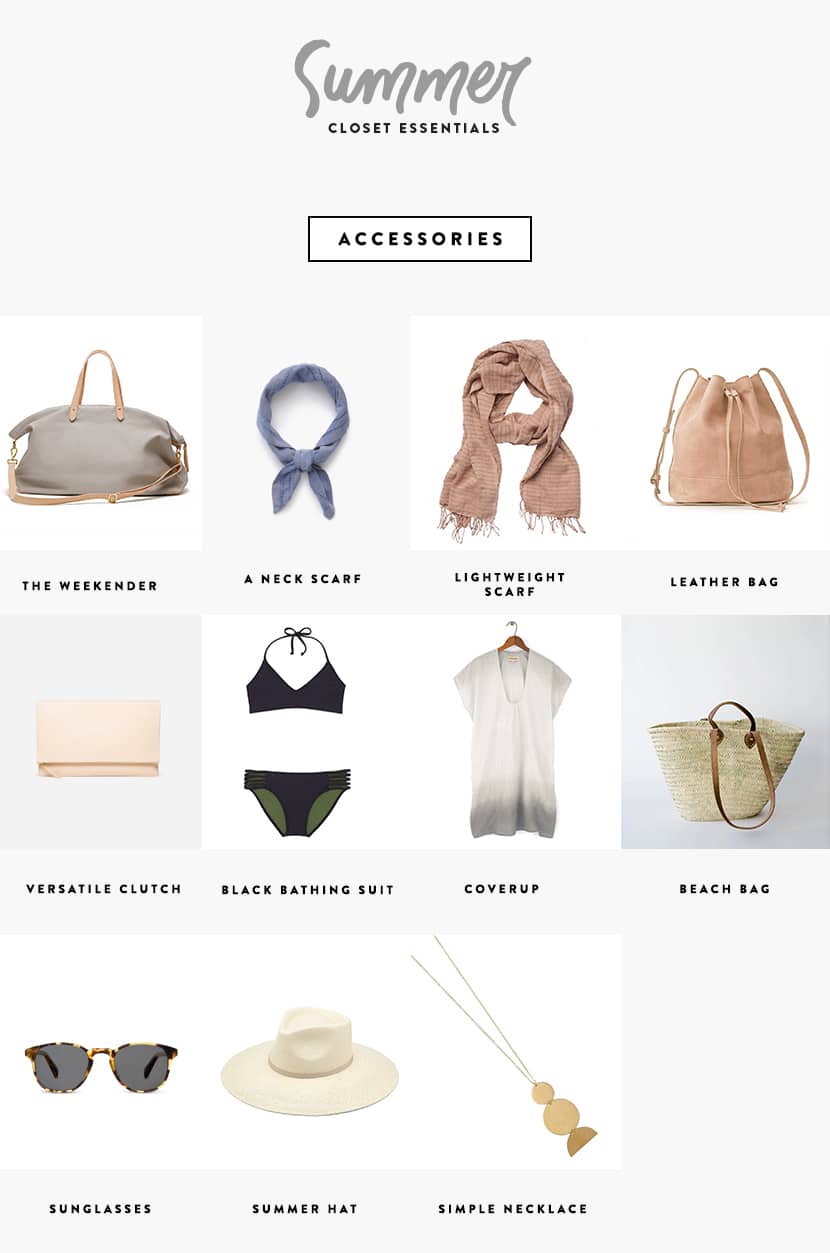 The Weekender:
You will take a lot of trips this summer on some level even if just to a friend's house for the weekend. Summer is full of travel, having a great weekender is essential during this season.
A Neck Scarf:
It is trendy, but it is also really smart. I wear one quite often to keep cool. I wet it down in cool water and tie it on my neck to cool off when outside or hiking. So get one in cotton not silk. I love this chambray one.
Lightweight Scarf:
A great lightweight scarf is great throughout warm days because it can be spread open as a blanket for the beach or tied as Sarong or top on the beach as well. It serves so many functions this time of year so always have a good one around.
Leather Bag:
When it comes to my bags, I either choose leather or canvas and this leather one from FashionABLE has been my go-to lately. It is so well constructed and I love the cinch style. It works great to stuff everything I need in it.
Versatile Clutch:
With wedding season and event season upon us, making sure you have a bag you can take with you to pair with that fitted jumpsuit, LBD, or one of your other chosen outfits is extremely necessary. Everlane makes some great ones.
Black Bathing Suit:
I don't keep many bathing suits. I strictly have 3 different black suits. I don't like buying bathing suits so I find one that works and that is what I wear. I love Athleta's because they are sporty and stylish. I would suggest sizing up though.
Coverup: 
Granted most of the time I wear shorts and a tank over my suit, sometimes a nice coverup is great to have.
Beach and Market Bag:
A bag that does it all, a French Market bag will be your best friend this summer from the market to the beach. If you don't have one, get one. They are so versatile and get better with age.
Sunglasses:
I don't even need to explain this one, but I will say that Warby Parker does sunglasses very well. Also, if you are like Mike and need a prescription they offer that in their sunglasses, which is great!
Summer Hat:
UV protection is important on your face and the sooner you focus on it the better so having a great hat is essential.
Simple Necklace:
I have a few necklaces but the ones I wear the most are my simple ones such as this one from FashionABLE. They layer over almost anything in my closet.
So tell me what are your essentials in your closet this summer? What brands do you love? Don't forget your download to check things off the list!
As I did last season, every fashion post will be putting these items to use in my every day so stay tuned for some style posts both on Instagram and on here that feature these items. Have fun this weekend organizing your closet!