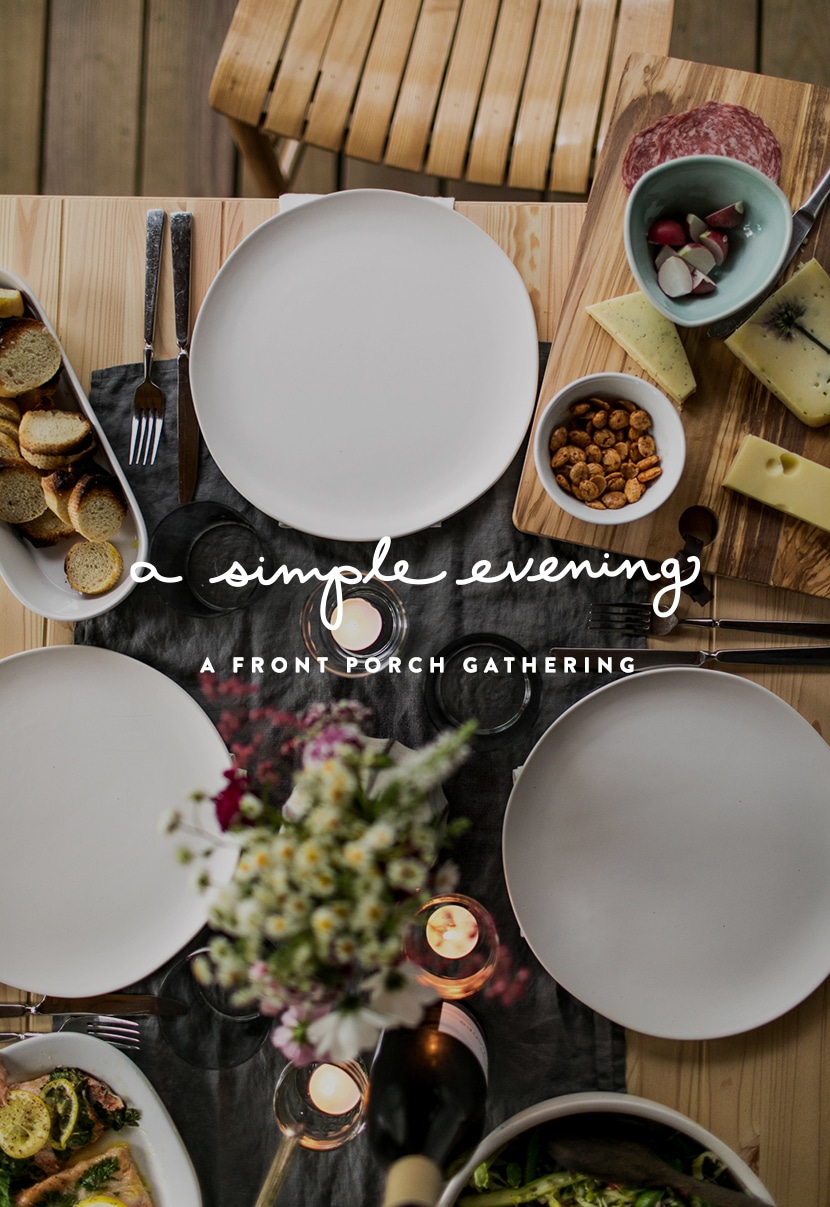 I remember when we lived in Raleigh, North Carolina and the time we spent on our porch during the late days of spring and early summer. They were blissful. Our neighbors would walk by and they would join us for a glass of wine, which then led to an evening of deep talks about life and finishing off a bottle of wine or two. Our days in the south taught me the value of a front porch when you live in a residential area.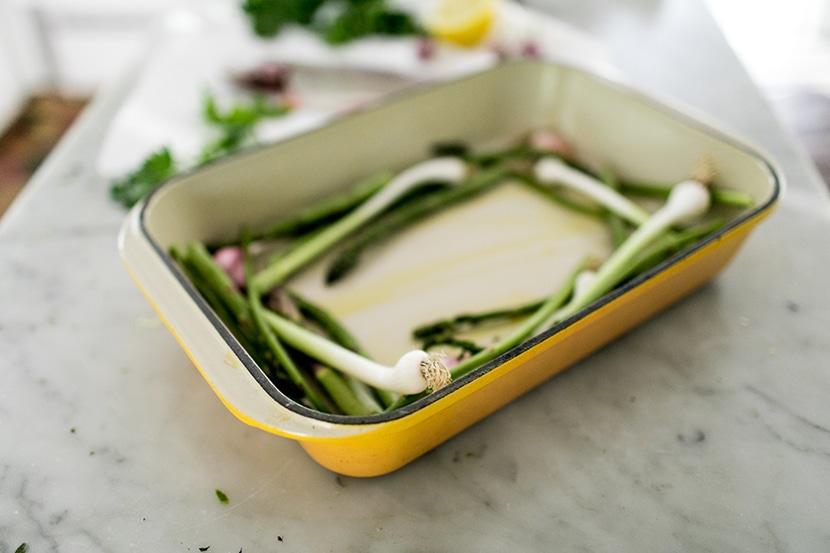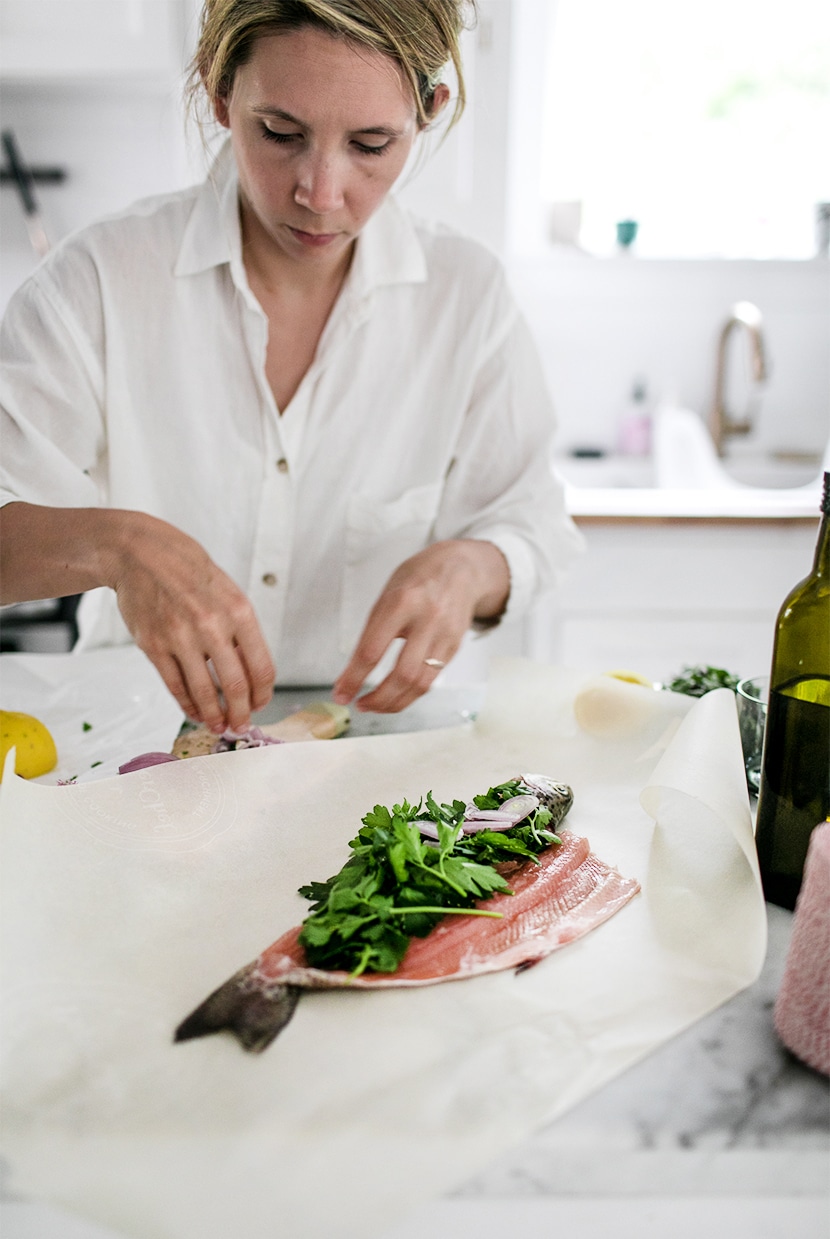 I so often hear many of you say you don't have the space to have an outdoor gathering like the ones I share. It then dawned on me that not every gathering has to be held under a willow tree or field and I wanted to show you how you can enjoy your own Simple Evening on your porch this summer. As always I want you to feel empowered to find space for gathering wherever you find yourself in life. There is always space for a great meal with people you love.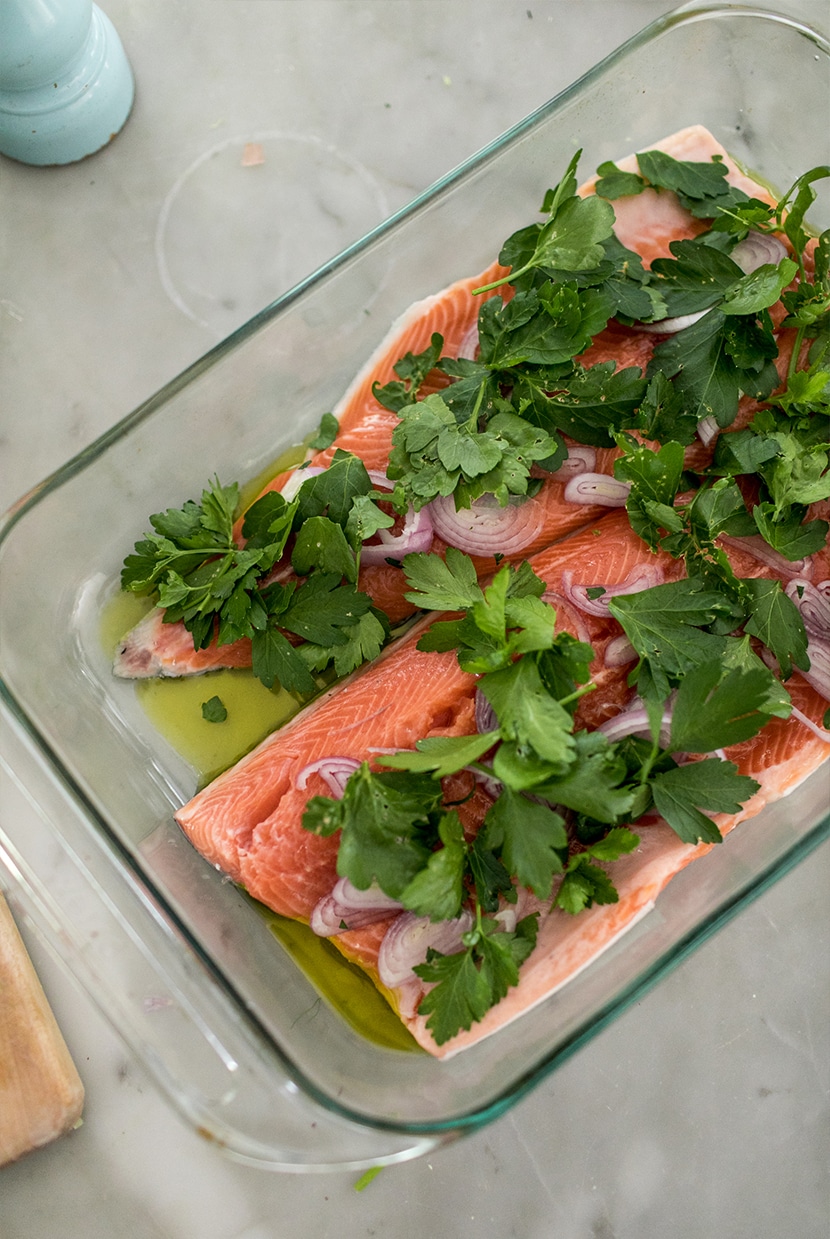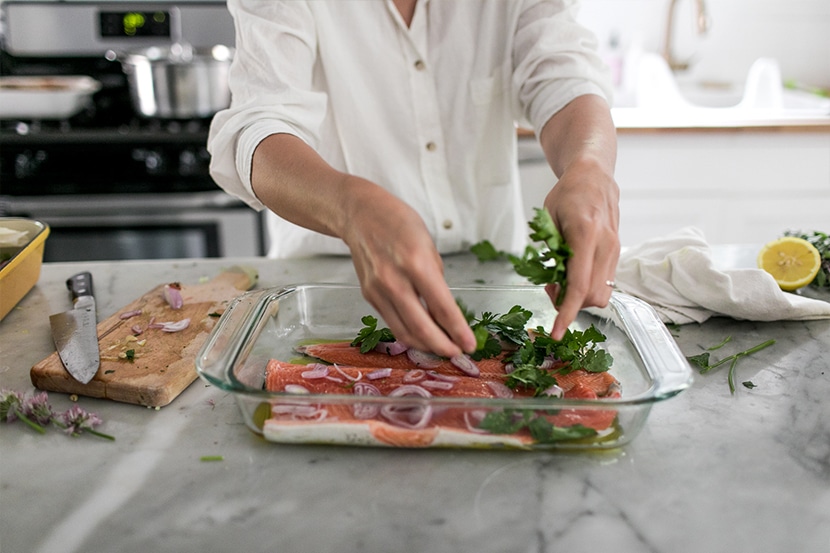 The night of this Simple Evening, we had threats of rain. We had recently moved into our space in Downtown Traverse City, and I had very little time to really put it all together. I had planned the recipes for the gathering weeks ahead since they were the recipe for June, but it meant I would be proving to myself just how what I was suggesting to you was truly doable. So, with a little help from my sitter and Mike I made it all come together. From biking that morning to buy wine and fresh fish from the market to styling the table to picking flowers from our yard to cooking dessert and the rest of the meal while getting Hayes his own dinner and into bed, it all happened.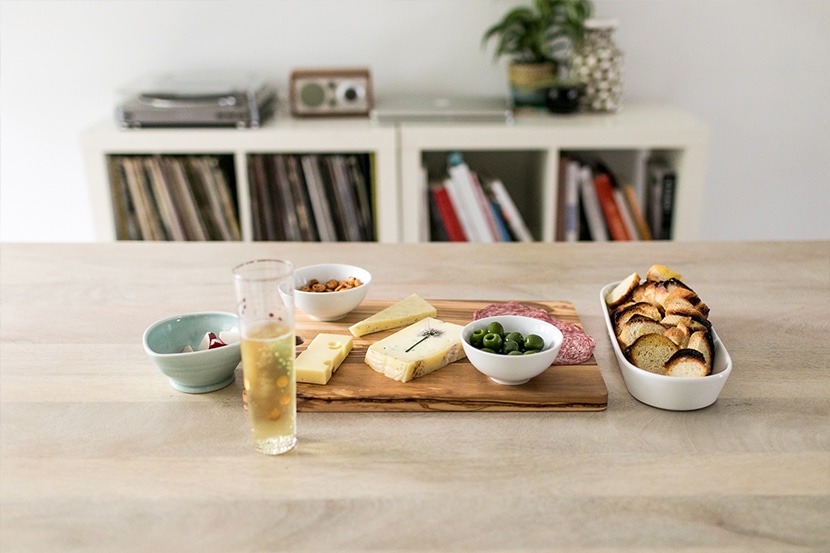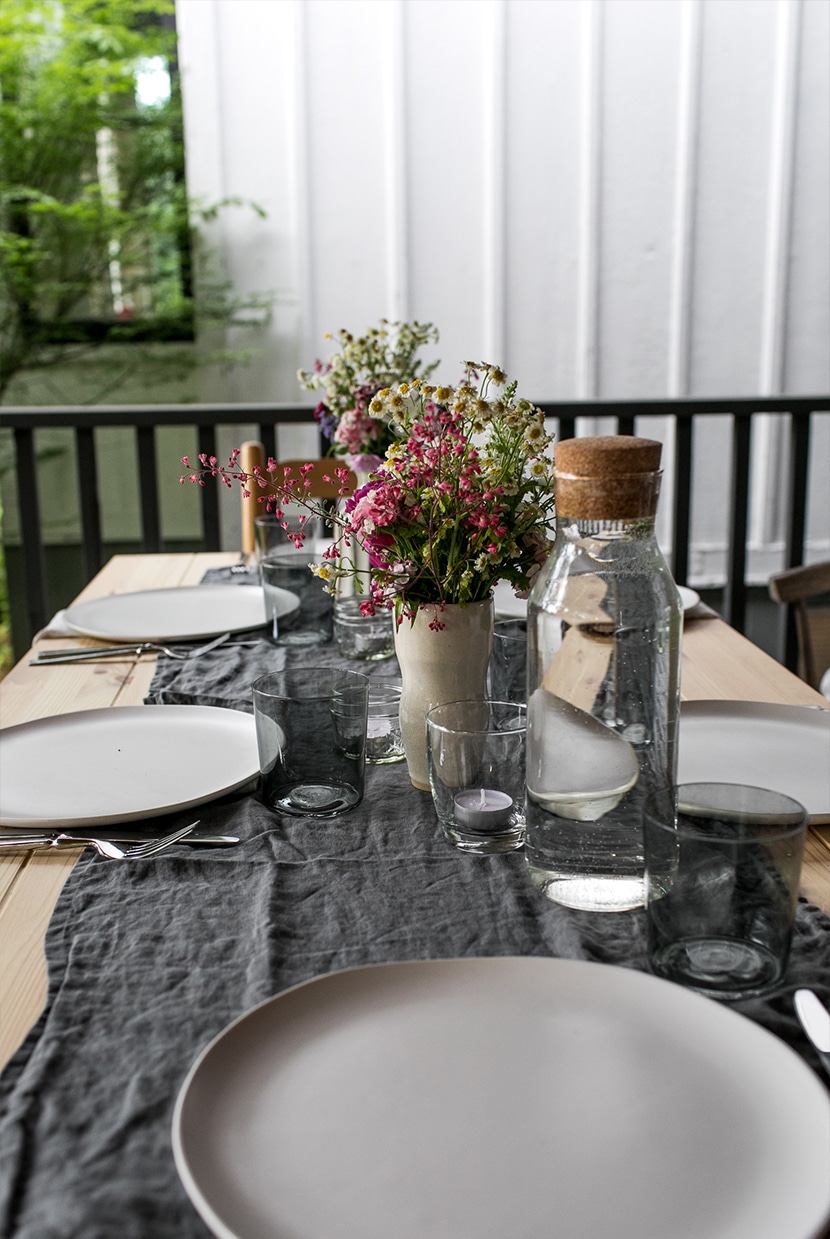 Every bit of this simple evening was all about bringing together a few people in a small and intimate space that is close to home. I wanted the food to be very easy to prepare. For the evening, we started off with a simple cheese board. I have a few tricks I use to save money and to provide a lot options at the same time. To start off, I served Brut champagne with the cheese board to our guests as they arrived. Starting off with a dry sparkling wine is always a great pairing with cheeses and snacks you have prepared.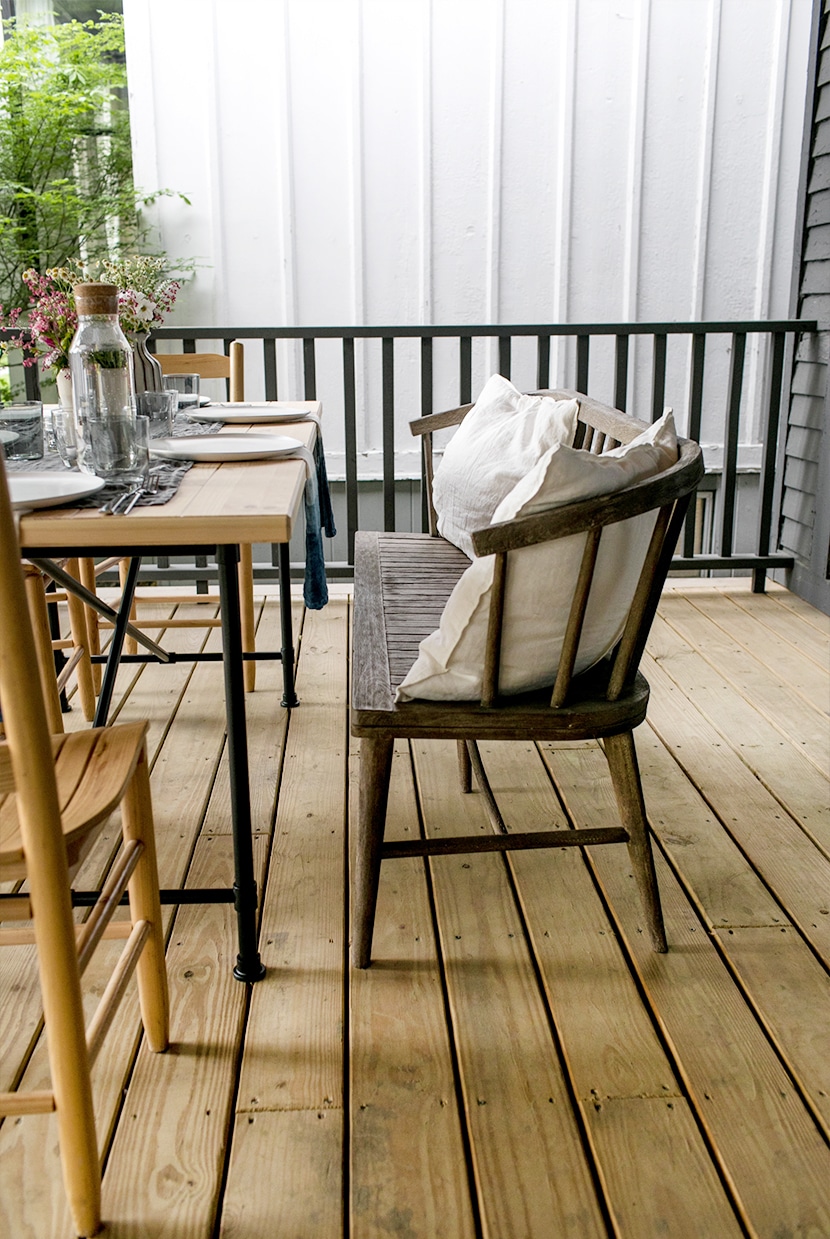 For the table, I kept things simple. I recently had decided I needed a simple table to use for these gatherings so I picked up this one from Ikea. I then pulled out our dining table chairs and then used a bench from the rest of the outdoor furniture that is at our rental for seating. I tossed on some white linen pillows to make the bench cozy since it was a little chilly that evening with the rain moving in.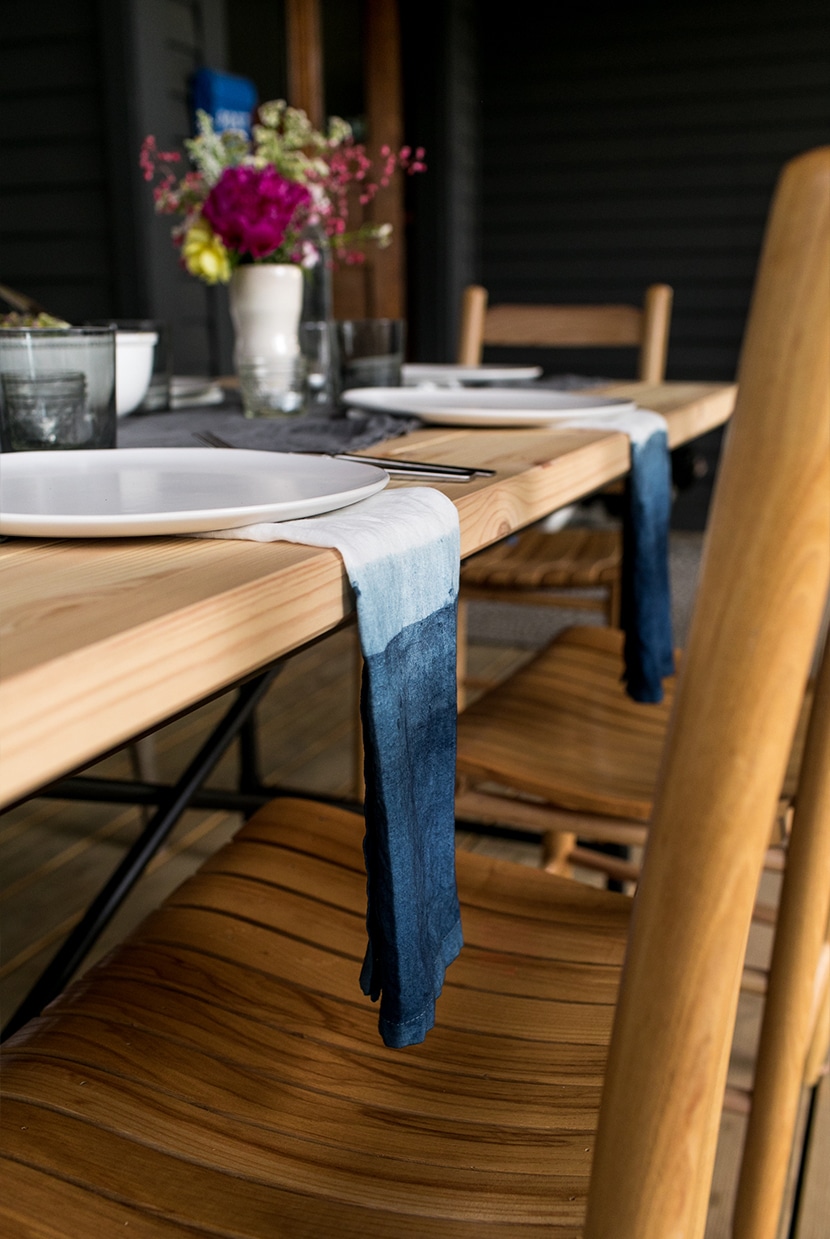 I laid the Dip-Dye Indigo Napkins as the focal point for the styling of the table. I loved them because they paired well with the colors of the food, table, and blooms. You can get the DIY here for them.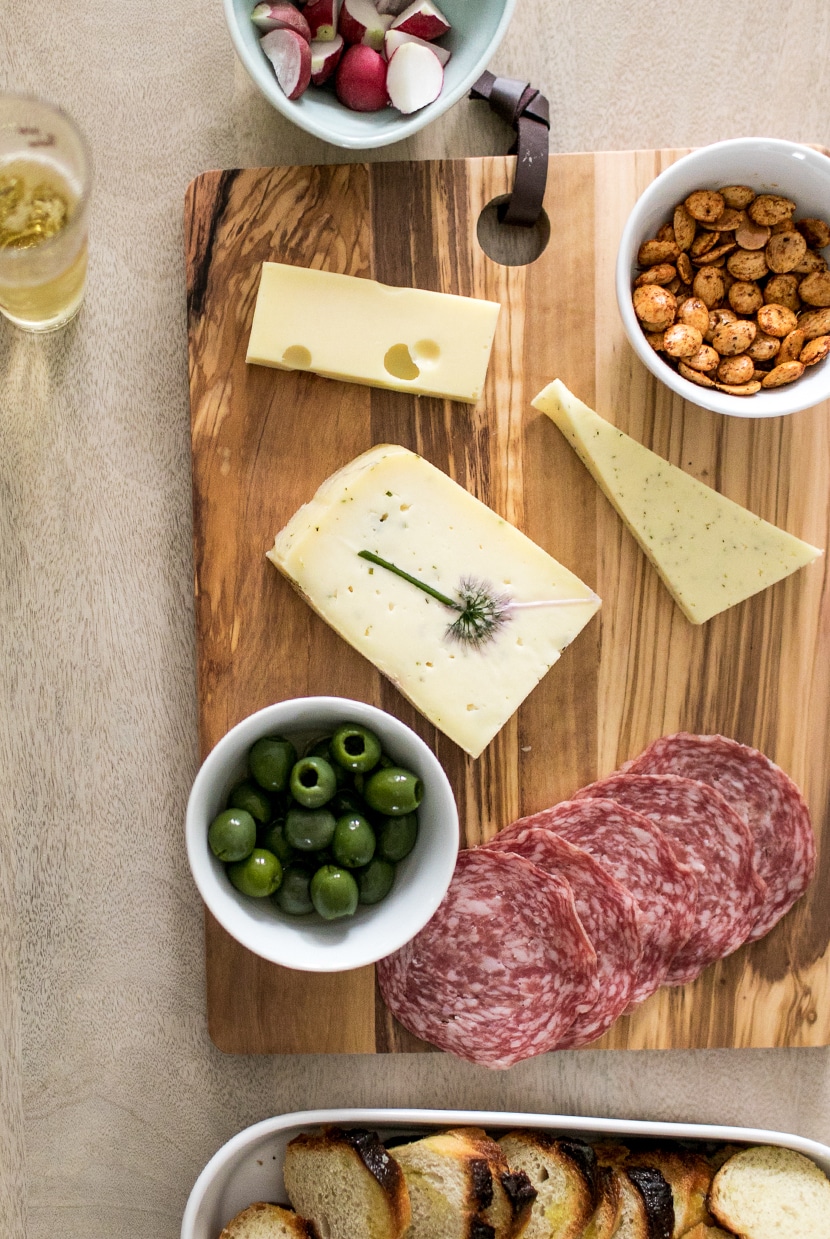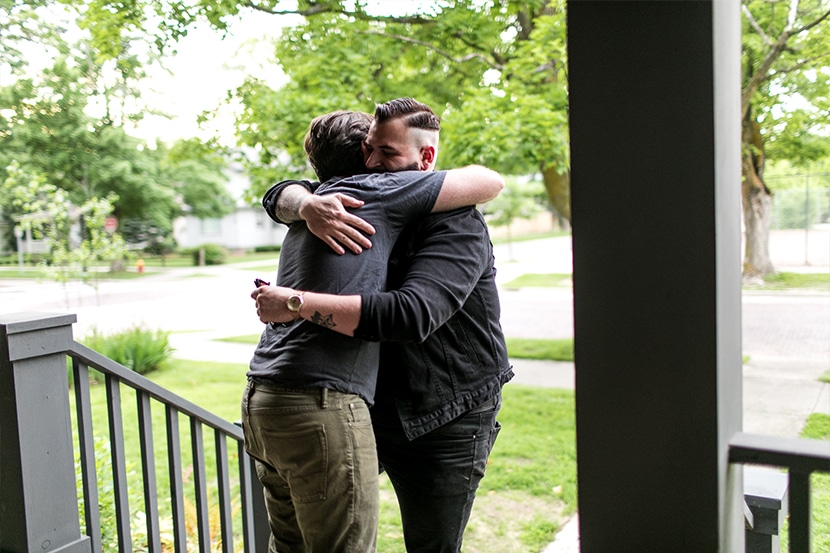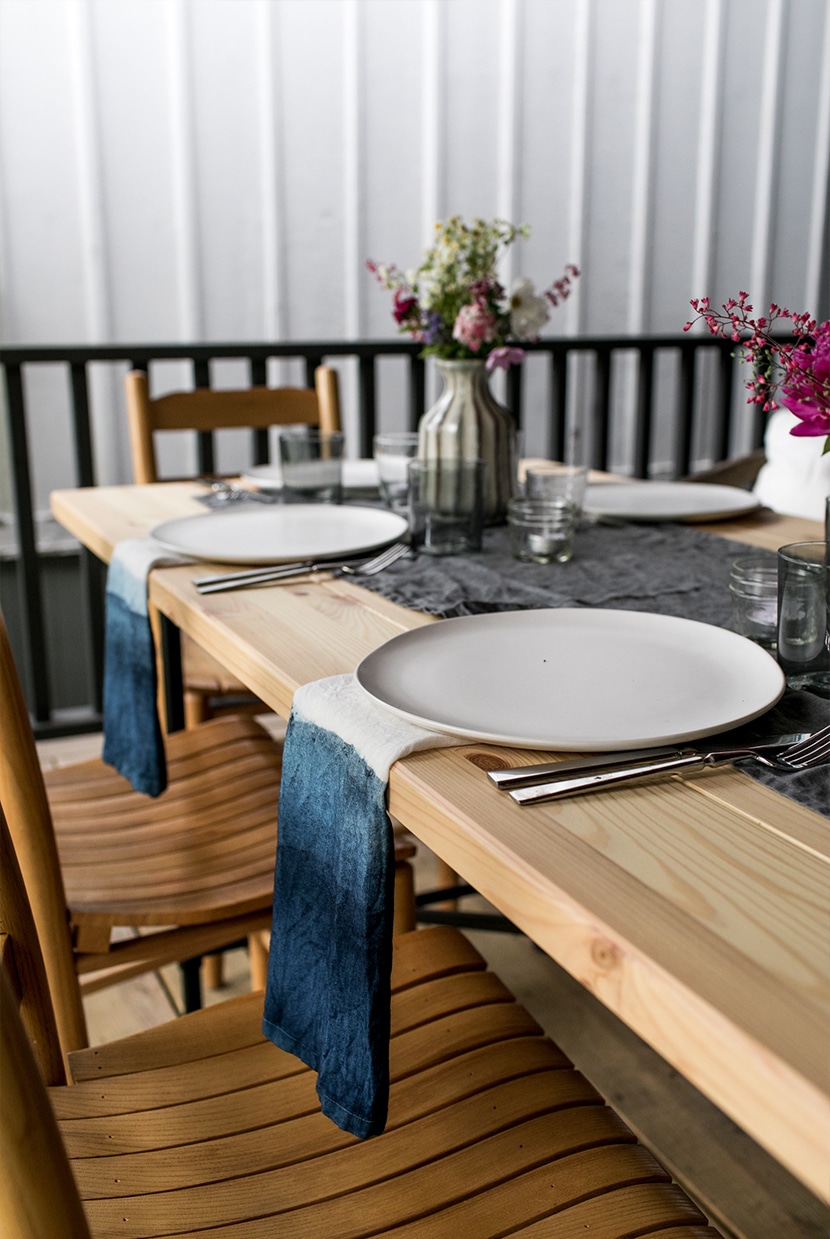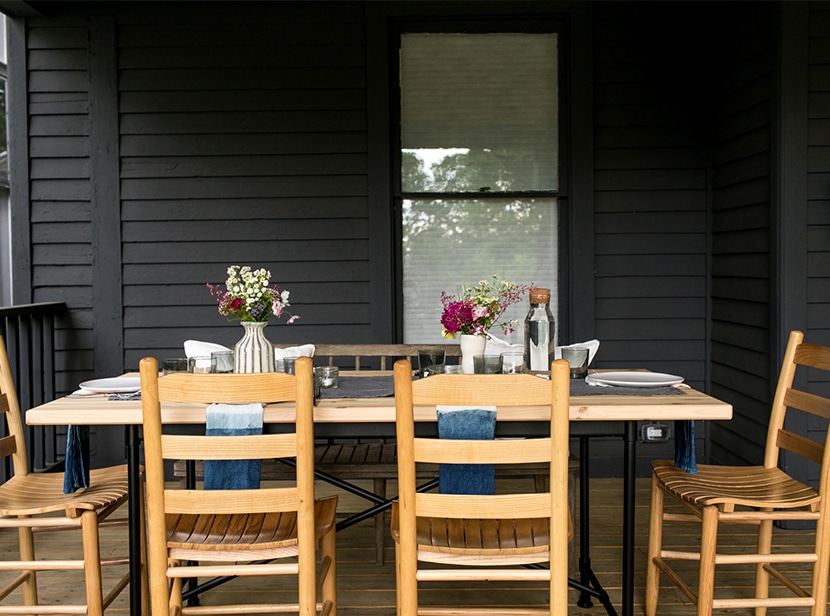 As guests arrived I placed a few candles on the table and put the finishing touches on the flowers from the yard. I used mismatched vases for the flowers to bring in some character to contrast the simple dinnerware. I didn't want to add too much to the table because I knew we had a lot of dishes to place on the table for food and didn't want to complicate things more than necessary.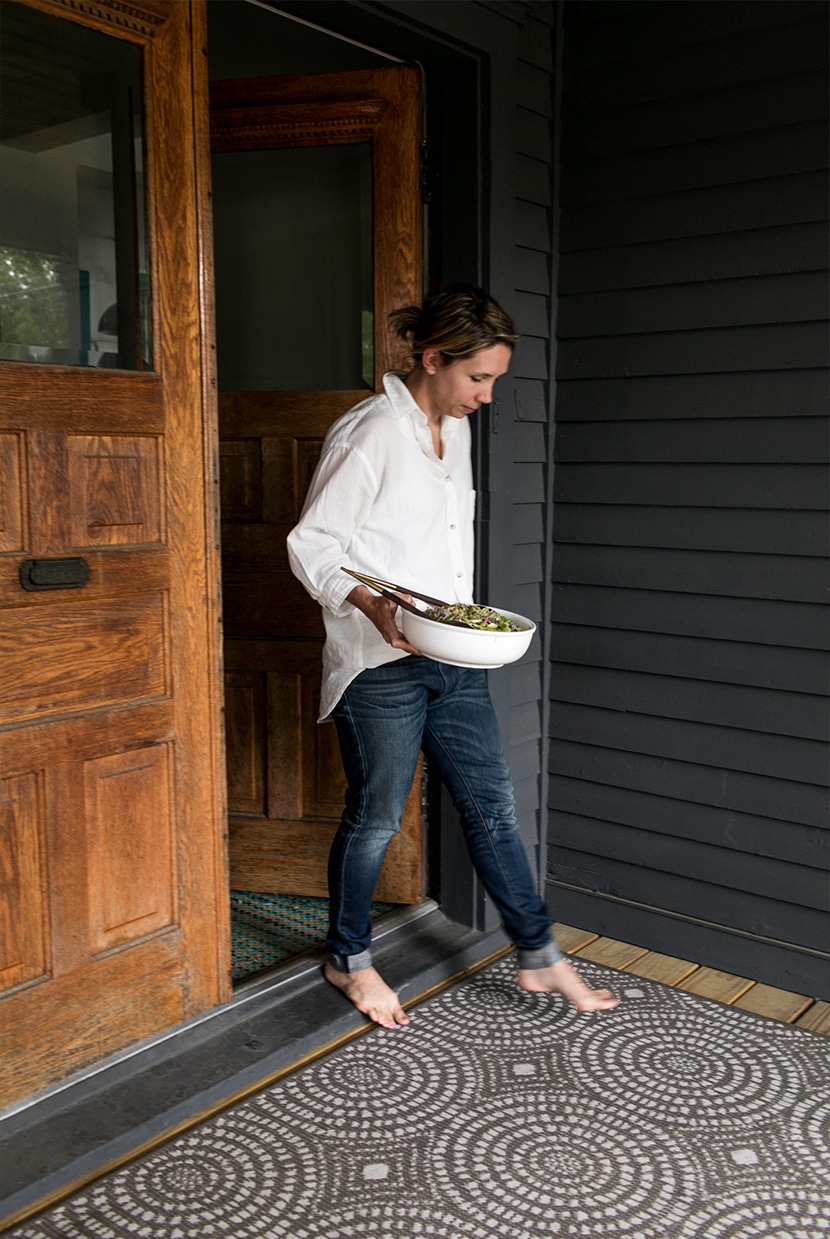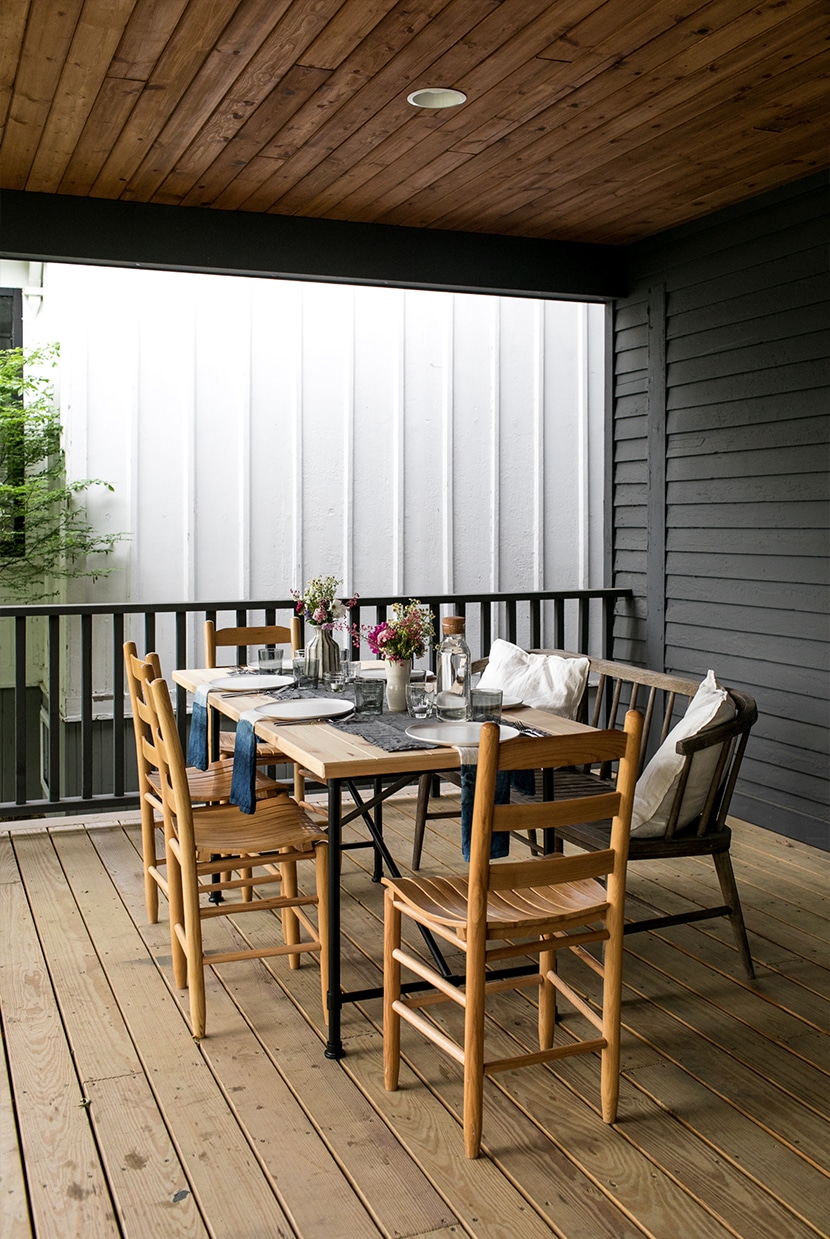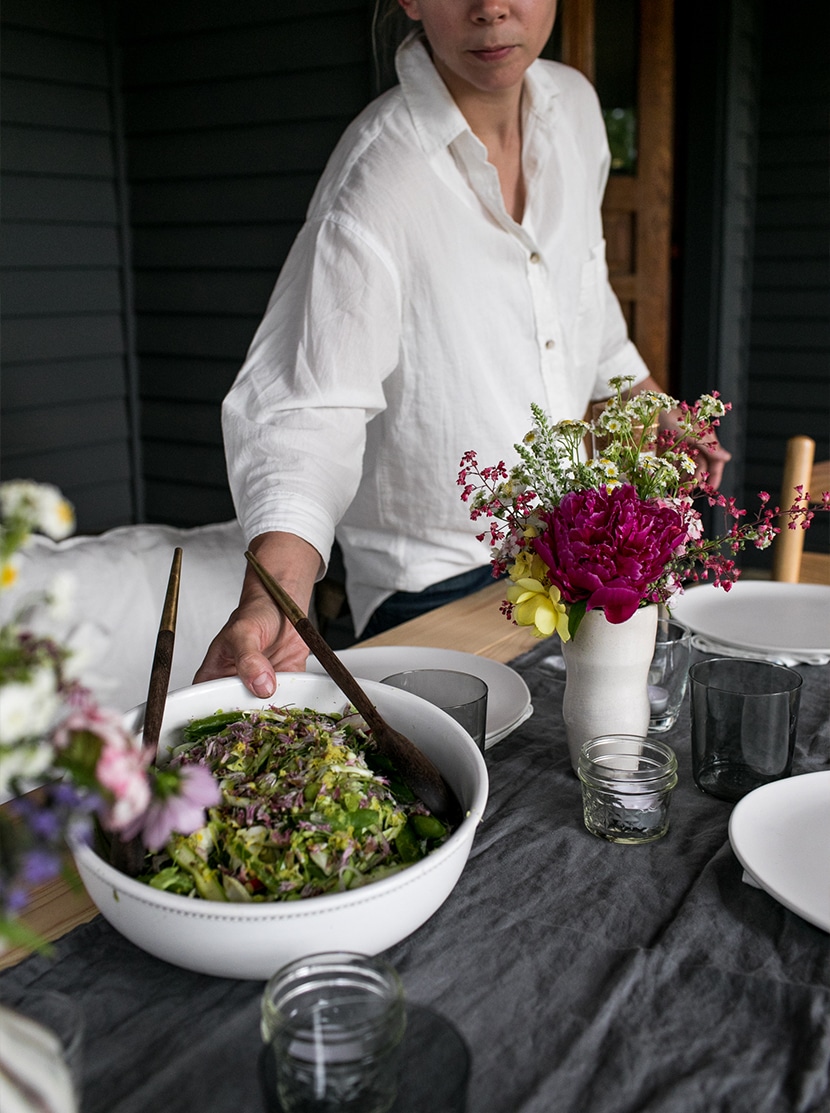 When you are thinking about setting a quick table for a gathering whether two or ten people I always look for things in our home that can serve multiple purposes. I don't set water and wine glasses but use our short water glasses for wine and water. Personally, I think this reminds people to drink water before their next glass of wine. Plus, the glasses are less deceiving so you are less likely to have guests go home with too much wine in them. I also always place votives in whatever glassware I can find around. Also, don't feel that everything has to be the same. Using things that are slightly mismatched is okay and in fact, can create a beautiful gathering. Just make sure to stick to similar colors so things look cohesive still.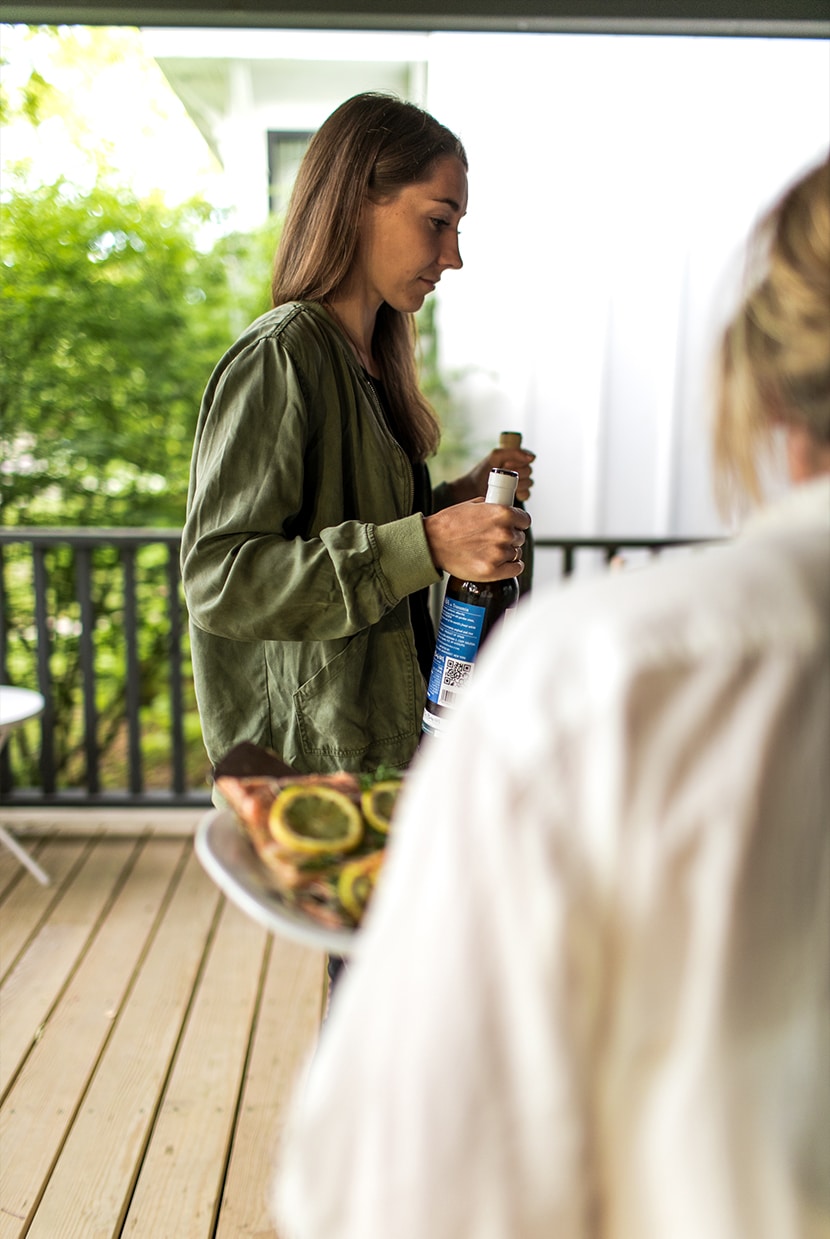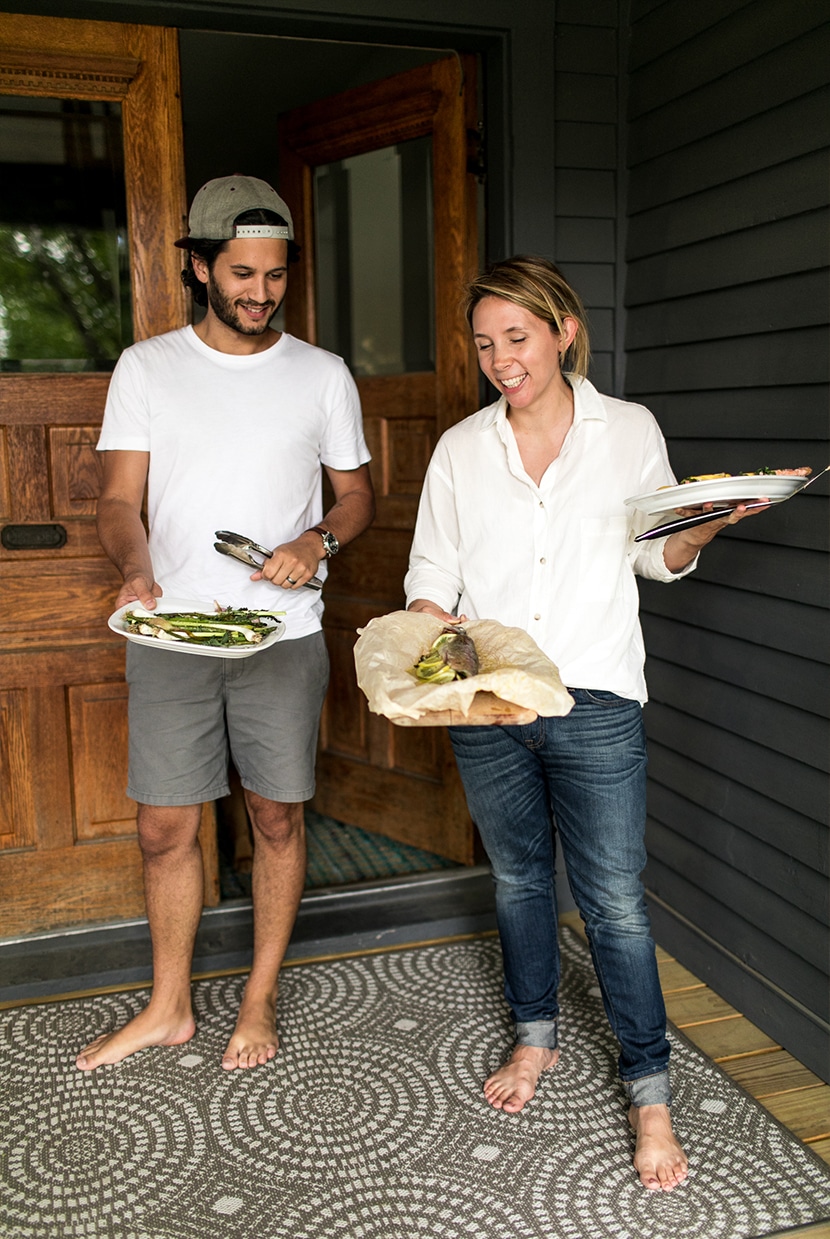 I loved inviting over a couple friends for this gathering and creating a homey and relaxed setting for us all to enjoy. Our evening was intended to focus on great food, a dry and cozy spot to enjoy the evening out of the rain, and great conversation. Having our friends Sandra, Grant, and Spencer over was the perfect way to enjoy the evening. They are great friends who we don't often get to catch up with, but we feel relaxed with. Grant (above) in fact was who actually named our first dinner A Simple Evening. So he takes all the credit. It was amazing to have him at another one, though different than the first one he ever attended.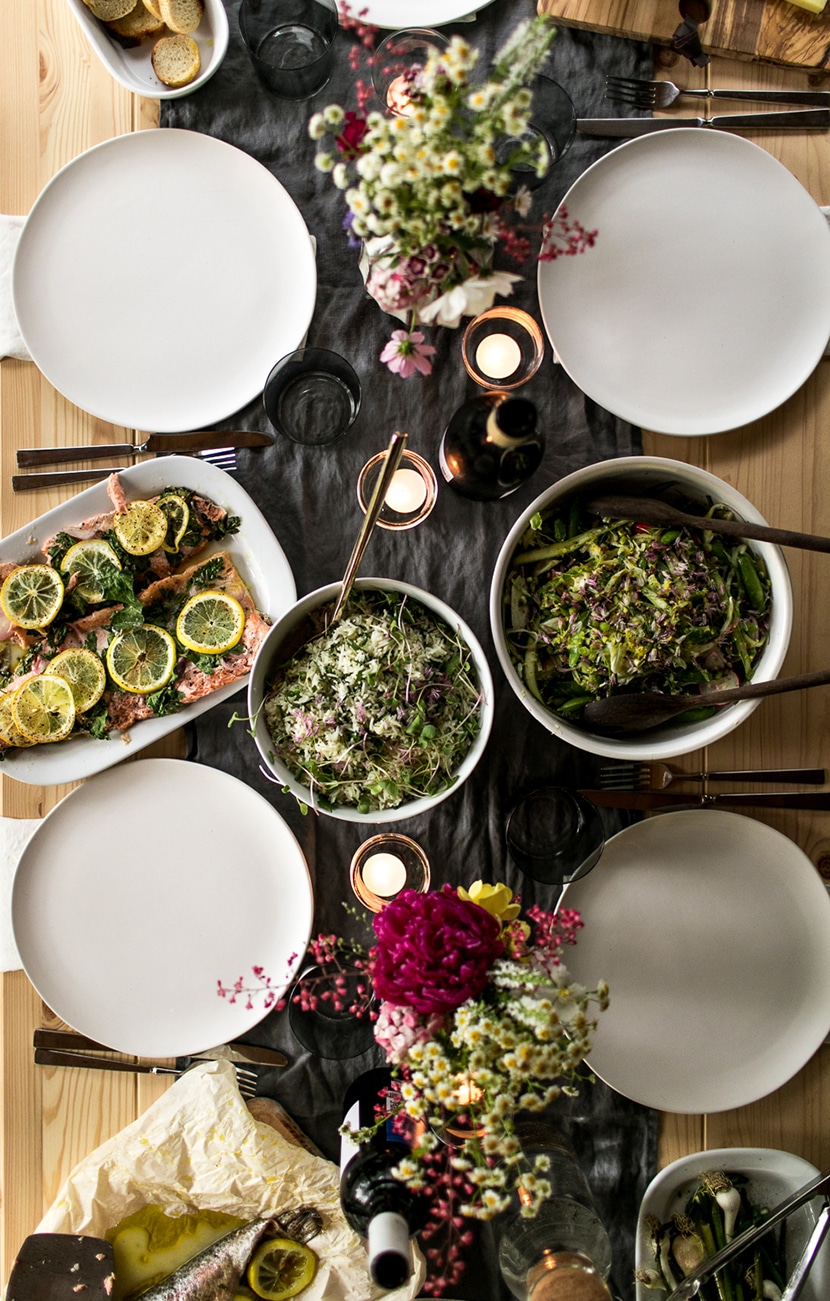 As guests showed up and we got closer to dinner time, we brought out the dishes and placed them on the table. Grant and Sandra helped me set the table between bringing out the wine to handling carrying some of the dishes out for me. As each dish was placed I got a little giddier. I always love evenings like this one. Though we baked a whole fish for the dinner, we made some additional fish as well because one Rainbow Trout is nowhere near enough for 5 people.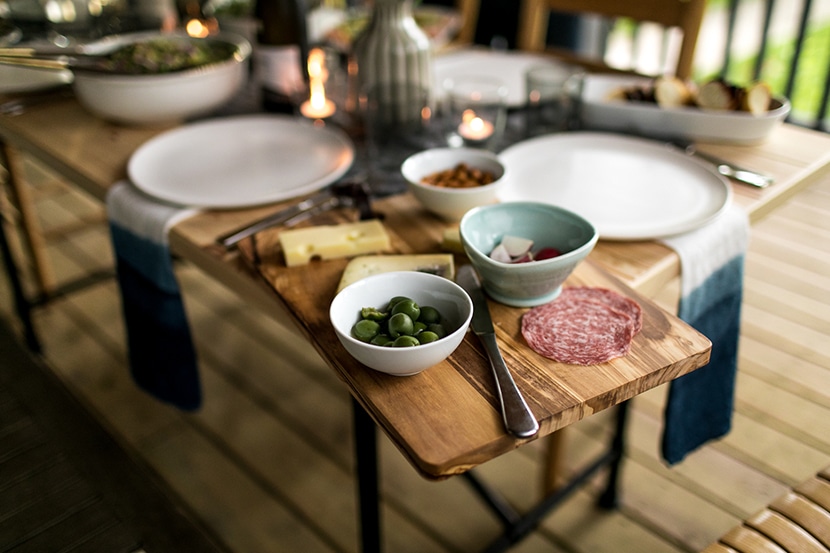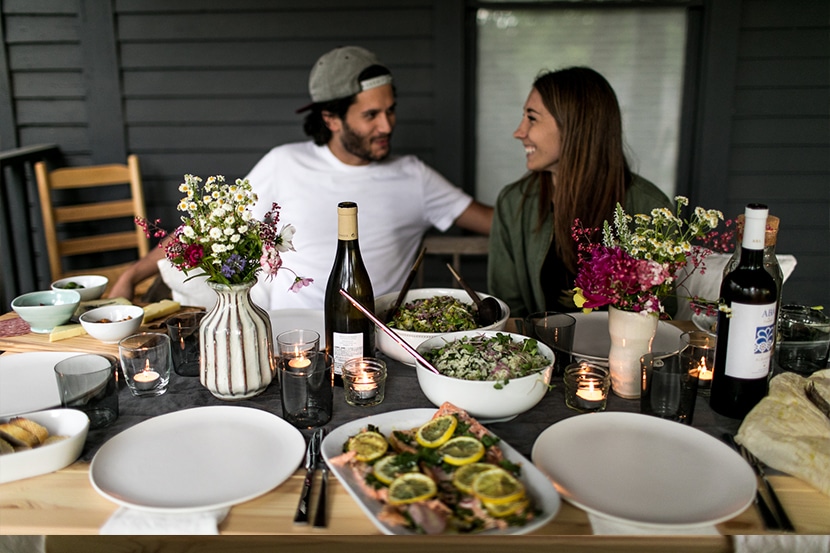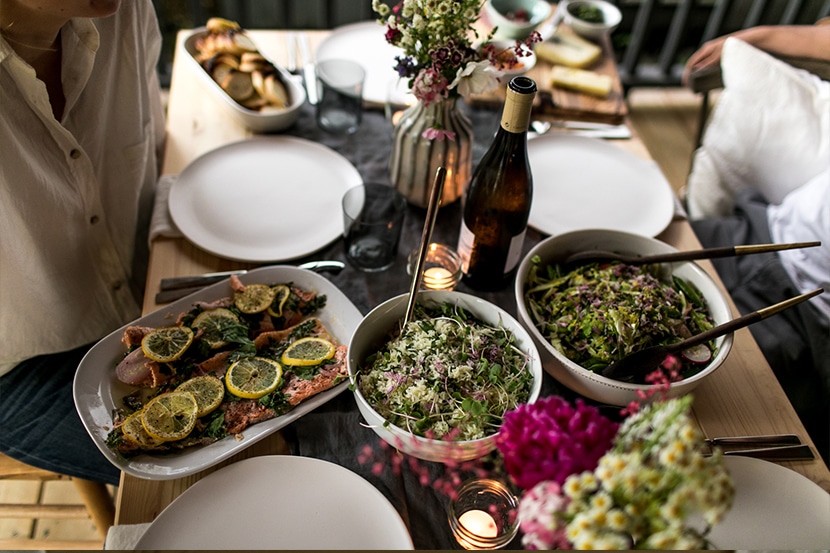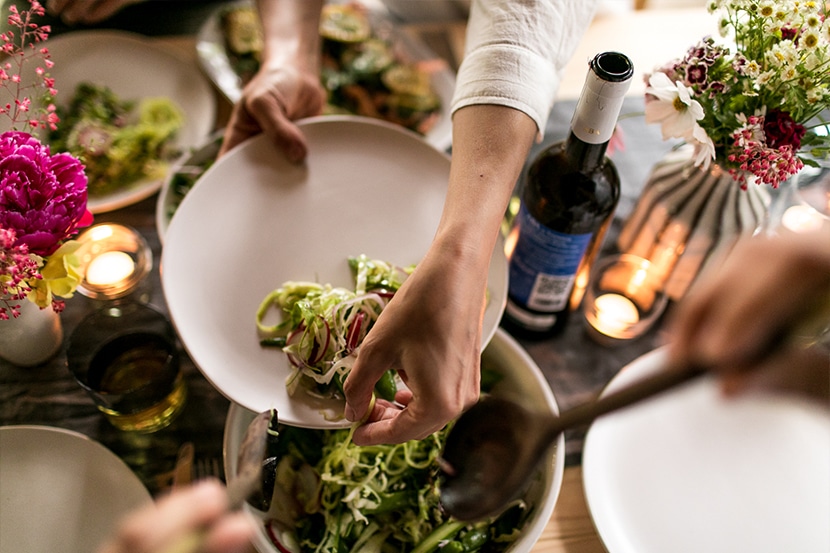 Every one of the other dishes we served came from the blog this month and you can find all the recipes at the bottom of the post. In fact, I gathered up all pieces of this month's gathering at the foot of the post so you easily have a menu to cook, a napkin DIY, and a list of items to gather in order to create a similar gathering on your porch.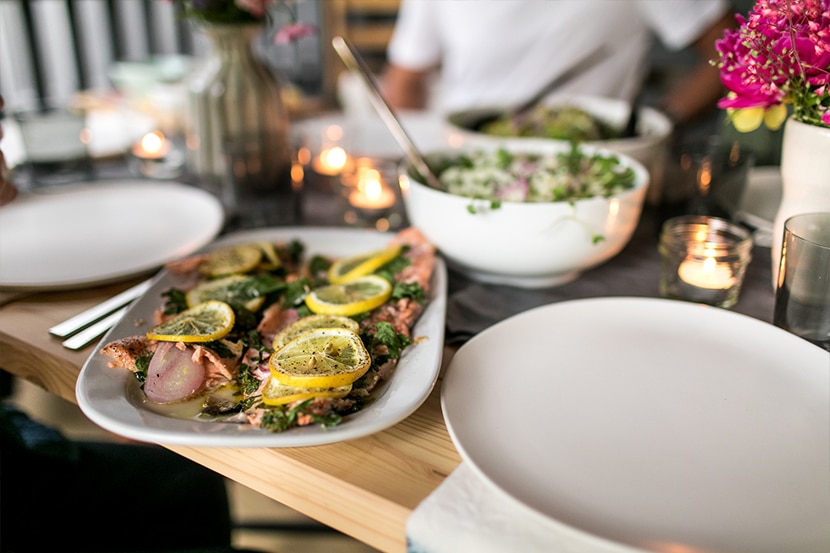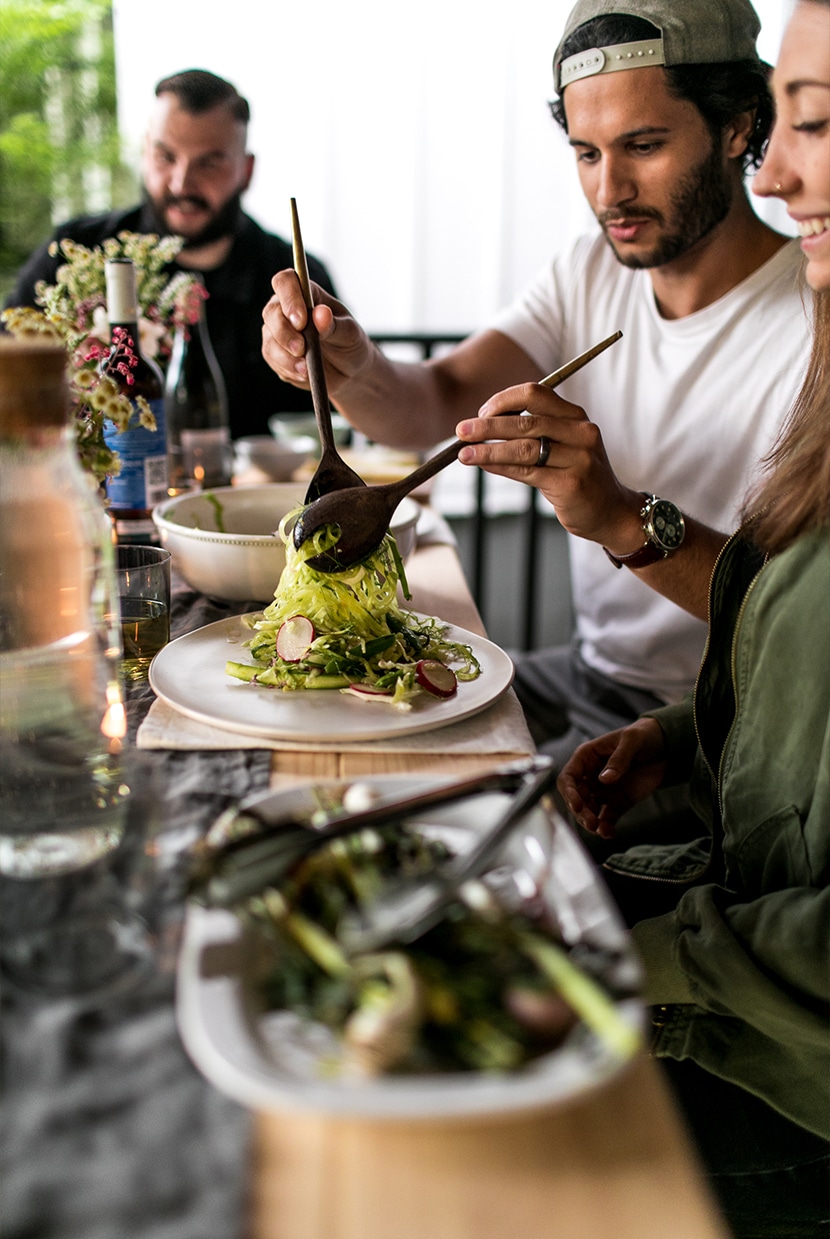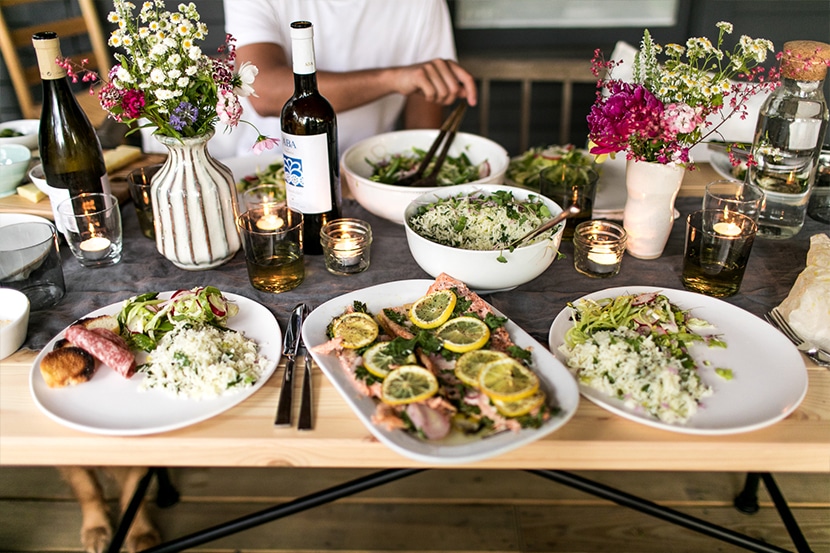 As always we focused our food for the night on seasonal flavors. All the veggies came straight from the market or local farms and the cheese, bread, and fish all came locally as well. When we gather and I am cooking, I find it easiest to use local ingredients. I love giving friends a taste of local food since many times we have guests staying with us who don't always get that sort of experience.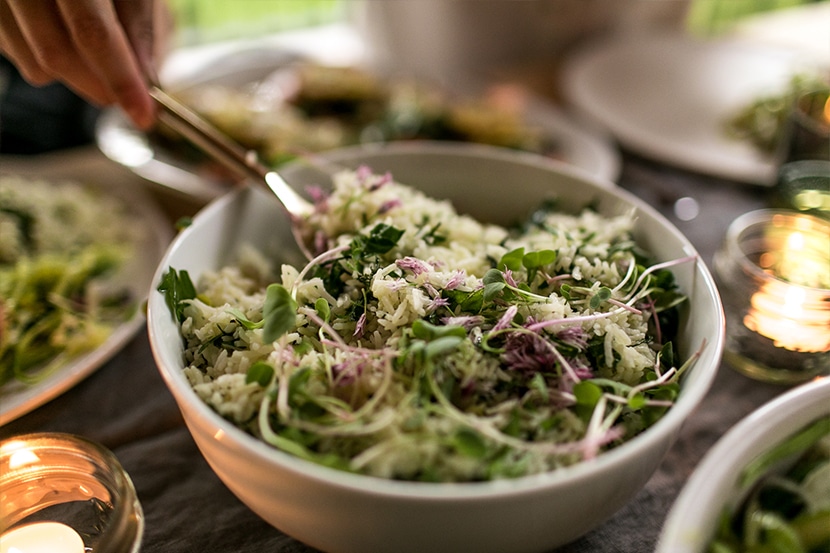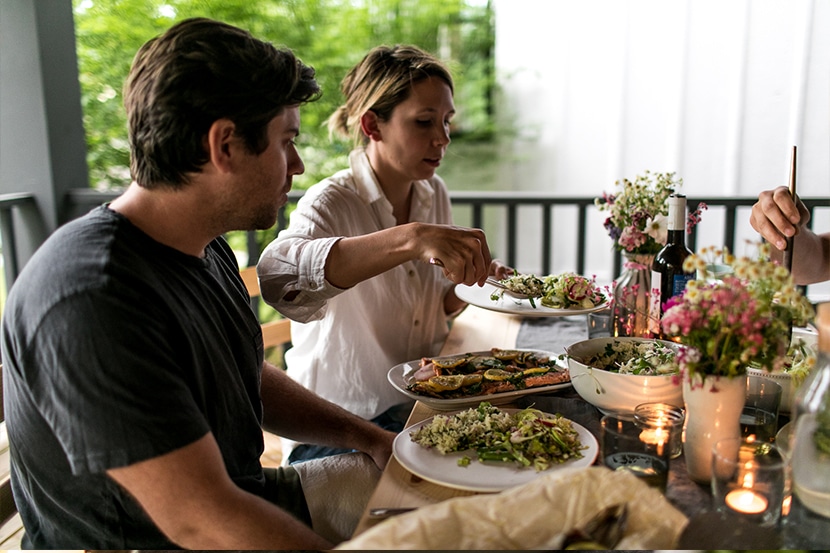 As summer flavors are filling the market, I have so enjoyed cooking this summer. Though we still are getting many late spring vegetables around here we are beginning to see the beginning of summer flavors as well. Everything from garlic scapes to small fennel to an endless amount of greens. The herbs are fragrant and beautiful and it really has been such an inspiring environment to cook in recently.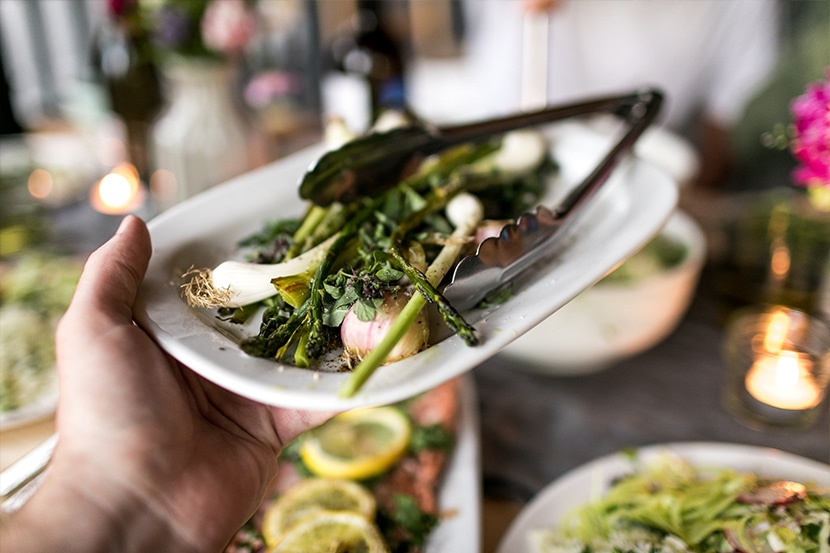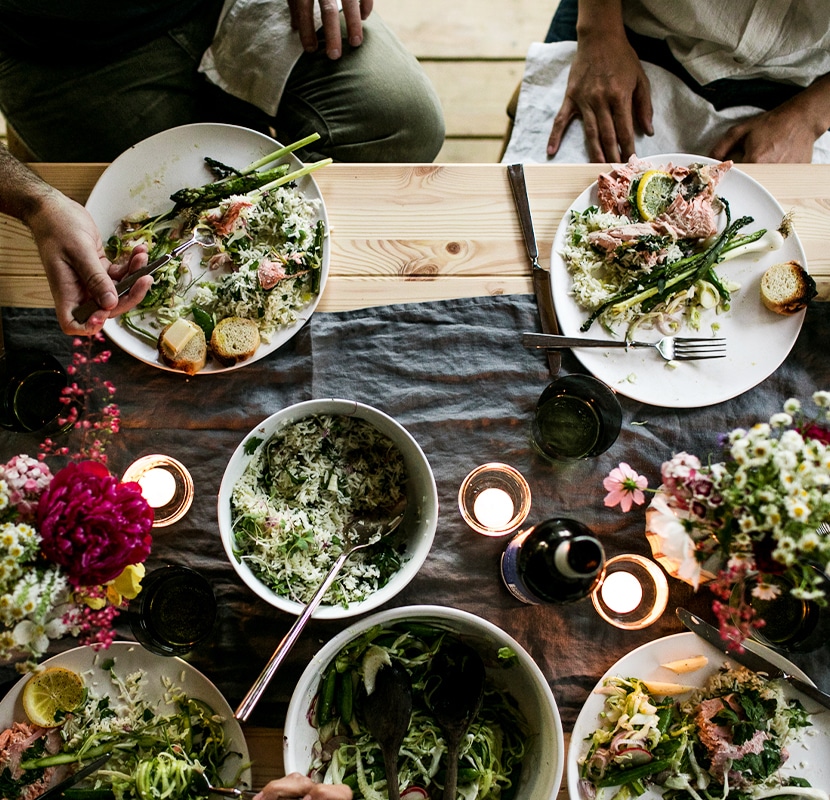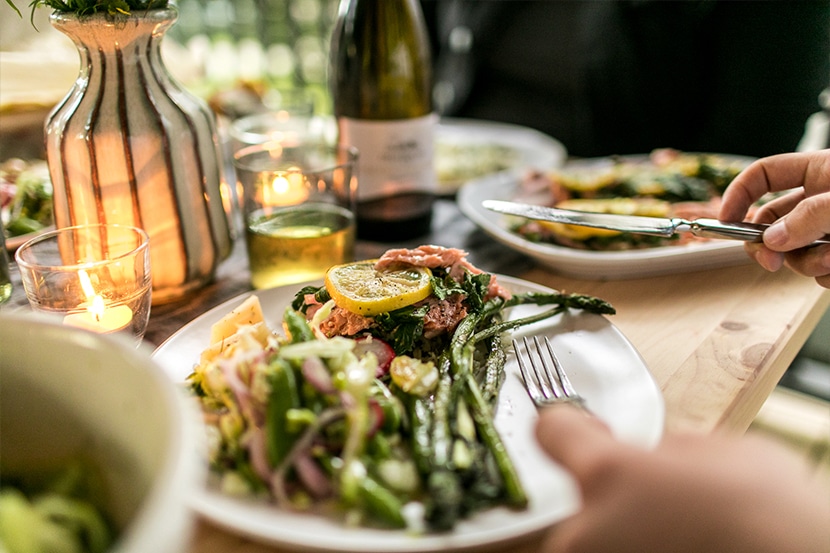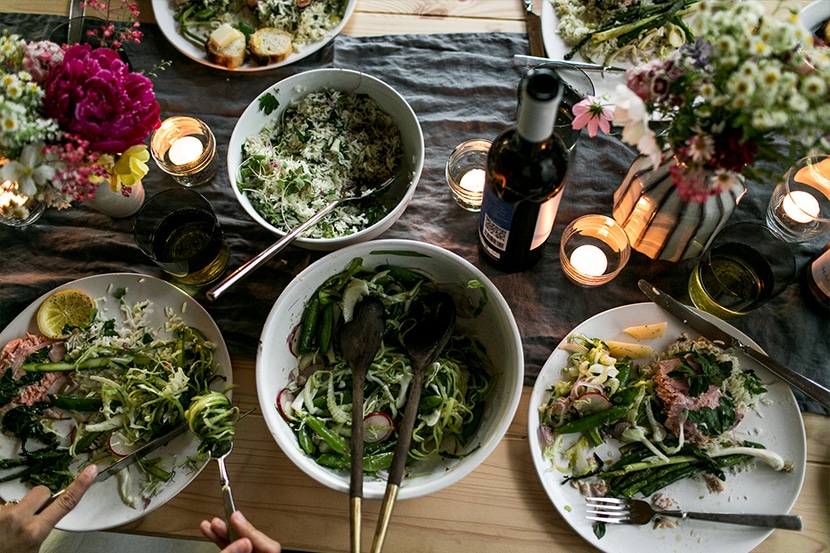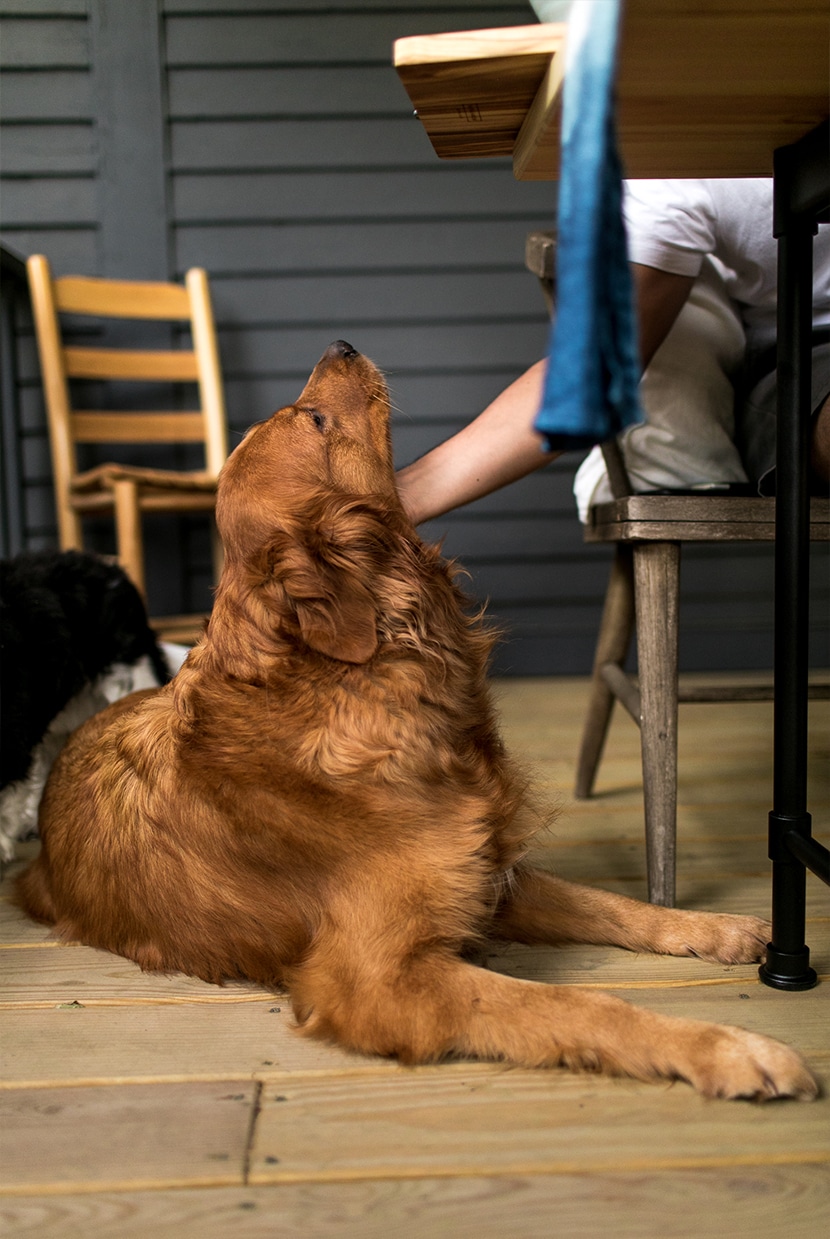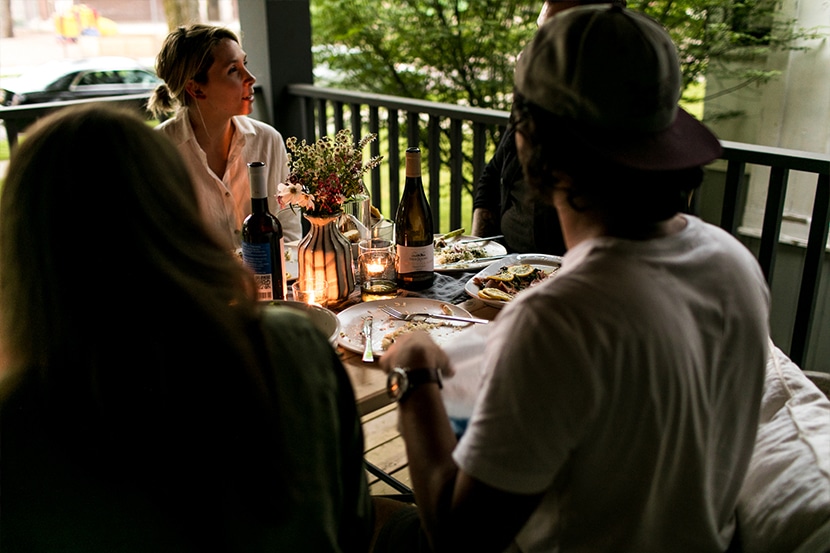 For me, though I love our fancier and more elaborate gatherings, a gathering on the front porch late on a summer evening with a few friends you just really want to catch up with is just as magical. Add simple food and great wine and you will have a night you won't soon forget.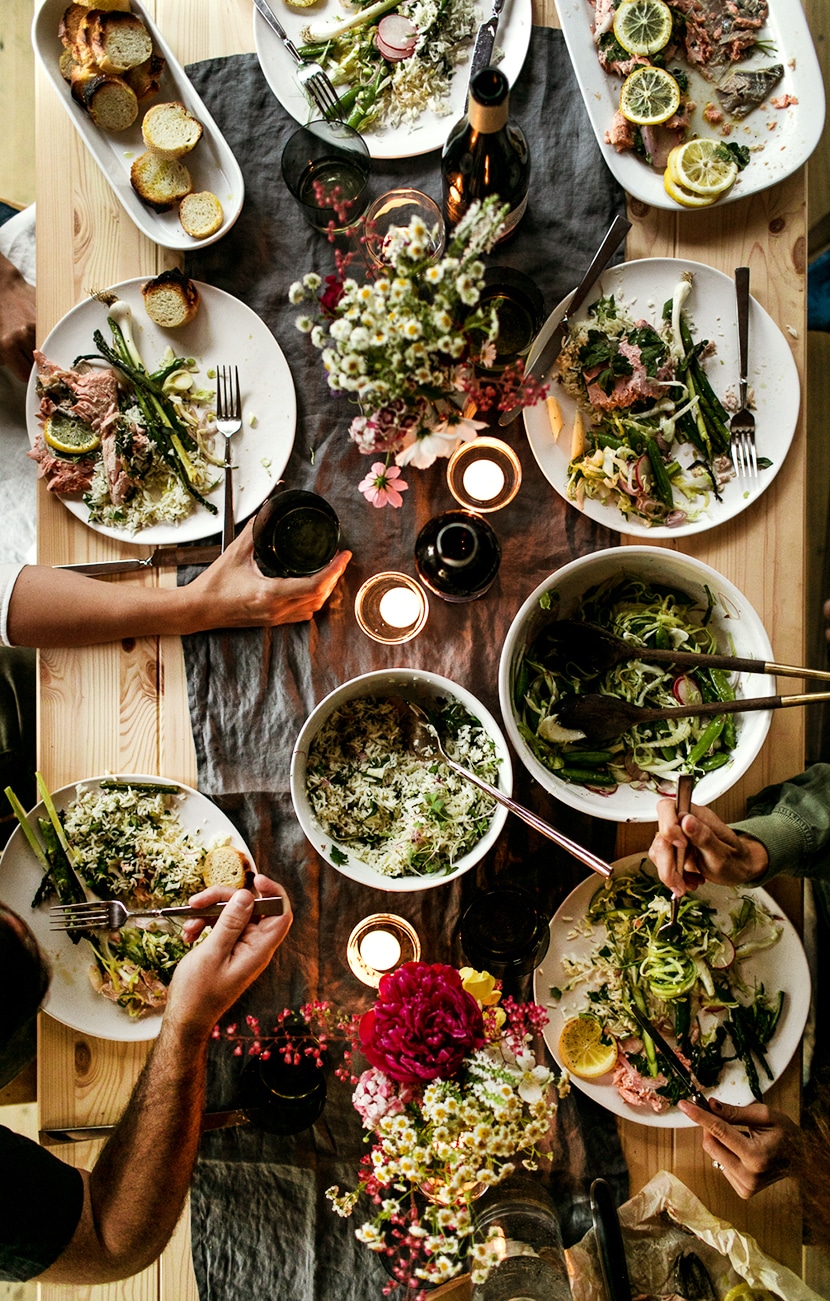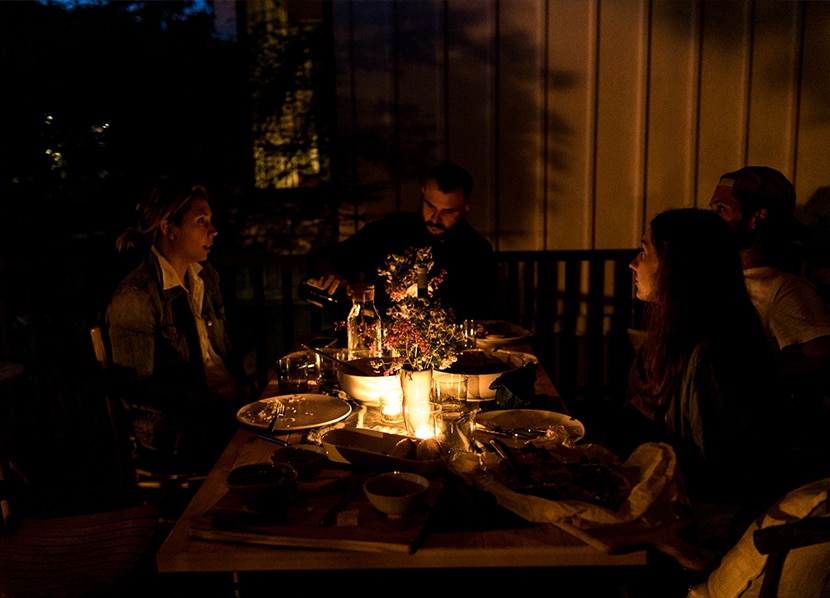 This summer, I suggest making the most of your porch. Gather as often as you can. Don't make it too fancy. Divide up the recipes amongst your guests that I have created for this gathering and come together. Have everyone bring some wine or beer. Set a simple table with candles and flowers. Have a party to dye your napkins. Enjoy making gathering this summer special without too much frill. If you feel too busy to gather, continue to simplify your gatherings till they feel possible. Being around the table is a special part of summer and warm days and we must not allow much of anything to stand in the way.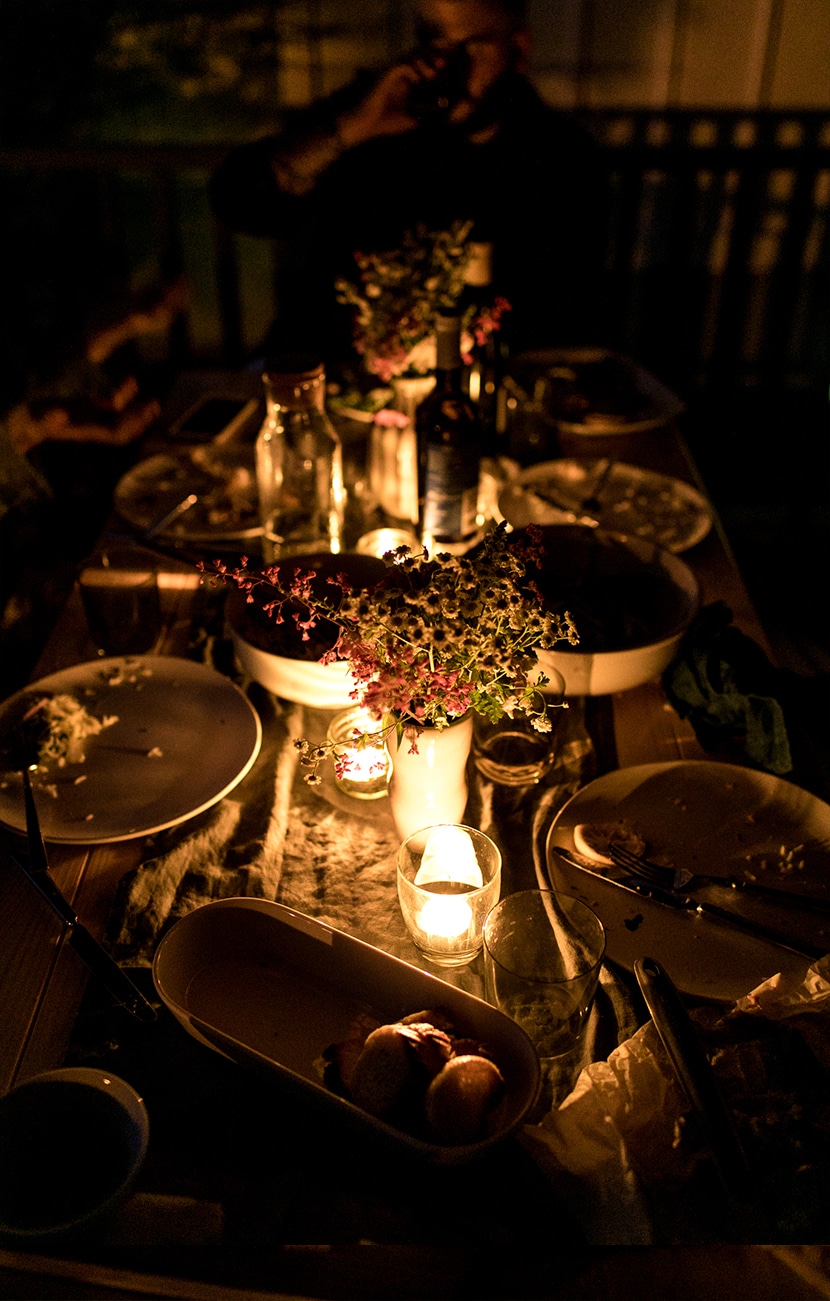 Below you will find links to each of the recipes and the a DIY to make these evening extra special. Make sure you make gatherings happen this summer.
I also gathered up all the items I used for the gathering below for you in case you wanted to know:
Table from Ikea
Linen Runner from H&M
Napkins – DIY here
Plates from CB2 (no longer available)
Glasses from CB2
Chairs — similar
Bench – here is a similar style