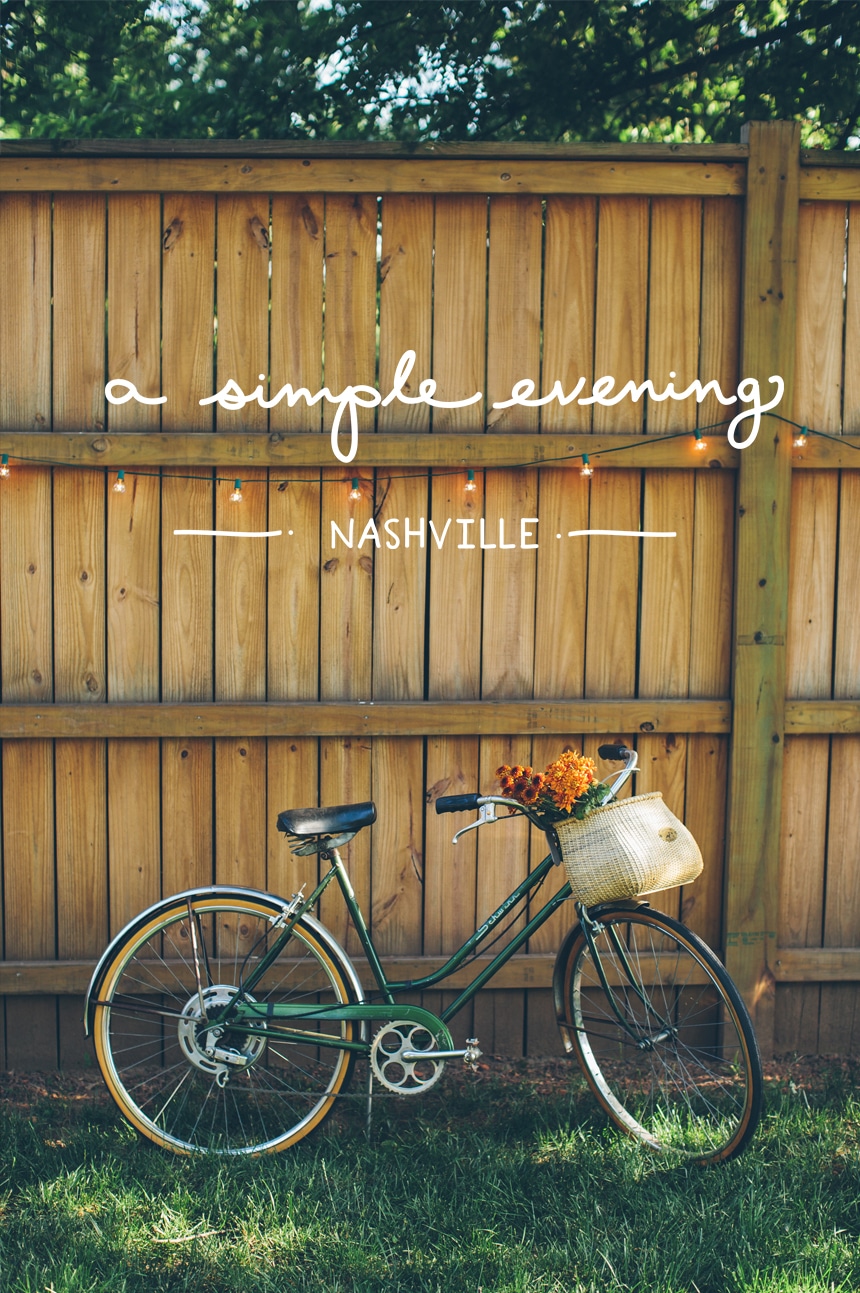 Over the years I have learned to never underestimate a relationship in life. Whether you meet for 40 minutes on a plane or you spend years together, you never know when a relationship will reveal a beautiful and amazing side to life you never expected.
When I first met Stephen Rose, owner of The Peach Truck, we were freshmen entering a whole new chapter in life.  We had a class or two together, but we honestly never really got to know each other. Fast forward years later to our Senior Seminar.  He was there sitting next to Mike. I naturally chose a front row seat.  Throughout the semester, Stephen watched as Mike and I quickly fell in love.  During our years in college, I never thought that I would road trip from my home in Raleigh to Stephen's home in Nashville to collaborate as entrepreneurs. I never expected that we all would be planning a dinner to celebrate life, community, and great food. When life comes together in that way, you see why it's so amazing and beautiful.
We honestly couldn't be more thankful to call Stephen and his wife, Jess, our friends.  Last summer at our best friends' wedding we joked about doing a Nashville Simple Evening.  Eventually we realized it was not a silly idea to bring together The Peach Truck and The Fresh Exchange to create a beautiful evening in Nashville.
Months later, we found ourselves together in the heat of an early Southern summer.  We strung lights in the backyard and watched as all the pieces fell perfectly in to place for an evening that would live in our memories as one special night.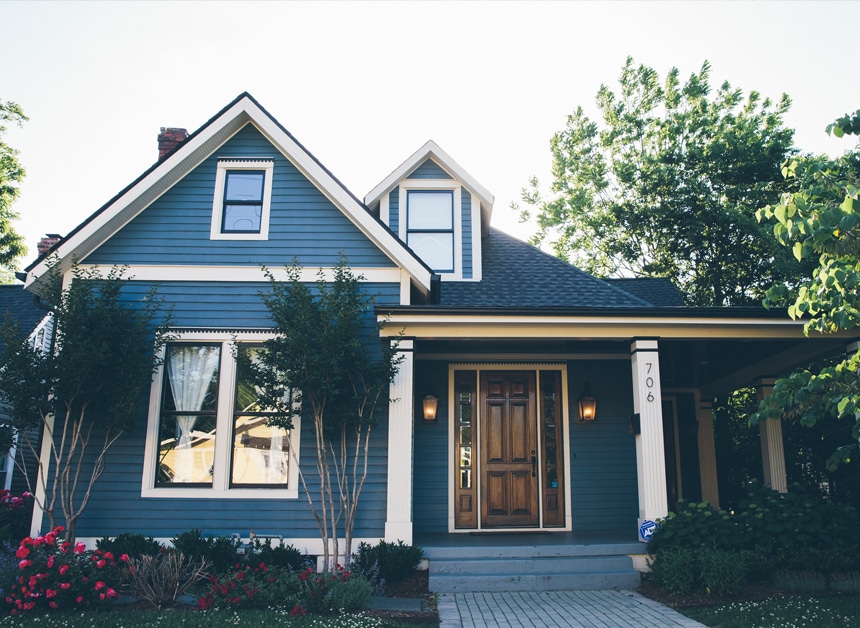 Before we jump in to sharing about the dinner, let's chat about The Peach Truck for a minute. The story behind The Peach Truck is a story we plan to share more in our Wild Measures series, but I have to at least give you some insight into this amazing story and company. Jess and Stephen both left their jobs to risk it all to build a life they had always dreamed of.  Stephen grew up eating his family's Georgia peaches and knew them as the best peaches around. He and Jess decided to bring these special peaches to their community in Nashville so they could share them with the people they loved. As a result they built an amazing business providing a top-notch product to the Nashville community, the surrounding area, and even across the U.S. If you are a peach fan, do yourself a favor and order a box to really treat yourself. It is a story of hard work, passion, and love.
Jess and Stephen are hard working entrepreneurs that are embracing the community they live in. They work countless hours to make their dreams come true. So, like I said before, we feel pretty honored to call such people our good friends. Thus, we knew when we told Stephen to begin inviting those he loved to the dinner, that they would be people we would love as well. Sure enough that afternoon when faces started coming through the door around 6:30 p.m., each came in with a smile.  Hugs were shared, and new friendships began within minutes.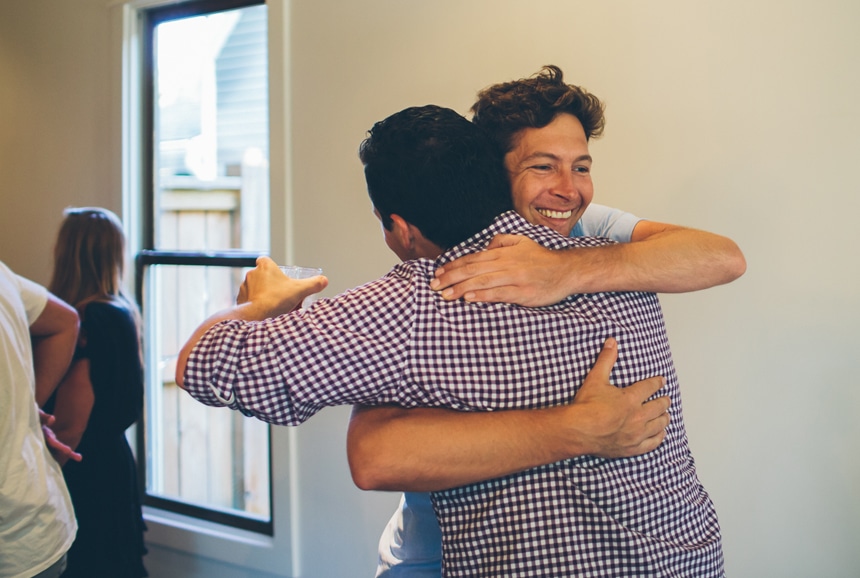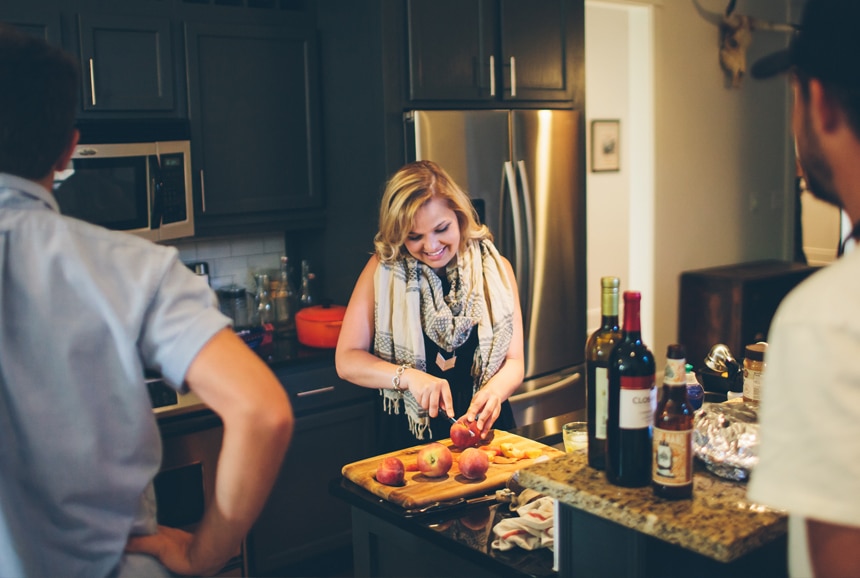 It worked out perfectly that the first day of The Peach Truck season was the same day as the dinner. Jess and Stephen had sold out that morning at the Farmer's Markets in Nashville and so it felt pretty special that we would be celebrating together. It felt like the perfect celebration to kick off a new season full of hard work, new adventures, sweet peaches, and of course summer.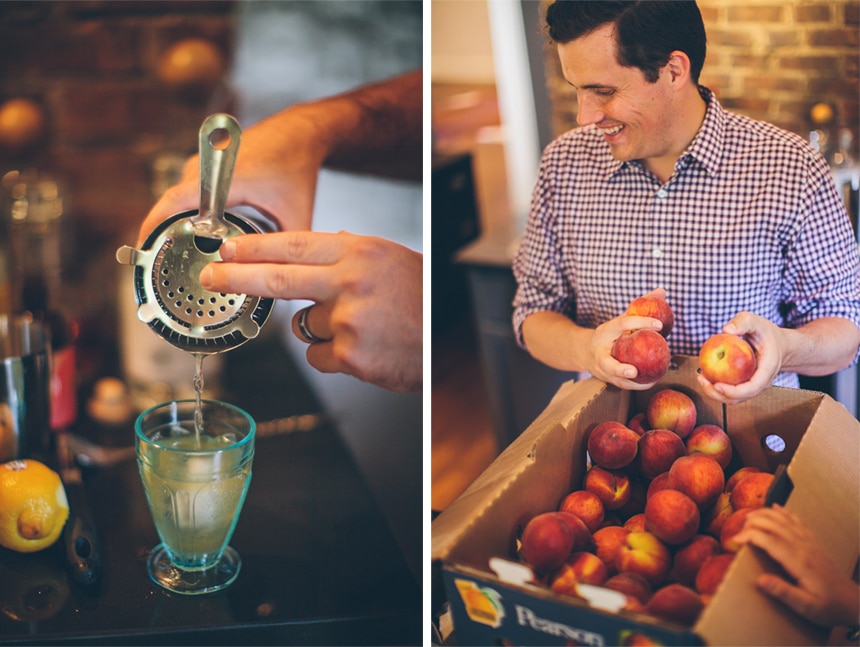 Everyone was asked to bring a favorite dish to pass. The amazing KLD Farms provided us with local beef and sausage for the grill. There is nothing like food straight from the farm and nothing like sharing it with those that work everyday to keep the quality top-notch throughout the process.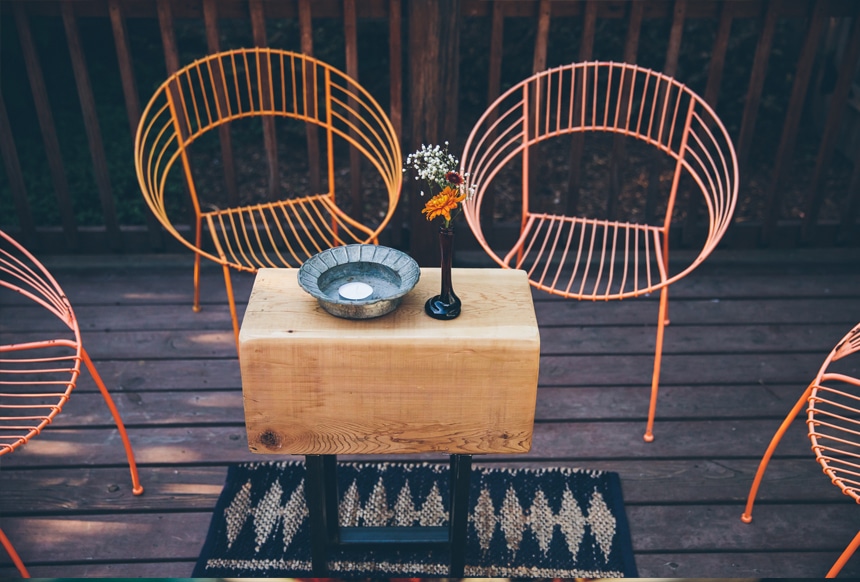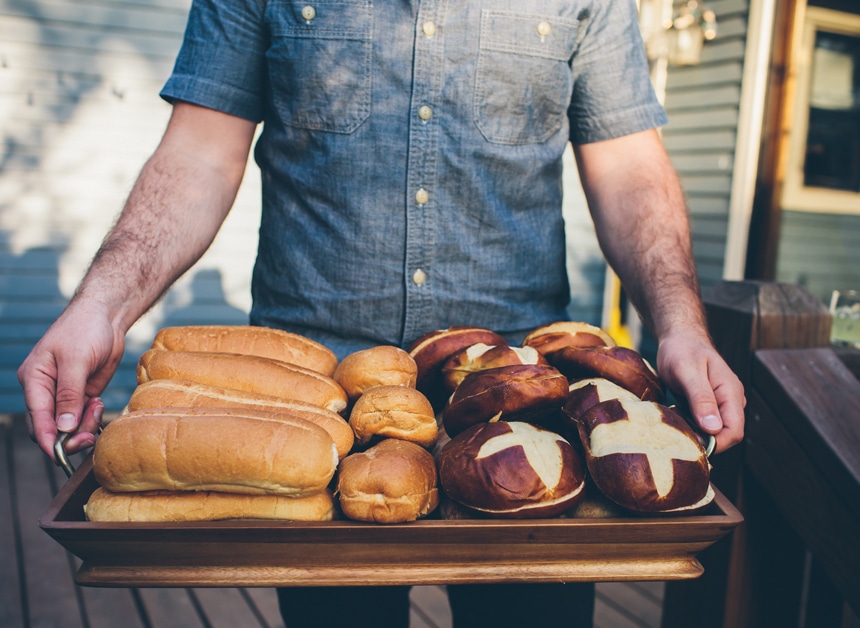 Though it had been extremely humid and warm throughout the day, the sun had begun to fall low enough to touch the top of the Nashville skyline.  We were thankful for the glorious break from the day's heat. It made sitting on the porch and patio the perfect thing to kick off the evening. As the sun began to slowly fade, everyone began to grab drinks and come out to enjoy the beginning of our Simple Evening.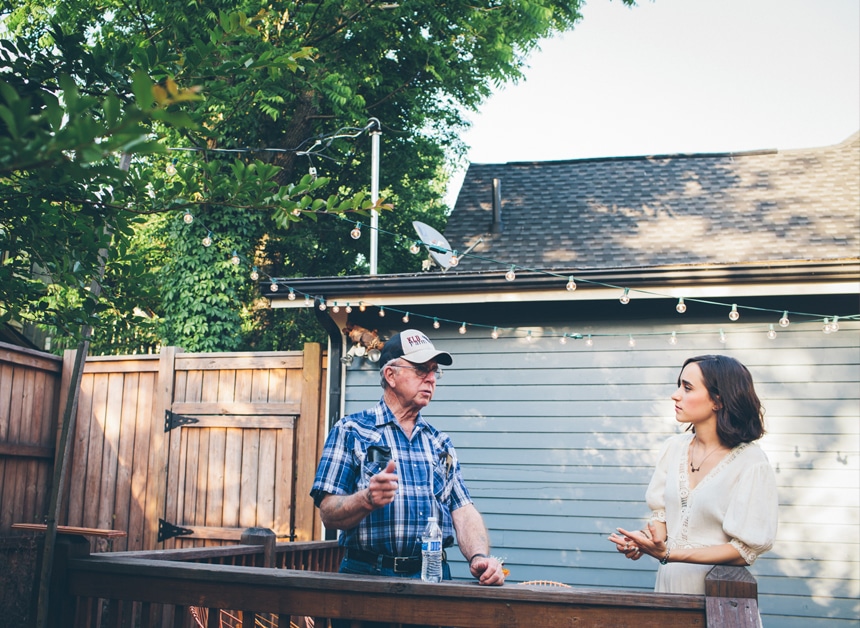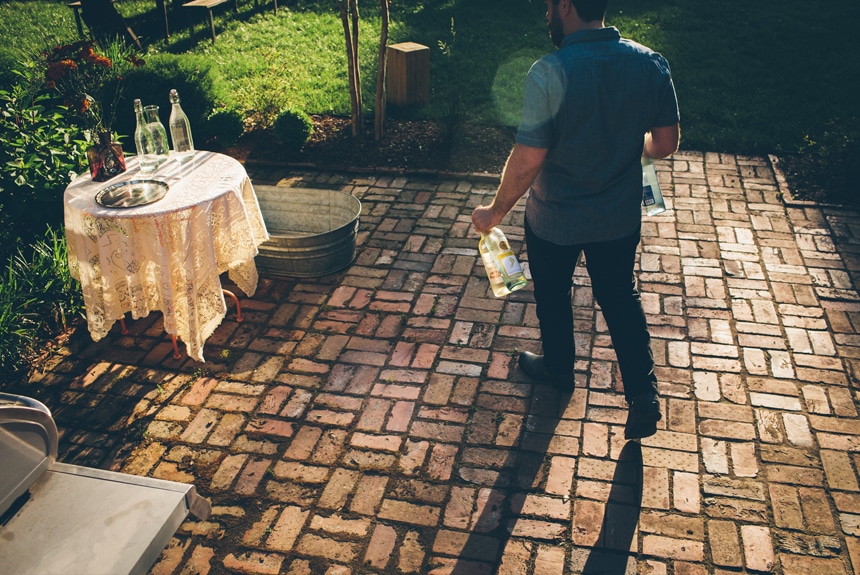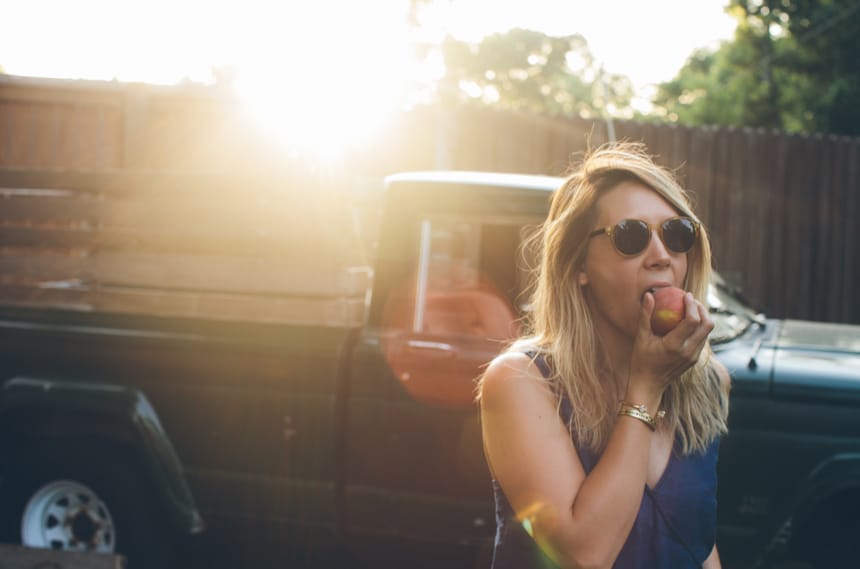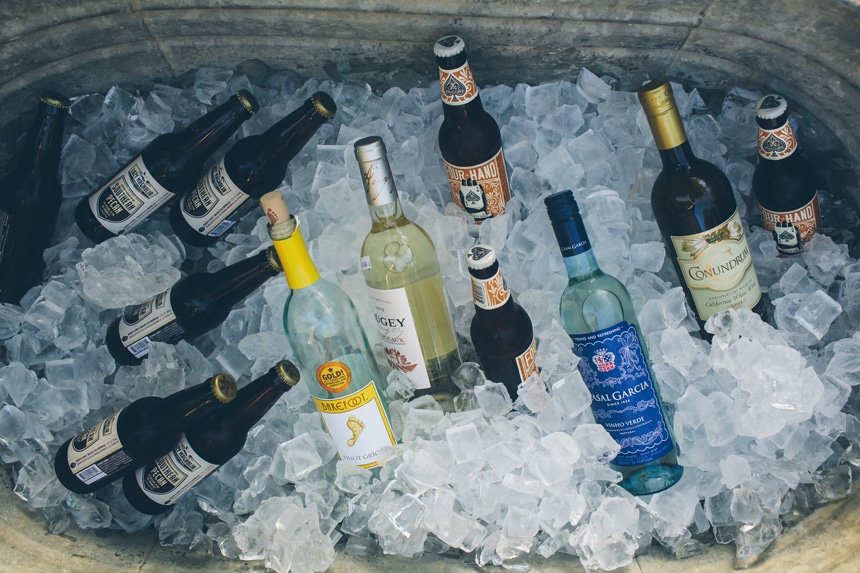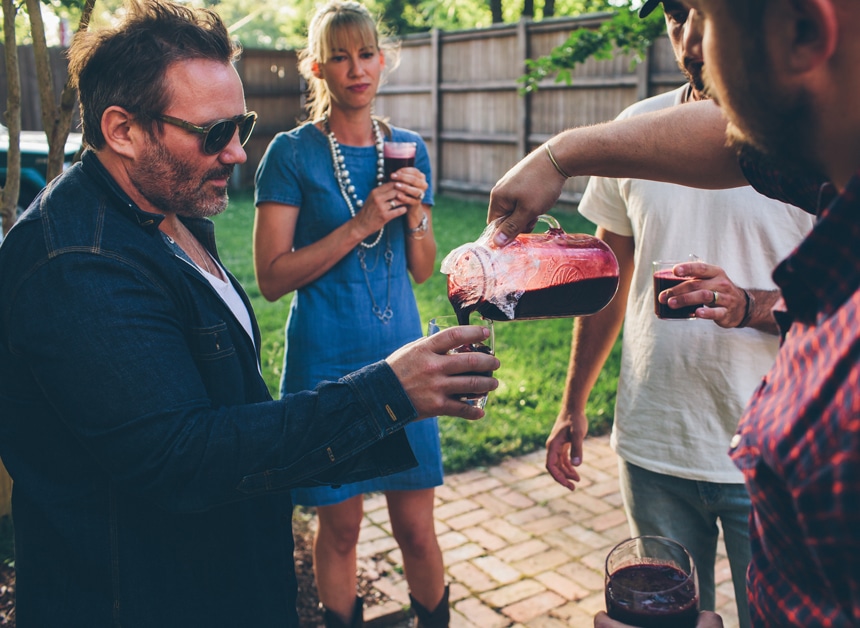 A few brought some awesome homemade cocktails. Chris of Made South shared his Blueberry Mojito mix, and Jesse of Food Sheriff brought a lime and mint infused Gin. There is nothing like a well-crafted cocktail to begin a good evening with great people.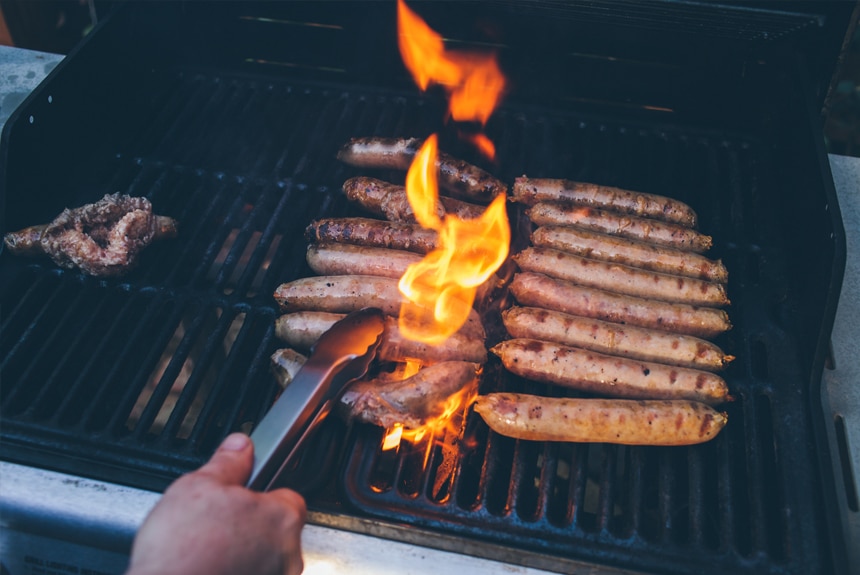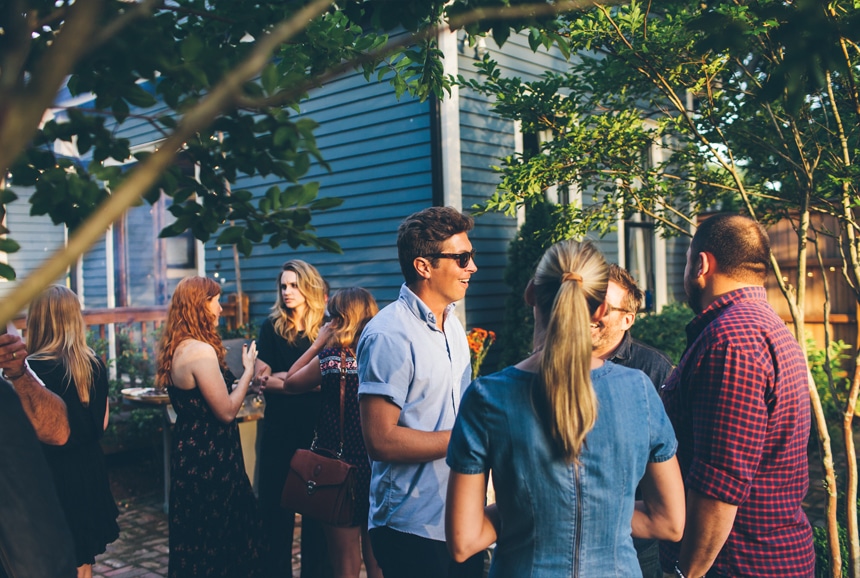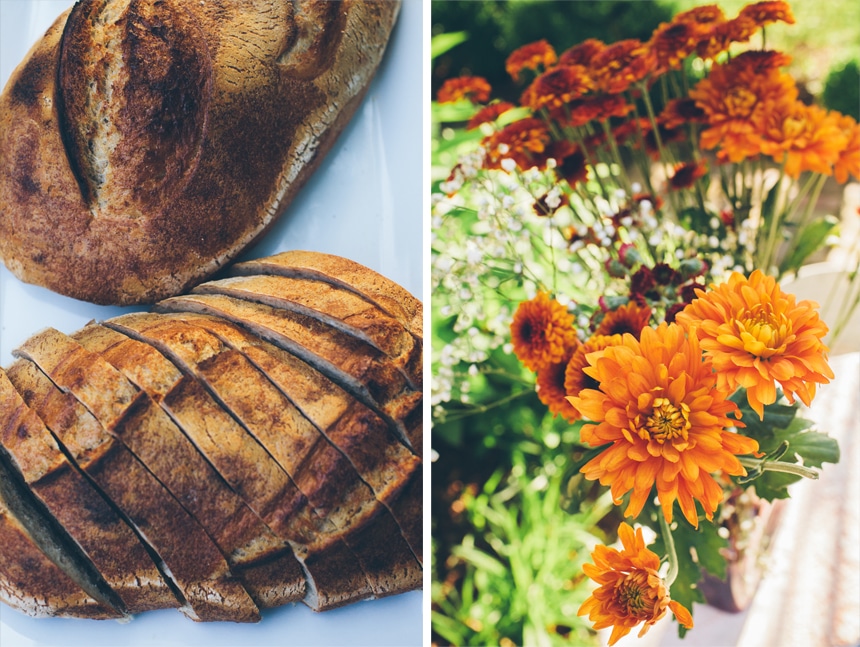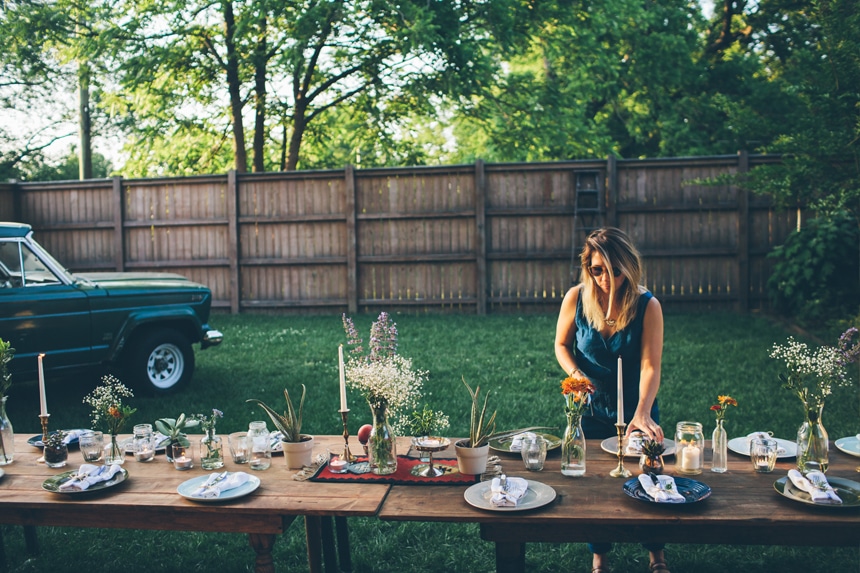 We were lucky enough that evening to have had AusDen Inc share their amazing foldable farmhouse table and their benches. These tables were gorgeous and were perfect for the place settings.  As someone who does a lot of dinners, I found that the best part about the tables was that they were easy to move (I mean foldable legs and very light weight). For the decor we had gathered items from our home, Jess and Stephen's home, and thrift shops. We spent about $20 on flowers…the rest were gathered from the yard. I try to make a small fuss about the decor at these dinners because to me it is not necessarily about the way the table looks as much as it is about who gathers around it. Sure it is fun to set a pretty table, but the memories and stories shared amongst those present lasts far longer than flowers and decor.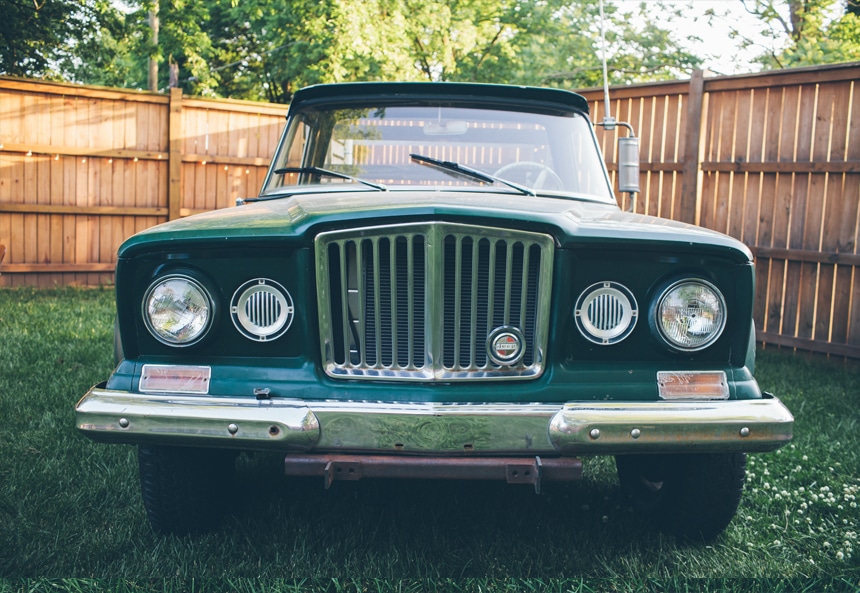 It was so cool to have The Peach Truck herself at the dinner. Though it wasn't our first time having a vintage vehicle at A Simple Evening, it may have been one of my favorites. Stephen brought her in the back after her last pick up for the day and let her enjoy the gorgeous summer night with all of us.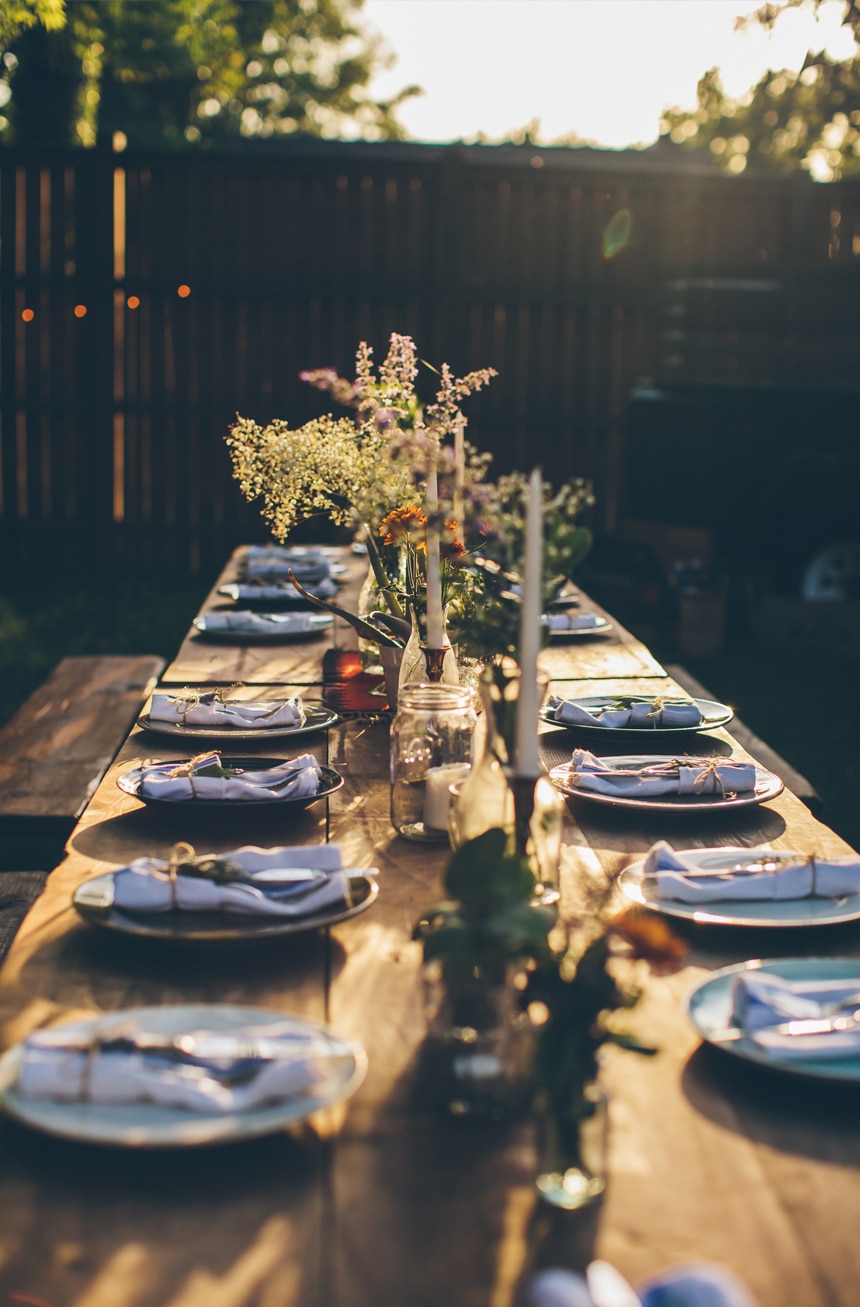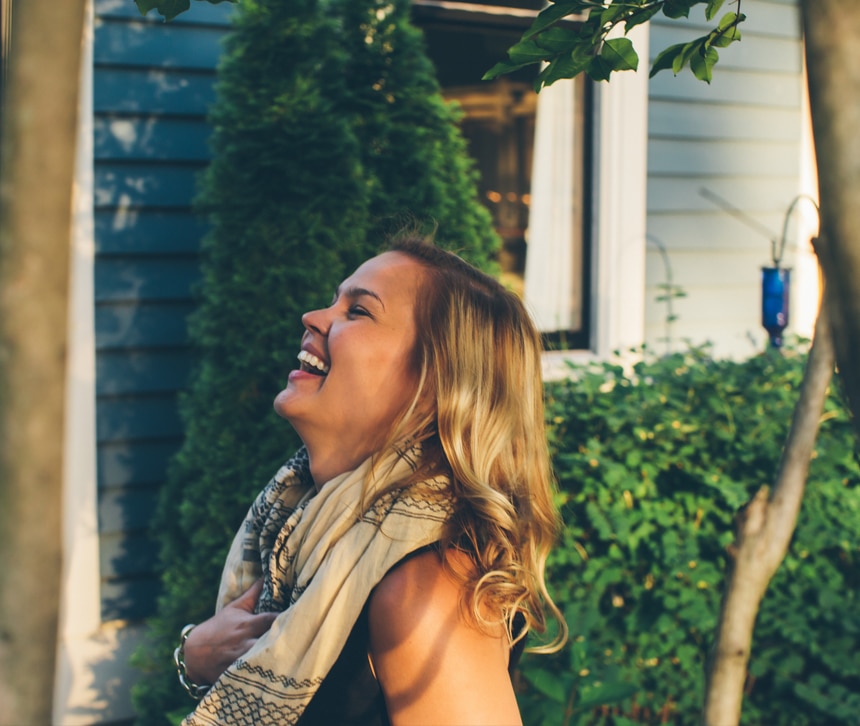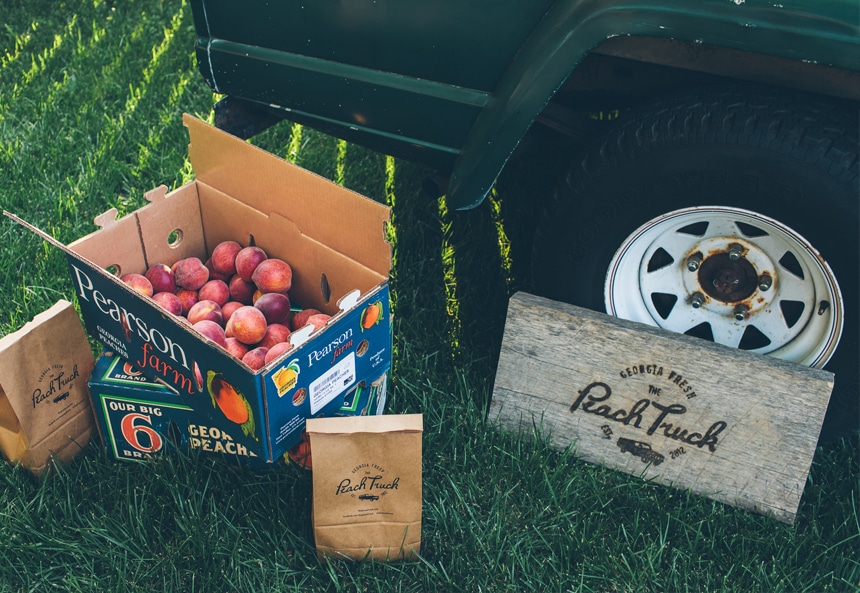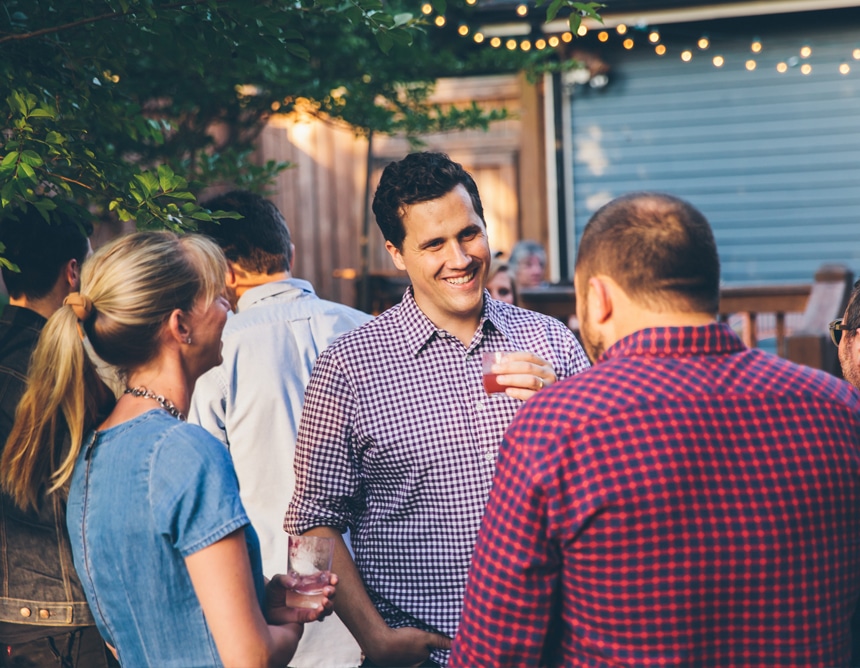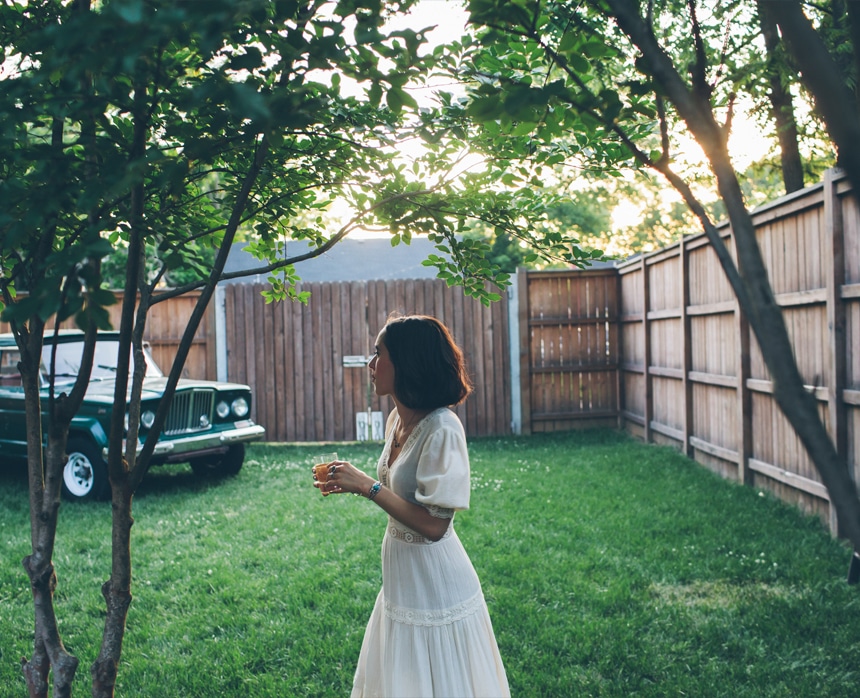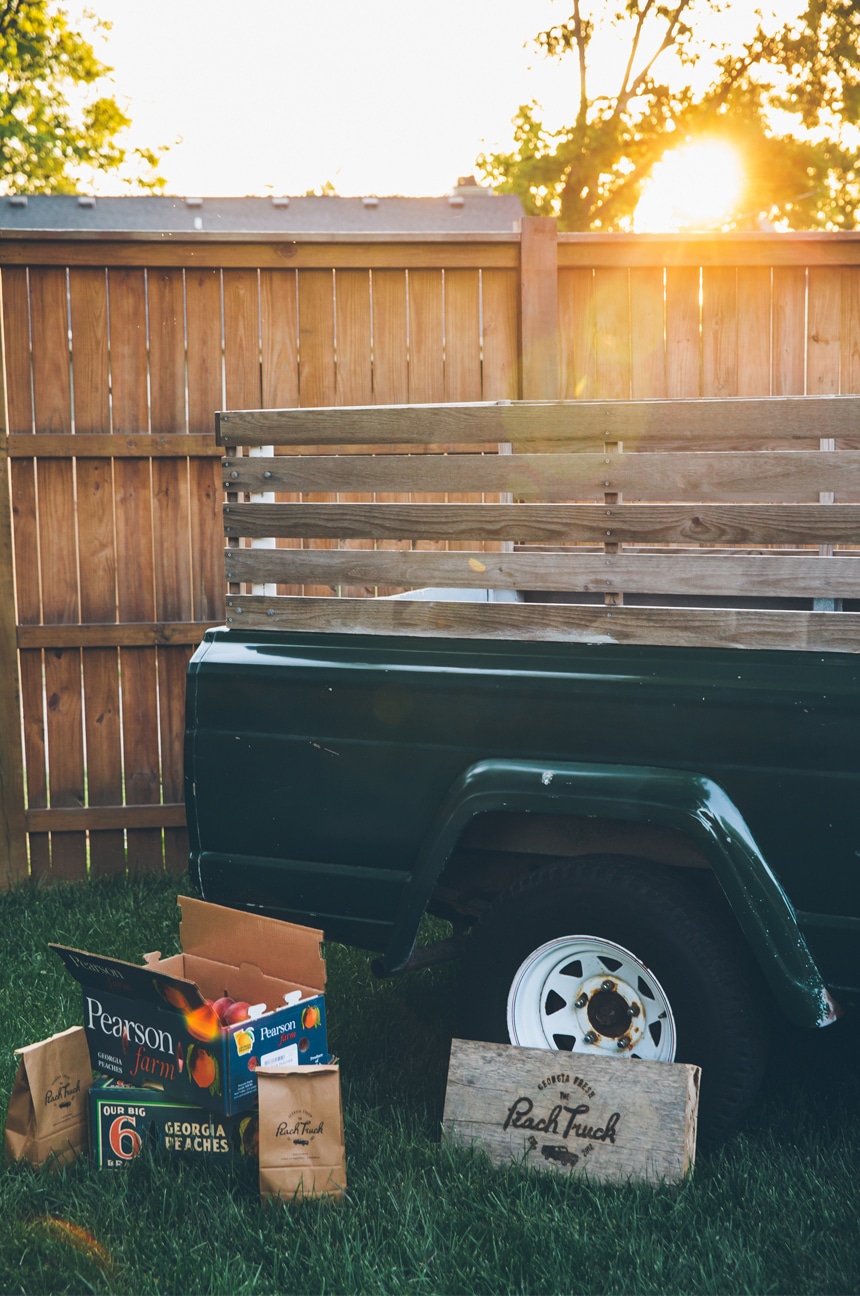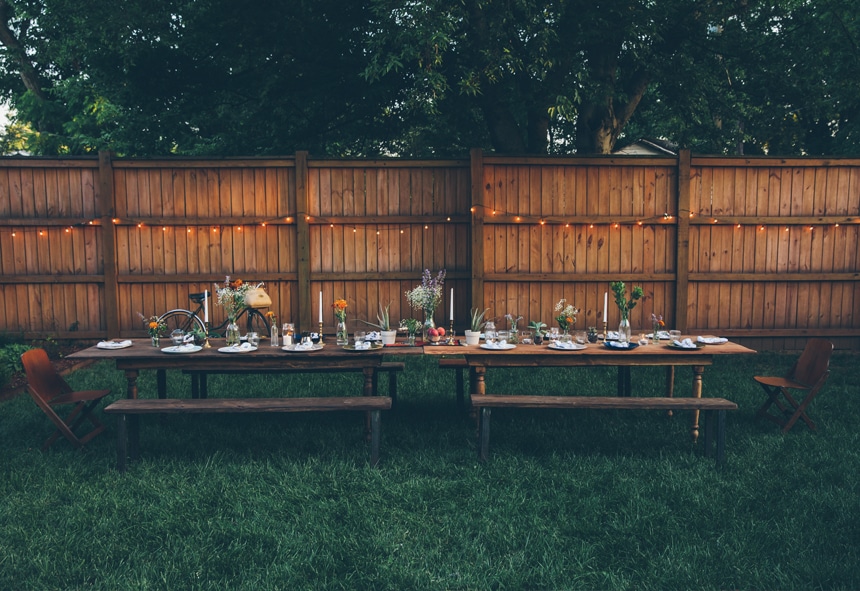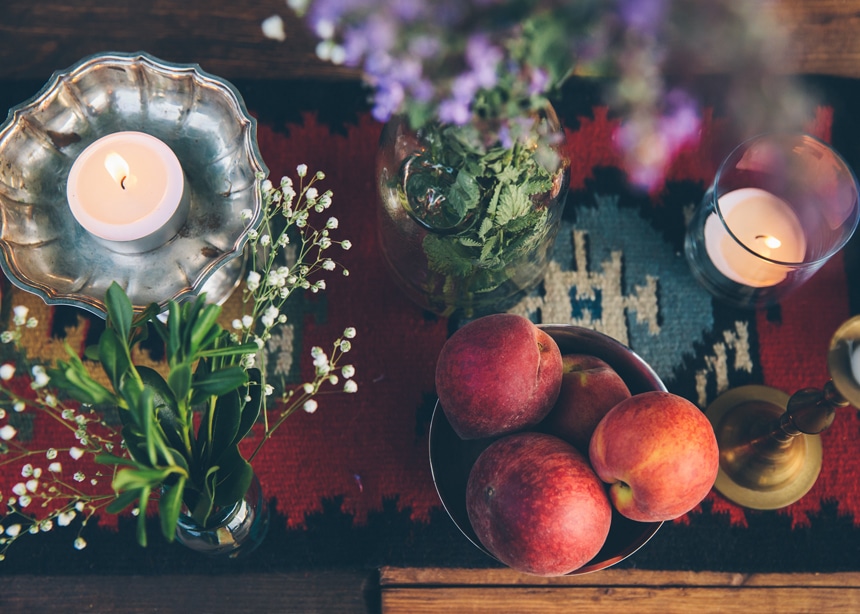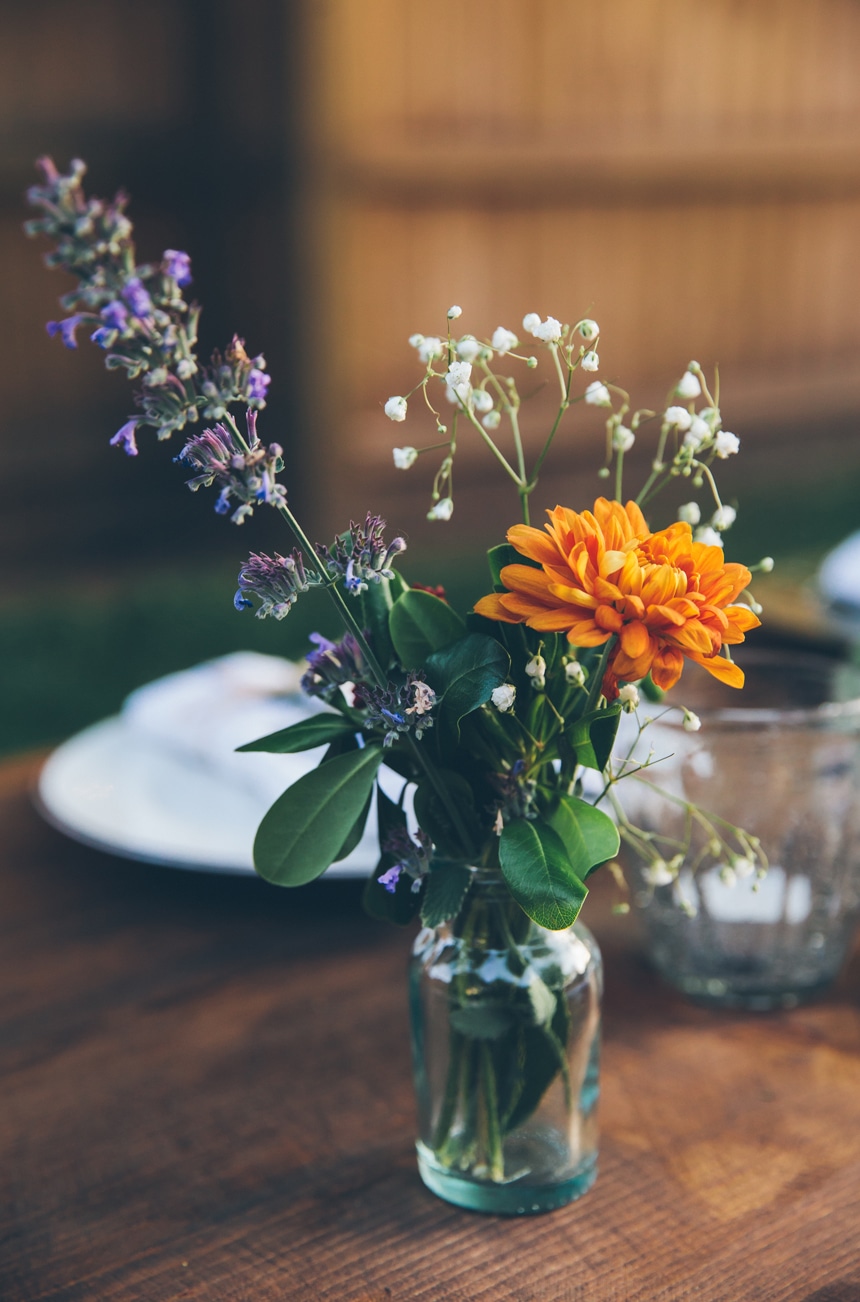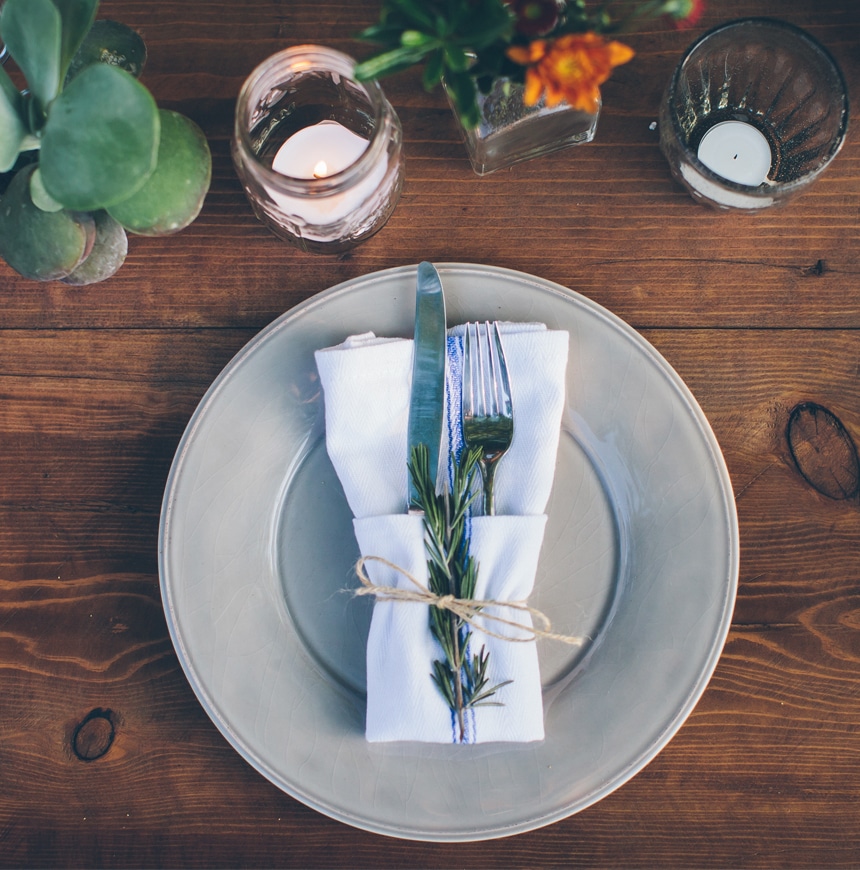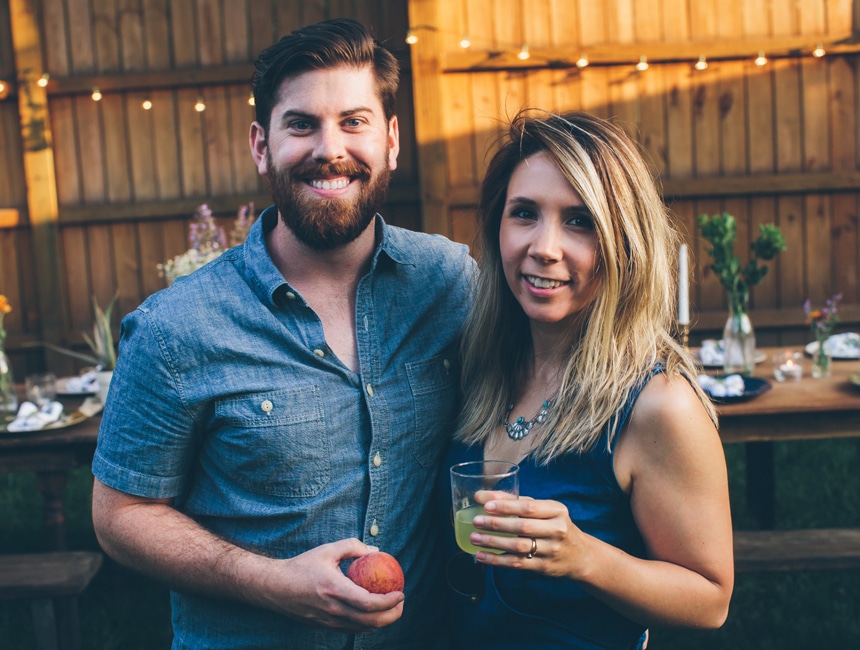 For me this dinner may have been a favorite because it's not often that I get to enjoy the night with Mike.  Since we had Parker Young there to capture the evening, Mike was able to be a little less on duty even though he still shot some video (don't miss it at the end of the post). We rarely get photos together because Mike often is behind the camera especially when shooting for the blog, so we were glad that Parker could snap a couple of us. Seriously, it was really special to have this evening captured by Parker.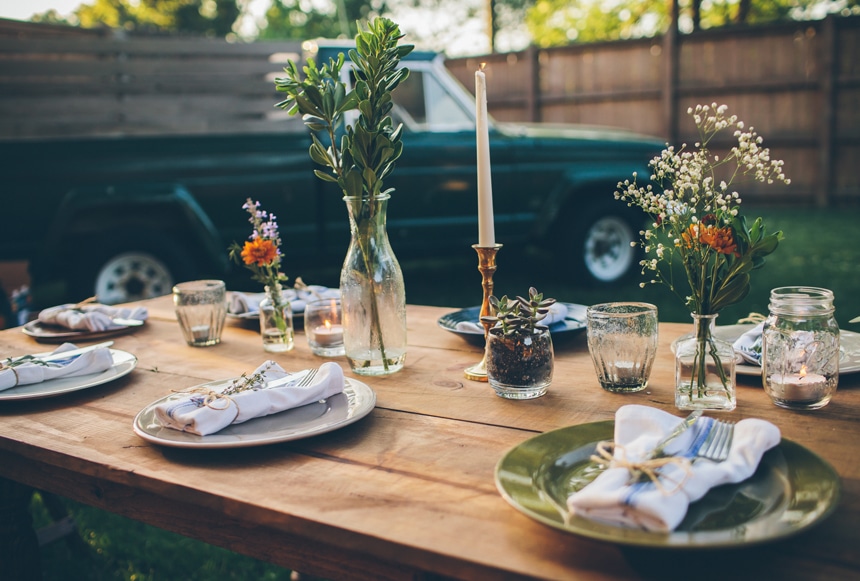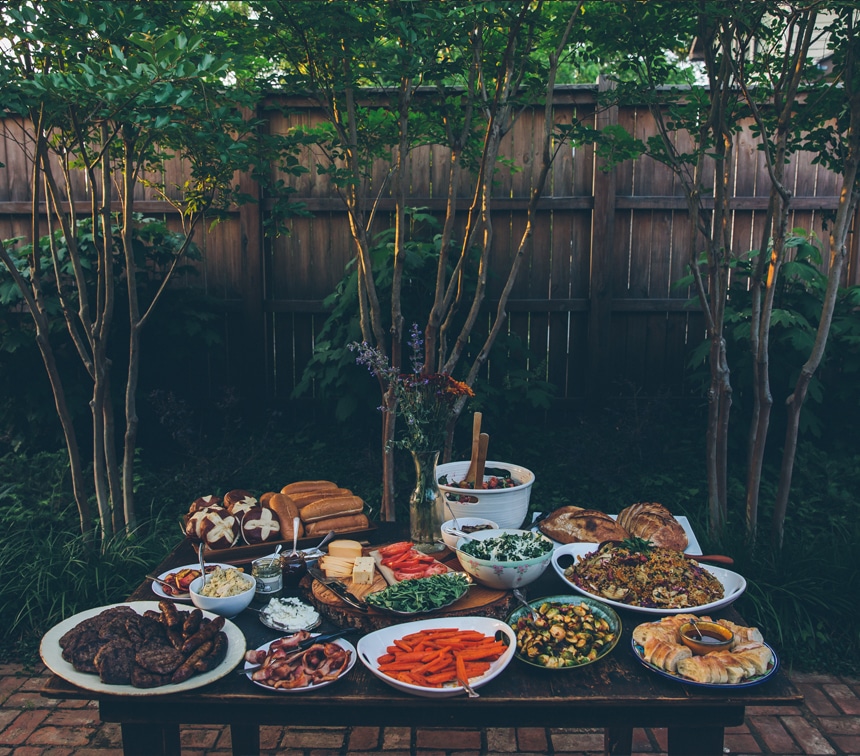 Once the sun had fallen behind the top of the fence, we had everyone grab a plate from the table and head on over to stack their plates high with all the amazing food that everyone had brought to share.  There was everything from roasted veggies to Tennessee beef to salad packed full of Peach Truck peaches…of course!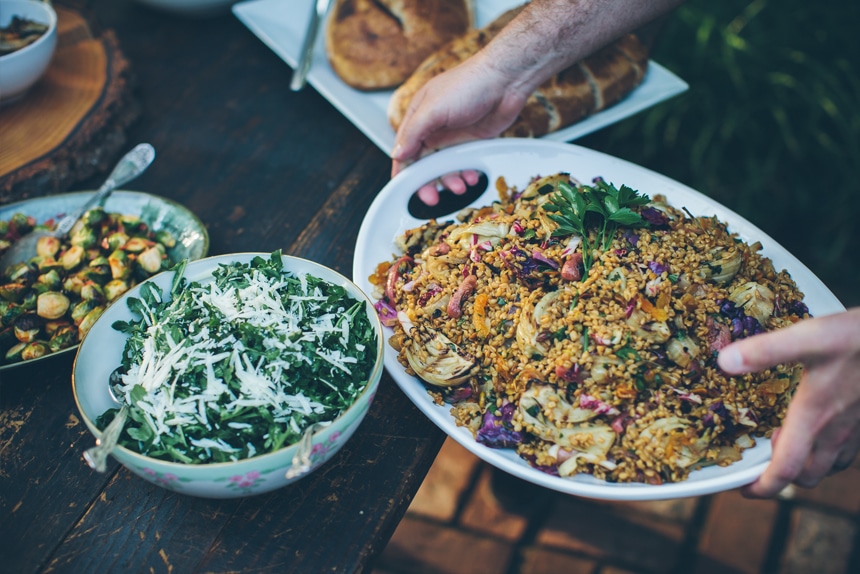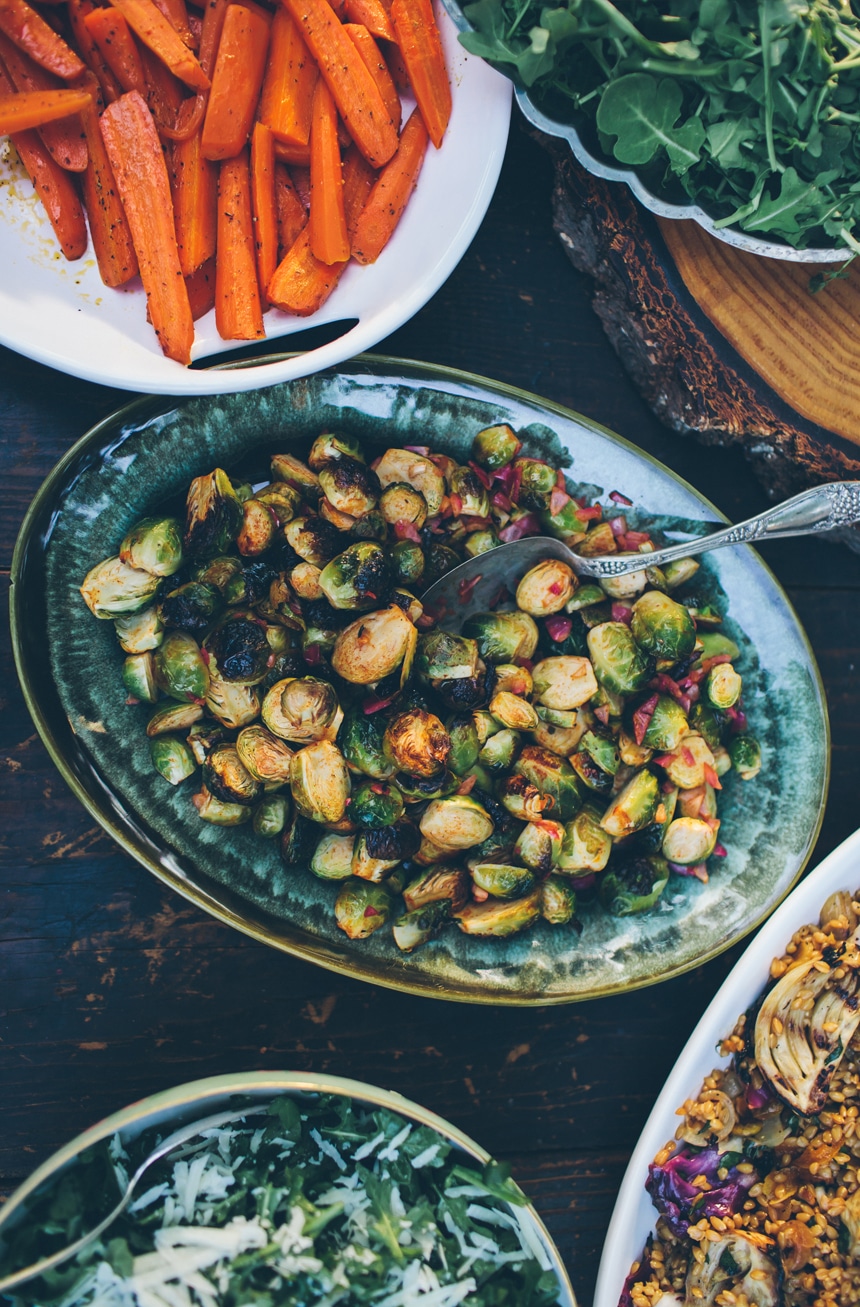 For the evening we felt it would be fun to break away from the normal burger and brat condiments.  We wanted to create something more fun by providing unique items to layer on top such as grilled peaches, smoked gouda, whole seed mustards, and more. As each person went through, they each put their burger together differently than the other.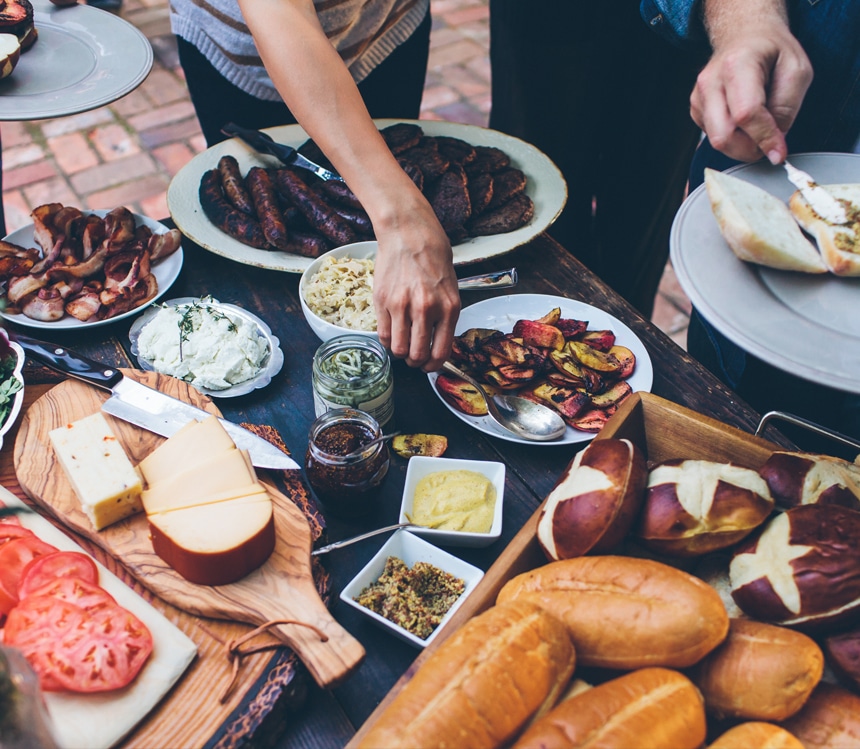 It is so easy to pull together fun condiments (or even have your guests bring their favorites), and since everyone has different tastes, there is always a new burger that can be built from a handful of really good ingredients.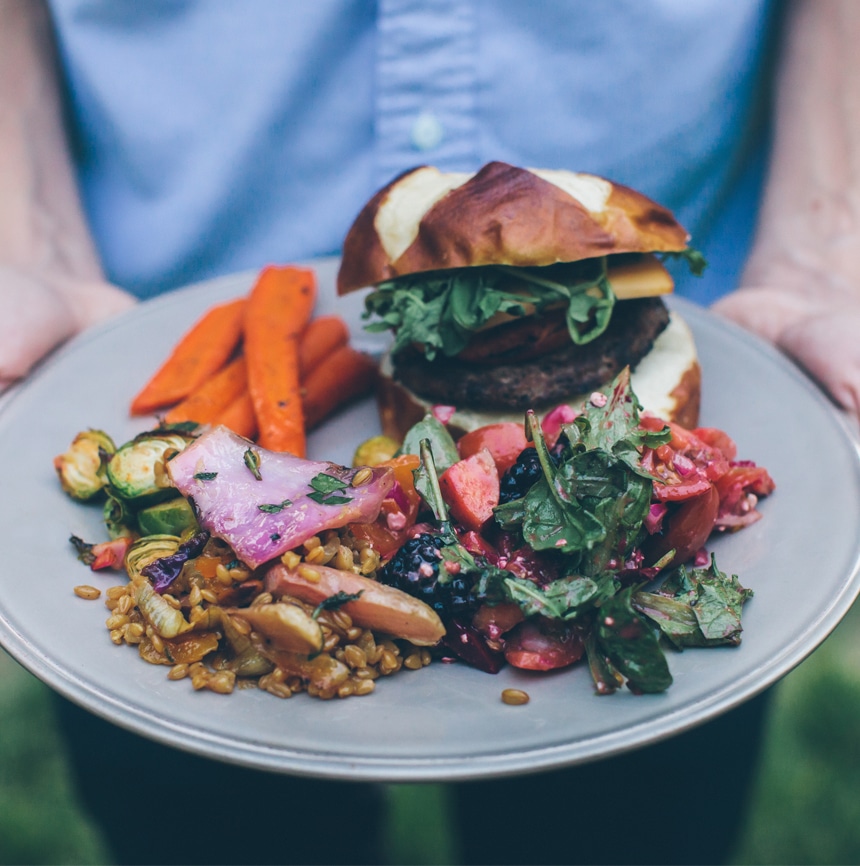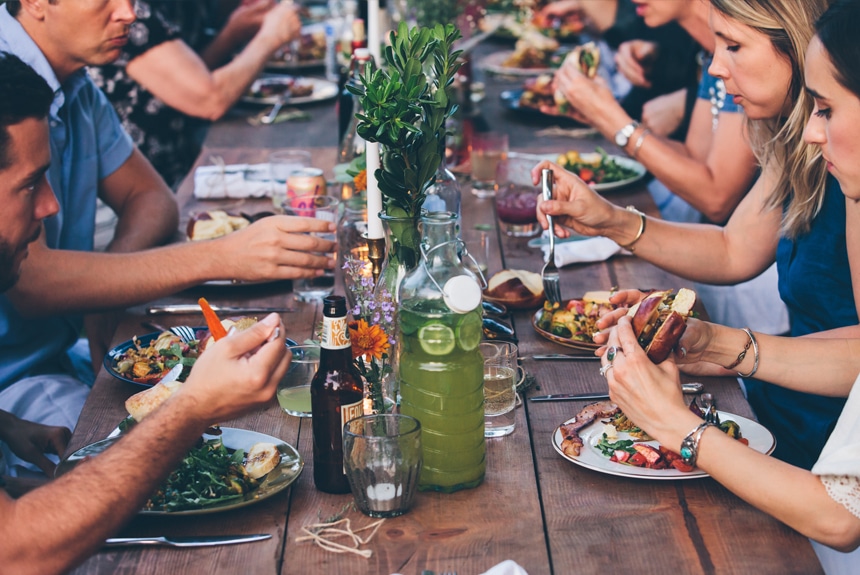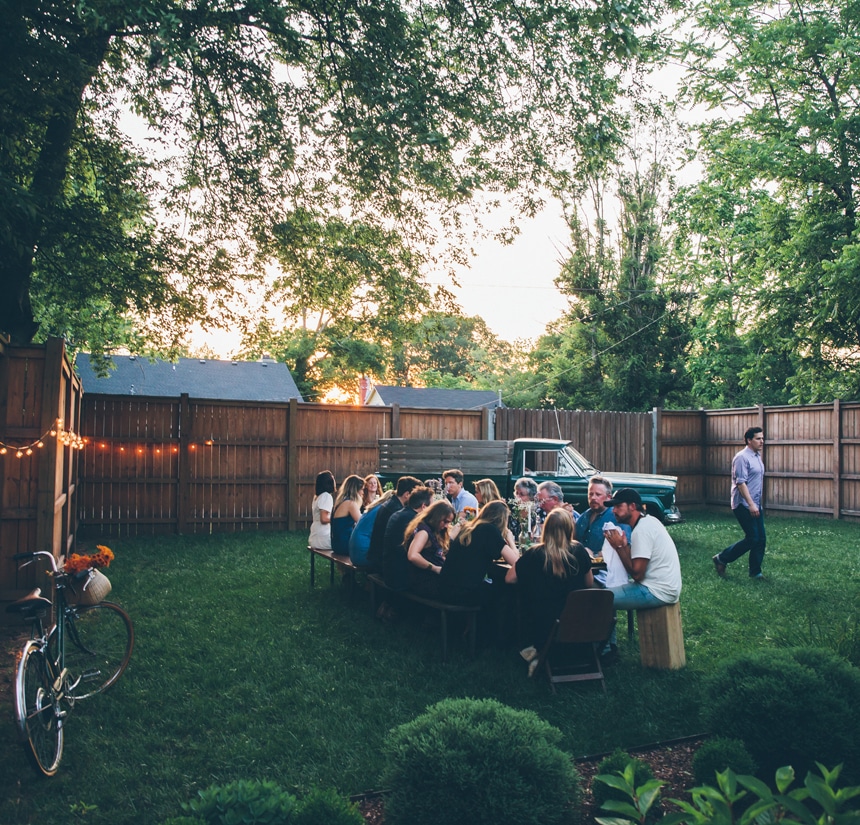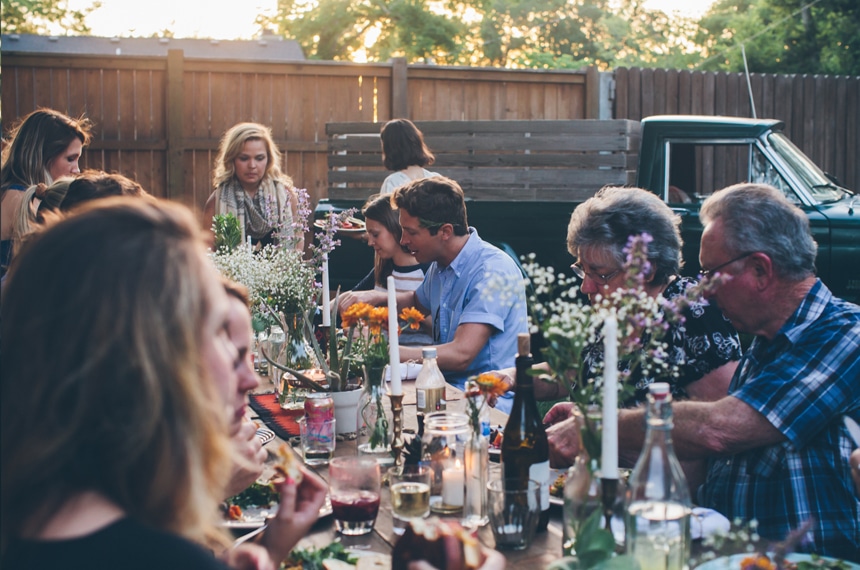 After everyone grabbed their plates and found their seat around the table, Matt stood up to offer a wonderful toast to Stephen and Jess in honor of kicking off their peach season with a bang. As we sat and enjoyed some of the first Georgia peaches of the season, we felt the toast was only appropriate to really give thanks for such an amazing evening.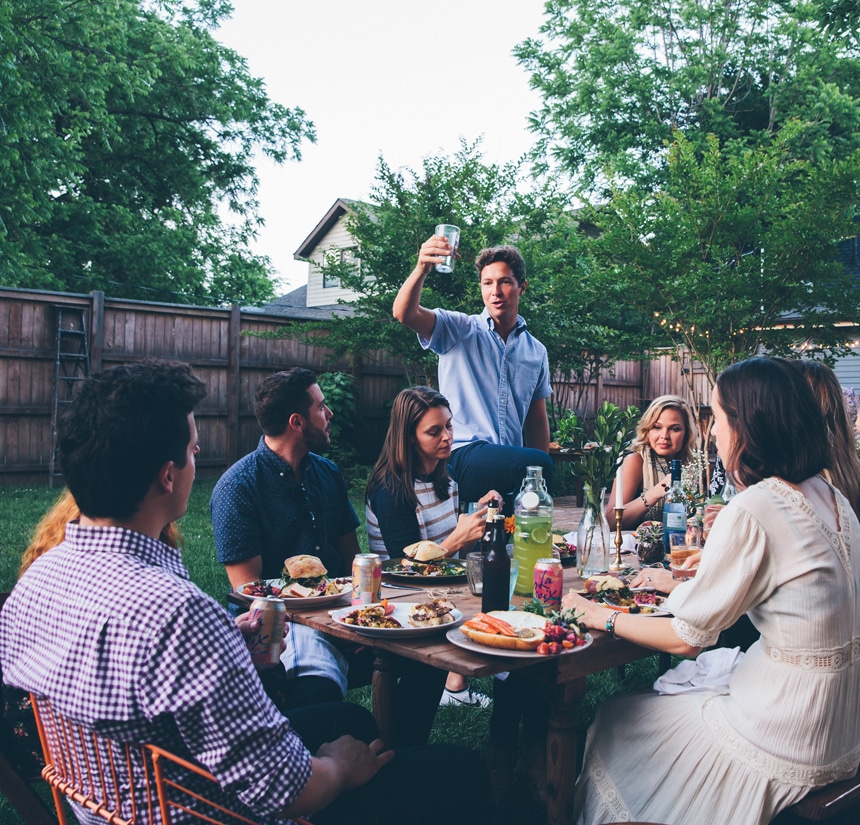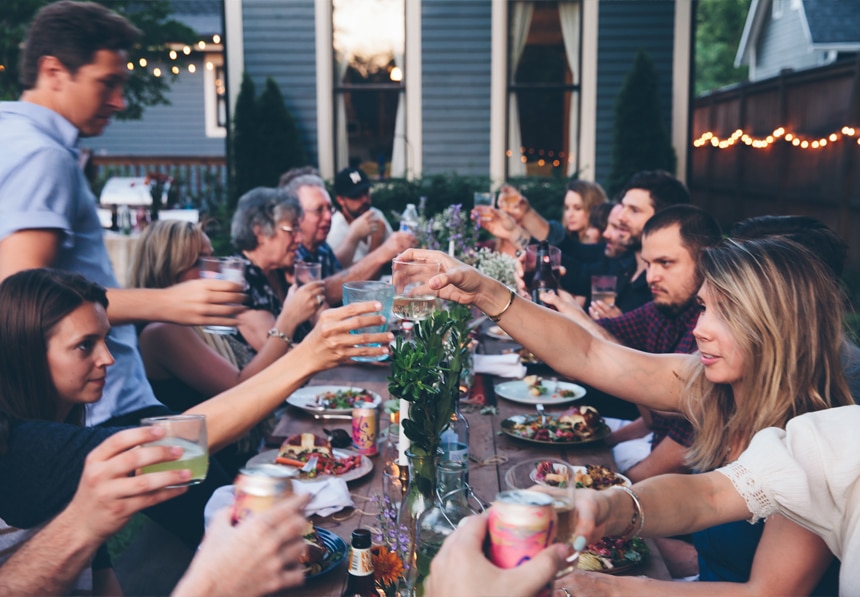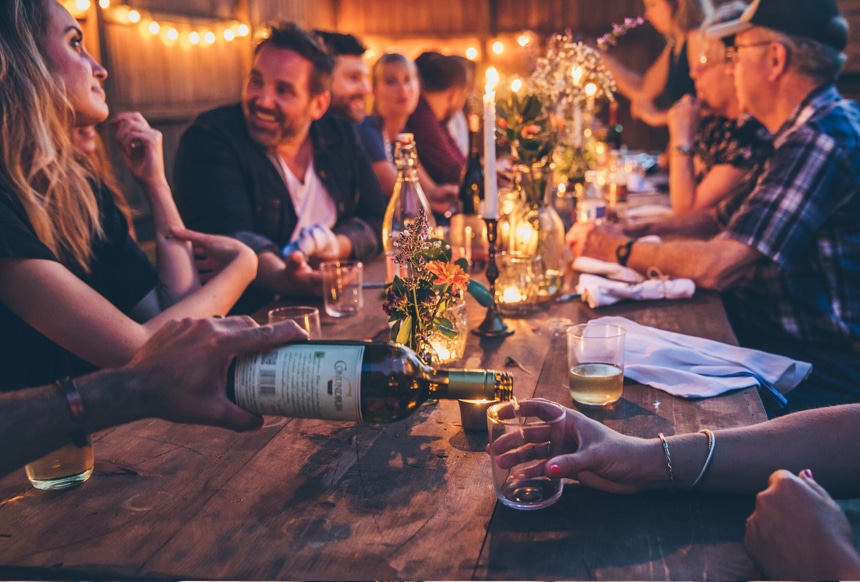 As the dinner plates were emptied and ushered into the kitchen for washing, a few more drinks were poured and conversation was shared.  As the dessert was being prepared for us, Matt Wertz offered to play some oldies but goodies in the waining light of the evening. He struck up a perfectly appropriate version of I Just Realized.  As Matt sang, Thad Cockrell sat beside him and peppered in a beautiful harmony. It was one of those really special moments that truly makes an evening feel extra amazing.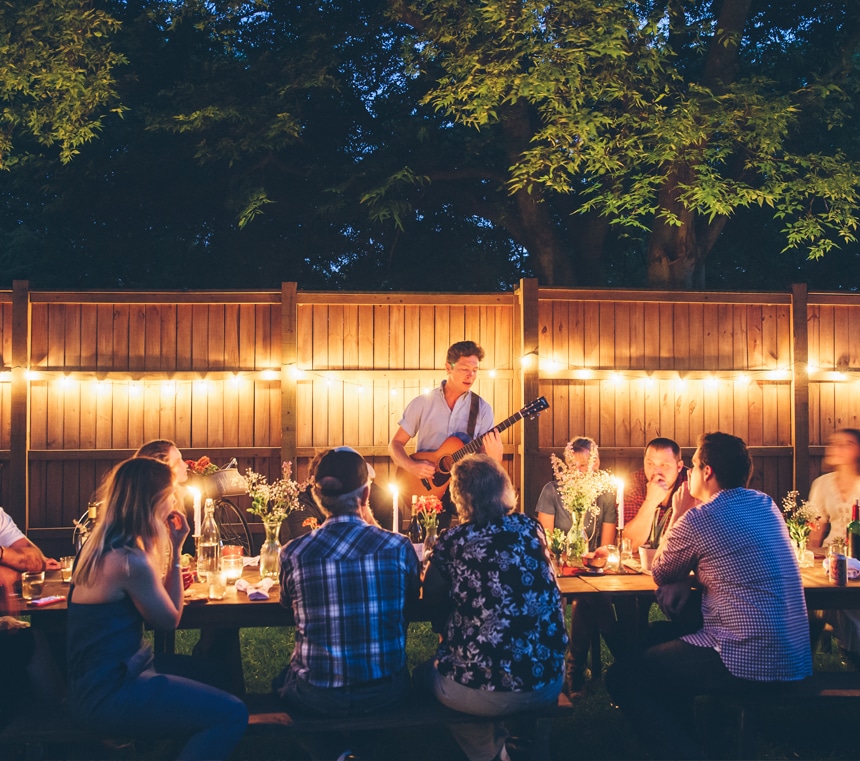 Like everyone at that table, I felt extremely special to experience the talents of Thad and Matt as they sang nearly 4 or 5 songs between each other. I really wish I could have bottled up that moment to save for later. It was beautiful to hear them simply share what they love with all of us.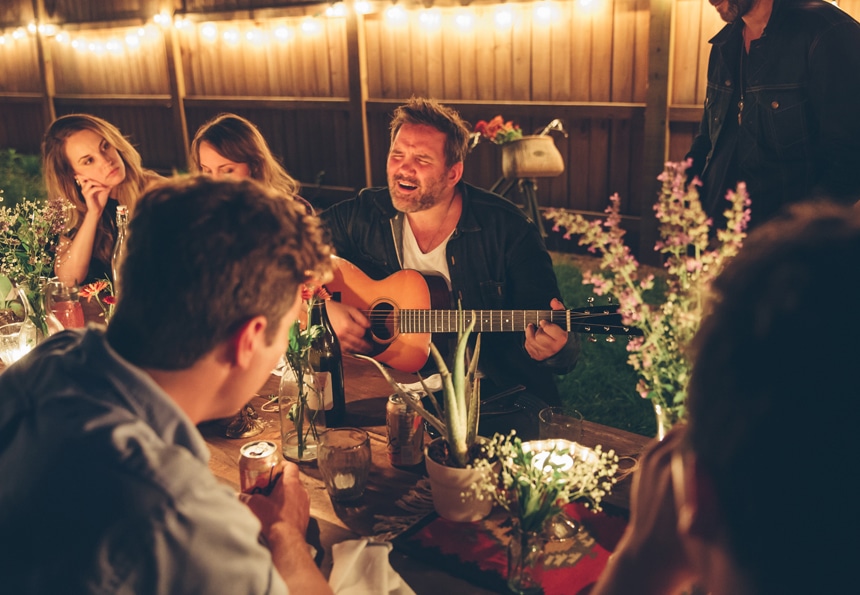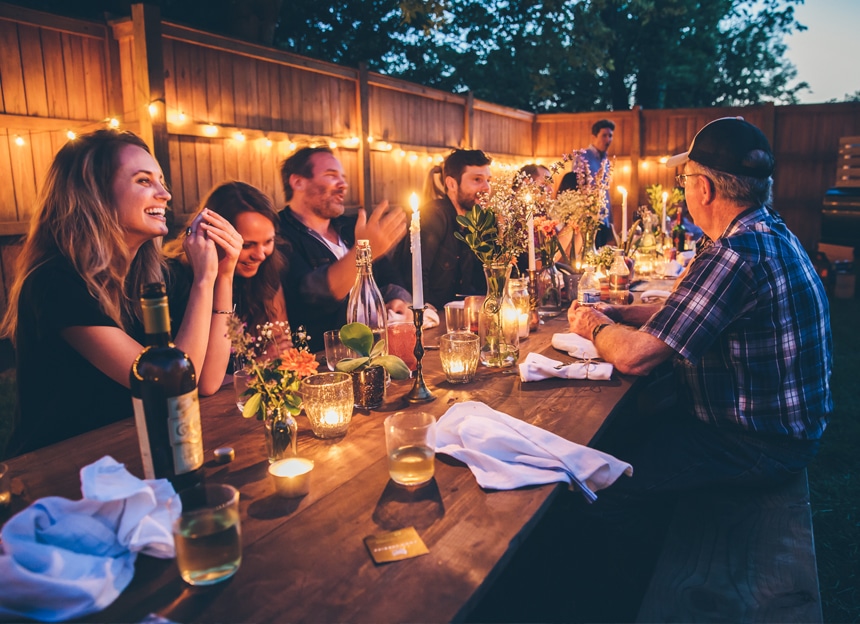 The Simple Evening in Nashville couldn't have been more perfect. This night will forever go down as one night I would very quickly relive. It was so special to share it alongside so many amazing people who are chasing dreams, doing what they love, and enjoying it in an amazing city like Nashville. There is a vibe in this town that is contagious and inspiring that I will not forget. Stephen and Jess were incredible hosts and made it easy to dream about living in this community. We feel lucky now to have so many great friendly faces to know in this talented city. Evenings like this always feel like a celebration of life, and this one was the epitome of everything that life is meant to be.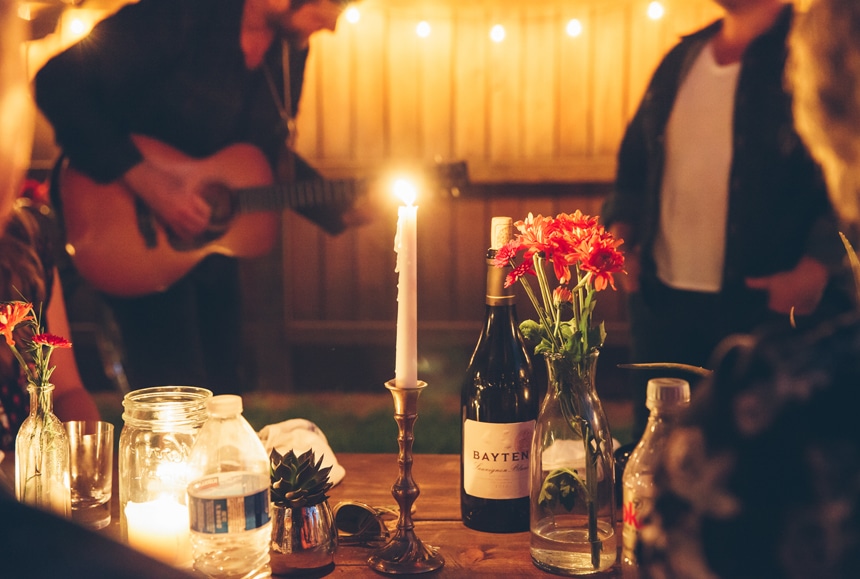 Once again thank you to everyone, and I hope you don't miss the video that captured just a small bit of the night we all felt honored to enjoy. Till the next time we all find ourselves around the same table again.
Peaches, Location, and Hospitality: The Peach Truck
Photos: Parker Young Photography
Music and Guitar Strums: Matt Wertz and Thad Cockrell
Tables: Ausden Inc
Farm Raised Meat: KLD Farms
Grilling Skills and Cocktail: The Food Sheriff
Blueberry Mojitos: Made South
Video: Mike Gilger
Styling: Megan Gilger