Last summer we had a few gorgeous weeks like the ones you dream about when you think of a Northern Michigan summer. There were warm but not too warm and the night's bright gentle rain that the heat built over the lake that day. When I dreamt up this beach dinner shoot for Traverse Magazine that is not only within the July 2018 issue, but also graces the cover, I hoped for just the right evening to come for us.
This dinner was intended to have the glamour that is needed for a magazine, but the simplicity to inspire readers both of their magazine and here. I hoped that a simplified gathering may still feel inspiring for a beach dinner this summer or wherever like may take you this summer.
As this dinner came together with Timothy Young from Food for Thought, I got more and more excited to share this story with you guys. Timothy had us out to his home that he complete built himself out of recycled materials. He and his family live there next to the offices and have an amazing garden they tend to. Timothy spent the days leading up to the gathering dreaming up a completely locally sourced meal with us from his goods, his garden, local farms, and local fisheries. I simply created a salad to compliment what he had planned. His resourcefulness and knowledge is amazing and I greatly enjoyed learning new things about food from during the gathering.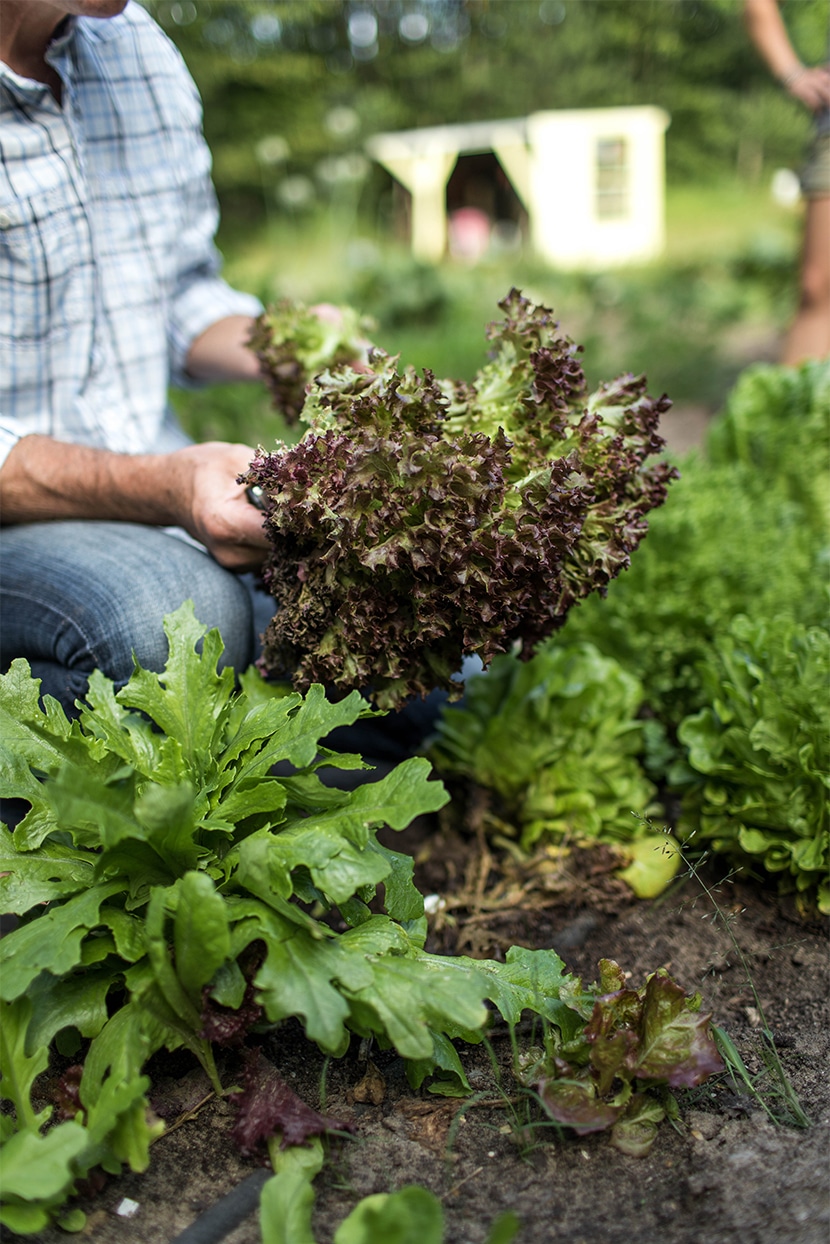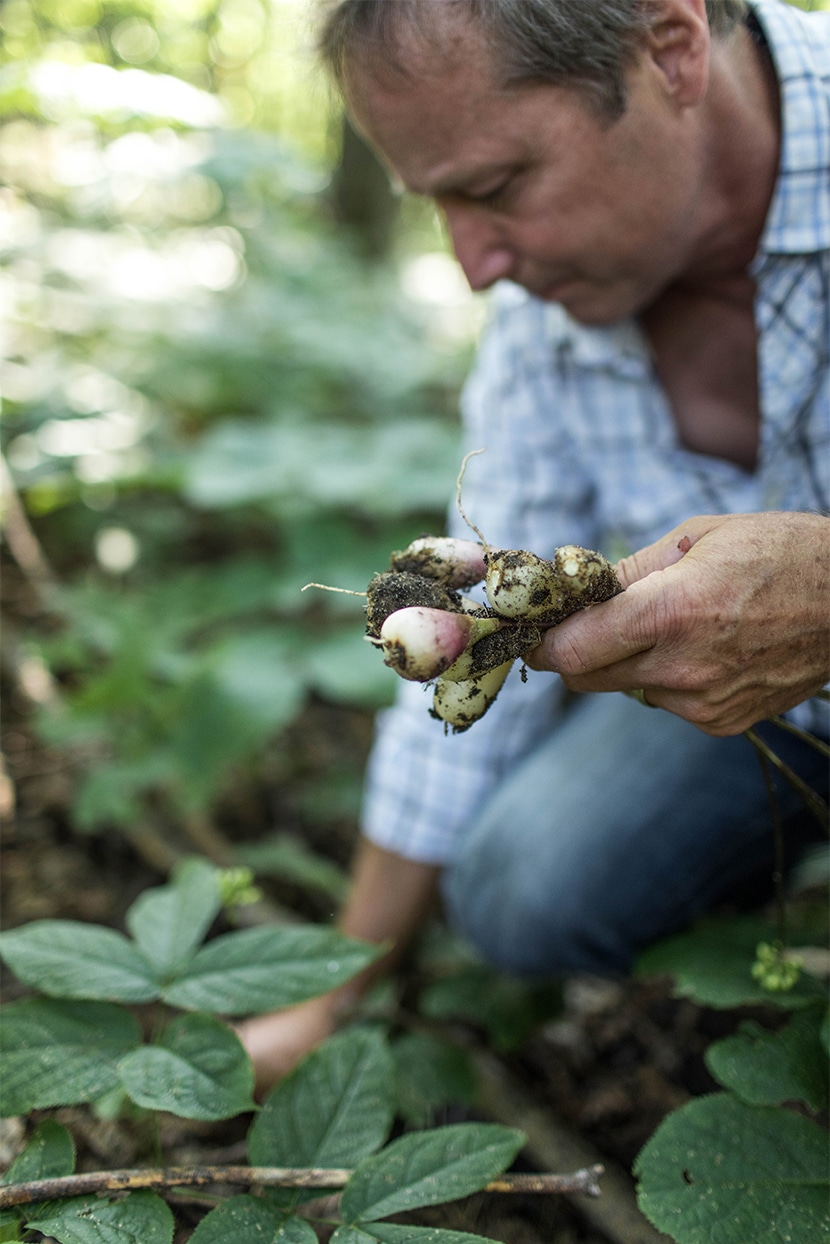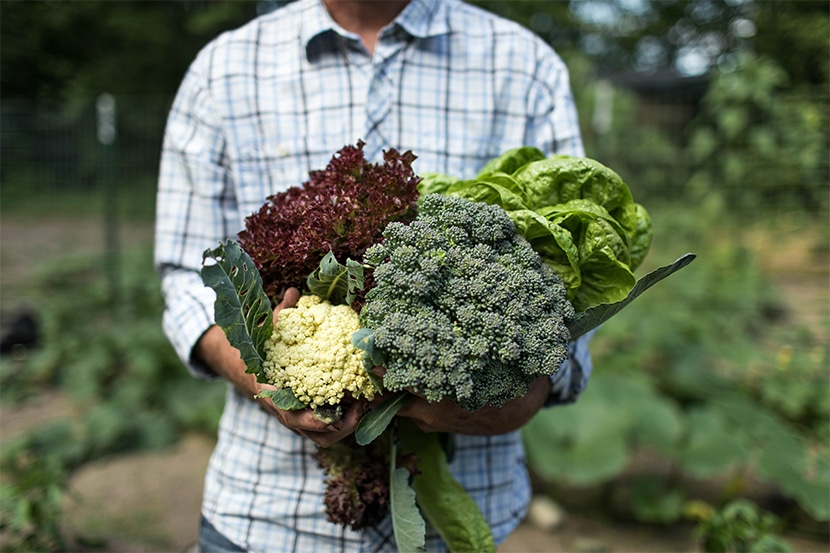 We pulled tons of veggies from his woods and garden. He even pulled some Leeks (Ramps) that had gone to seed and showed us how amazing they are to cook with. They were quite amazing to find in the woods as well.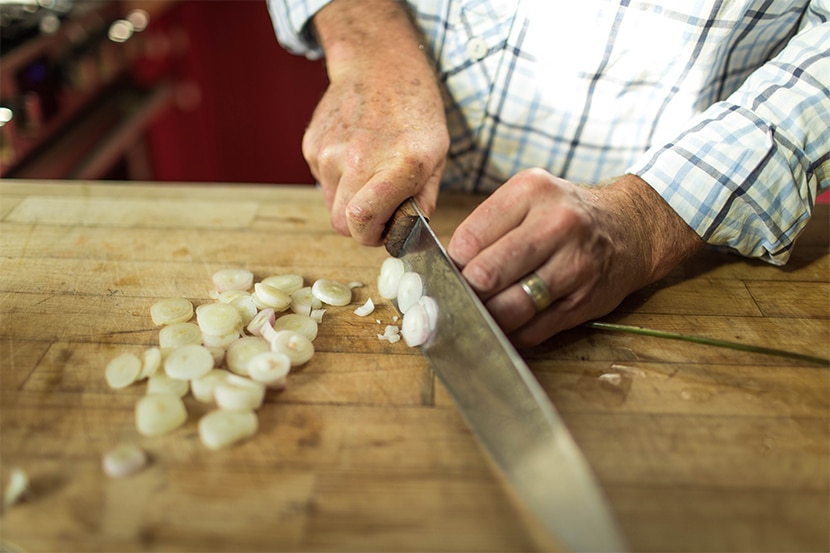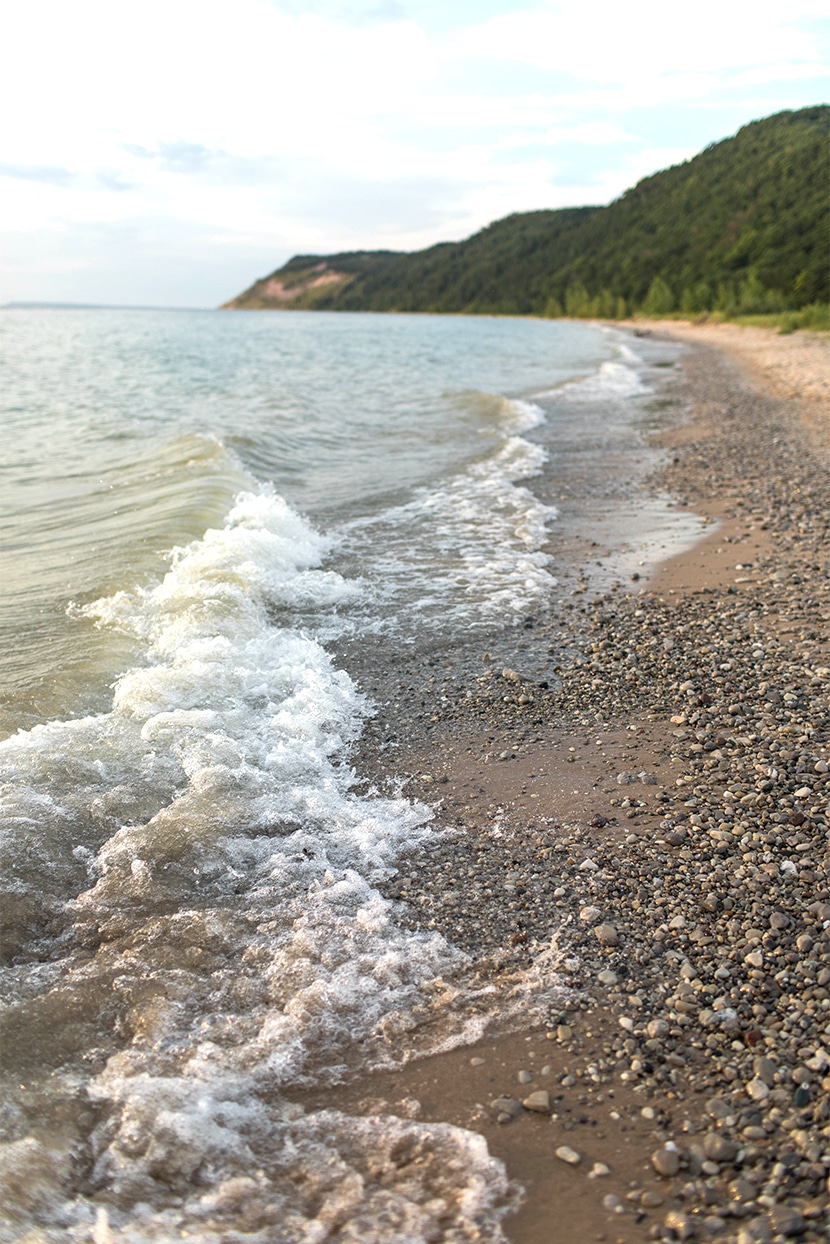 The day of the dinner, we headed to Esch Rd Beach, which is a fairly popular beach amongst locals and tourists. One side dogs are allowed and the other is more family oriented. We wanted to be amongst the dunes and this was the place to do it. We wandered up the beach later in the evening on a weekday and set up camp. From coolers to boxes of goodies, we hauled in the food and decor as a team. Though it was a lot of work, many hands made for light work, not to mention you can bet we all took a quick dip to cool off in the lake.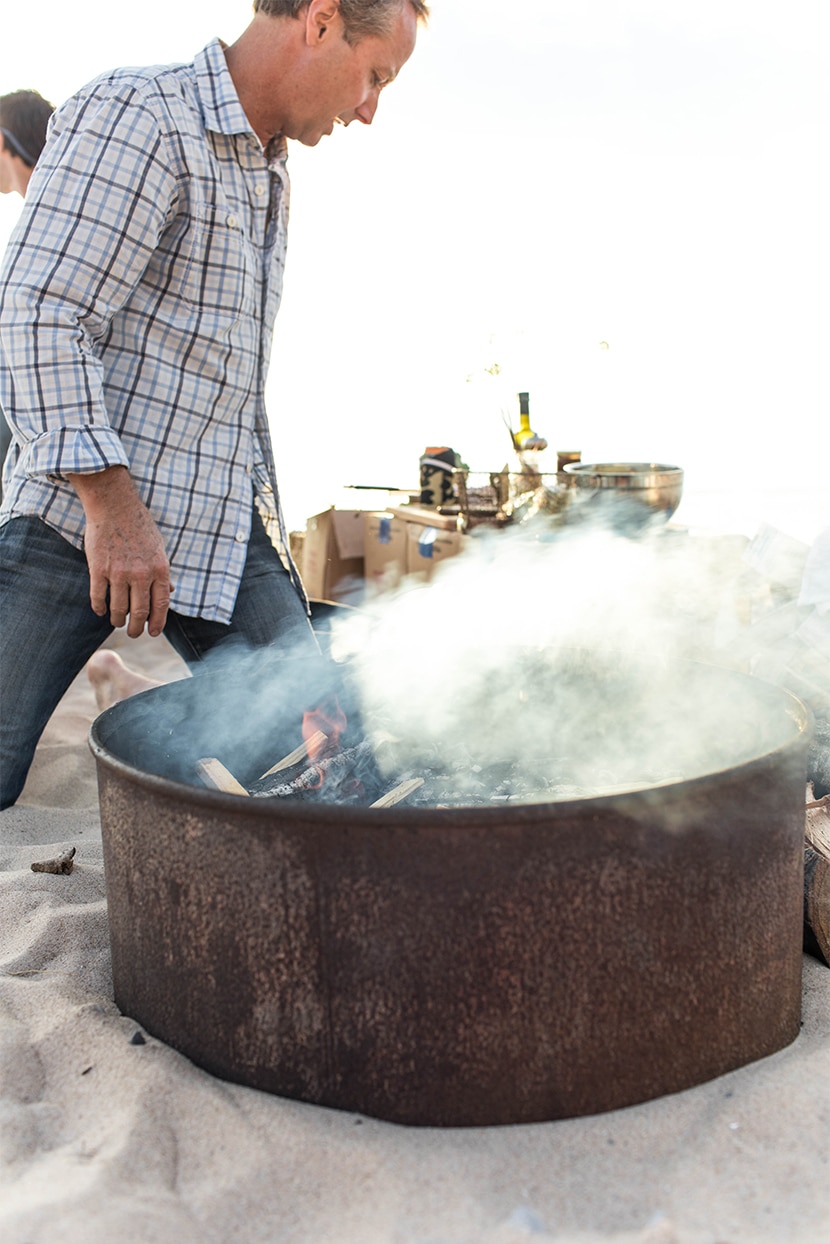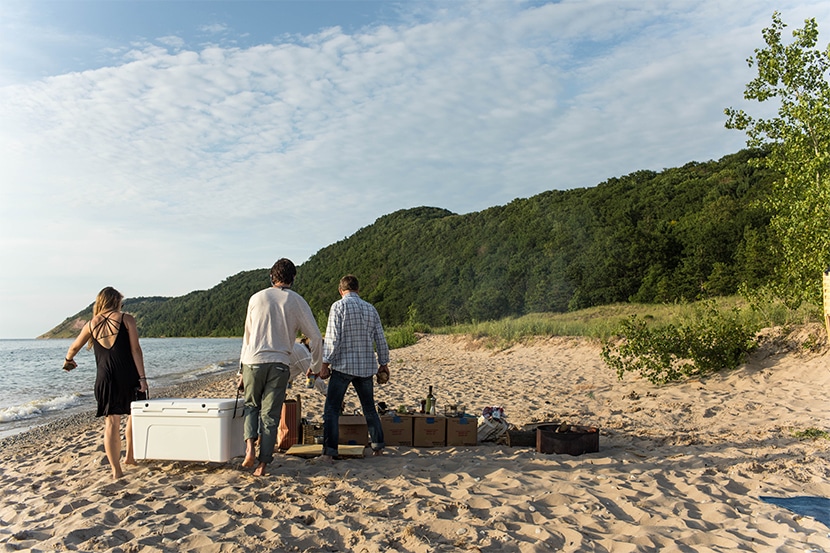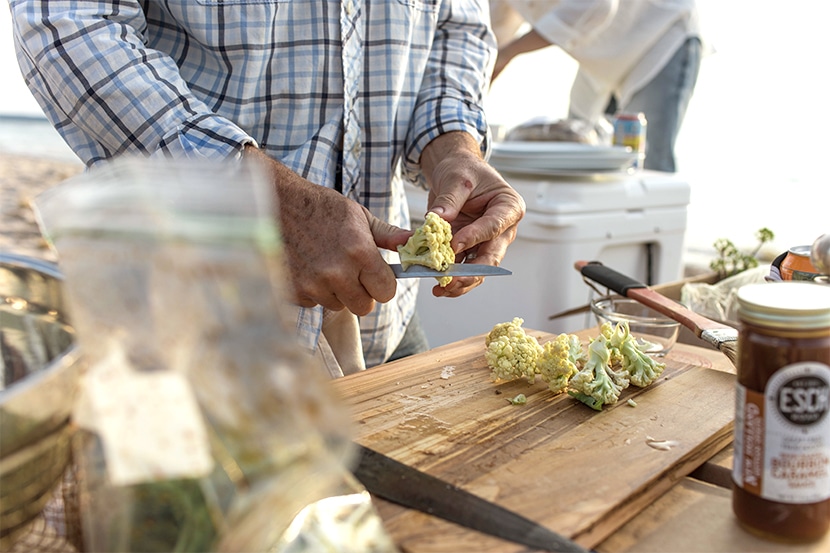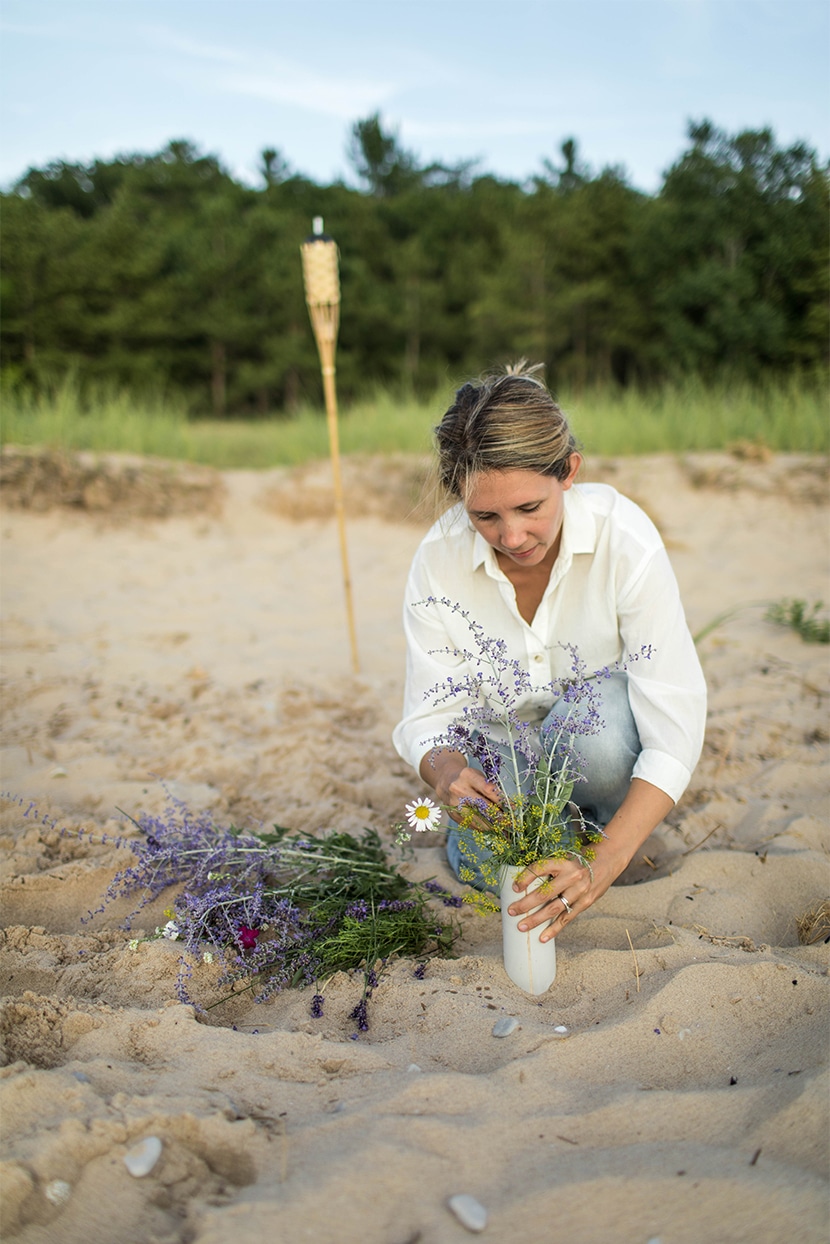 Before we get further into this story, let me tell you that what I love about living here is that every day is as beautiful as these photos and more so. It takes so little to make a day something unimaginably beautiful because of the light, the colors, the people, the culture, and the availability of such goodness, especially in July. Living away from here, I realized how precious these moments are and these views. Even if we simply had built a fire and roasted some hot dogs this would be an amazing setting. The ease in which nights like these fall into place is amazing. Sure we have amazing restaurants around here, but I have found that local people also love creating these moments amongst the community they are in as well. It is part of the culture here to gather, watch the sunset, and be near the water. It is part of the culture, to grow food and know how to make the most of it. This is why I love it and this place will always be home to us.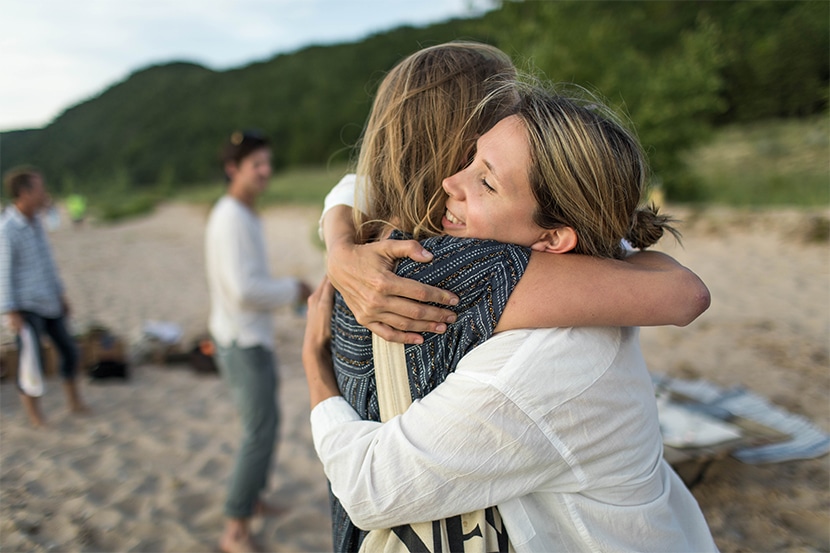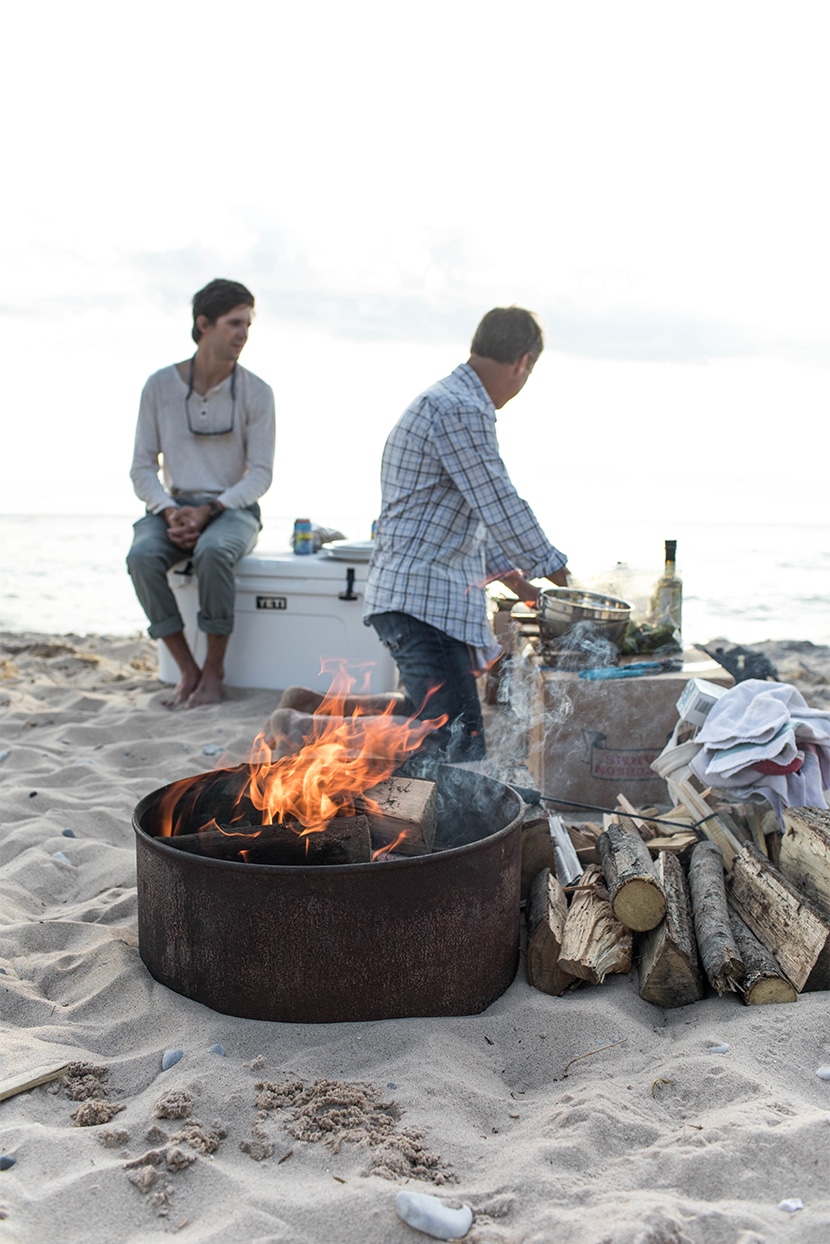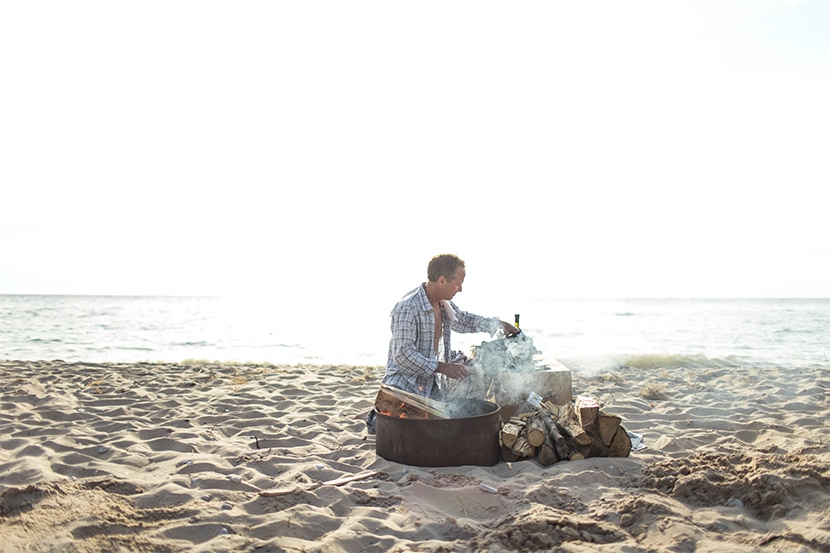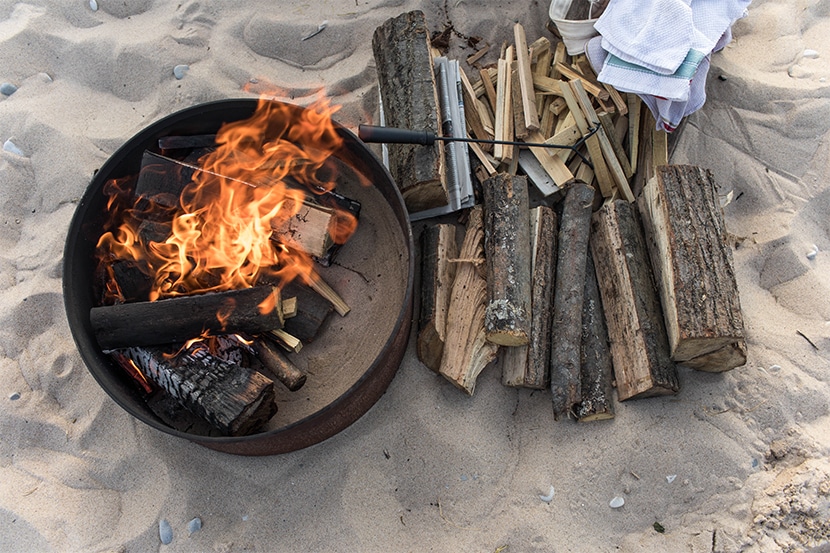 Summer nights like this though are what we live for here. The calm and the quiet of a still night on the beach. We wait all year to feel these warm nights with the pink hues of the sun setting over the lake. It is better than a seat at any restaurant in the world in my mind and to sit and eat a meal like this amongst some new and old friends felt incredibly precious.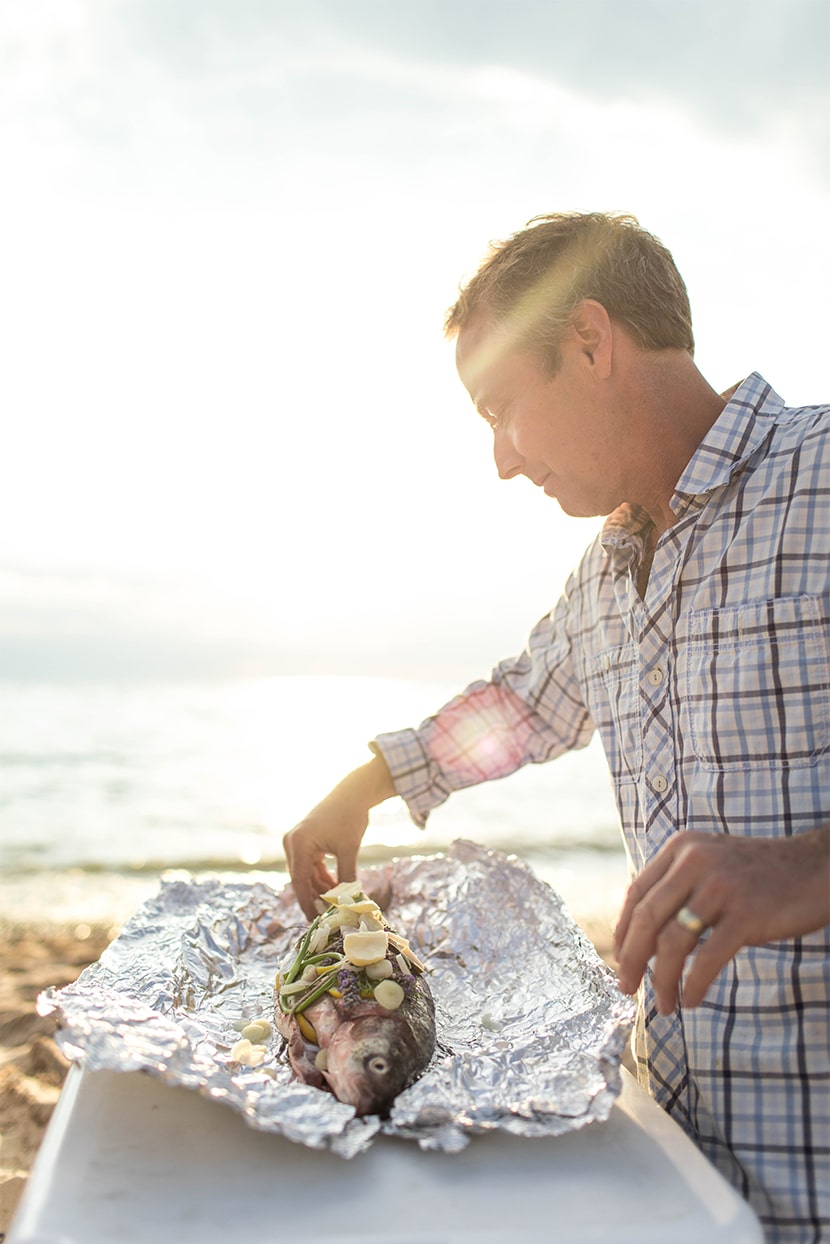 For the dinner, we paired a whole whitefish that was freshly caught from Lake Michigan by Carlson's Fishery. You can find the recipes in the Traverse Magazine article for the fish, but we kept it completely and stuffed with lemon, butter, leeks, and TONS of fresh herbs. We wrapped her up and set her over the fire to cook.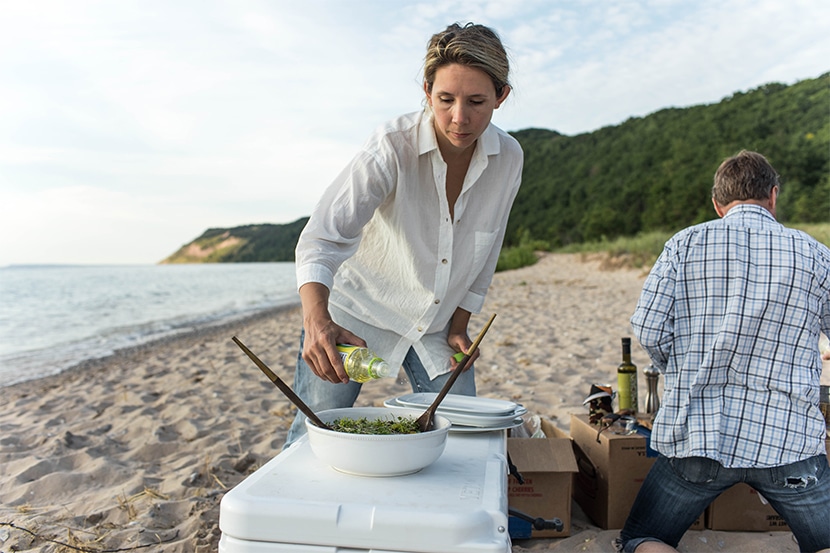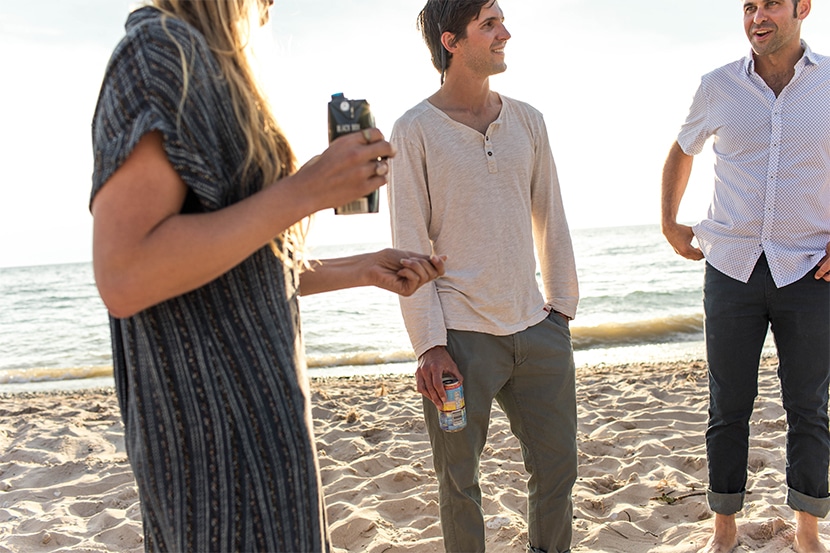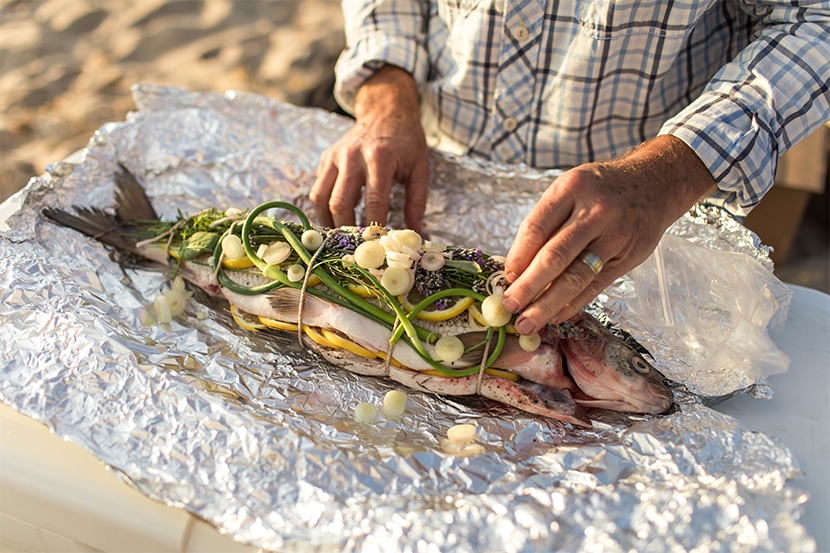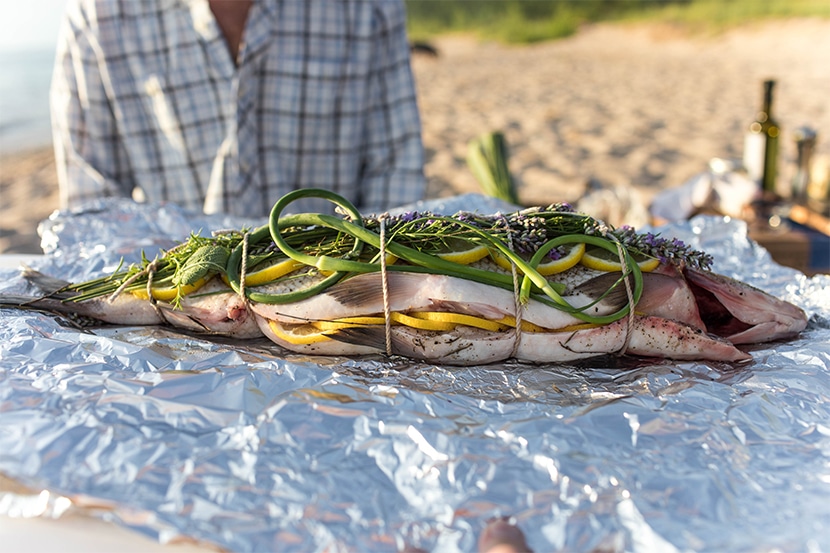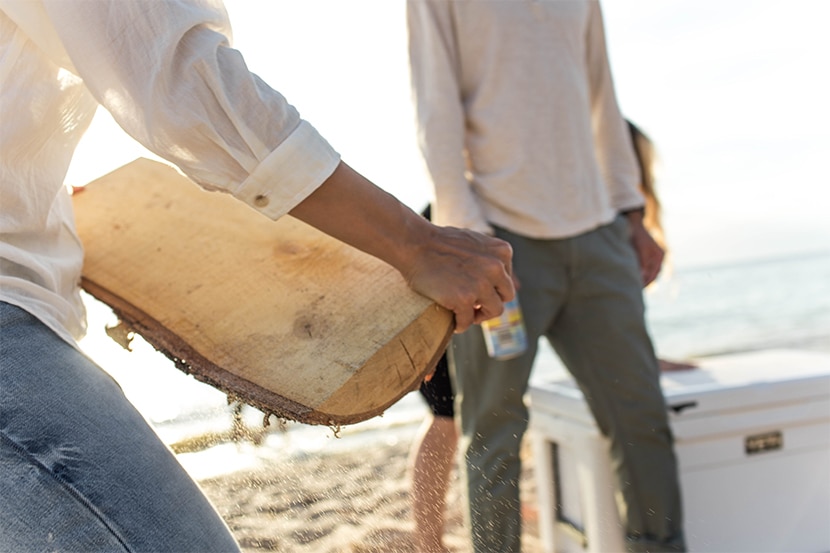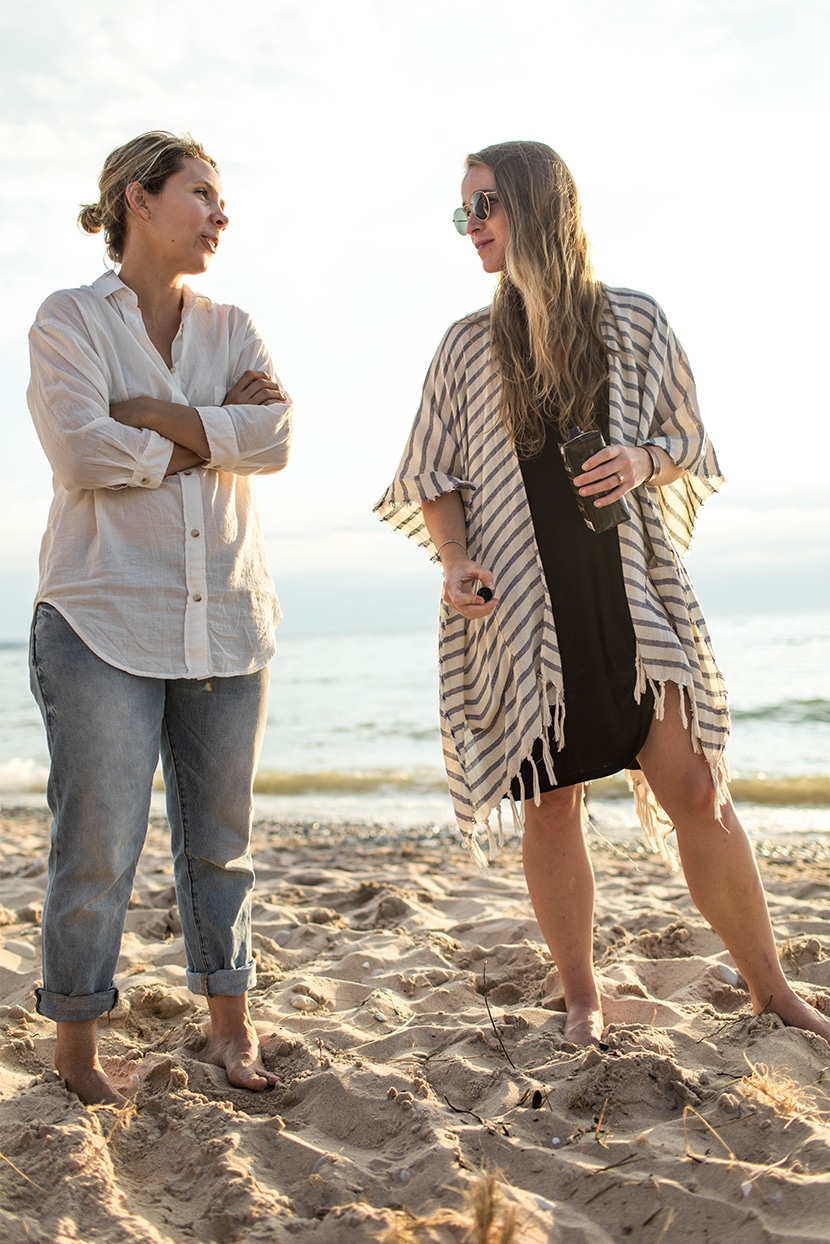 Most of our friends were already there to help pull the gathering together. We all changed clothes behind the dunes and enjoyed gathering around having a drink or two while dinner cooked.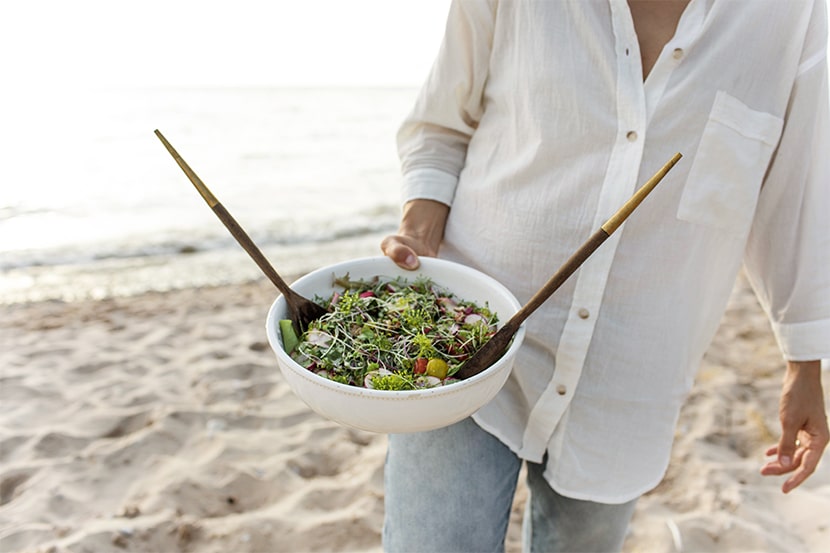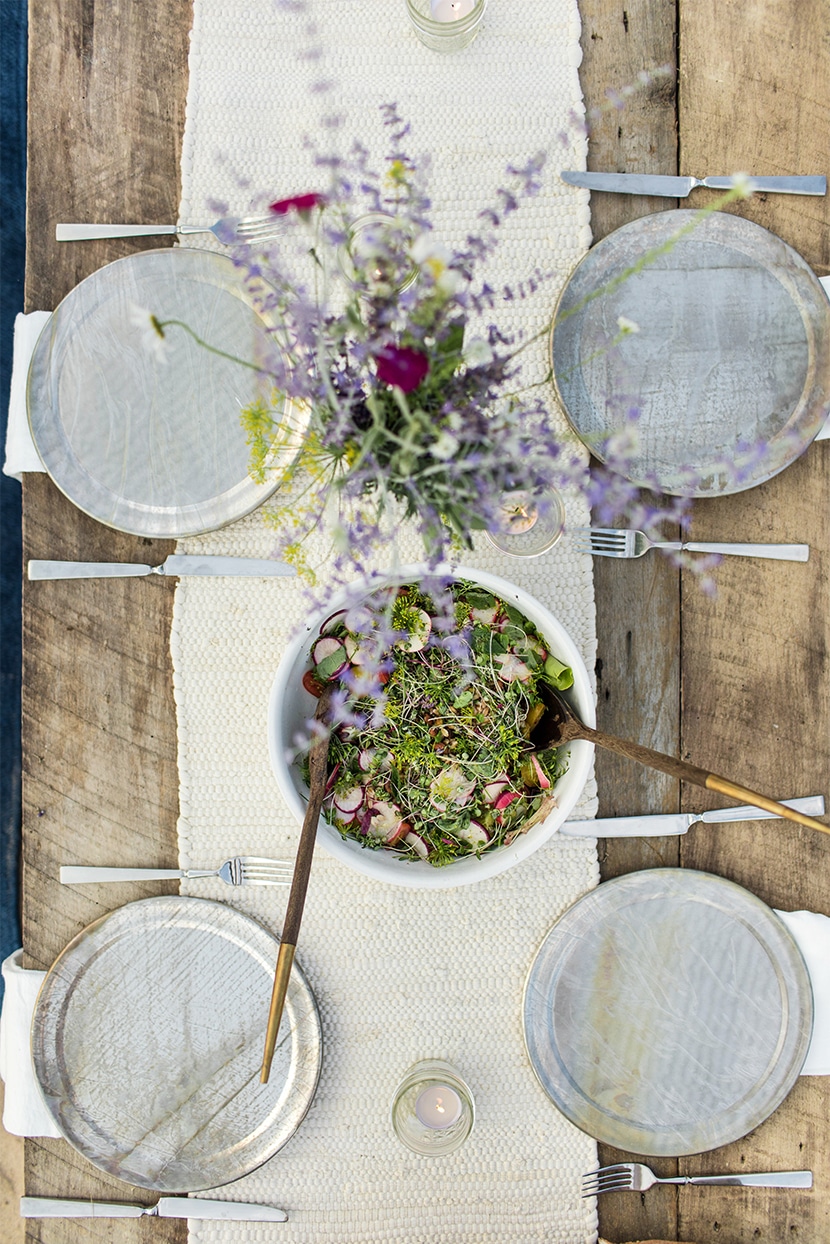 I prepped the table as everything steamed away over the fire. I dressed my summer market salad that was jam-packed with every veggie you can imagine and tons of herbs. I gave it some lifting fluffs to revive it from the heat and dressed it with a few other fresh herbs and some rice vinegar.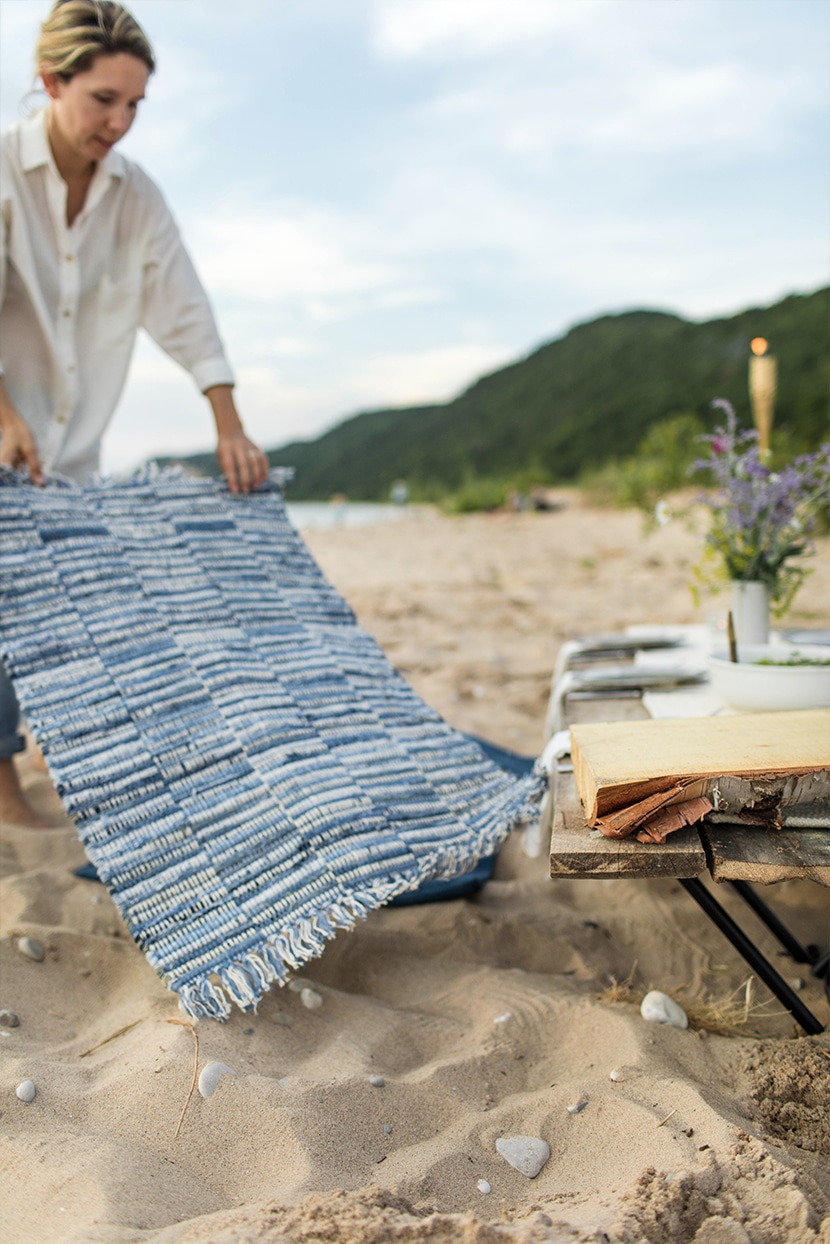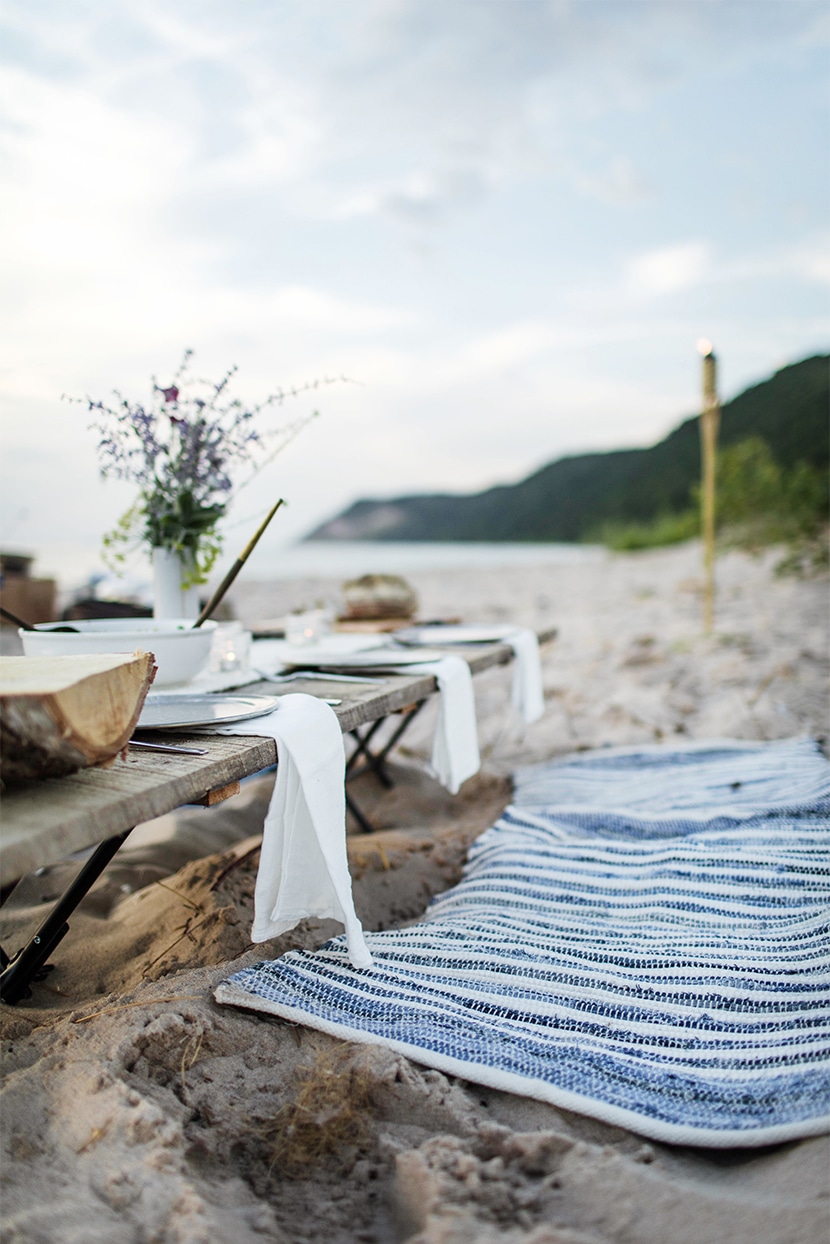 The table setting was simple. I pulled together Rag Rugs in blue tones for everyone to sit on. To me, Rag Rugs are the most quintessential rug of the area. I grew up where these greeted us on the dock after a swim on Crooked Lake in Petoskey and I remember them in the bathroom in my grandmother's home. Every beach house here I have been to has these style rugs in their home and they are the greatest thing from the beach to the bathroom. They wash up, are usually upcycled fabric scraps, and are easy to shake sand out of. I tried to think of what was naturally Northern Michigan and to me these are the most so.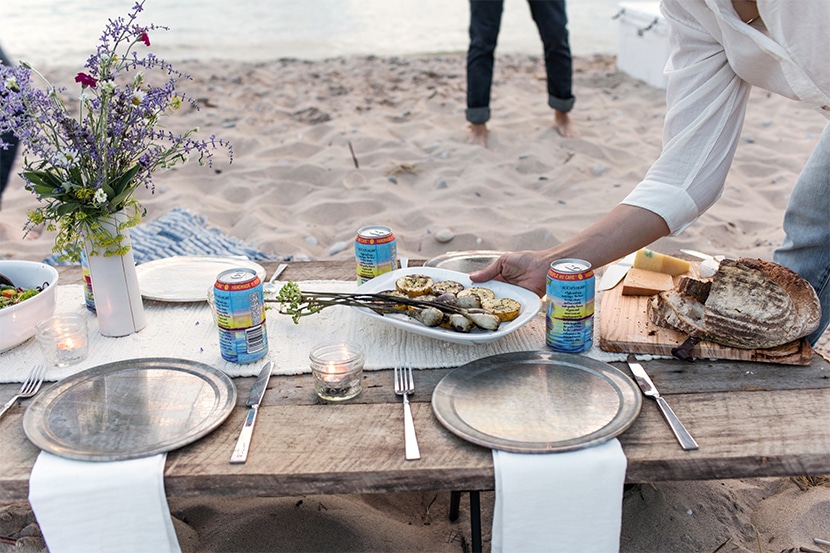 The table was another Rag Runner (we will be carrying a locally made version in our store when it launches) on the table, a locally sourced vase from a Potter in Leland. The plates and worn in aluminum camping plates. The napkins are simply just kitchen towels. We served Short's Brewing Co. Local's Light for the drink of choice and shared local cheeses and bread for an appetizer.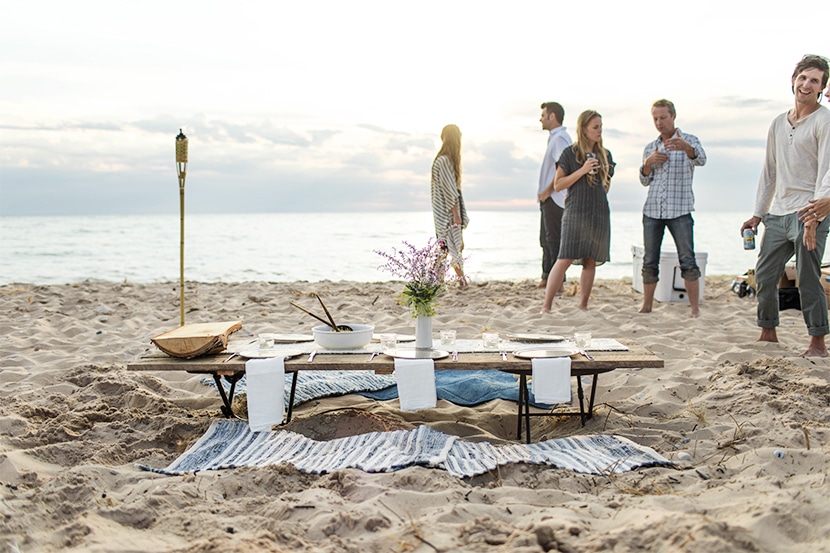 The table was created by Timothy for the story. He cut some salvaged wood together and we dug the table in to the sand and placed it on two folding outdoor metal side tables, similar to the ones on folding table nz. It made the perfect low key table for our 6 guests that night.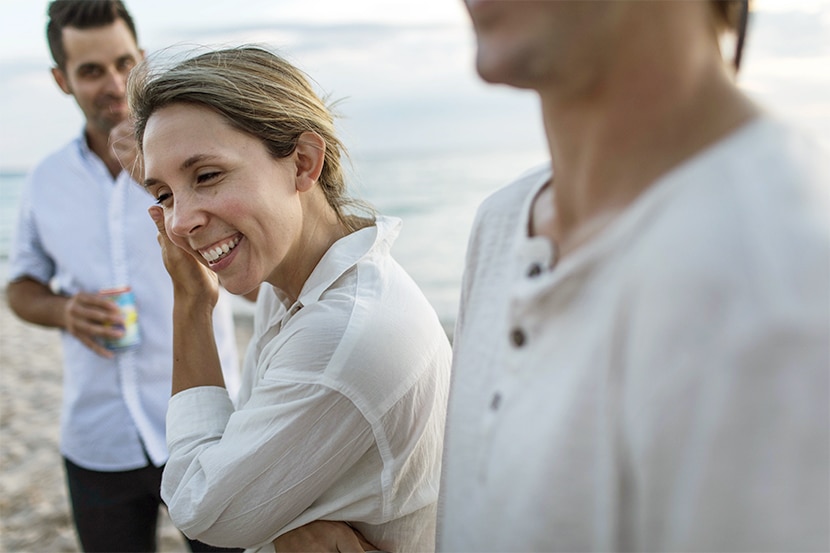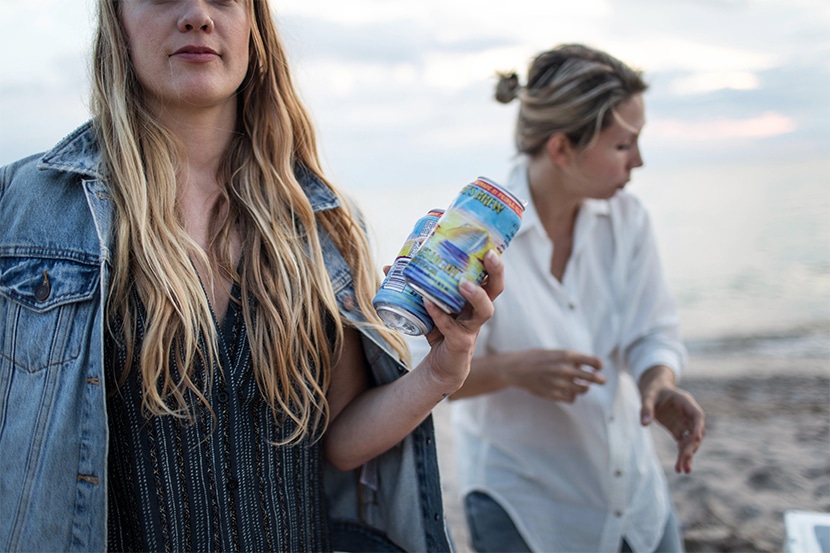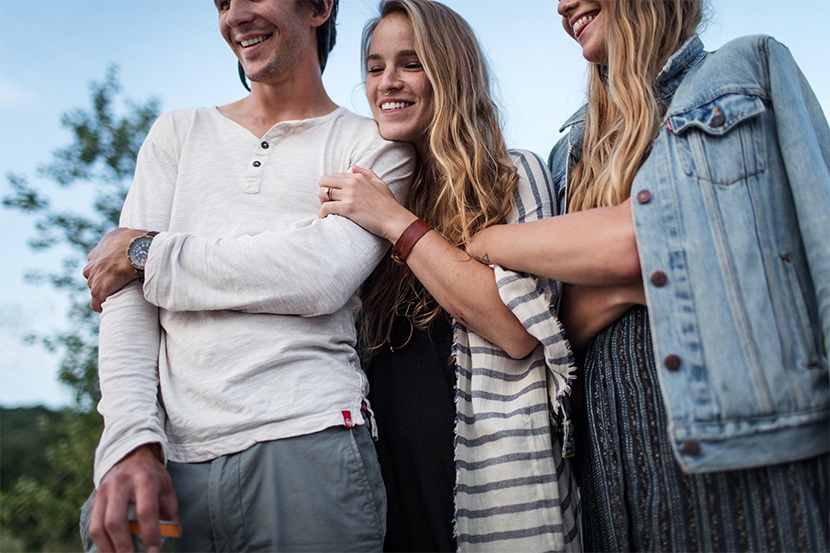 Everyone anxiously awaited the reveal of the fish since it was the big centering piece of the meal and took us longer than we expected. A storm was brewing on the horizon while the sun started setting so we knew it was near time to eat.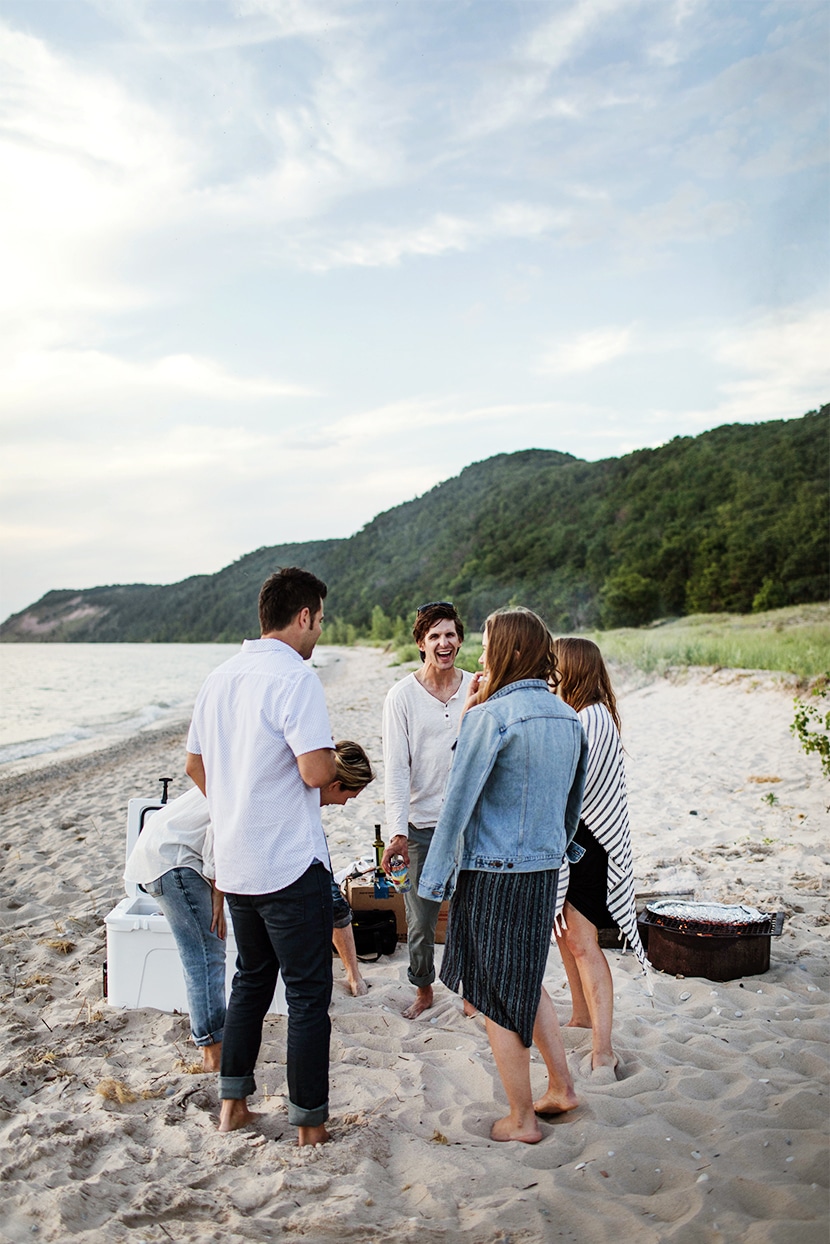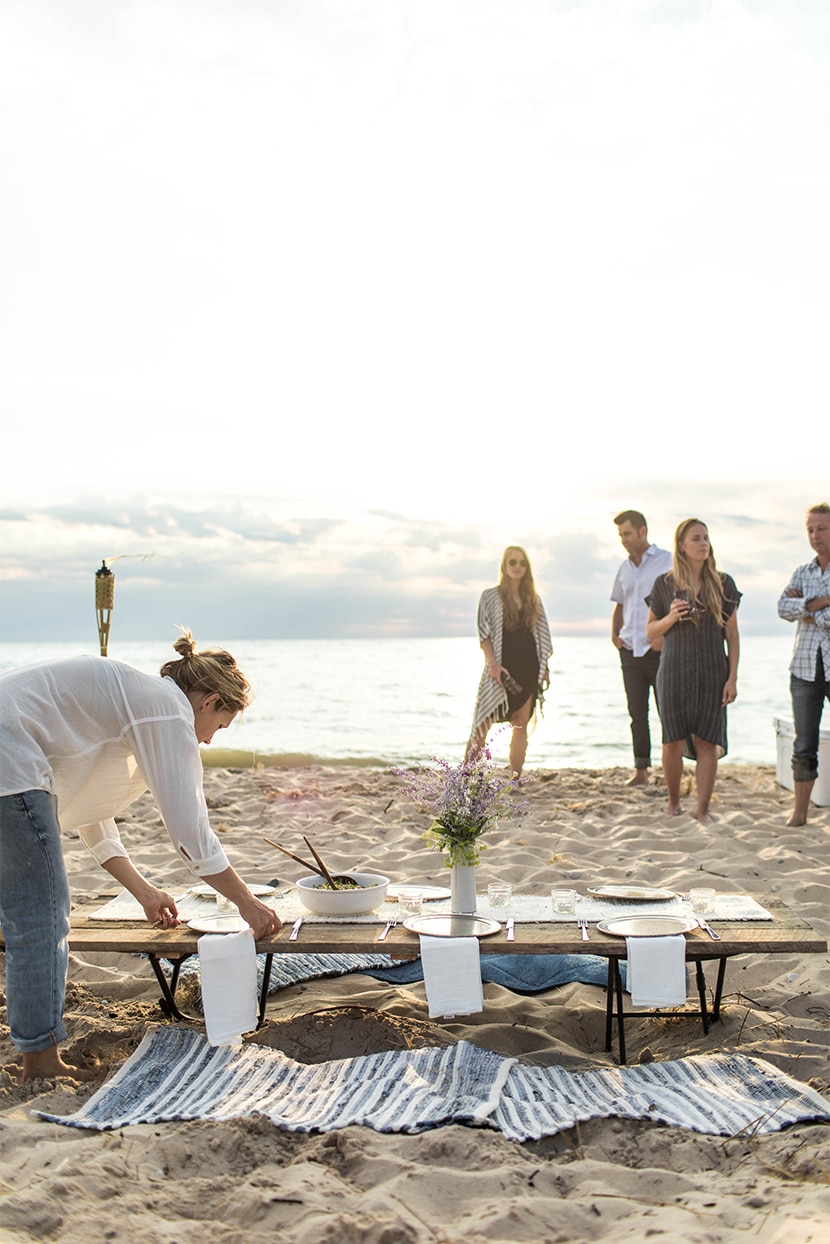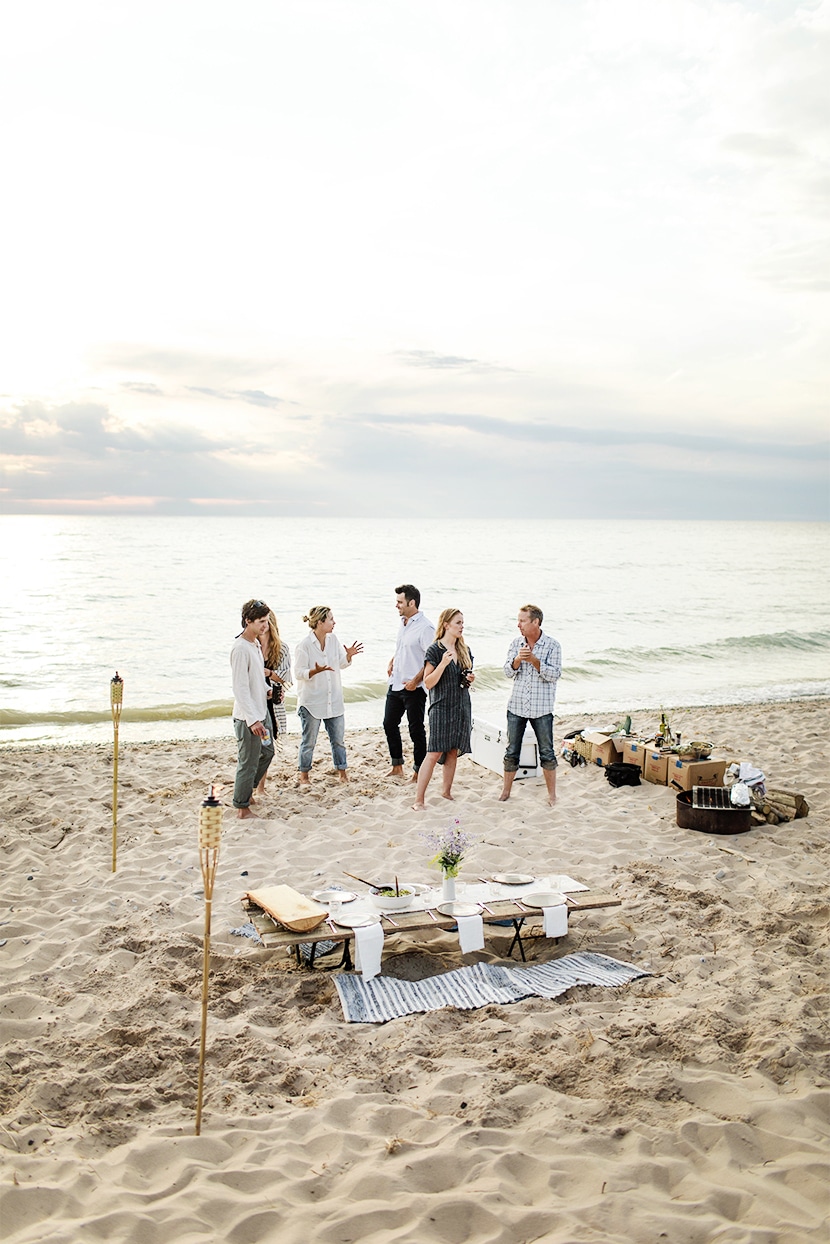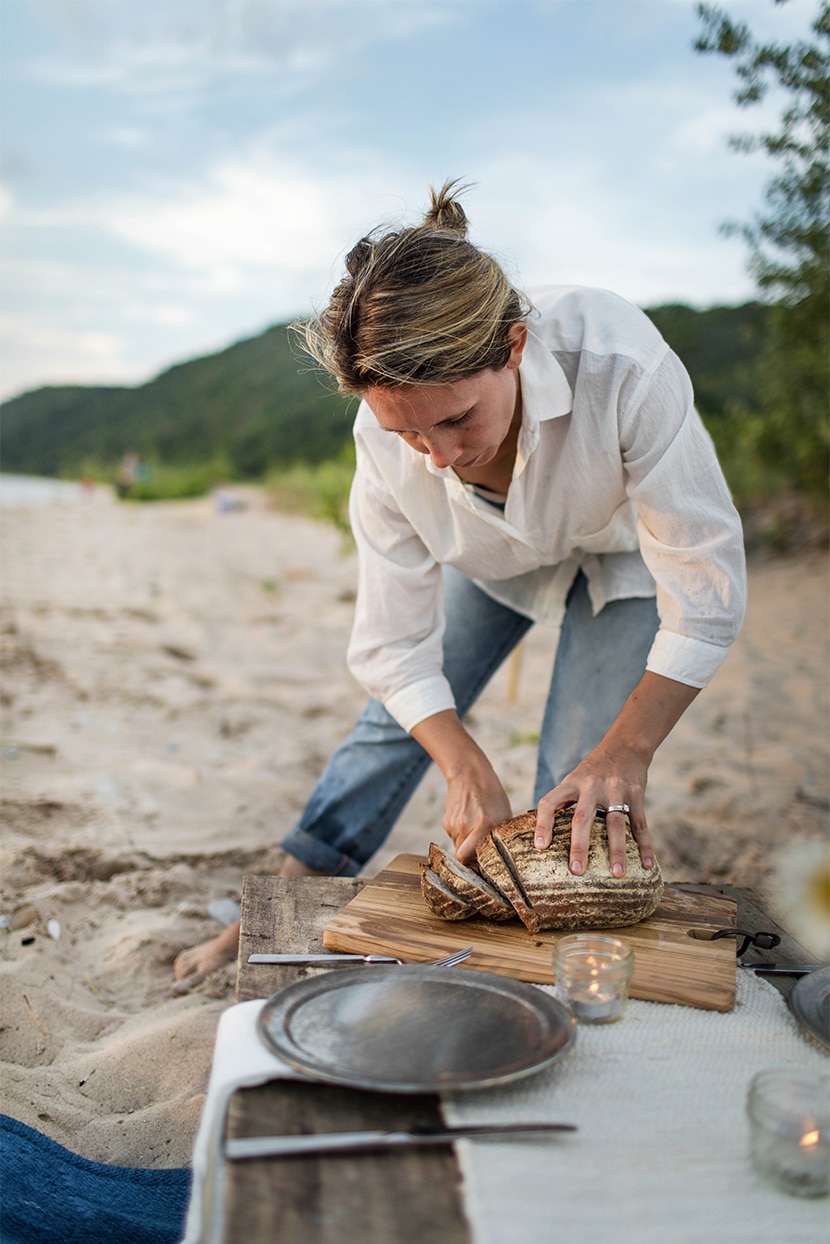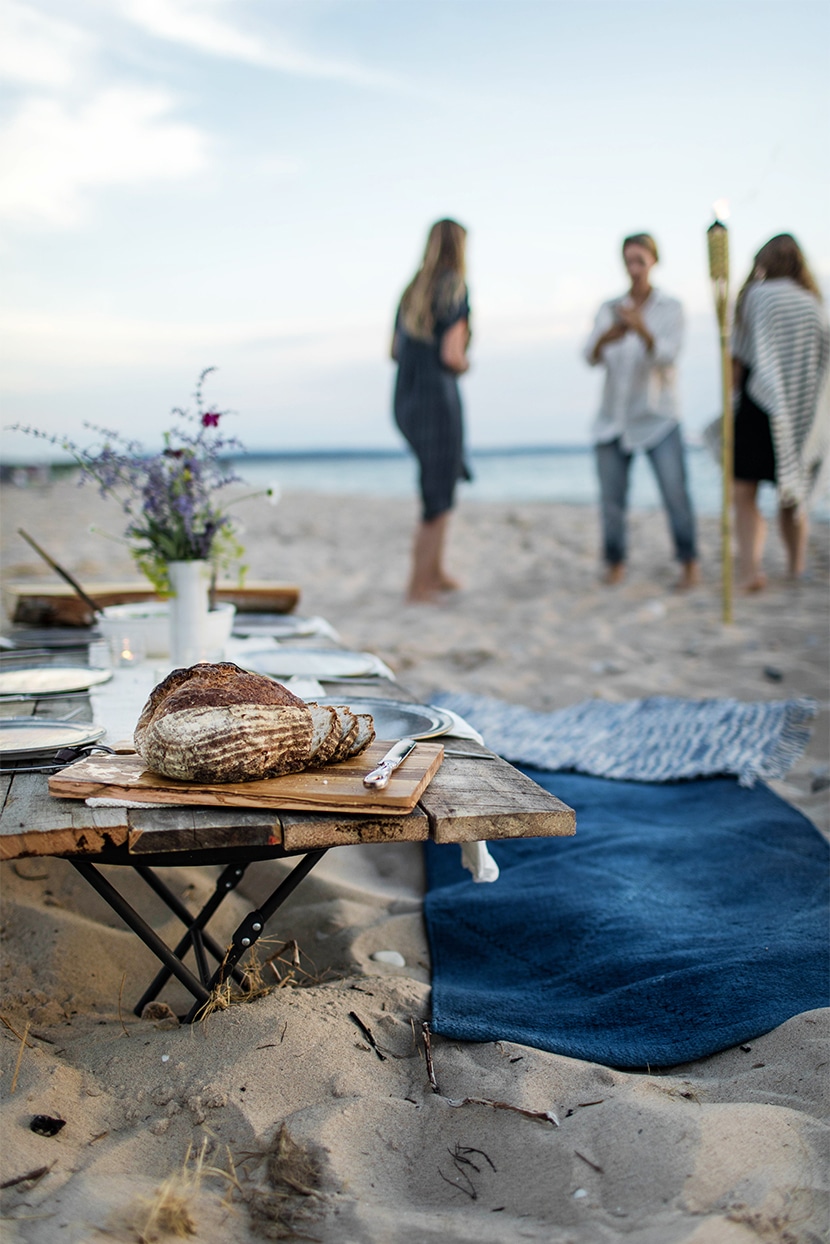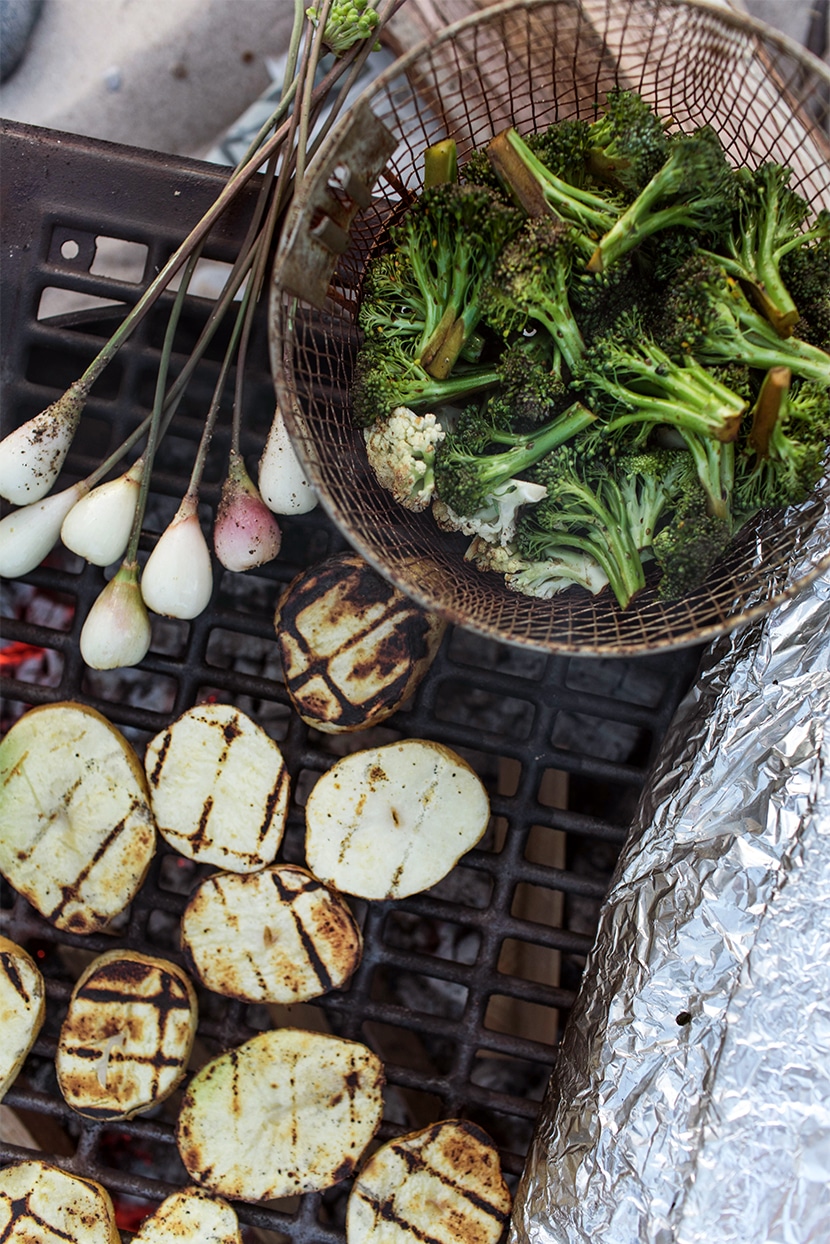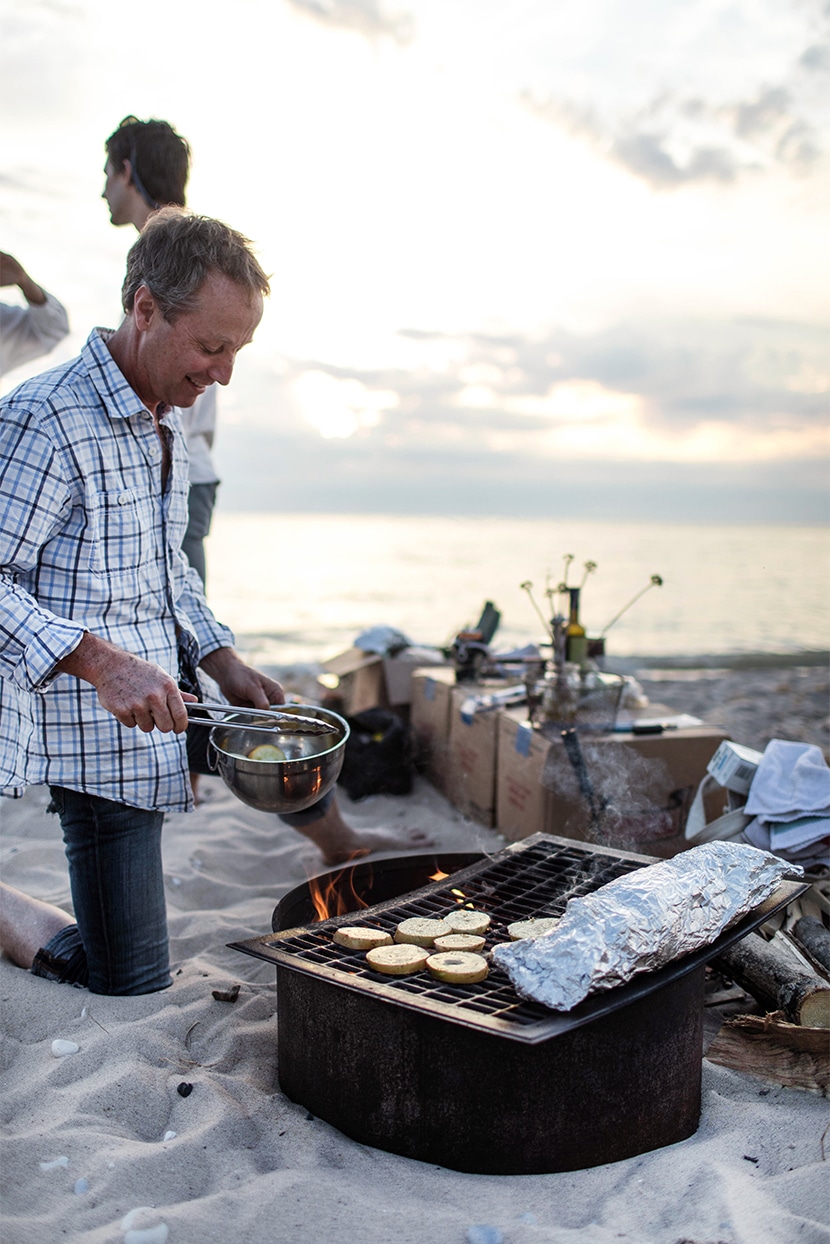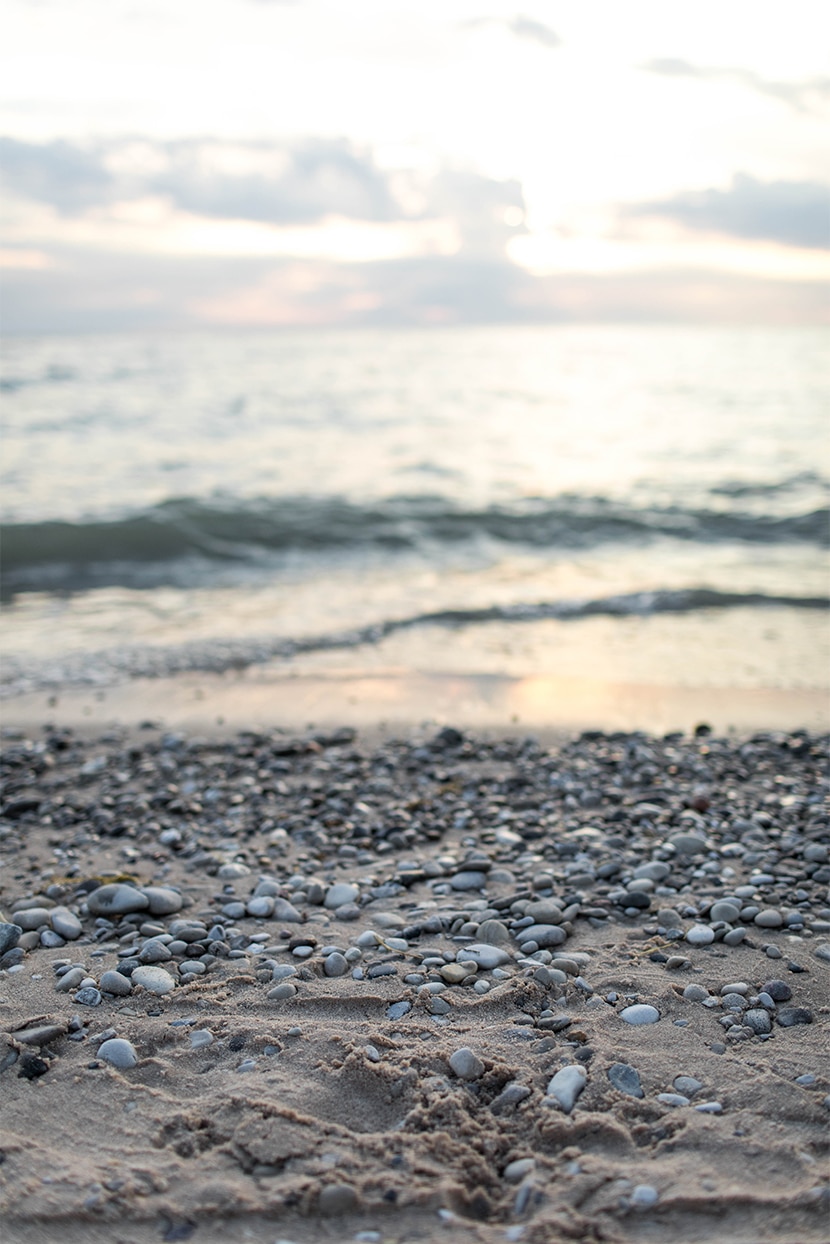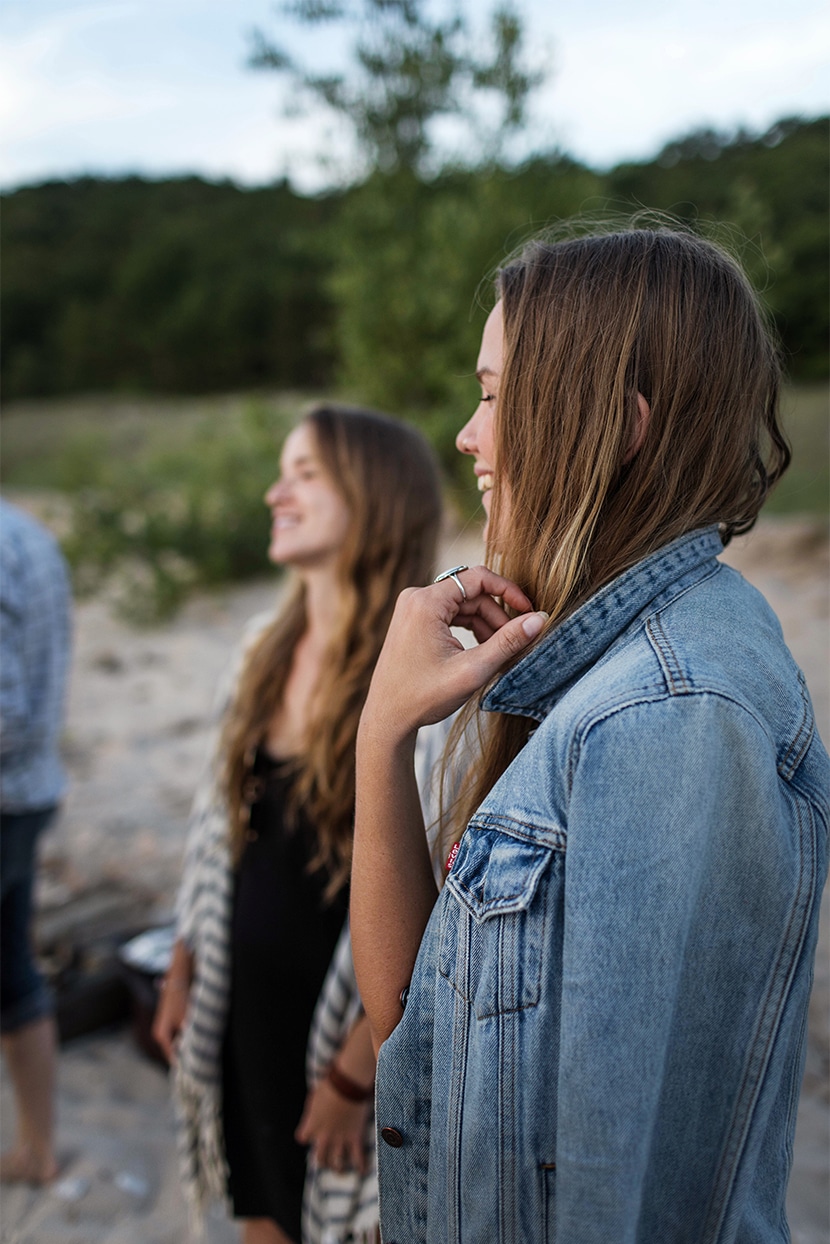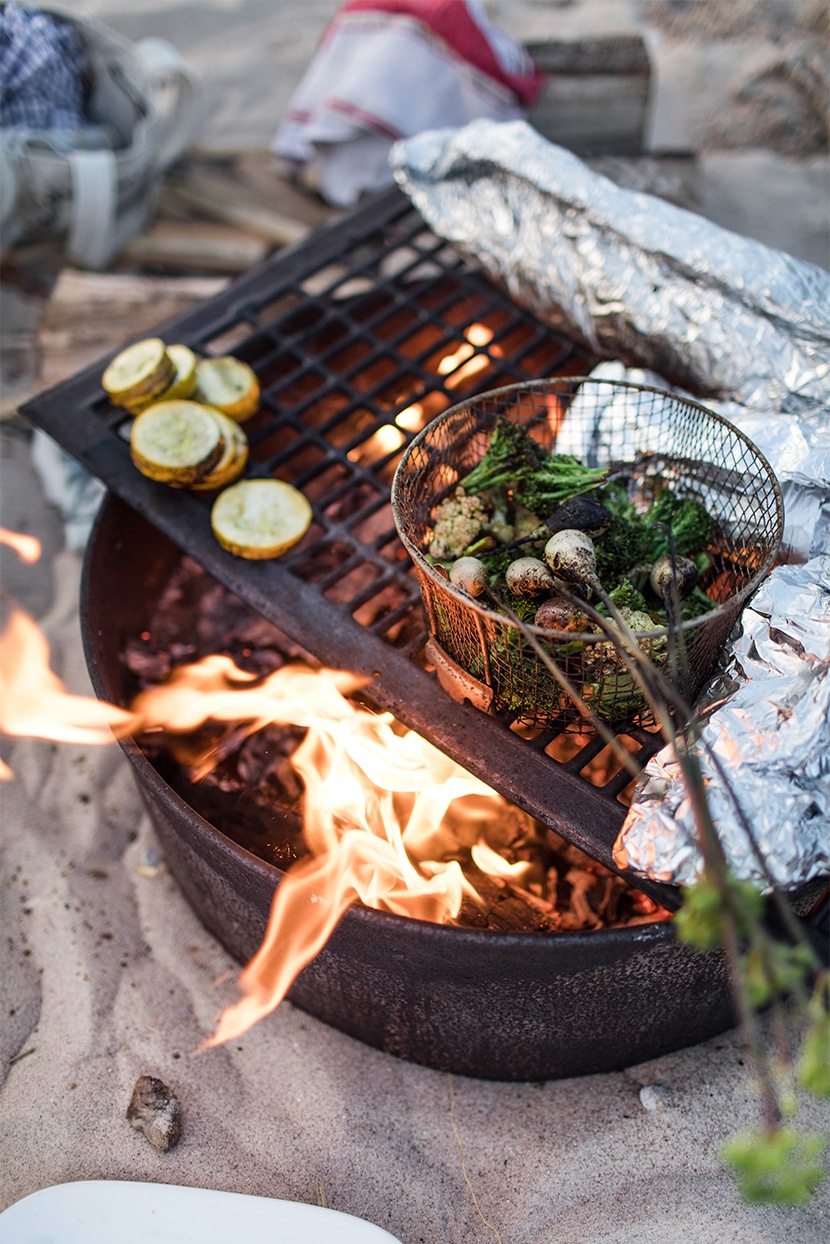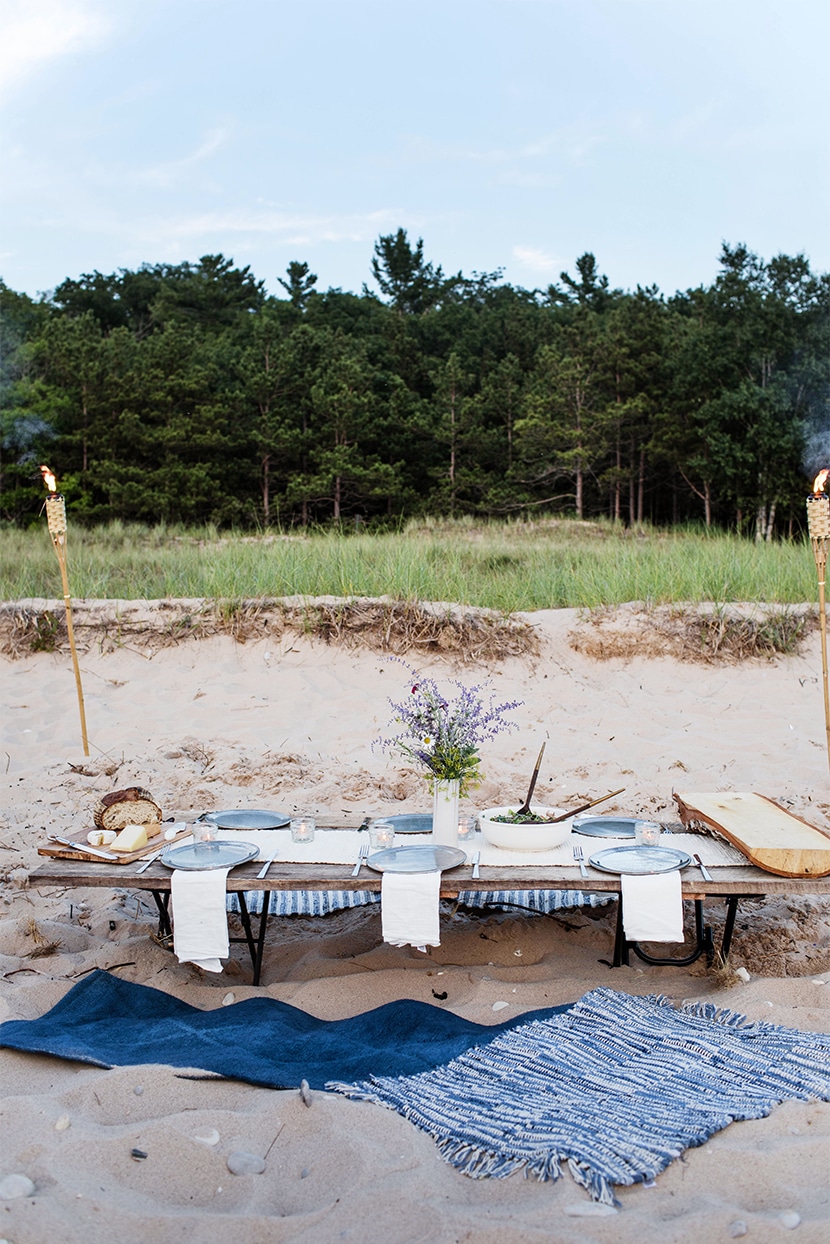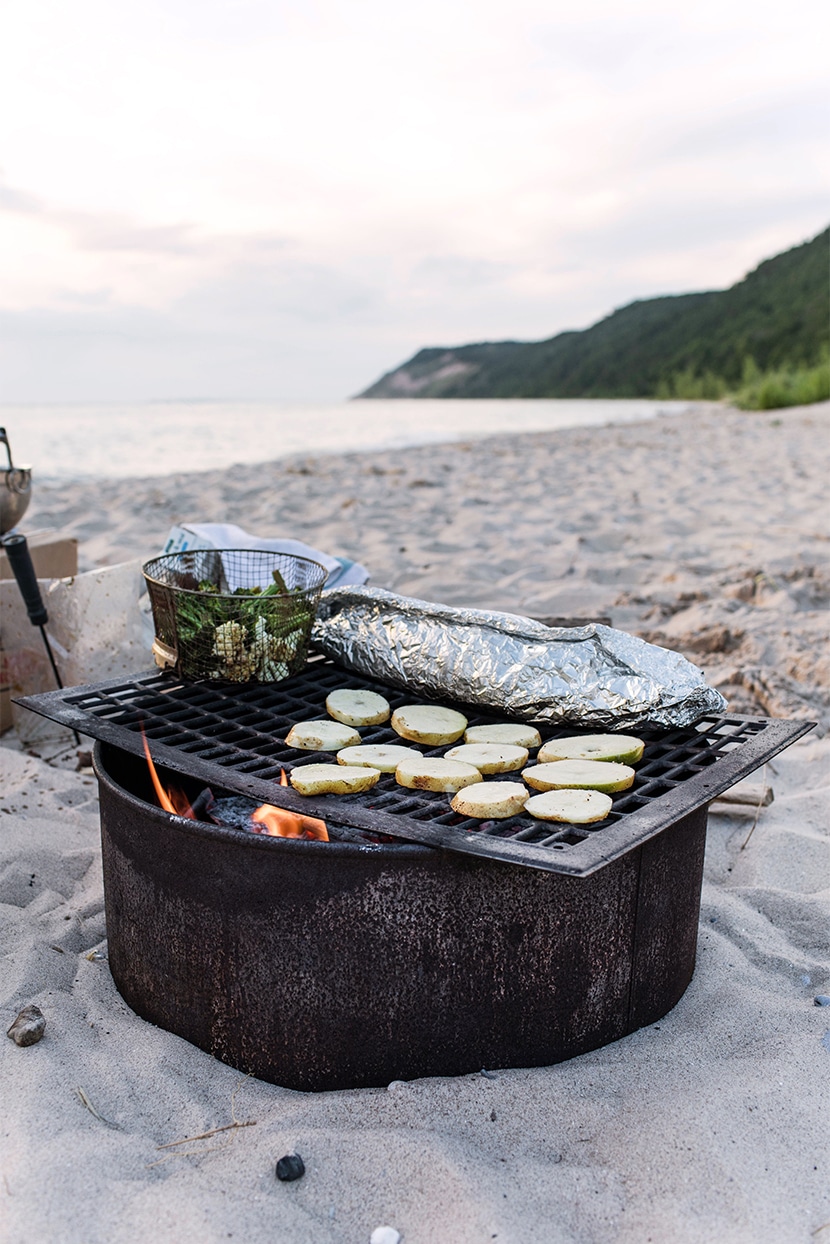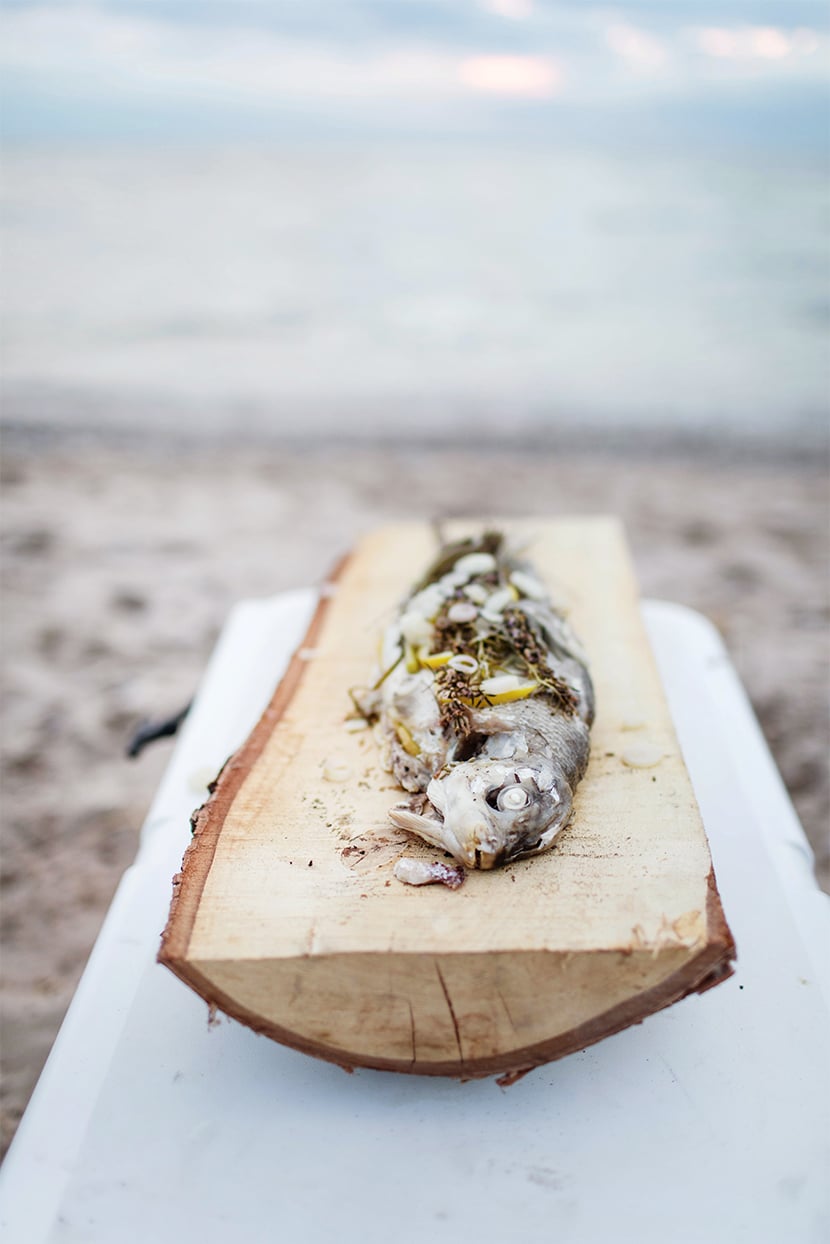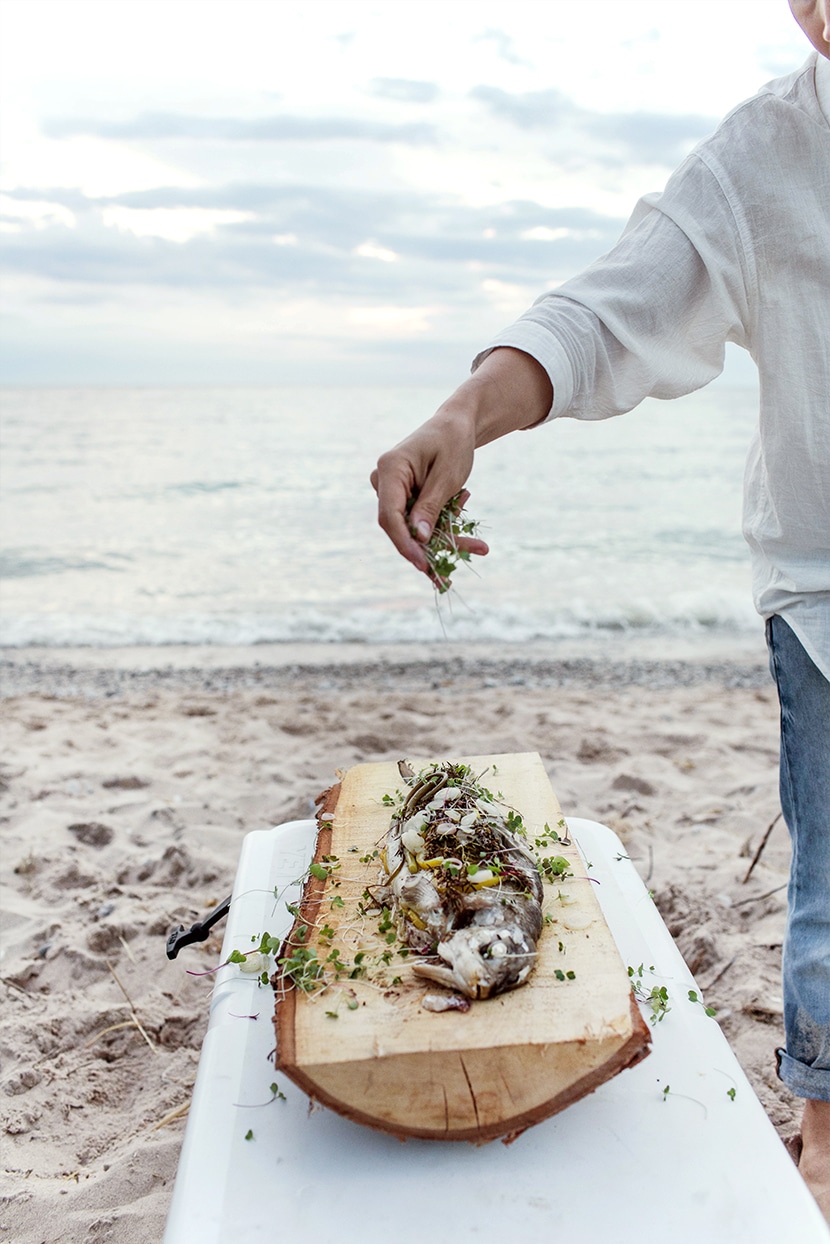 To bring a final touch to the fish I sprinkled microgreens and fresh herbs over the top of the fish and squeezed a little lemon. The herbs were burnt and the garlic scapes melded into the fish. It was complete.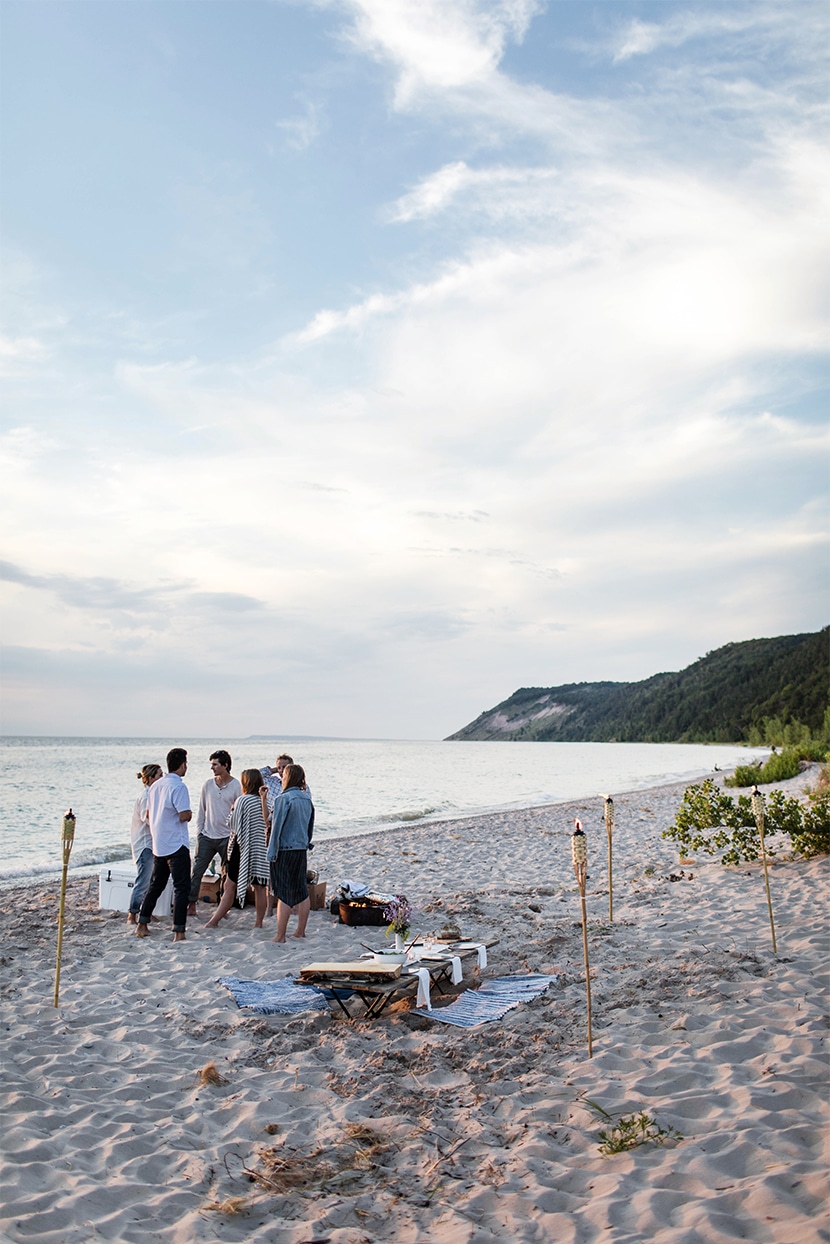 As we put the final touches on the dinner, the sun lowered on the dunes and that scene is my favorite part of living here. Watching the last bit of sun lingered on the edges of the dunes around us. That light and the reflection it makes is the most magical thing in the world.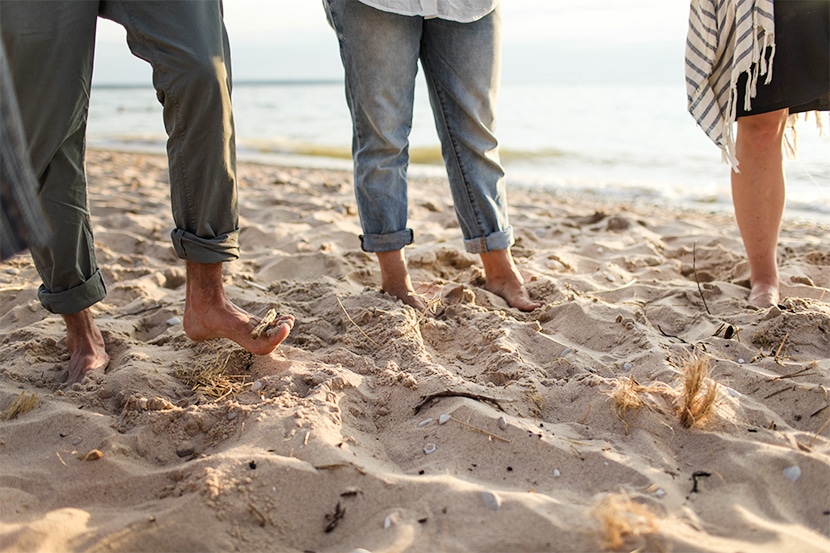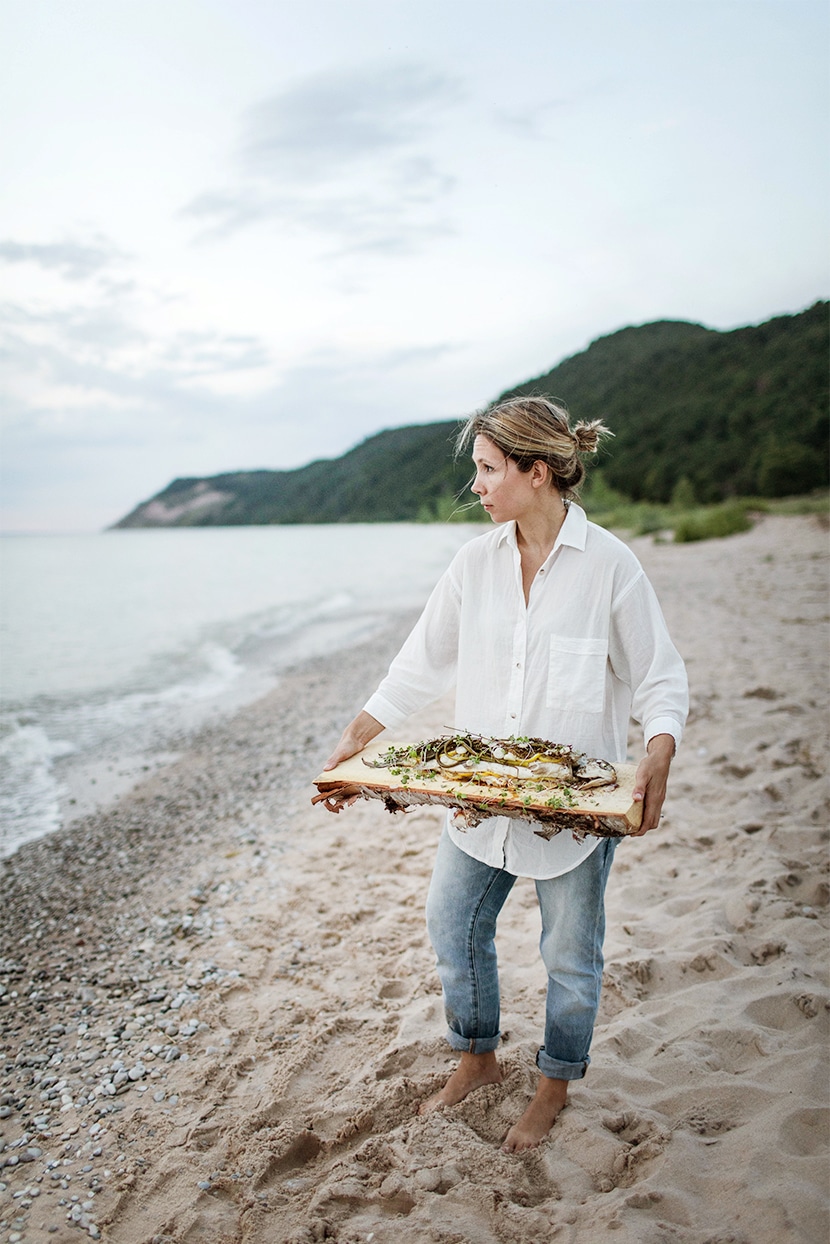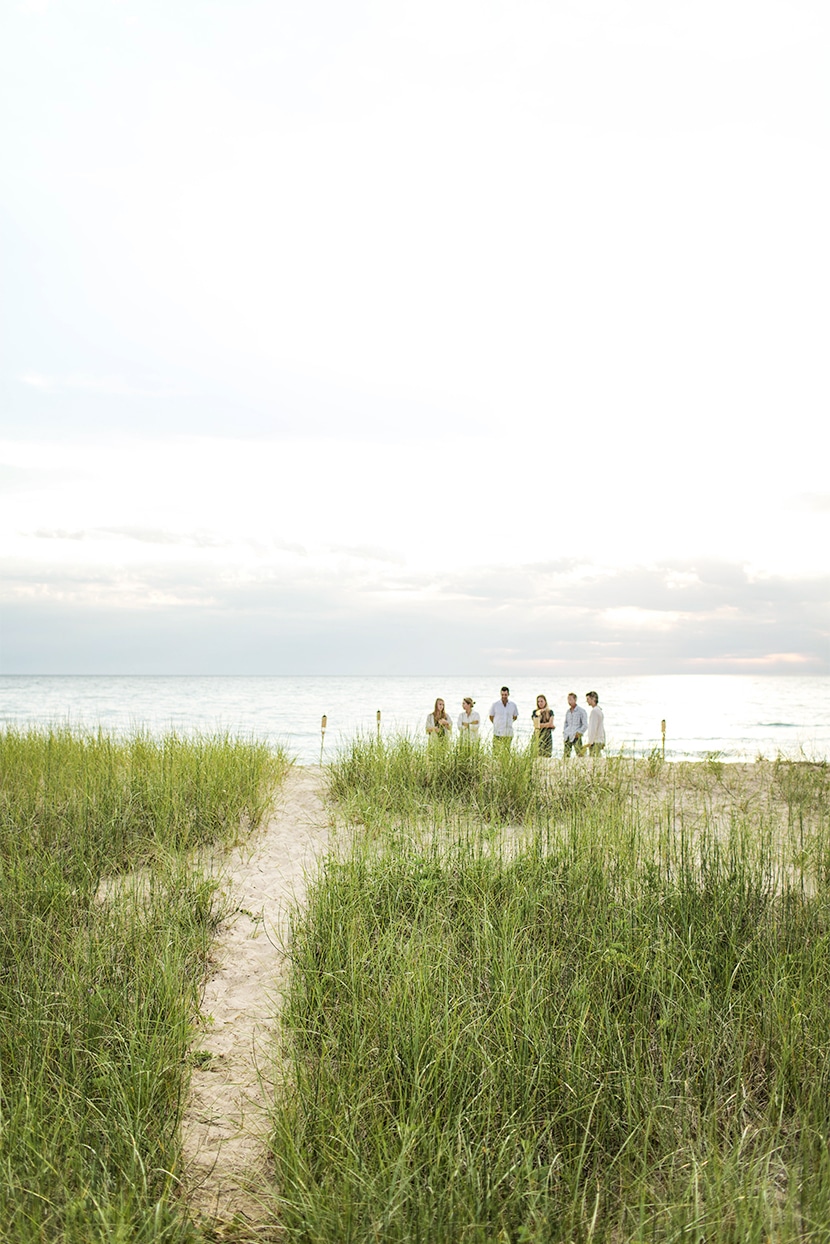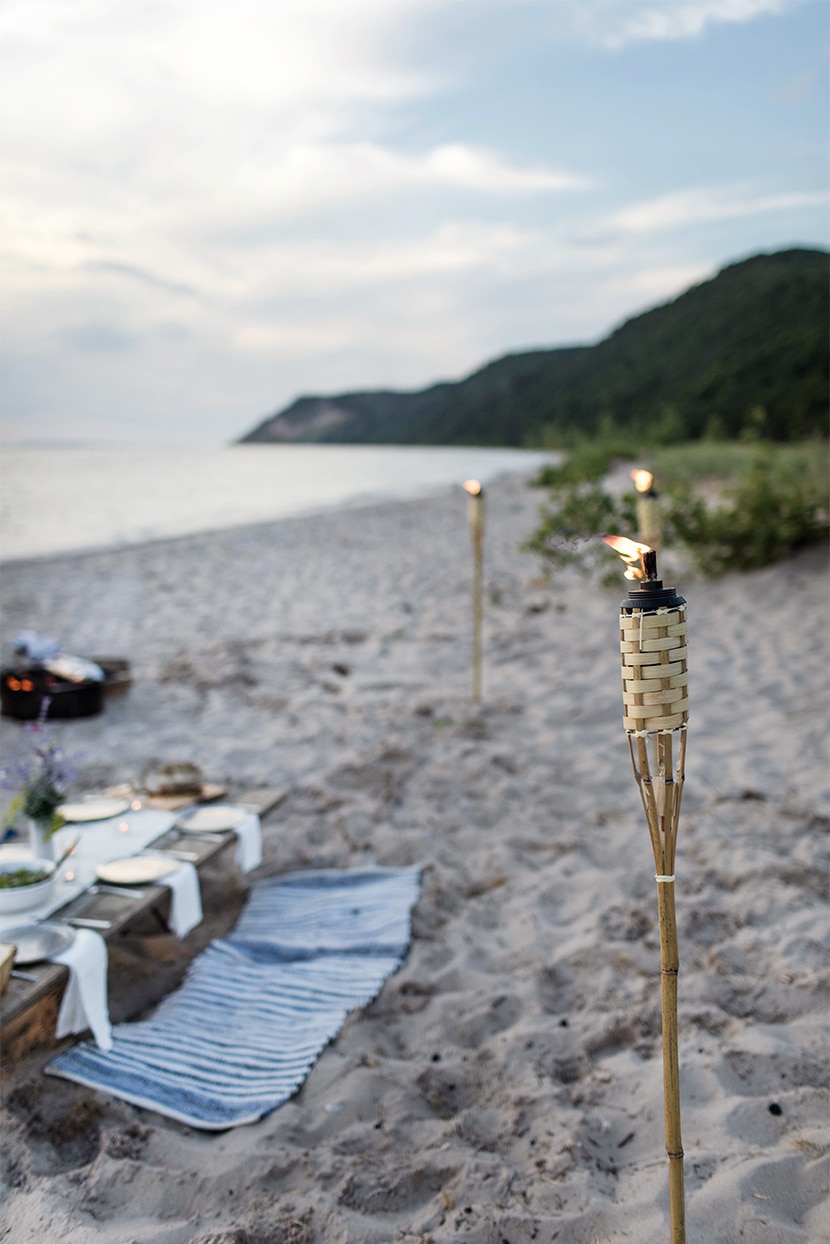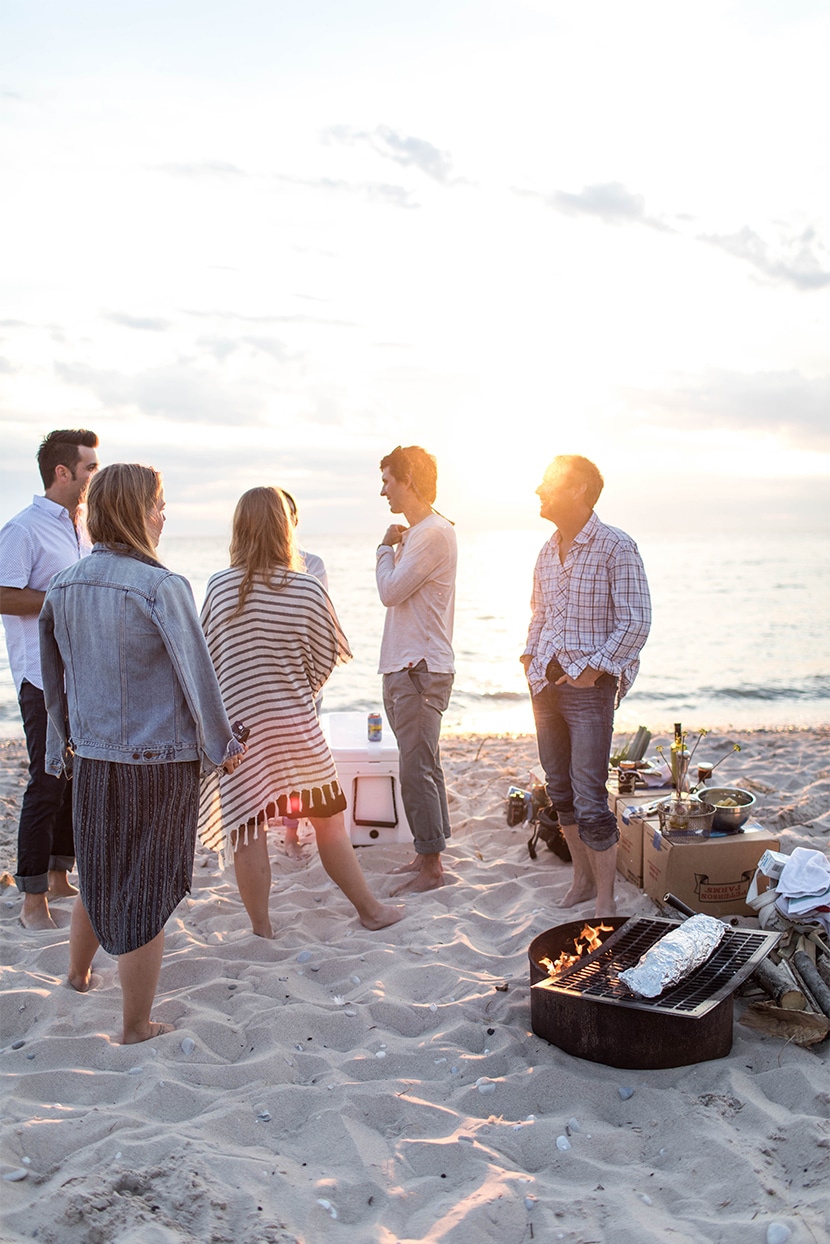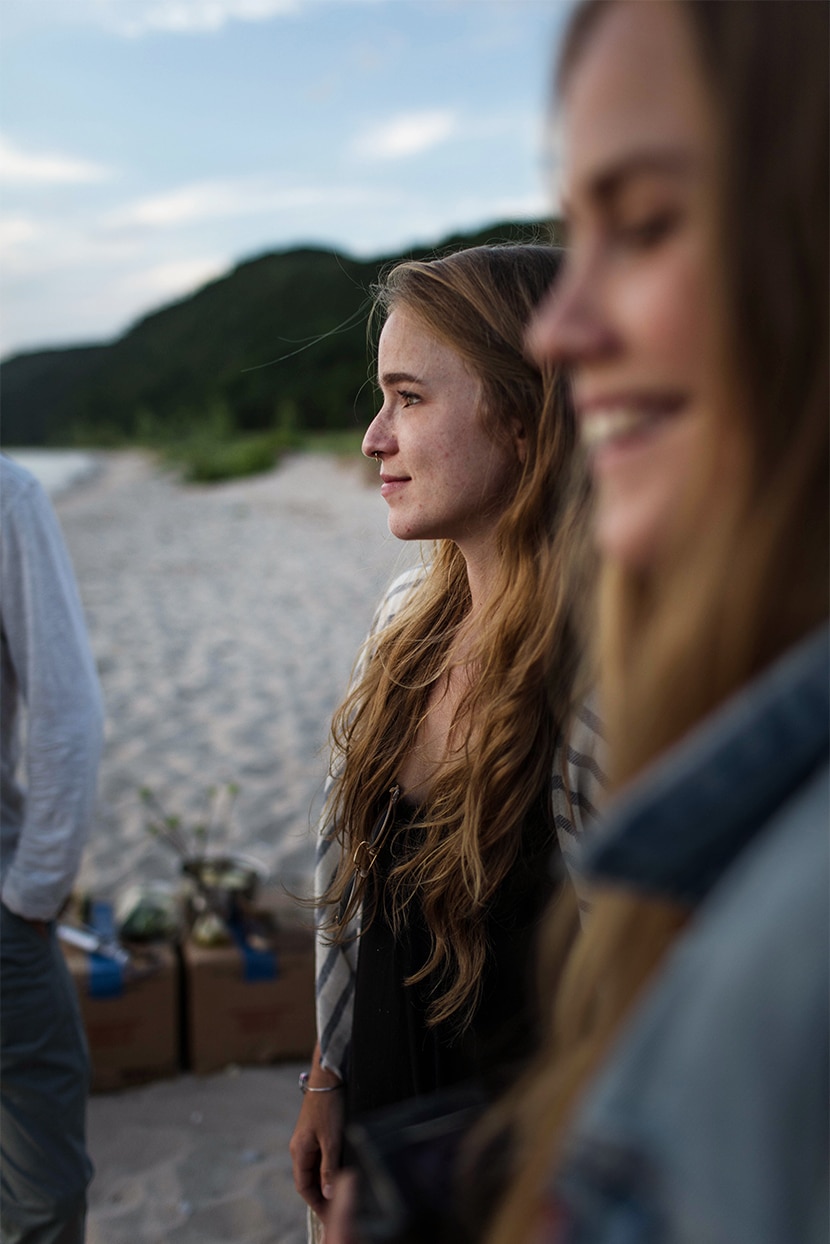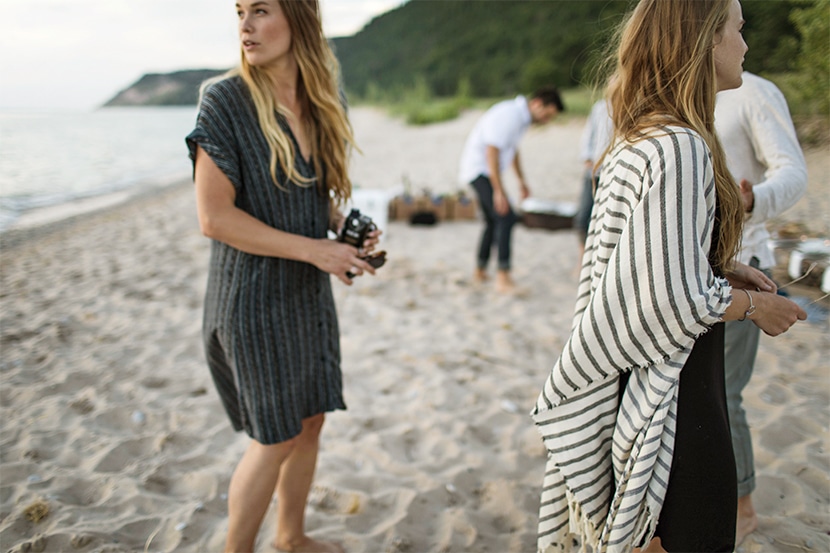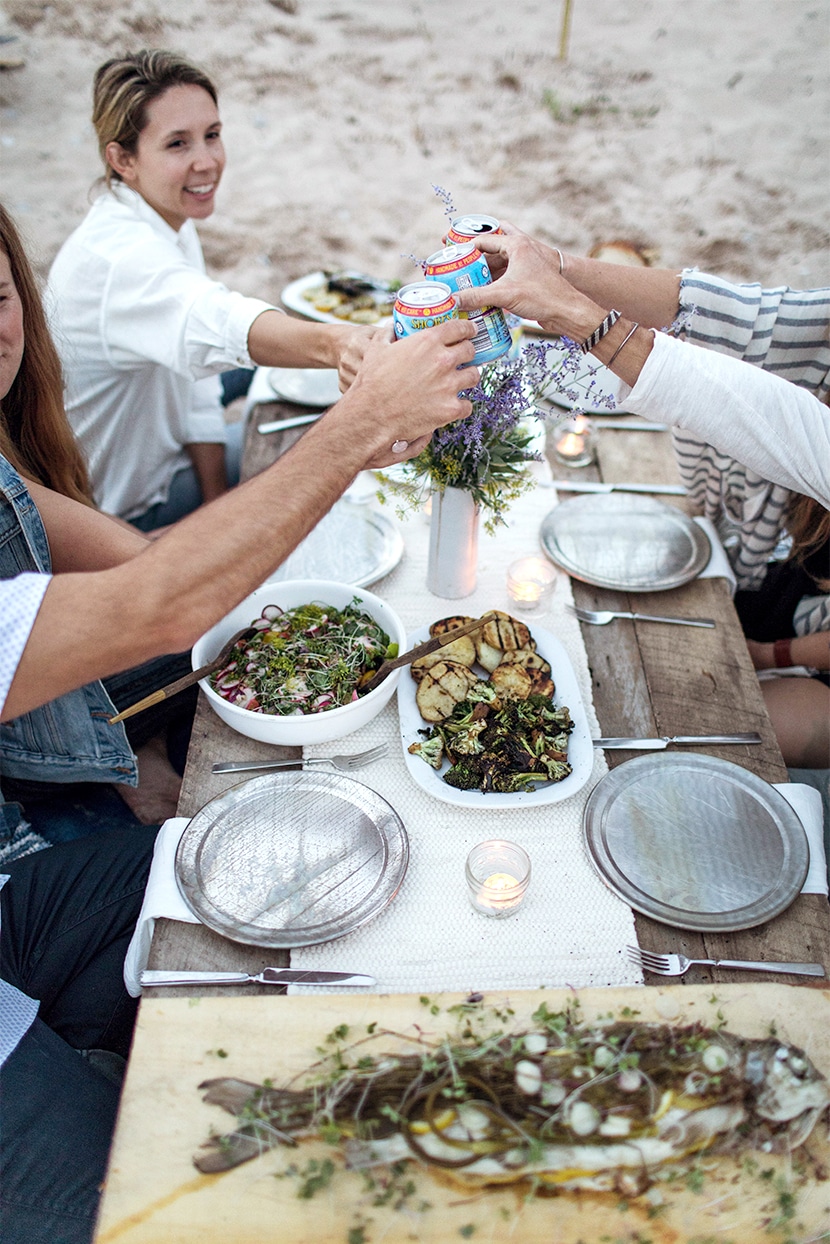 Before we served up the dinner, we thanked Timothy for his hard work on the meal and we couldn't wait to dig. We also cheered to all the summer's we have been lucky enough to have the summer's we hope will lie ahead for many years to come. We clanked our cans and we dug in.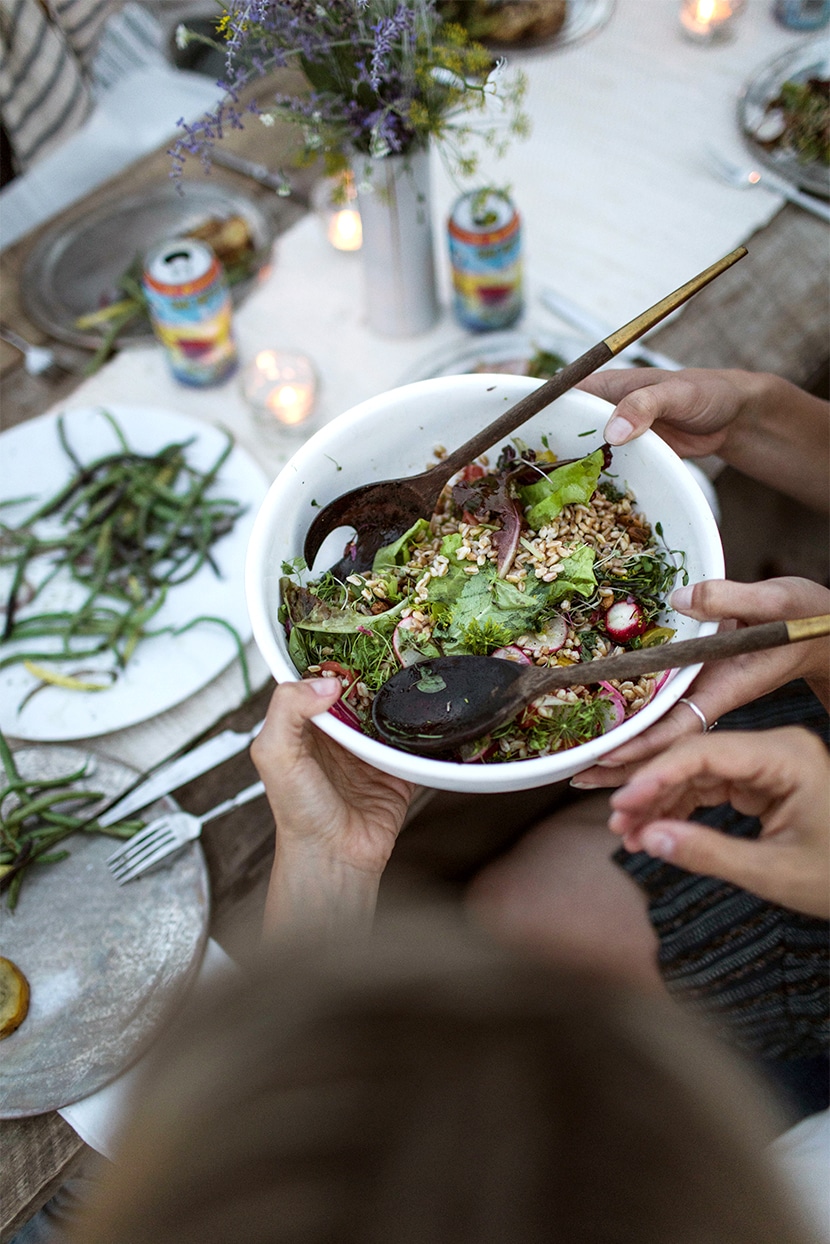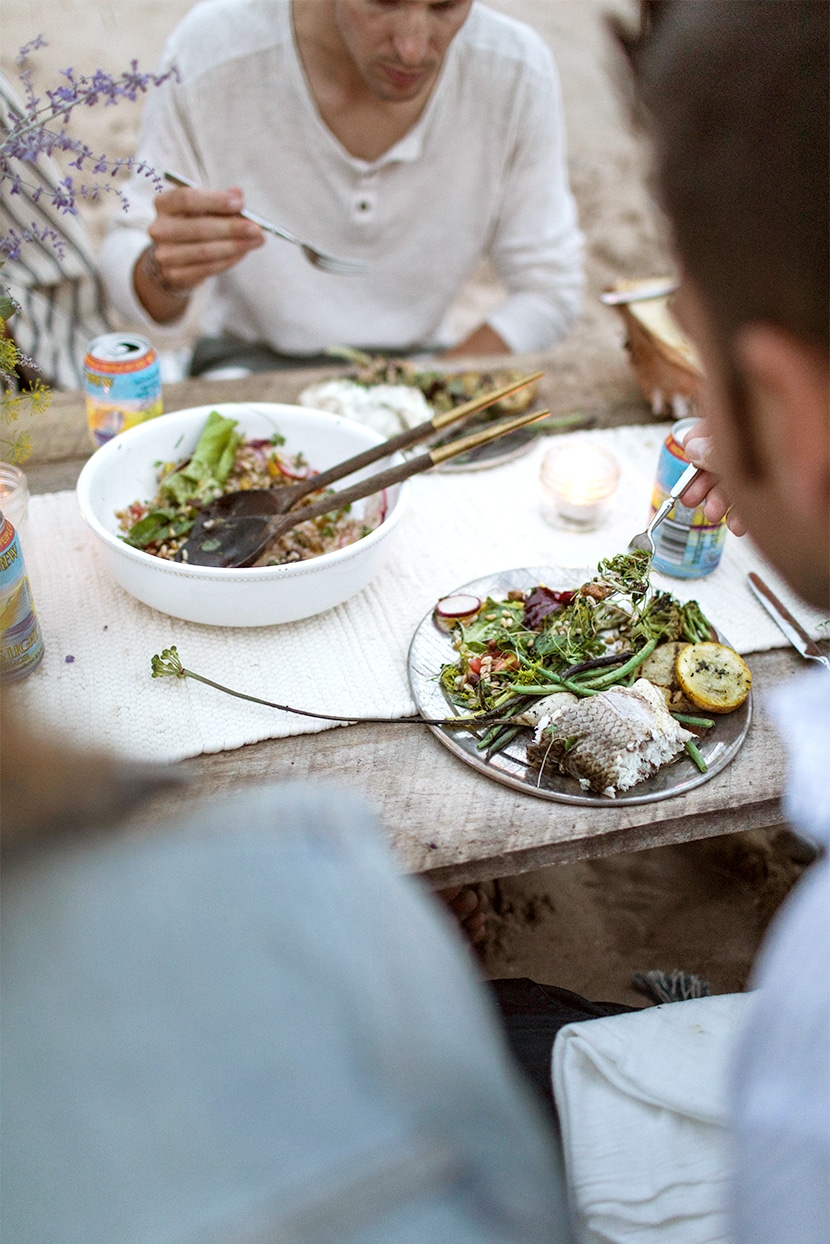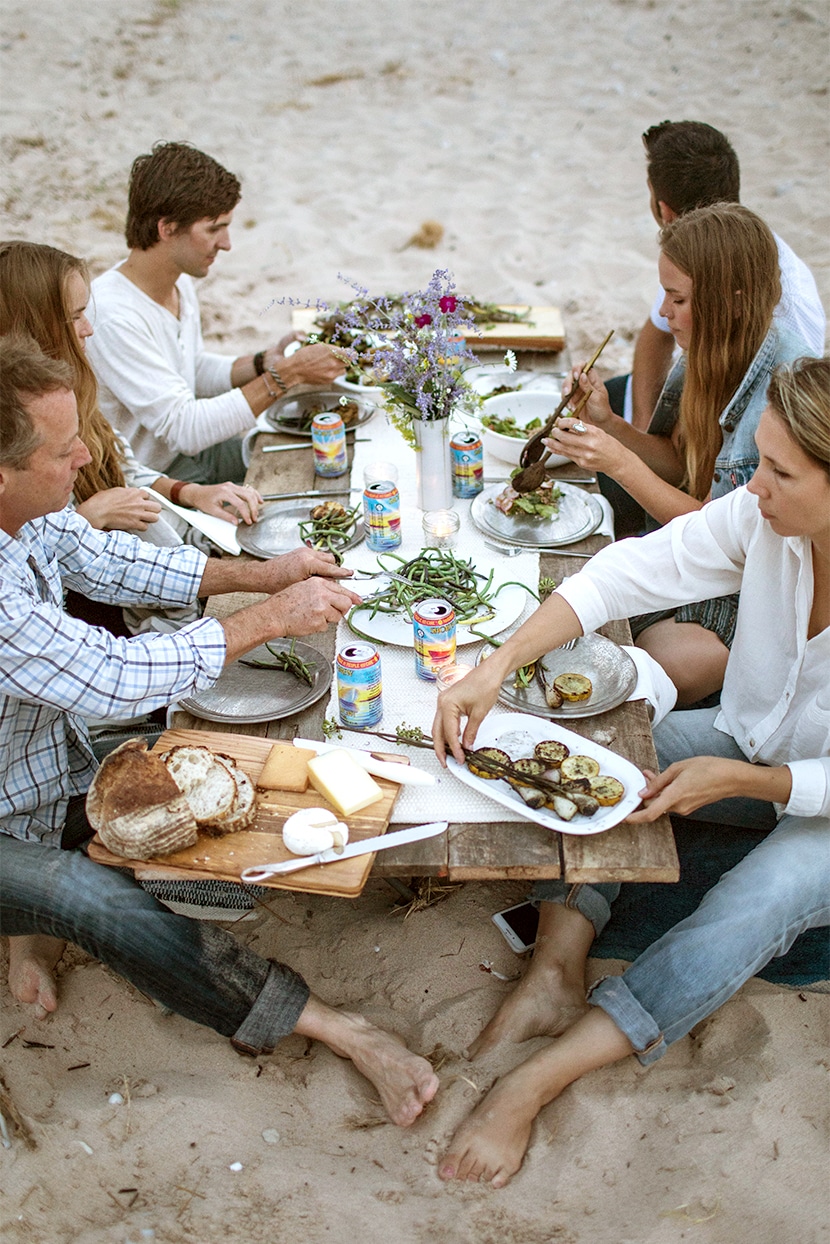 We dug in and ate everything around us knowing it wouldn't travel home well. We felt so thankful for a meal that was provided by the place we all love to live.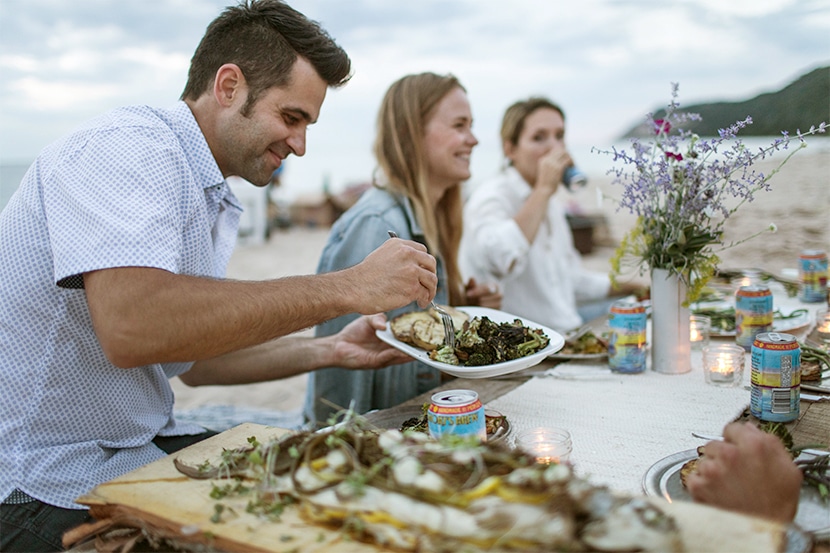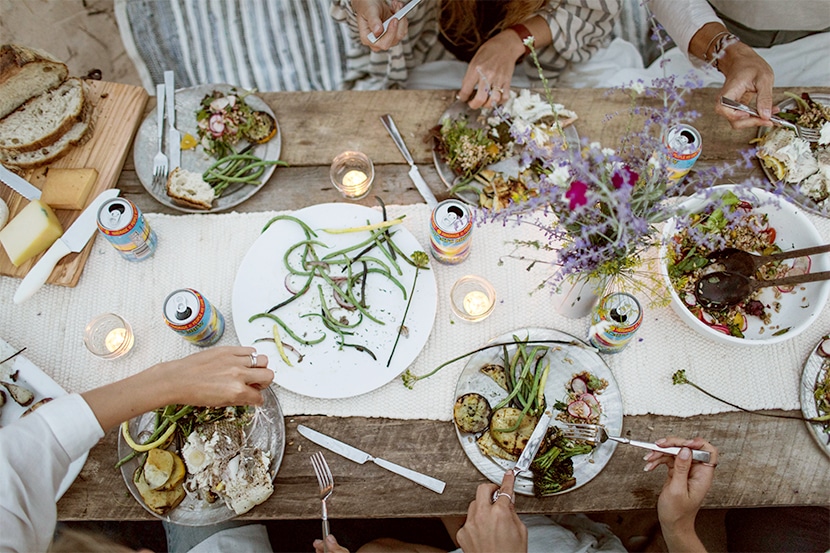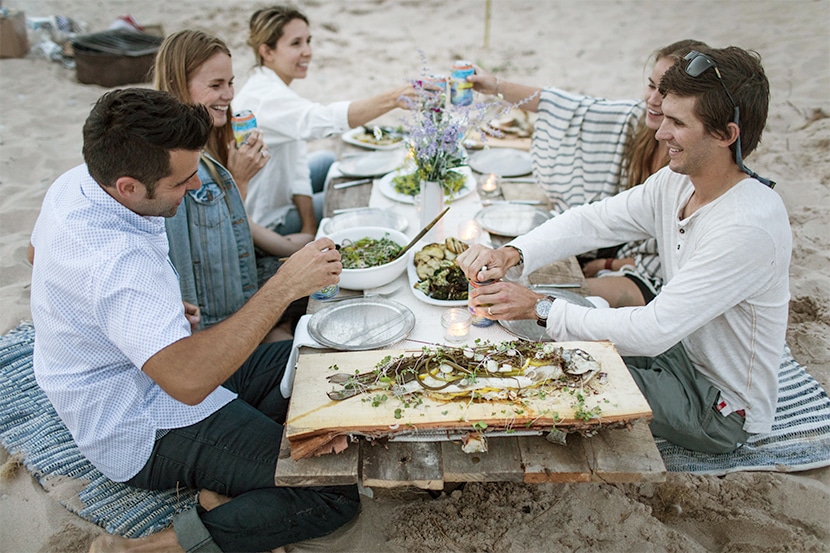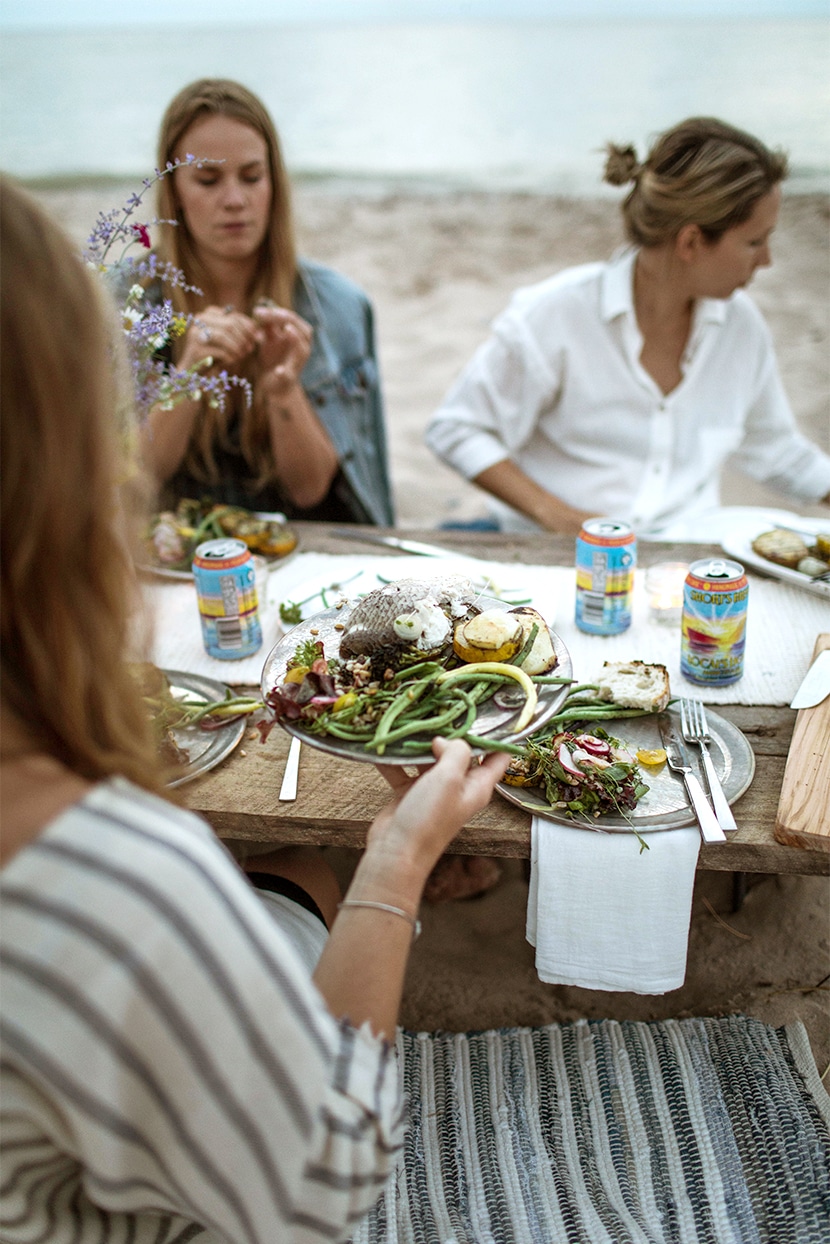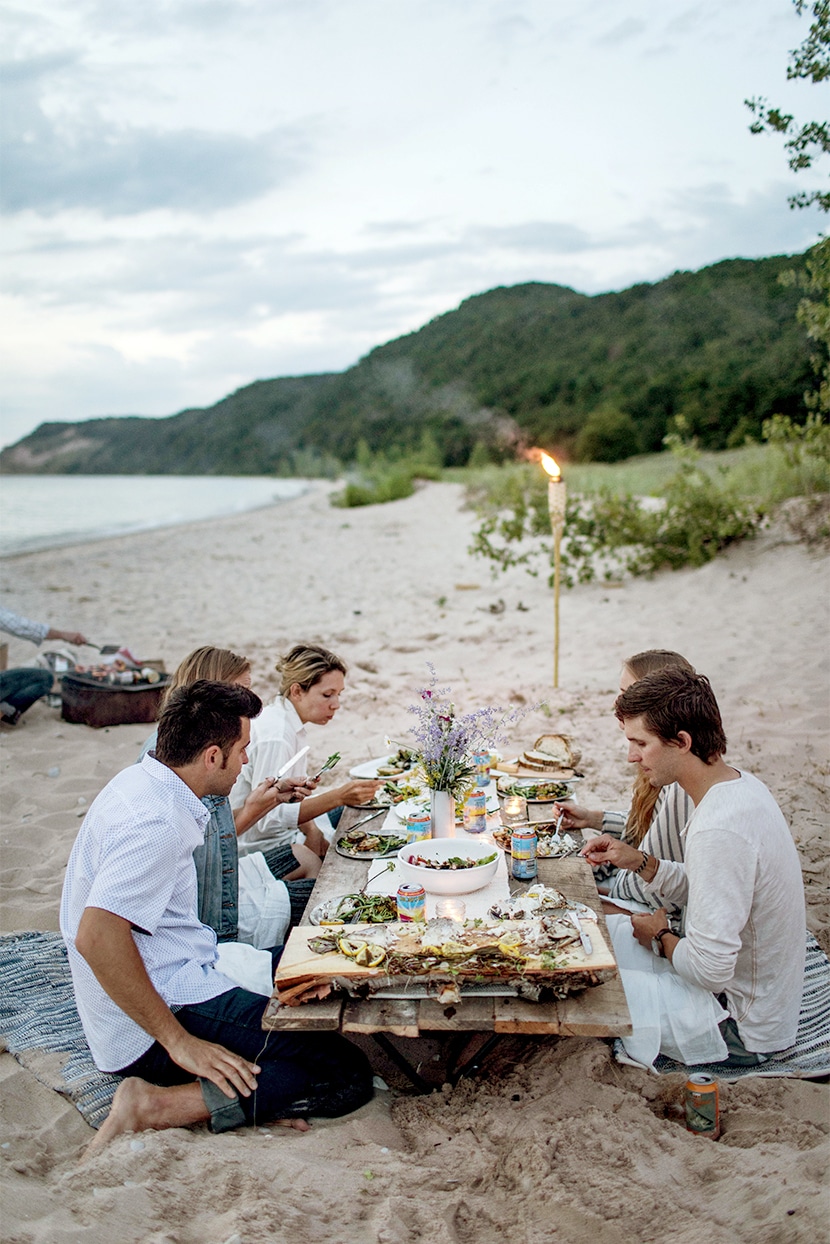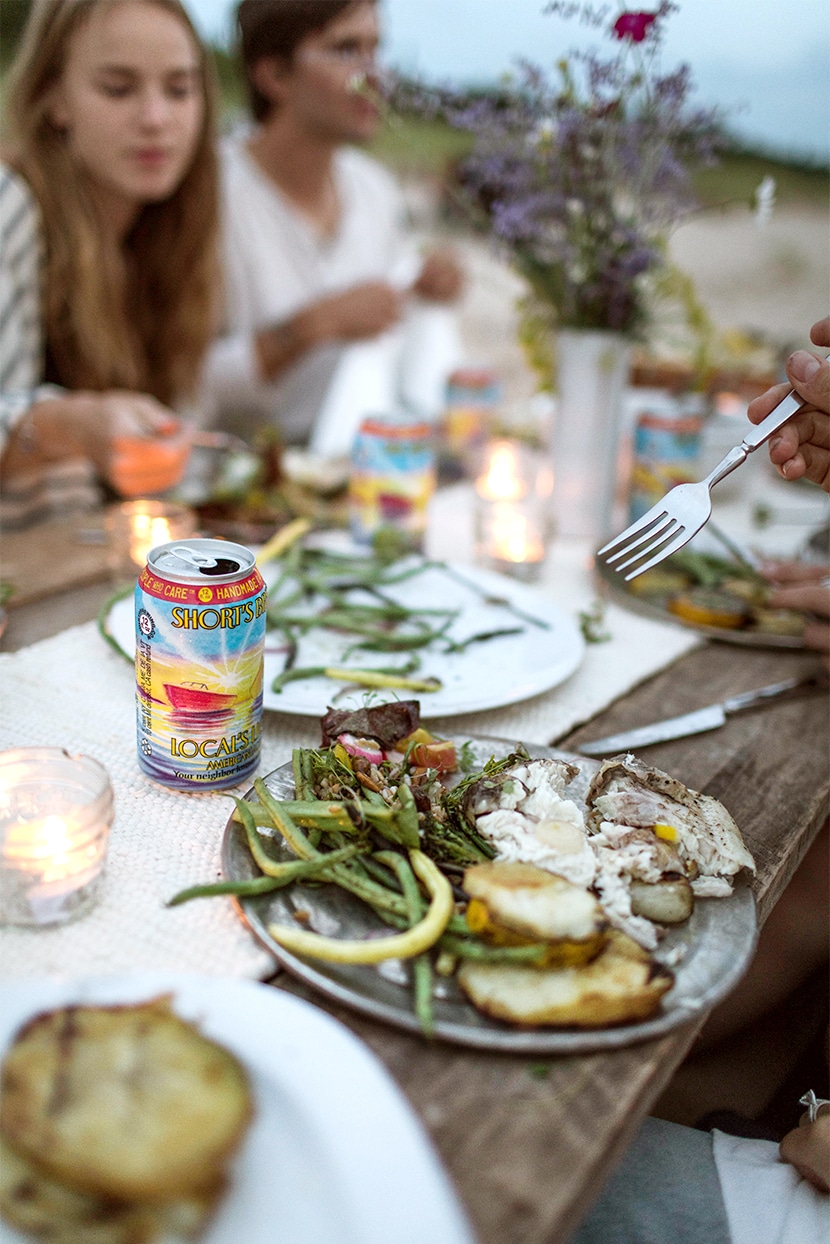 Life is good here in Leelanau. It is fresh and it is quiet. It is simple and it is pure. It isn't always slow but it usually as slow or fast as you allow it to be. We eat well here. We work hard here. We play even harder though. We drink well. We have a little of all the best things in life and we never feel without. The winter may be long but summers are warm and give in great abundance. The people who live here though may be the greatest bit of it all. We all get it. We all know the good that we have here and we want to care for it, save it, share it with respect, and tend to it. We also absorb it for all it is worth because when you live in a place that is beautiful in every season, you know nothing lasts long enough so we must live in the moment we are in.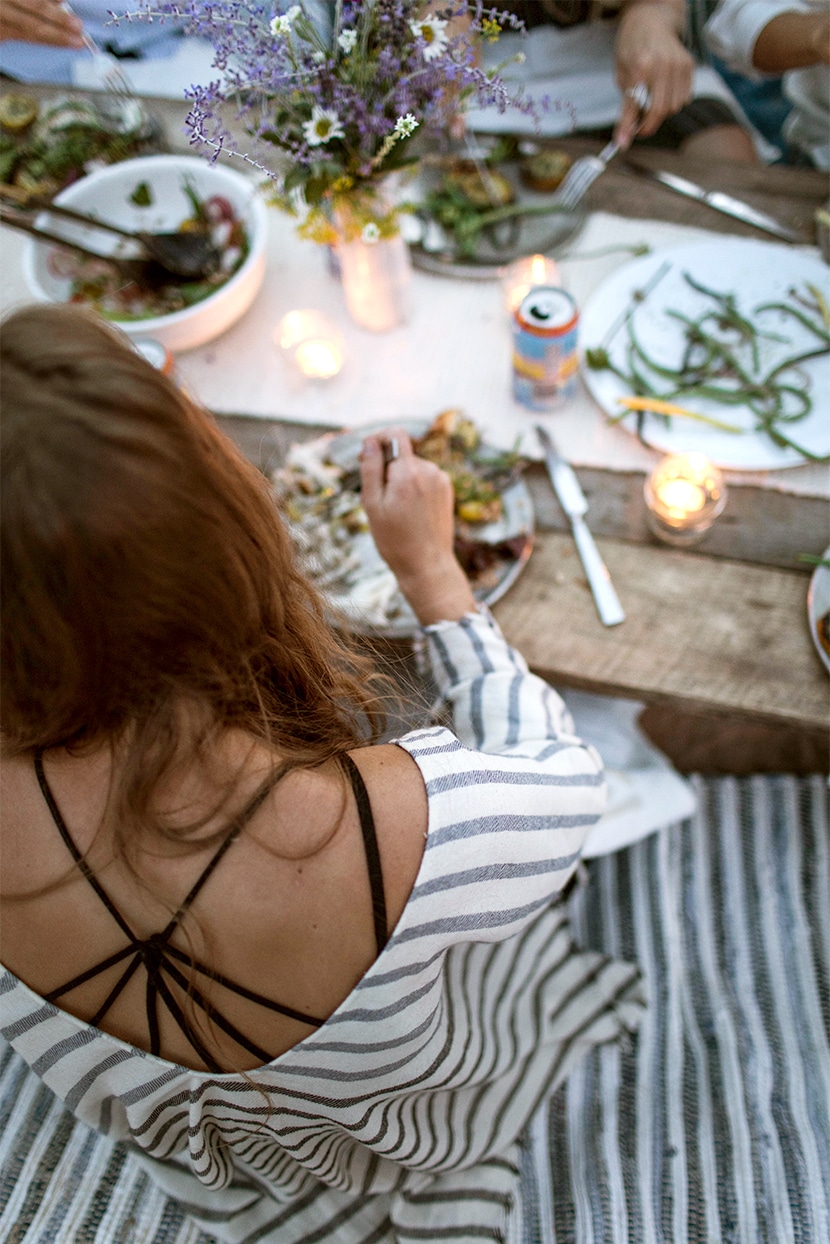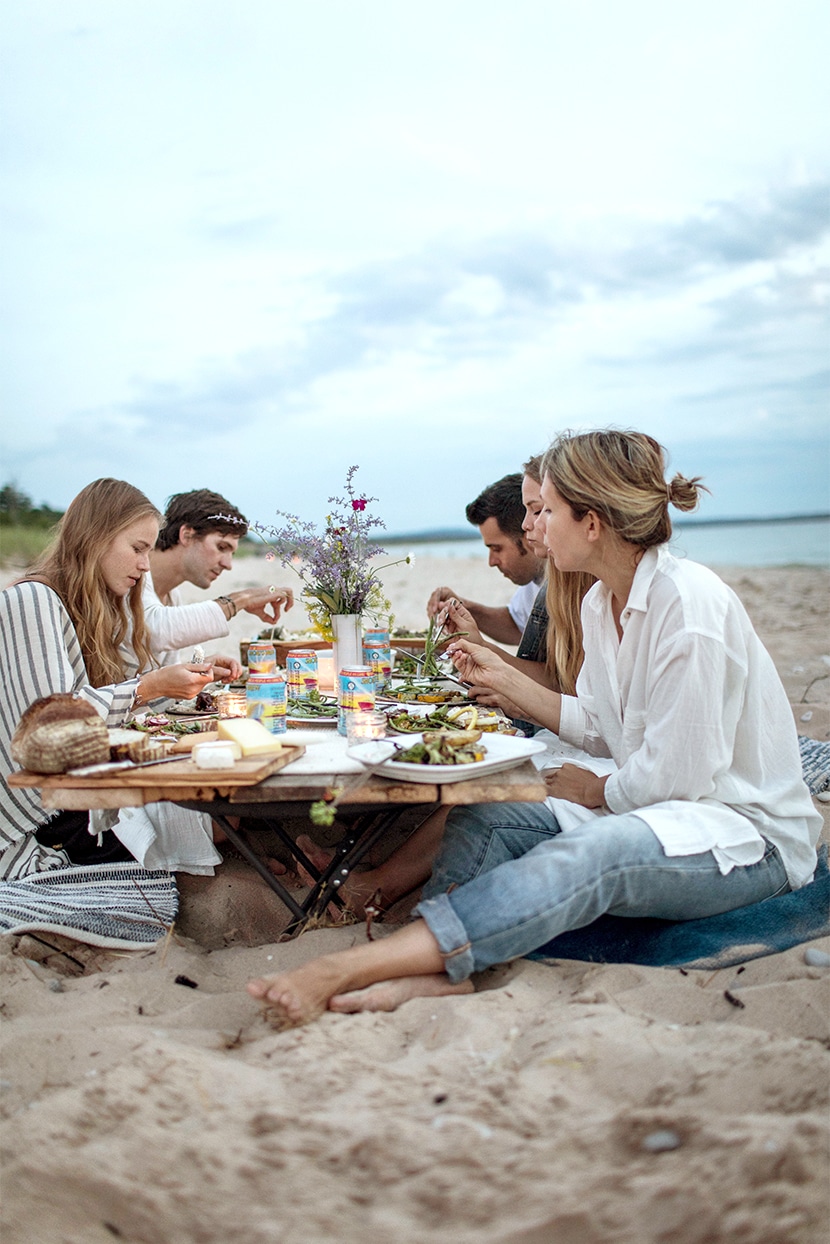 As we finished up dinner, Timothy pulled together a super quick and easy dessert of halved peaches grilled with currants and drizzled with warm Esch Rd. Bourbon Caramel from Food for Thought.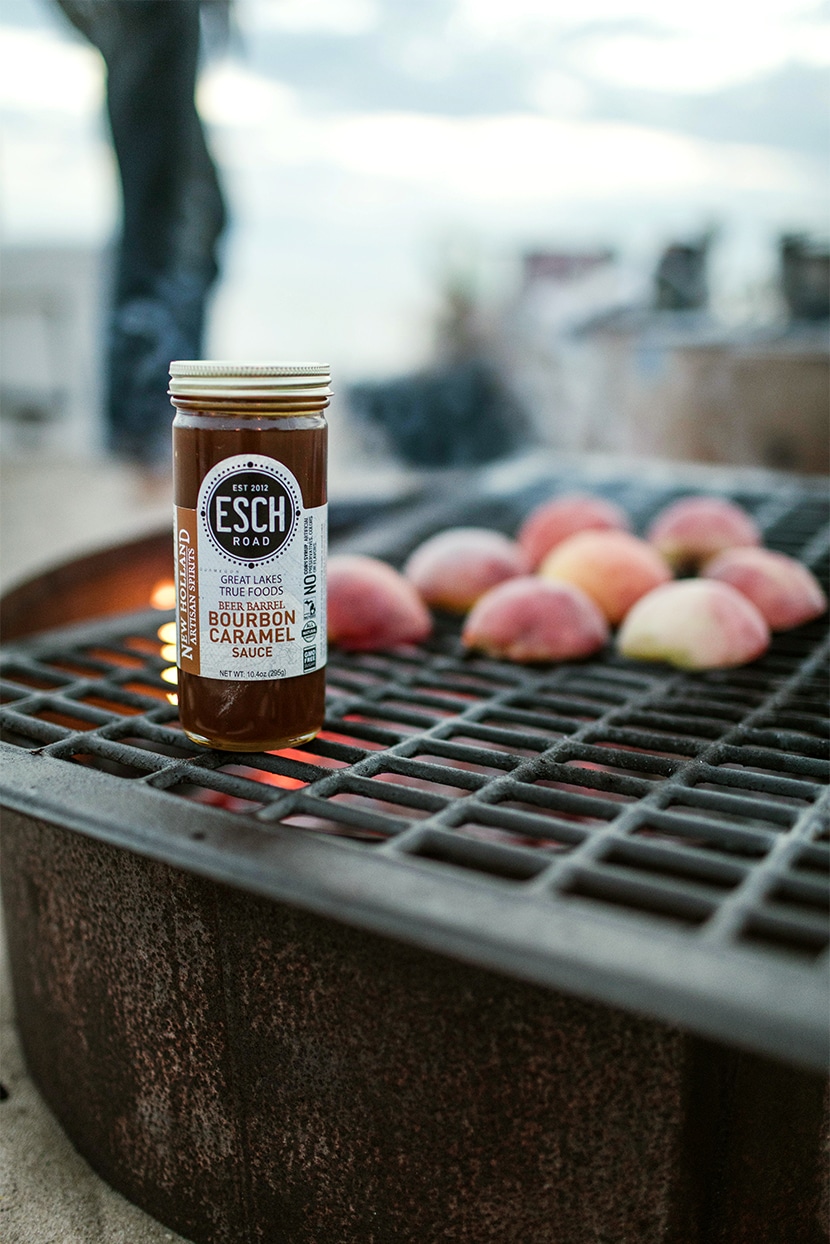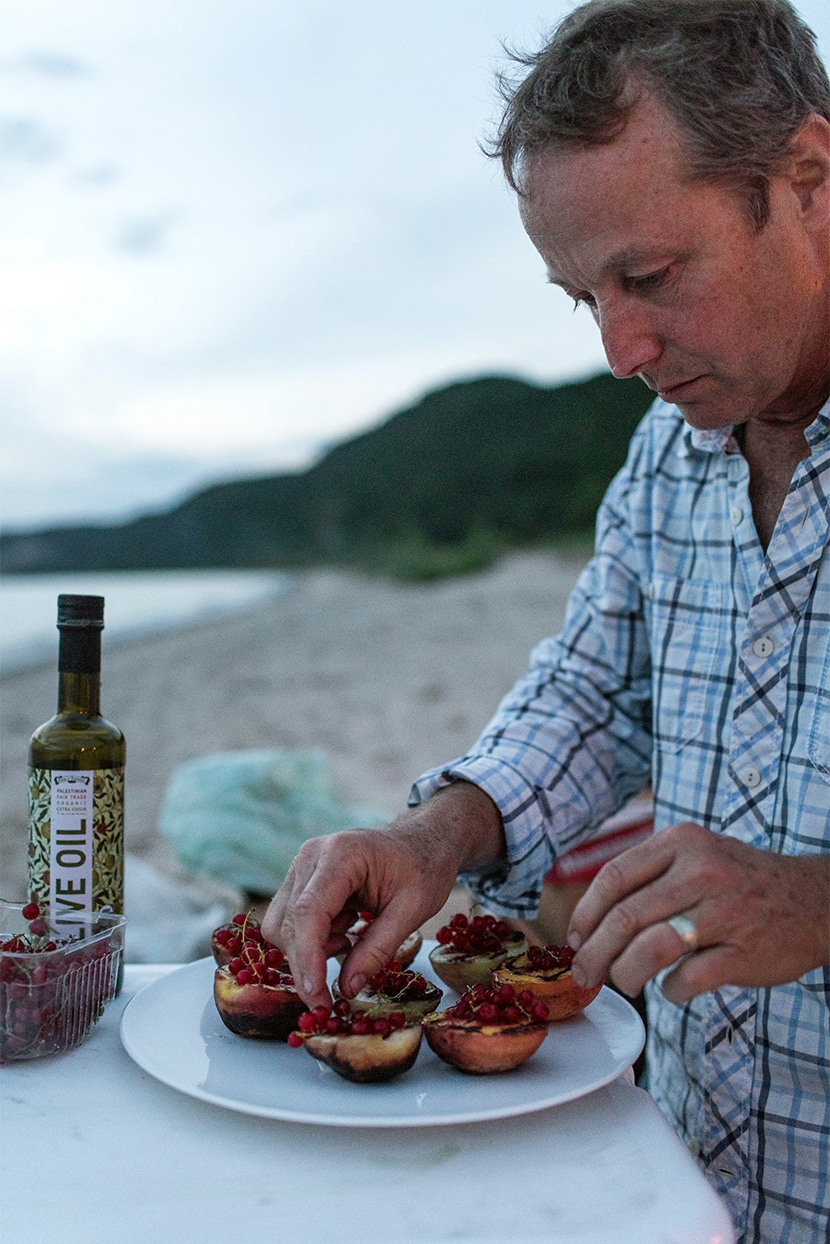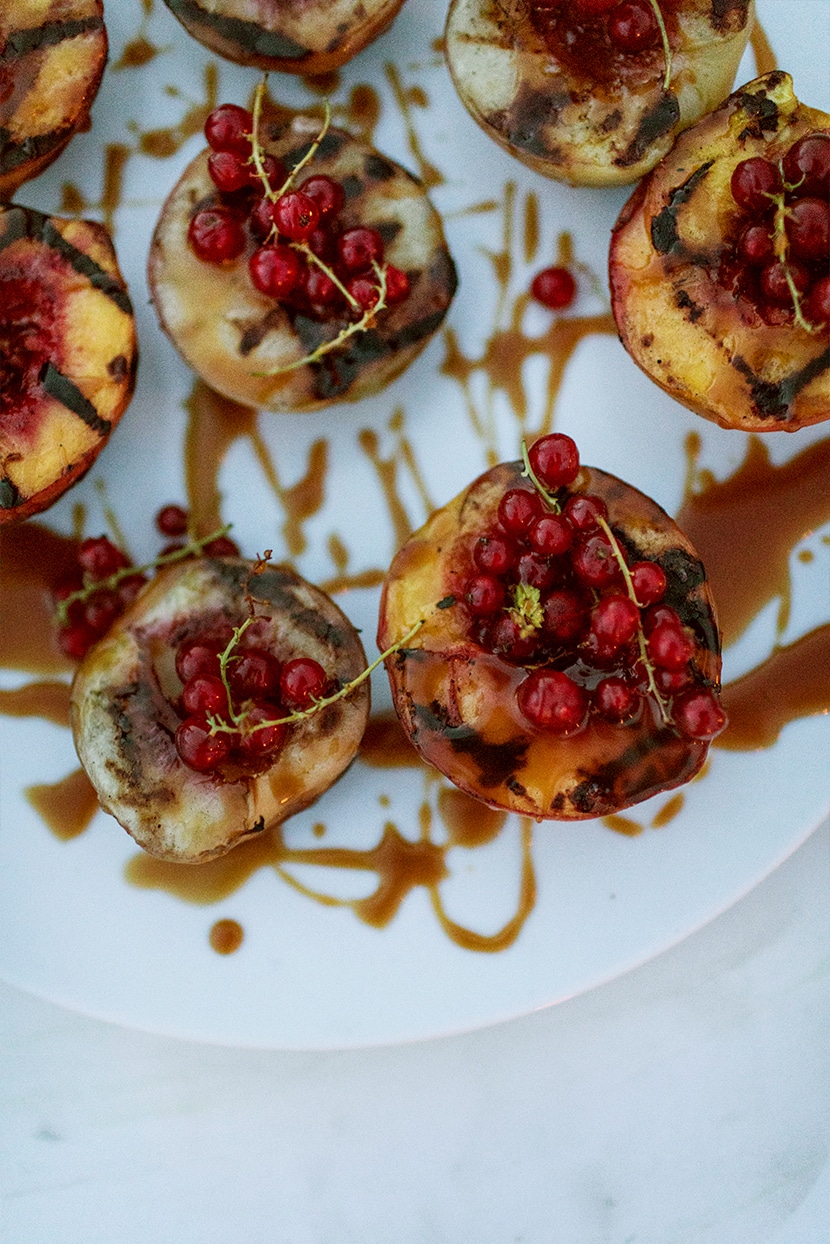 This the perfect light summer dessert you could ask for. It is sweet and tart and just the right amount of rich…but that Bourbon Caramel is something of dreams. You can find it here.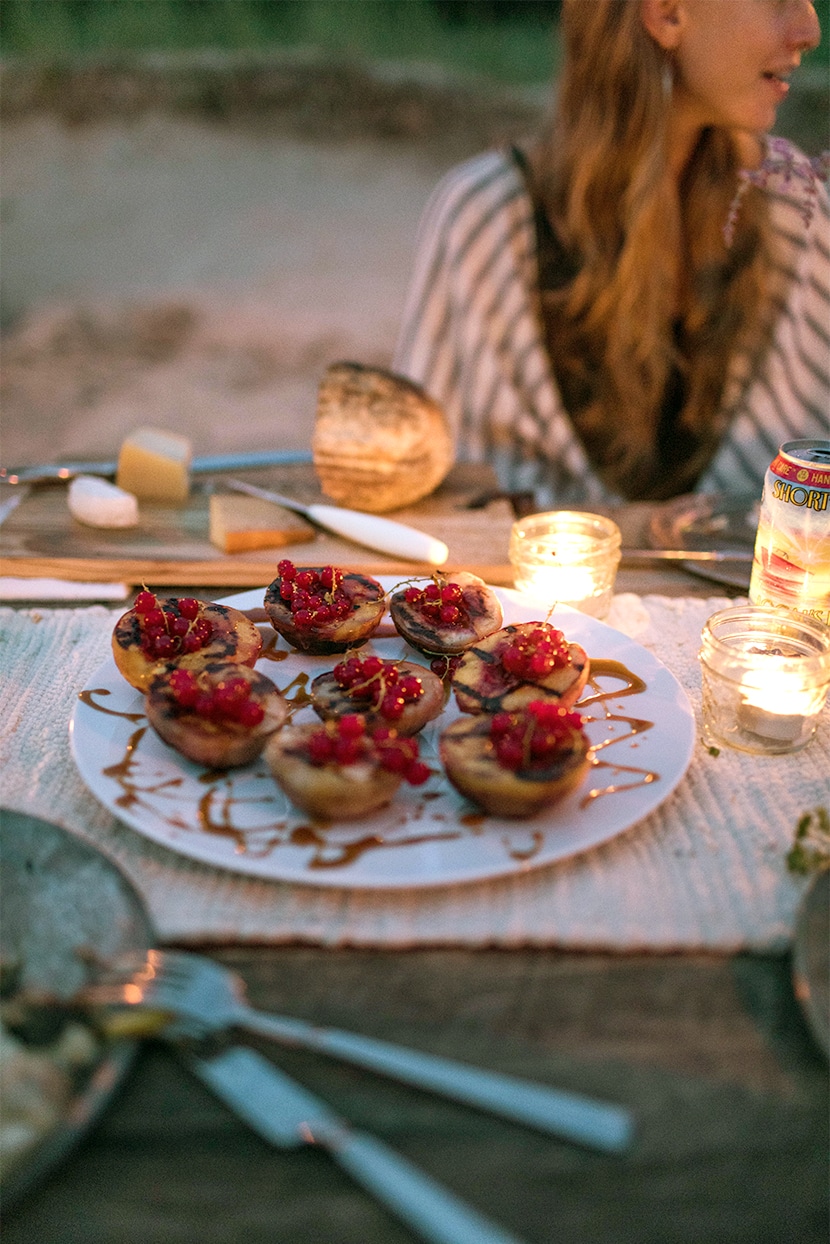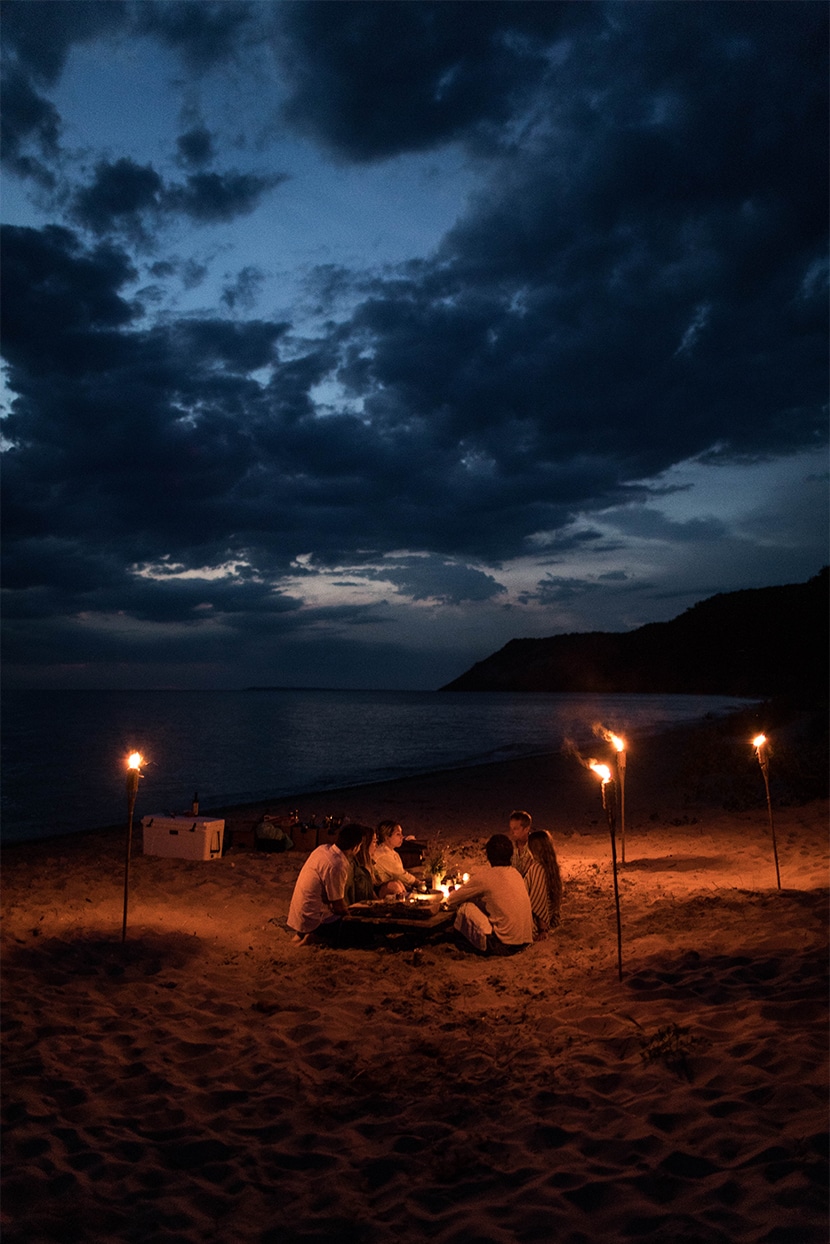 We ended the night watching the lightning strike on the horizon as another perfect summer storm rolled in. We all felt full, not just from the food but by having a night like this. We felt thankful and grateful to call this place home to know that life here is everything we need.
If you want more about the story or to see it in person you can contact Traverse Magazine to get a copy of it for yourself. There are recipes and the piece I wrote as well. Mike took all the photos for this story and of course he nailed it.
A huge thank you to Timothy Young from Food for Thought. Not only is he a great cook but he has a great heart for the area and doing a lot of good with not just food but our impact on the earth. Another huge thank you to our friends, Sam and Laura Brown for helping and hauling and cleaning up with us. And Mae, thank you so much for coming and bringing flowers and your wonderful friend, Mark. What a night to remember.
Finally, thank you to the team at Traverse Magazine, you guys are a dream to work with. Thanks for letting us just do what we love for you.
If you have source questions feel free to ask, but most things were sourced either locally or on Amazon.