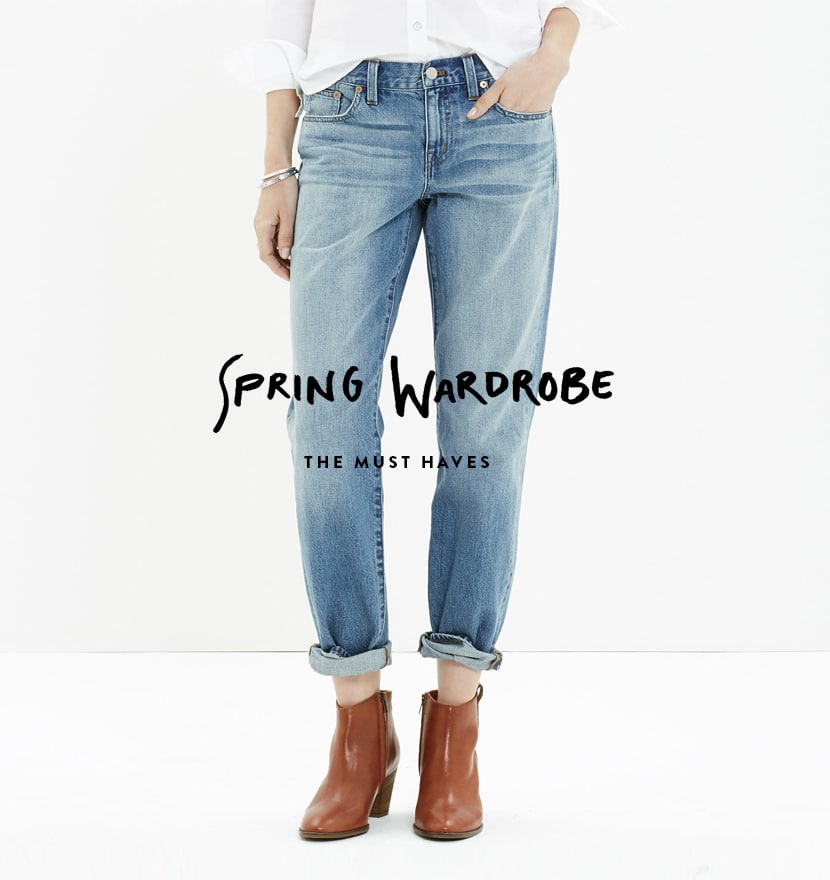 Image via: Madewell
I would have never dreamt it possible, but I am going to say the word spring in January. I am sure some of you are thinking, "we haven't even gotten the worst snow storm yet, how can this chick be talking about Spring?" Well, the reason being is that it is never too early to begin curating your closet for the next season. I am already on the lookout for some key pieces to add to my closet for the next season. I am also making decisions about what needs to stay and what needs to go. I love to create a sort of road map for my closet in order to make sure it stays on track and I keep my sights on the things that I am really going to love all year, and from season-to-season. Thus, why I am hoping you will forgive me as I am sure you shriving slightly as you read this post. Don't worry it will get warm again I promise!
Below you will find my must haves for Spring. Some you may have and some you may have already had on your list, but I am hoping this helps you stay on track to having one well curated, simplified, and beautiful wardrobe as you dream about warm days and chirping birds.
From top left to bottom right:
Drop Crotch Trousers: Perfect for casual weekends or dressed up with heels. Layer with a chunky sweater and leather jacket or a crop top for warmer days.
Black High Rise Jeans: Tuck in and layer with a blazer for a work meeting or layer a white button down. Either way they are a must have.
Midi Sweater Dress: Choose a knit that isn't too scratchy so on those 50-65 degree days this can be worn still. It's the perfect transitional dress for Spring when you buy the right knit.
White Denim: The elusive but necessary. Still have yet to find a pair of white denim that don't make me feel as if I am sharing too much information with the world.
Black Overalls: Love the denim ones, but I love the black for the fact they don't remind me of Middle School Megan. They can really work it when dressed up for a weekend night too.
Pleated Trousers: Make your grandma proud with cropped and pleated trousers. Comfy and cool. Can't beat them in a good olive color.
Light wash Boy jean: Find a pair that fit just like your favorite sweatpants and pair them with your favorite booties or heels.
White Shirt Dress: Layered over leggings or worn on it's own it is the perfect staple for the Spring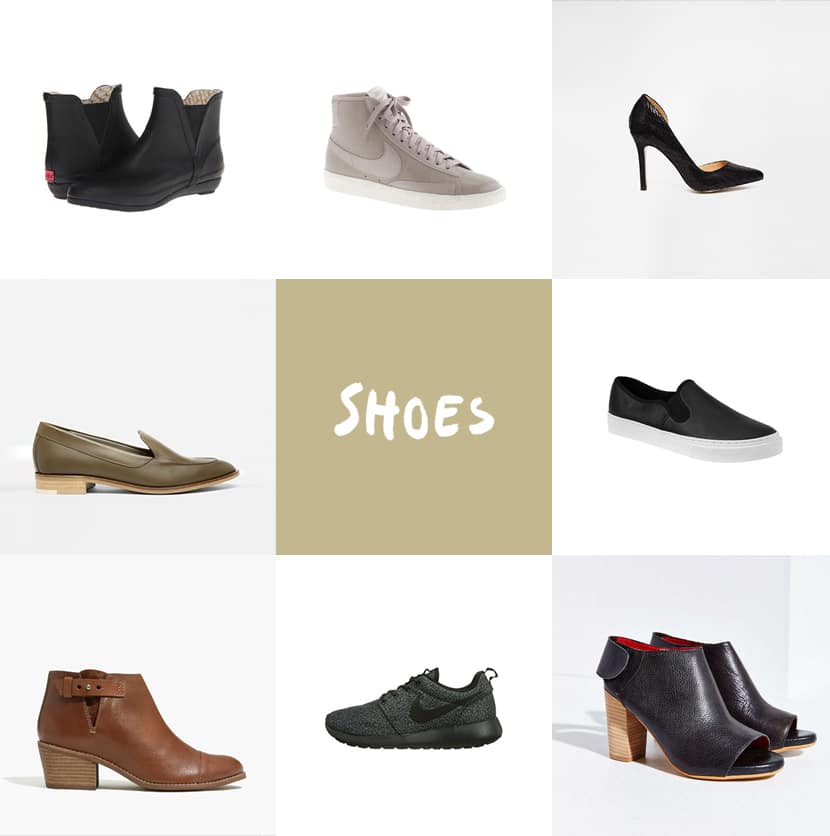 From top left to bottom right:
The Rain Boot: Rainy days are what Spring is all about, but that doesn't mean you have to only wear wellies on those days. These boots look just like a great Chelsea boot, but won't leave your leather ruined or toes wet.
High Tops: This is the year of the athletic shoe. Bring it back the chicest way possible. This lavender leather high top from Nike is the right way.
Black Heels: For all those cropped jeans and baggy looks you need a heel that will counter it. A sexy heel like this will do the trick.
The Loafer: Leather loafers are in and aren't going away anytime soon. Wear them with your favorite pleated cropped trousers or skinnies.
The Slip-on: The classic converse are still cool, but these might as-well be slippers. The black leather slip-on is a must for Spring. Vans is the classic but these from Gap make it easy on the wallet.
The Brown Leather Ankle Boot: You have the classic black, but the brown leather is the next step. This buckled boot from Madewell is on.
Rosherun: I told you the athletic shoe was in, but if you are really going to rock it this season you need a good pair of Rosheruns that fit your look. These black ones are where I am headed this season.
Shootie: If you don't always want to deal with the thing heel and the feeling of potentially losing your shoes all the time, the shootie is the answer. Peep your toes while still getting all the beauty of a good heel.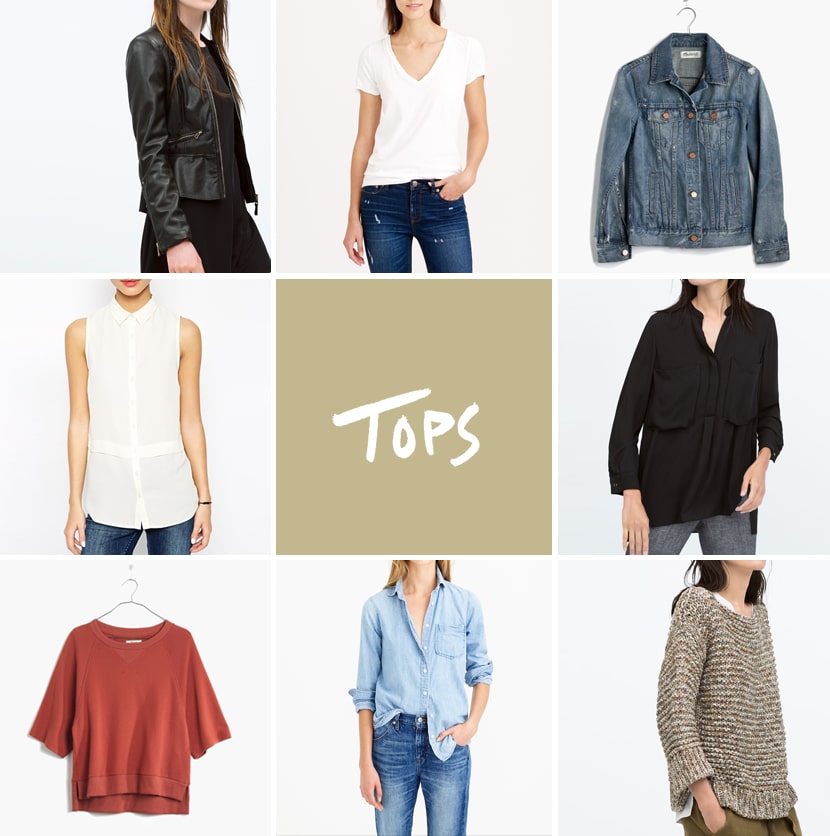 From top left to bottom right:
Leather Biker Jacket: Whether it is really good fake or real it is the perfect weight coat for the Spring temps.
The V-neck: There is no piece I wear more often. Crew necks just don't cut it for me in the t-shirt department especially on a sunny day.
Denim jacket: It's a classic and the perfect layering piece. Wear it over nearly anything or under if you can!
White Peter pan Tank: It's the perfect layering piece under the dense sweaters and other layers. On a warm day it can be hiding under a sweater just waiting to make an appearance.
Black Silk Shirt: Silk is a great layering fabric if you find the right piece. I love black silk because it has just the right amount of shimmer to it.
Short Sleeve Sweatshirt: If you don't want to fully commit to a full sweatshirt this is the right piece. I am planning to add one to my closet this Spring.
The Denim Shirt: I have one in nearly every wash you can imagine, because nothing is more versatile and more comfortable.
Cotton Loose Weave Sweaters: I love medium weight cotton sweaters in the Spring. I make sure they have a loose fit on the waist so they can drape and layer easily
What are some must have pieces you are planning to bring into your Spring wardrobe this year? Any new trends you cannot wait to wear?