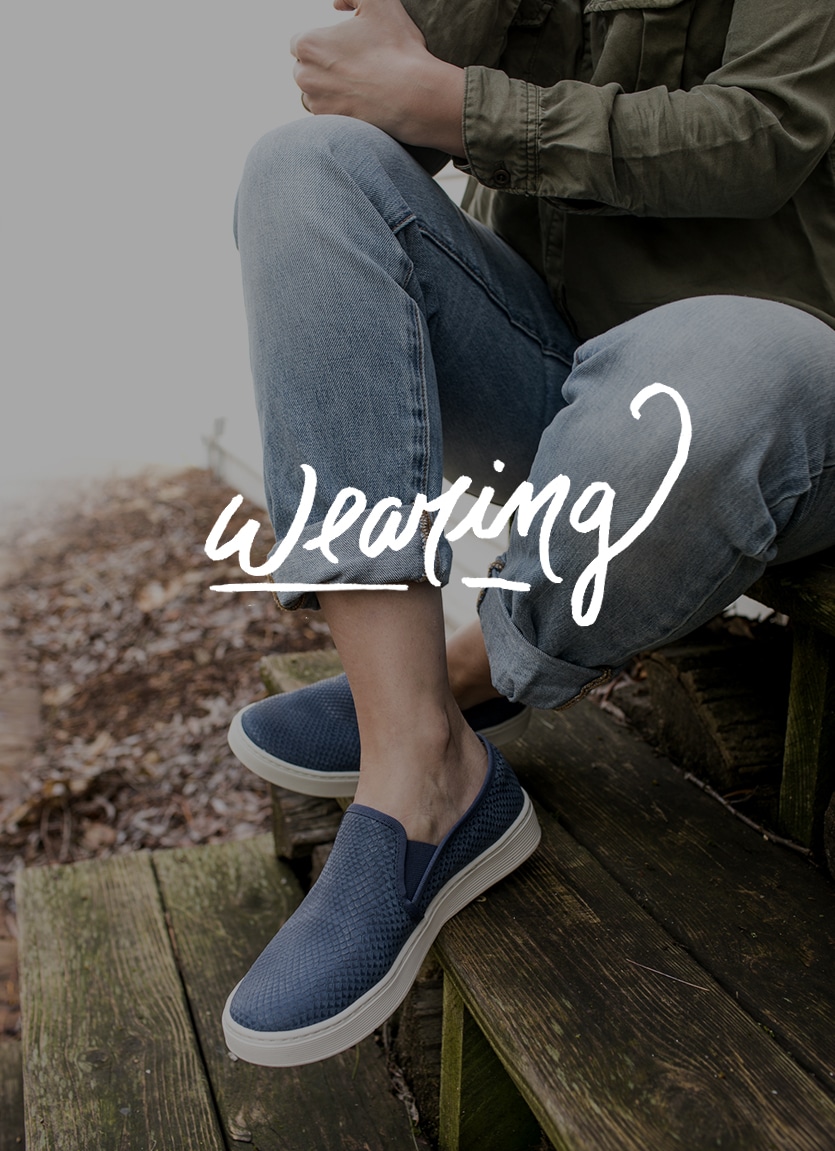 Spring is here. You know how I know that? I can wear my boy jeans and sneakers. In all honesty, I don't hide away my boy jeans during the winter months no matter how silly they look pulled over my boots. I still wear them and I look down and realize I am dressed like my dad, but you know boy jeans are basically my favorite thing in my closet so I kind of go with it. But, now that spring is upon us I can roll up those jeans and slip-on my favorite sneakers and give my ankles some vitamin D. Since I more or less live in sneakers this time of year before it is warm enough for sandals, I thought I would share one of my favorite outfits to wear sneakers with for a warmish spring day with you.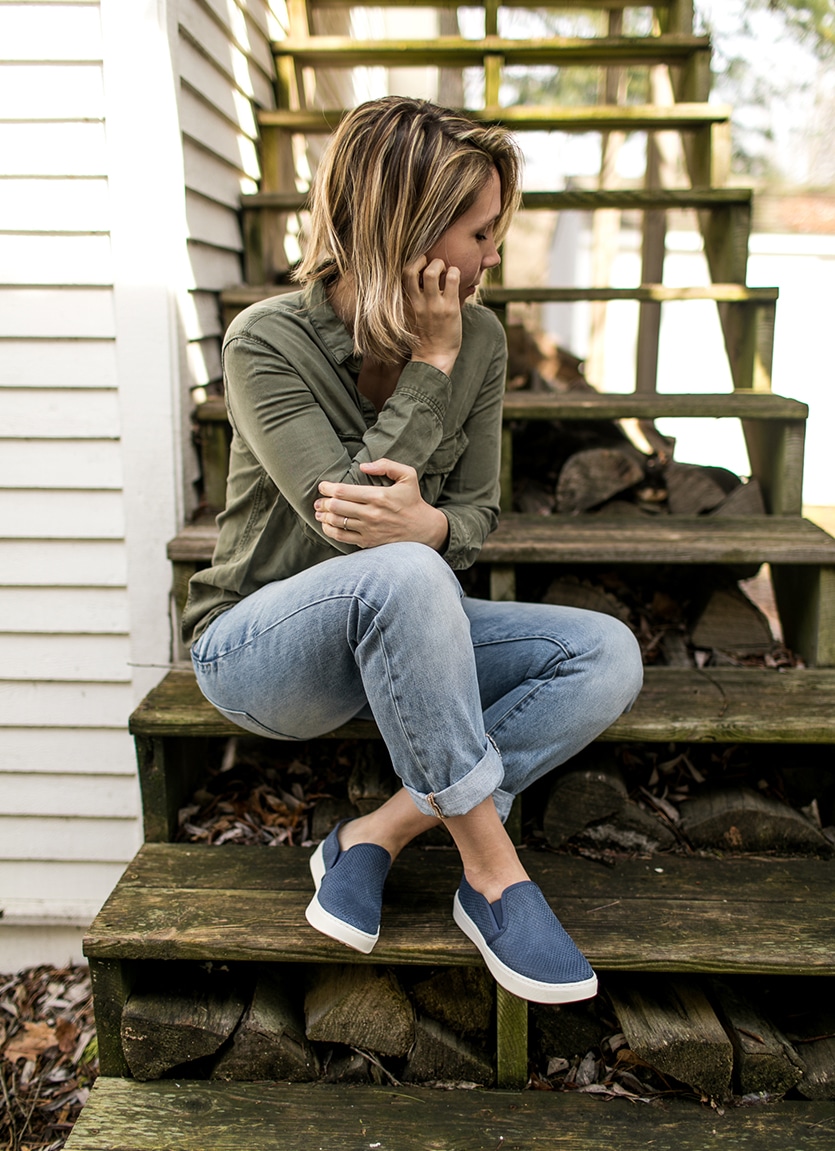 I have about 4 pairs of sneakers in my closet I love and Zappos and Sofft recently asked me to give these ones a try. I instantly loved how quick they showed up after ordering and how lightweight they were since many sneakers tend to lean on the heavier side. Since most of my shoes are in gray, black, or white I loved the blue of these ones to add some variety to my choices for spring. They are super easy to wear with so much of my closet and I particularly love them with light wash boy jeans such as these ones.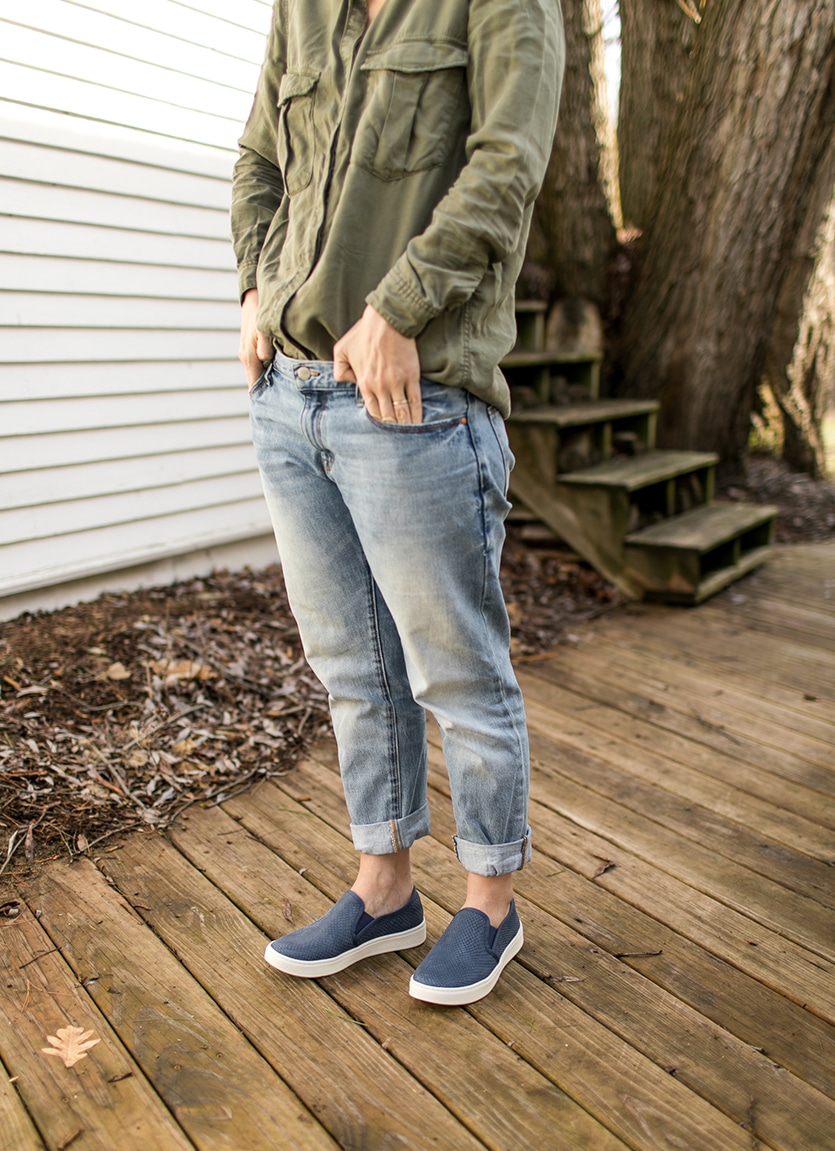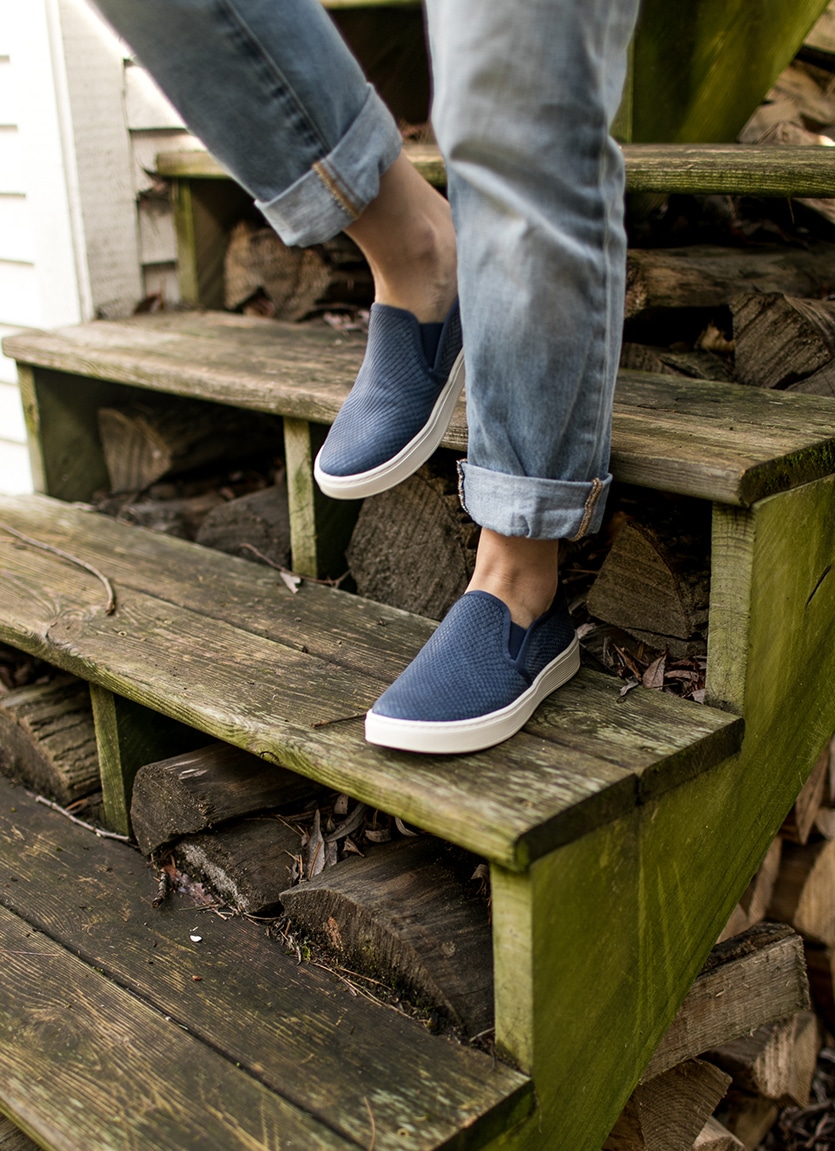 Typically I wear slip-on sneakers more than any other of my sneakers. I have one other pair in my closet than these in a light gray that need a good wash before the season. What I love about slip-ons is as a mom I am typically the last one to have a chance to get my shoes on and these go on super quick and also allow me the chance to run after Hayes. I also am known to wear slip-ons with my leggings to the airport or with a midi dress on a warm day. I find them to be the easiest and simplest shoe in my closet, especially for spring. These ones I know will be making the rounds at the farmer market this spring in a few weeks, I have no doubt.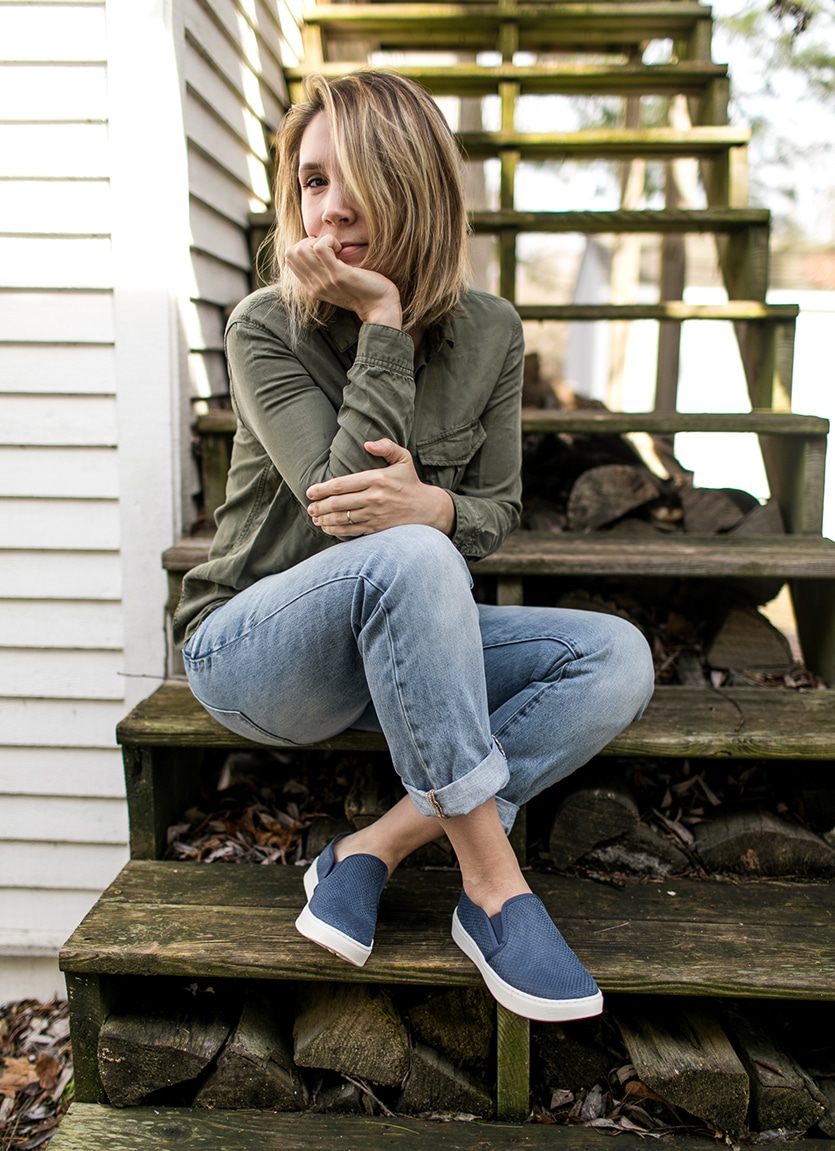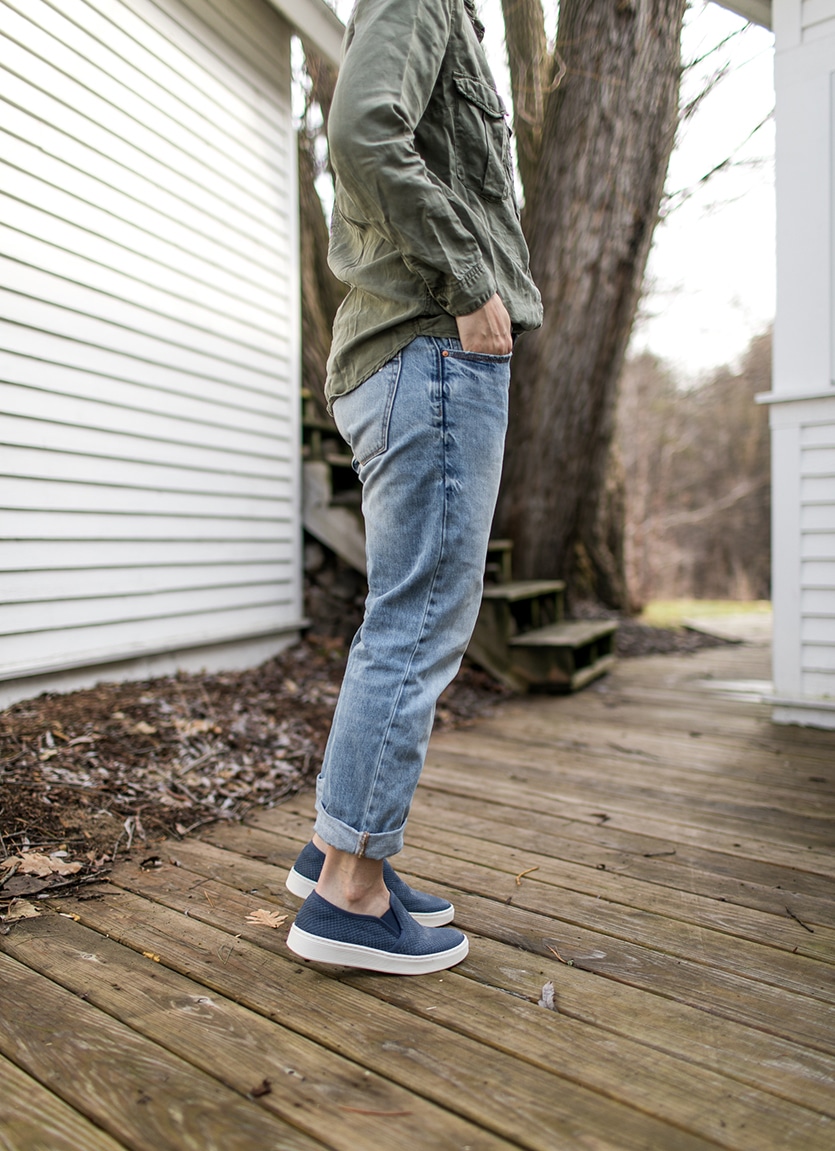 This outfit though is a standard go-to with my slip-ons. I wear my army green button down a ton since it hides stains from lunch with a toddler and pairs well with my favorite jeans. Adding these blue slip-ons is the perfect casual and comfy addition to the outfit.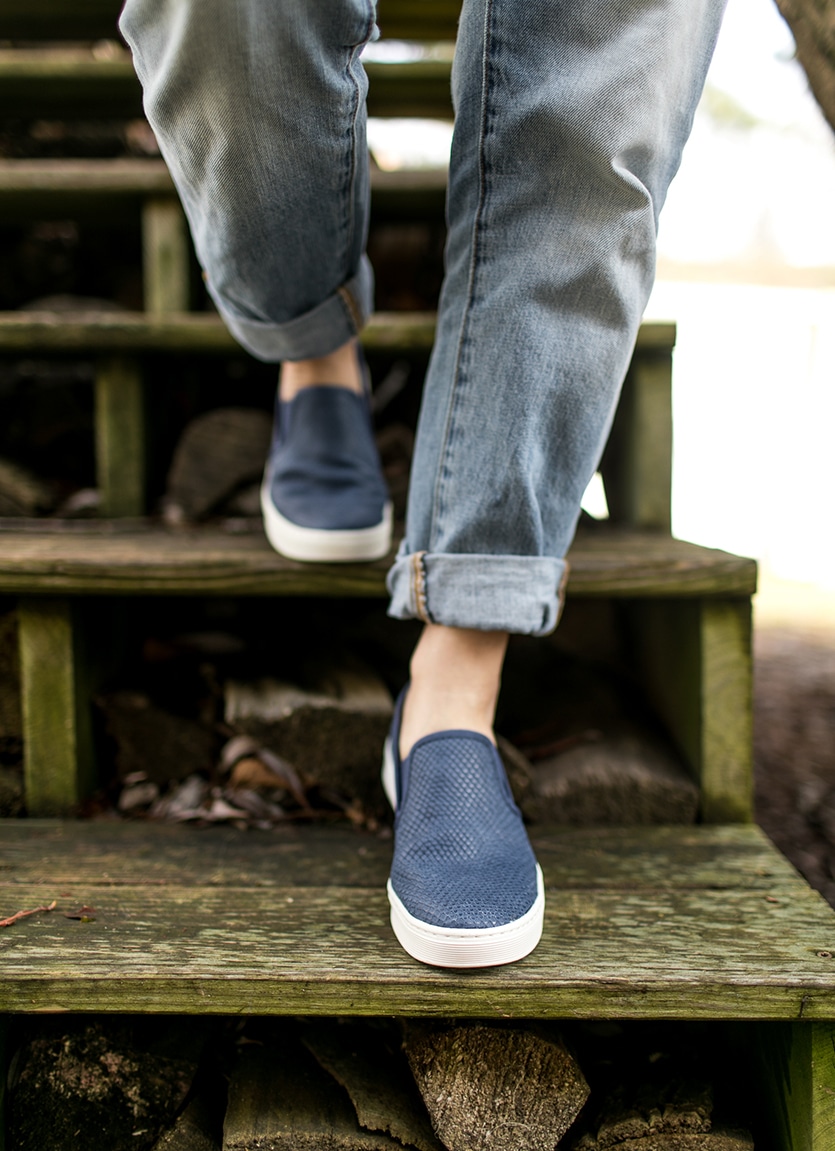 The best part about this outfit though is that all these items are part of our Spring Closet Essentials guide I posted a few weeks ago. I promised all of our style posts would now solely focus on those items in that guide every season so you can see how I put them all to use every month. If you haven't gotten the worksheet you can find it in this post. It will help guide you through having an intentional but not limiting closet every season.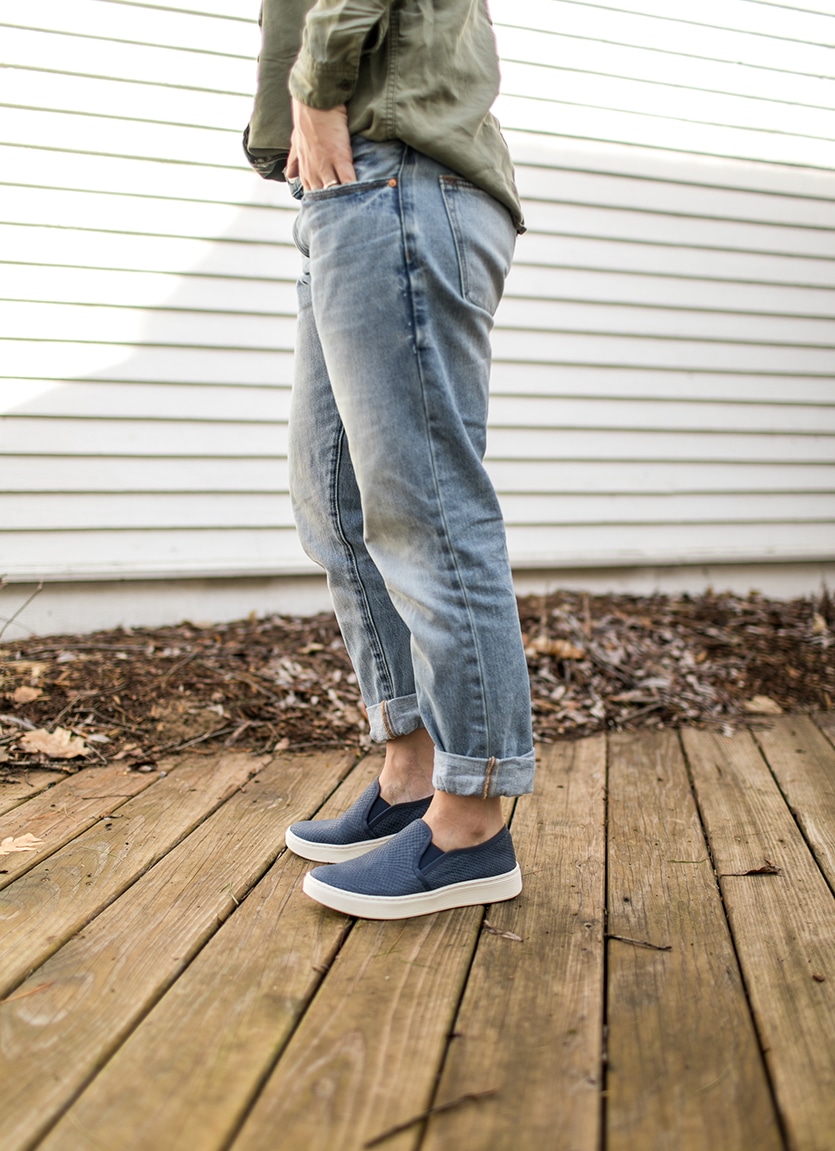 I would love to hear how you wear your slip-ons? Have you given them a try? I would love to hear. Also get the outfit details below.
Outfit details:
Army Green button down from H&M   |  Lightwash Boy jeans from Gap  |  Sneakers from Sofft via Zappos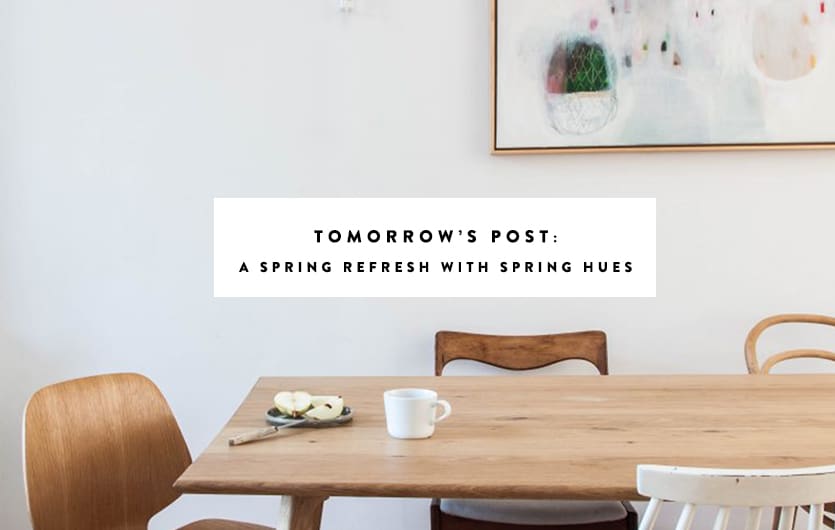 Tomorrow, before we sign off for the weekend, we are sharing a brand new edit all about adding spring hues to your home simply and easily. Giving your home even a tiny refresh of a new pillow and planter can bring simple spring vibes into your space. Of course, if you don't want to miss it sign up for our email since it is the easiest way to keep up with all our content on TFE.
This post was sponsored by Zappos and Sofft. All thoughts and opinions are our own. Thank you for supporting the brands that support The Fresh Exchange every month.