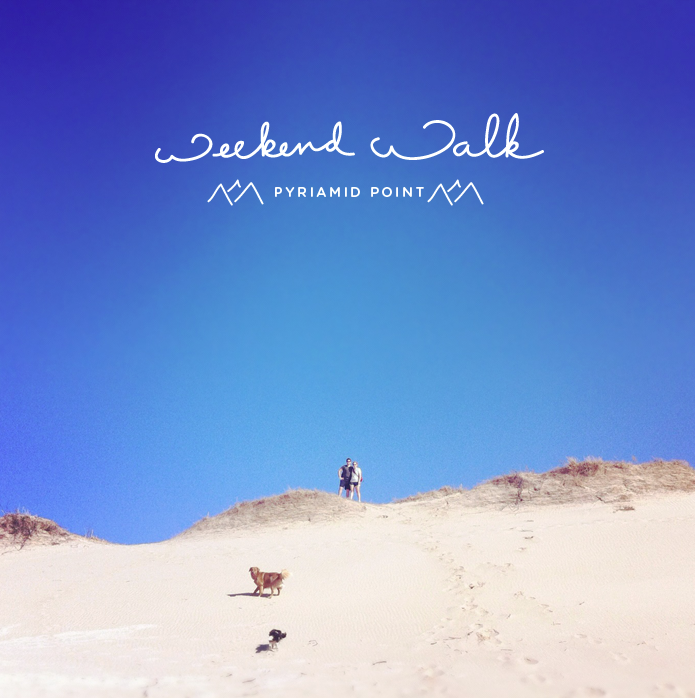 I began this series last week and was wearing snow boots and layers to stay warm. Now this week I was sweating and rocking shorts and a t-shirt. How crazy Michigan can be is an understatement but I am taking this amazing weather with no complaints.
This week we got in two hikes but this one was my favorite of the two so I thought I would share this one. I have wanted to hike Pyramid point for a while now. Sitting amongst the Sleeping Bear Dunes (rated the most beautiful place in America…what?! well maybe you will believe it when you see the post) you cannot go wrong. The only thing you must prepare for is the trek of climbing in sand. Going down dunes is easy, but coming up well let's just say it's a good workout. We added up our calories and burned almost 700 while out for 90 minutes in the sand! Cannot complain about that one.
We met up to go on our adventure with our friends, Hillary and Matt who are great adventure buddies by the way. You will hear about them in the near future as they are very talented and opening a cool store very soon!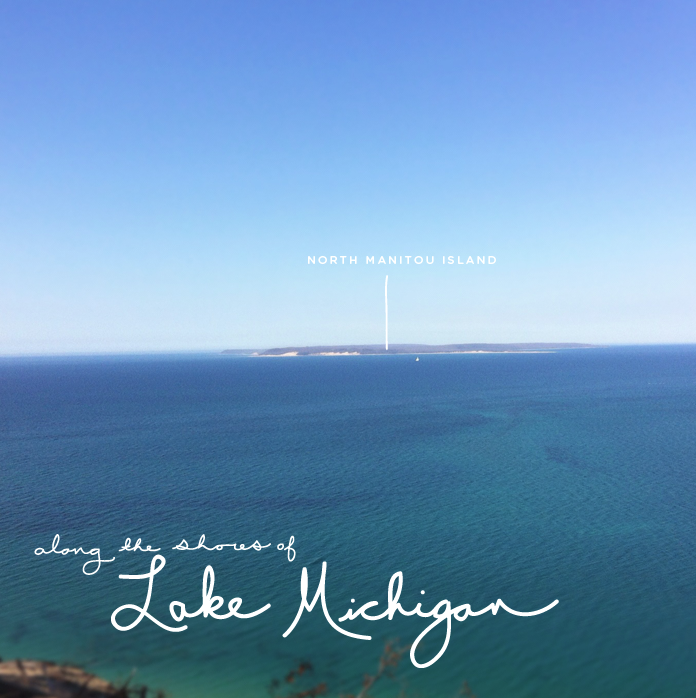 Once we got up to the top of the point we were over 200 yards above Lake Michigan and could see all the islands, North and South Manitou, North and South Fox Island, and the Leland Peninsula. Completely beautiful! Oh and that little white spec is a Lighthouse someone used to be stationed at…can you imagine?! By the way there is no filter on this picture at all. It really is that color blue.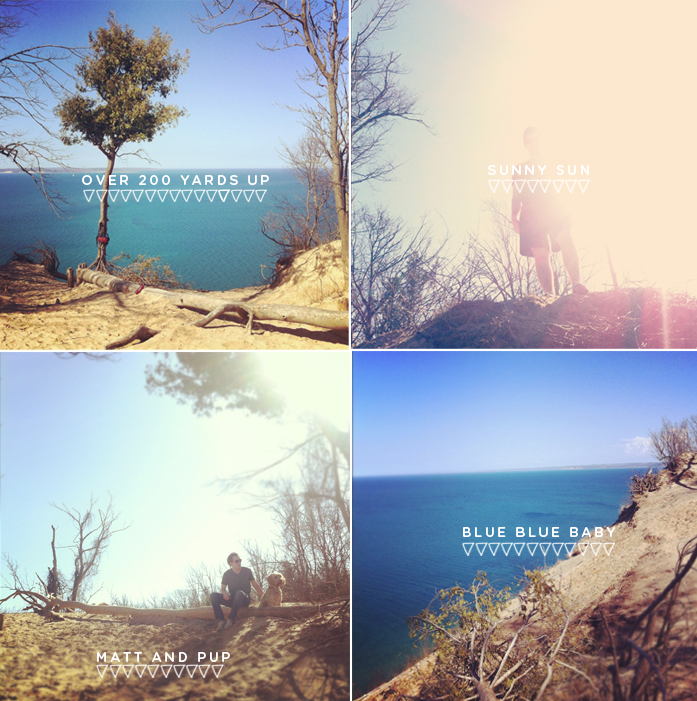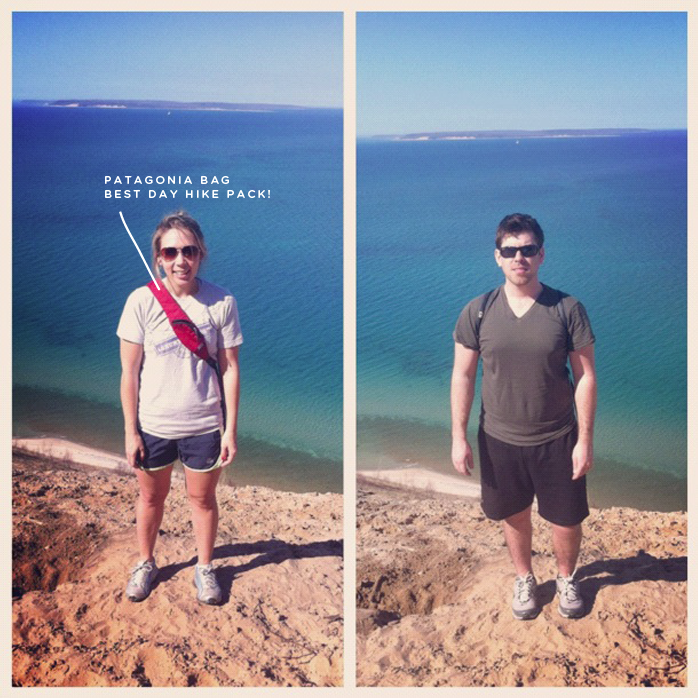 I love doing these Diptics in everyone of our hiking locations. Kind of fun to have pictures of each of us on our adventure to keep for the future. I do have one note the one shoulder strap Patagonia bag I have there is THE best hiking bag. If you are into adventuring at all I suggest this one for day hikes. I also suggest it for grocery shopping and traveling. Best thing I have ever gotten as a present. I use it everywhere when I want both my hands available for use. I also lose things if they are not attached to me so this works well for me.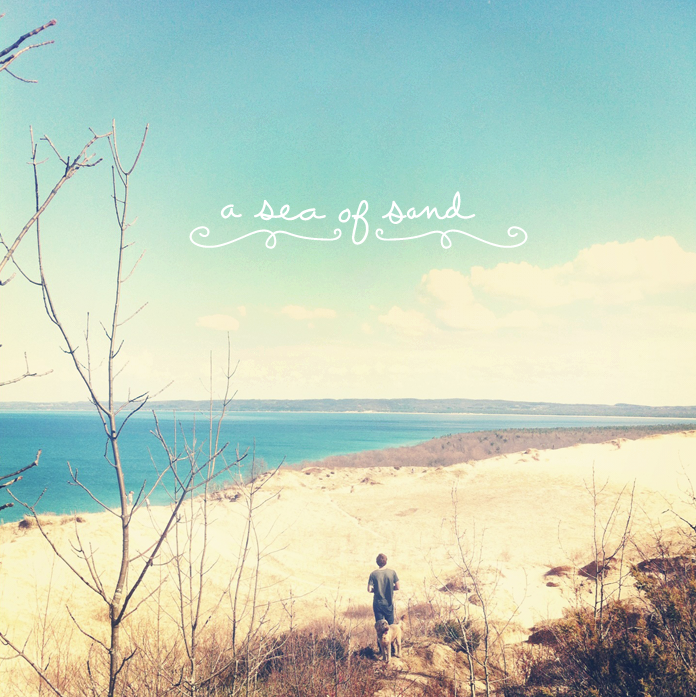 We hiked down to this sand bowl and I never can get enough of these dunes. They are so immense and it feels like another world. If It felt like we were in the Sahara and then in a Hemingway book all at the same time. I love exploring here because you never know what will be around the corner and this is an amazing example. I hope I never take views like this for granted in life.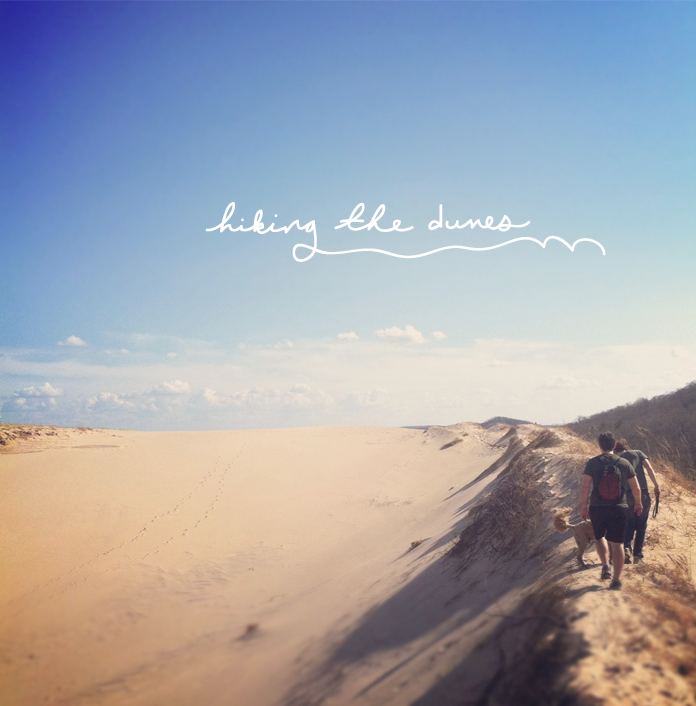 We all decided to walk along the edge of the dune and like I said when you look at this image it looks like maybe we were in some desert. My favorite is how the wind blows over and evens out foot prints so when you walk you leave this perfect trail. Natura is so perfect, right?!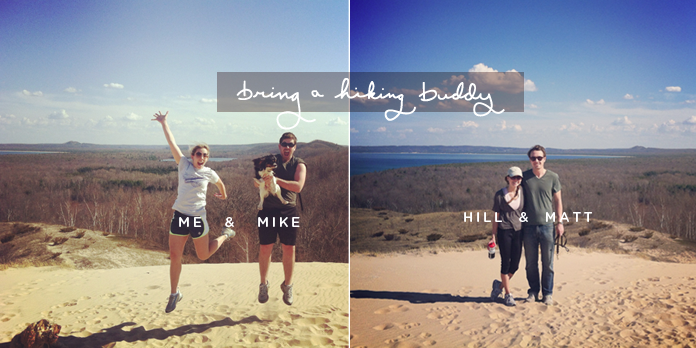 Okay so we are a little goofy but I loved this jumping photo mostly because of little T-man being apart of the jumping. It made me giggle a little. But aren't Hill and Matt the cutest ever?! Excited for even more adventures this summer…We are planning a little trip to camp on South Manitou this summer. I am giddy about it!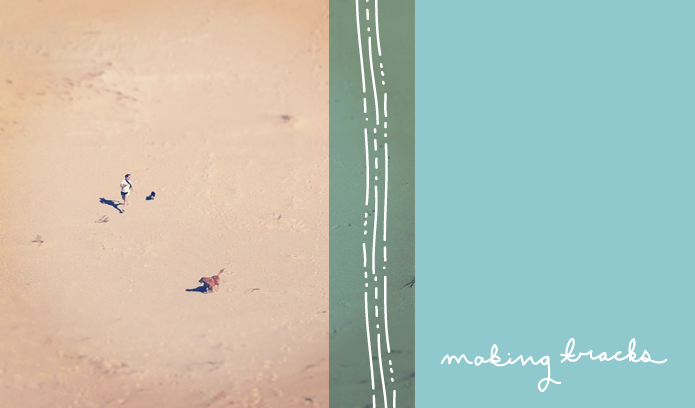 Running down the dunes is so crazy and fun. They are about 70% in an incline so you feel a little out of control and it makes it even more fun. The dogs thought this was great fun to go up and down the dunes chasing us and then digging holes to lay in and cool off.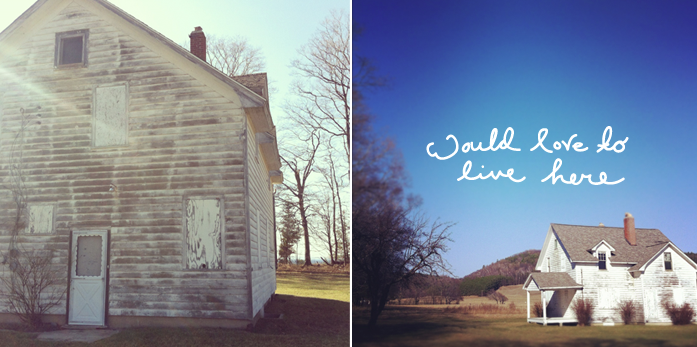 When we left we decided to stop at this old house. There are tons of old farms that the National Park Association owns and maintains for historic reasons in the area. You cannot buy them but this one was one of my favorites yet. You cane make out that it has a very little water view and I cannot imagine what that must have been like to live in this house in the 1800's when there was no electricity and very few people living on the peninsula. At least they had one incredible view and that would be enough for me.
The best part though was the hidden path down to the beach where we got to dip our toes in.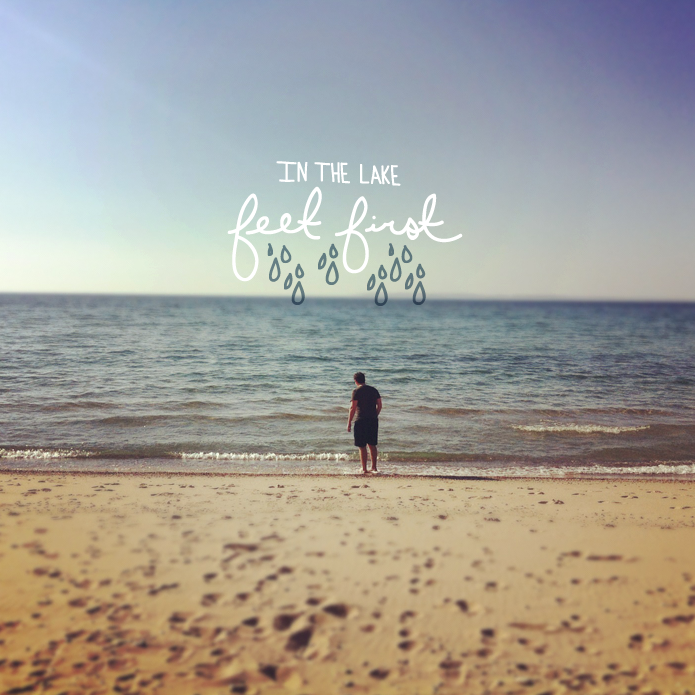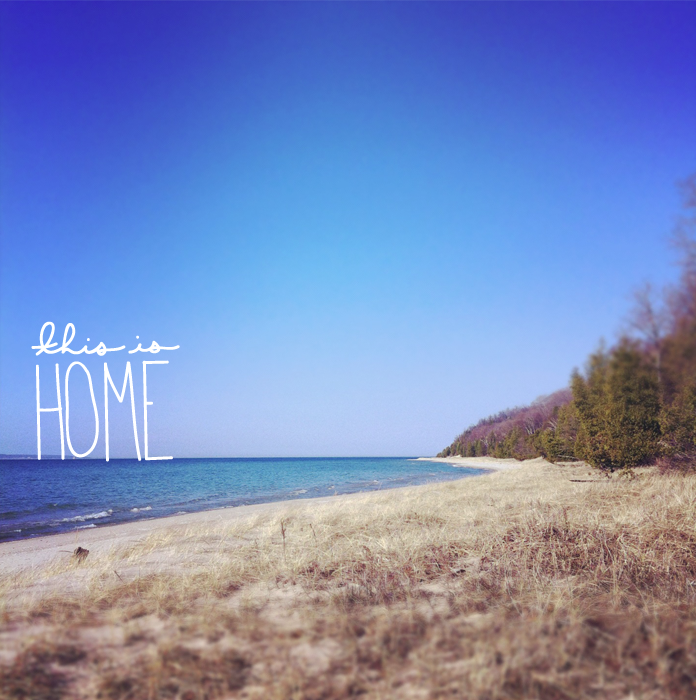 This place wil be revisited this summer for sure. Maybe some bon fires on the beach will be done here? I think it will have to happen.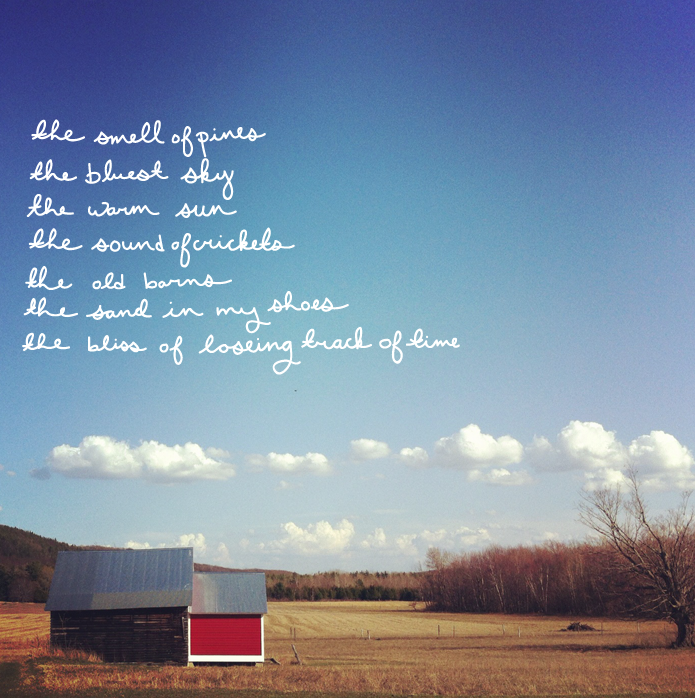 Finally our whole ride home this is what you see. Old barns, big fields, you can smell the water, feel the sun, and there is no place I would rather be than right here wandering the shores of Lake Michigan on a sunny day. So pretty. So perfect.
Next weekend we will out of town and not up here so we are going on a hike earlier this week so I can share it with you next Monday. Stay tuned. It is supposed to be very pretty!!
All images view me taken with my iphone.