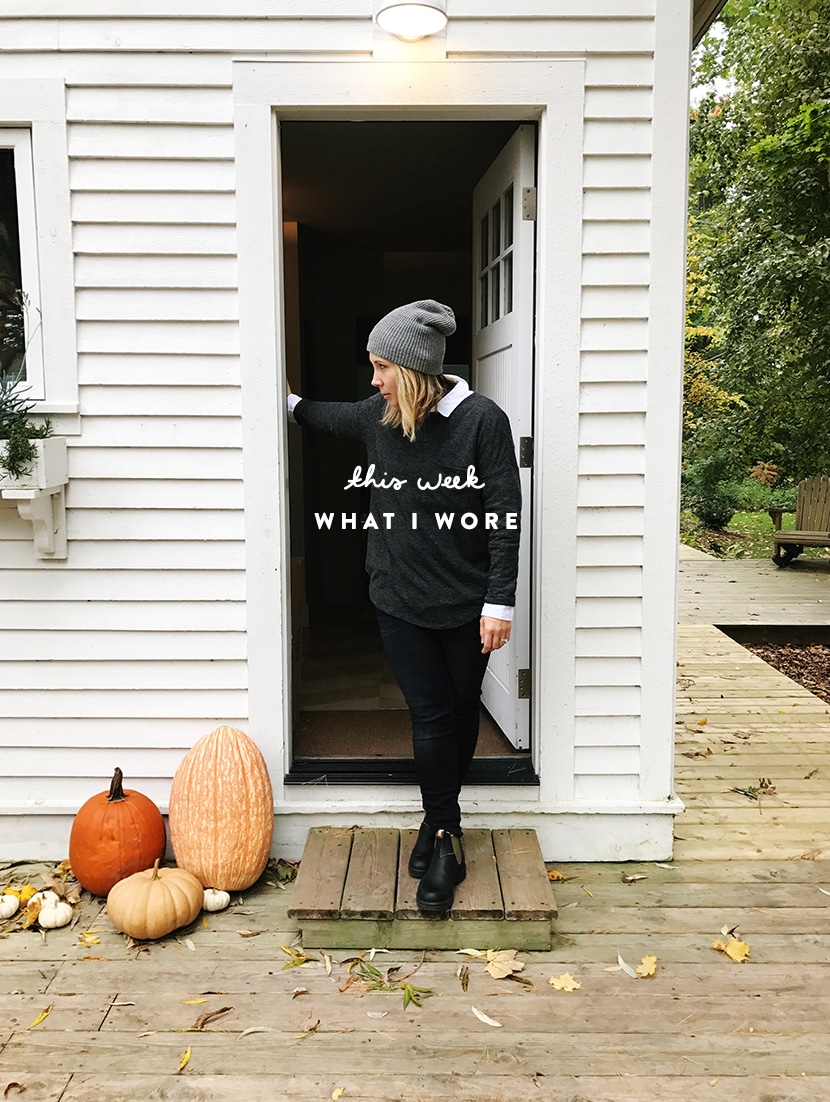 This week has been a million miles an hour. We are officially knee deep in the final quarter of the year and it is always the most insane for us. This time of year as a blog can be very extreme. The number of holidays, the content needing to be produced, and that is before we even talk about client work. Everyone is tieing up up their end of the year budgets and then also trying to plan for the next year so we are running in a million different directions creating, emailing, deciding, shooting, and oh yeah trying to take care of a baby too. It is a lot. We love it, but it is a lot. We are excited about the relaxing that happens long about the 20th of December till the last week of January. It is a wonderfully quiet time that makes this time of year very worth the hustle. With that said, we have some good times for you on this week's What I Wore. Busy days mean some rewearing and repurposing and of course some very strange pairings that we thought would make you guys very intrigued.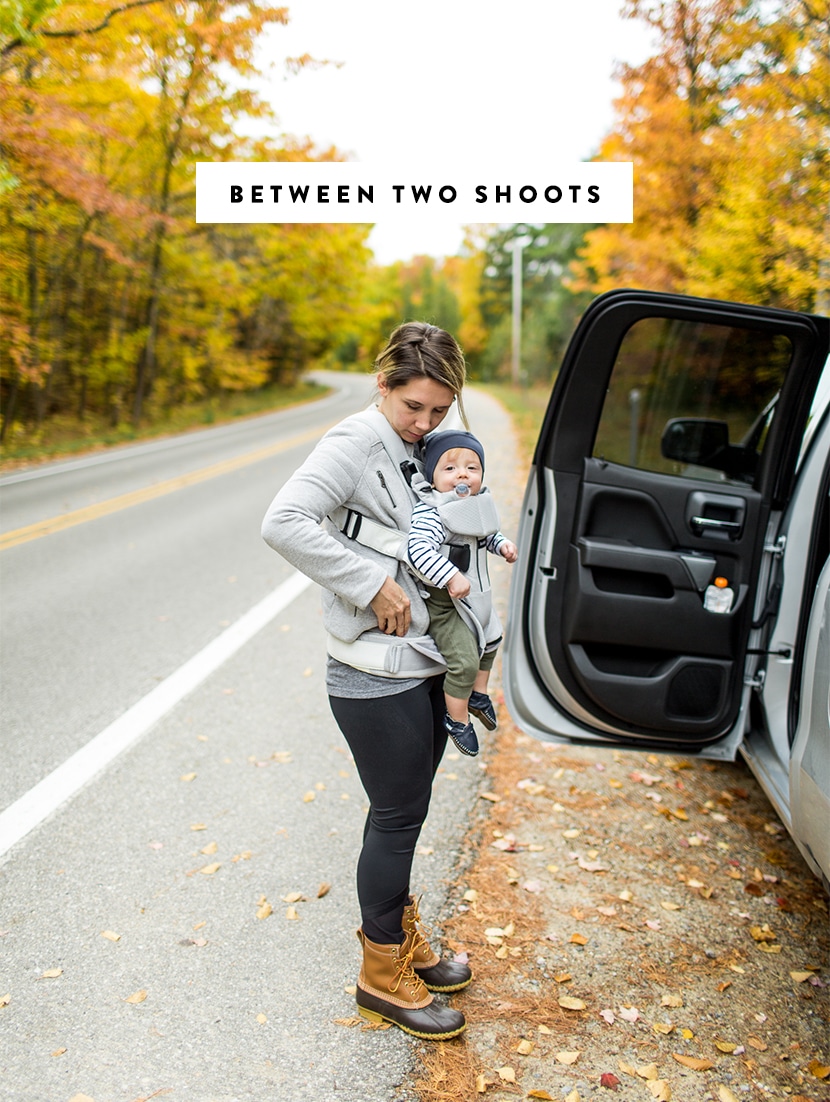 First up is a very odd pairing that happened this week. We had a day spent getting about 3 shoots done in a matter of 3 hours. It was a lot of backseat changing and swapping off baby wearing while figuring out a nap on the go. Hayes did awesome, but the sacrifice was me wearing part of the outfit that was for a shoot and another part that was to trek through the woods in the rain while I shot Mike. In case you wondered, when there is a shoot we are doing out and about and not at home, Hayes comes with obviously. This means that who ever is shooting is wearing him while shooting. Hayes finds this extremely amusing and the viewfinder on the back of the camera is the best way to get the shot because it is far from little hands. One day, he will just run around while we shoot, for now this is how we make it happen and this is the outfit that lands on my body to handle the situation.
Get the look: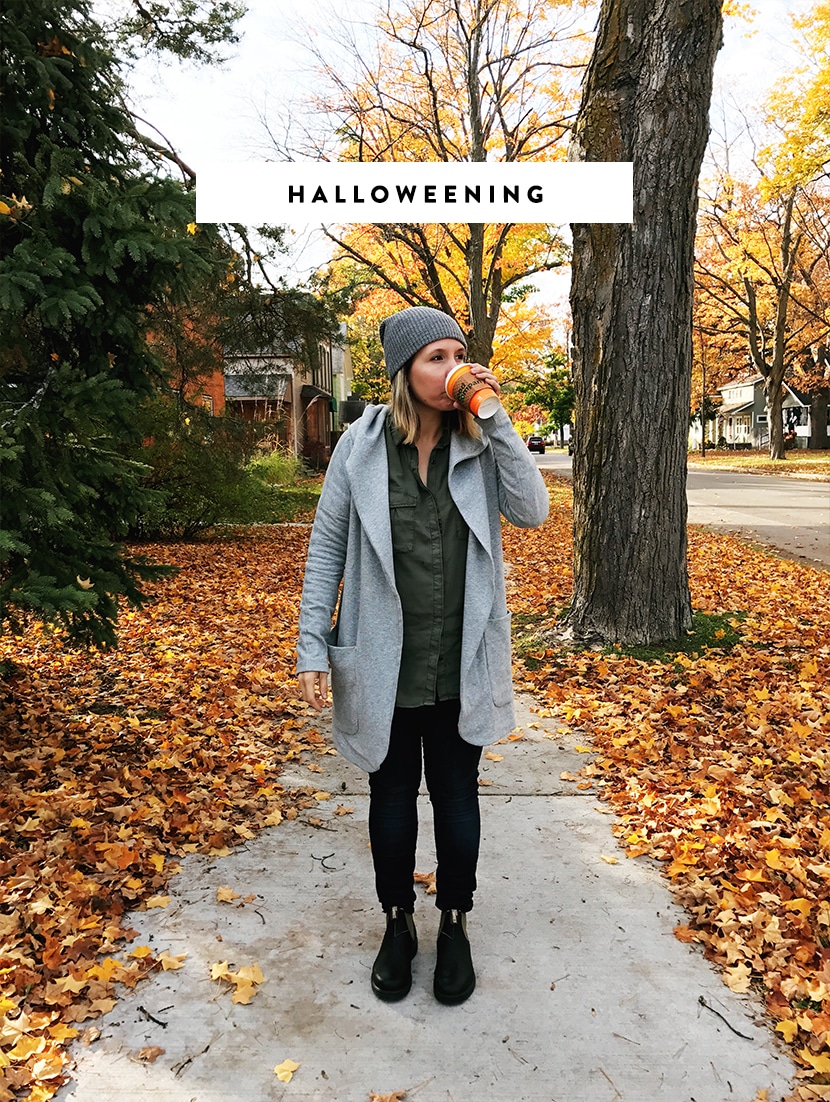 Monday was Halloween and we did an early evening out with Hayes to a friend's home for downtown Trick or Treating. Hayes dressed up as Max from Where the Wild Things Are and we all enjoyed his first Halloween. Downtown Traverse City was absolutely magical and like something out of a movie. It couldn't have been any more perfect for a Halloween. Since I had been crushing some work till 12 the night before and woke up 6 after one 3 AM wake up I needed to add a little coffee to keep lively for the festivities. On another note, I think you may notice how often I am wearing my Blundstones I talked about the other day. I am seriously loving these boots especially for life up here. They have different ones in various styles and price points, but I did the math that if you wore these boots even 100 times a year for 3 years (which you easily will) you would pay about $.50 or less a wear depending on the style you get. My friend told me to always think about that math when buying an item. Thus, why he always suggested buying nice jeans you love. Best fashion advice I ever received.
Get the look: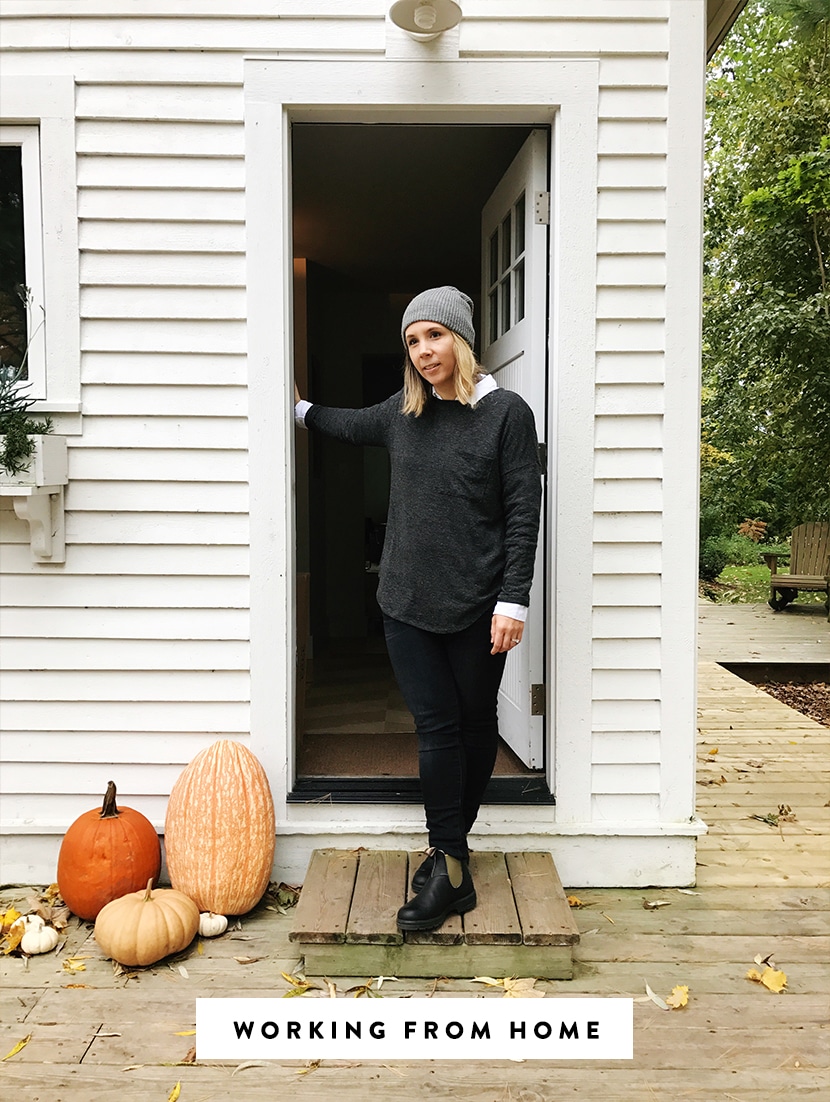 I love the days we don't have to go anywhere. The ones that let Mike enjoy the balance of bouncing between work and caring for Hayes. We trade off awake times and I get some quiet and much needed time in the studio to get ahead on some things. He has had a lot of work on his plate that landed on him and not me so I ended up being the care taker between the two of us for about a week. It worked, but one day in the studio does amazing things when you are used to working in 45 minute increments or only at night. I like to get dressed on those days like I am going to work. I hate being in my leggings and oversized sweaters when I need to get work done. The practice of dressing and putting on shoes before work is one I love and gets me extra focused and motivated. Also, something about a collared shirt too, but I didn't wash my hair for a couple days… thus the beanie.
Get the look: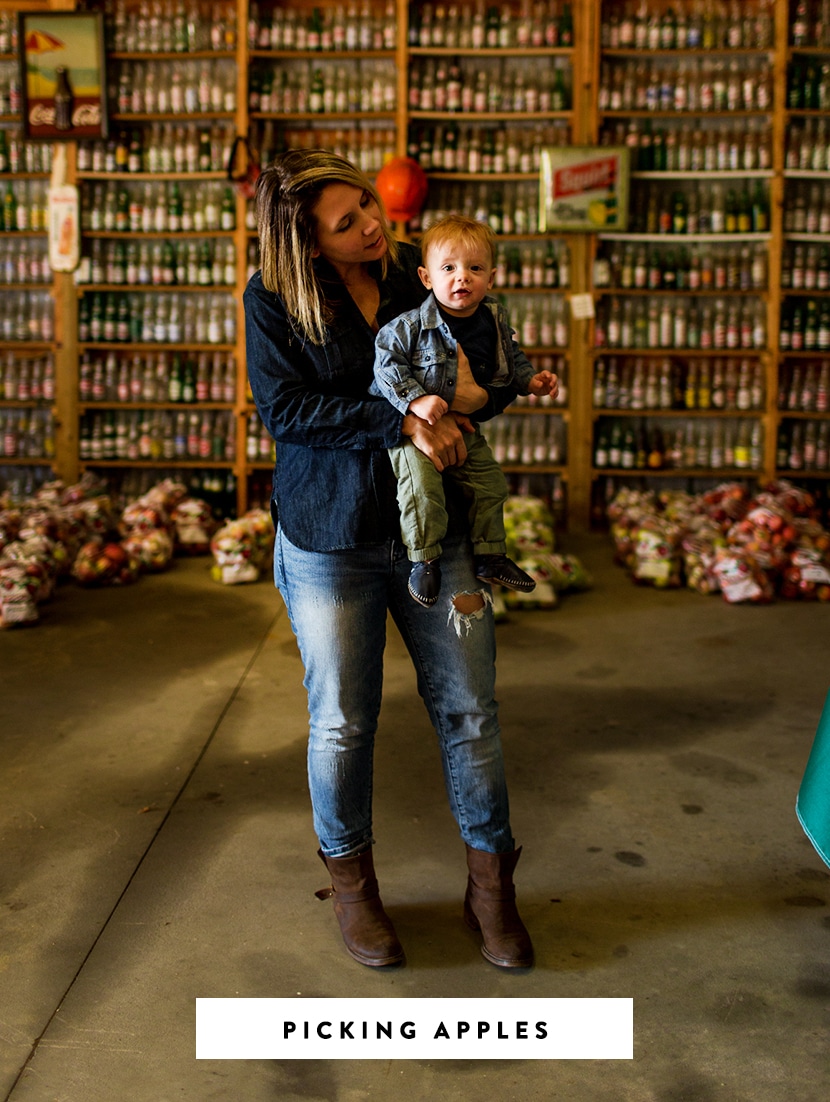 We ended the week doing a little more shooting. You will see our full post next week, but this was the outfit I wore. It was an AMAZING day out in Leelanau County and we took full advantage by making a visit to a local apple farm that grows 15 acres of unique and heirloom apples. More about this place next week, but I wore my favorite things on the shoot to stay comfy since it was a haul for us from one end of Old Mission Peninsula to the other end of Leelanau Peninsula (an hour and 15 minutes total each way). It was well worth it and the weather was gorgeous. This fall has been amazing and more than I could have ever imagined. I told my brother the other night I wasn't sure if it has been just absolutely amazing because it is just a great year or if I have missed it that much. He said it most likely is both and I think he is right.
Get the look:

What were your favorite pieces you wore this week? Do you guys like my very real shooting outfit haha. Gosh some days life is just too real.