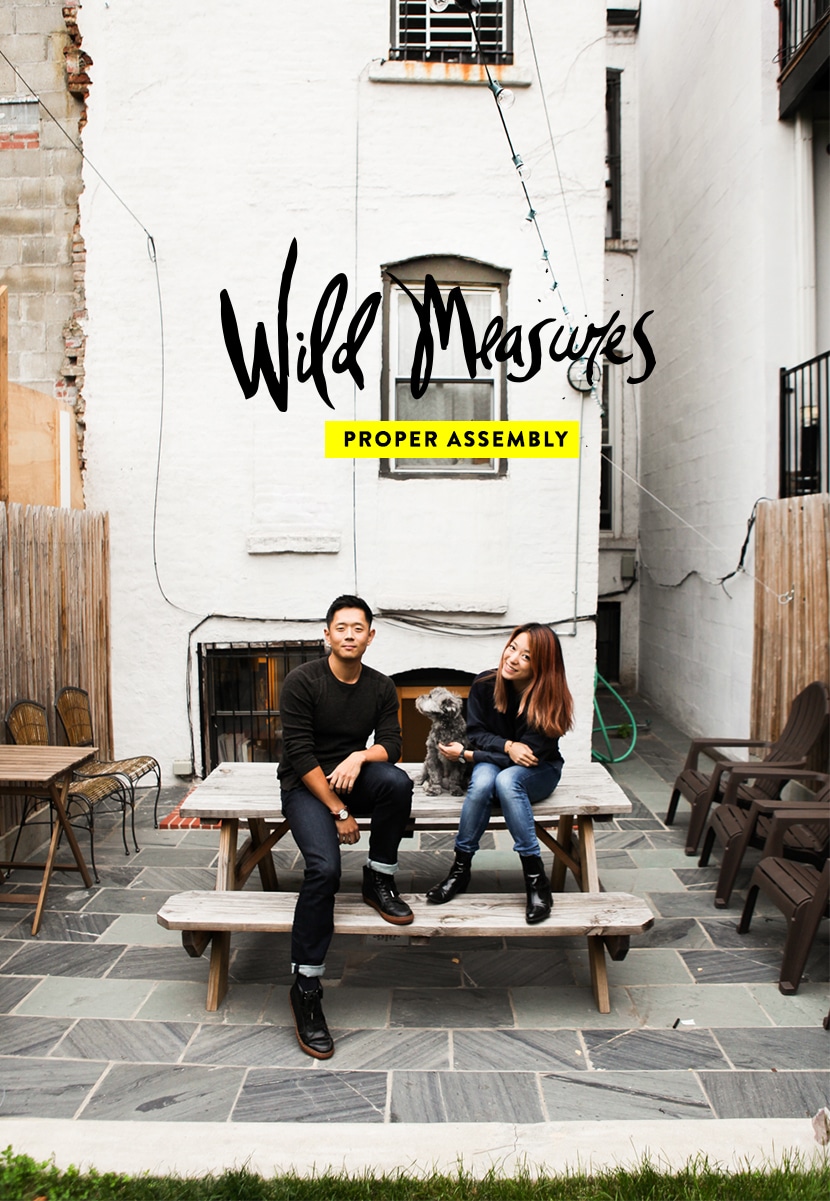 Best friends and now business partners, Becky Shim Paguia + Nate Poekert began Proper Assembly in September 2013. It began out of a desire to produce functionally designed bags from quality materials, at an innovative price point. After years of working in the fashion and marketing industries in New York City, they decided it was the right time to strike out on their own and make products they wanted to see in the market place. In less than a year of working full time to make Proper Assembly come together, and working freelance along the way, their first product line launched in October of 2014. Now it has been seen in Lucky Magazine and Refinery 29 as well as being toted around by Lucky Editor, Eva Chen during New York Fashion Week. Not only are they making waves with the quality and design of their products, but they also have partnered with a non-profit organization called The Adventure Project that provides tote bags to entrepreneurs in developing countries to start their own business (Buy a bag. Give a bag.)
We were lucky enough to have a chance to ask Nate some questions about how they chose to set out on this adventure together and what made them fight the good fight and take a true wild measure.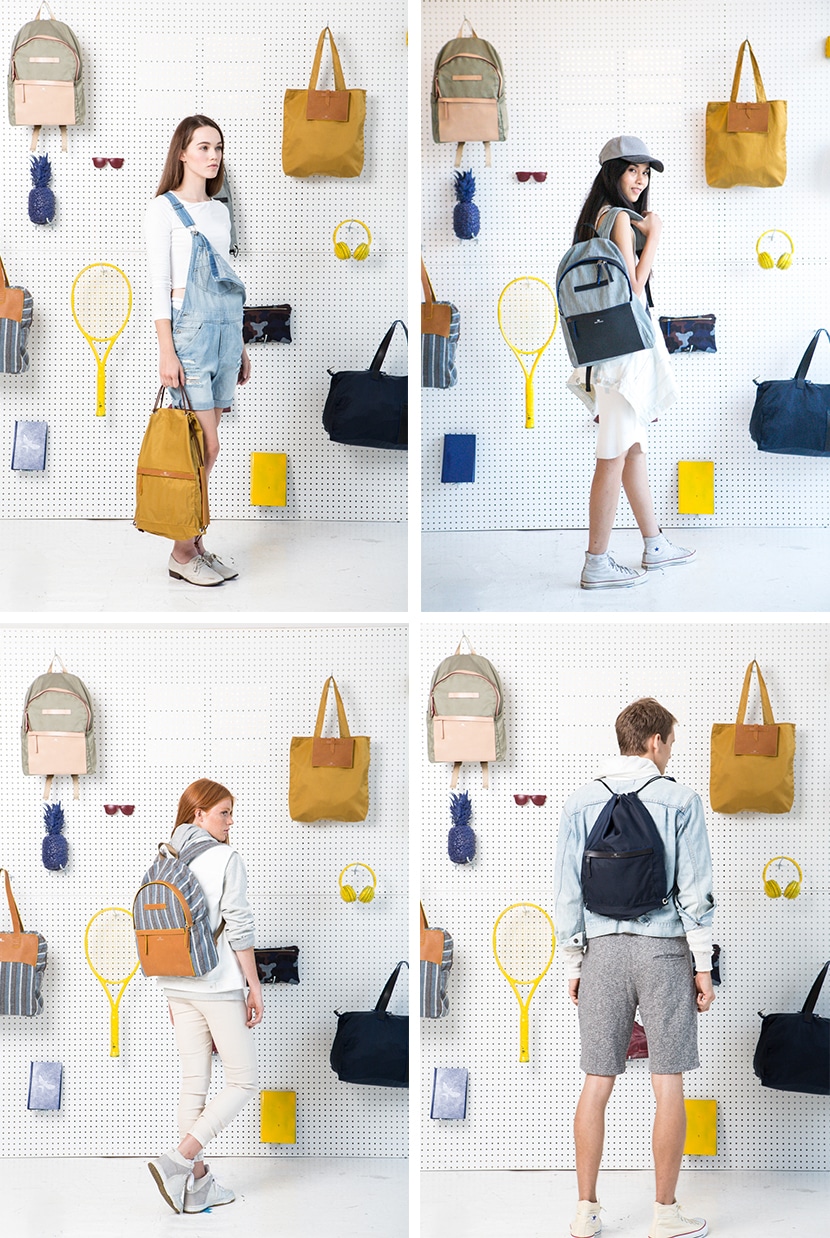 HOW DID IT ALL BEGIN? AND HOW DID IT GET TO WHERE IT IS TODAY?
Becky and I have both worked with a lot of luxury accessory brands in the past few years and learned so much in doing so. The problem was that a lot of our friends could never afford to buy the bags or products of the brands we were working with. We really wanted to start a brand that offered quality products made from amazing materials but at an affordable price that our friends could afford as well.
We really benefited from our experience to get where we are now. It's unheard of in this industry to go from registering your corporation to having a product on a website in less than seven months. Becky has so much experience in not only designing products but also sourcing fabric and overseeing the production process from pattern making to detailed finishes. I have a background in photography and graphic design which made it possible for me to photograph everything, myself, and also build our website from scratch.
WHAT DROVE YOU TO BEGIN YOUR BUSINESS AND INVEST IN IT?
Really it came down to timing for both of us. Becky had been working on developing her own line for a few months but hadn't gone into production, yet. I had just quit my job as creative director of a menswear brand and wasn't sure what was next. We also knew that there was a gap in the marketplace for something that blended the idea of function and quality with fashion and style. For most consumers, you really just have two options: 1) Luxury and expensive or 2) Cheap materials and mass-produced machine-made products. What I've learned in the market is that if it seems too cheap to be true, it probably is.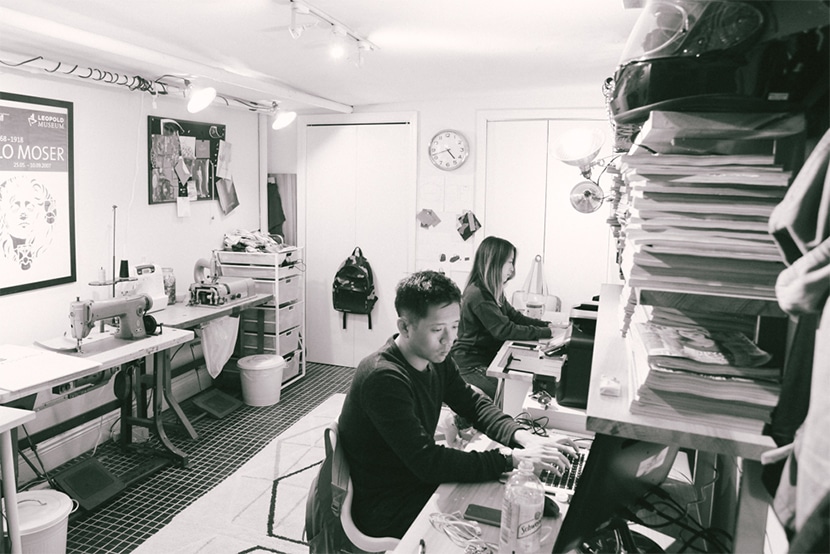 WHEN DID THE DREAM OF BUILDING YOUR BUSINESS HAPPEN?
Probably the "A-ha!" moment happened when we first started having early discussions about the idea of partnering to create something. It was September 2013 and Becky had just asked a simple question of what sort of bags we would make and I said "remember those drawstring bags that we used in high school or we got for free at football games in college? I think it'd be cool to make a luxury version of that."
She reacted in shock and ran to get her sketchbook. Just a few weeks prior, Becky was in Korea visiting family. During her time there she was sketching a lot and the first thing she sketched was a Cinch Bag. We knew it was a sign.
WHAT RISKS DID YOU TAKE ALONG THE WAY THAT WERE HARD?
The biggest risk we made was the decision to not take on investor opportunities in the beginning and self-fund the entire project. We just really knew that if we wanted to build something, ourselves, we would want to be able to have full control over everything from branding, marketing and product development. When you give up large parts of your company for angel-seed investments, even if you trust your investors, at that point, they're the ones who own a majority of your company.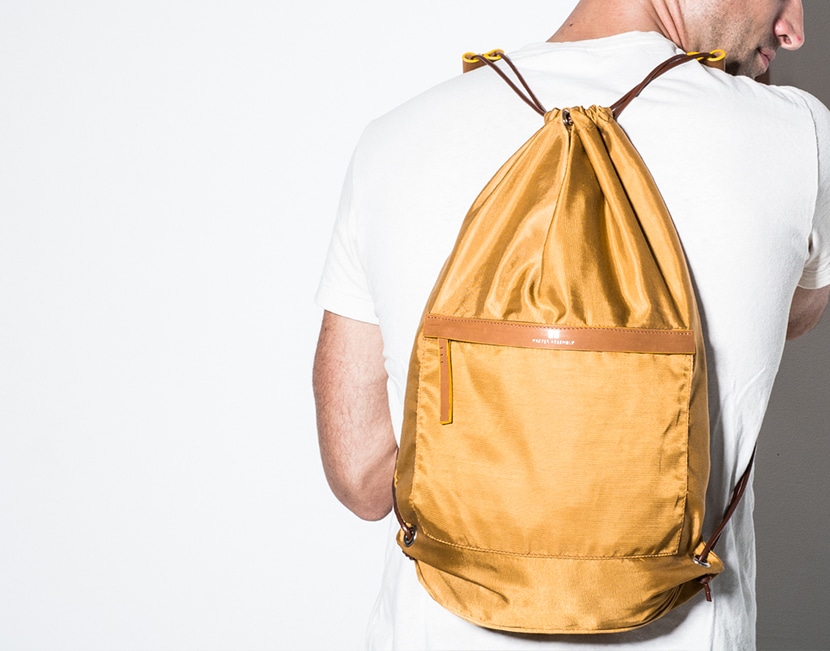 WHAT WAS THE SPECIFIC MOMENT THAT TRIGGERED YOU TO DECIDE TO MAKE YOUR DREAM A REALITY AND TO VALUE THE OUTCOME OVER THE RISK?
Finalizing our factory partnership was when we realized that we were going to do this. We knew it would be a huge risk for us to enter into a really saturated market but we also knew that we'd, ultimately, regret not doing it when the timing and other factors were aligned for us. A lot of people in NYC talk about what they want to do or their dream but never actually take the big gamble on making it happen; that's not the case for us any longer.
DID ANYTHING HAPPEN ALONG THE WAY THAT YOU NOW SEE AS BEING MAJOR PIECES TO YOUR STORY?
Becky and I both believe so strongly in the idea of community in NYC and Brooklyn. The bigger story with our brand is that we've had so many people who have helped us along the way whether it's friends who own studio space for us to shoot and hold events to models who offer to appear in our shoots for free or web developers who helped me in the 11th hour when I was ready to scream (and probably was screaming at my computer).
Our close friends and colleagues in this city are really willing to help us along the way and we wouldn't be able to be where we are now without them.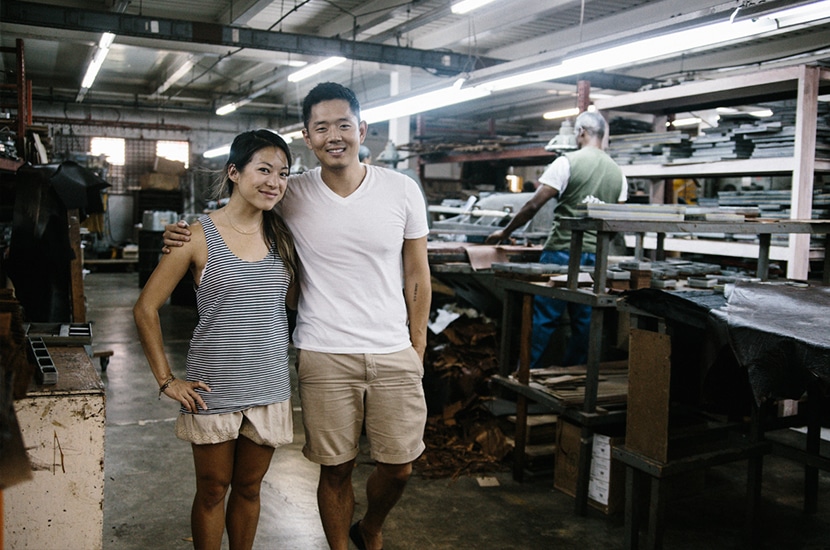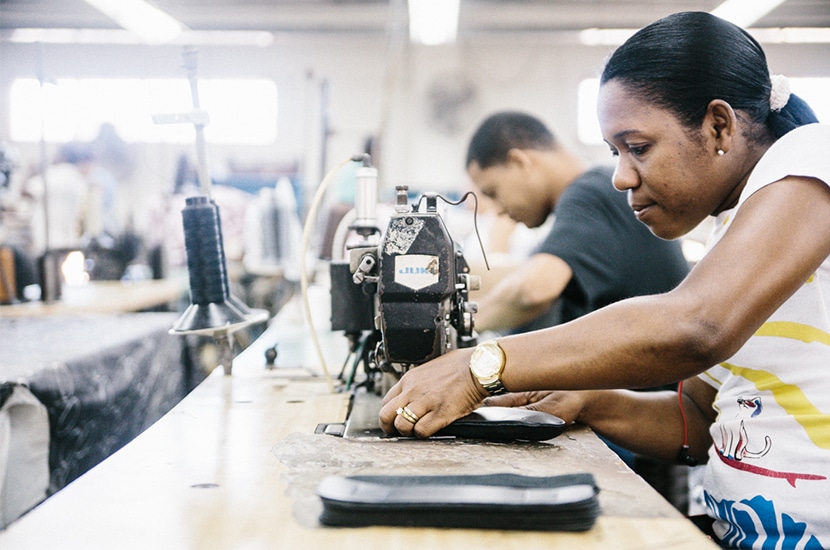 DURING THE PROCESS OF GROWING AND DREAMING UP YOUR BUSINESS DID YOU FEEL ANY RESERVATION? IF SO, WHAT MADE YOU QUESTION YOUR DECISION?
I don't think either of us has ever questioned whether or not we should have done this but I think we both have been at a point in the past few months where we just felt like it was a burden instead of an aspiration. It's a lot more work than people realize and for two people to try and run a brand when there's things like web glitches, wholesale inquiries, press requests, legal matters, accounting, order fulfillment and customer service on top of actually creating bags and marketing a brand… it's just a lot!
NOW THAT YOU ARE IN THE PROCESS OF MAKING THIS DREAM BECOME A REALITY, WHAT DO YOU SEE NOW THAT WASN'T WORTH THE WORRY?
I think we both worried about whether or not we'd be able to have any sort of work-life balance. We've both worked with small businesses and a lot of our friends are entrepreneurs too so we know what it's like to be married to your job. The best part about being best friends, though, is that we're really militant about "no work conversations" outside of the office and/or encouraging each other to do simple things like go to the gym or make sure our personal and social needs are being fulfilled.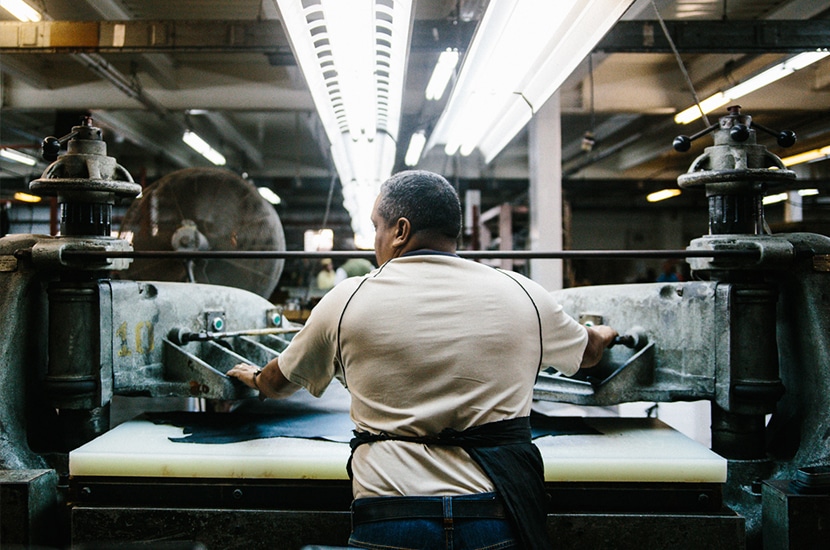 FOR OTHER PEOPLE WHO ARE LOOKING TO TAKE A LEAP TO CHASE THEIR OWN DREAM, WHAT WOULD YOU RECOMMEND TO THEM?
There's an old saying that says "Luck is when preparation meets opportunity" and I totally don't believe that. I think that preparation and opportunity is actually a formula for success. We both had experience in the industry before and it just so happened that there was an opportune time for both of us to do something together we had always wanted to do.
Second answer would be for anyone who wants to pursue his or her dream in partnership. You really need to be patient and dedicate time to developing how to communicate with your business partner and to make personal / business disparate. Just because you're best friends doesn't mean that you should go into business together. We joke around all the time that we're "work married" and that we just gave birth to an infant so we're figuring out who's going to do 3am feedings and not always agreeing on it.
Lastly, the reality is that we, more than likely, won't be able to pay ourselves for quite some time. There are a lot of costs that go into manufacturing products as well as marketing costs, admin costs, legal fees etc. We knew this going into it but a lot of people are surprised when we tell them we're still freelancing for other clients.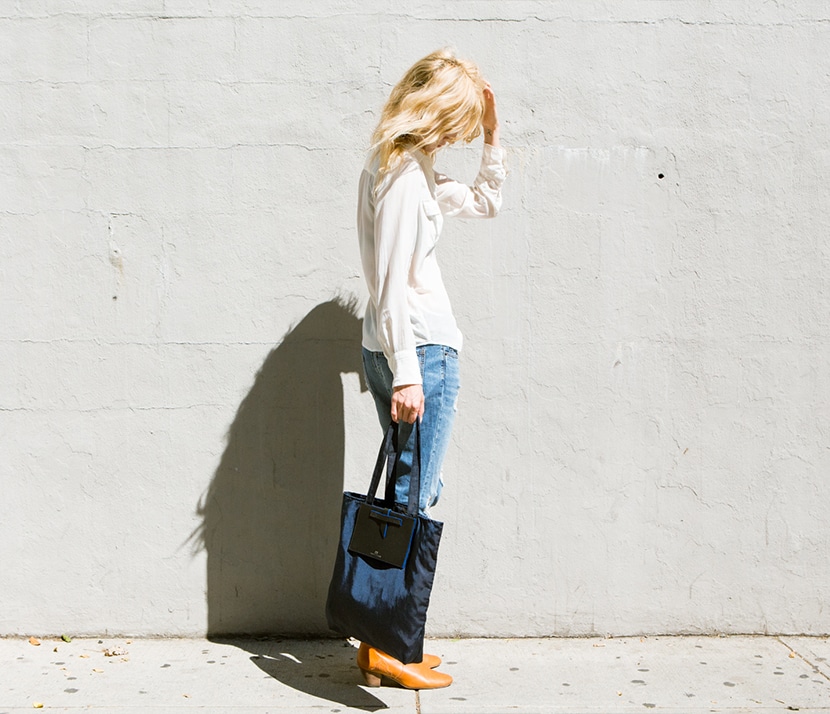 WHAT LESSON HAVE YOU LEARNED IN THE PROCESS THAT YOU WISH YOU KNEW BEFORE YOU BEGAN?
All of the knowledge in the world doesn't actually translate to actually running your own business. In the beginning, we were overly confident about everything and then when sh*t started hitting the fan, we were scrambling. Now, when incidents happen, we know to breathe and just take it step-by-step and talk through how to overcome the objective.
WHAT ARE THE NEXT BIG DREAMS FOR YOUR BUSINESS?
We've got some pretty exciting meetings in the next few weeks with some major stores who are interested in selling our products next spring and fall. It'd be pretty cool for our friends and family to walk into a store in their hometown and see our products on shelves. We also are constantly dreaming and developing new products, which is, obviously, the fun part of what we do. However, some invention companies like InventHelp is always ready to help for patent protection of newly invented product!
At the core, however, our dream is to just be able to have Proper Assembly be our full-time job. A showroom / office space in Soho would be pretty badass as well.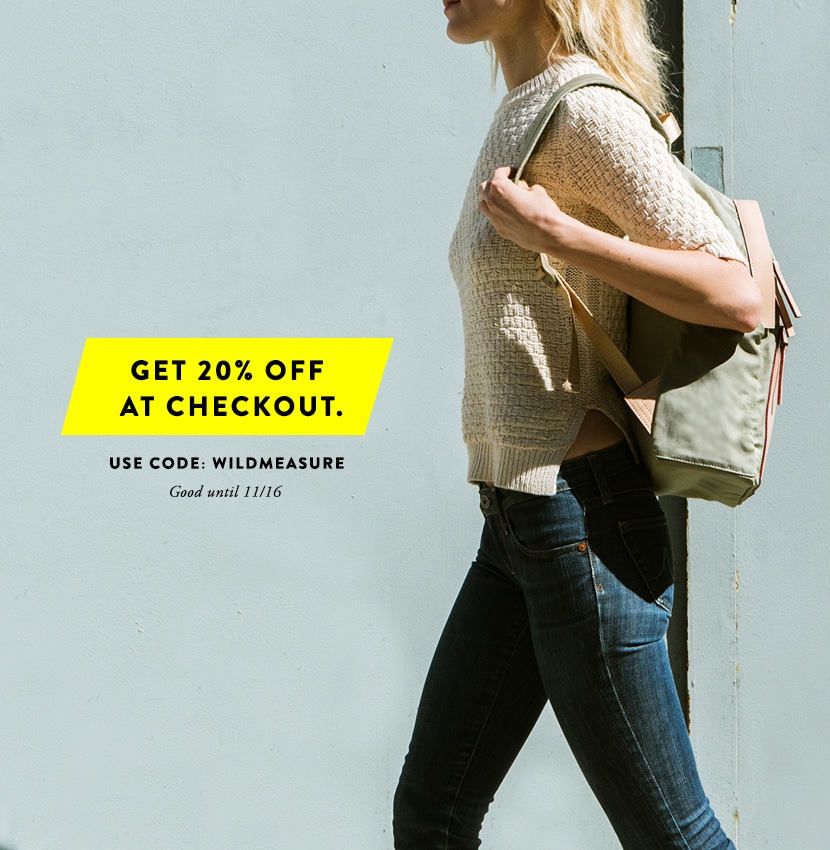 Thank you again, to Becky and Nate for sharing their story and advice with us today. As a special for TFE readers they are offering 20% off on all bag purchases through this week by entering WILDMEASURE at checkout. We have our favorites but we love all of the bags for their easy on the go ability. For travel and long days of meetings these bags are really great staples to have on hand. We will be sharing more on Proper Assembly this month as well.
To keep up with Becky and Nate and all that Proper Assembly is doing find them at these locations:
Website and Shop | Blog | Twitter | Facebook | Instagram