Discover the best Airbnbs and Rentals in Traverse City, Michigan and Leelanau County for your trip to Northern Michigan. These A-frame and modern farmhouses are the best collection of cottage rentals in the Traverse City area.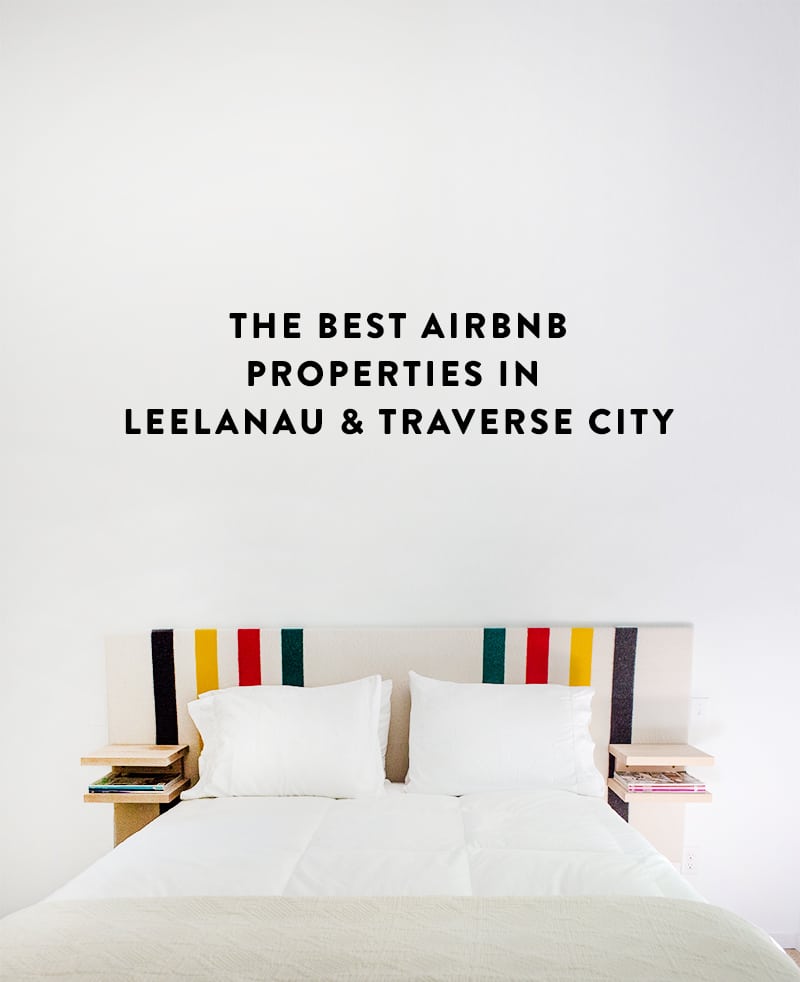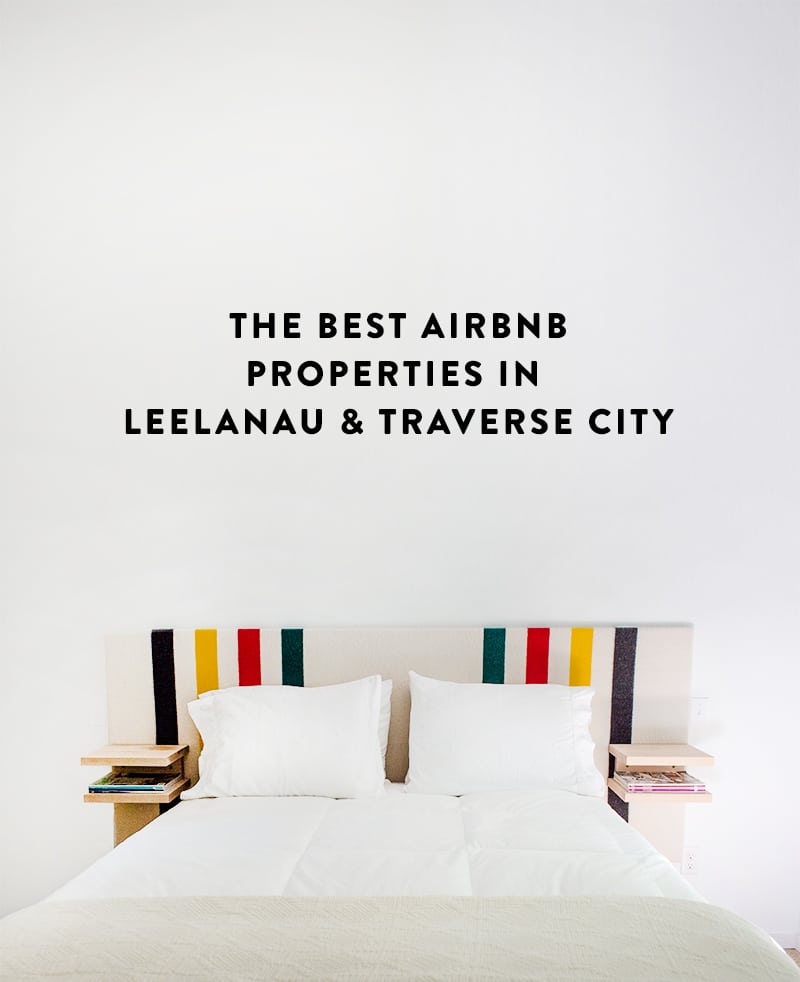 With summer fast approaching many of you have been asking for a complete list of my top Airbnb properties here in Traverse City and Leelanau to enjoy the best things to do in Traverse City. It's a near daily ask about where to stay, so if you haven't also read this post about the best places to stay in Traverse City and Leelanau County, I would suggest starting there. This is a more full list of solely Airbnb rentals that I have curated for you for the area. This list is only for Traverse City and Leelanau County, Michigan. I put them together because Leelanau and Traverse City more or less coexist and many people traveling to Traverse go to Leelanau and vice versa.
If you have kids you are traveling with most of these are great options, but you may also check out this Traverse City with Kids Guide for more curated list of ideas.
What To Know About Airbnbs in Traverse City?
The one thing to note is there are very few Traverse City Airbnb properties because there are some restrictions in place for how these function within the city. So you will see I have fewer suggestions for you in this area. I many times suggest to people if they want to stay in Traverse City it is best to typically find a hotel room as it may be easier, but those are limited too, so TC can be a hard place to find a place to stay.
Why Rent An Airbnb in Leelanau County?
Leelanau is a different story though. Airbnbs have welcomed things typically as long as they have been registered with their city and complaints of the property haven't been filed. Leelanau County tries to limit the number of resorts and hotels in the area in order to preserve the land and nature of the culture and community of the area. There is rich history and many protected lands so these are a high priority so single-family homes are a higher priority for locals. Though there are some really cute small family run resorts, BnB's, and hotels that have been around for YEARS and are so special to the local communities they are in. But your best best for staying in Leelanau is typically to rent a place.
I also suggest planning your trip early. Many people will rent a place and then within a few months after their stay, book their trip to that place for the same week again for the following year. So some of these airbnbs you will notice are more than booked out for the summer and some of the fall. So it is best to stay ahead of the game and plan your trips north especially for months like July and August nearly 6 months ahead sometimes.
Under each property I have indicated its location within Traverse City or Leelanau. This is to help you with planning. A quick reference for where things are located though is that Northport is at the end of Leelanau Peninsula and is about 40-45 minutes from Traverse City. If a property is located downtown you will still want a car to head to Leelanau and to hike or wine taste, but most places from these locations are walkable. Staying on the west side of TC and in downtown will allow you easier access to the National Parks and Wine tasting on both peninsulas.
One final note, these hosts work very hard to create a space for guests to come and enjoy the places they love and call home so be sure to treat these places with kindness and like your own home. Take care and also know that the hosts know the area well and are usually happy to help you have a wonderful time while visiting.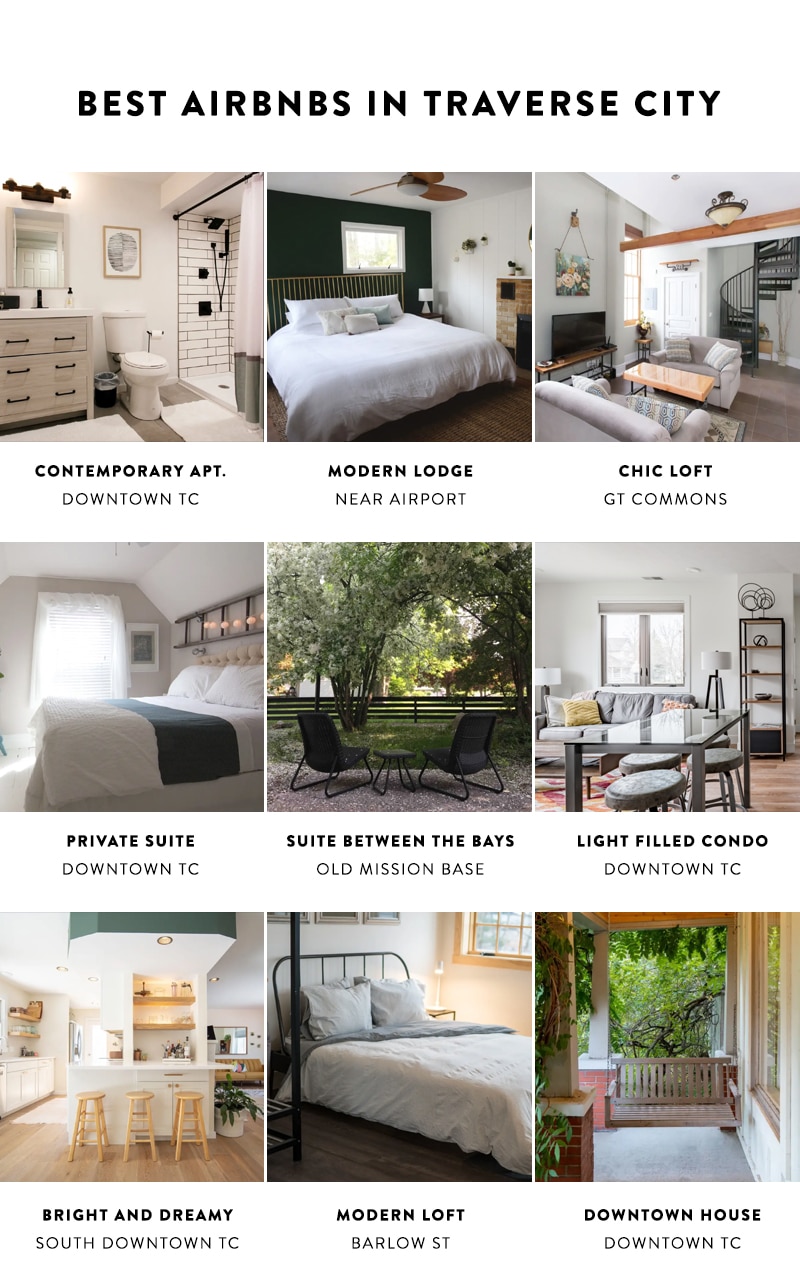 3. Chic Loft in the GT Commons

11. The Minnow in Lake Leelanau
12. Point 5 in Northport
18. Wayfarer in Lake Leelanau
If you still are looking for places though, you will want to visit this post I did about the best hotels, bnbs, and resorts to stay at while in the area as well. There are even more options in that post as well.