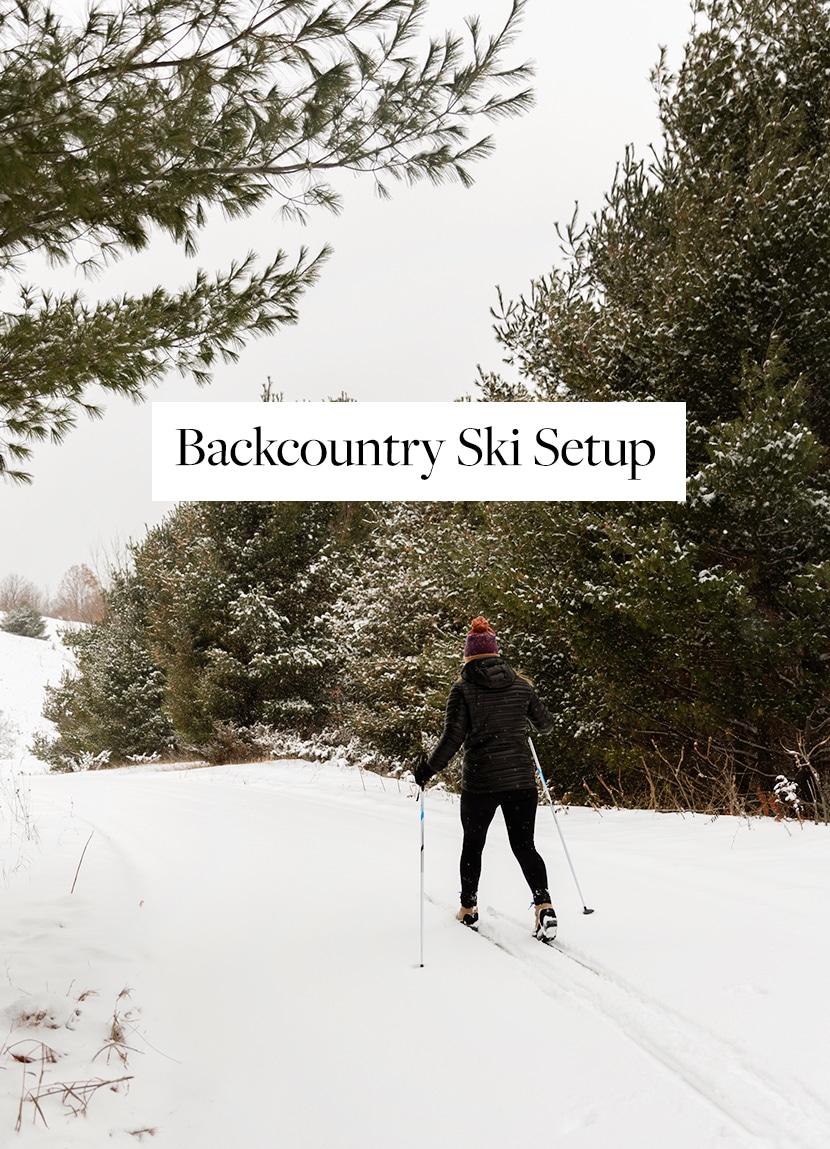 I grew up as a young child flying over the hills at Nubs Nob. At the age of 3 I would fearlessly go up and down the hill with one of my parents while the other raced. I skied most of my life downhill so when we moved back to Michigan and we knew our time to hit the hills would be limited, Mike and I decided it would be fun to get some Nordic Cross-Country skis to enjoy on our land whenever the day allowed.
It now is our favorite way to get out and enjoy the day. We still have snow shoes and love them too but there is nothing to the rush of gliding over unmarked hills or the humiliation of catching your ski on a sumac branch and going for a tumble into the fresh powder. Though quite different then downhill, we opted to choose nordic skis that had edges so there is a small amount of carving and turning we can do while going downhill.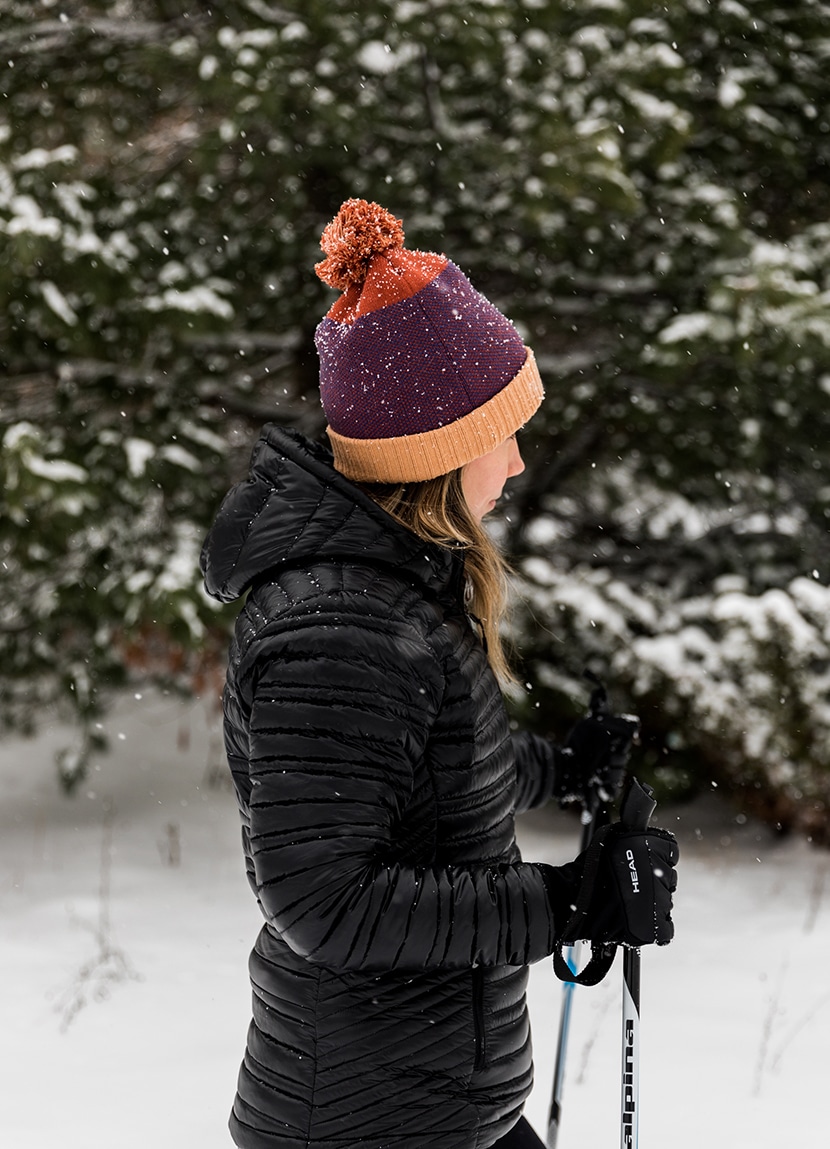 Since many of you have asked what we use I wanted to share as I believe that the greatest way to enjoy the months of winter that can be long and tiring, far more exciting and bright. There is no better way to fight sickness, winter blues, and a general bad attitude in the winter then to strap on skis and wander a new trail with friends or on your own.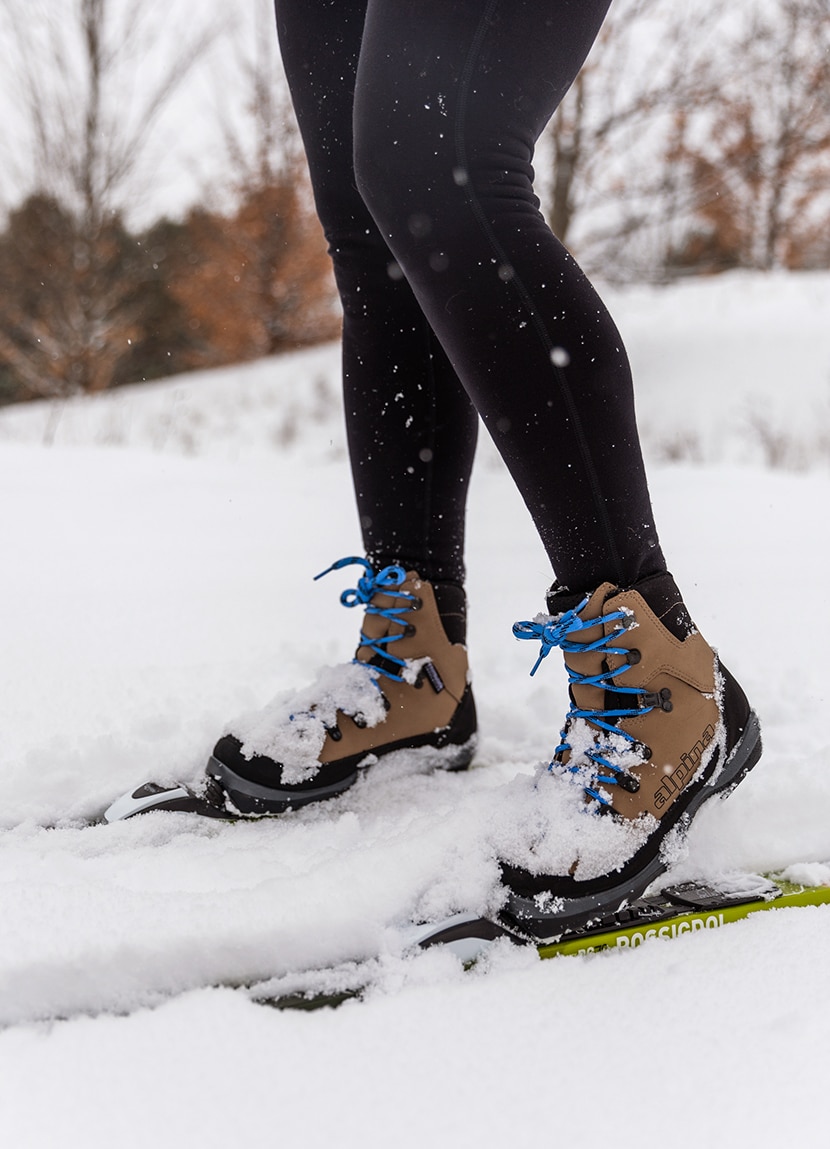 I have a list of items for both Mike and I. Currently Hayes hasn't given it a go yet, but once we have more experience with him doing it I will let you know. We tried a lot of things last year to do it with him but found it hard when doing backcountry/Nordic style with a Thule or a pack on. I think with a small child it would be easier to simply wear them facing in while you skied on easy and calmer trails though. It is challenging though once they reach an age they are harder to tote around in a carrier. If you have experience with this please comment below.
Anways, I wanted to gather up what we love and enjoy.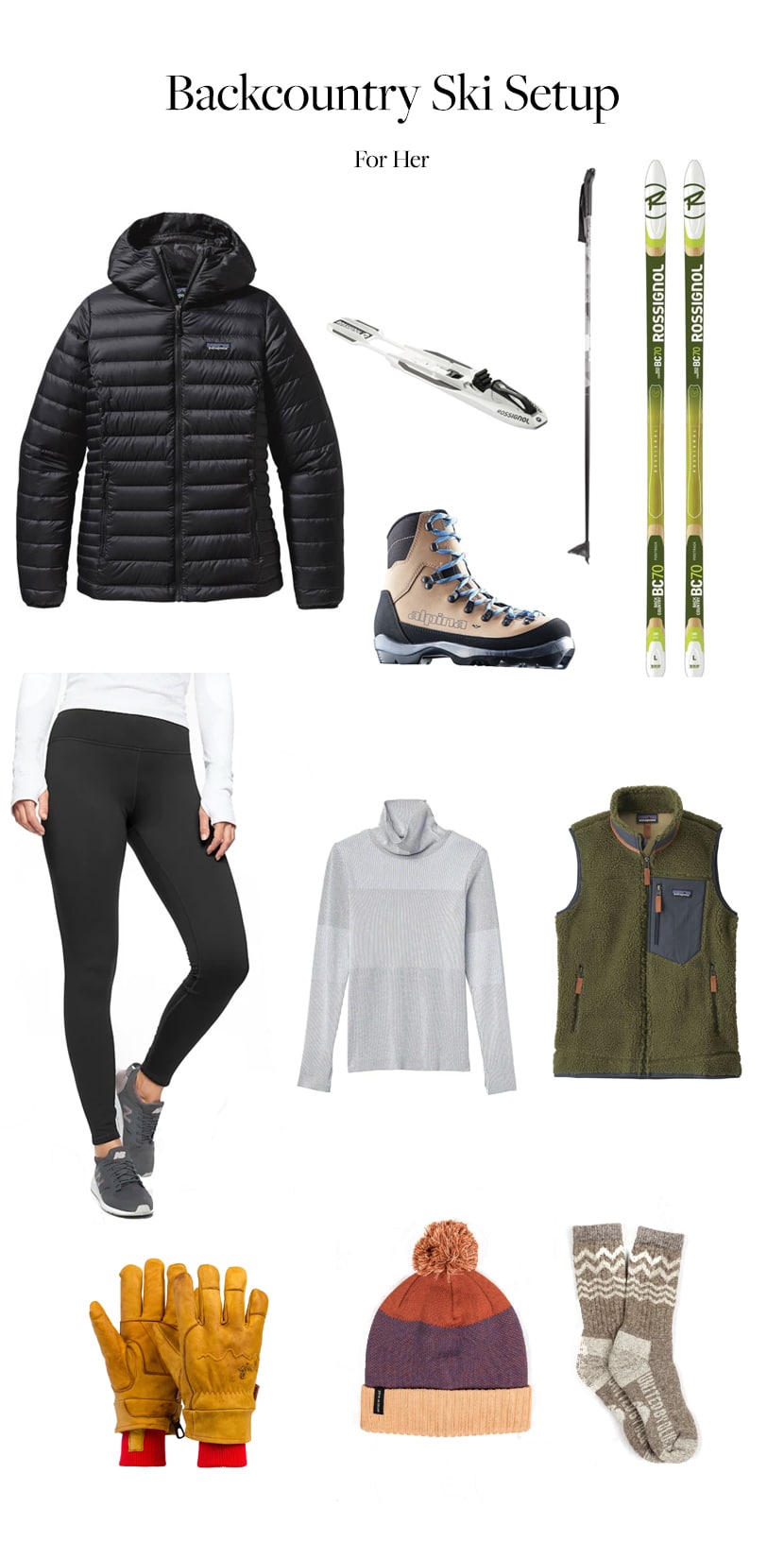 Jacket from Patagonia   | Rossignol Step-in Bindings  |  Alpina Poles | Rossignol BC Ski  |  Alpina Boots  |  Athleta Prima Loft Leggings  |  Athleta Base Layer |  Patagonia Wind Blocking Retro Vest  | Give'r Waxed Leather Gloves  |  United By Blue Hat  |  United by Blue Bison Wool Socks
A few tips here. I have these skis and I have them at the smaller height. If you have questions I would suggest going into a store in your town to purchase skis directly. A couple places in Traverse City area that are great are Don Ore and Brick Wheels. They both carry skis and work on them as well. You will need to attach your bindings at a ski shop anyways so it is best to know where to take them. Tune ups are usually necessary every few years as well so best to get acquainted with a gear shop. I highly suggest smart layers when going out. You are working out afterall and will break a sweat depending on the day and what you are doing so you want to be smart. Have a base layer, another layer to keep your core warm — a vest is awesome for that and then a warm but low bulk coat. This Down Sweater Coat from Patagonia cuts the wind and is warm but breathes when needed. I couldn't recommend it more for outdoor activities. I also suggest skipping snow pants. You need to be able to move, but the tops of your legs will get cold and a good way to hurt a muscle is to be warm but cold at the same time, so make sure you find a tight that is designed for ourdoor activity in the cold. These fleece lined leggings are amazing from Athleta and I have two pairs for winter. They are necessities. As for gloves, find something that is warm and cuts the wind. I tried tech gloves but have yet to find any that hold up to wind when out skiing. A good hat with bright colors so snow mobiliers or cars can spot you is also key. Warm socks that wick sweat are also important. These ones are bison and are currently on my wish list.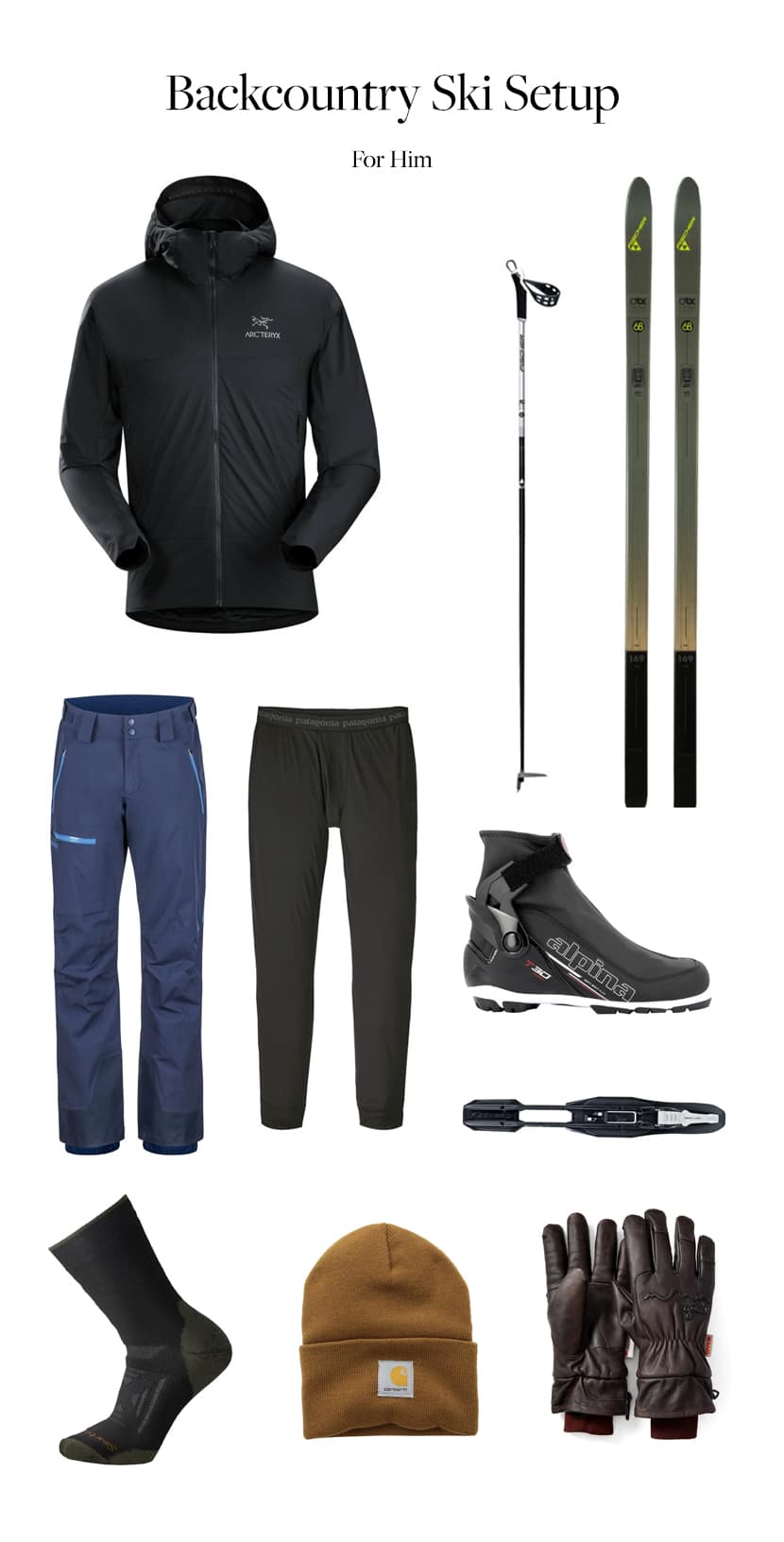 Insulated Jacket from Arcteryx  |  Poles from Fischer | Backcountry Skis from Fischer  |  Snow pants from Marmot  | Baselayer from Patagonia |  Boots from Alpina | Bindings from Fischer | Socks from Smartwool | Hat from Carhart |  Gloves from Give'r
My top recommend though is not to commit to gear until you are sure you want to do this for sure. You may take some lessons or rent gear first and give a test run. It can be a big investment. Also, our skis are for people who are doing more backcountry trails (aka carving their own through a lot of snow) so our skis are designed for that. You want to make sure to have skin on the bottom that allows you not to slip back and your poles will be longer then downhill poles will be as well. If you want to get into skating style you will need to look for completely different gear then this. You don't skate in this type of ski.
So others who ski Cross Country, what do you use? Any tips you would add? How did you learn? How long have you been doing it?