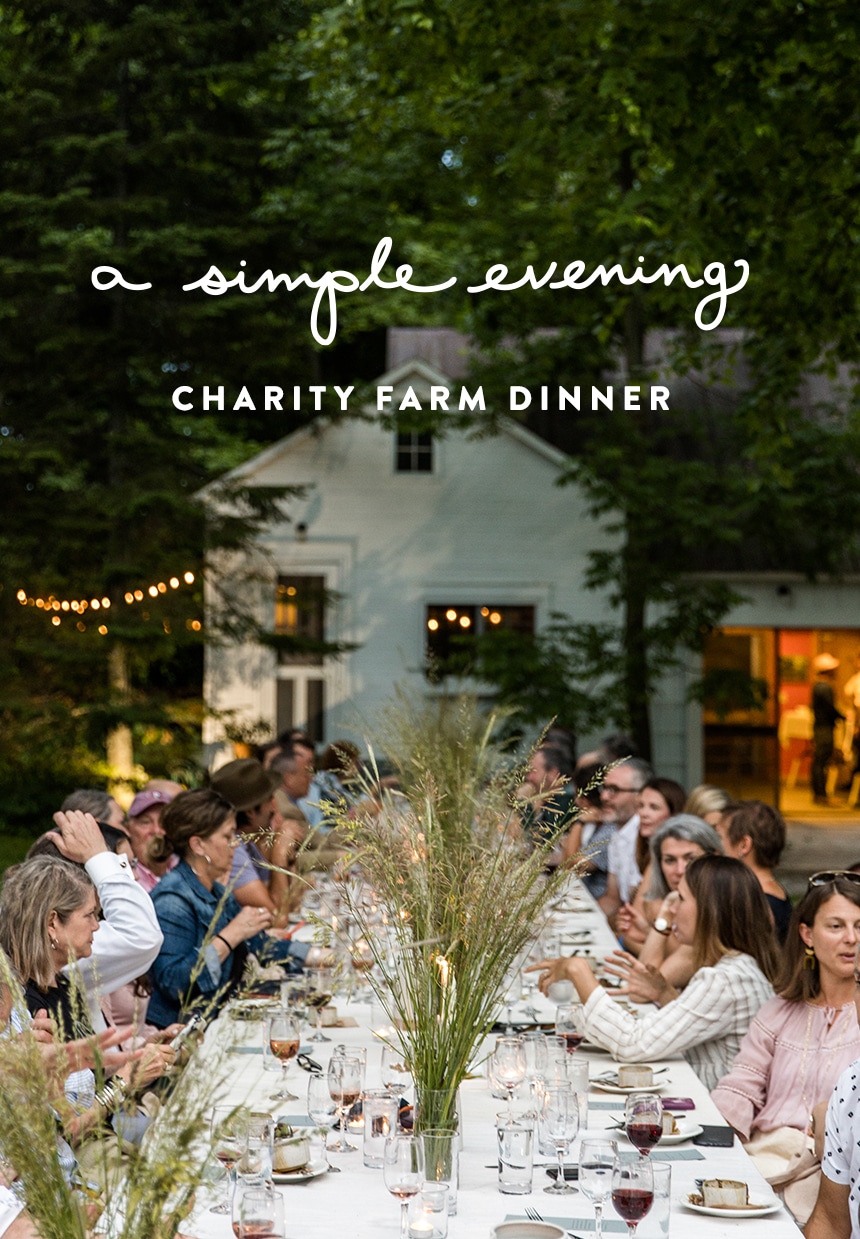 When I left college I knew I wanted to move home for a while. The tanking economy made that basically my only choice. I had a job offer in California but I knew my life there on the salary wouldn't be something I wanted to deal with enough to choose to make that my route. Instead, I headed home and started freelancing for that company that offered me the job. I did that while I tried to figure out what I wanted as a creative and I got married to my best friend (aka Mike). That year back home was the best decision I ever made because in that year of planning our wedding I started working for an event planner and she introduced me to Cammie Buehler and Andy Schudlich of Cherry Basket Farm and Epicure Catering who then introduced me to Michael Chetcuti and Kyle Evans.
Those relationships have stuck ever since and for nearly 9 years now. It's hard to believe, but I remember the first I worked an even at held at Cherry Basket Farm and catered by Epicure Catering in Omena. I realized how amazing this place was that was home. The people. The food…gosh I had never had food like that or wine for that matter. The community. The way they worked. It was endlessly fascinating and inspiring. I valued their desire to do things to the top level but with the cleanest line to local. I mean Epicure's slogan literally is "Eat Local". Over the years I have learned so much from both Cammie and from Andy. Cammie challenges me in business and our every few month coffee or lunches together during the cooler months are some of my favorite parts of the year. Andy always tells it to you straight but he also will teach you and never judges silly questions. Nights in their kitchens after events are some of the best memories of my 20's.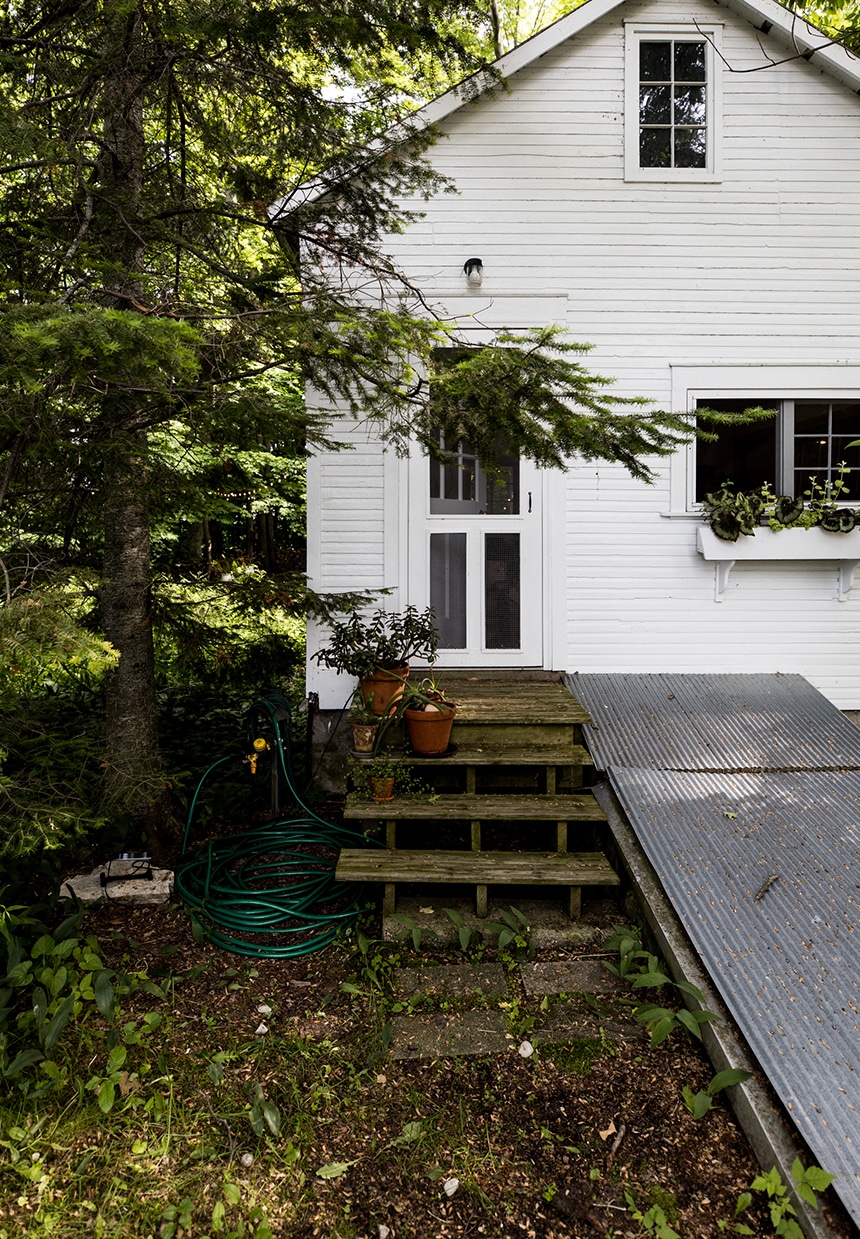 When I think about my concept of local foods and where the passion began it is from Epicure. There isn't a Wednesday market I don't bump shoulders with Andy and I always ask him where the best things are or ask what he is buying. He always knows. So when last year Cammie and Andy began a dinner series with Michael (Chet) Chetcuti and Kyle Evans to raise more money for various local charities through their foundation, I was so excited. Chet and Kyle have incredible taste (remember their Northport house tour!? and now their rentals in Northport are sooooo good.) I knew they were going to be really good. Like a dream team. Mike had the chance to shoot a few of them for them and then Cammie approached me about doing one with the following summer. I of course said Yes! I knew we would be at the point where we would be releasing new products for summer and it sounded like the best place to test some of the new things out. Not to mention, I have always had this vision of doing a local as possible gathering where not only is the food locally sourced, but so are most of the table items. The challenge was exciting and this was the perfect setting for it.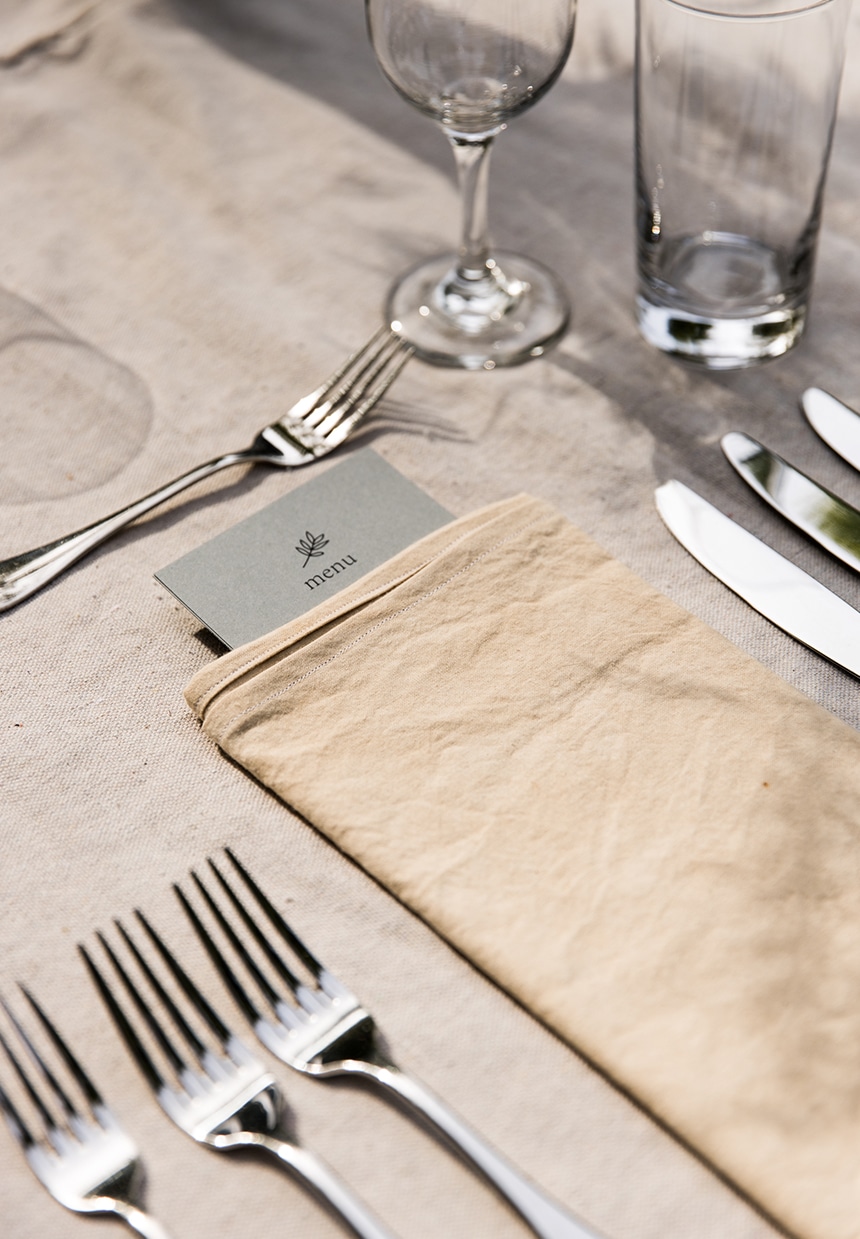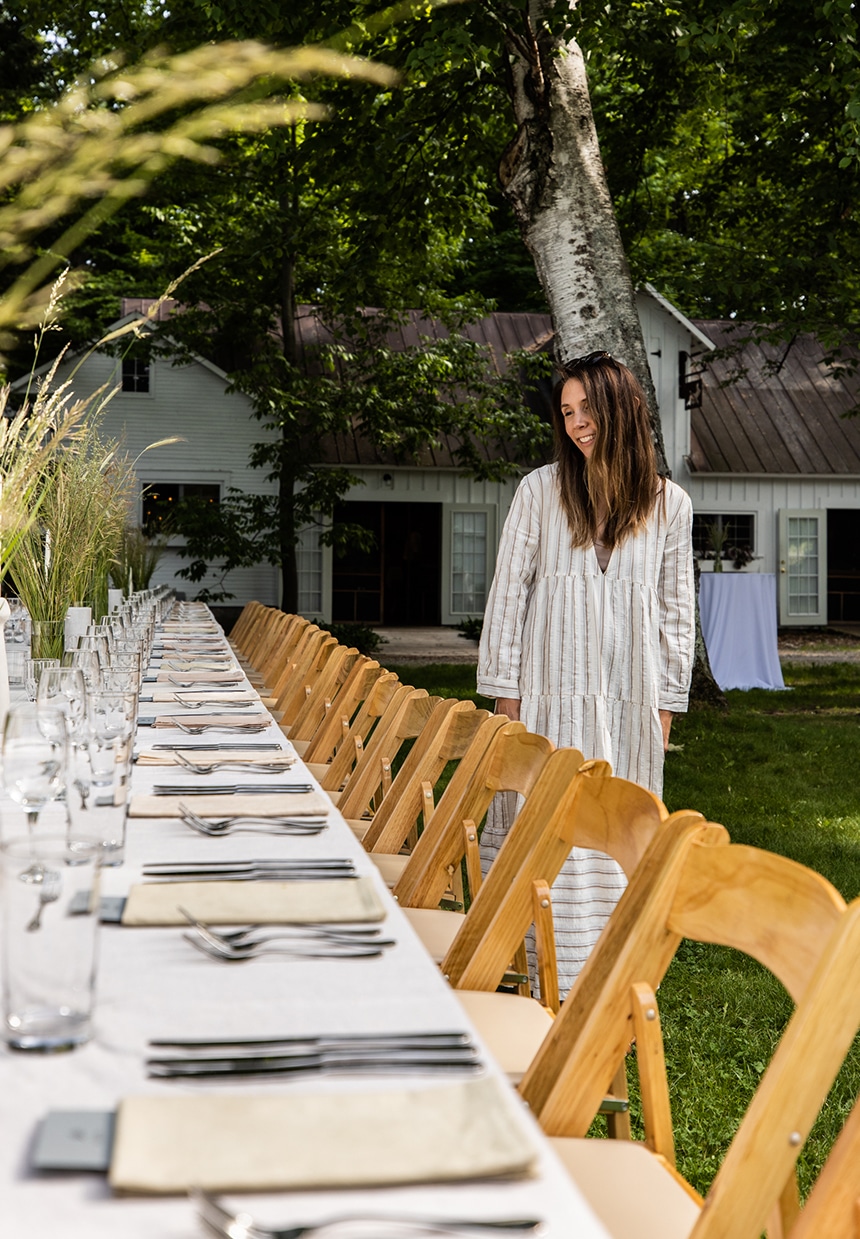 The winter before the dinner, Cammie and I made a plan for the dinner itself. We planned to ticket it for 50 people. This was one of 3 charity dinners they were doing with the Michael Chetcuti Foundation so we had to had all the details nailed down far enough in advance for everyone. I also needed strong numbers since we would be designing and ordering product for the tables. We had 4 courses and wanted to be able to use as many products from our store as we could. So I placed our orders with our makers 4 months prior and our new Every Day Plates' design was finalized and we had those being placed in production as well. All of it coordinated for this dinner to be held in June.
Locally focused events such as this take a ton of planning and coordinating. To get handmade plates on a table for 50 doesn't happen a month prior. There is no quick ship option. But that's what I love about local things, is it is all about intention and awareness of all involved. When I had signed on for the dinner, I asked up front to our makers what was possible and what isn't. From there we built out the collection of items, but like I said this was months in advance. A charity gala or dinner party may also require the event planners to hire an event security services company.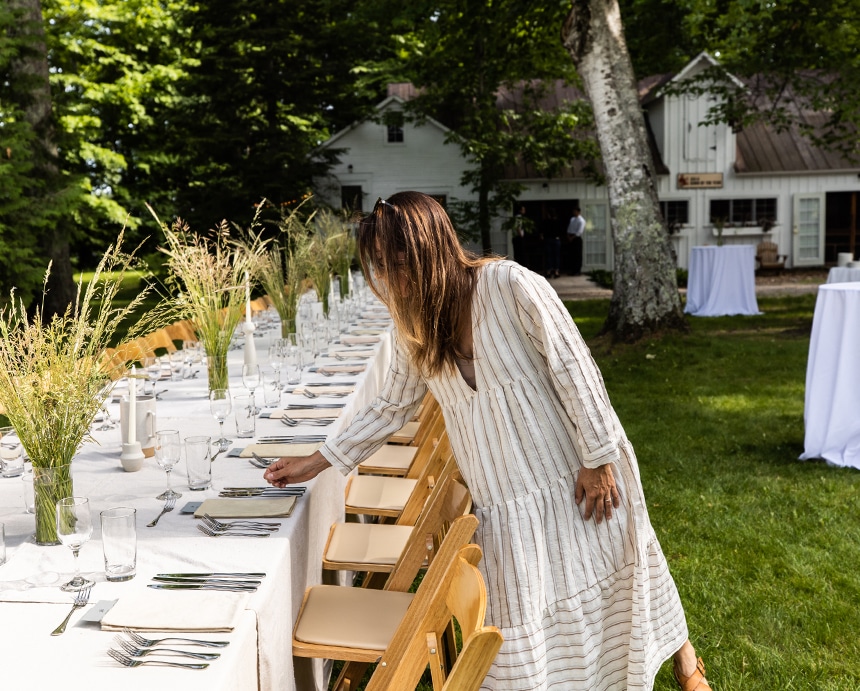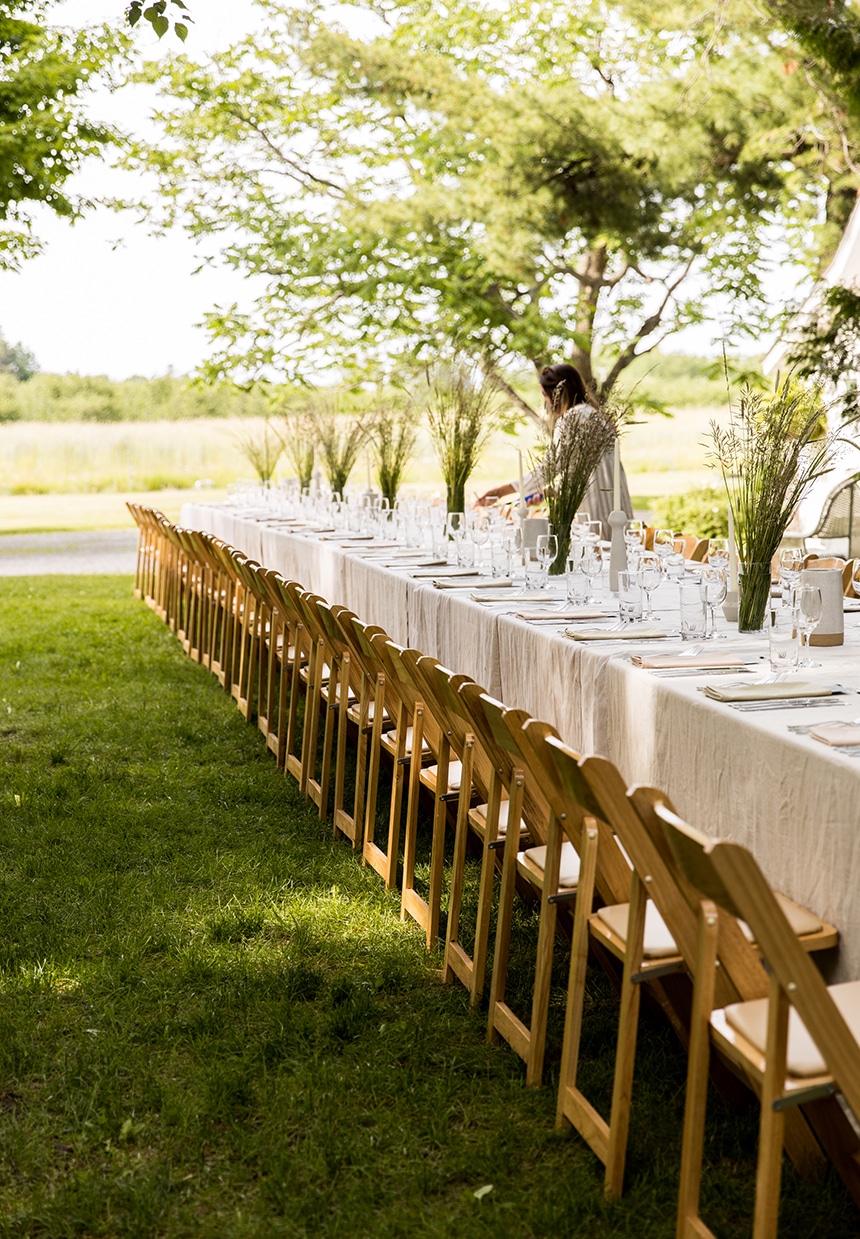 So when the dinner came up on the calendar finally, I couldn't wait. It was the first big thing I had post my first Trimester of pregnancy (which wasn't planned along with the event), so I was excited to have something to take me out of the weeds of it all. The days leading up were a ton of work, but like every dinner we do, once the day hits everything falls into place. The day of Mike and I had the car loaded up and we headed up to drop everything off for the dinner. The team at Epicure set everything up and we had debated about whether the weather would allow us to do the dinner inside the barn or outside on the lawn. Thankfully it ended up being the most gorgeous summer evening and we took the risk to set it up out on the lawn in the shade.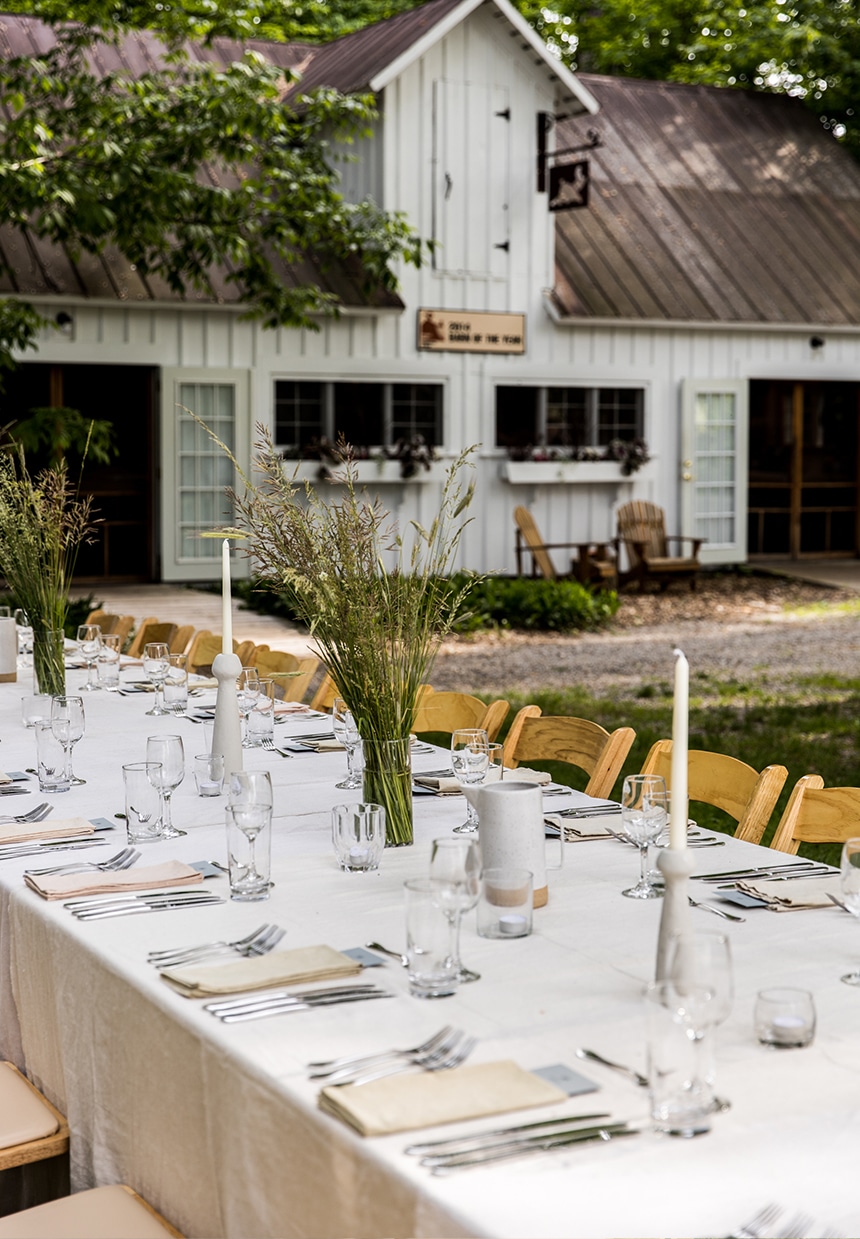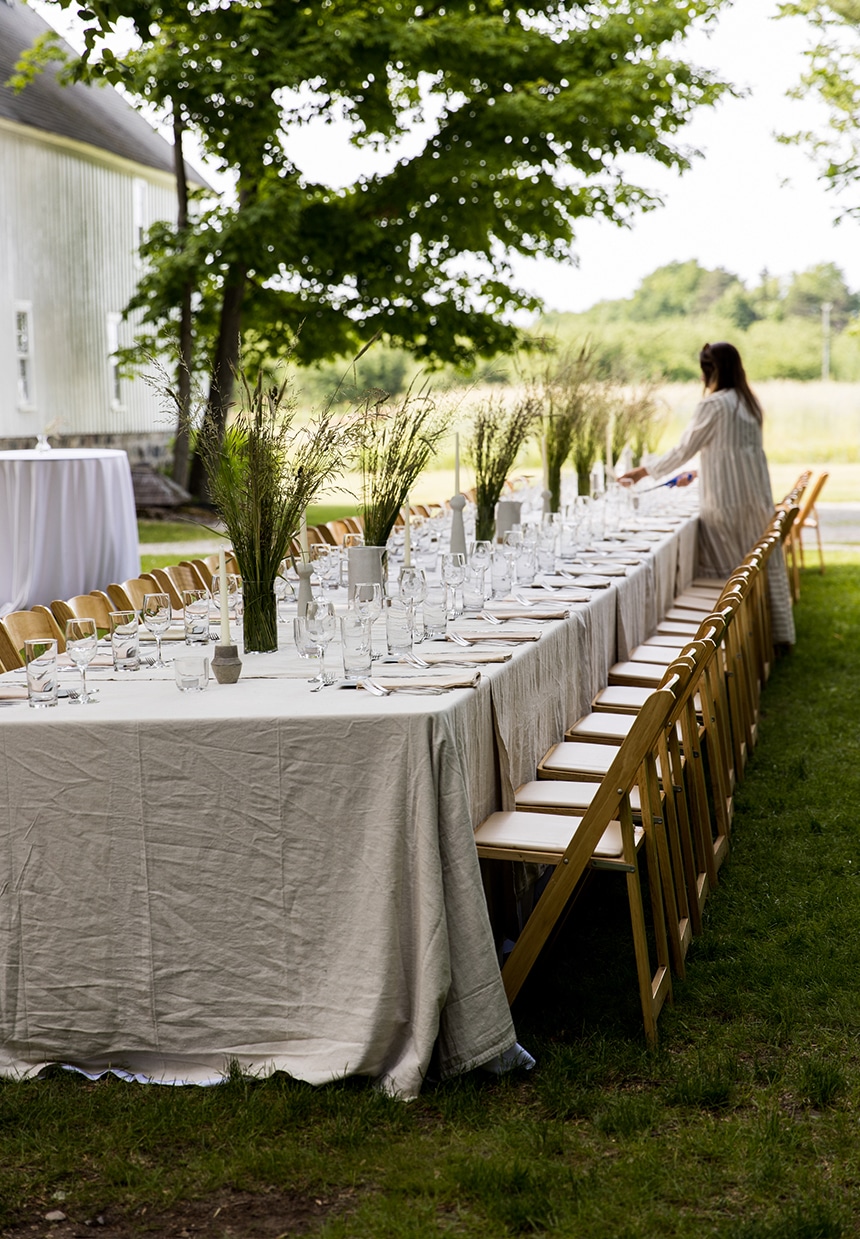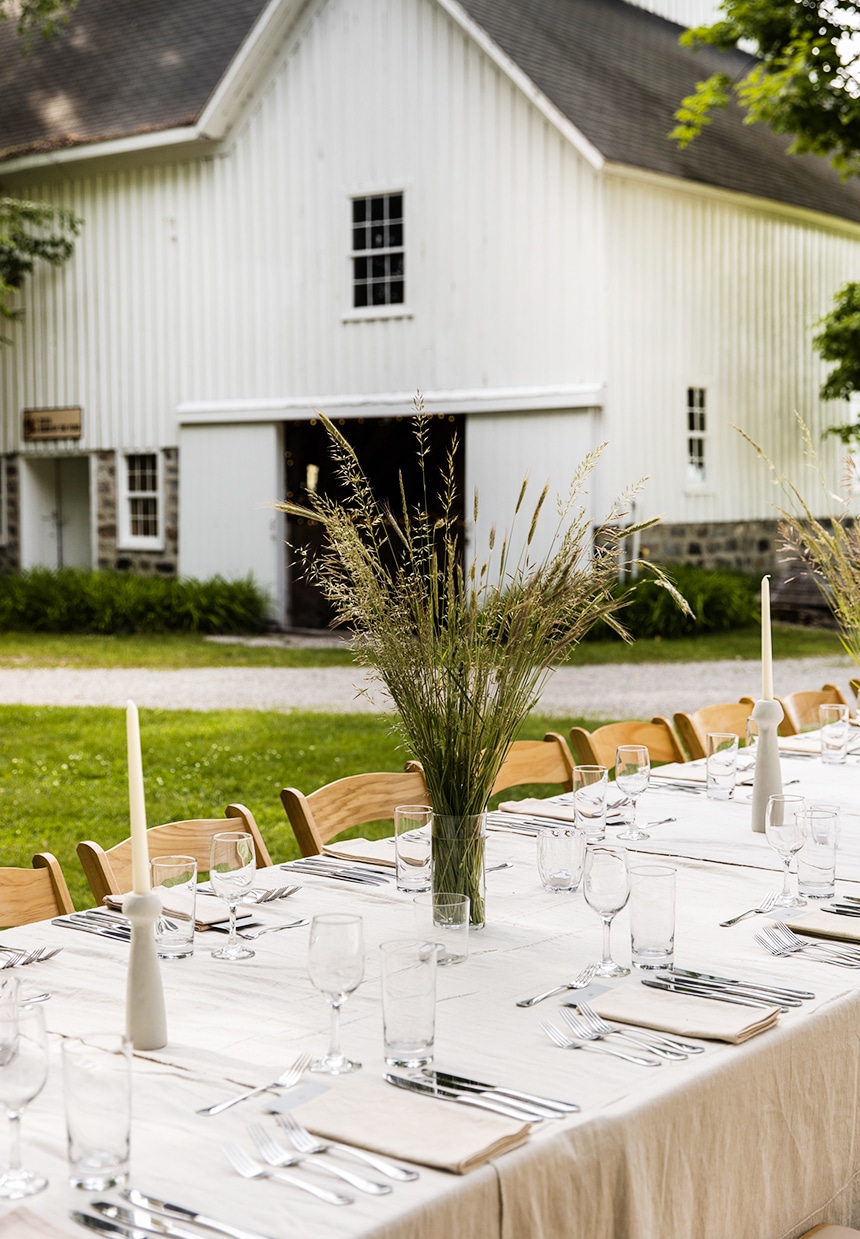 With the design I wanted the focus to be on the wine (Baia Estates and Arbor Brewing had donated wine for the event) and the food. I always take this approach because to me the food is always the centerpiece. People don't come for the decor (at least I don't). I knew the setting of the dinner would be perfection as well so I wanted to have the setting for the dinner to just be an extension of that.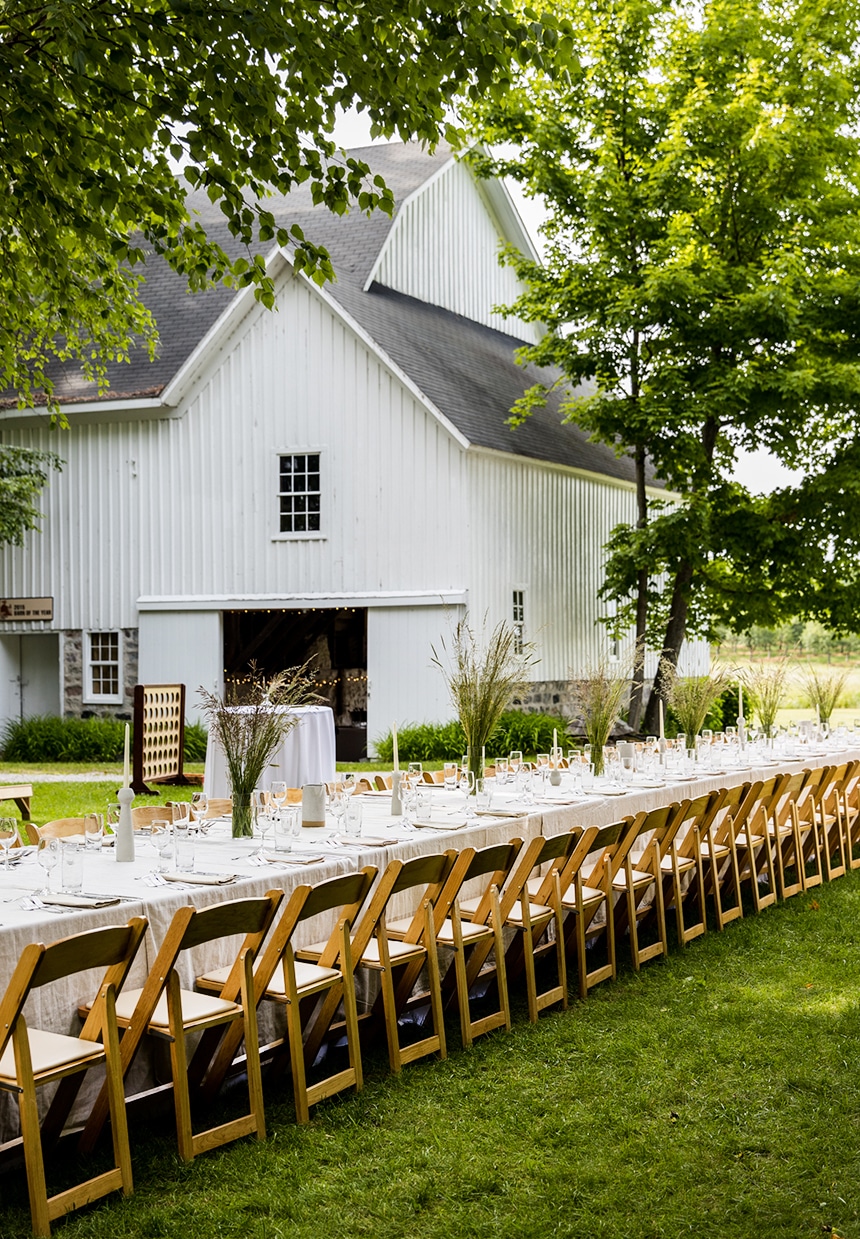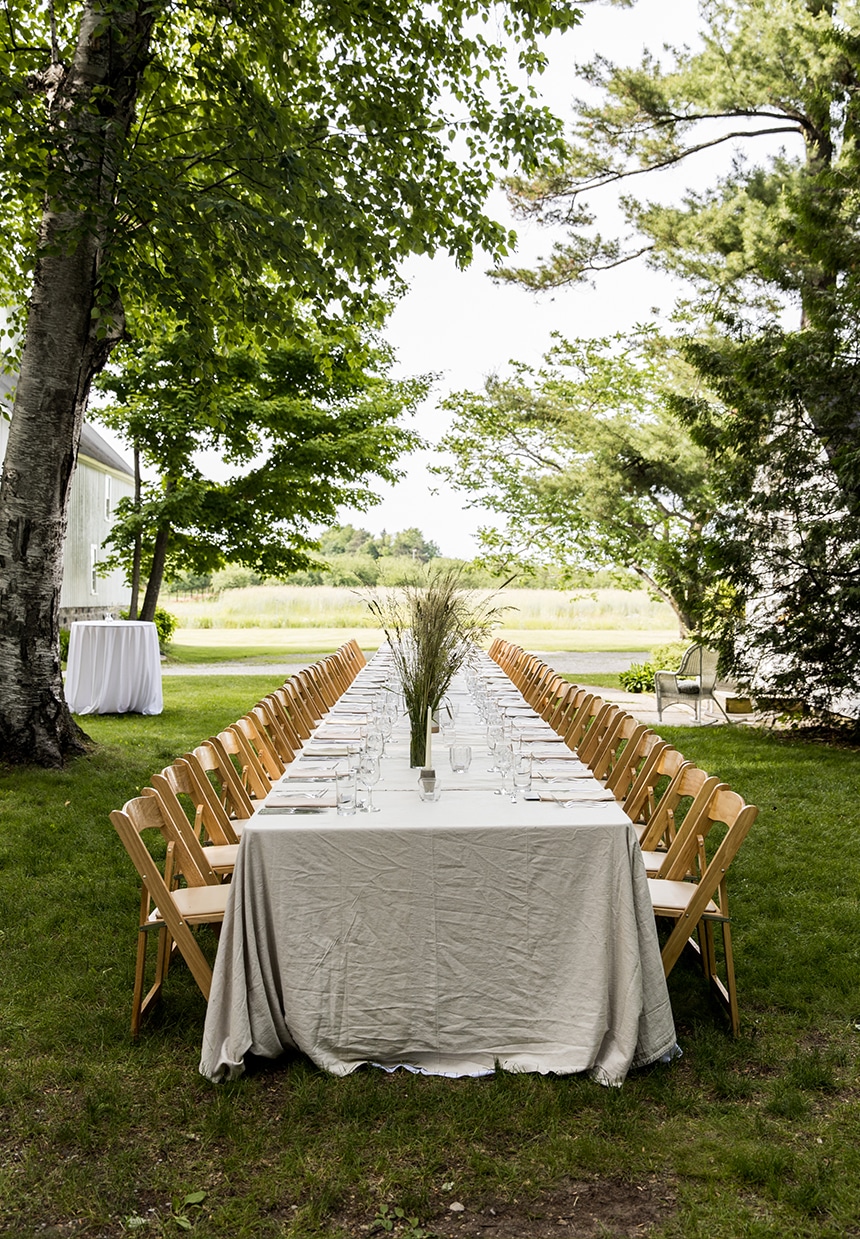 I also wanted to use the inspiration of the lifestyle Leelanau as a focal point with the design. Out here it is natural, a little undone, back to nature, and simple but gosh we love things done really well. So I left the wrinkles in the tablecloths so it was more laid back and we kept the floral really simple. I gathered wild grasses from our land that were flowering and they ranged in an array of colors that ended up playing perfectly with the rest of the farm and meal for the evening.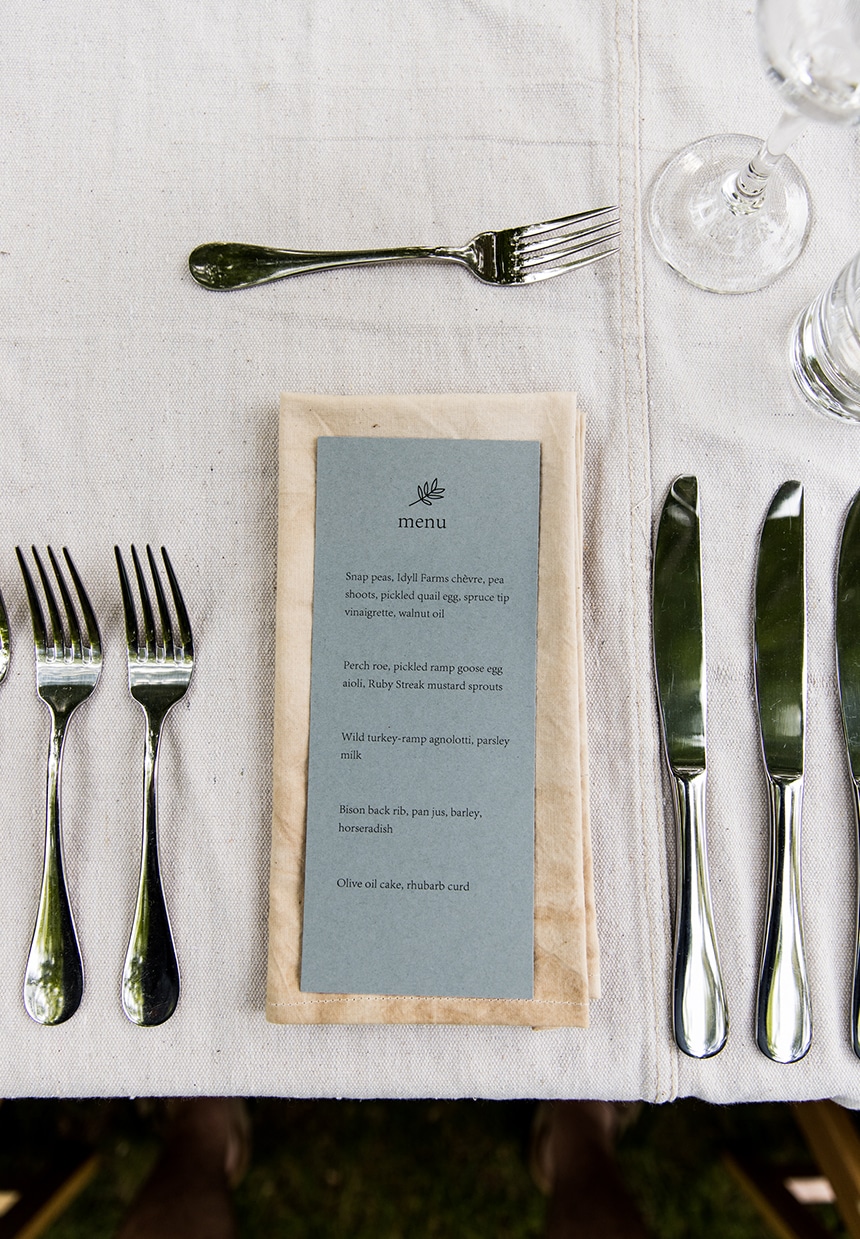 I had given Andy our plate options a month or so advance as I had samples of things. He then paired the plates with his dish concepts. You can see above the full menu. Almost everything on the menu came directly from the area and straight to our plates that night.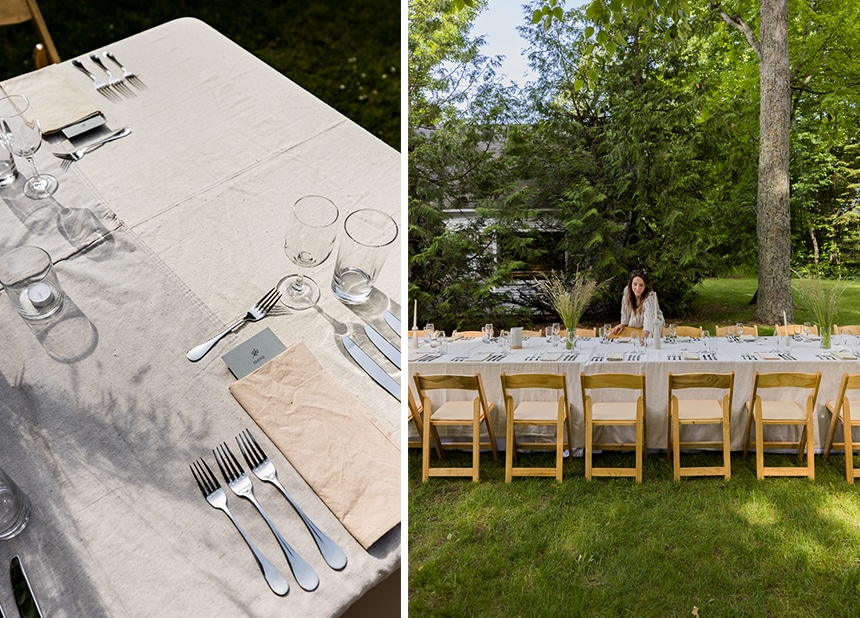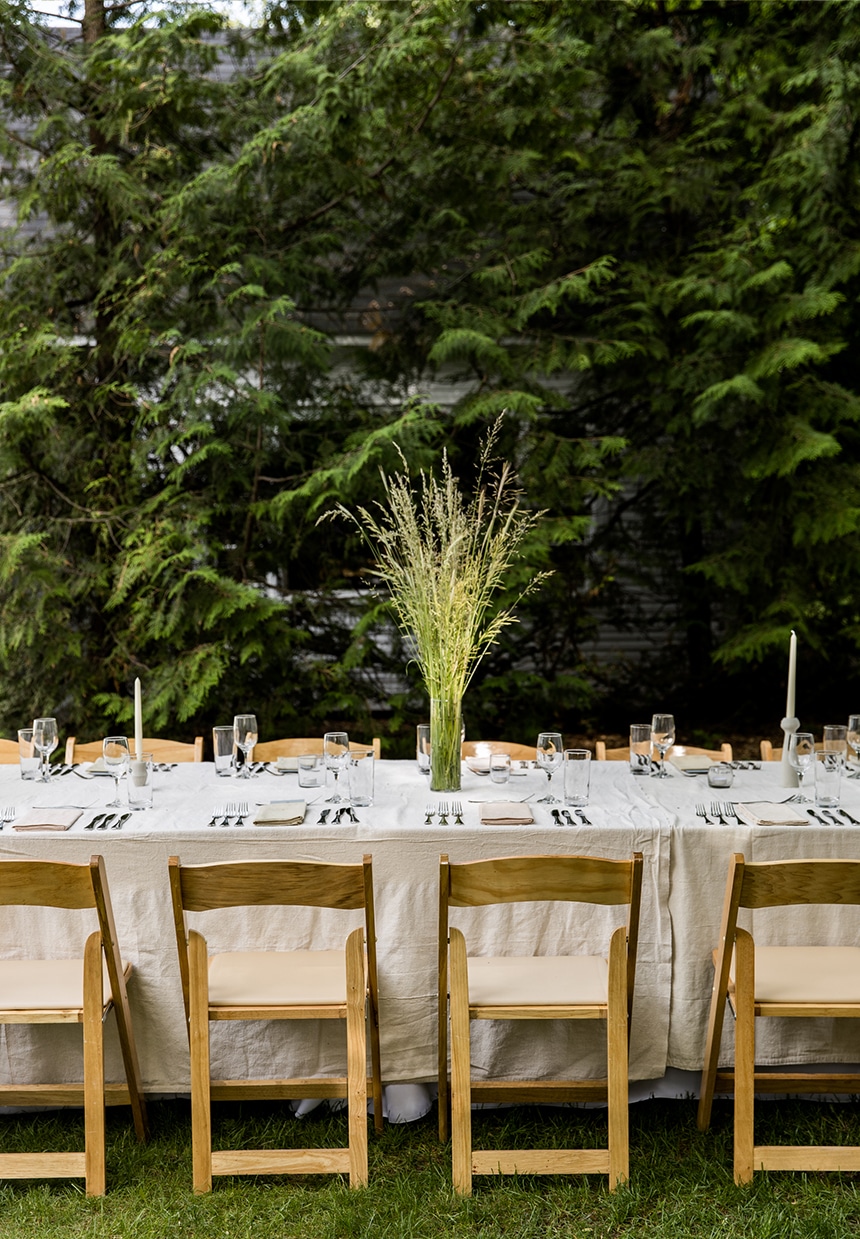 It was the most amazing thing to see the full dinner put together and we set the candles out ready to take on the evening ahead.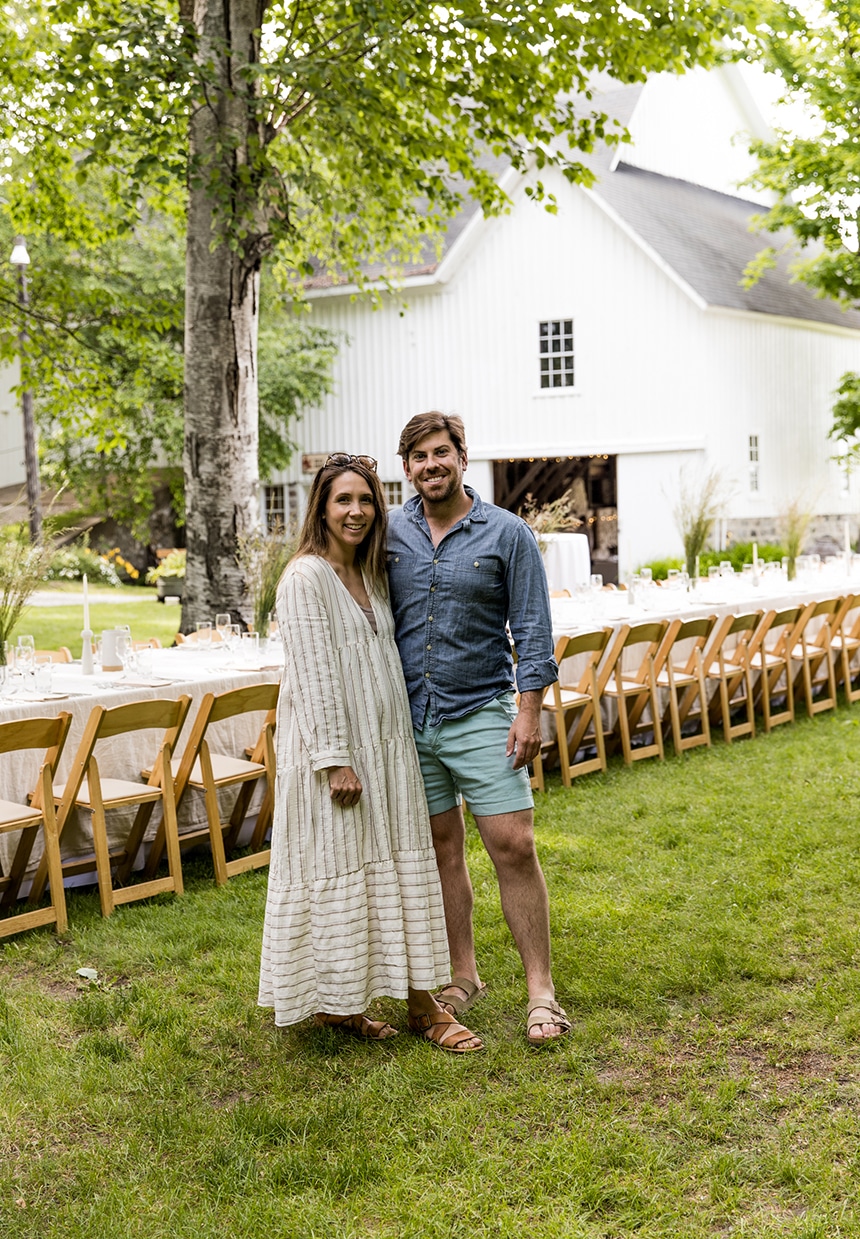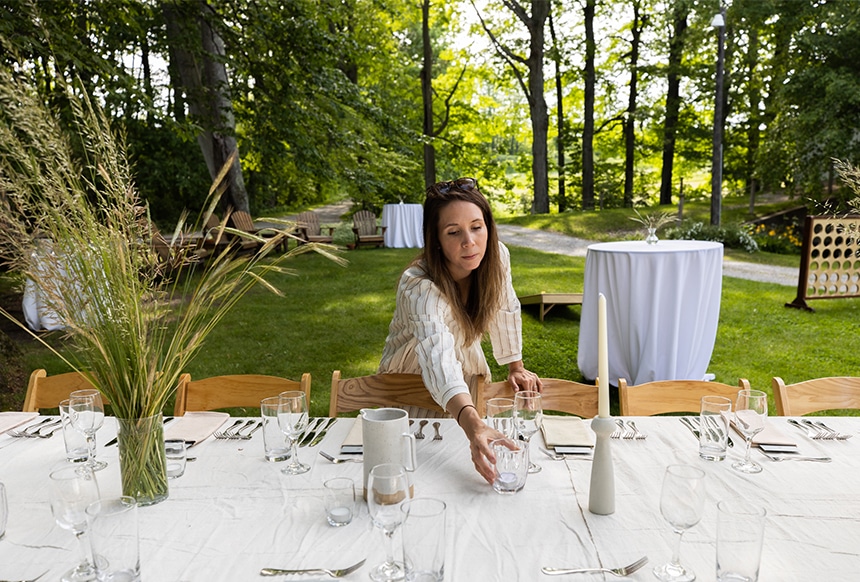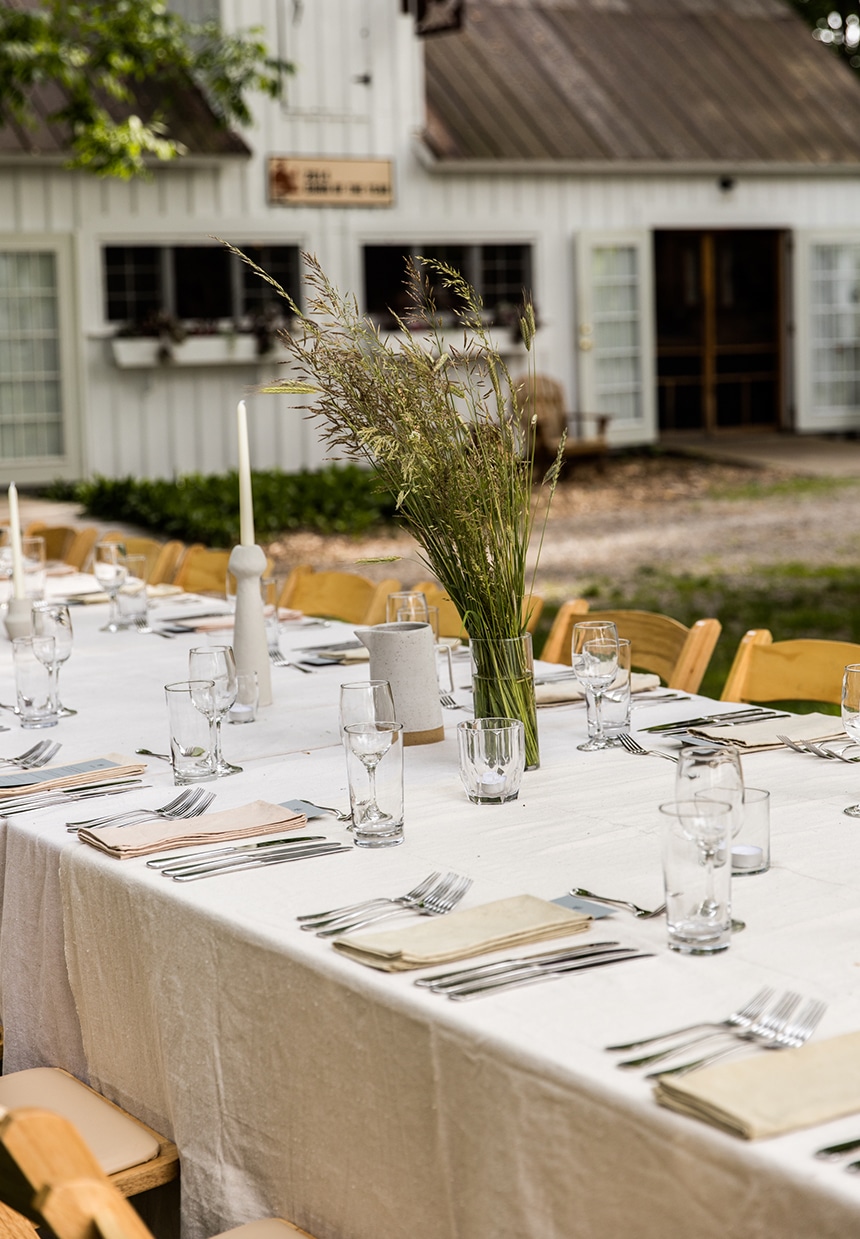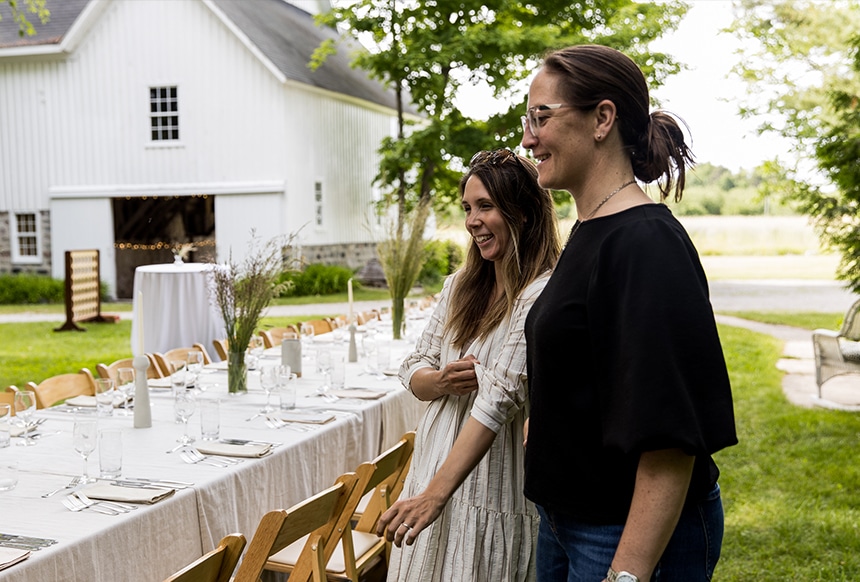 Getting this chance to work with Cammie and her amazing front of house team she puts together every event season was such a treat too. I always am the one doing the heavy lifting and this time around since I really couldn't they were so helpful in putting it together, possibly better than I could have.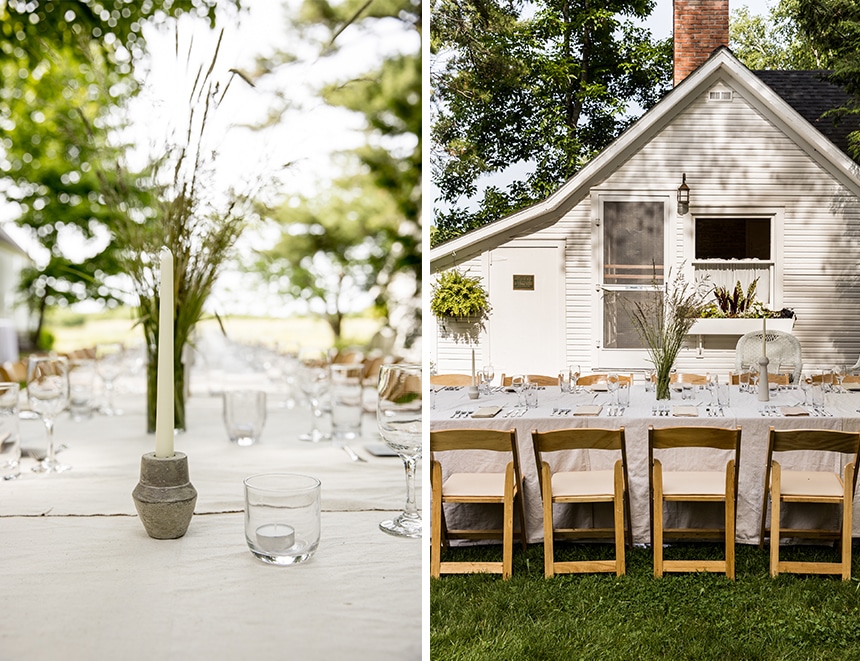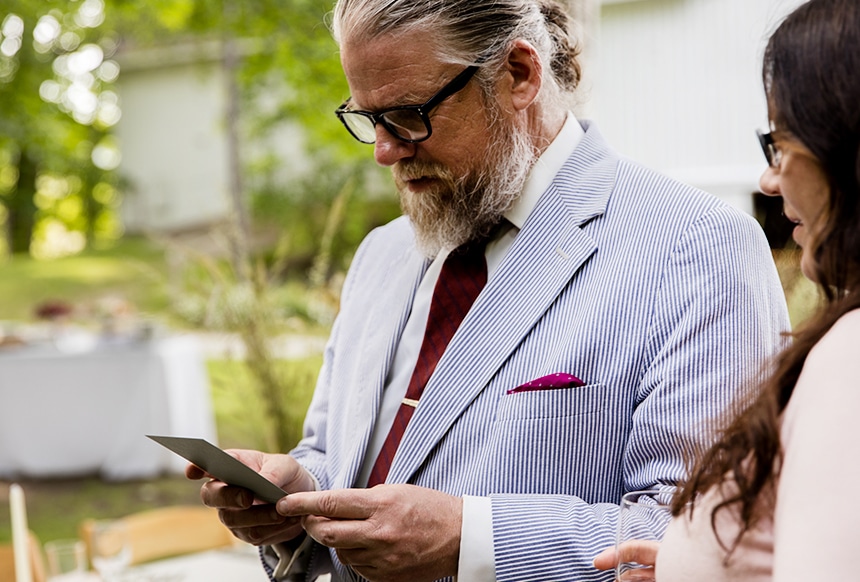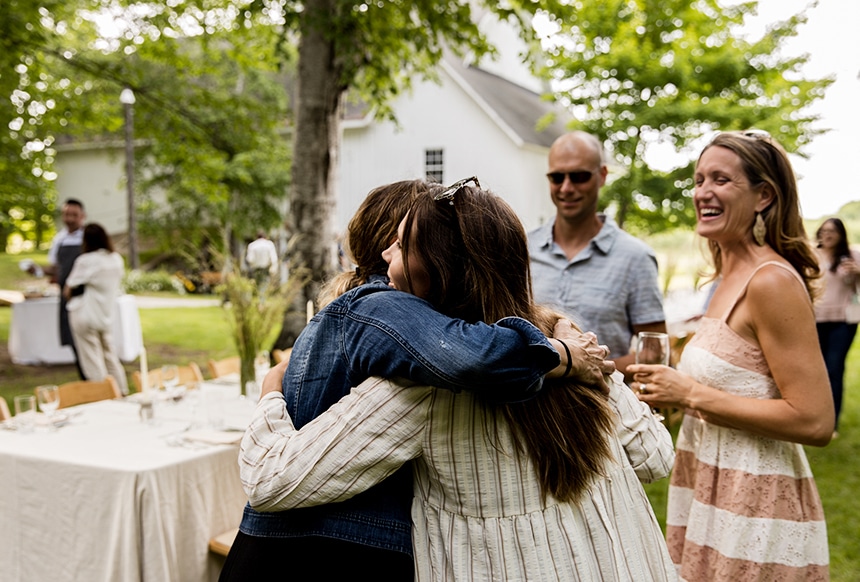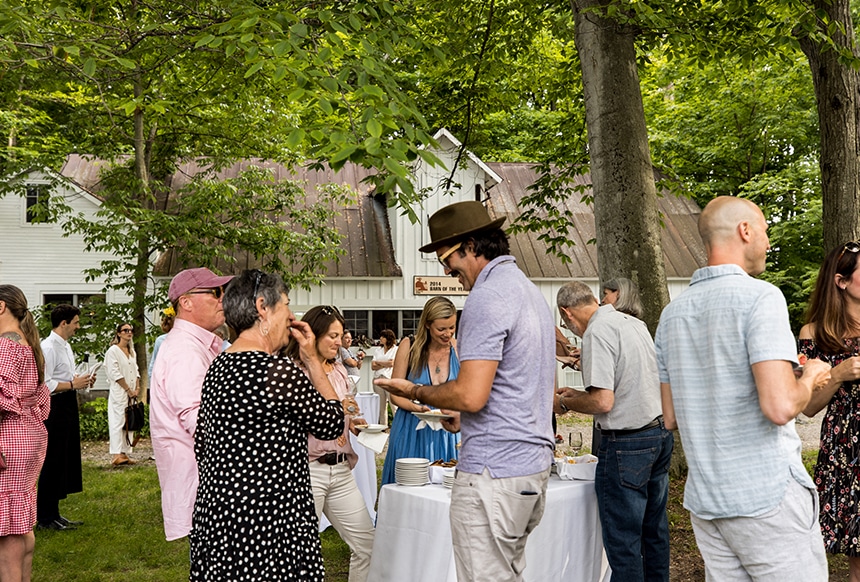 The beauty of these gatherings and dinners that Chet and Kyle put on with Epicure is that they are full of familiar faces in town that sometimes in the summer we don't always get to see. At the root of what makes this area special it comes down to the food and agriculture that makes it so unique. Agriculture has been the heart and soul of Leelanau County of 100's of years. I mean Cherry Basket Farm is a Century old farm that Cammie's parents saved from development. They have worked years to restore it and keep it as part of the landscape of Leelanau because of how it connects to what makes Leelanau what it is. And those that gather here get that and respect that part of the culture. They understand the value of the art of the meal and the food that is grown here.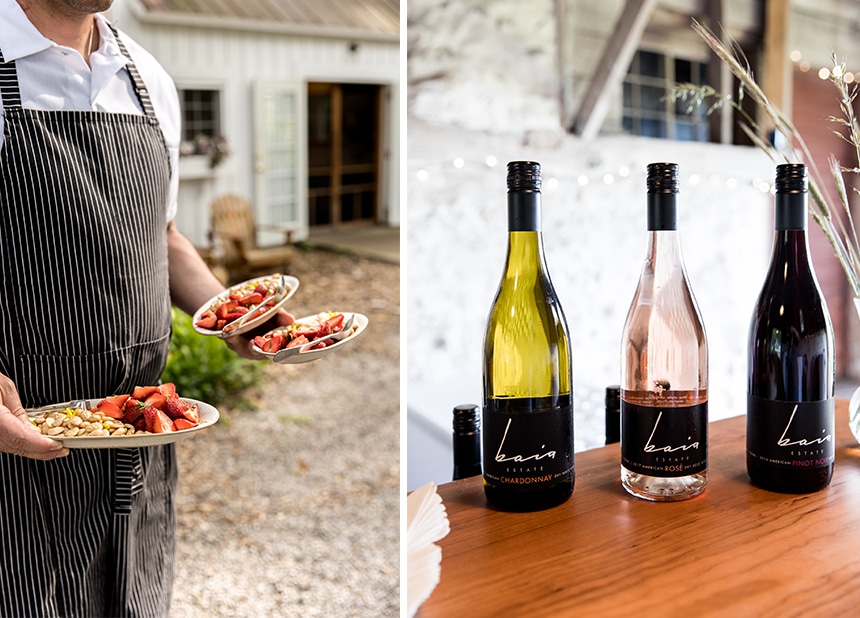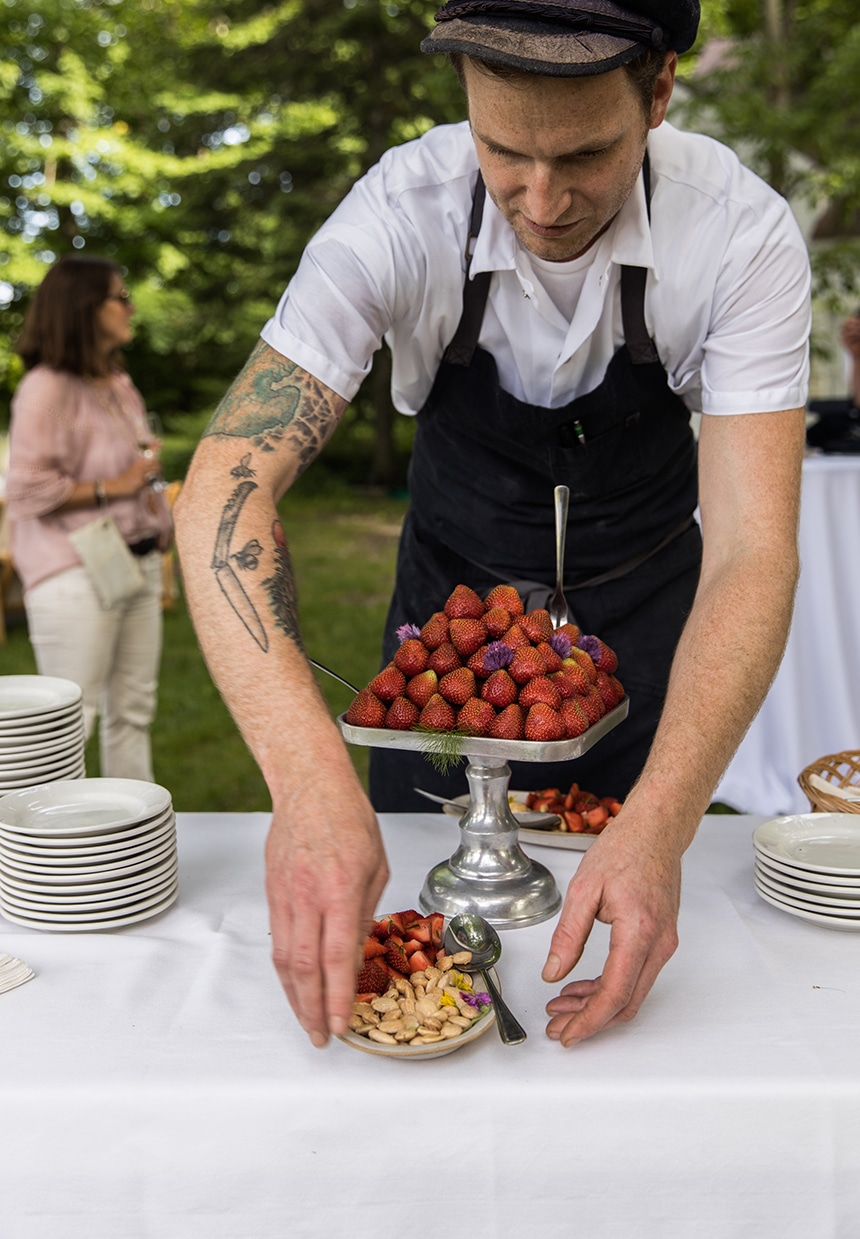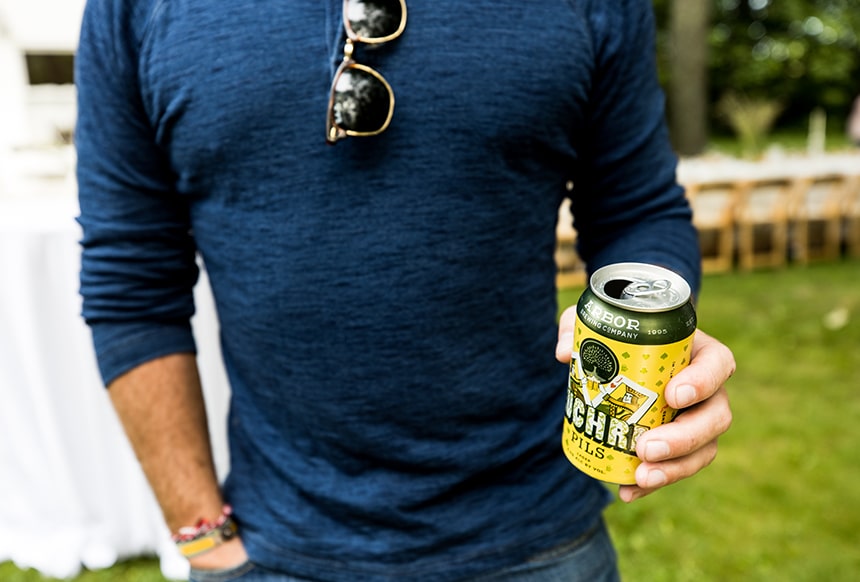 You will find that this table that night was full of some of the top people investing and working in the local food and agriculture business and to sit and talk with them is one of my favorite things. I love hearing about the challenges, the things going well and the things that need a lot more work. I also love to hear about the new place they discovered selling grazed yak or how a local cheese maker is making a new product on her farm from her own cows. Leelanau may be known for Sleeping Bear Dunes or Wine Tours, but you cannot separate Leelanau from the culture of food and what it means to grow and it and enjoy it here. It's still the heart and soul.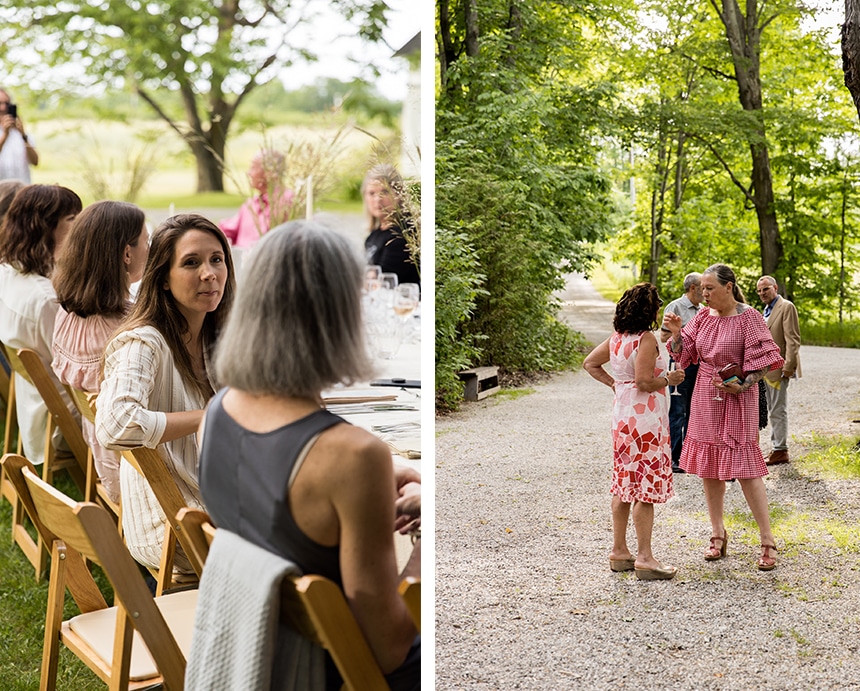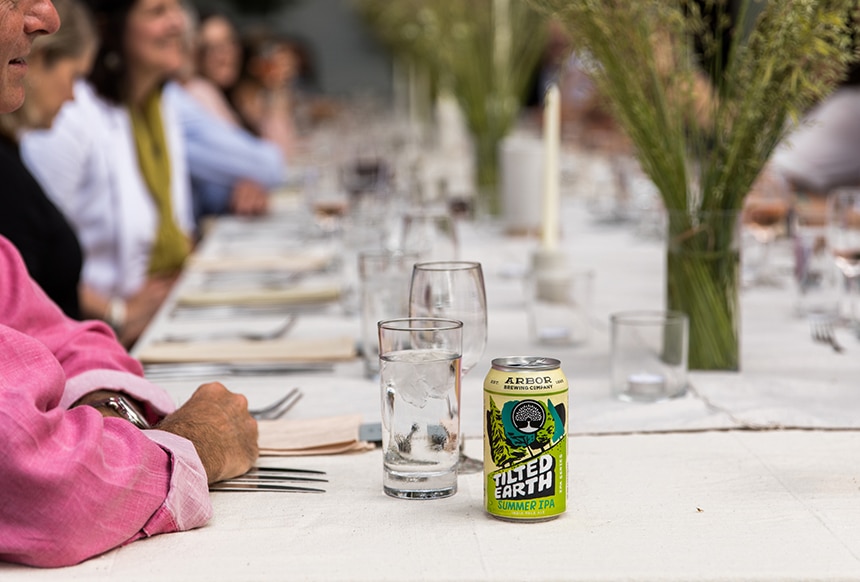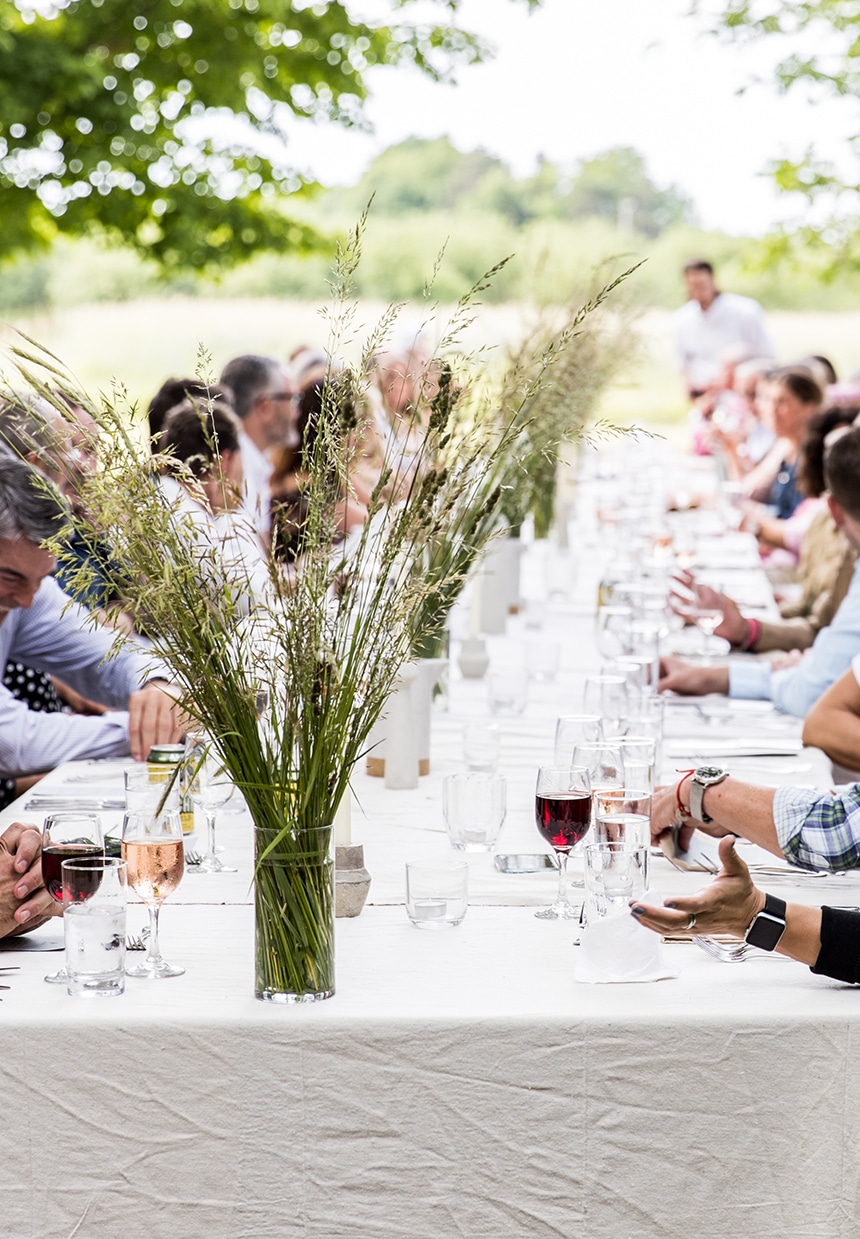 The strongest testament to that are evenings like this one where 50+ people come together around a table from 5-11 PM for the night for one of the most unique and one of a kind types of meals you can have here. As I have always said, we have great restaurants here, but if you want a truly Leelanau experience you attend one of these types of farm dinners. It is the true Leelanau.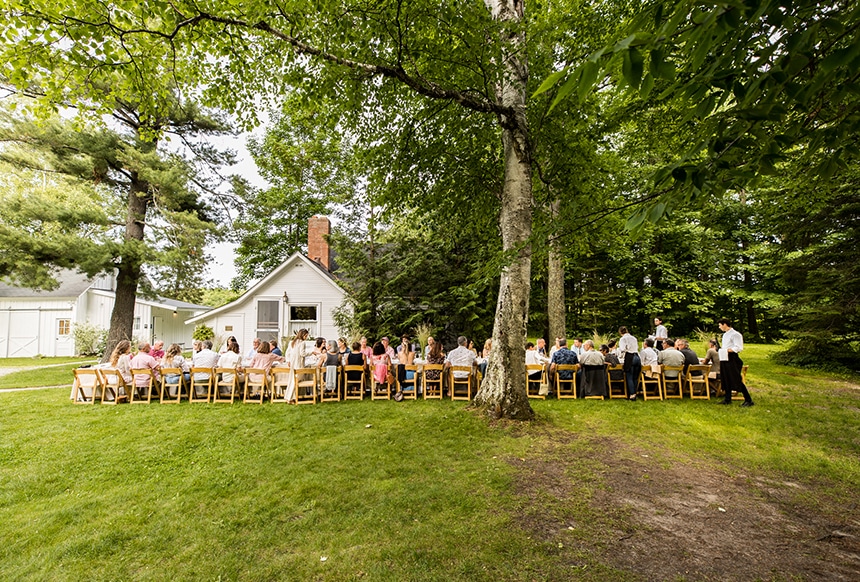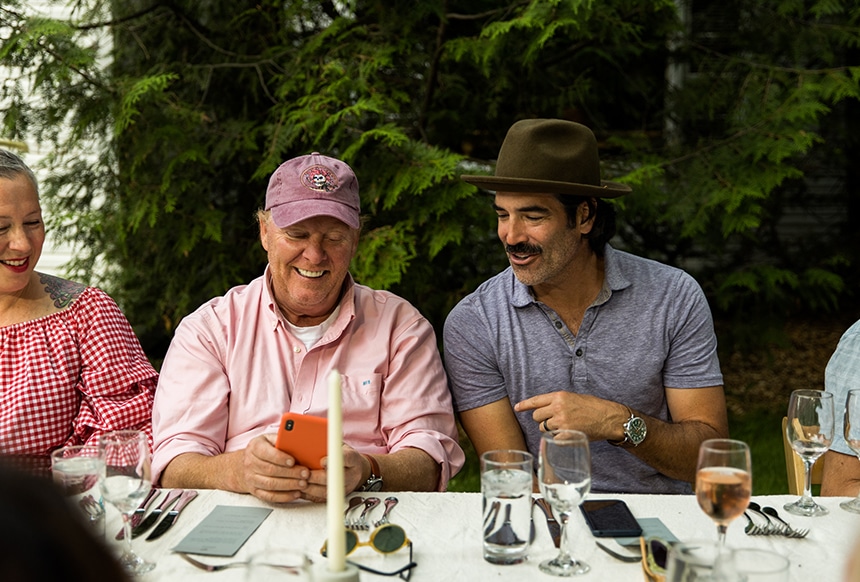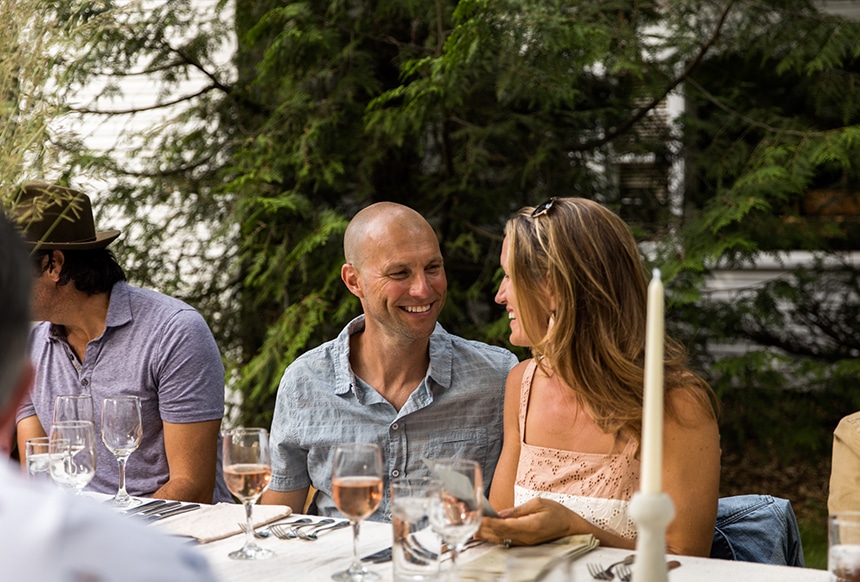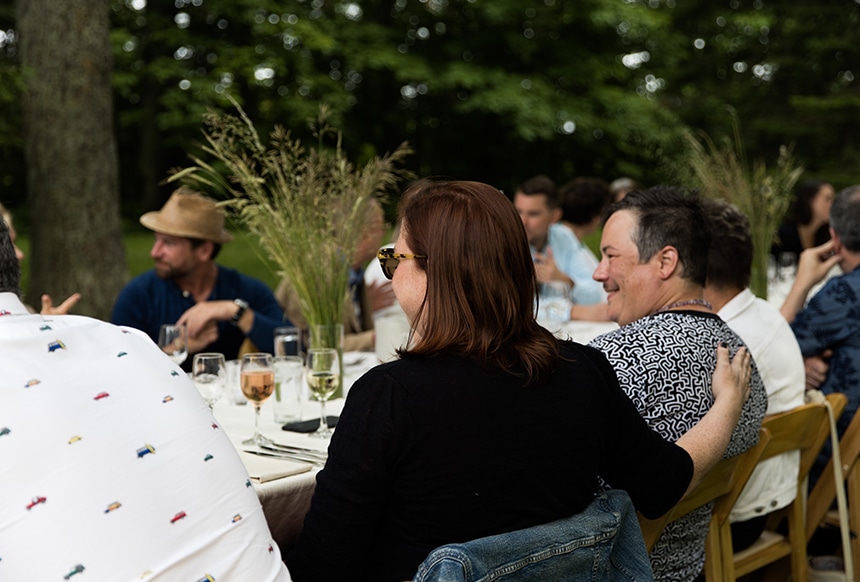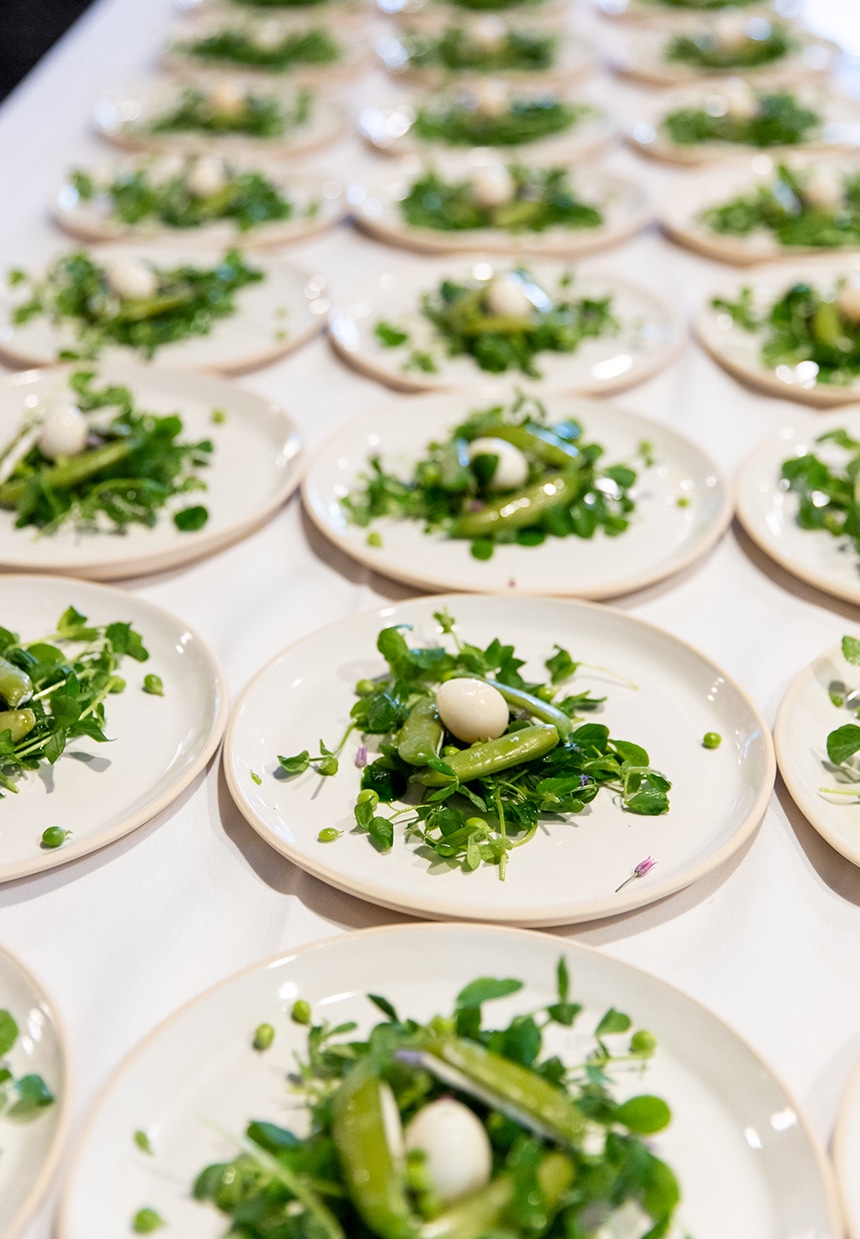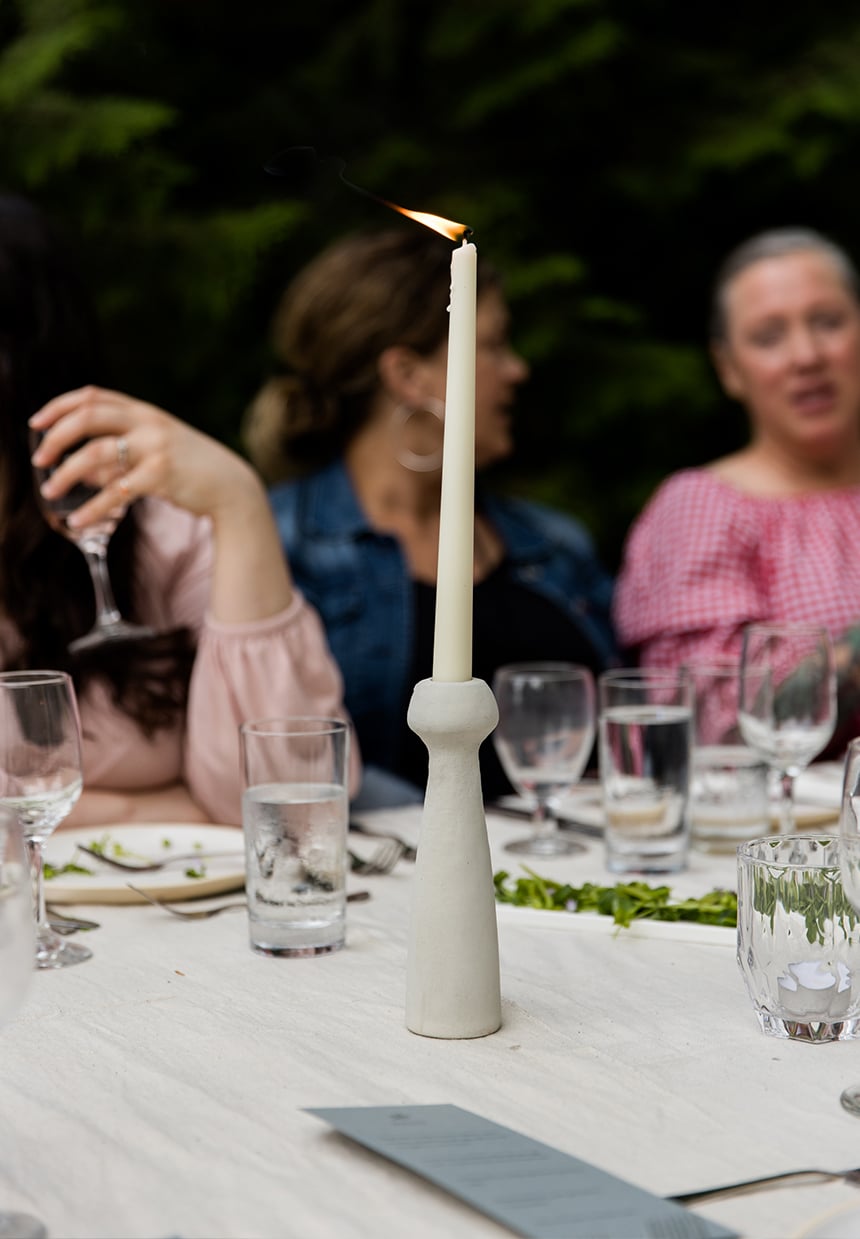 That night once everyone finally got settled at their seats. Dinner service started and I couldn't wait, because I had been so excited to see Andy plate on our new Every Day Plates that we had been working on for over 9 months at that point.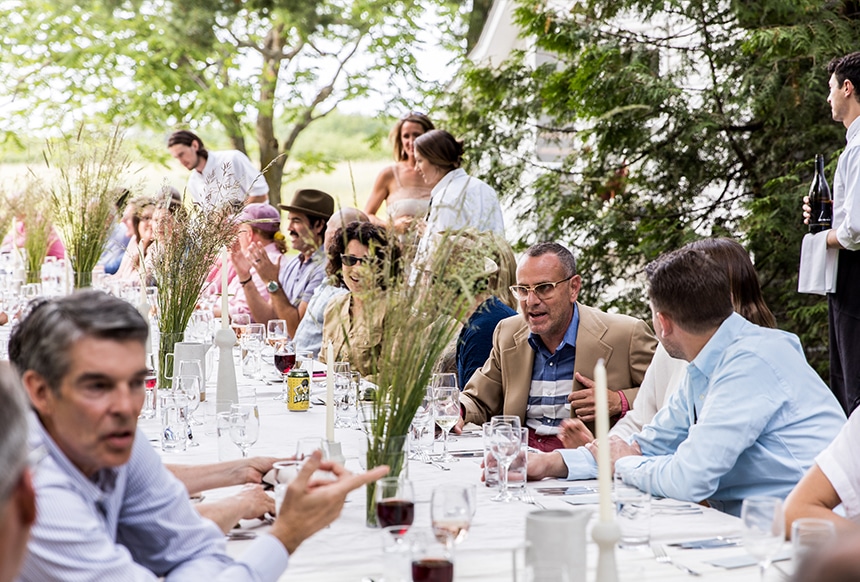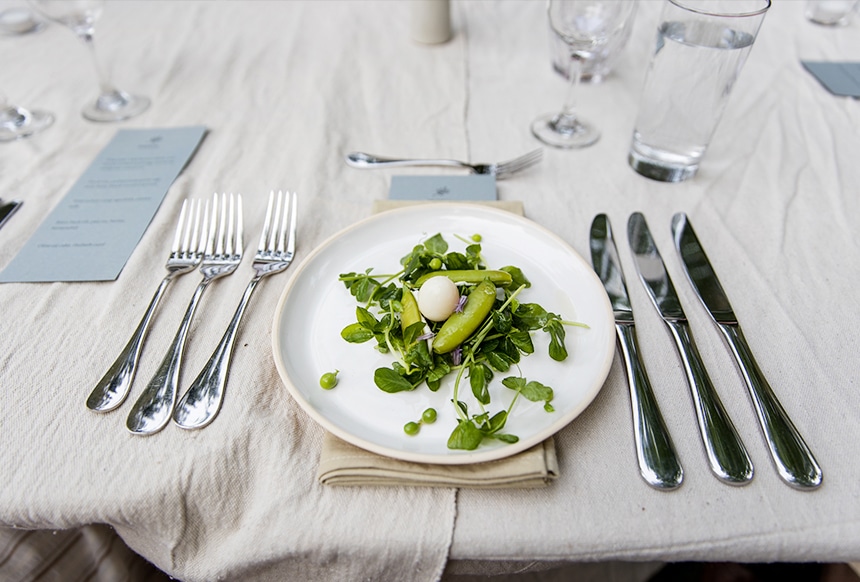 Each plate was hand thrown in Leelanau County by Schyler Brinkley and he had made over 55 for us for the store. To get them on the table at our dinner and tested there was the thing I was most excited about. I knew they would be plated with one of the most beautiful dishes full of fresh tender veggies from the beginning of summer.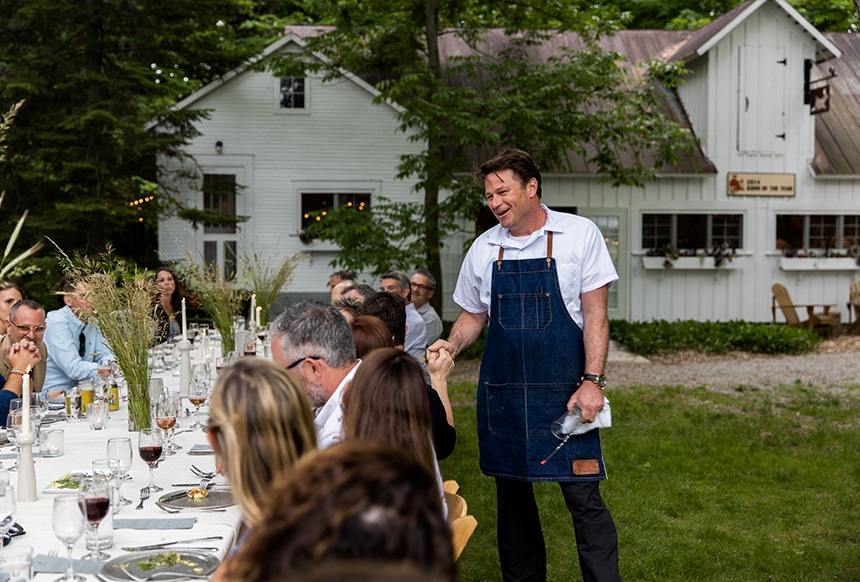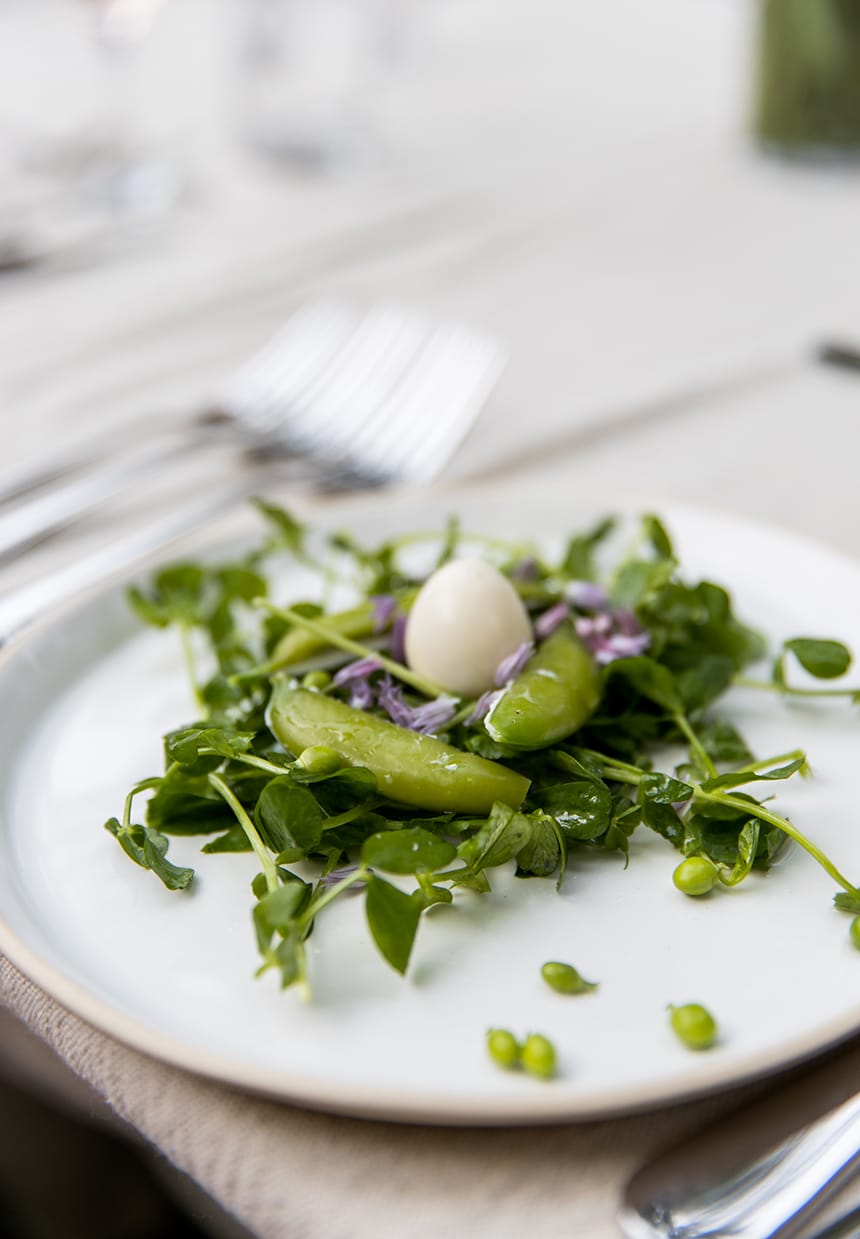 They couldn't have been more perfect with the peas and the quail egg. I couldn't have dreamed it up better if we had tried.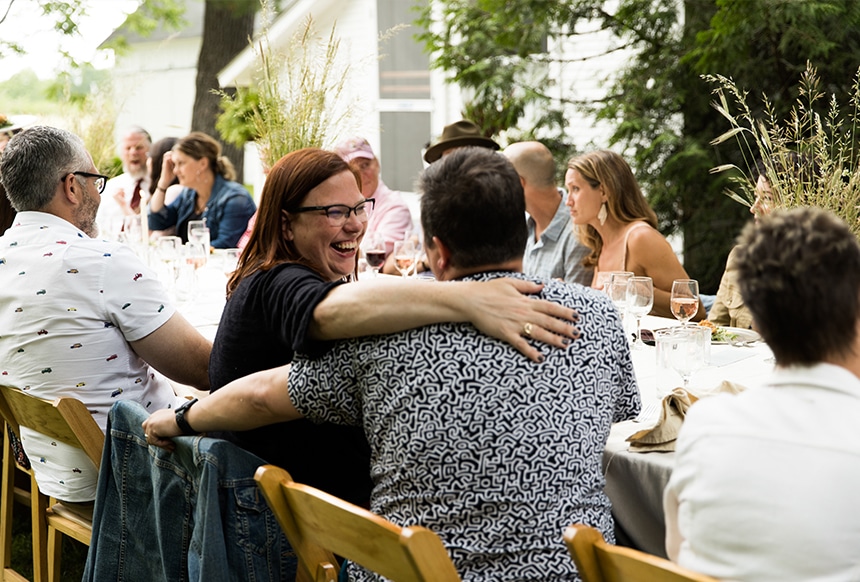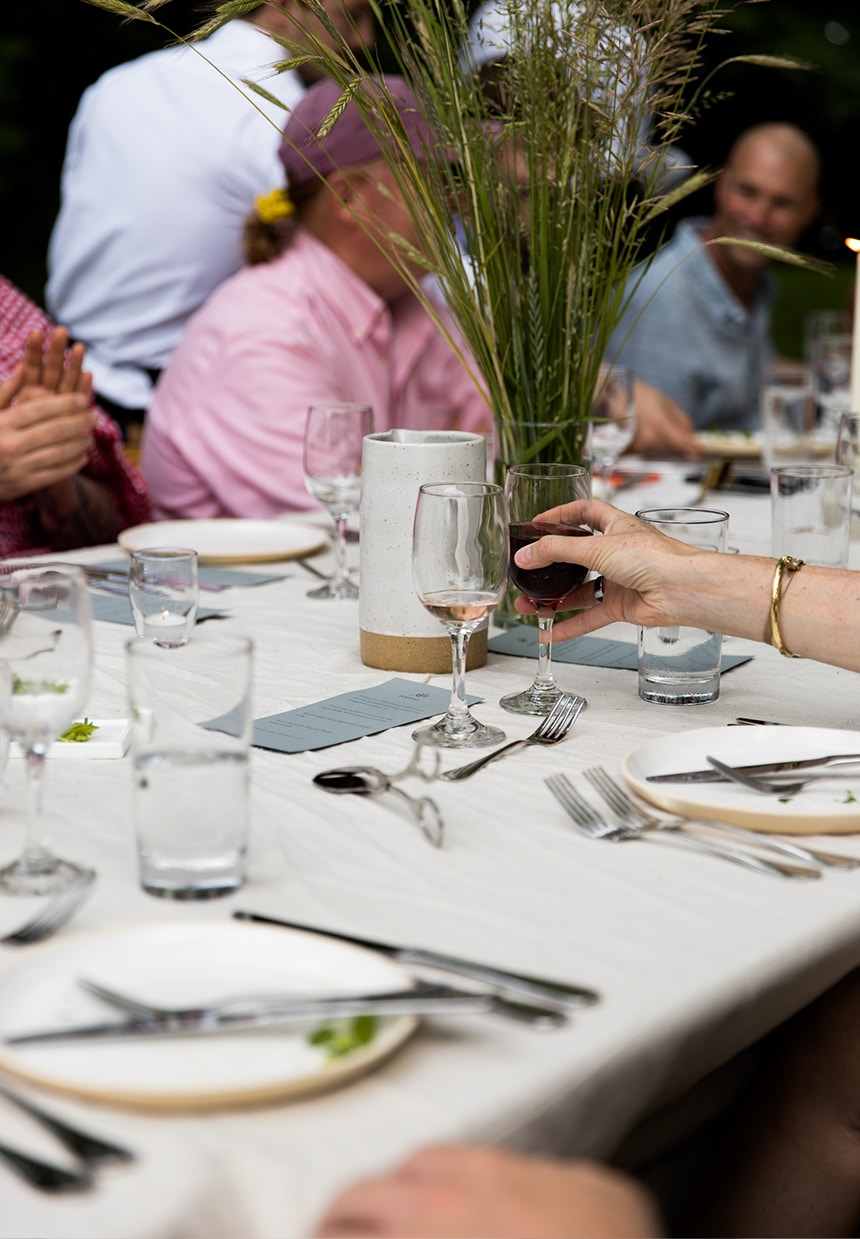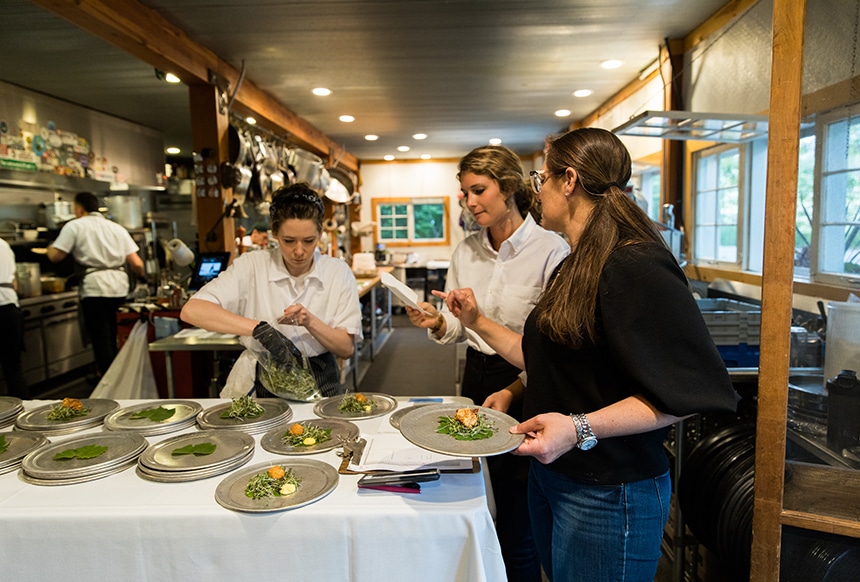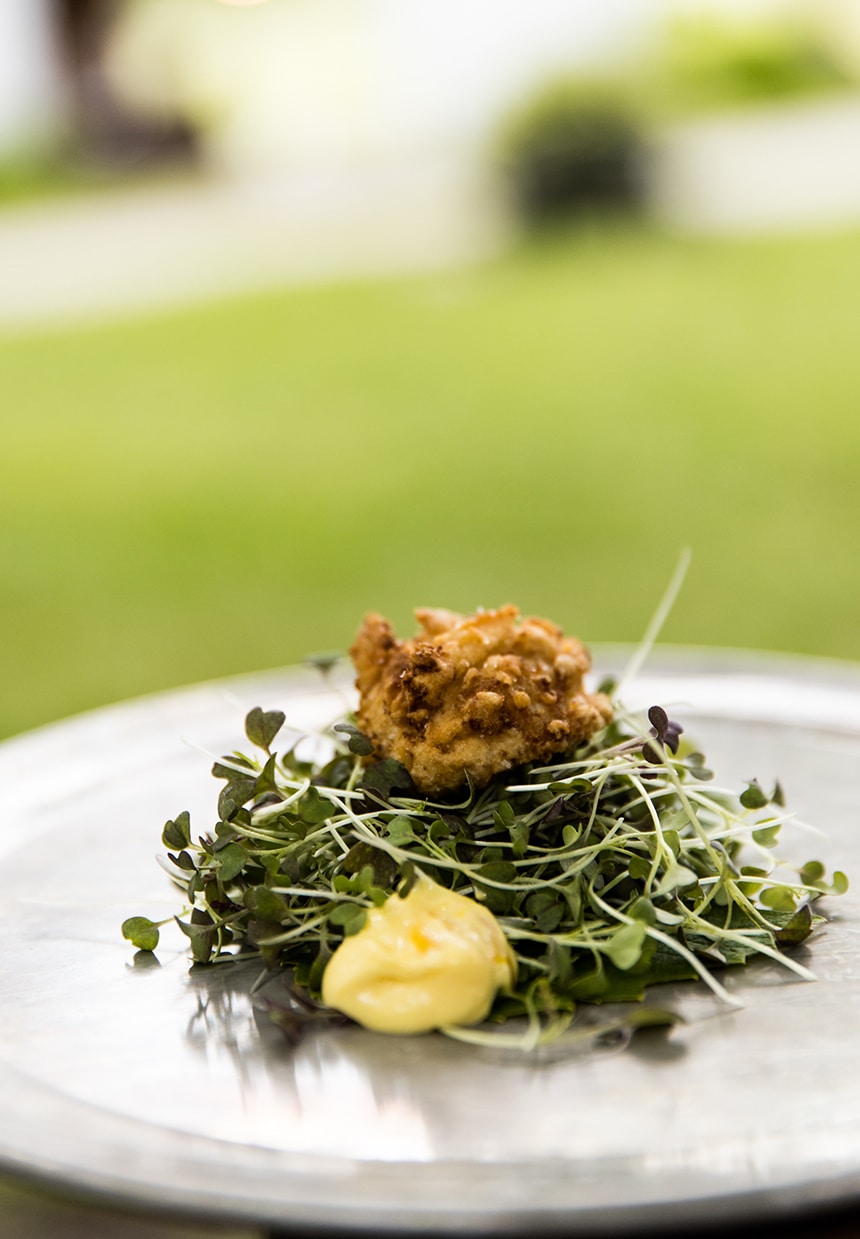 Next up for the evening Andy had a friend gather Perch Rowe from the lake back in the fall and saved it for the evening. He fried it in batter and served with Aioli and local microgreens. One of the most interesting things we were given for dinner, but it was a huge hit with everyone. He served the dish on our Camp Plates which are perfect for outdoor gatherings.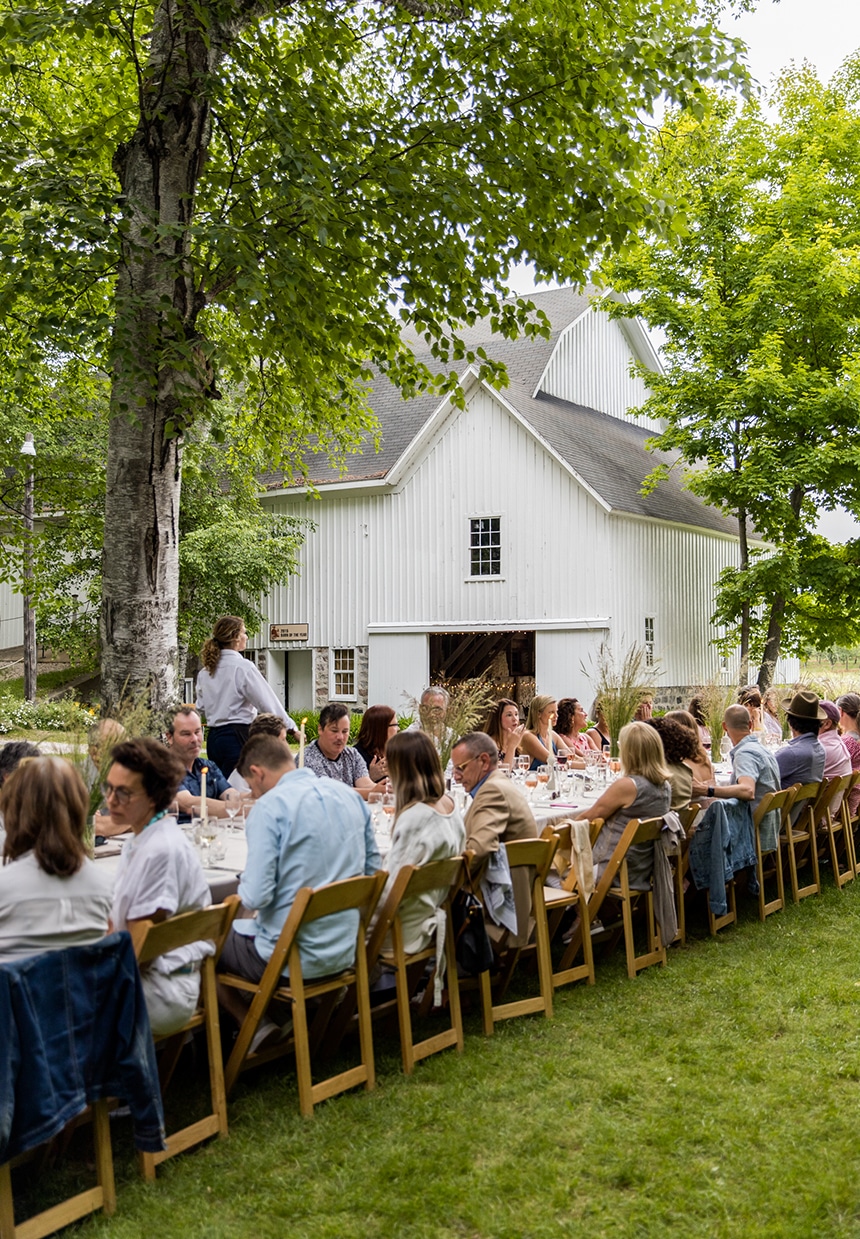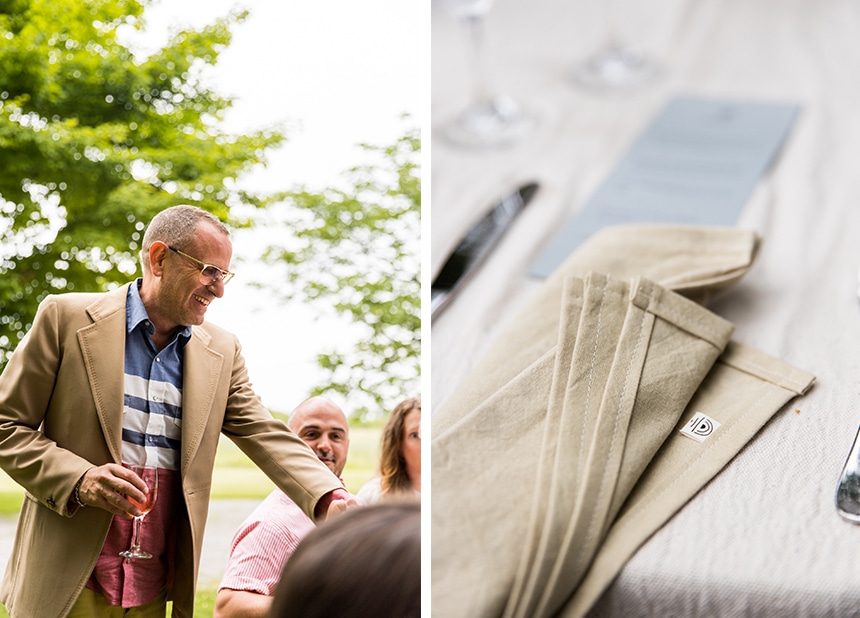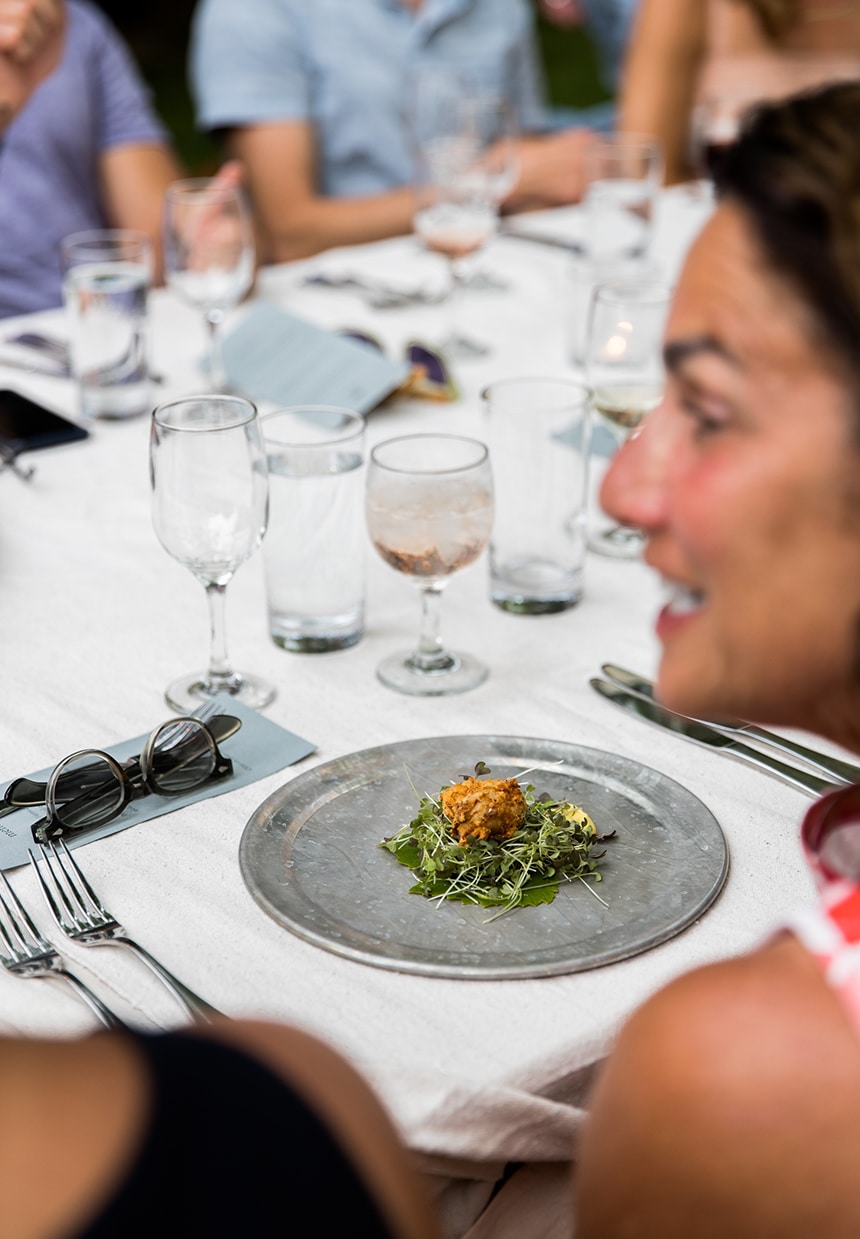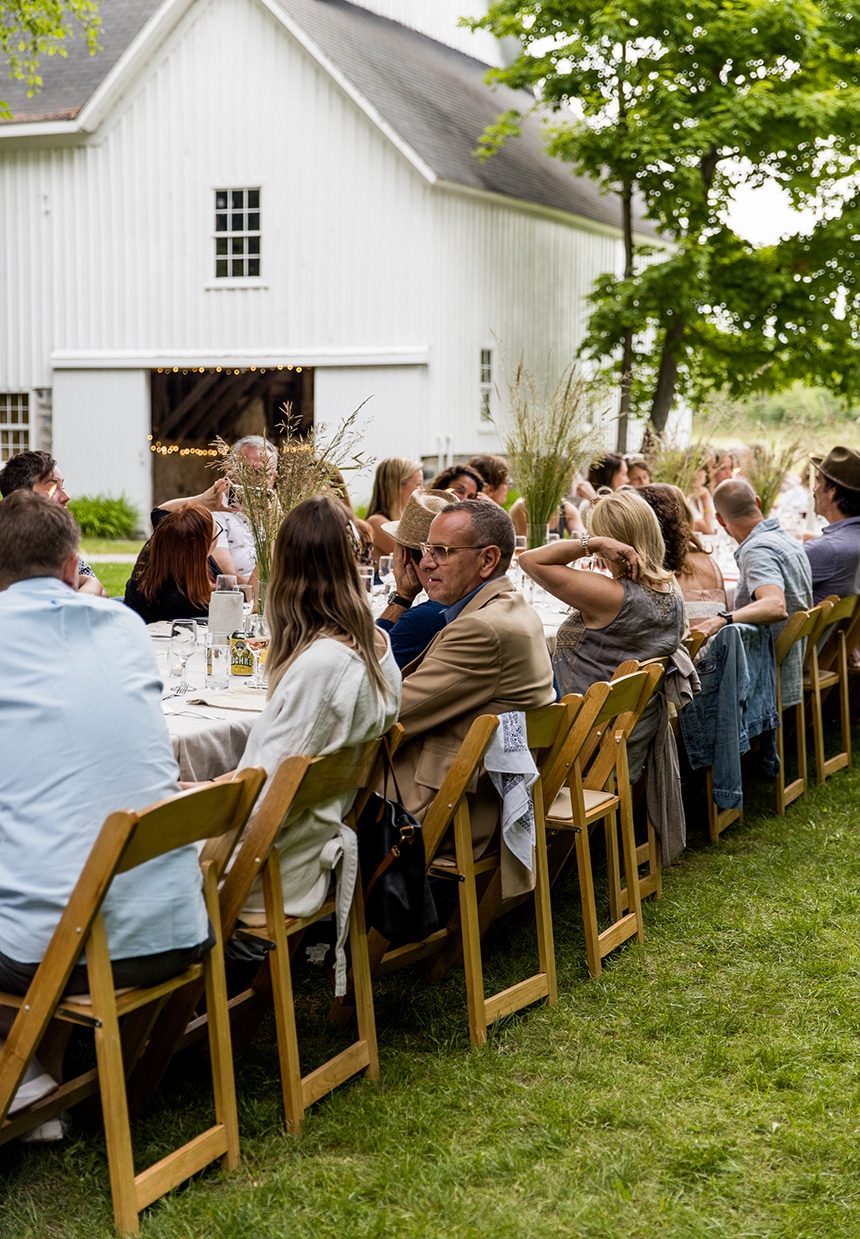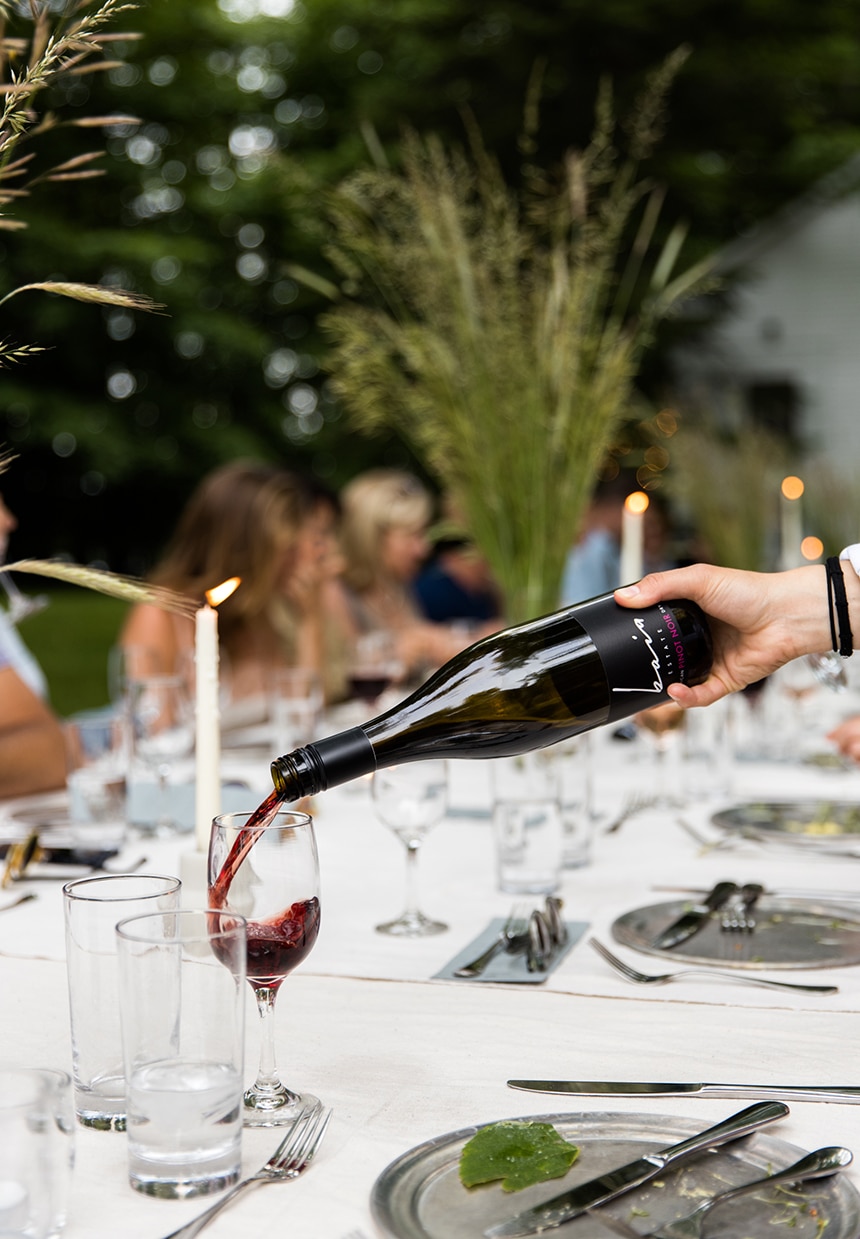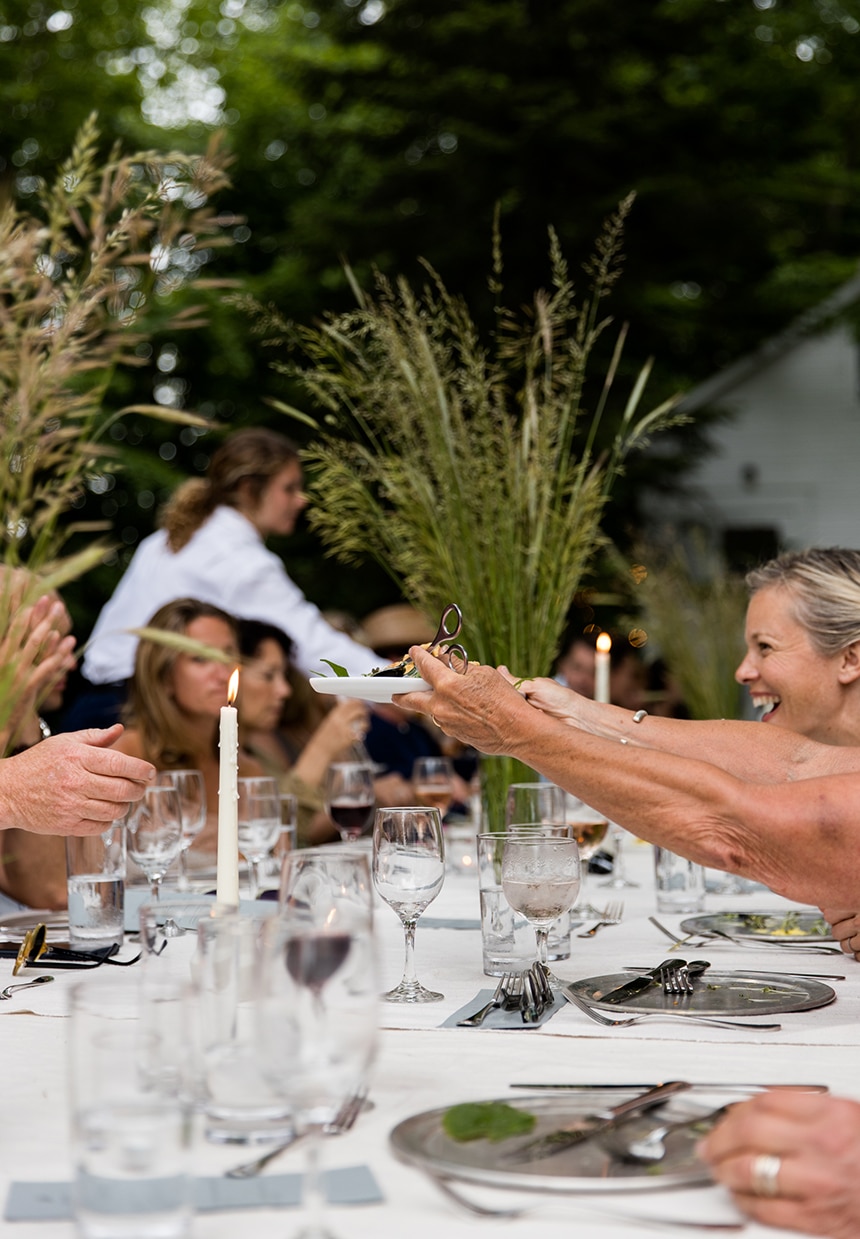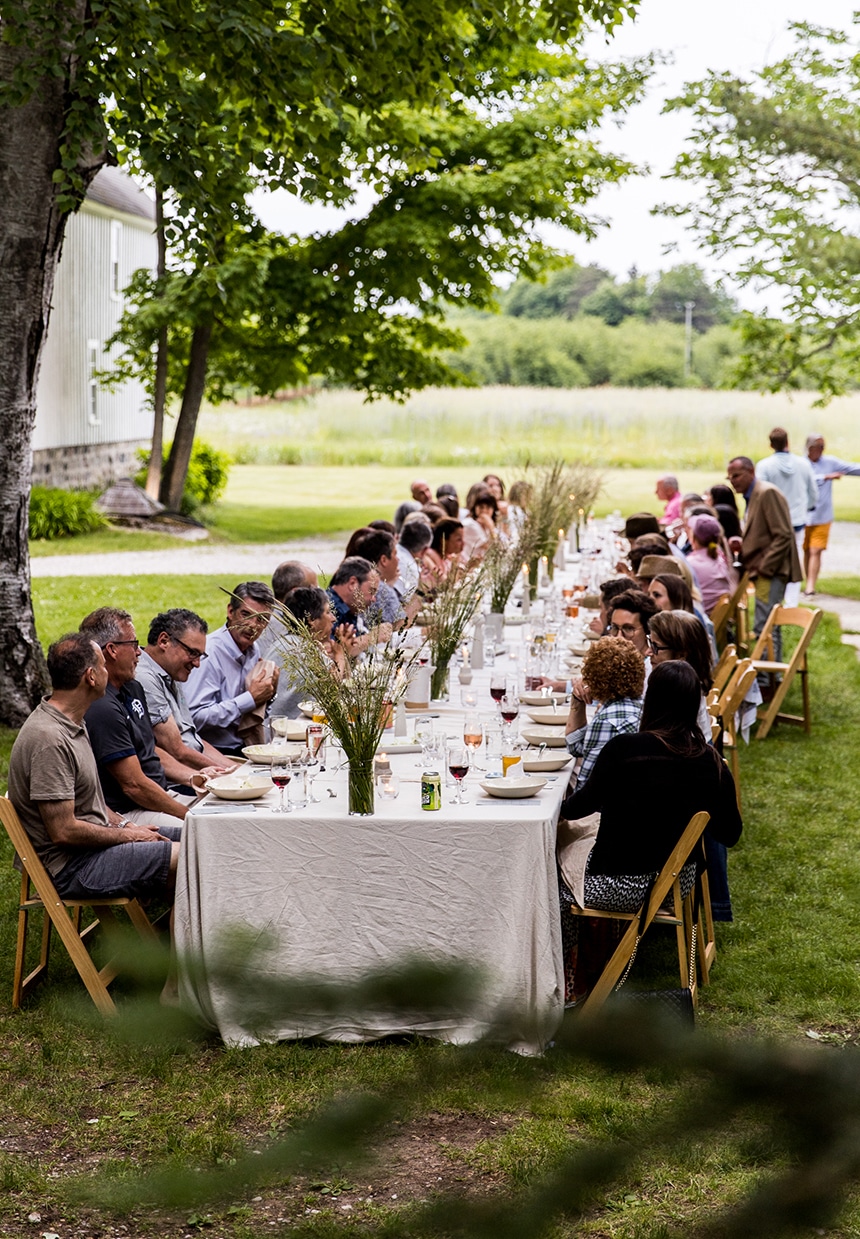 The next dish was served in our Every Season Bowls, which we love for both plating a meal or for serving something to pass. I am all about something that is multi-use in the kitchen. But these were perfect to serve up the pasta dish for the evening that Andy made. The turkey in the pasta was caught that spring by Andy and he had saved it for the evening for the dinner.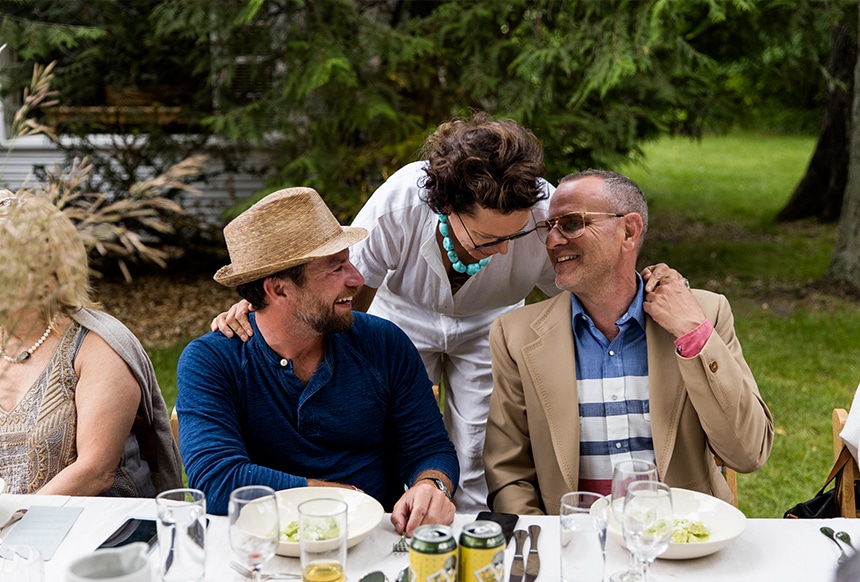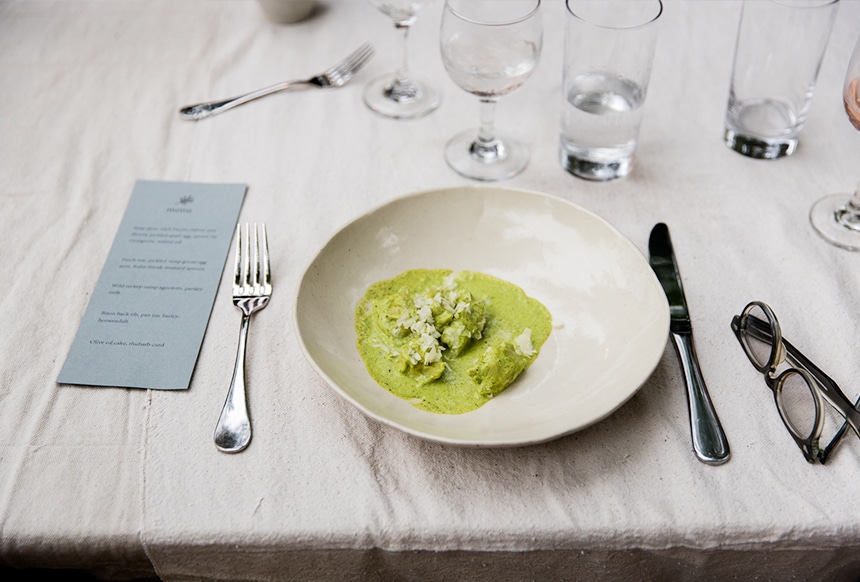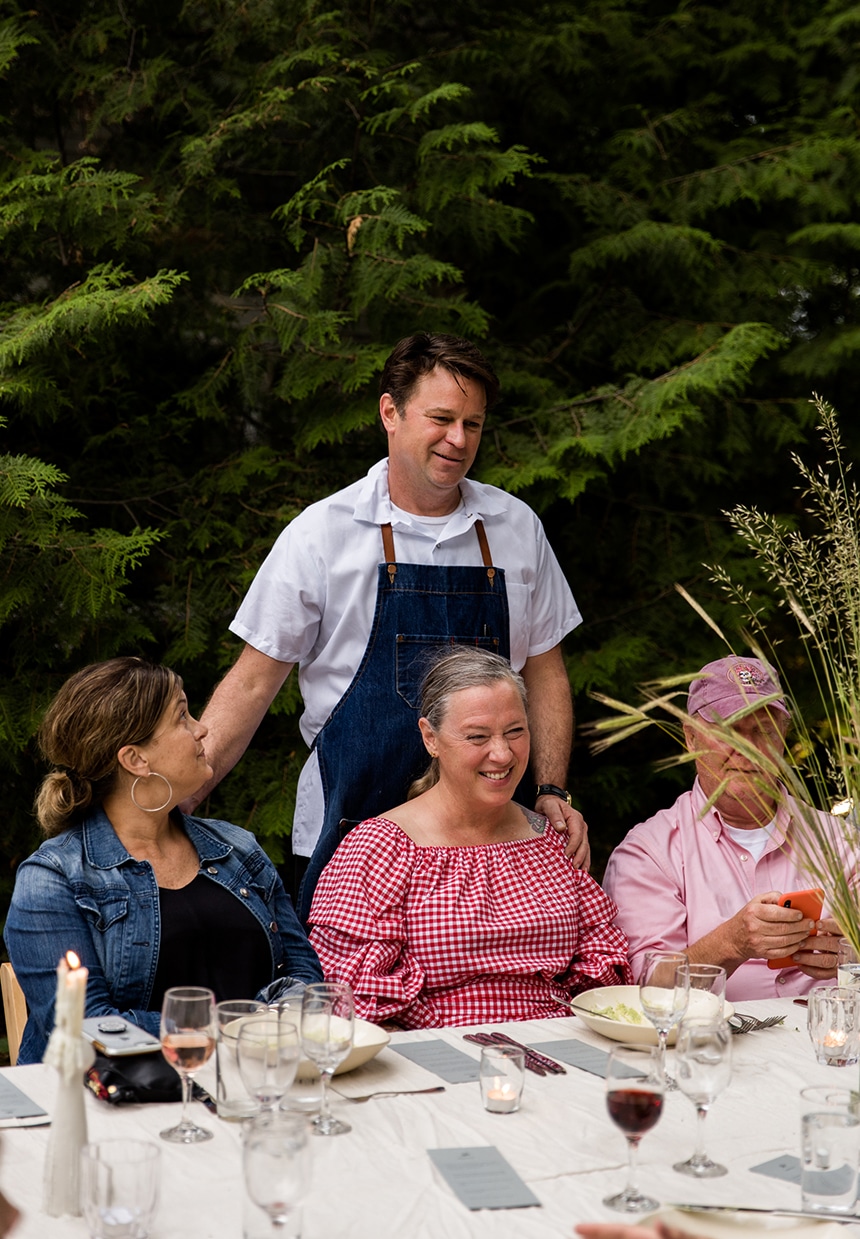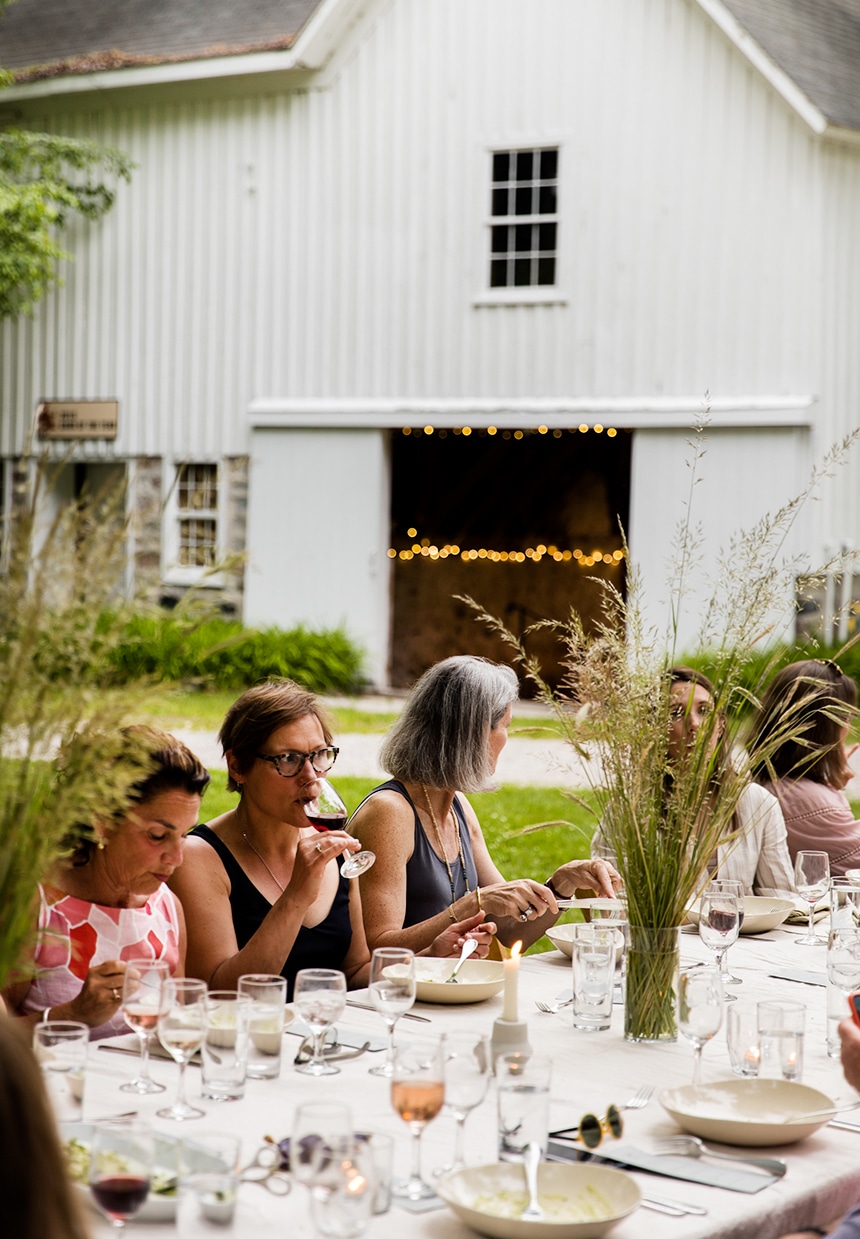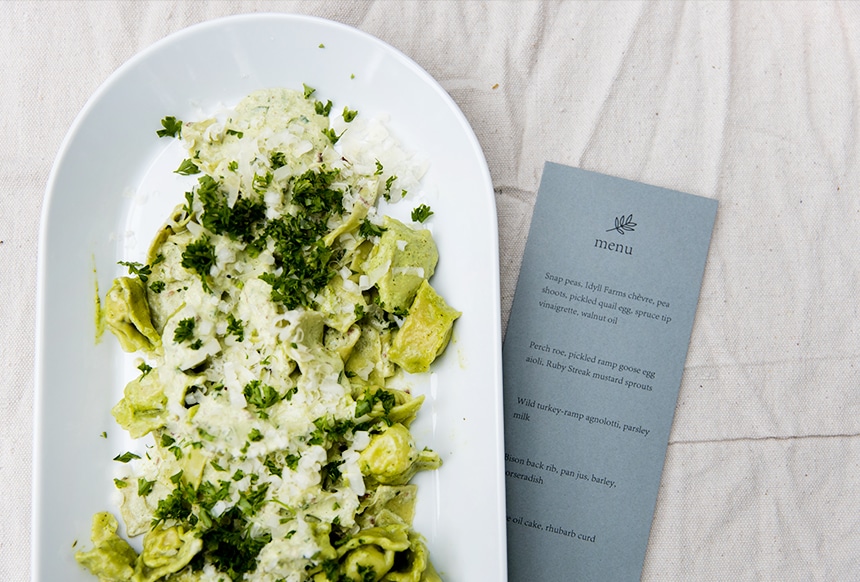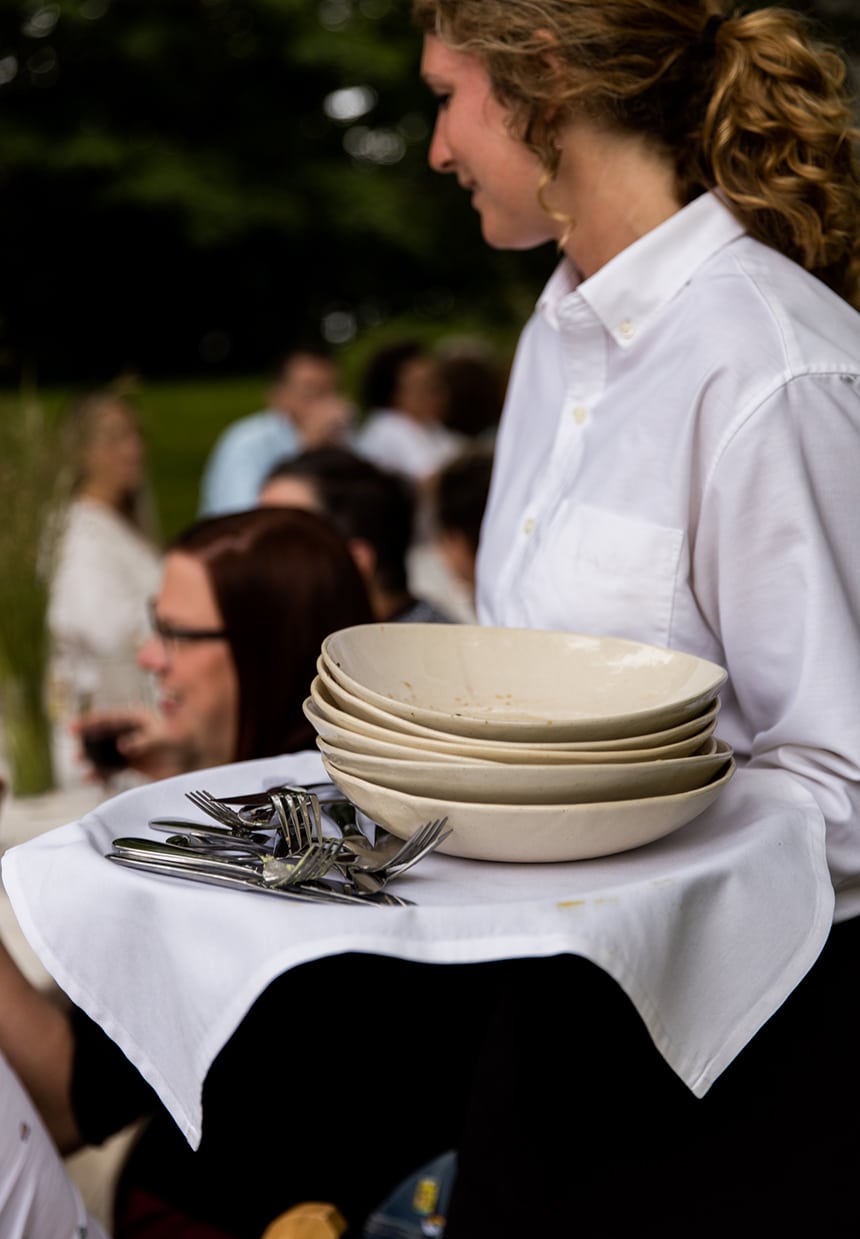 The protein of the evening was a Bison served in our Ramekins. It was amazing to see the ramekins used in a unique way outside of what we have been using them for in our own kitchen.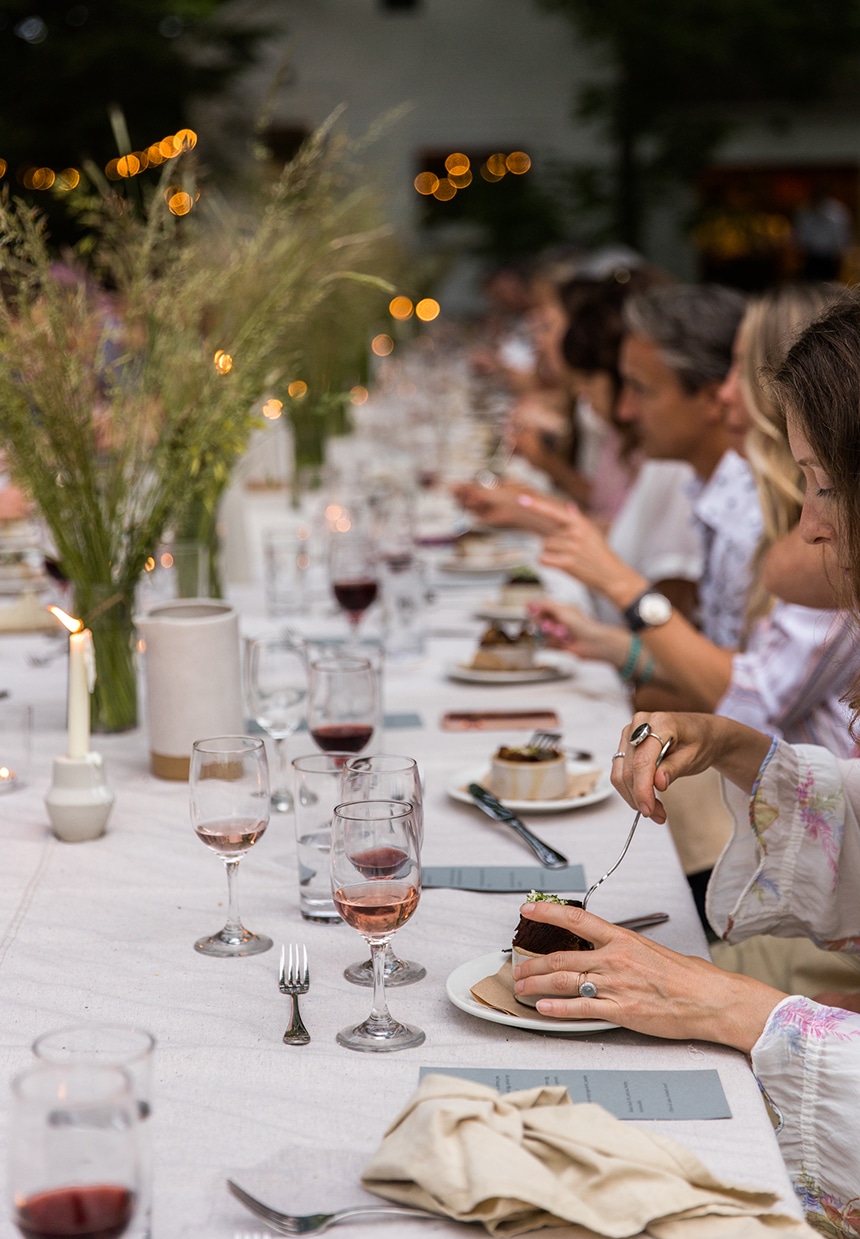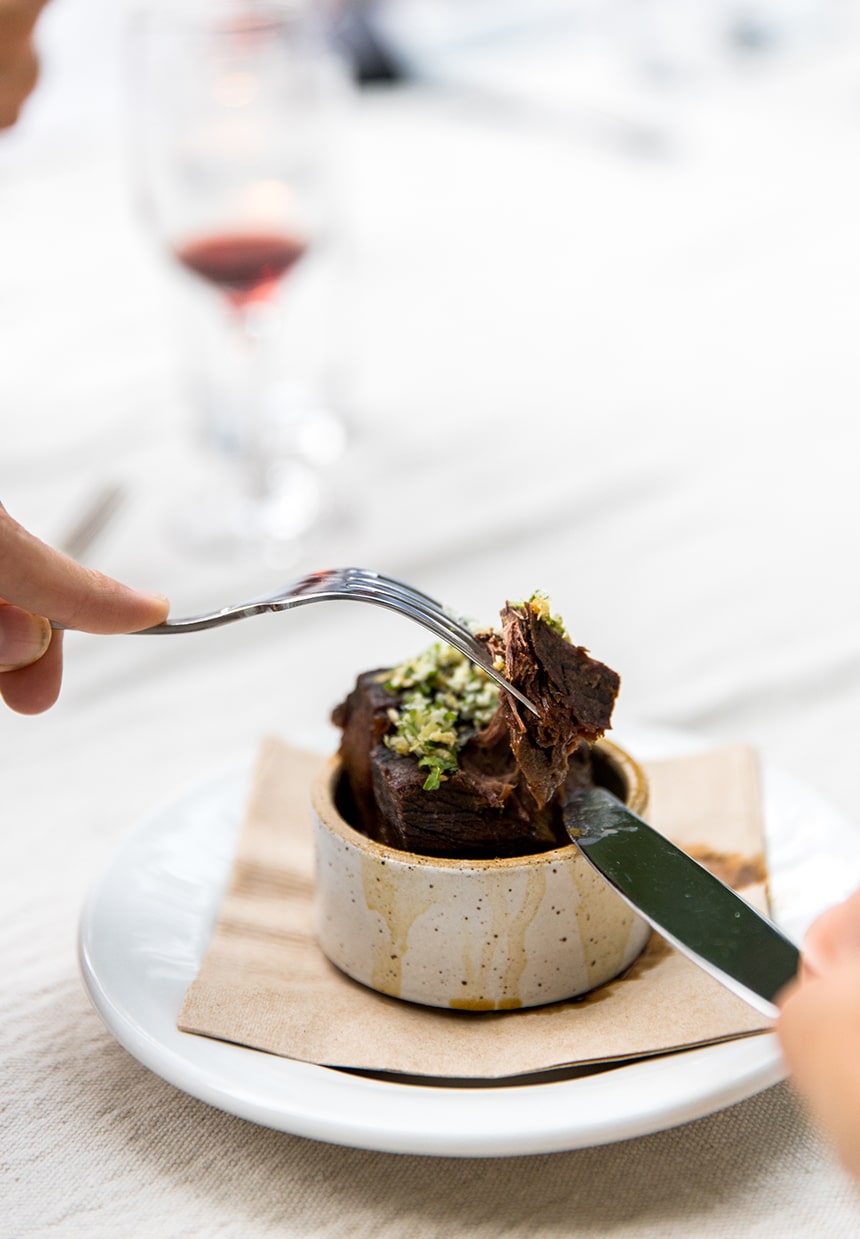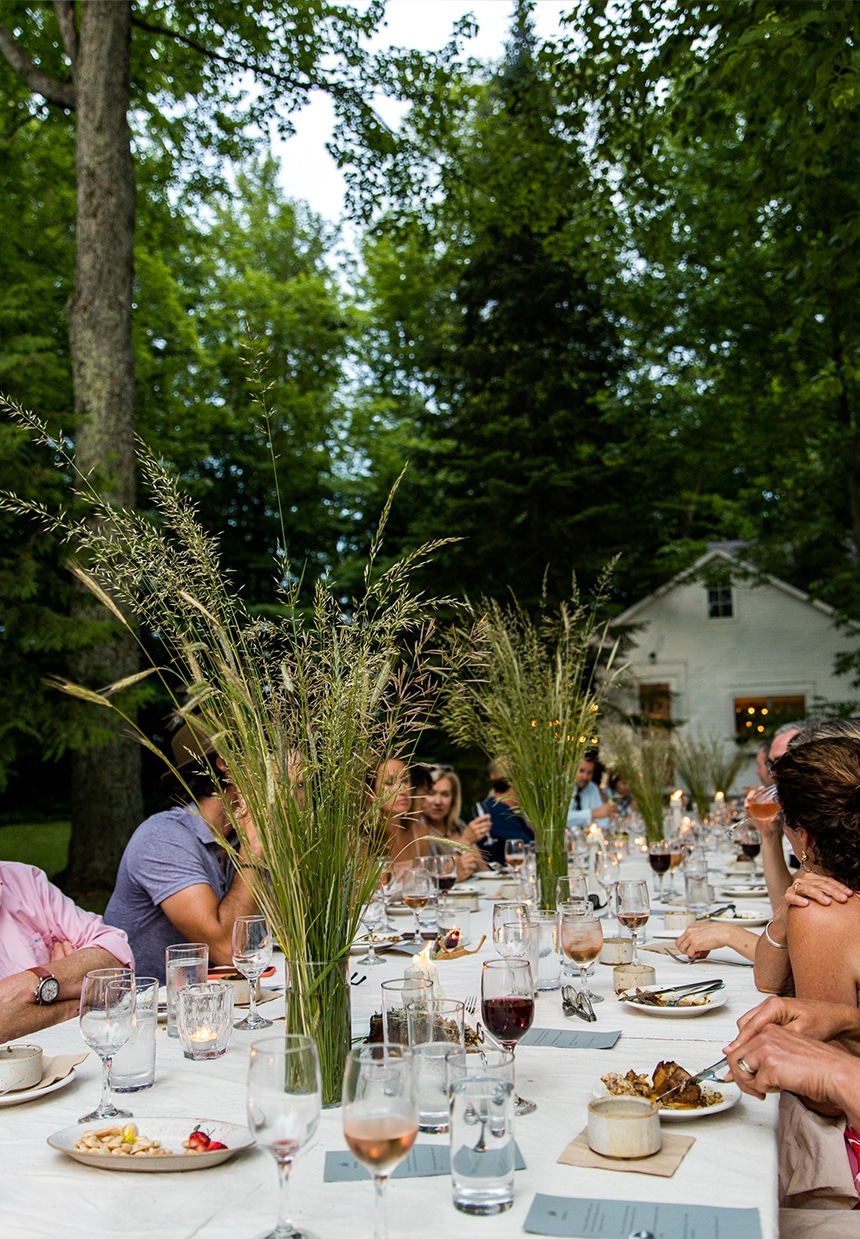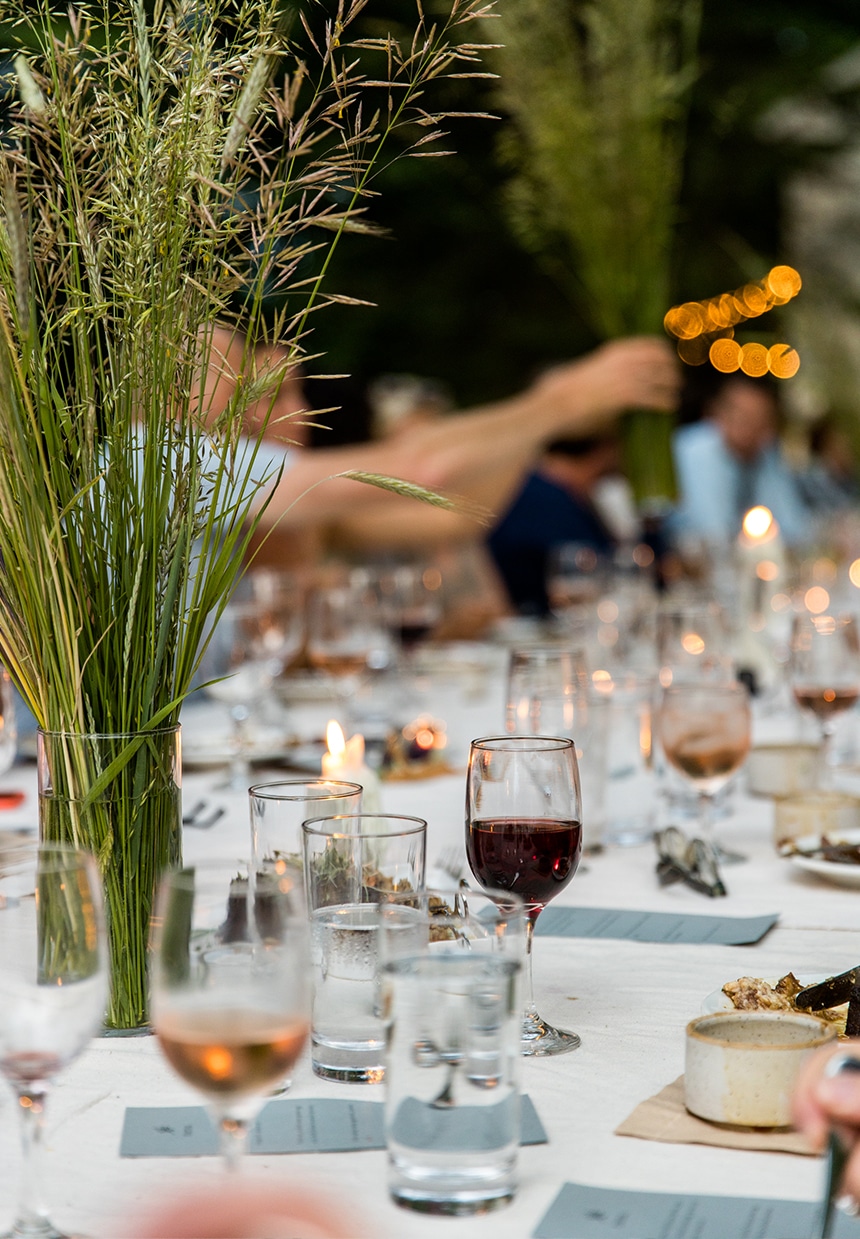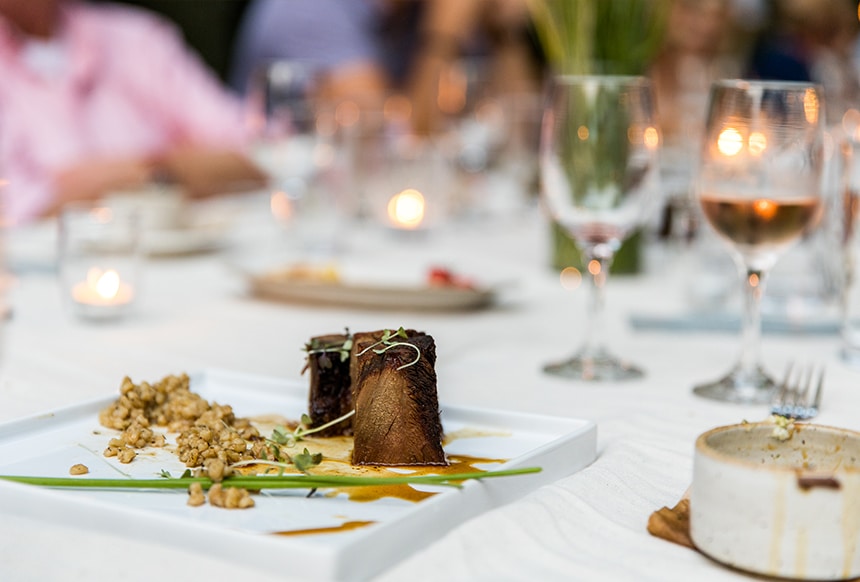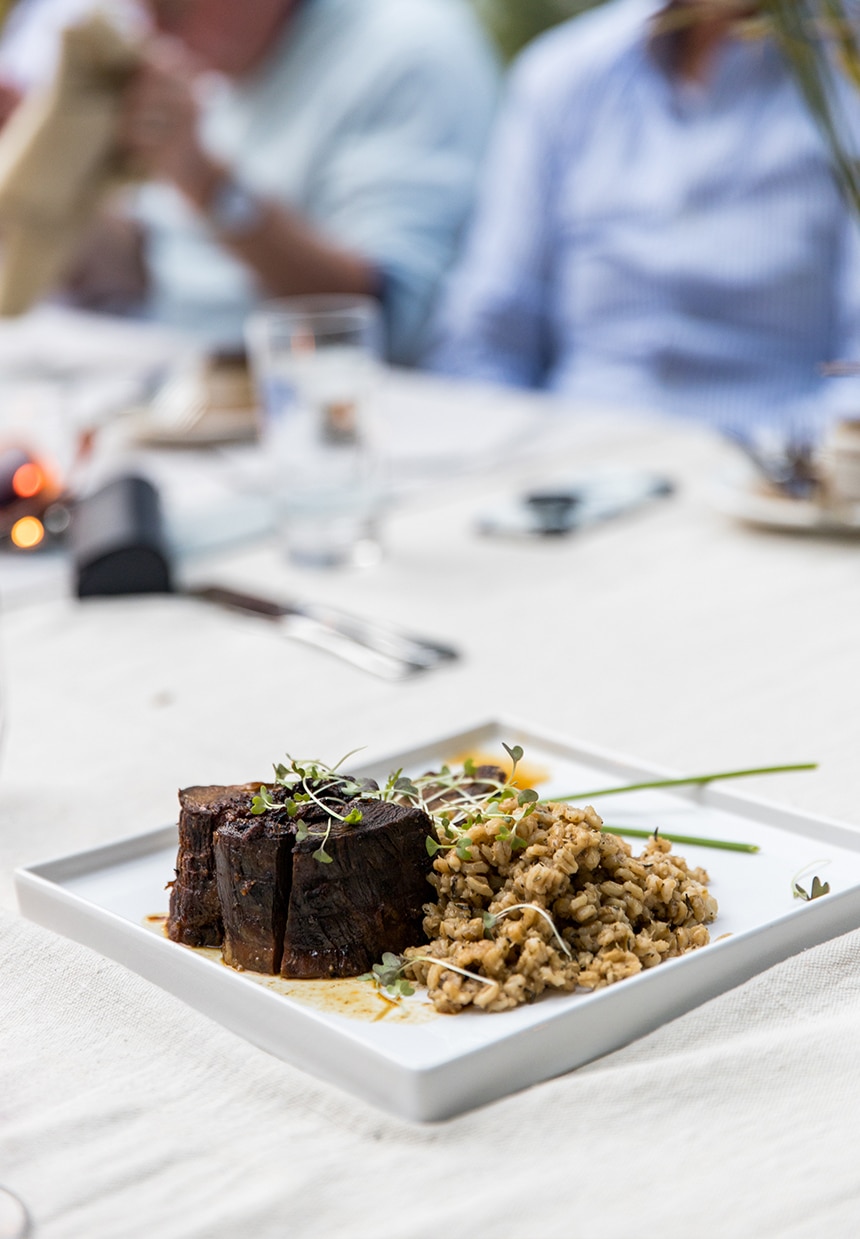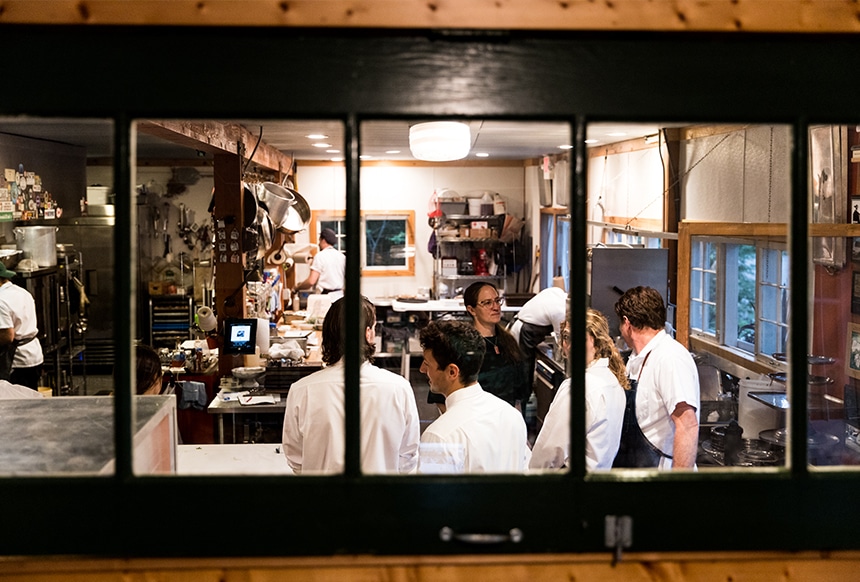 The final dish for the night was the olive oil cake with Rhubarb custard. Since it was late June Rhubarb and strawberries were abundant and no one can get enough in June of them especially after waiting so long for them.
While we enjoyed dessert that evening, we voted on our menus for the charity we would like to see the proceeds of the event go to. There are three local charities that are given as an option and the one with the most votes receives the proceeds for the evening from the Michael Chetcuti Foundation. That night we helped feed local kids with healthy meals within our county that don't have access to food in their homes.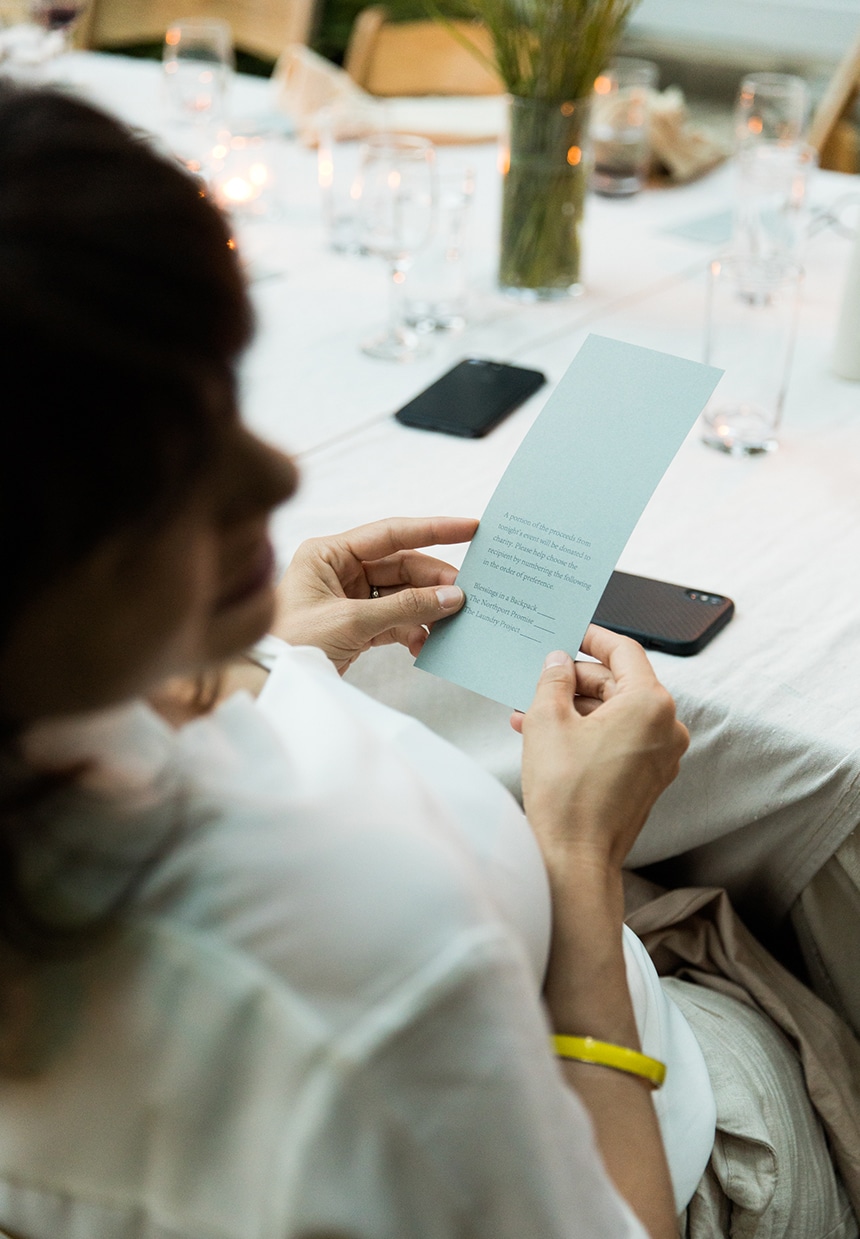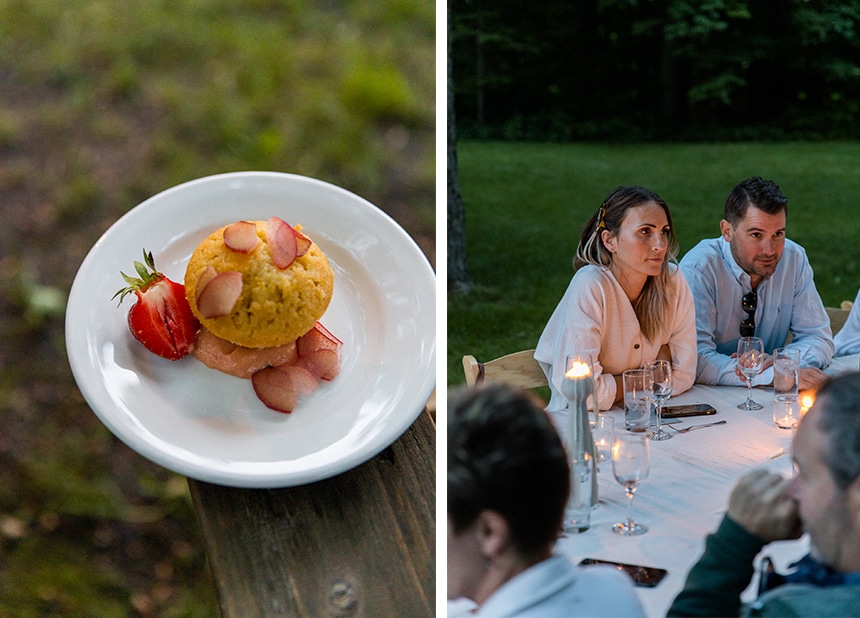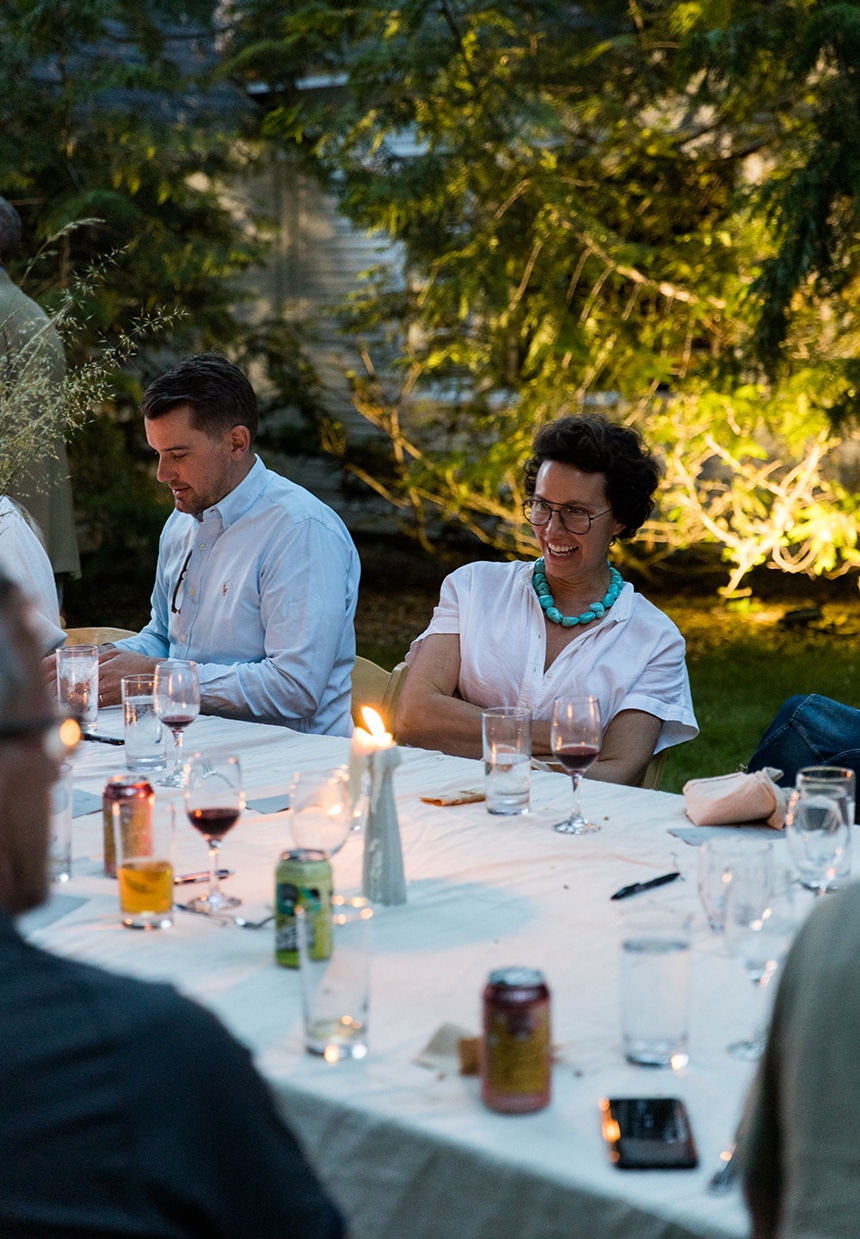 The evening was extremely special and a total dream. If you would love to attend one of these events, which are open to the public, I suggest following Epicure Catering on Instagram and to check in on My North Tickets for tickets for the events which are typically held between June and September each summer.
If you loved any of the items from the gathering, here are the items from the shop. We just launched our camp plates and our Every Day Plates for sale in the shop this week and hope to see them land in your homes!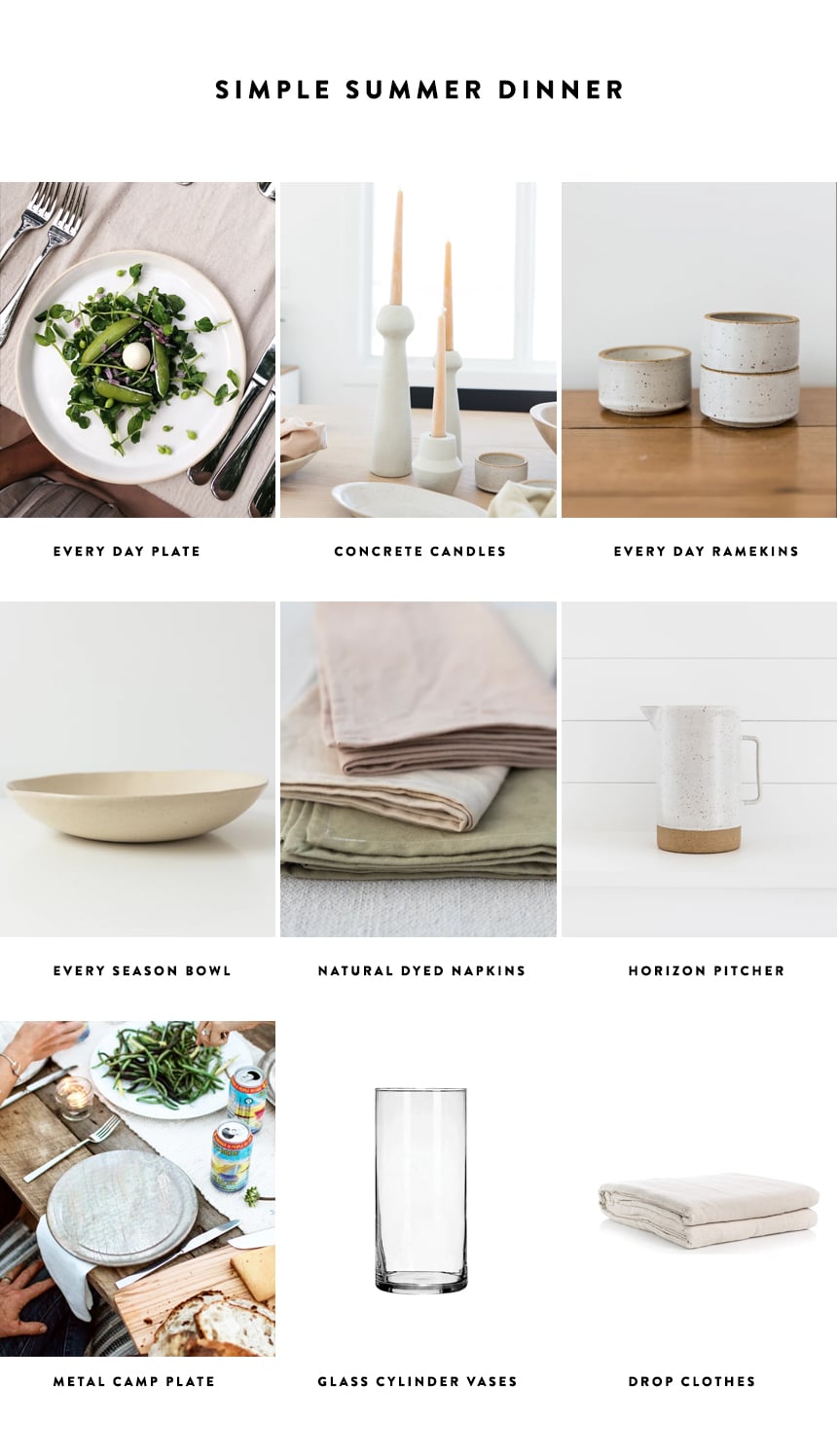 Every Day Plate $38 | Concrete Candle Holders in 3 sizes starting at $20 | Every Day Ramekins $20 | Every Season Bowl $50 | Naturally Dyed Napkins $23 | Horizon Pitcher $120 | Metal Camp Plate $6 | Glass Cylinder Vases $27.59 | Drop Clothes $11.99
**** A huge thank you to Michael Chetcuti and Kyle Evans for working with Epicure and Cherry Basket Farm to host these dinners. Also, thank you to Baia Estate Vineyard and Arbor Brewing Company for providing the drinks for the evening. ****