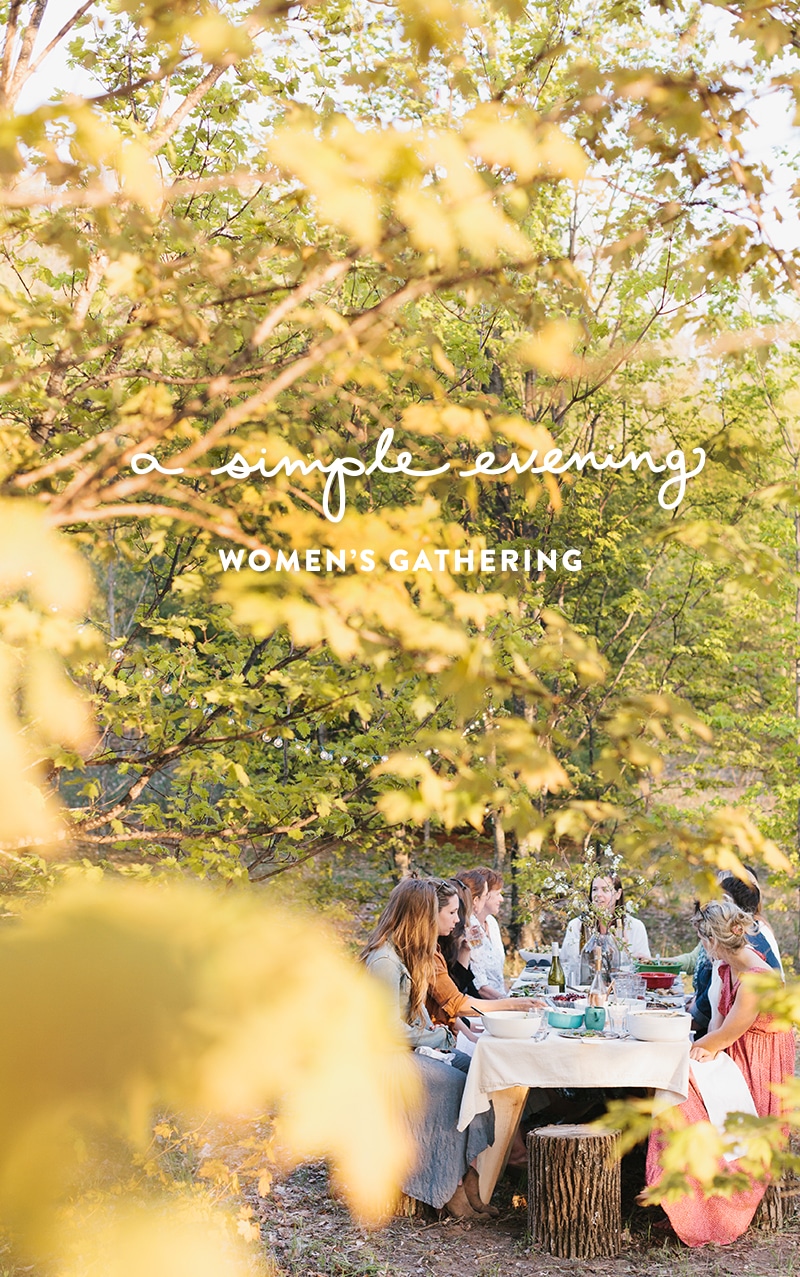 All images were taken by Mae Stier and some were shared in Traverse Magazine
It felt spring took forever to come last year. A late snow storm that shut our town down (which is rare) and closed airports kept our days colder than we hoped and the snow stuck around later than usual, but in the last few days of May the heat of late spring showed up as if she always would and without question. And I scheduled a dinner with a crew of ladies. The concept was to bring together women who knew each other some who didn't and to bring women together of different ages and professions. I know so many wonderful women and our area is surrounded with such creative souls I couldn't imagine not holding our annual women's gathering again.
It was the first spring we were spending in our new home and our yard was still dirt, but all over the land the grasses were still low but the leaves had opened and were creating these beautiful spaces for us to hold a dinner. We build a table from saw horses and pieces of lumber from Lowe's. I draped cotton drop clothes over the table to hide the lack of sanding on our make shift table and my friend Laura and I filled the back of our Silverado with stumps for guests to sit on because we didn't have chairs. We set the table simply with picnic plates, very basic silverware and muslin kitchen towels. I found blooms in the woods and placed them in the vase and scattered candles around the table. It would be comfortable for 14 women and the perfect setting for them to get to know each other.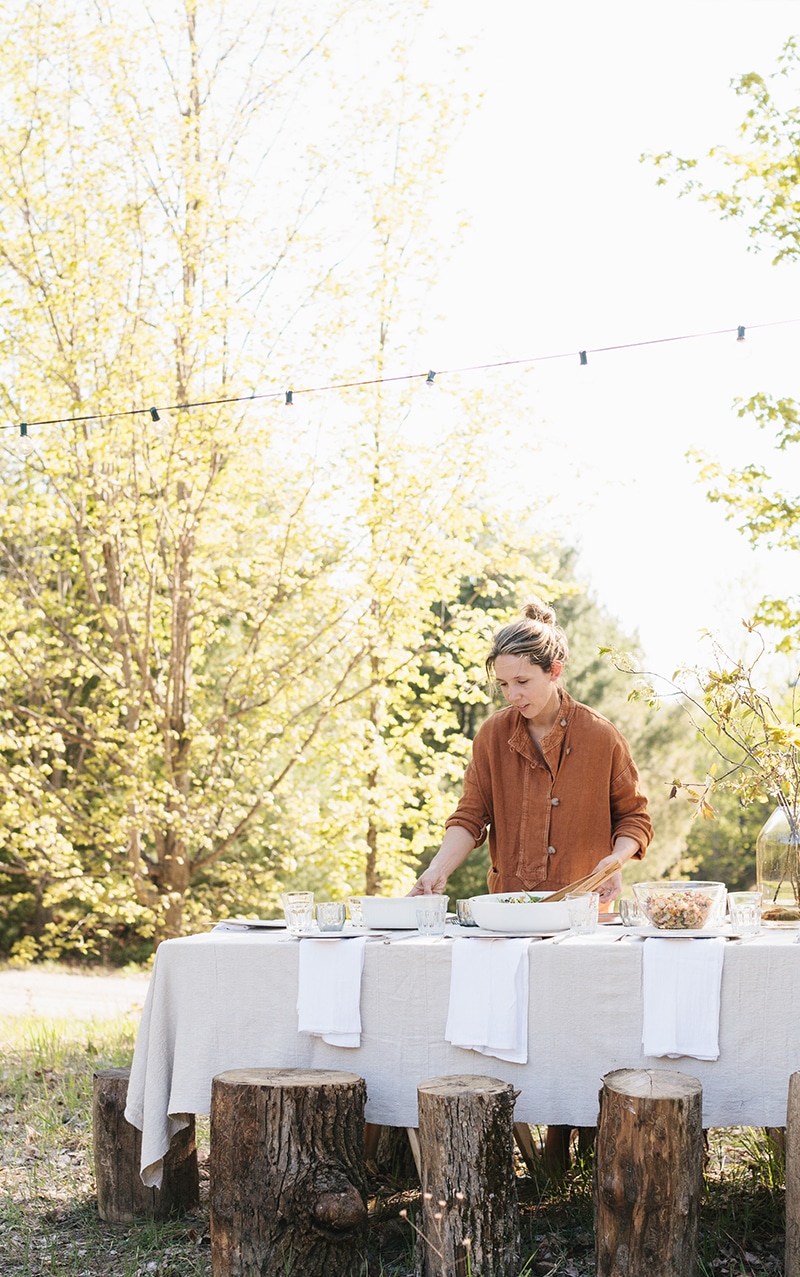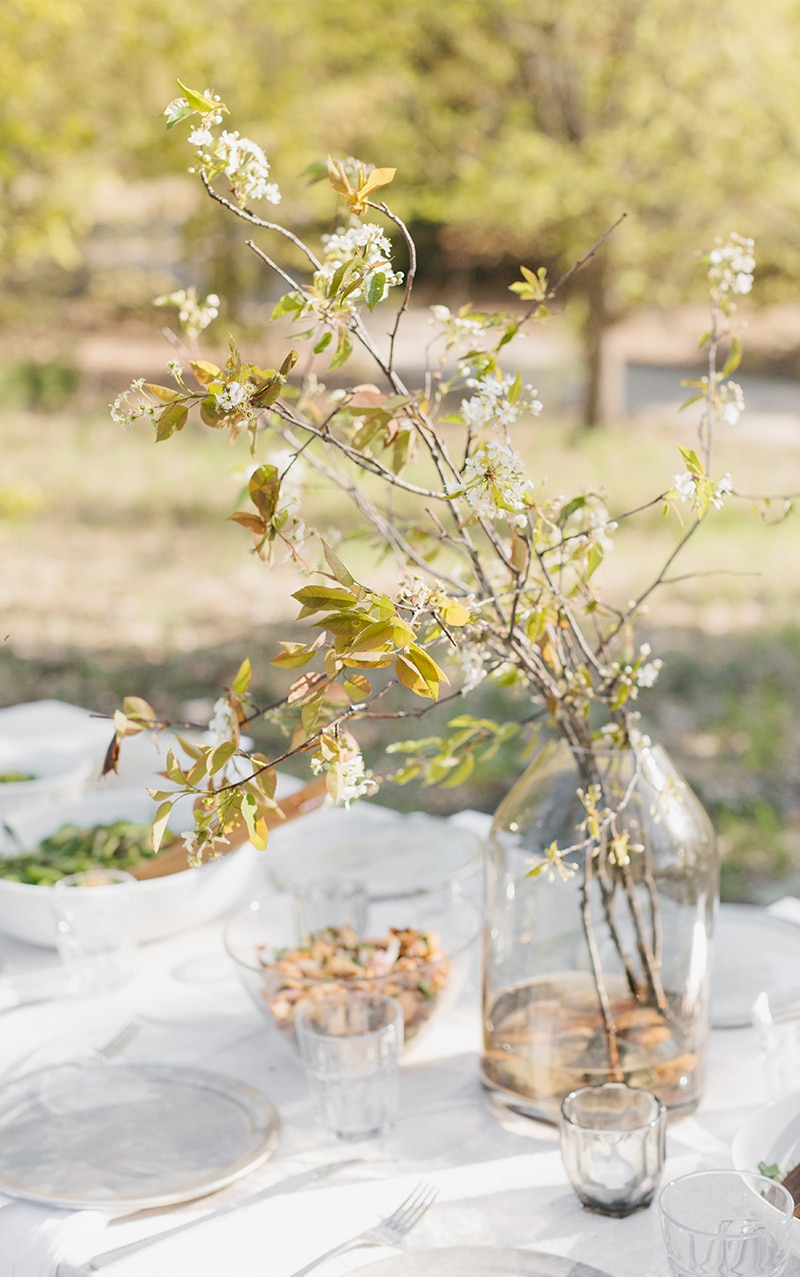 Every woman was asked to bring a favorite spring dish to pass and a friend with them. I invited a total of 7 women. The hope being that everyone would bring someone new for us to meet. I was so excited to get to know new women and catch up with other older friends I hadn't seen in a while.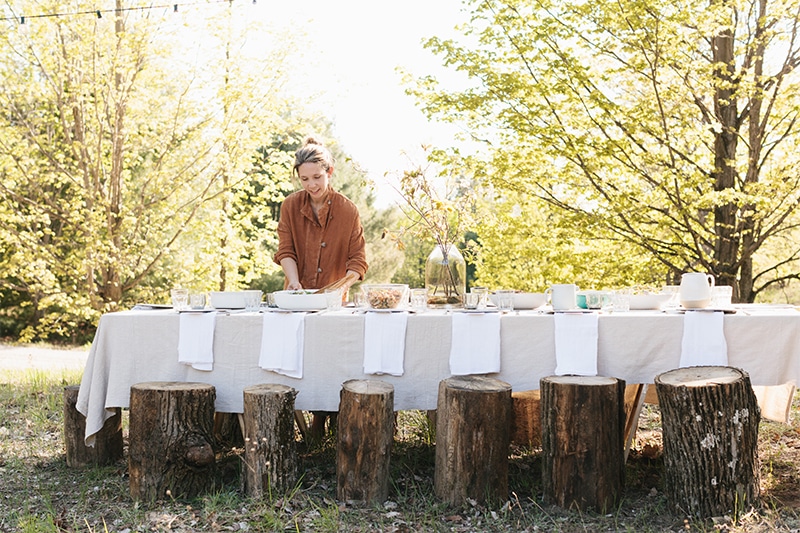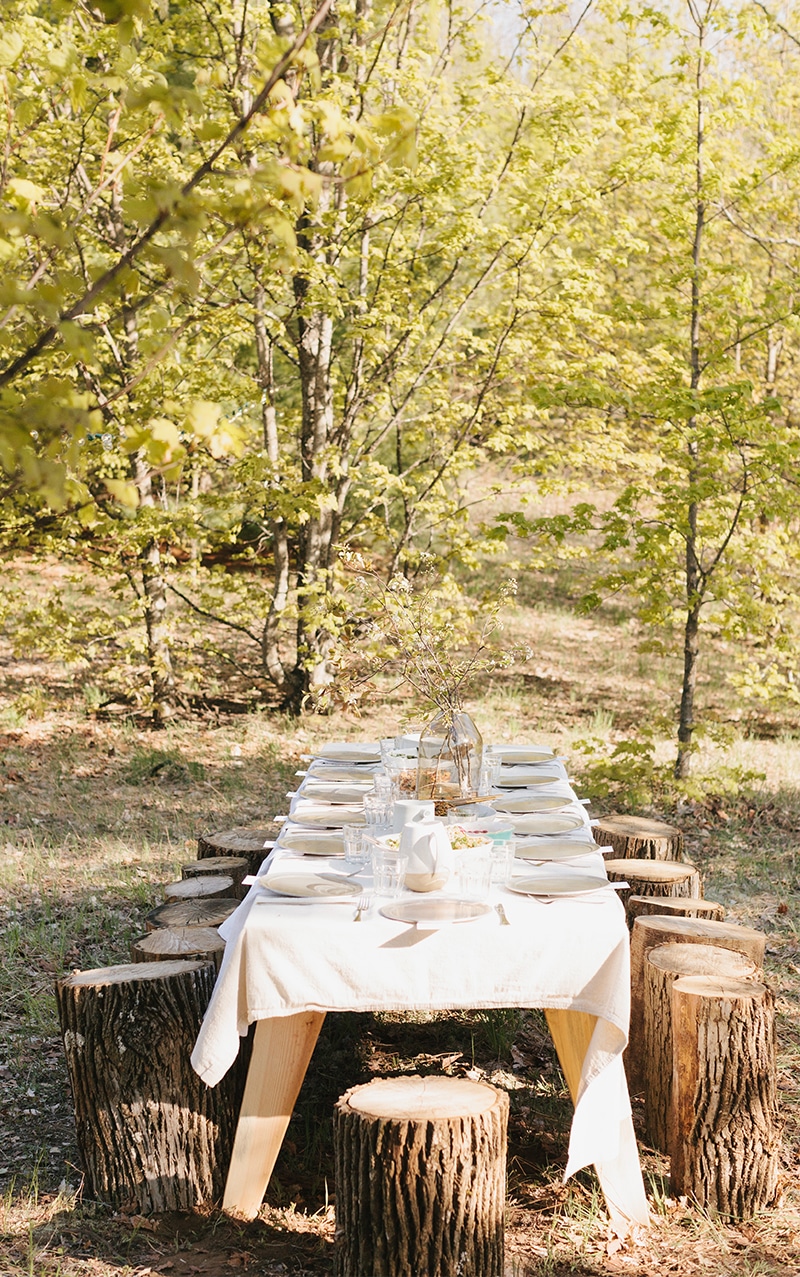 I tell people all the time, it isn't about perfection when it comes to gathering. It is about creating a space of comfort and community with great food. You can set a beautiful table but if you don't have a space that people feel comfortable to be themselves then how will you enjoy that meal. I also believe that half of a table's decor are the people around it and the food on it. We have to leave space for those things to bring their own imperfect decor to the space.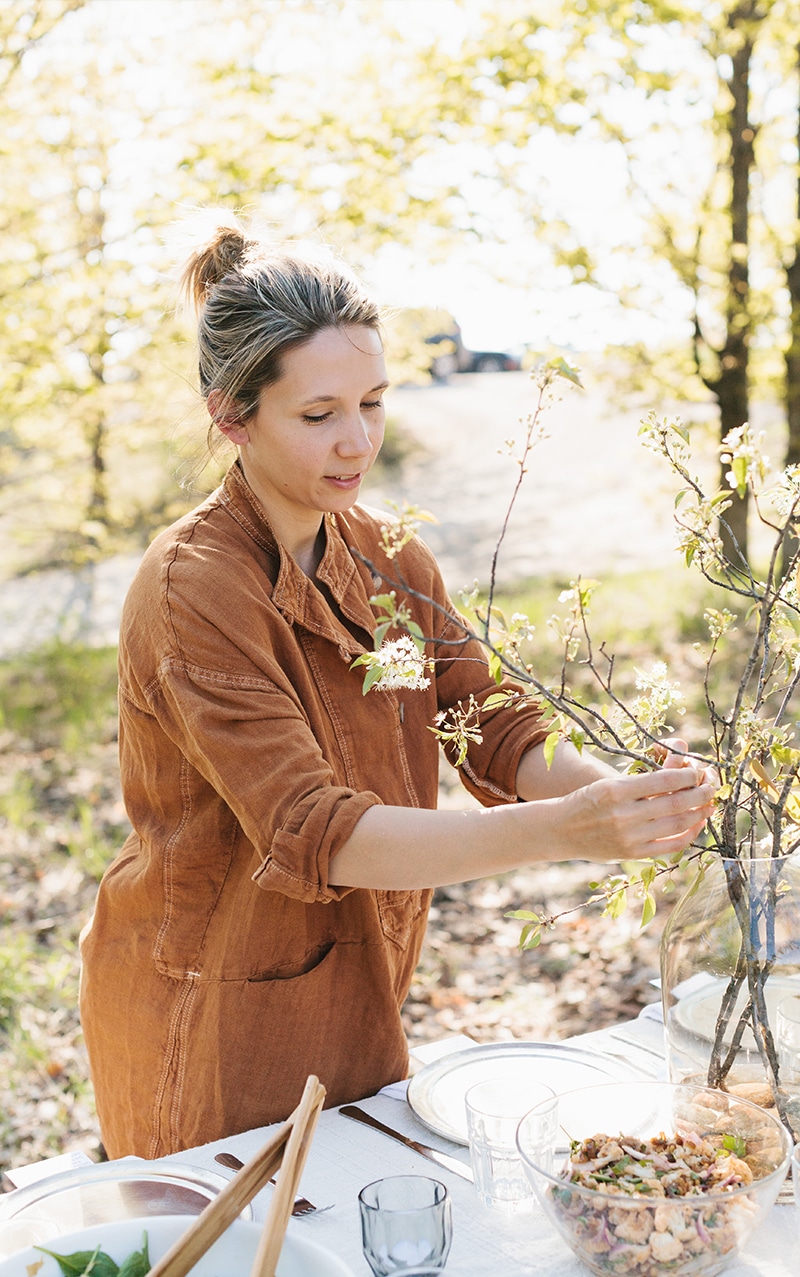 Hosting an annual women's gathering holds such a passion in my heart because in my career I have learned some of my greatest skills from other women. As a mother I have learned my greatest lessons and information from other women. I believe that when women are able to have space to support each other and welcome each other into a space of vulnerability and humility, we can do amazing things. The first gathering began MANY friendships which made me so happy to know and this year I wanted to the same.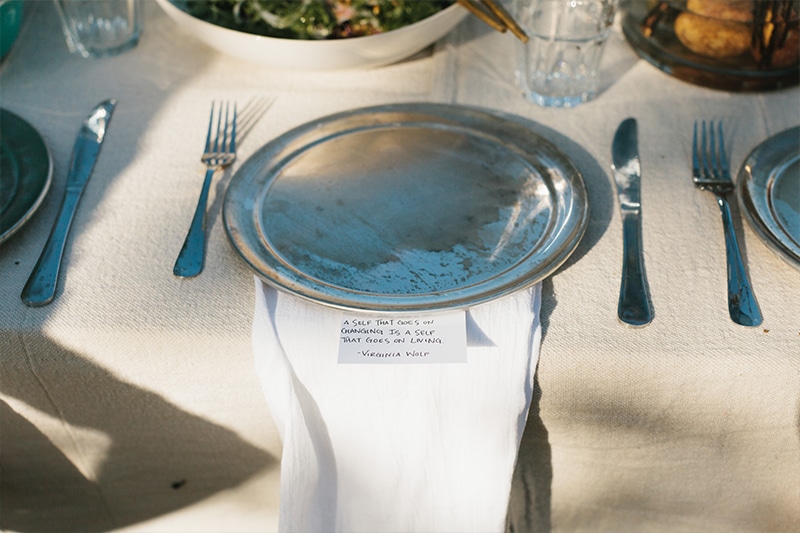 At each table setting I made sure we had a quote that empowered every woman to be true to themselves and to see the light within who they are right in the moment they are in. I wanted every woman to walk away from this night and feel inspired and filled not just of amazing food but full of connection and purpose. I mean what a way to close out one season and begin another?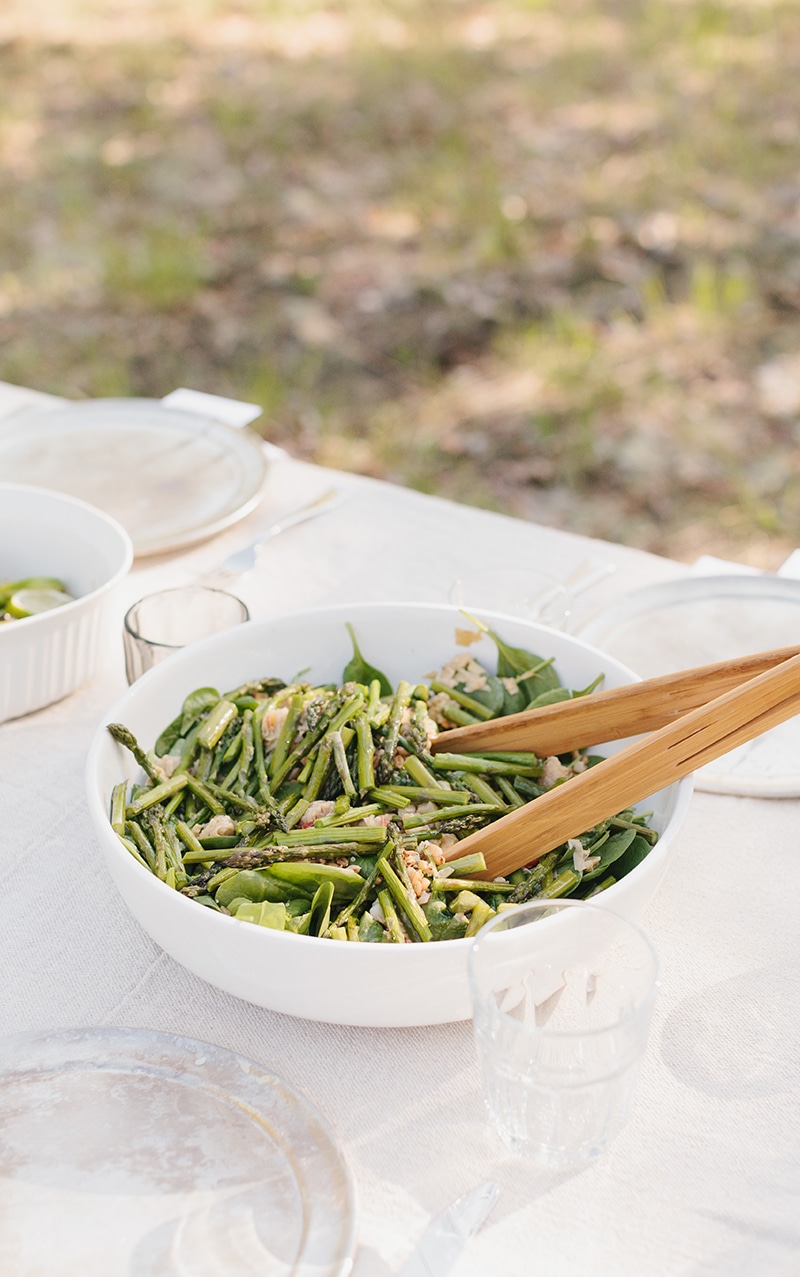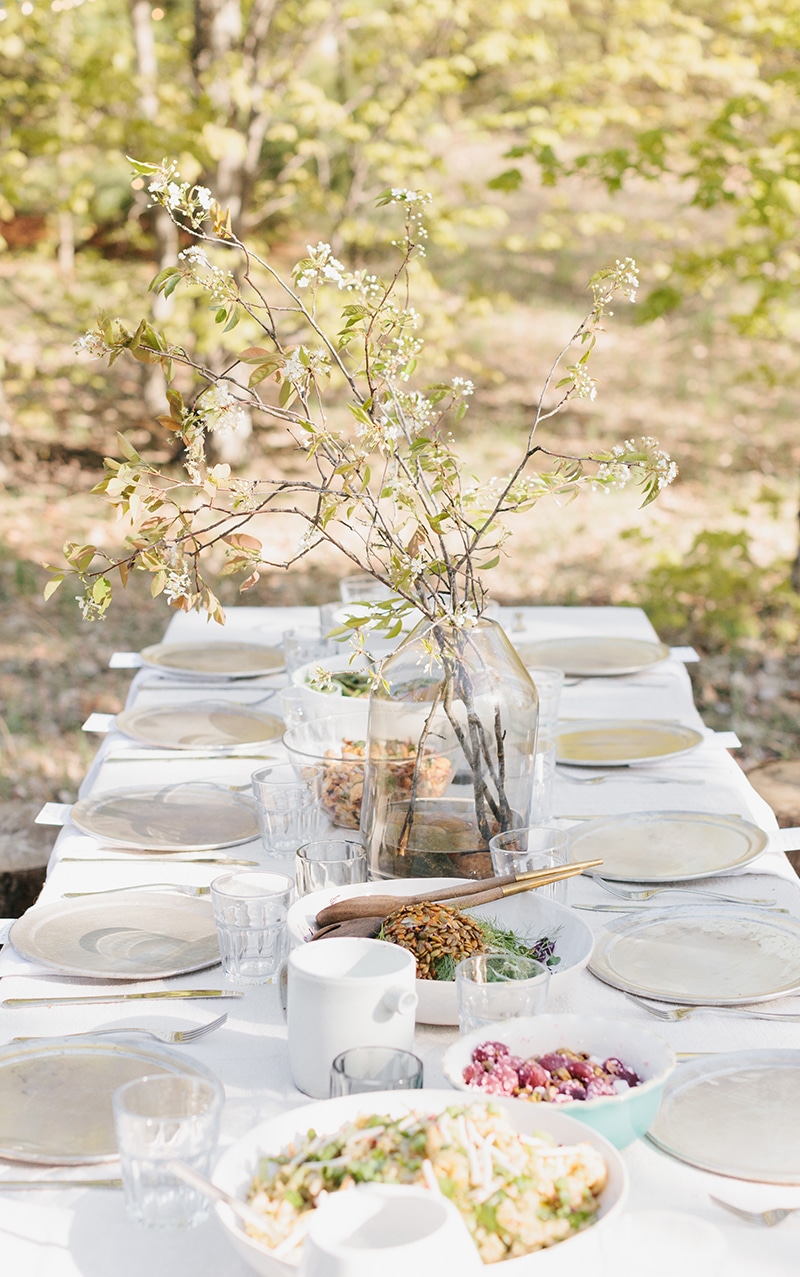 As the women began coming and showing up the night couldn't have been more perfect. The sun was warm and high. The wine was chilling in buckets and the snacks were just the center point for gathering for everyone.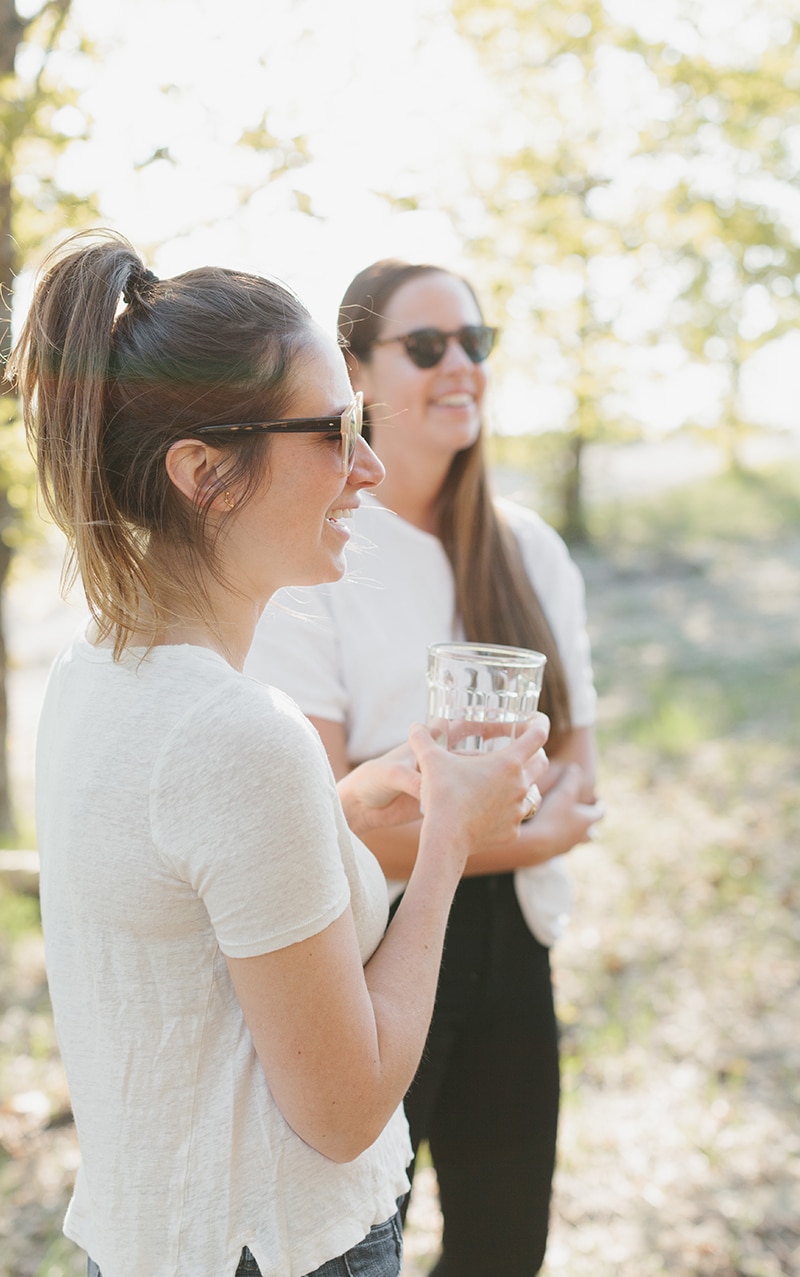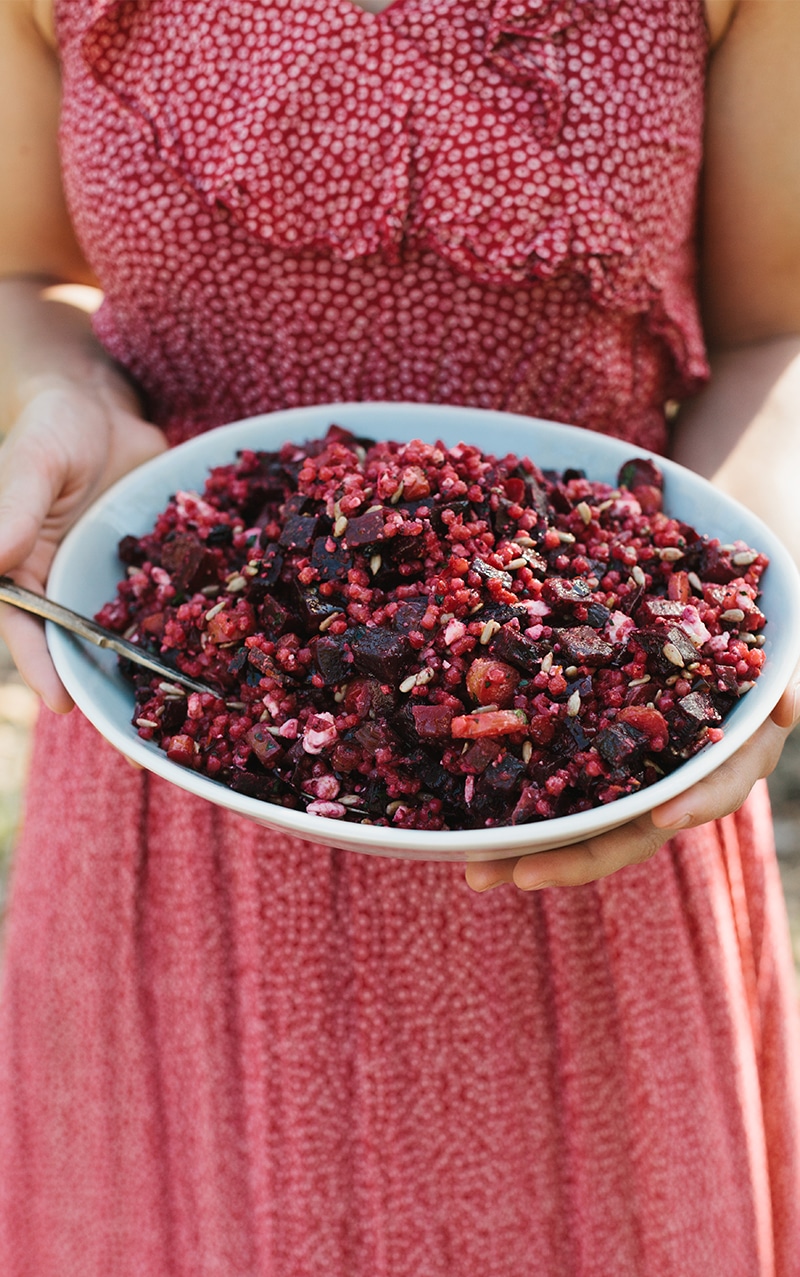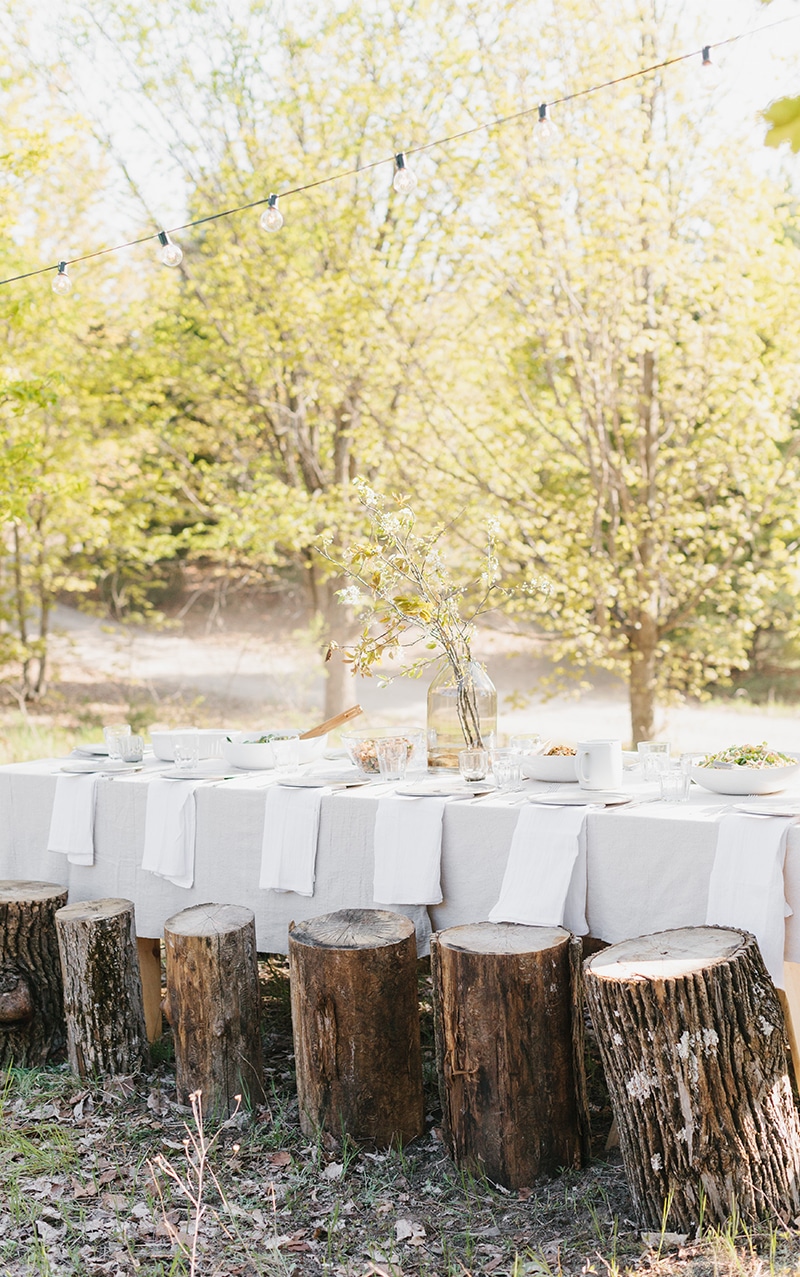 As everyone arrived, the dishes began filling the table as we waited for each person to arrive. Each one was beautiful and celebrated the bounty of spring. I love hosting potlucks because it gives everyone a chance to talk about something and food is a great connector. One person will talk about their recipe and then another will ask a question about it and before you know it everyone is blabbing on about how they like to eat beets.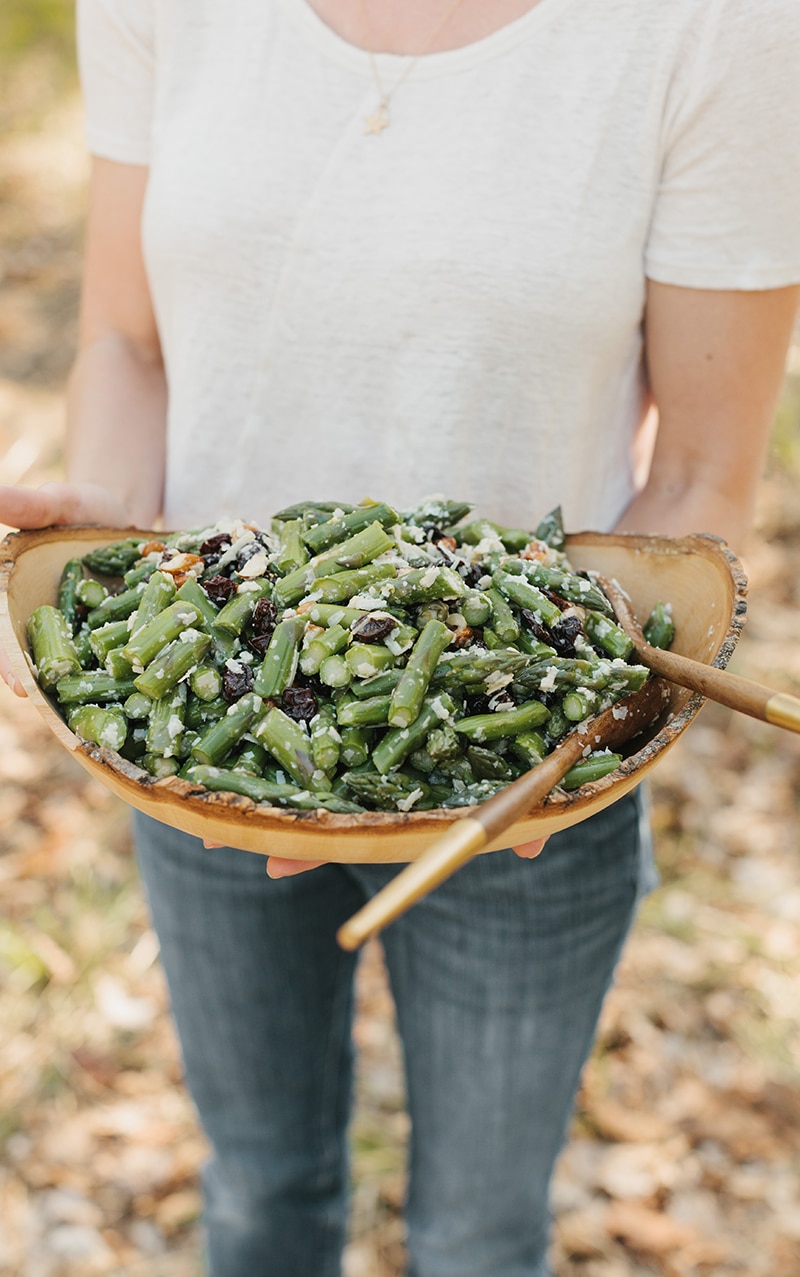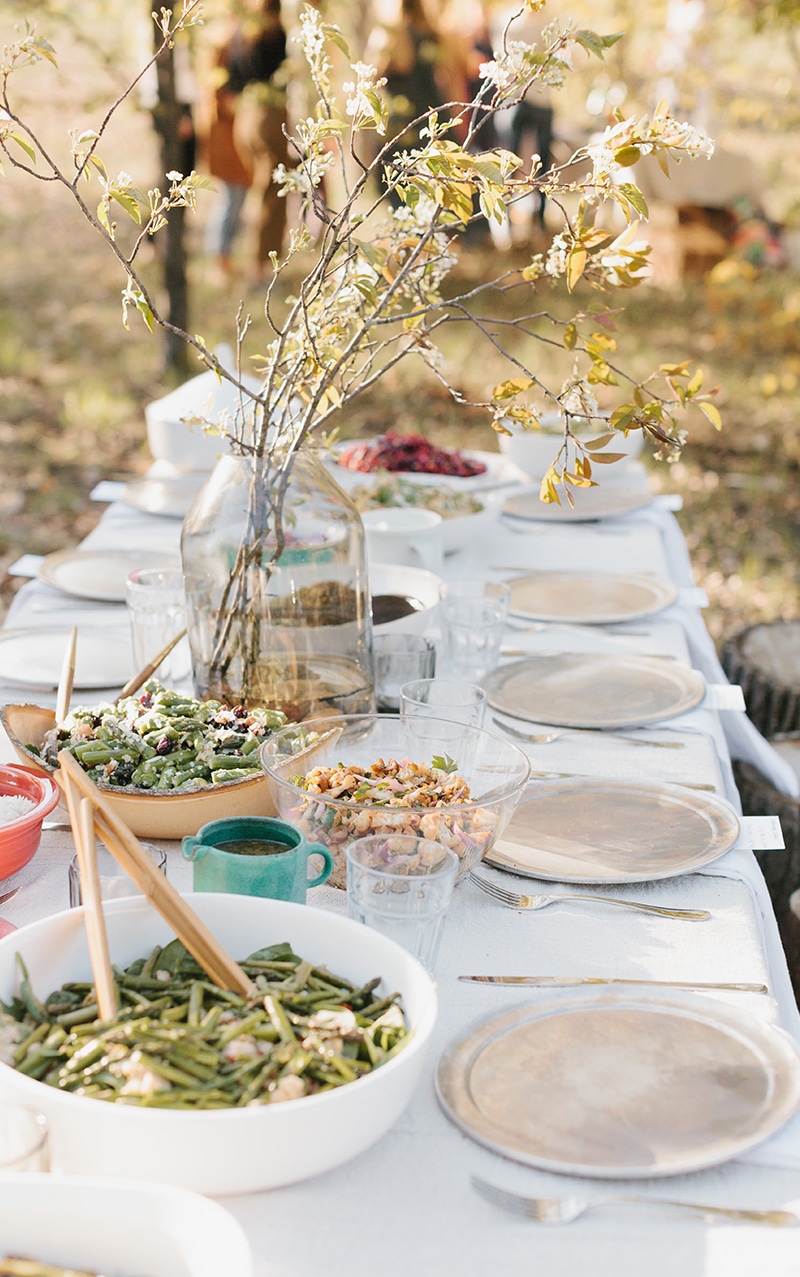 The food was abundant and more than we could dream up. Everyone brought a beautiful side dish and then we also had two entree style dishes which really stole the show.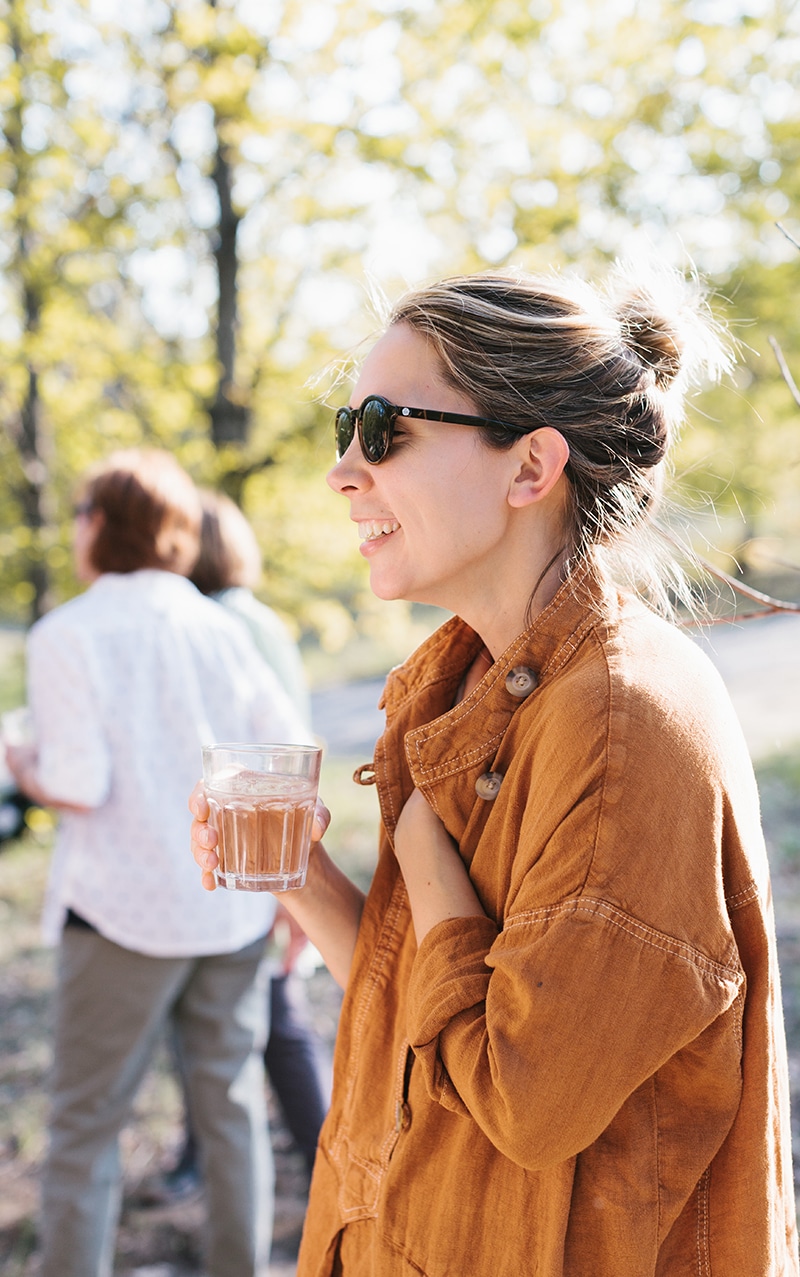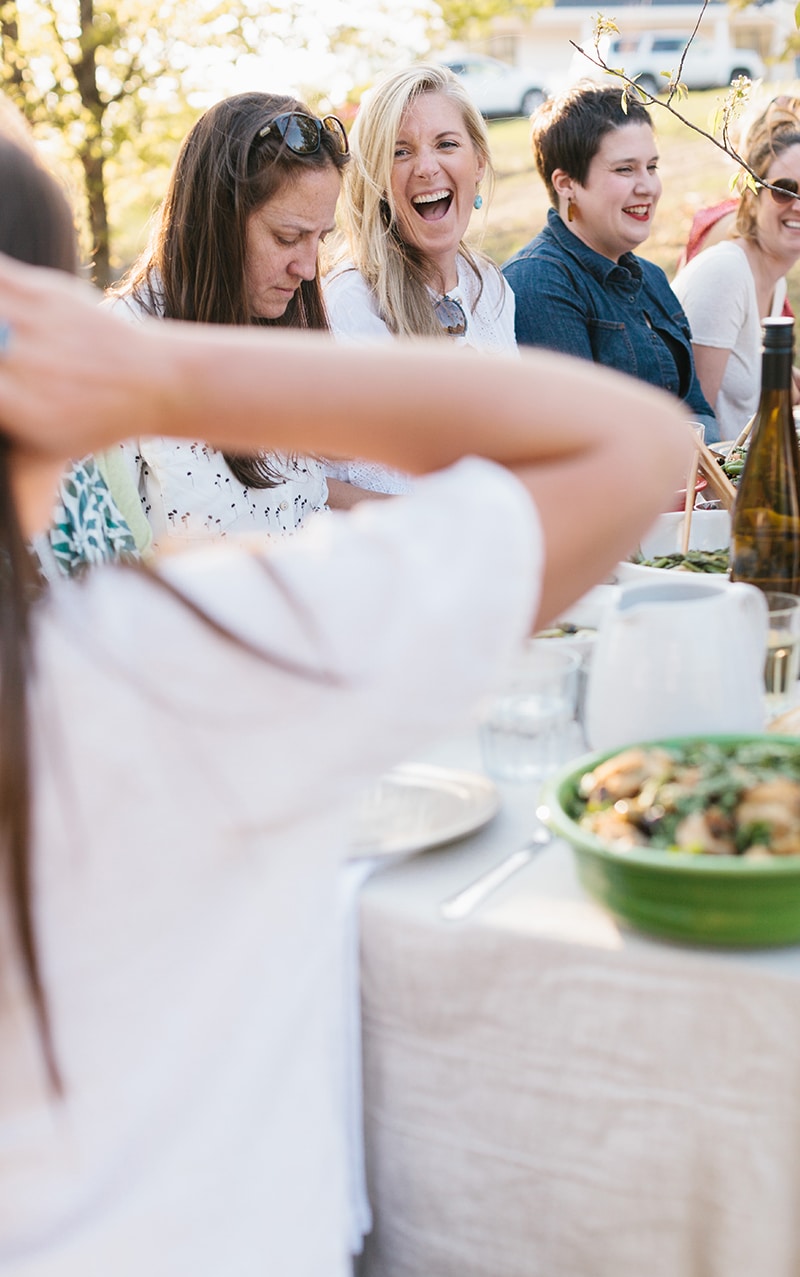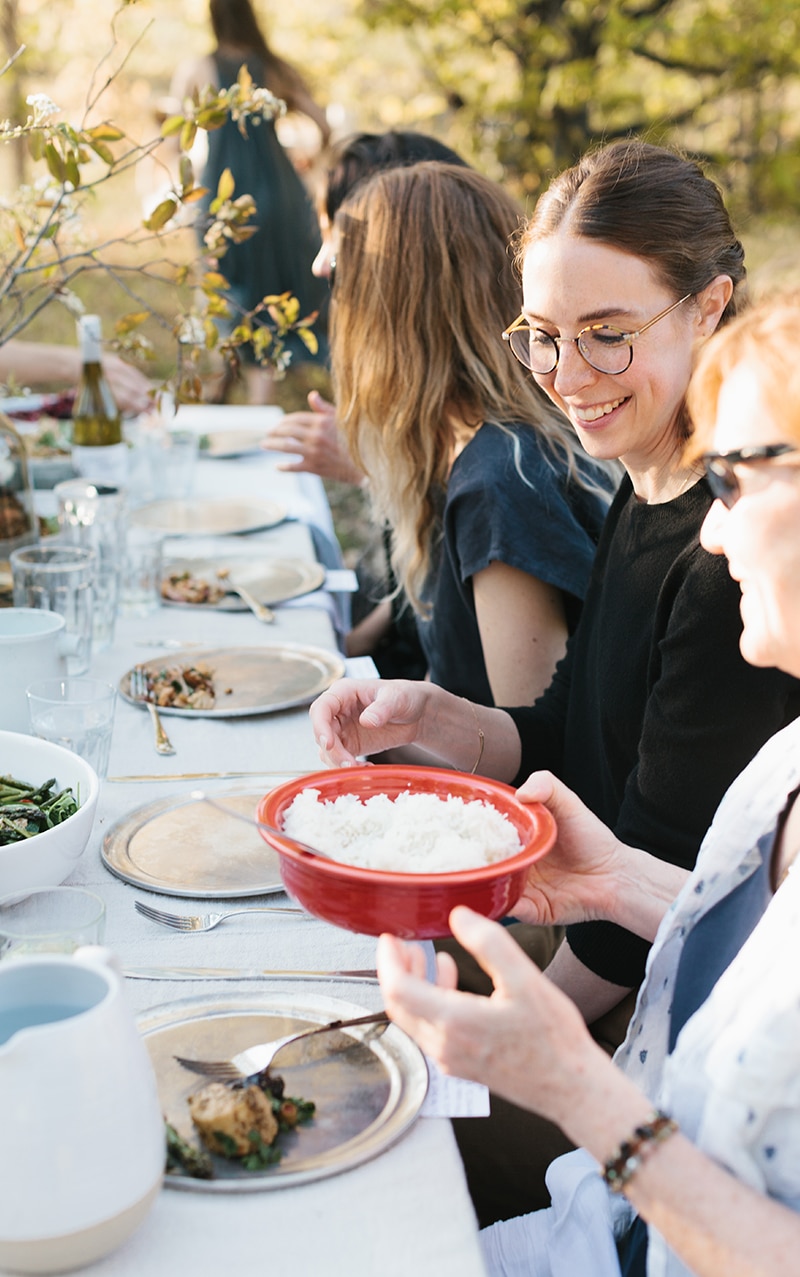 Once everyone was seated and dishes were being passed, we all made sure glasses were filled with wine or water. As dishes were passed everyone asked questions about them. People all had stories about where the recipe came from. Why they chose it and how often they cook it. One of my favorite things about these shared dishes.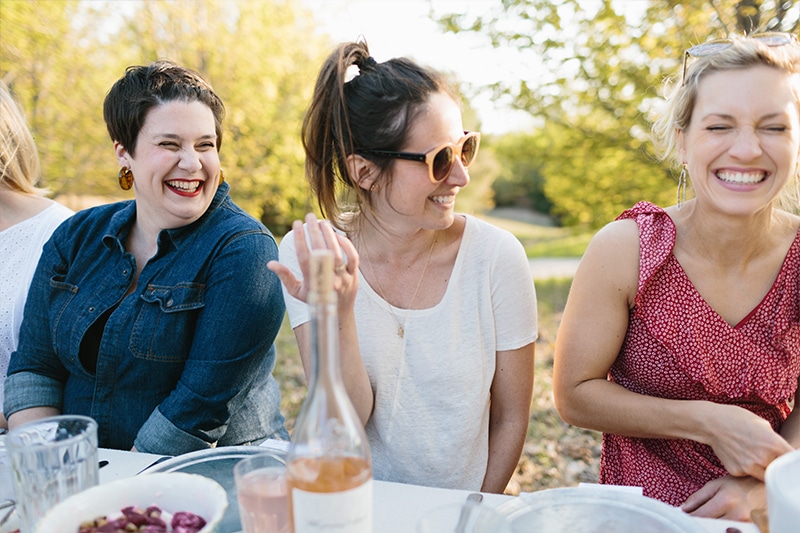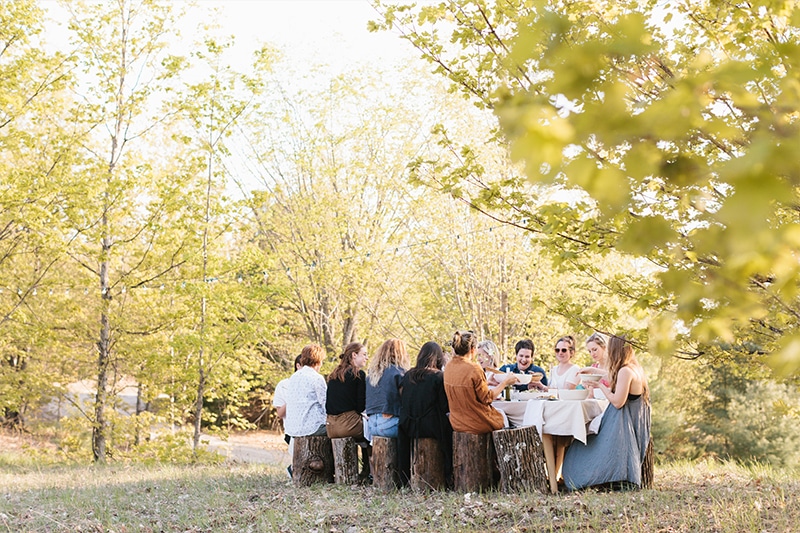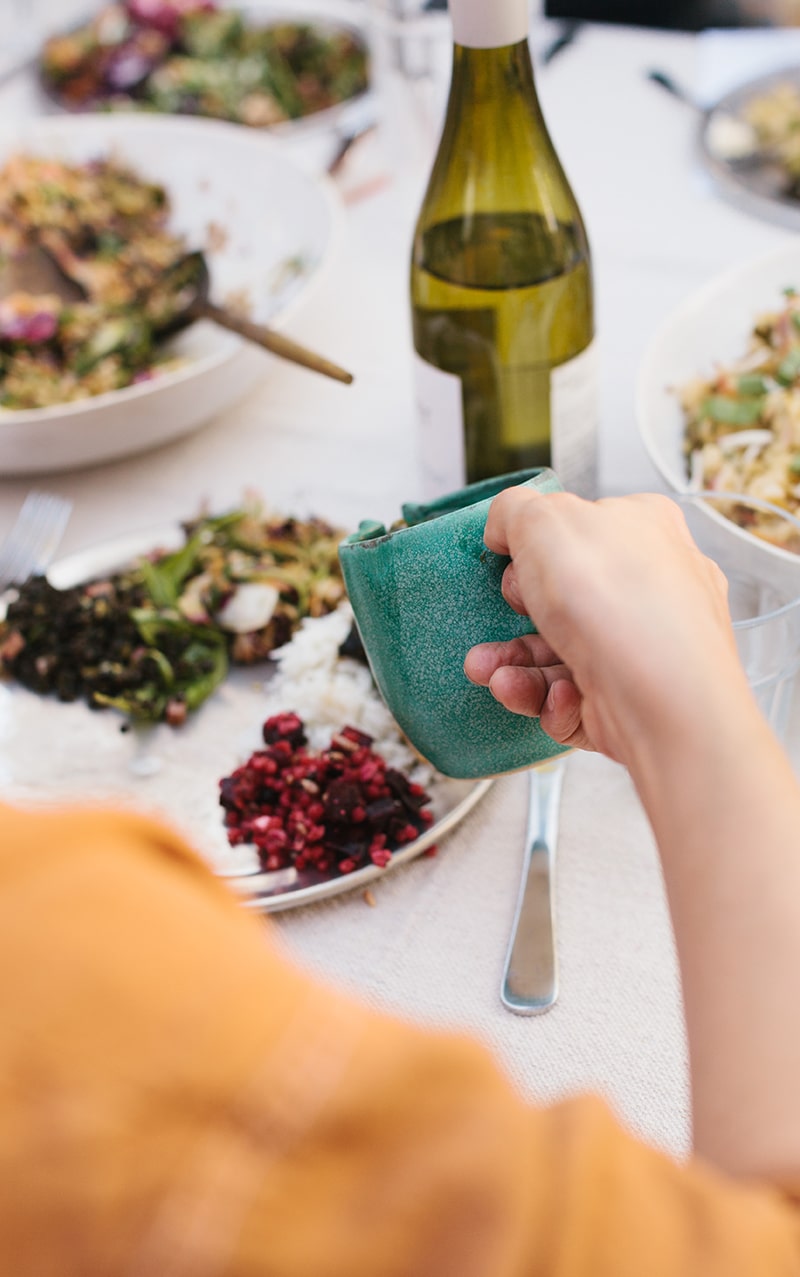 Once everyone had dishes in front of them, I wanted everyone to get to know each other a little better, so I decided to have each one of the women introduce themselves by telling us their names, a little about themselves, and then to share a trip that changed their life and how it did.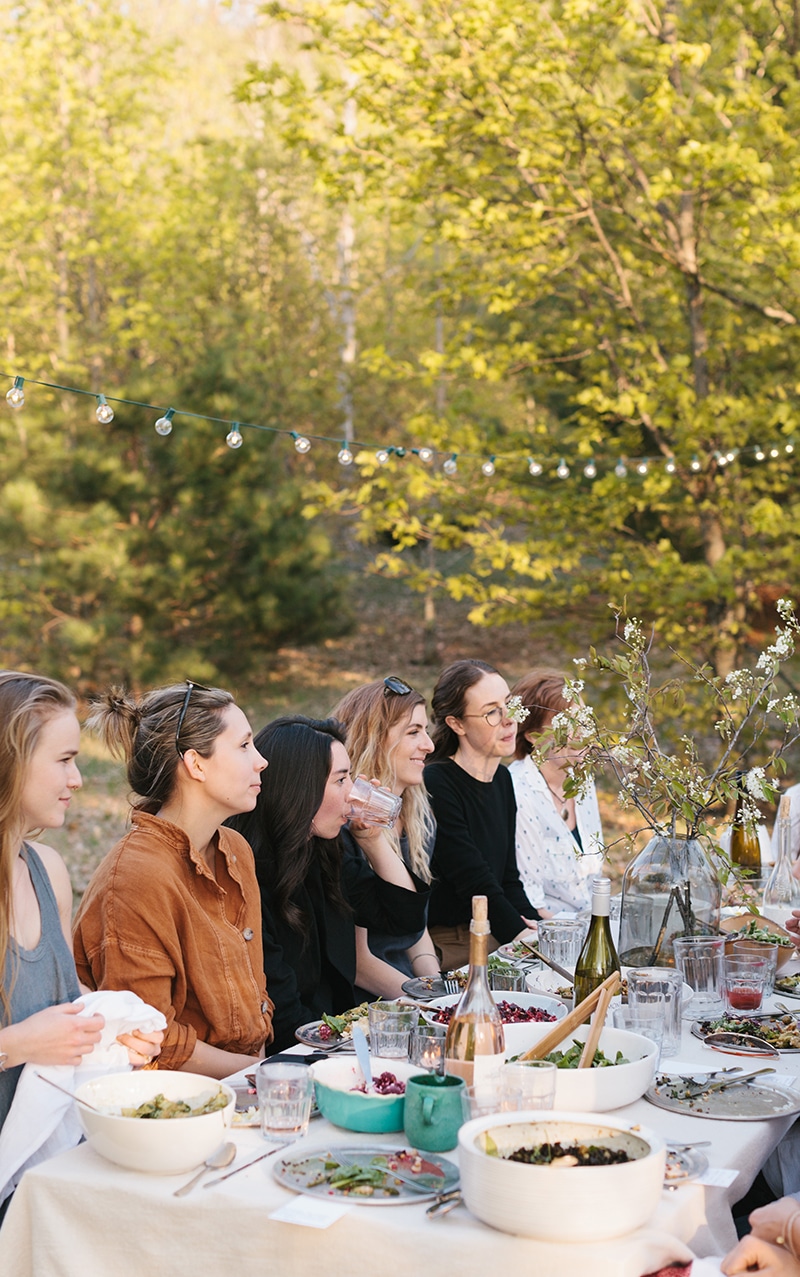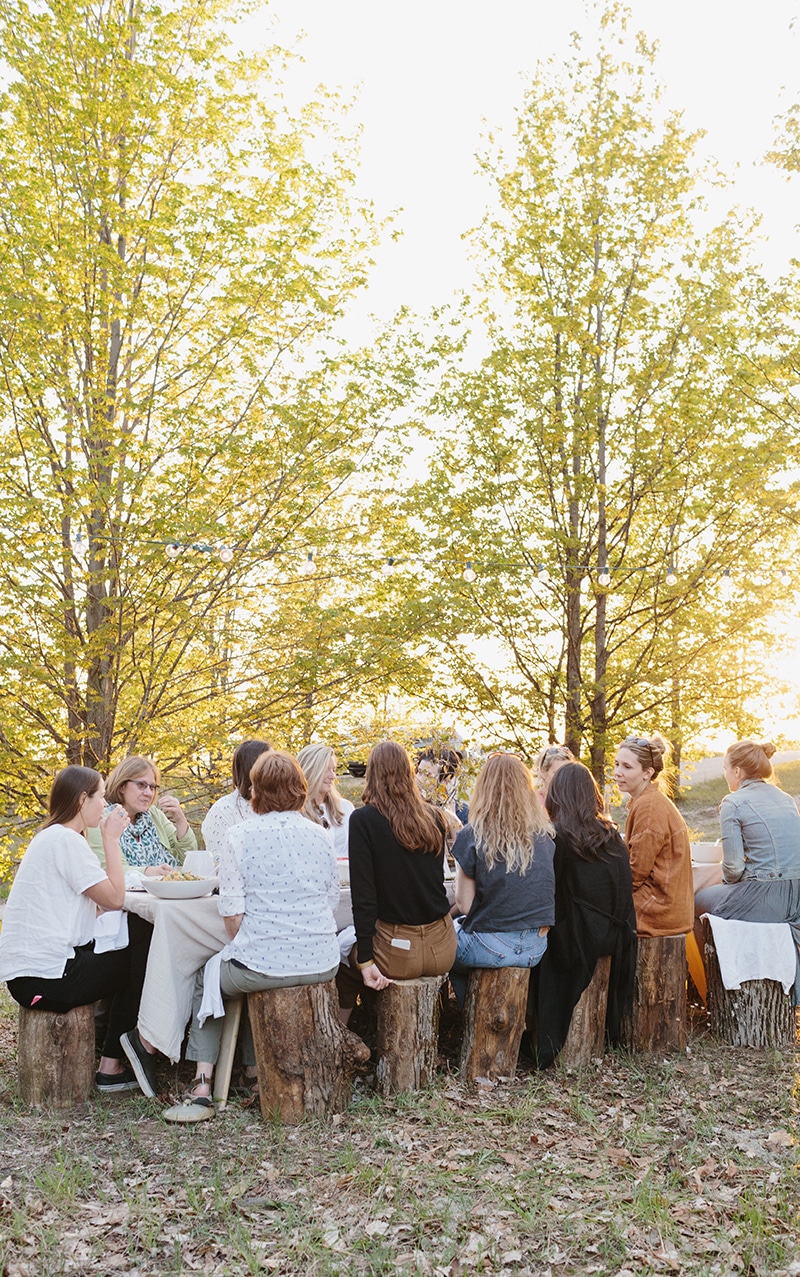 As we went around the table the stories made us laugh endlessly but then some of us brought tears. Stories about loss and overcoming it. Stories about trips that brought radical life shifts and realizations. Finally, there was a story shared from my neighbor's friend, Kim Schneider about a trip she took to South America and building a relationship with a local woman there and the bond they made without speaking the same language. It was one of the most beautiful stories any of us had heard and everyone was a mess. Maybe it was the wine or maybe it was just the humanity of the moment.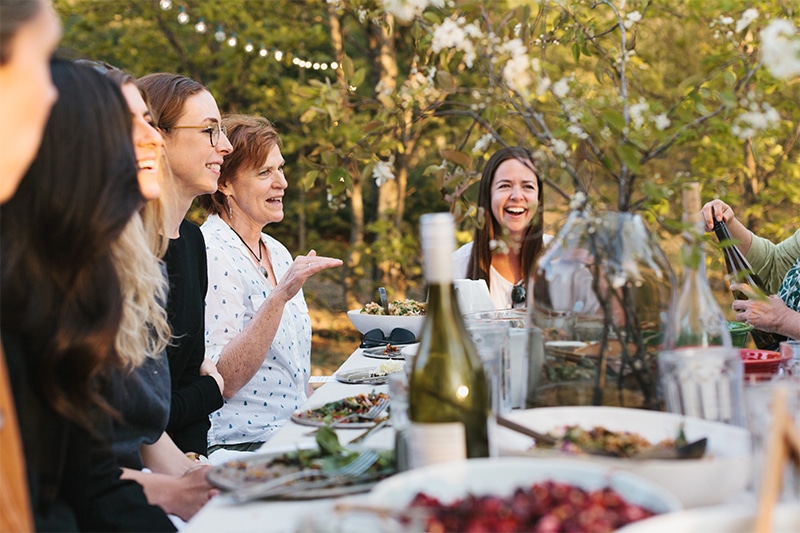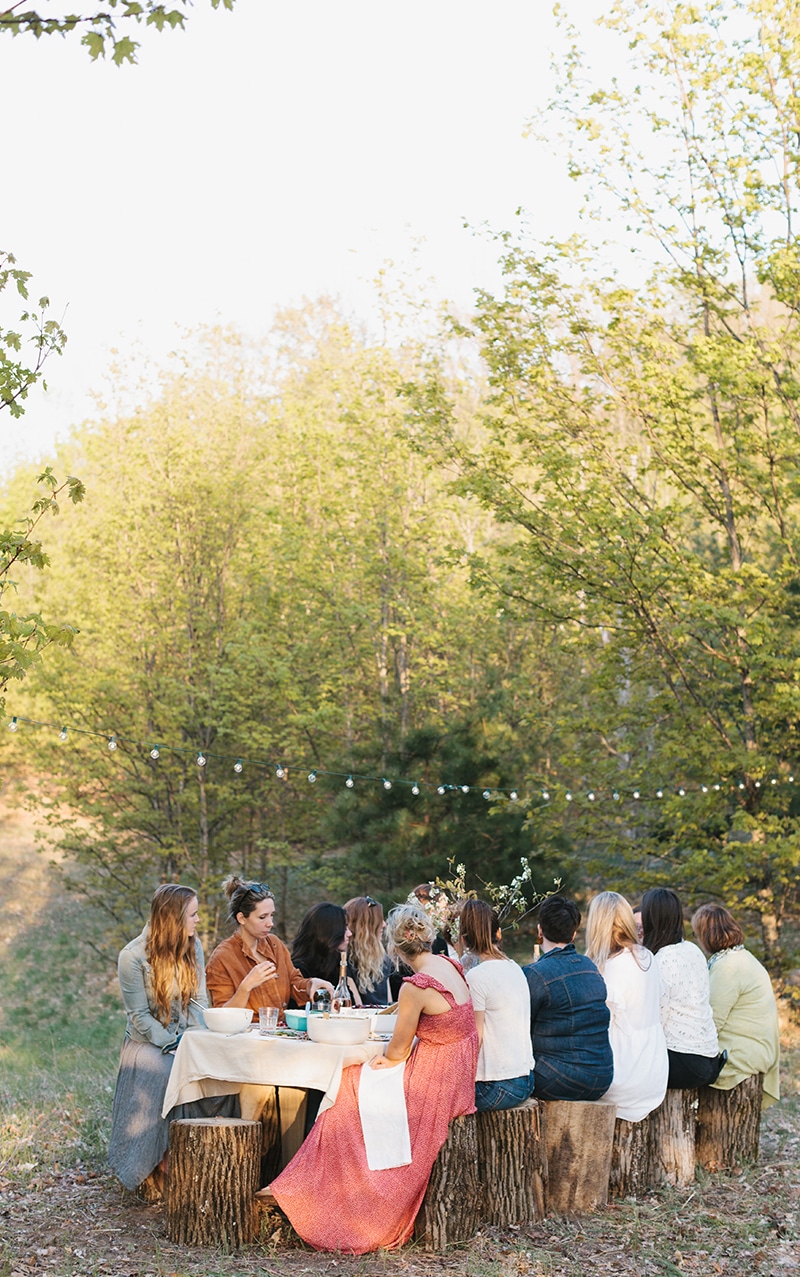 By the time the sun began falling behind the trees, we felt incredibly bonded. We felt we knew personal moments in each other's life in a way that brought us all together though we were all so different. Whether we knew that person before we came or we didn't, we had created new bonds together.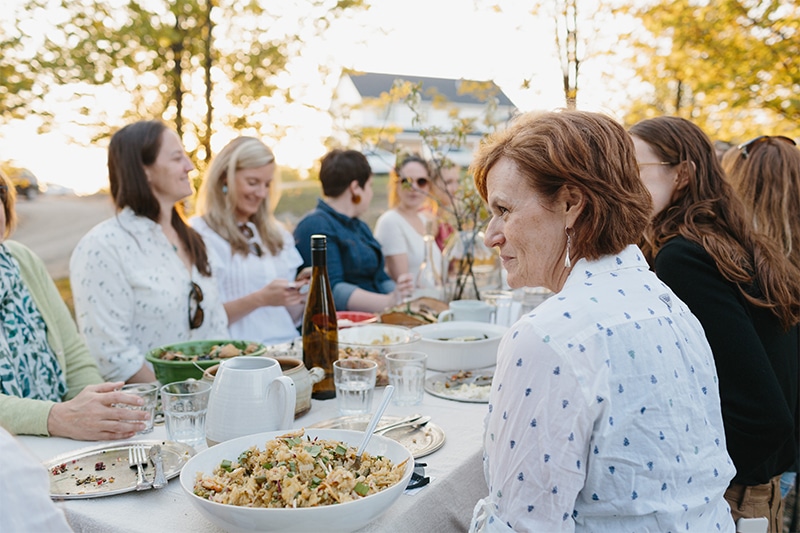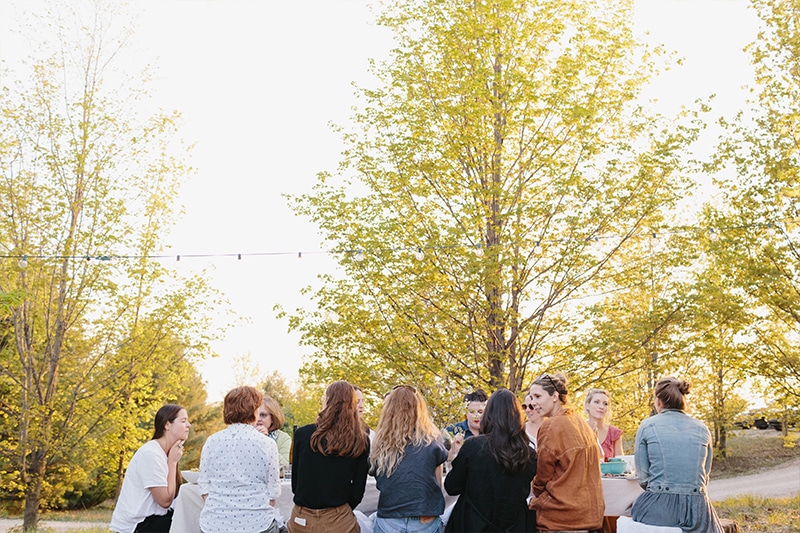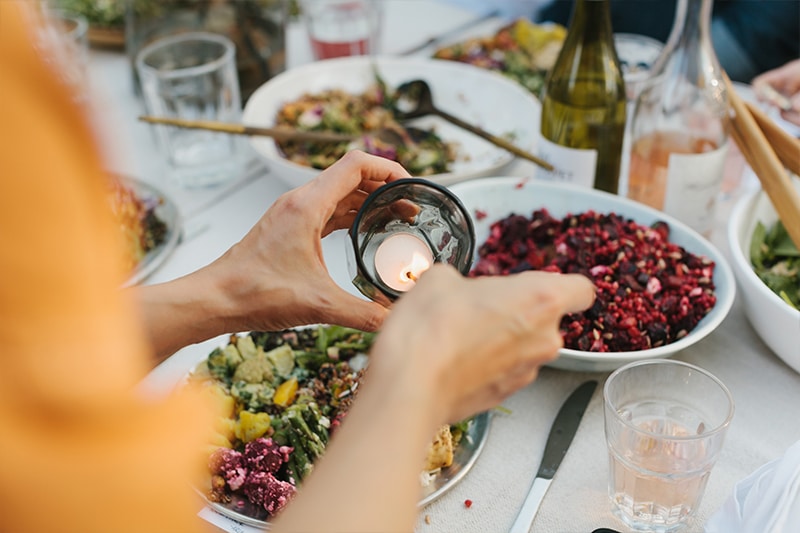 As the rest of the evening progressed, we connected and laughed as we all probably had one too many glasses of wine. We told honest stories with new friends and deeply connected with others. We eat more food than we though possible and we looked forward to watching the sunset before we all left for the evening.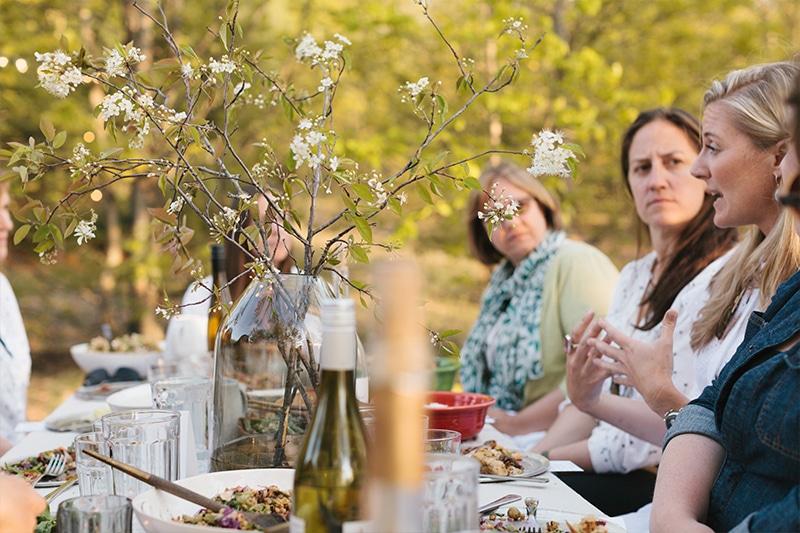 It is gatherings such as this one that remind me once again how I nearly forgot how the table was set or the color of the silverware. I nearly forgot about the bugs that nice and I even forgot I had a head ache the next morning because yeah I forgot to drink enough water. I didn't even remember what I wore, but man I remember the conversations and the food. I remember the story Kim told and I remember the honesty from these women and how humbled I felt by their journeys. This night reminded me of the importance of gathering and the act of practicing it. Why it is important to get together and not make a fuss about it.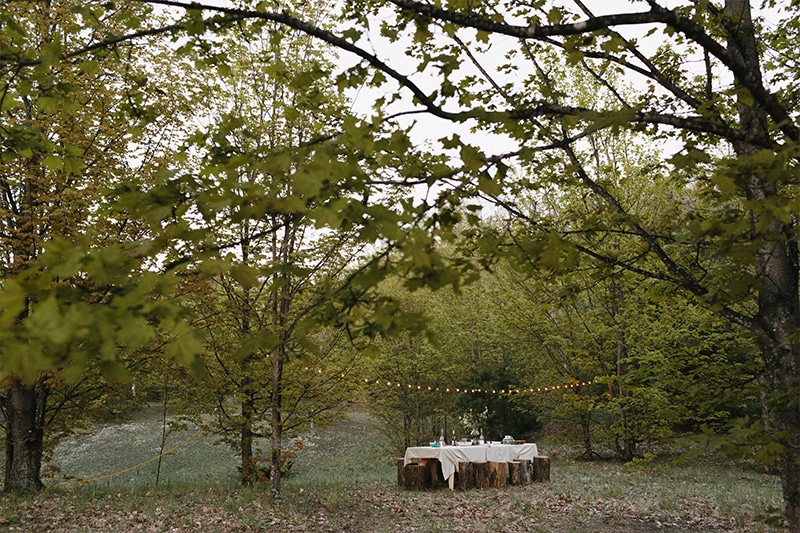 Before we headed up to the house for the rest of the evening to watch the sunset, everyone made short order of clearing the tables, sharing dishes in to-go containers, and we spent the rest of the evening just enjoying each other's company. The next morning there was little to clean up and the dishes were done. To me it is amazing how things can be so uncomplicated when we focus on the most important things in life.
A Huge thank you to Laura Brown for helping me setup that day. We had a blast moving those stumps. Thank you to Mike for building the table and watching Hayes. A big thanks to our neighbor John for supplying us extension chords. Of course thank you to Mae Stier for photographing this night! You made it extra special and captured so perfectly.