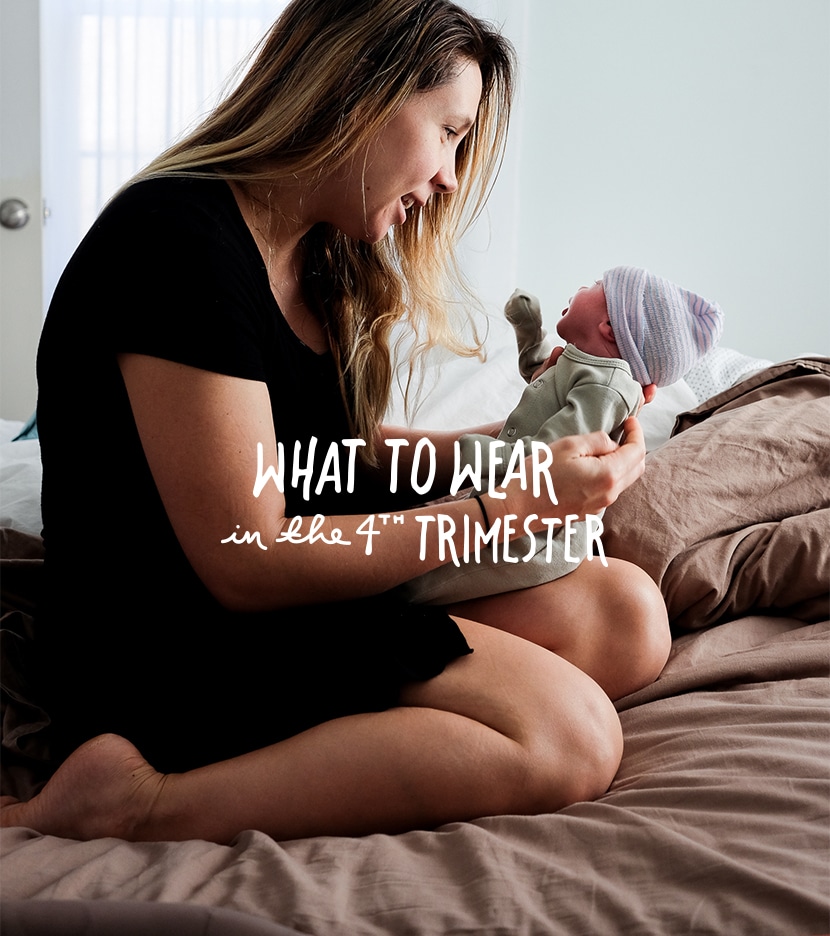 Looking for the best postpartum clothes? Our first month essentials checklist will help you feel like yourself again.
At the end of pregnancy, I thought it was hard to find something to wear. It seemed I had about 10 pieces of clothing and 1 pair of shoes that fit me. In those final weeks, I felt far from myself and overtaken so to speak. This feeling was something I expected though, what I didn't expect was my body in the postpartum period.
A few of you asked me to share a post about how I dressed for this time and to think through when transitioning back into life post pregnancy. Honestly, I wasn't sure what to say, but then I started taking note of what I have been wearing postpartum clothes the last 3 months since welcoming Hayes came into the world, I realized this was something really important to talk about. So today we are going to talk about dressing for the first 3 months post-baby.
Things To Be Mindful Of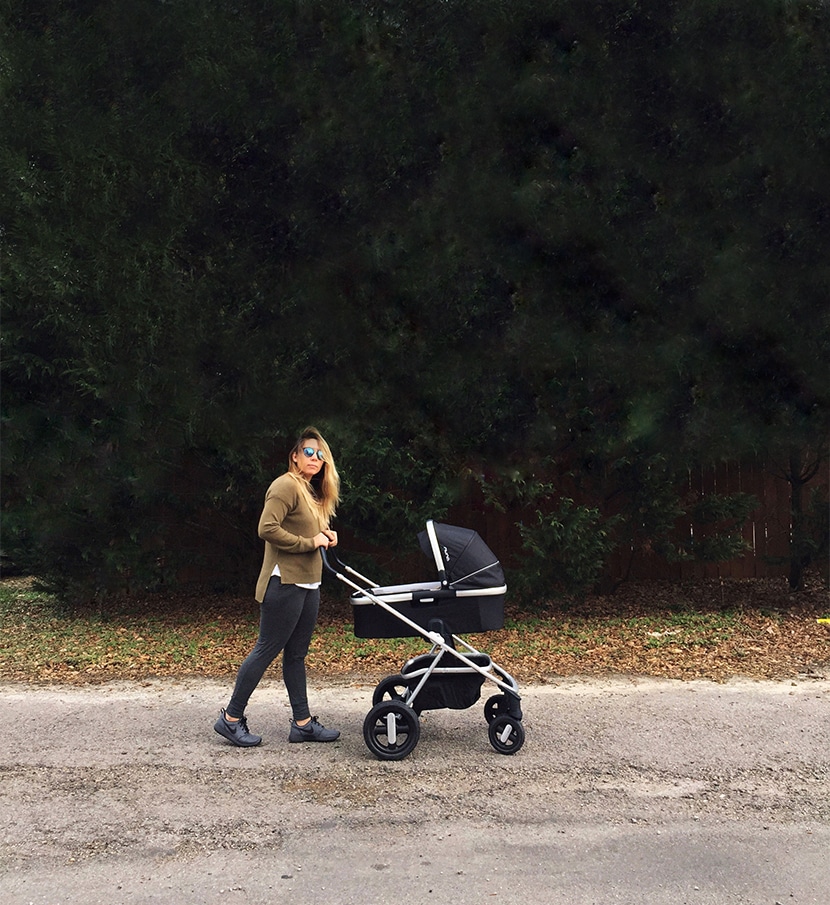 A few things to start with before we jump into the fashion end of this post. There are some things to recognize and be realistic about before you get too excited about the possibility of dressing "normal" again. I put normal in quotes for a reason. Once again this is an expectations situation.
Don't Quickly Wear Jeans
I remember lying in the hospital and looking at my belly after Hayes was only 24 hours old and thinking "He fit in there!!?" and "I feel so skinny!" I instantly got excited and when I finally felt like pants could be comfortable (2 weeks…silly me) I put on jeans.
I sat there in the bedroom next to a stack of jeans from various times and sizes in life and I will tell you right now, ladies, don't try it. Don't even THINK about putting on even your biggest or stretchiest pair even if they fit you still at 28 or even 34 weeks like mine did.
For me, a lot happened between 34 weeks and birth. Birthing a baby opens your hips and even as someone who gained the suggested 25-30 pounds it doesn't disappear or go back to normal overnight or even in a few months unless you have some kind of magic genetics, which I don't.
Sure after feeling like a house for months it feels good to not have that belly in front of you, but your body is still not your own and that was something I had to realize and come to terms with.
It Takes Time for the Body To Recover
I thought if I could just fit in my jeans…any pair of jeans…I would be happy. But I am here to tell you that now at 3 months and only able to fit into 2 pairs of old jeans (size 10 to be exact), it doesn't happen very quickly. I still have an extra 15 lbs on me and I should consider breastfeeding. There is nothing wrong with it.
My stomach still has a small pouch and my legs are a little thicker, but every week my body seems to come back a teeny bit more. I went from smallest to largest in nearly everything and in some way I felt defeated at first especially at month 2, but now, I have embraced and realized it took 9 months to make him and it should take 9 months to be me again on some remote level. I can still feel that my hips are shifting back into place (good ole relaxing still hanging out).
Refrain Judgement of Yourself!
Yes, there are women that somehow bounce right back into their old bodies and they have genetics on their side, But for women who don't, know that it is okay. I worked out beforehand and was the fittest I had been in years, was fit throughout my pregnancy, and I am still sitting here saying I still am not back to my old weight, but you know what, I have a healthy baby and I feel good about that.
All that to say, even if you have genetics on your side, commit right now to give yourself at least 6 months or more to feel right in your old jeans again. It took me nearly 2 years before one day my body just felt like mine again.
Don't be devastated if your old ones don't fit for quite a while or ever. You had a baby. Your body did the most insane thing it can do! They aren't supposed to and it is 100% okay! Silly that the world makes us think they should in all honesty.
Essential Postpartum Clothes – The First Month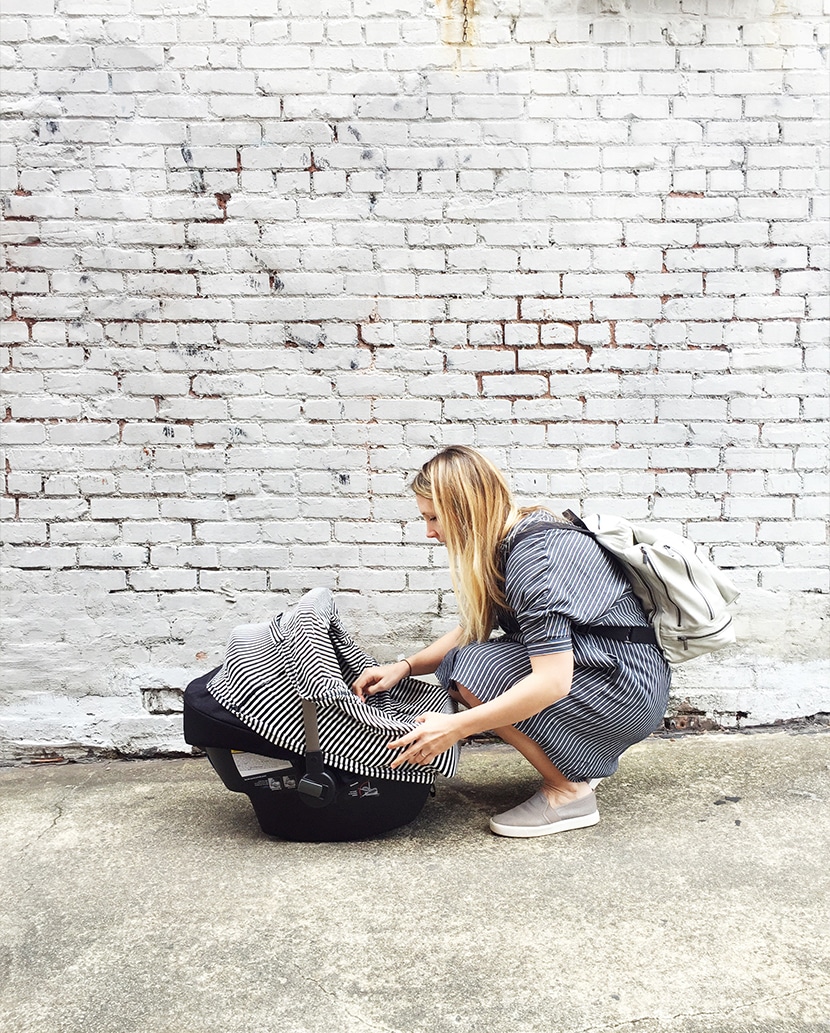 Okay now that that is out of the way let's talk about what can fit and how to stay hip even in this time of transition for your body. I promise you you don't have to give it all up and commit to the dreaded mom attire you swore you never would embrace!
There is a way to stay stylish, comfy, clean, and keep that boob accessible. So I have gathered up some essentials for the first month, getting out and about, and the personal cares items that kept me feeling like me.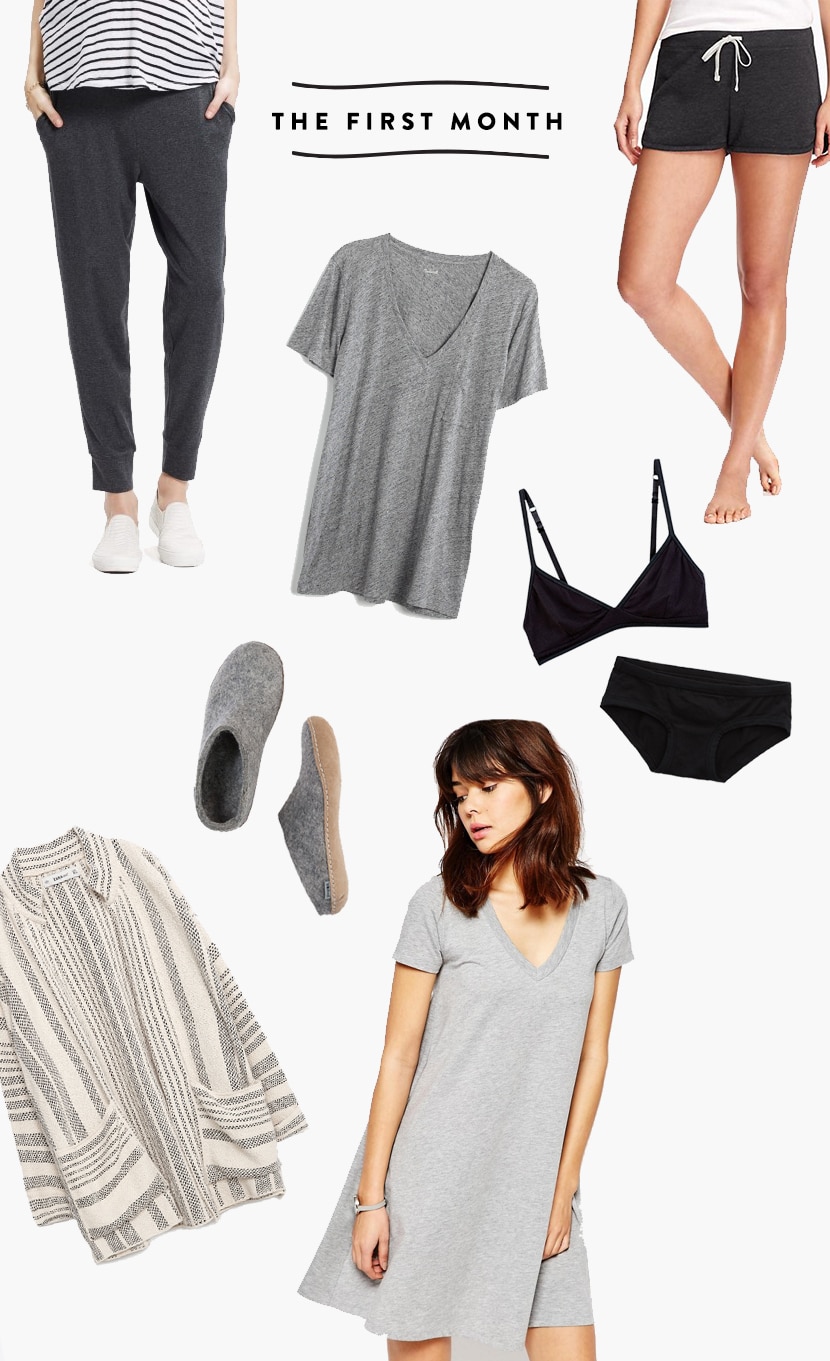 1. Nursing bras:
Not sexy but this time in your life isn't about being sexy (surprisingly you may find even your unsexy moments are all of a sudden sexy to your partner weird how nature works).
I picked up these ones and these ones. I have a total of 7 because you know the whole leaking thing and switched them in that first month nearly twice a day or more. I refused to wear nursing pads…it isn't my thing.
2. V-neck or easy access shirt dresses:
The first 2 weeks I pretty much lived in dresses. They were easy to slip on and off for showers when my body was sore (stepping in and out of pants is hard on that there pelvis) and I had no interest in putting anything close to my nether region I didn't need to. I picked up this one and this one ASOS and this one from Target because they were inexpensive and a little bit stylish great for postpartum clothes.
3. Black brief cotton underwear:
I will admit that I lived in the hospital mesh undies for the first 2 weeks. No shame in it, but once I ran out of the ones I stole I stuck to these simple cotton black briefs one size bigger than I normally wore. I find that choosing black for all my postpartum clothes, such us undergarments made them feel a little chicer too when choosing the perfect post partum clothes'.
4. Slippers:
I didn't leave the house for almost 3 weeks other than a couple doctor's appts so I lived in my slippers and these ones are the best.
5. Harem pants:
I had two pairs of these Easy Pants from Hatch and I will tell you they were amazing and still are. The stretch and softness of the fabric conformed with my body as things changed and the dropped crotch gave me space down there, but they are tapered at the ankle so they fit more like a legging. Trust me on this, if you want to wear pants these postpartum clothes are a must.
6. Super soft T-shirts: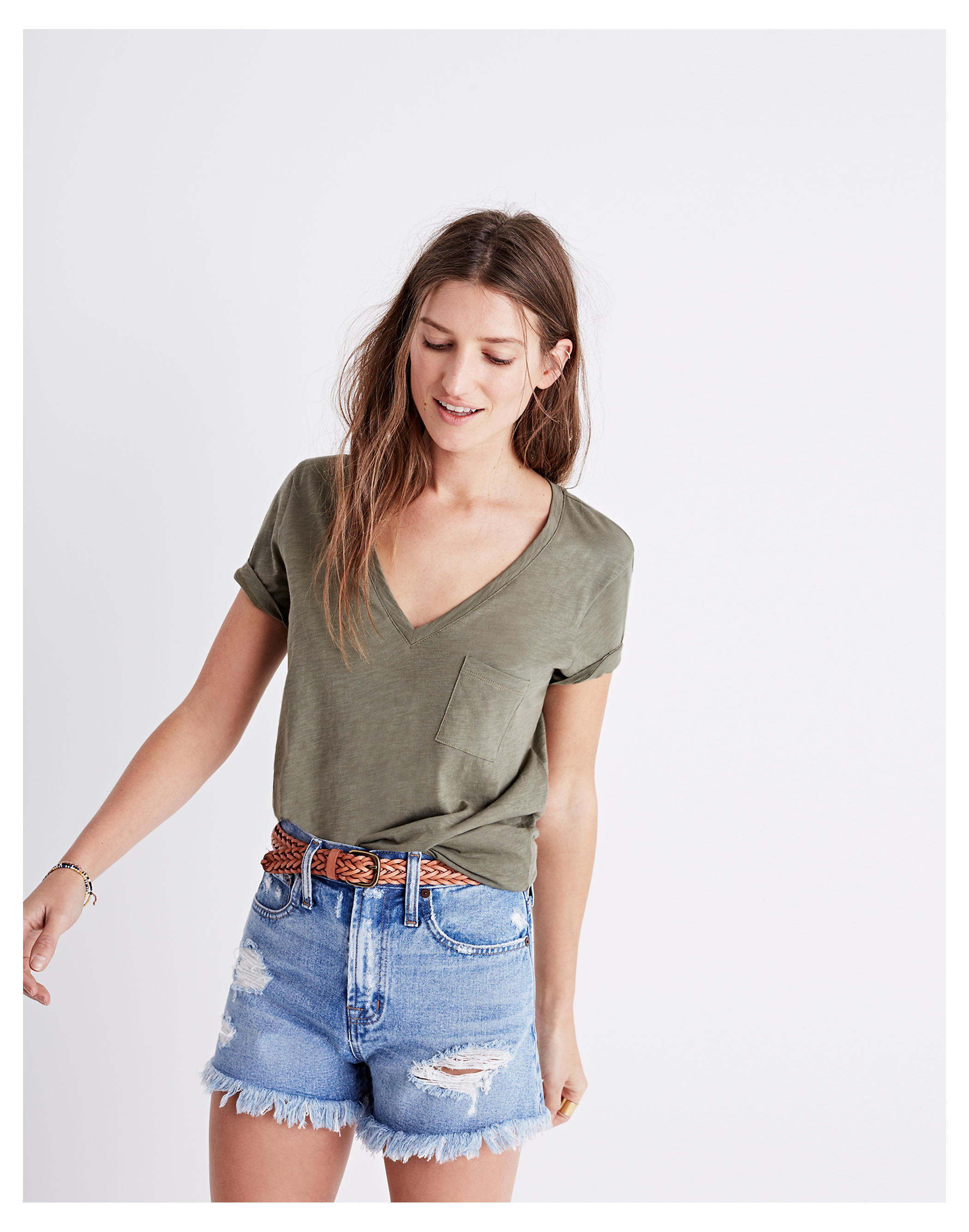 I purchased a bunch of these tees from Madewell while I was pregnant in 2 sizes bigger than I normally wear. Though they are t-shirts they were comfy to sleep in and were light enough to lift for feeding without feeling bulky and in the way.
7. Oversized cardigans:
I lived in an oversized cardigan every morning the early weeks at home. I am not a robe person. It was like living in a blanket and I couldn't be happier I had it. It felt stylish and cool even though I had dark circles under my eyes and felt like I was in a daze. It is the little things…I tell ya.
8. Sleep shorts:
Around 4 weeks I stopped wearing dresses at night and switched back to wearing sleep shorts and tees at night and honestly into the day. I picked up some shorts from Old Navy in one size bigger. They are now still a favorite item to live in on warm mornings. 
Getting Out and About: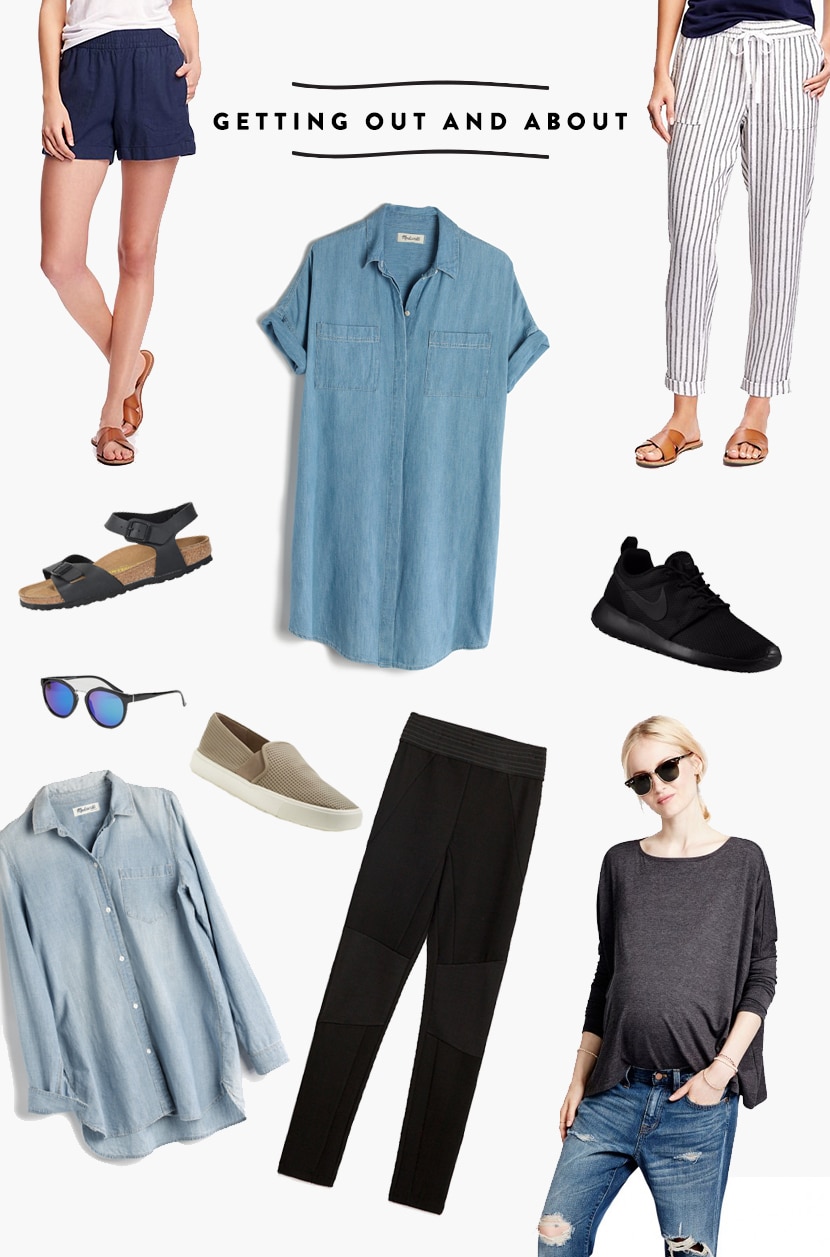 9. Button front t-shirt dresses:
Since it is now Spring in NC I am living in these types of dresses. They are easy to get on, take no thought, and look very chic while keeping me cool. I this one, this one, and this one in particular.
10. Leggings:
You thought you ditched those things I know, but don't go hiding those just yet. Any pants with an elastic waist are still high-priority when choosing postpartum clothes. I love these ones, these ones, and these ones.
11. Easy to slip on shoes: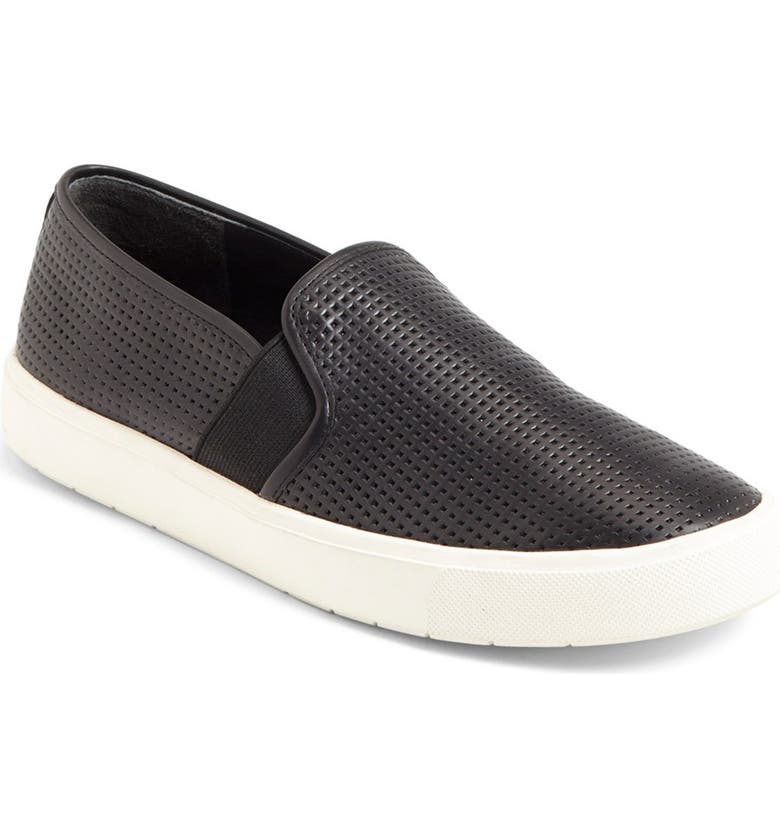 When I got pregnant the only thing I spent money on was shoes. Some women can't do this because they get swollen feet and I did too, but my slip on shoes were my go-to. I also wanted to make sure that post baby even if everywhere else on my body felt transitional I could still feel myself with some sweet kicks. Slip on shoes are easy to pair with any pretty postpartum clothes.
I purchased some great sneakers like these Nike ones, these Vince slip-ons, and then my go-to Birkenstocks. All of them have still kept me feeling cool whether going out and about for doctor's visits and grocery store runs or on a walk midday. Plus you don't have much time to spend thinking about your wardrobe.
12. Sweet Sunglasses:
Postpartum clothes are one thing but another thing to help you feel yourself and to hide those puffy tired eyes you don't want to put makeup on for so many reasons 1. because you don't have much time to and 2. you cry at everything sometimes and so spontaneously.
I have been rocking some similar to these since this summer and I love them! Plus the lenses don't let people see the other side. So those tired dark circles and puffed eyes from tears are kept to yourself.
13. Simple pieces with minimal patterns and neutral colors: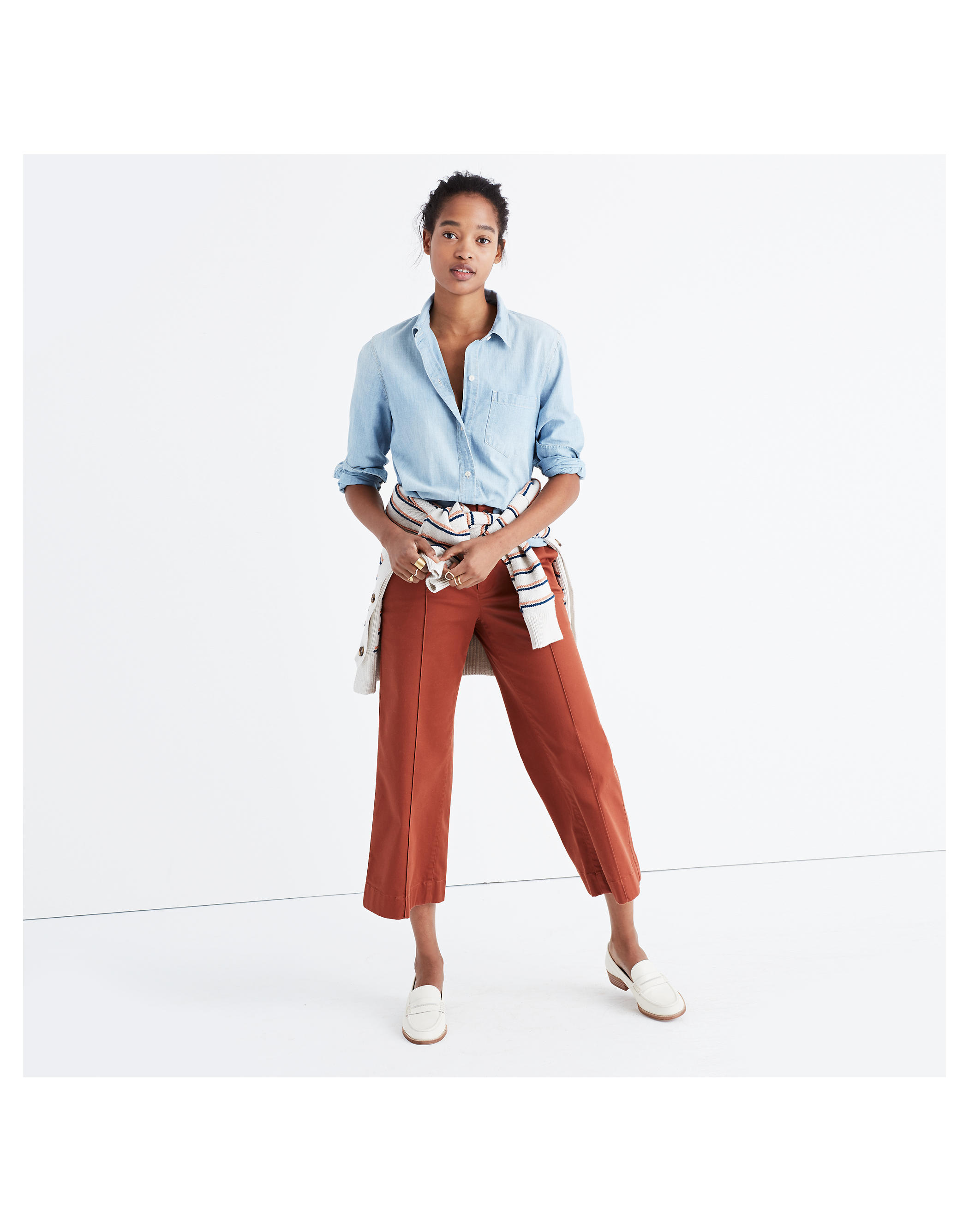 To help me feel most myself I kept within my postpartum clothes normal palette of black, white, denim, navy, olive green, and gray. It sounds boring, but wearing my colors daily helps me feel more myself. I also looked for items not from the maternity sections and just picked things up in a size bigger or looked for words like "boyfriend" and "oversized". I didn't want a further reminder that my body was still with child after I wasn't.
I wanted to jump back into normal clothes and feel as close to myself as possible after only having the option of maternity jeans (barely) and the largest size in H&M tunic tanks all I wanted was for things to feel fun again to shop a little.
One shirt I live in is a ex-boyfriend chambray from Madewell. In particular, I have loved this shirt from Hatch especially post-pregnancy, because it works as a great nursing cover as well.
14. Pants with Elastic bands:
If you want to kick the legging cause it is warm out. I have found that these shorts are awesome and easy to wear. I bought them in a medium and they fit great right now. These linen blend pants are also awesome!
15. Things that wash well:
I had this idea I would be wearing all these pretty postpartum clothes items in my closet post baby. Let me tell you, that is not realistic. Everything you will wear postpartum for at least your first year of life has to easily wash well and not hold stains or need a dry cleaner.
The whole babies poop, pee, spit-up thing is EXTREMELY real. I wouldn't say that I spent days with spit up on me or poop on me, but it does happen and if you have a boy you will be peed on at least once. So cotton items are your best friend as they wash well.
Place all items that are silk in the back of your closet if you don't want to ruin them. Also, though not organic or natural this stain stick works WONDERS!
Personal Care Items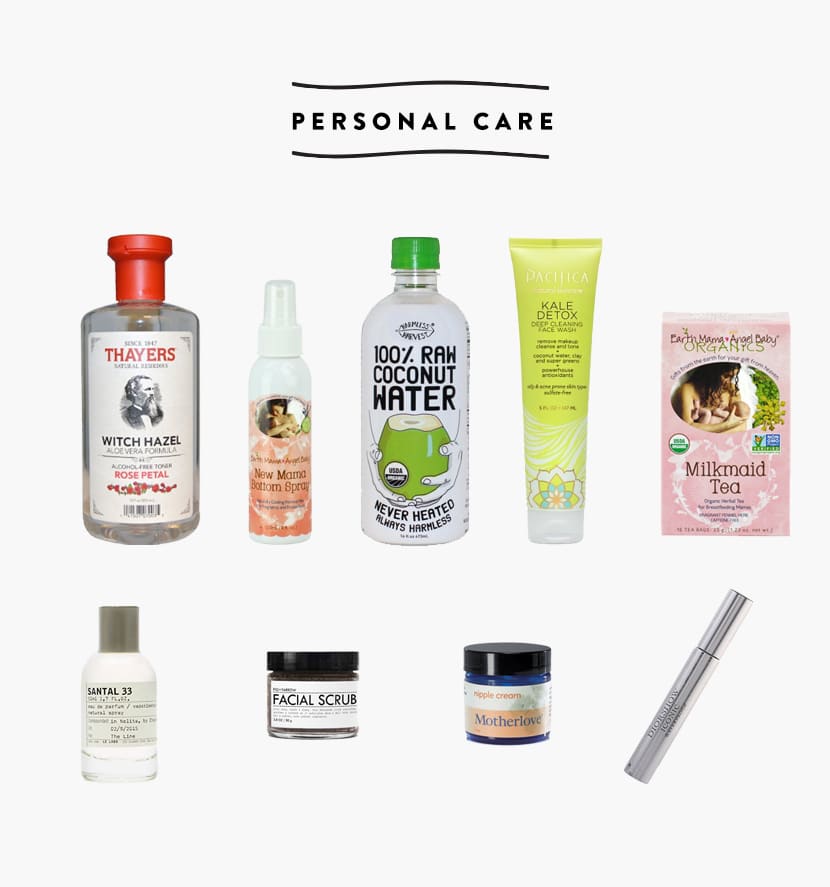 1. Nipple cream:
This stuff saved my ladies that first week of nursing. No matter what your issue or non-issue is, you are bound to get a little sore. Use this to keep things feeling fine during those early weeks. After 6 weeks you shouldn't need it and should have a rhythm to feeding on some level.
2. Mama Bottom Spray:
I thought this stuff was better than what they give you at the hospital. Plus, it was all natural. Just take my word for it.
3. A Shower:
Make it a priority…SERIOUSLY. It is as important as coffee. I don't care if you don't eat, get a shower…but then eat cause that is important too.
4. Braiding your Hair:
or finding some way to do your hair that keeps it out of the way but you feel most put together in. I wore a braid a lot, but whatever works for you. Find it and own it.
5. Detox Face wash: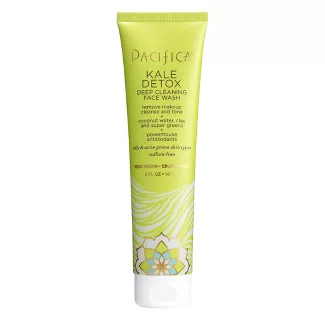 The hormones mess with your skin after birth and I used this exfoliator and this cleanser to remove excess oils that showed up and made me feel gross no matter how many times I washed my face. This combo did the trick for me.
6. Rose Water Toner:
If you cannot wash your face at least give it a little bit of toner to clean out those pores and refresh your skin.
7. Waterproof mascara:
I have a simple makeup routine to begin with, but mascara seemed to be the one thing I could find time for in the first few weeks. The only issue was you cry a lot so having a good waterproof mascara makes your day a little better.
8. Great Laundry Detergent:
You are going to need to do A LOT of laundry, but that is no reason to skimp and buy the cheap stuff. We loved having a laundry soap that smelled amazing and our pick for it is The Laundress hands down. It lasts longer than you would think too. Promise!
When you are ready to get out, make sure you have something that makes you smell like you. I always felt I smelled like sour milk even though I probably didn't, but it helped me feel like me to have my scent on me.
You need to drink a ton of water still and even more because you are making milk now whether you breastfeed for long or not. It is a real thing. Coconut water (raw is the best) will keep you hydrated and give you all sorts of vitamins your body needs.
I drank this tea almost every day in the first month. I still drink it from time to time because I really like the earthy flavor.
12. Treats:
Eat as healthy as you can in the first month or two especially because it will help you recover quicker, keep things moving in your digestive track, and also make it easy to figure out if something is bothering the babies stomach. BUT you just had a baby and when you want a cookie, eat a freakin cookie or get pizza if you want it. You should treat yourself in the moments you need it. Don't worry about the weight too much. It will come off. I promise! 
Wrap Up..
I hope for all you new mamas this is helpful. There is no doubt this time post-pregnancy is difficult when it comes to navigating your wardrobe and making the transition back into real-life, but the most important thing to remember is to give yourself time.
If you need to buy a few new things to make yourself feel good, it is a good investment. Don't try to force yourself back into your old clothes too soon because it can lead to a lot of disappointment and that is just not worth it.
If you found this postpartum clothes recommendation helpful, consider checking out other blog posts below —