Get inspired with these winter garden ideas from some of the best bloggers around. Learn how to plan and grow your own winter gardens.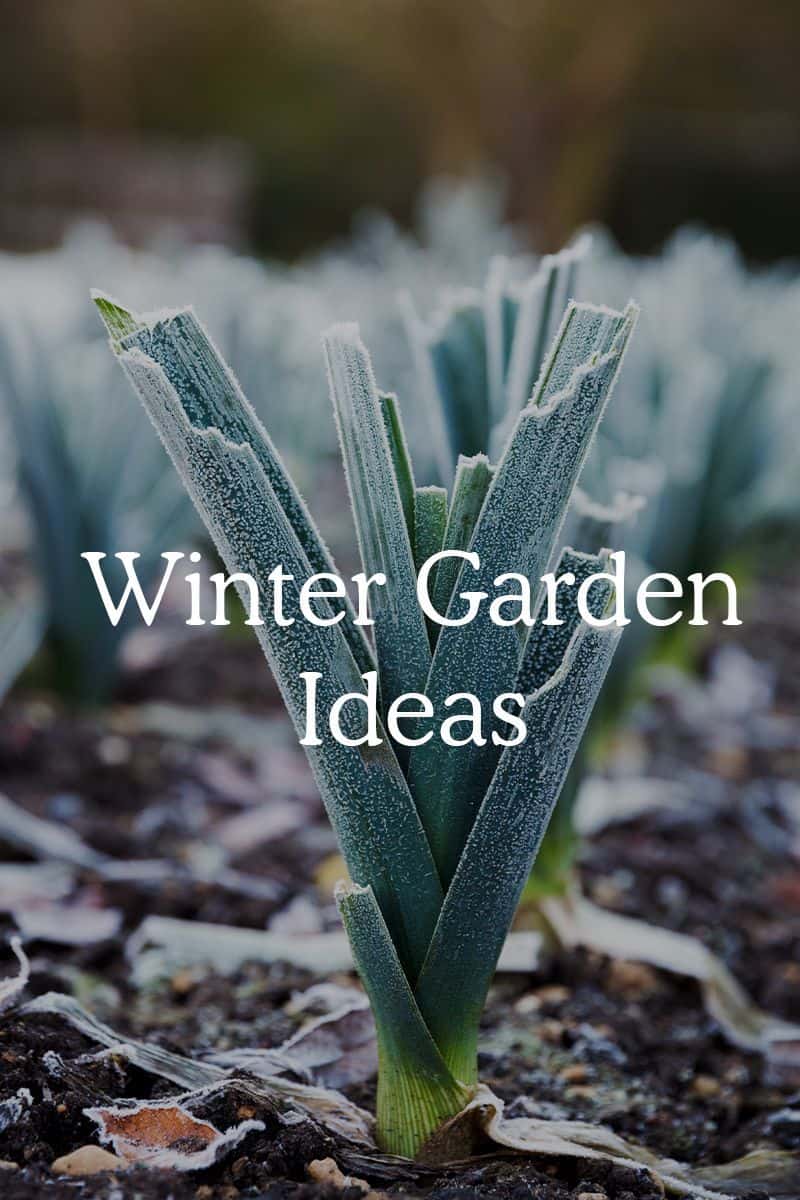 Much depends on the climate where you live, but you can extend your growing season to make much more use of your garden. We'll give you some winter garden ideas so you can grow your own food through the colder months and keep some color in your garden. To get more ideas you can check this Denver deck company website.
31 Ideas for your Winter Garden
1. Winterize the garden
One of the first things to do to prepare your garden for the winter is to make sure it is well watered before the first frost to keep moisture trapped in for winter.
Next is to remove any dead or dying plant growth.
Then, to protect any bulbs or plants left in the soil, cover with a few inches of mulch. This protects them from cold but also from getting too warm so they don't start sprouting too early.
One more job is to protect tender or young plants and shrubs with 'blankets'.
Of course, vulnerable plants in pots can be brought inside.
Lastly, drain water from hoses, pipes, taps, and water features to prevent damage from freezing.
2. Grow food
You can extend your growing season through the winter to have vegetables for a larger part of the year.
Some vegetables like carrots and turnips can be planted in late summer and left in the ground covered in mulch, in 'nature's pantry' until you need them.
Kale and Swiss chard are popular winter crops, as are salad greens such as lettuce, Asian greens, and arugula. They can be protected in cloches or cold frames if needed, depending on your climate. Greenhouses and polytunnels are good places for some winter growing.
If you are unsure of what will grow in your climate, check with experts on what's best for the region you live in.
3. Four season interest
It's not just vegetables that can be grown in winter. You can still have some color and scents in the garden in the colder months.
Snowdrops are so named because they can flower even when snow is on the ground. Other bulbs to consider are circus and winter aconite as well as shrubs like winter hazel and honeysuckle.
4. Think nature
And it's not just plants we need to consider in winter. Your garden depends on birds too so we can help them in winter and they will return the favor by controlling pests.
Leaving food out for them and making sure they have some unfrozen water will cheer them up.
And putting nesting boxes out in late winter will attract more birds to your plot.
5. Decorate outdoors
A decorated garden looks great during the holidays so you can use the classics – holly branches, poinsettias, and wreaths to add some holiday spirit outdoors.
Lights are a nice finishing touch to illuminate and cheer.
6. Bring the garden indoors
When it's too cold outdoors you can still enjoy growing indoors, whether that's in a greenhouse, sunroom, or in your home itself. Contact a home remodeling company if you're planning a sunroom addition project.
Good choices are bulbs such as paperwhite narcissus and amaryllis plus you can start seeds, as well as shoots from budded branches.
7. Take stock
Winter is a good time to look back at what worked and what didn't work in your garden, and to plan for next year.
Maybe you want to take on more, expand your growing area or try new crops. Maybe you want to scale back and kick back a bit more.
Or is it time for that project you've been pondering for a while? Maybe you want to pave an area or add a water feature or a chicken coop. You can use the time to design and buy what's needed.
8. Prune your plants
Late winter is a good time for some of your plants to be pruned back. It's important to check for each variety to make sure when is the best time for pruning. The results will be much more spectacular and less damaging if done at the right time.
9. Winter flowering Clematis
The winter flowering clematis brings beautiful flowers and foliage to a sparse winter garden. These trailing plants can be grown amongst shrubs or trained up a feature like a trellis.
10. Pansies
Pansies are a popular winter flower, as they are available in a multitude of colors and are easy to grow.
They look best in hanging baskets, containers, and window boxes and can bring a crowd of color to your home and garden through the whole winter.
11. Coronilla
If you live in a coastal or windy area, a good winter choice is Coronilla.
Its bright yellow flowers will bring sunshine to your winter garden.
12. Hellebores
Hellebores are another plant that's tough enough to survive cold winter temperatures while still managing to produce beautiful and delicate flowers. A favorite for winter garden ideas.
13. Camellia
Camellias are equally popular and hardy, producing beautiful blooms as well as plenty of evergreen foliage. When they return, the bees and butterflies will be drawn to them as much as you will.
14. Cornus
For something that brings striking color without flowers, the easy-to-grow Cornus brings fiery red in its bark to add color to your winter garden in a different form.
15. Sarcococca
If you want to bring fragrance into your winter garden then Sarcococca is a fragrant choice with evergreen foliage to add life to a border.
16. Loropetalum
Loropetalum is an evergreen that can be grown in containers so is great for smaller winter gardens and patios, bringing fragrance and unusual flowers.
17. Spinach
One of the best winter garden ideas is spinach. It grows well and is versatile enough to be used in healthy salads and smoothies, as well as hearty warming winter soups and stews.
18. Kale
An equally hardy and versatile essential in a winter garden is kale. And also very good for you!
19. Parsley
Parsley is a versatile herb you can grow in winter to add its subtle flavor to salads and cooked dishes.
20. Asian Greens
Asian greens have been proven to grow well through the winter so these are a safe bet for first-timers, and maybe something different to add to your recipes.
21. Arugula
Arugula, works well through the winter and its peppery taste gives any salad a little something extra. Great on pizza too!
22. Carrots
Root vegetables like carrots are one of the best winter garden vegetables to grow because they can be left in the ground and covered with mulch to preserve them longer.
23. Turnips
Turnips are another good winter root vegetable. Not as versatile as carrots but a distinct flavor to add into the pot, the winter stew pot.
24. Collards
Collards make a good alternative to cabbage for another winter garden vegetable. Try it stewed with ham hock together with turnip greens if you fancy, or shredded raw in a salad for a super healthy side or main.
25. Lettuce
The staple of salads and sandwich fillers, lettuce is a good everyday essential that you can grow through the winter. With so many varieties out there you can have many flavors to choose from. See which ones work best in your winter garden.
26. Cabbage
Cabbage is another versatile staple that's hardy enough to easily grow in the colder months. Healthy and hearty, it can be chopped and fried, stewed, or blended in a homemade soup.
How to Protect Your Plants From Winter Damage
27. Add a Layer of Mulch
Mulch is one of the most useful things in your garden at any time of year but in a winter garden it becomes a vital layer of insulation to protect your beds and bulbs.
All you need is a layer of a few inches of mulch – chopped leaves and straw work well as they are lighter and don't compact too much.
It will keep the ground at a more constant safe temperature, protecting the beds from severe frost to keep the soil intact and the plants alive as well as stopping them from warming too much in periods of sunshine. You don't want shoots coming out too early and then being killed off by a frost.
Mulch also helps keep vital moisture in the soil.
28. Winter Watering
Keeping your well water system performing as it should takes teamwork. It's good for you to recognize the signs with the help from a reliable professional and a team of professional license plumbers like well pump repair Waunakee to provide solutions in keeping the system safe and reliable!
Even though most plants are dormant, they still need water during the winter to survive. Most gardens will get the essential water from rain or snow during the winter but you need to make sure the ground doesn't dry out if you have prolonged periods without that precipitation, especially if windy as that will dry the garden more quickly.
So make sure the ground receives water at least once a month. And try to water before each hard frost, as surprisingly the moisture keeps the plants warmer than in dry soil.
Don't forget the plants in containers as they will dry out more quickly, especially if they are under cover and not being taken care of by nature's watering can.
29. Protect Sensitive Trees
Tender and newly planted trees and shrubs can be protected with blankets to keep off damaging frosts.
Some trees can be scalded by the winter sun if they have thin or smooth bark. It is caused by alternate freezing and heating by the sun, so protect these trunks with trunk wraps from your garden supplies store. Put it on in late fall and remove it in spring so as not to damage the trees.
Some new trees may also need staking to help support them through the winter months. Again don't forget to remove the ties and strings in spring to prevent damage to the expanding trunks.
30. Container Plants in Winter
The USDA winter hardiness ratings are a useful way to help you decide which plants to keep in your winter garden.
The ratings split the world into 13 zones based on their average minimum temperatures, with 1 being the coldest zone. Plants can then be chosen based on which zones they are safe in.
But that is based on plants being in the ground so to help you decide which plants to have in containers during the winter you need to be a bit more cautious as they are less protected from the cold than when in the ground.
To be safe, choose plants for containers that are safe in zones that are 2 ratings colder than your zone. For example, Rhode Island is zone 6. When choosing plants for containers, work on zone 4 which is for the colder temperatures found further north in places like Maine.
An alternative is to bring containers indoors or cover during colder snaps.
31. Remember to Protect Water Features
Water is an unusual element, in that when it freezes it expands. So it floats. That is great for the fish in your pond as it means the frozen part will always be at the top of the pond insulating and leaving the liquid water below for the fish. If it wasn't for this unusual property, the fish would be frozen in ice! Isn't nature amazing?
The downside of this is that if water is left in pipes, taps, pumps, fountains and water features during the winter and it freezes, this expansion will damage and break these things. So it's very important to drain water from these places and where possible remove and store safely for the winter.
A little work before winter will save you a lot of potential cost and work once the thaw comes.
Also, check which water plants may need to be brought in during winter. If you need something that can help with watering plants in your garden, then a well pump may help. Contact experts like experienced residential well services in Snohomish, WA for installation.
Conclusion
Hopefully, you have taken away plenty of winter garden ideas from this and can start making plans for your winter garden – as well as your winter pantry and recipes for healthy homegrown warming winter food.
If you loved this article about winter garden ideas, consider checking out these articles below —