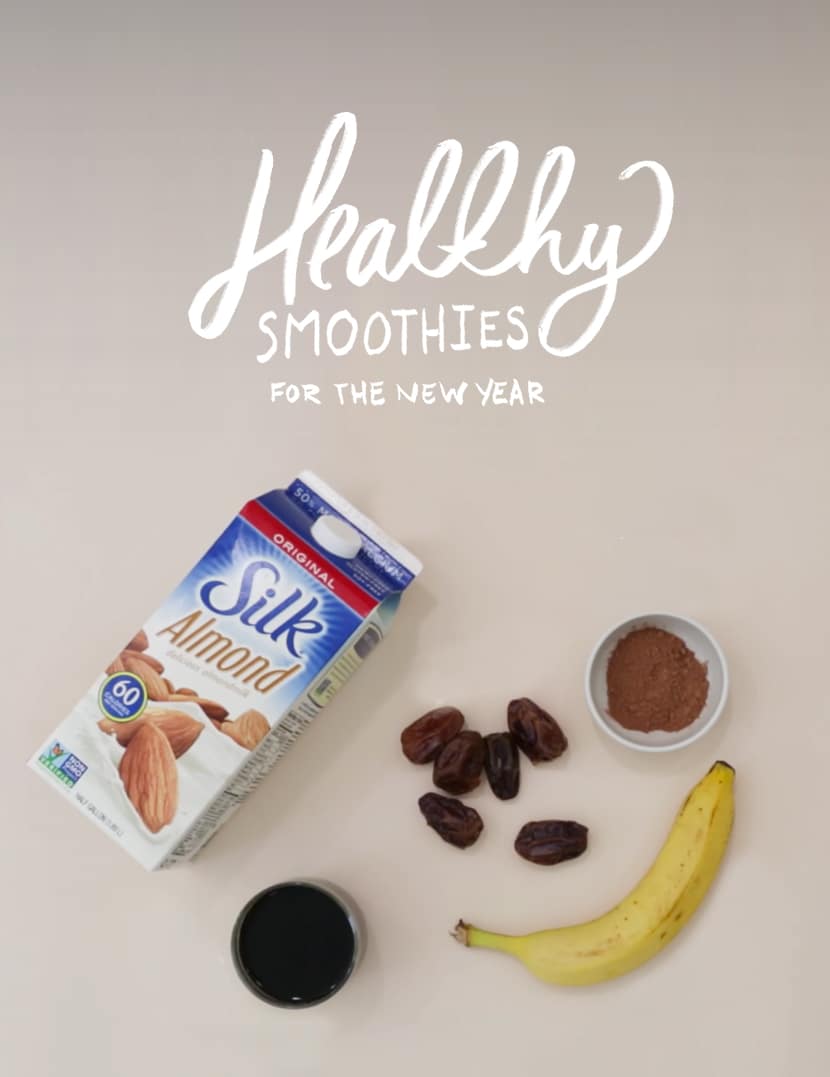 Every day I have a routine and every day begins with a great smoothie, all thanks to one of my personal blenders for crushing ice. I have made some really great ones through the years, but also made some duds. This year, I partnered with Silk throughout the year to release 4 smoothie recipes in a short video format. There was one recipe per season and today I am rounding them all up for you in hopes for them to join your own smoothie rotation in 2017.
Each recipe is one I have been using this last year and years prior and I love that Silk has so many options for different nut milk that are all plant-based and that they are a member of the Non-GMO Project. Most of these recipes do well with most of their nut milk, but the one I pair with them is the best option for the best flavor, but obviously, I love hearing any new suggestions.
Winter Recipe – A Shot In the Dark – A Caffeinated Pick-Me-Up
This is one of my favorite smoothies to enjoy nearly all year round, but I find that in winter I always drink a little more coffee. Maybe it is the shorter days or maybe it is just the fact everything is a lot of work in the winter, but I need a good kick in the pants some days and this does the trick. Here is what you need to blend up for the smoothie:
Ingredients Needed
1 cup Silk Almond Milk Unsweetened (can also use Vanilla!)
2 tbsp cocoa powder
1 banana
1 handful of pitted dates (no pits)
1 cup cold brew or leftover coffee
How to make it
Blend all ingredients together reserving a small amount of cacao powder to garnish. Can also be served over ice creams or to make it more like a smoothie just had two handfuls of ice cubes in the blender if desired.
Spring Recipe – Spring Green Smoothie
This is an absolute favorite recipe. It is so easy to pack in a ton of greens and healthy fats with coconut milk and avocado while getting your fill of calcium from Spinach. Though not all of these things are exactly spring, the spinach and mint are classics to the palette of spring foods. It will be easy to find them in your local market fresh and in season, which I love enjoying those flavors when they are available close to home. Also, the mint makes this taste EXTRA refreshing for a perfect thirst quencher on a warm spring day.
Ingredients Needed
Serves two
1 cup Pineapple
2 large handfuls of spinach
2 frozen and chopped banana
1 cup Silk Coconut Milk
1 avocado
1 good handful of mint
How to make it
Blend it all together and you have a fresh and healthy smoothie perfect for the spring weather.
Summer Recipe – Bright Like Summer Smoothie
I always want something in the summer that is full of fresh fruit and has a little bit of that tropical flavor during the warmer months. That is what I love about this recipe. I also love that we didn't ditch the veggies either. Hidden in there is a carrot to add in that little extra Vitamin C.
Ingredients Needed
Serves two
2 frozen bananas
2 medium carrots peeled
1 vanilla bean or 1 tsp vanilla flavoring
1 mango chopped (can use frozen as well)
1 cup Silk Coconut Milk
(add a squeeze of lime as well for something extra in it)
How to make it
Blend it all together and you have a bright and vibrant smoothie for summer weather.
Fall Recipe – A Heart Healthy Smoothie
This was one inspired by a good friend of mine. She made it for me one time when I was staying with her and I was cook from there on out. When I was pregnant with Hayes I had one of these almost every day. I craved beets when I was pregnant and so I added them into nearly everything. Now he loves them maybe more than I do. Who would have thought? Beets have all sorts of amazing healthy nutrients packed into them and if you can get them in your smoothie raw than all the better. Here is this great fall root veggie recipe that brings in strawberries from the summer to a classic fall flavor of the beets.
Ingredients Needed
Serves two
1/4 cup coconut oil
1 cup Silk Almond Milk Original Unsweetened
1/2 lemon
2 small beets peeled and chopped.
1 cup frozen strawberries
How to make it
Toss all the ingredients in the mixer and top with mint leaves.
What recipe do you love to make every season? Is there a smoothie recipe you swear by?! I would love to hear.
This post was in partnership with Silk. All thoughts and opinions are our own. Thank you for supporting the brands that support The Fresh Exchange.
If you find these silk smoothie recipes delicious, consider checking out our other recipes to pair it with –