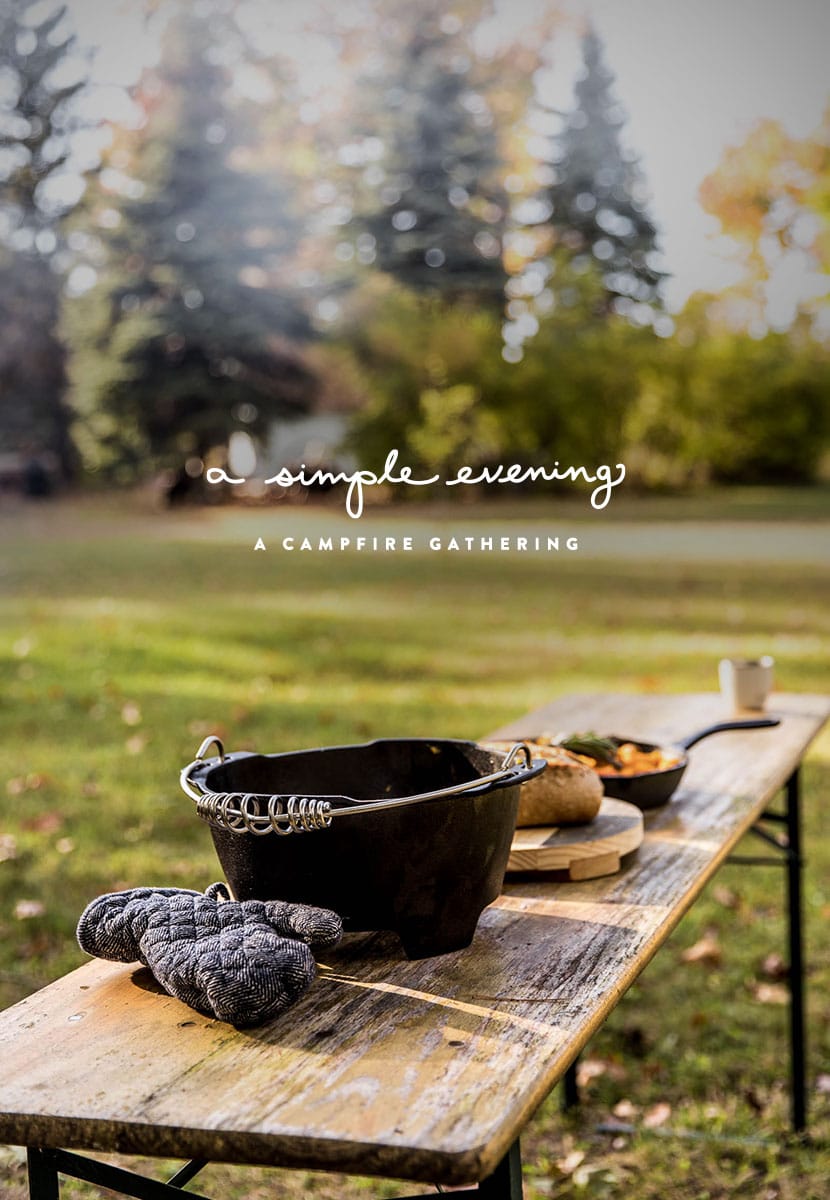 On the last warm weekend in October, we had our friends Laura and Sam over for a little gathering. We try to get together at least once a month with them, thus why you see them fairly often here. We currently live on opposite sides of the Traverse/Leelanau world but we have been determined to make it feel like we are still neighbors since we will be come this winter. The week had been crazy. Mike had been gone for work to New York that whole week and I had been doing the solo-parent thing. Knowing we had this dinner with Sam and Laura seemed to help keep our heads up. Mike was excited to get some time shooting, Sam was excited to cook some Venison over an open flame, Laura was excited to make some Dutch Oven Crisp, Hayes was excited about his first bonfire, and I was just excited to have everyone together.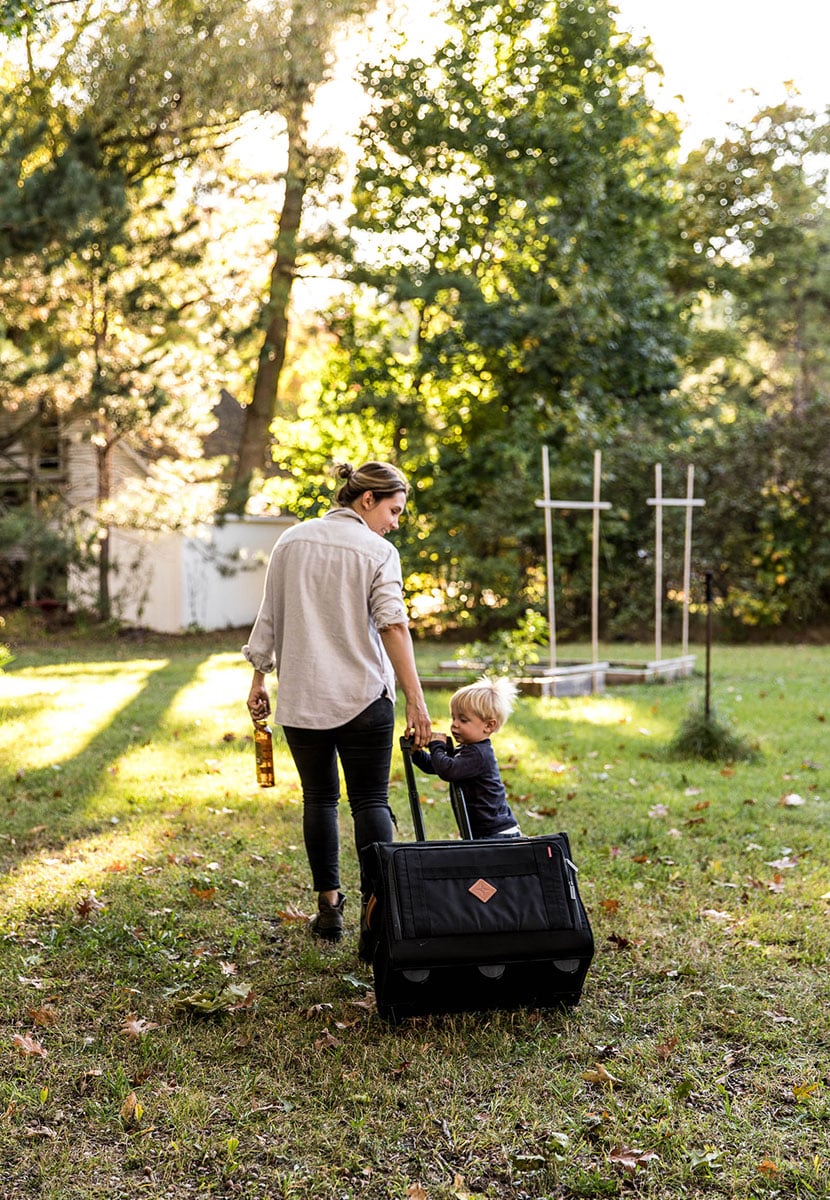 With the warm days ending and the cool ones sweeping in, we wanted to enjoy a dinner over an open fire. Fall is hunting season in Michigan. Fishing season is still thriving, but hunters are in the woods these days carrying their bow case. I grew up with a lot of memories from this time of year. My dad would bring his gear that includes a hunting rifle or pistol and pistol silencer to go hunting and bring home a deer, grouse, etc for us to enjoy as a family. It was a big deal when that happened in our home. Hunting in my mind is a way of caring for the land when done responsibly, respectfully, and lawfully. When planning to go hunting, you may look for some weather proof hunting backpack sales to purchase a hunting backpack.
As I have gotten older, I have stronger beliefs than ever about the importance of sourcing and harvesting our own food from responsible and local places. Part of that responsibility includes knowing where your animal came from and how it was treated if you choose to eat meat. We either buy from farms we know locally and then we make the most of the meat in every way (did you know you can eat almost 5 meals from a whole chicken?) or we have friends or Mike who hunt the animal properly for us using their best duck call for beginners during the designated times of year.
For this evening Sam shared some venison from a deer he processed last year and even brought some fresh oyster mushrooms from the woods he had found while out bird hunting with Mike that morning. We knew it would make for a great meal that night. The rest of our dinner our butternut squash and pumpkins came from a local stand just down the road for all of $2. We picked up Kale from our local co-op that sourced it from a local farm in the area and we topped it with cranberries and dried goods from the co-op as well. A simple meal from what we have available. That's my favorite kind of meal.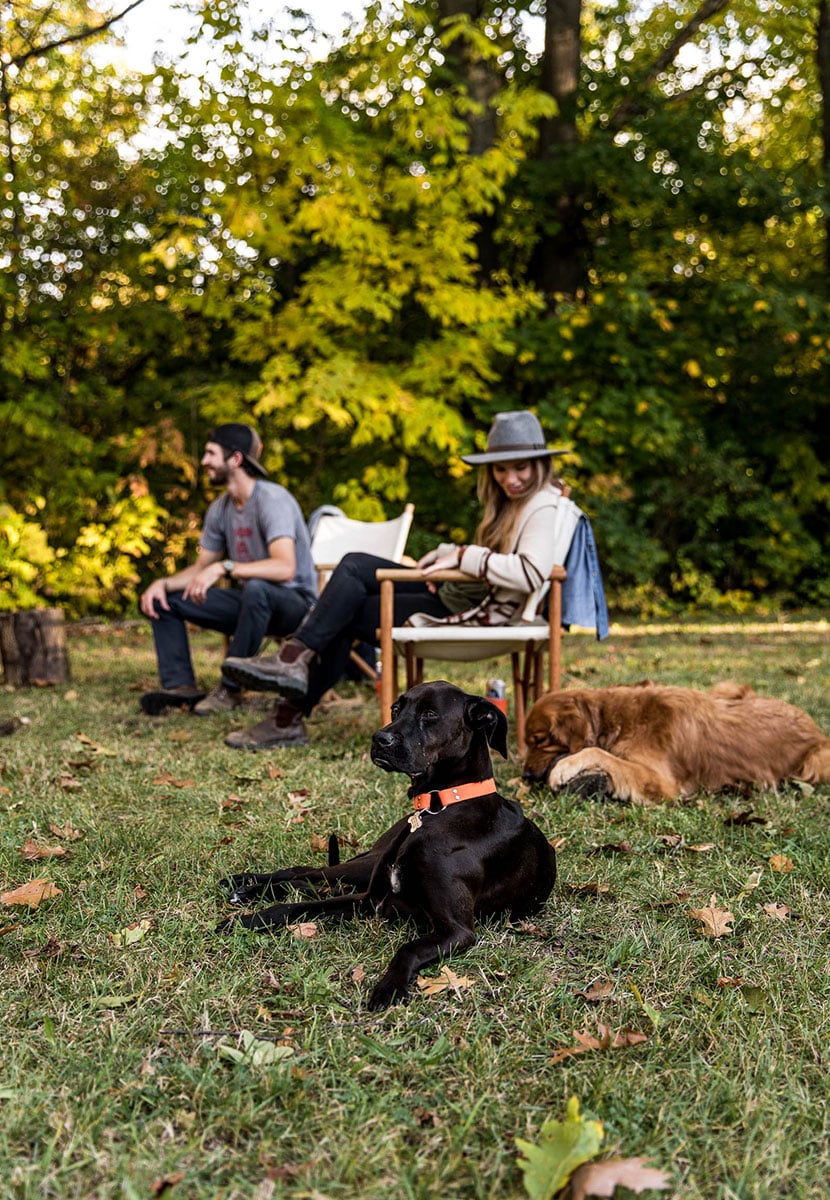 I am not sure how many of you are open flame cookers, but I know This time of year we love the chance to be outside. We need to get out in this weather. We love having fires in the evenings or during the day. We have to embrace the shorter days and take our opportunity to watch the sunrise even more than the sunset. It is how we enjoy this beautiful place we get to call home. This is a big reason why I will hold dinners outside whenever possible. Food is best enjoyed in good company and outside to me. This is why when I started dreaming up a campfire dinner, I knew not only did Sam need to cook it, but we needed to have my favorite outdoor gathering brand, Barebones Living be apart of it as well. So for the dinner, they sent along everything we would need from cast iron cookware to coolers for drinks to lanterns (the coolest ones you will ever see…they charge by USB). You can see all of the goodies and more that we used for the dinner at the bottom of the post with proper links.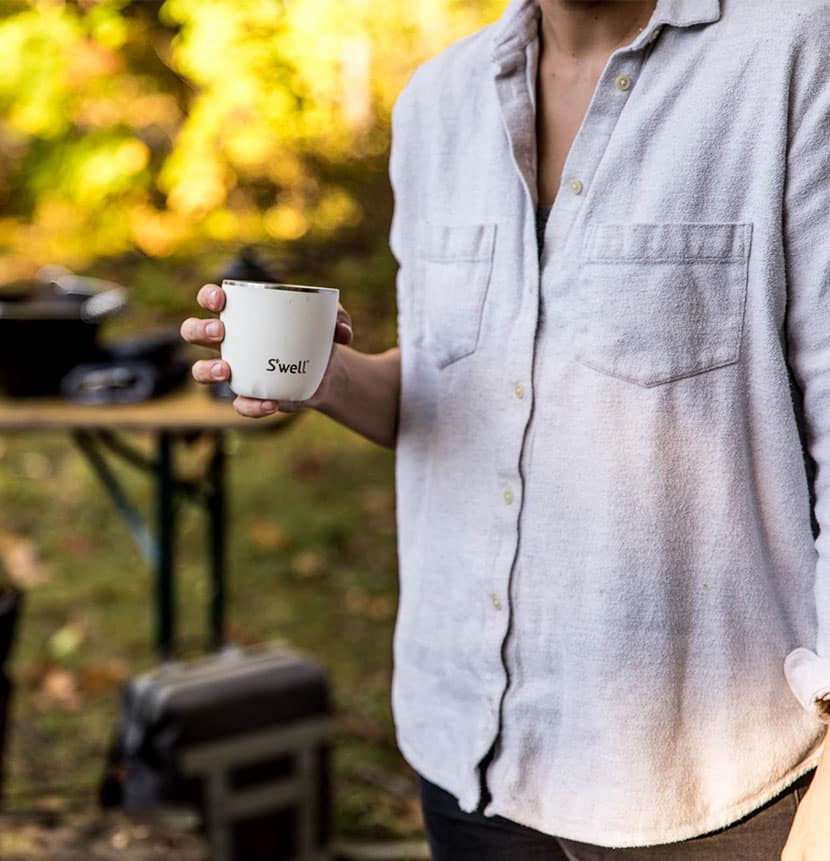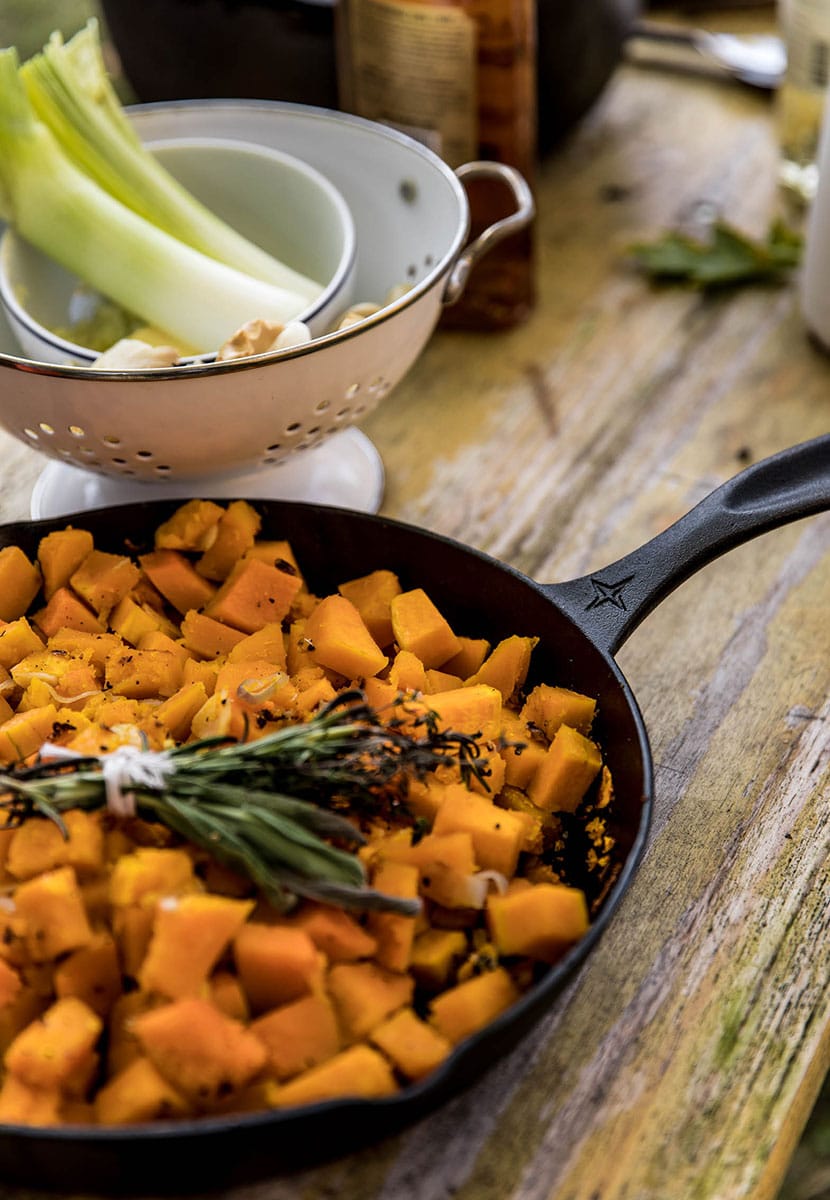 The night of the dinner, Mike had been out that morning with Sam trying to hunt down a few birds to add to the mix. With bird season at its prime it felt like the right thing. They had no luck so we instead opted for last year's venison without any dissappoint.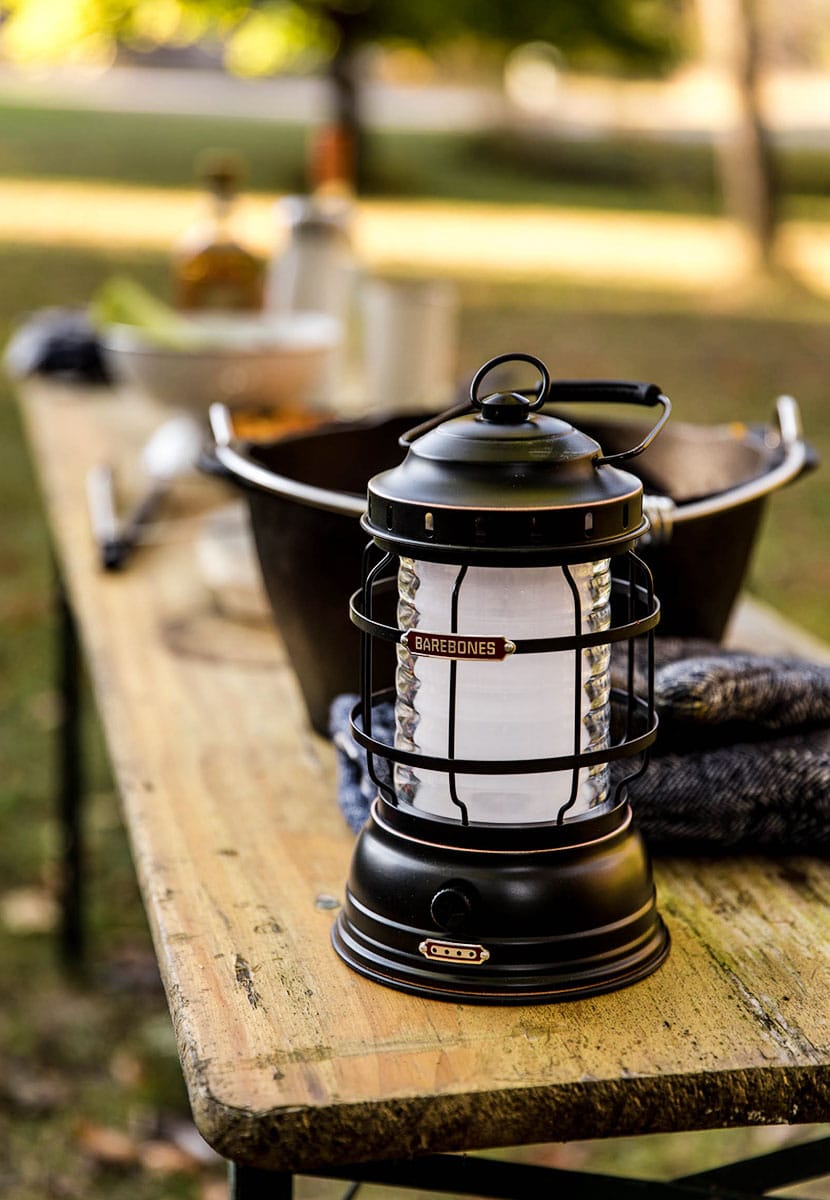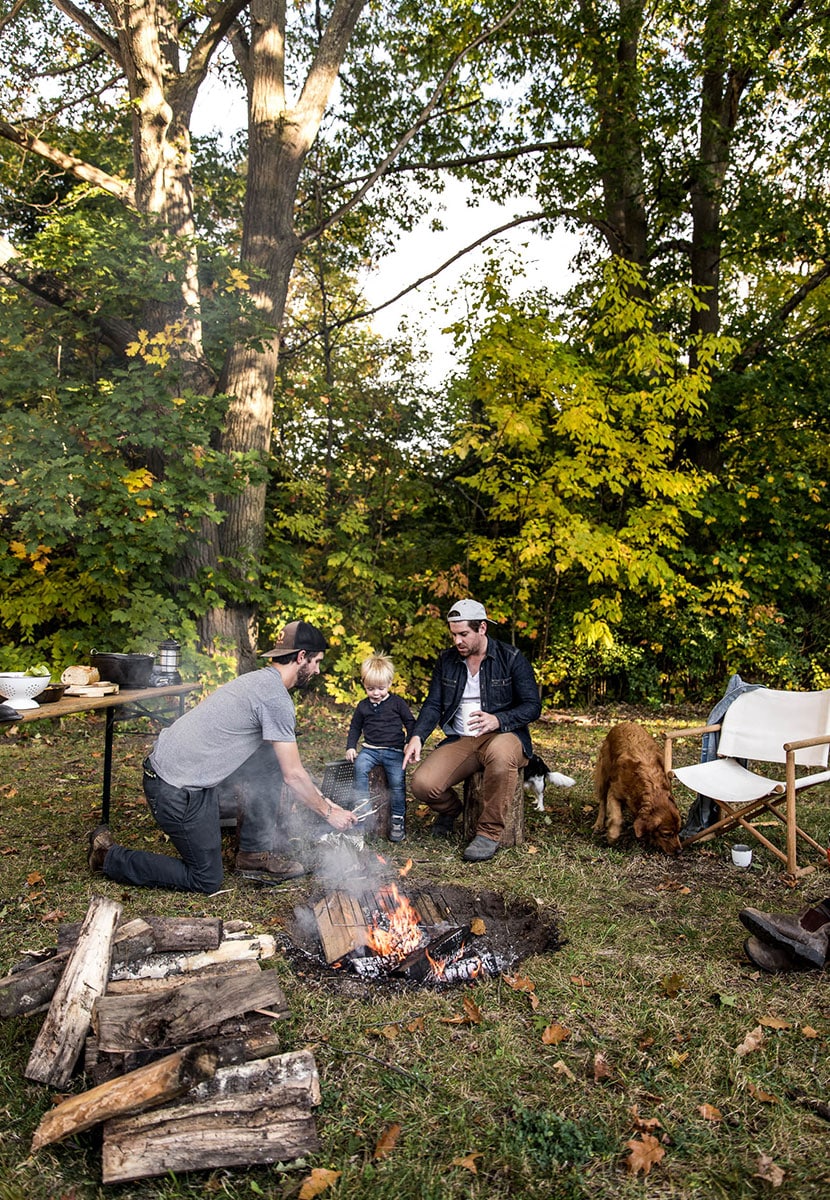 We dug a small hole in the backyard for our fire and setup for the evening. The fire was started right away so we would have coals to cook on once we were ready to make our dinner.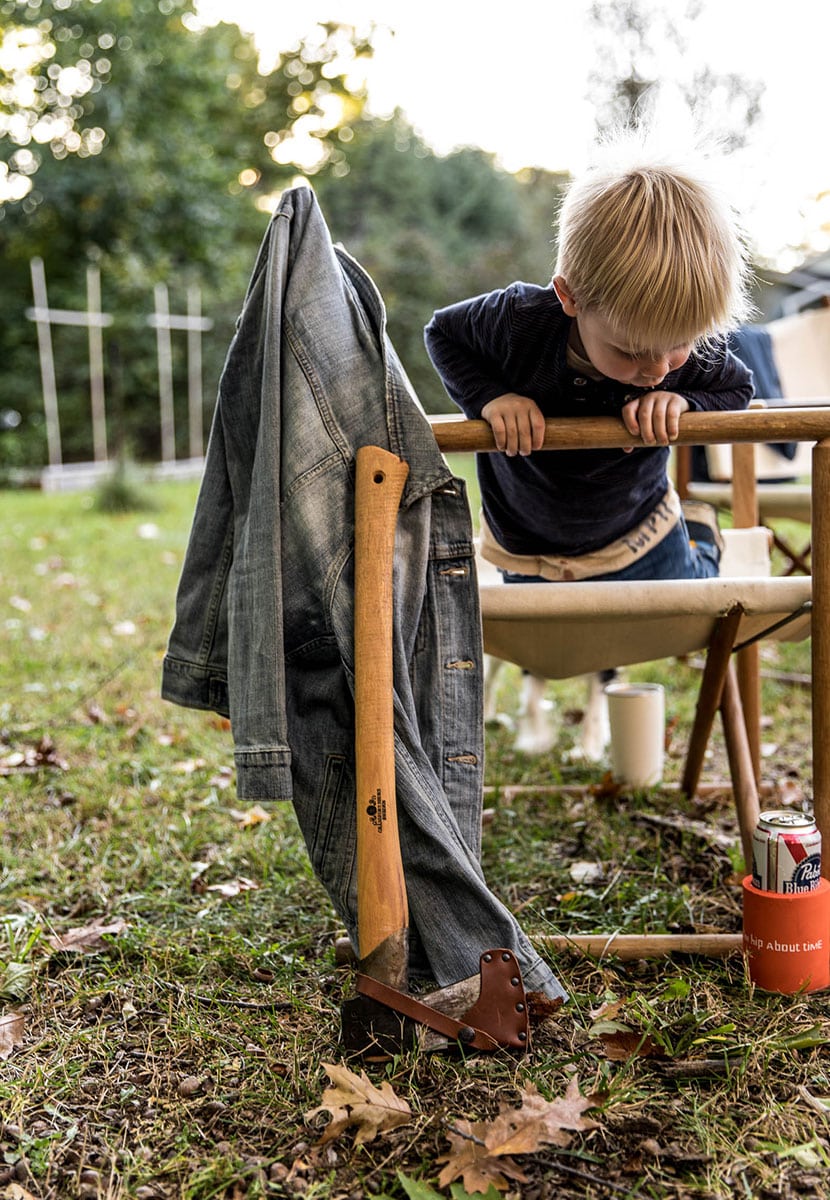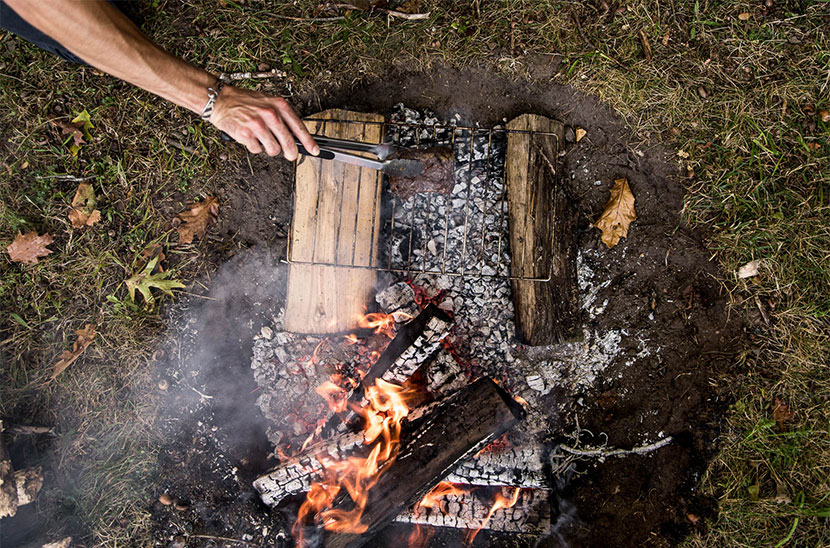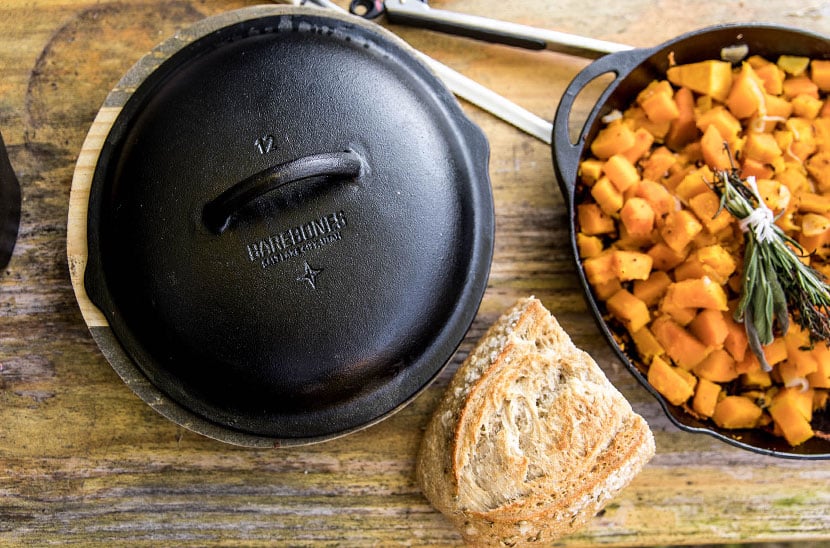 A few days before I made sure that I seasoned the pans from Barebones. They come with great instructions on how to care for your cookware. Personally, we love using cast iron. It is great in the oven, over open flames, and cooks things so well. If you care for it properly they can become absolute heirloom cookware down the road. They literally are the toughest cookware you can have. Though not ideal to backpack or camp in with they still make great cookware for camping if you are driving up to your site.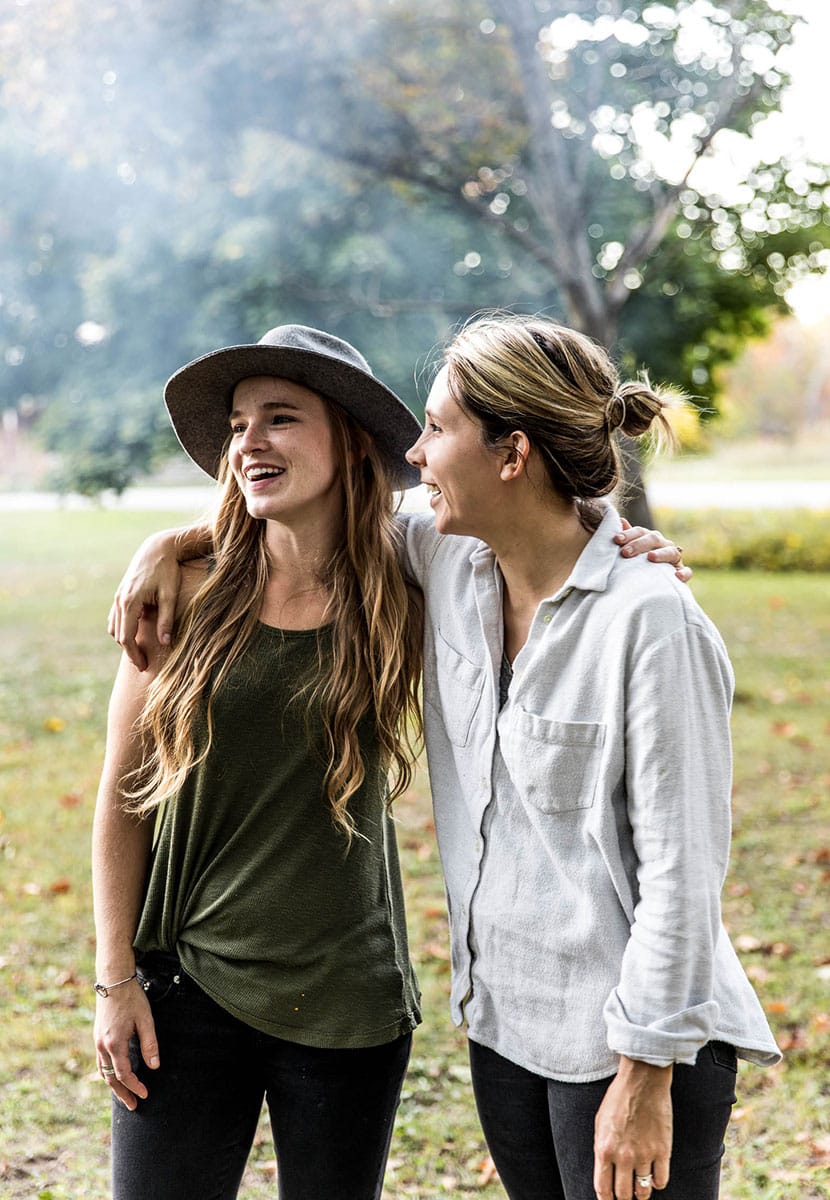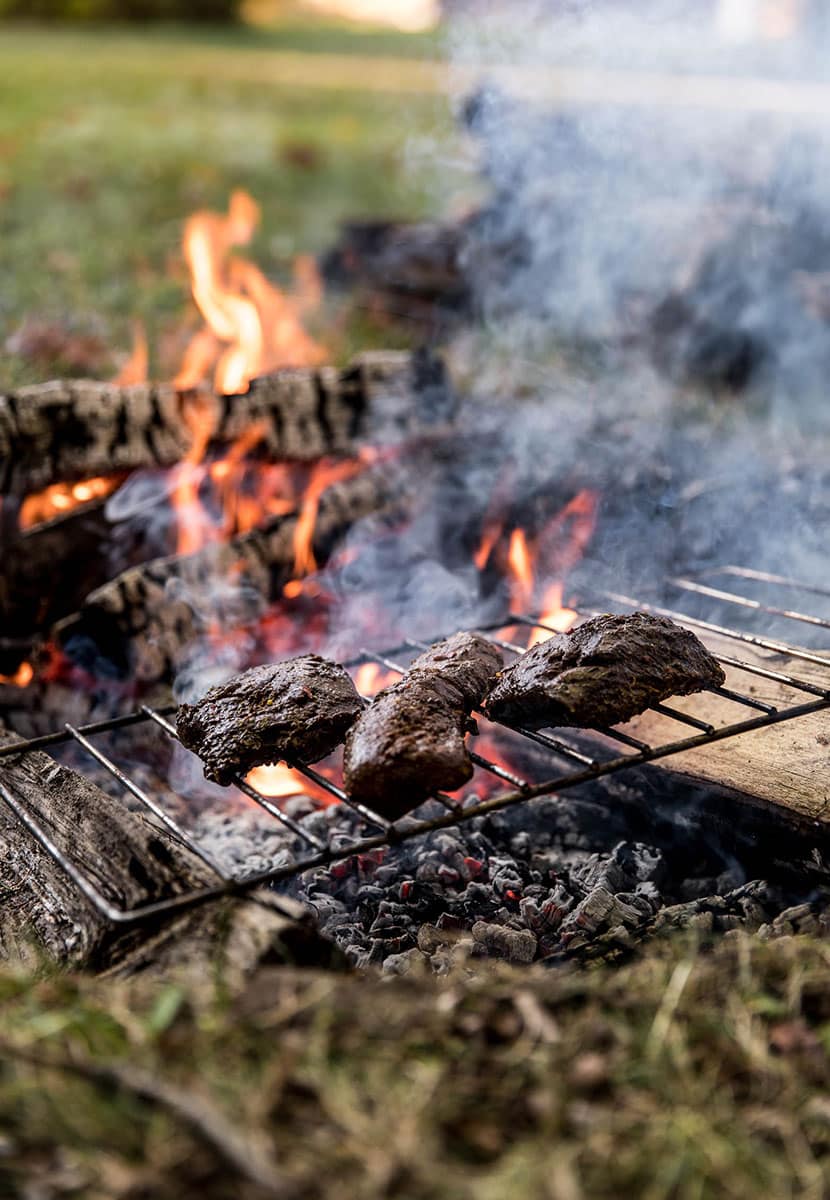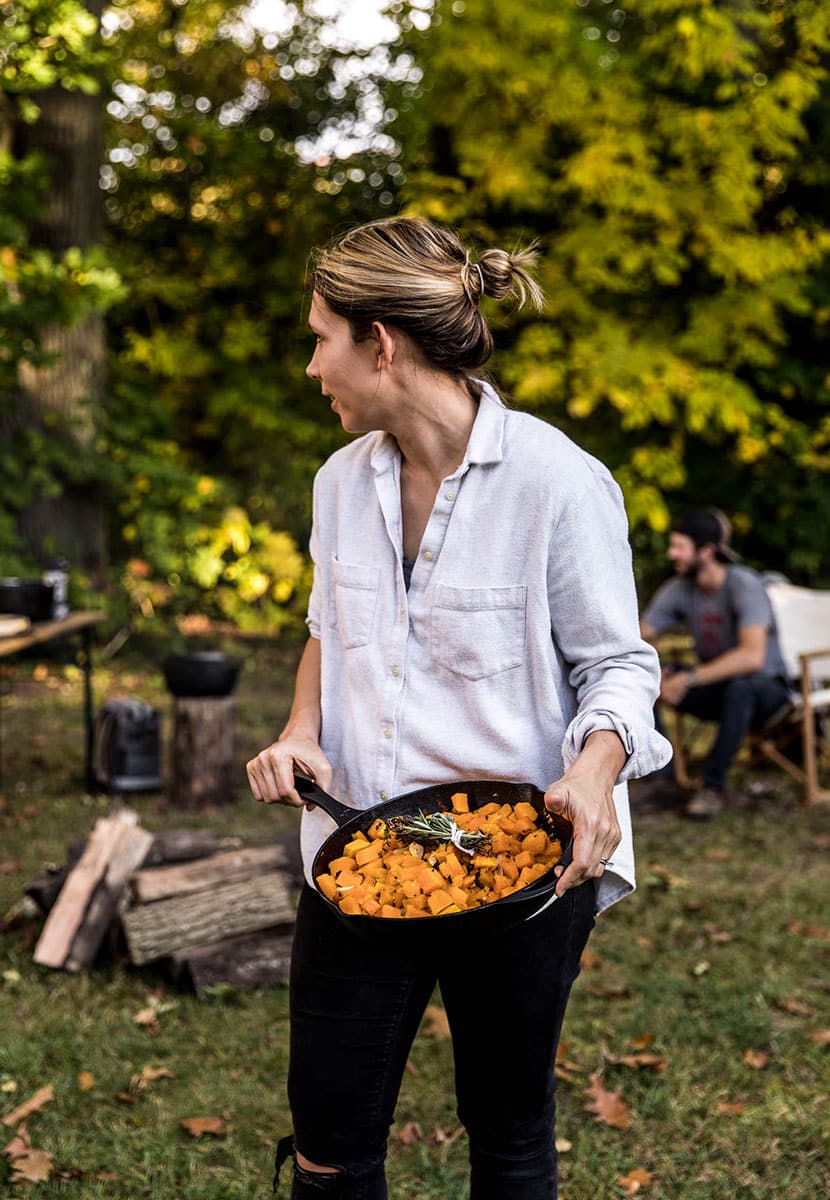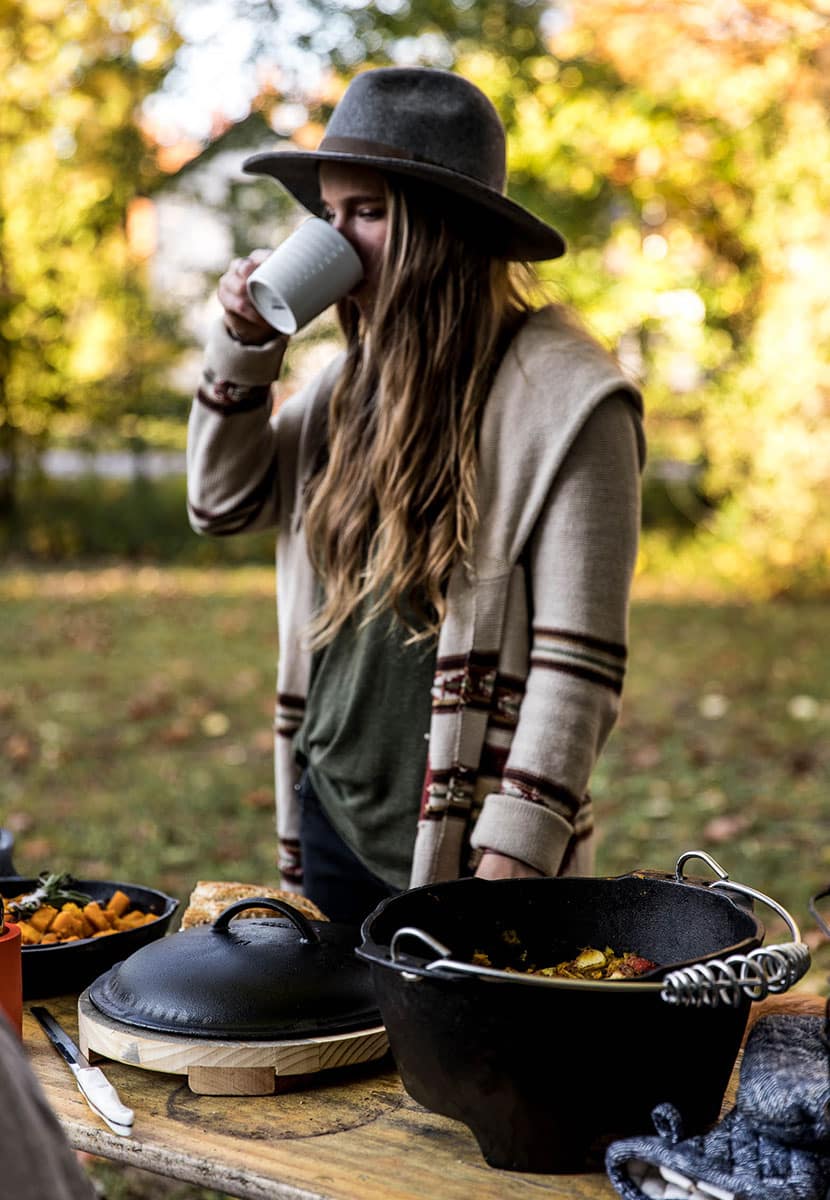 For the dinner, we each took a task. Sam took on the fire and the meat, mushrooms, and leeks. I took on the salad/squash by making a variation of this salad with butternut squash and cranberries instead. I topped it with some fresh herbs while it cooked so the flavors would permeate the squash. It wasn't anything too crazy just some ghee and squash with fresh herbs.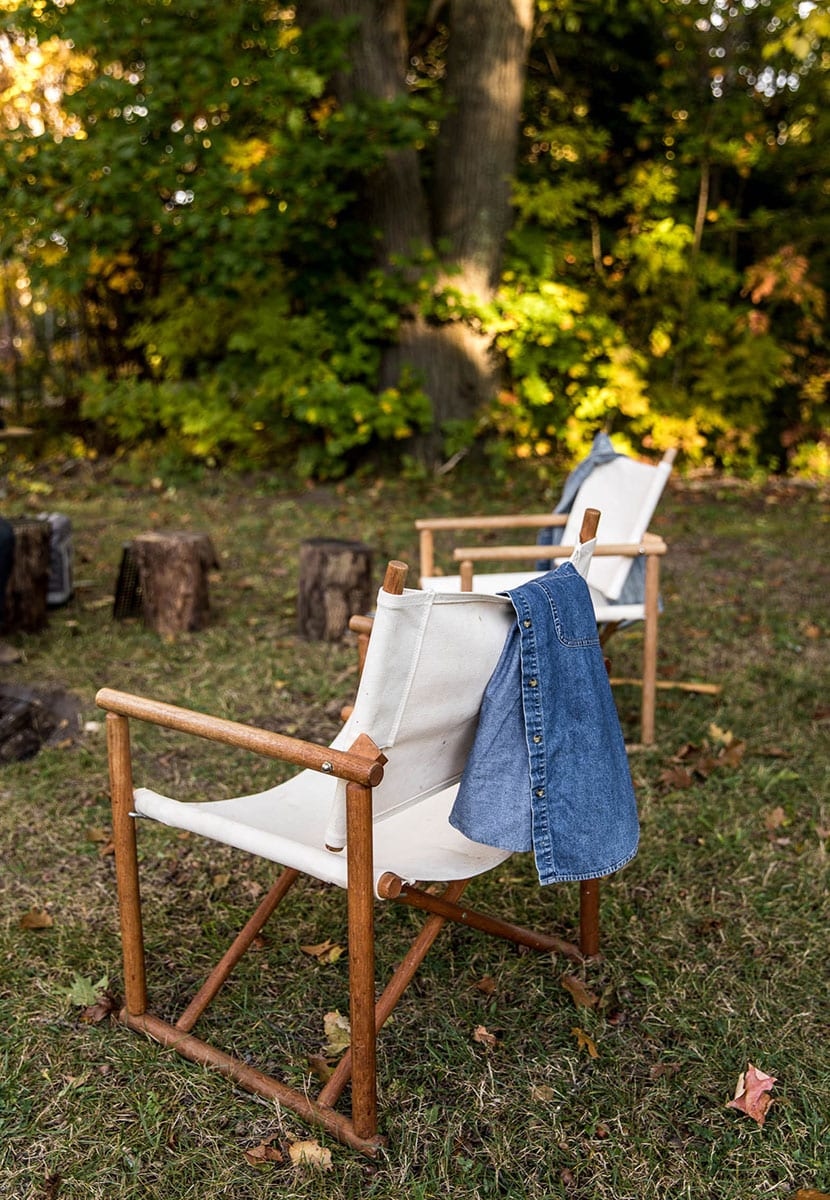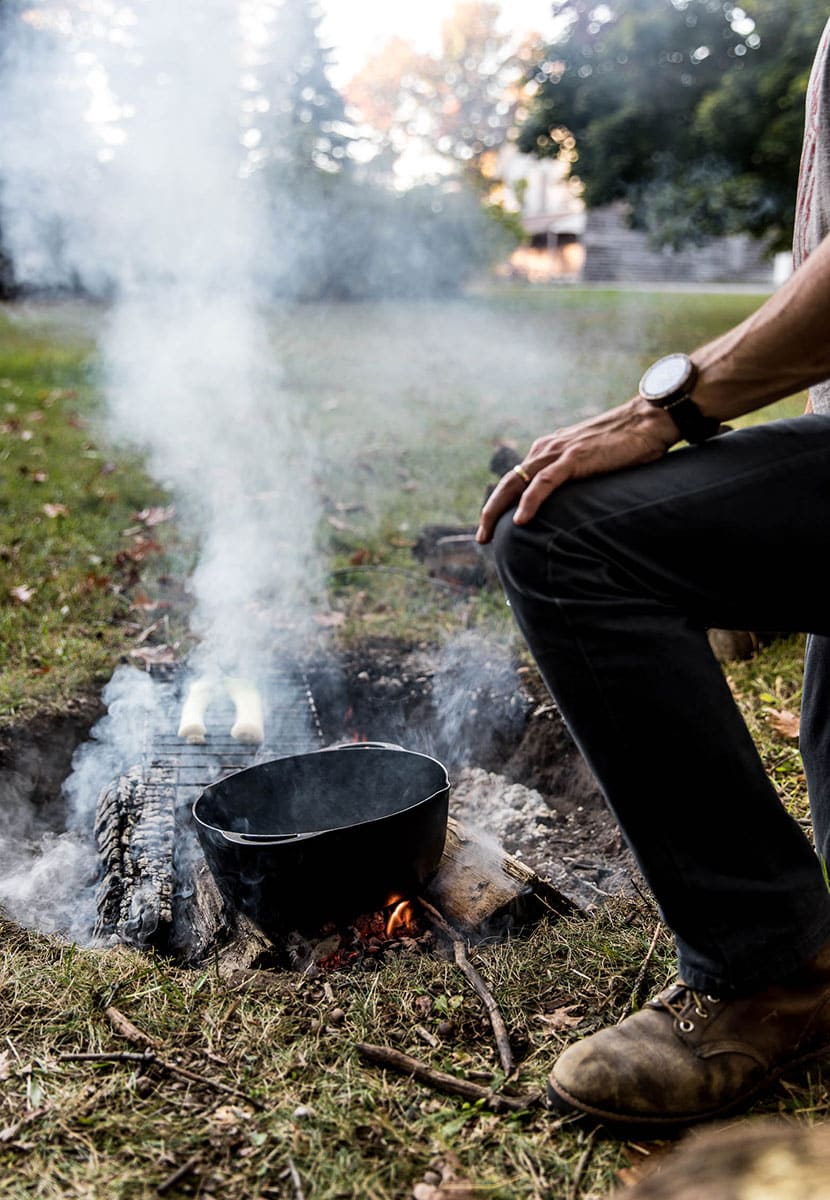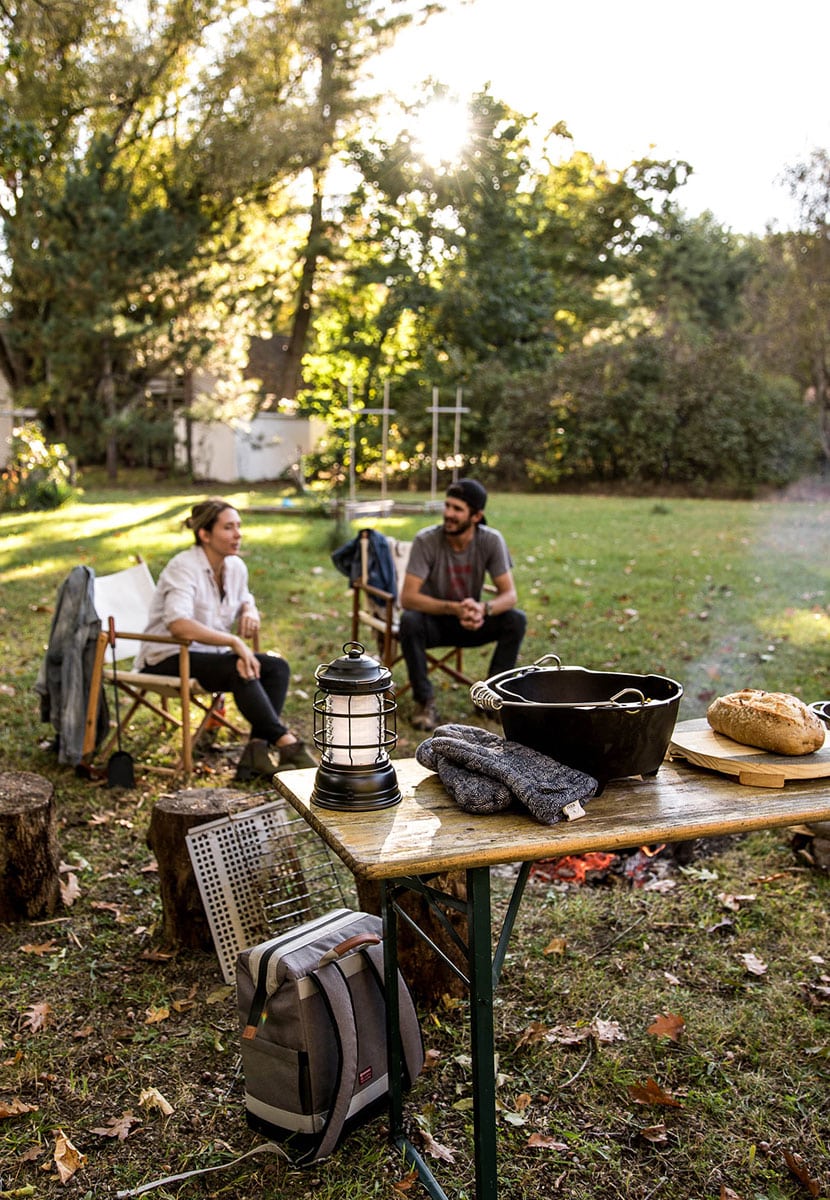 We used the Barebones Coolers to keep our drinks on ice and to bring out any extra cooking supplies for the dinner. We love these coolers and as someone who does a lot of cooking outdoors they are incredibly useful. The internal bag comes out and is easy to wash or tote with you in another bag as well. Each bag also comes with a bottle opener as well, which is a total key to a successful campfire dinner.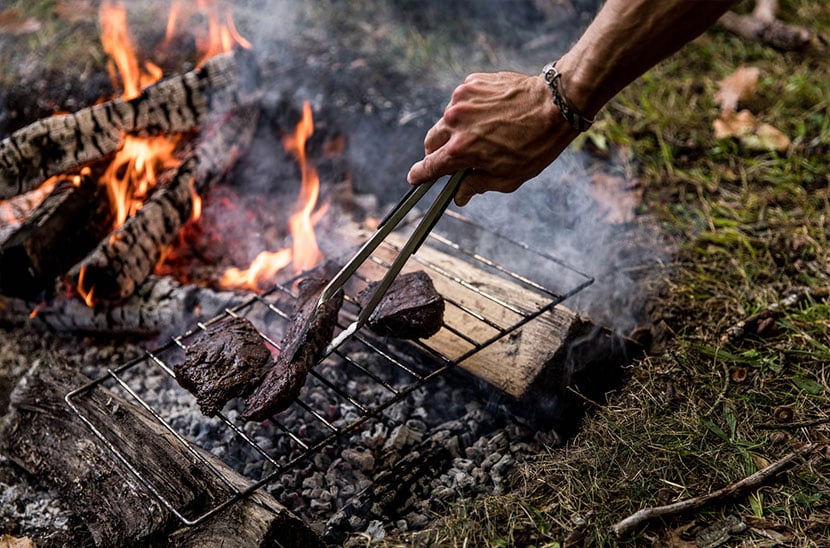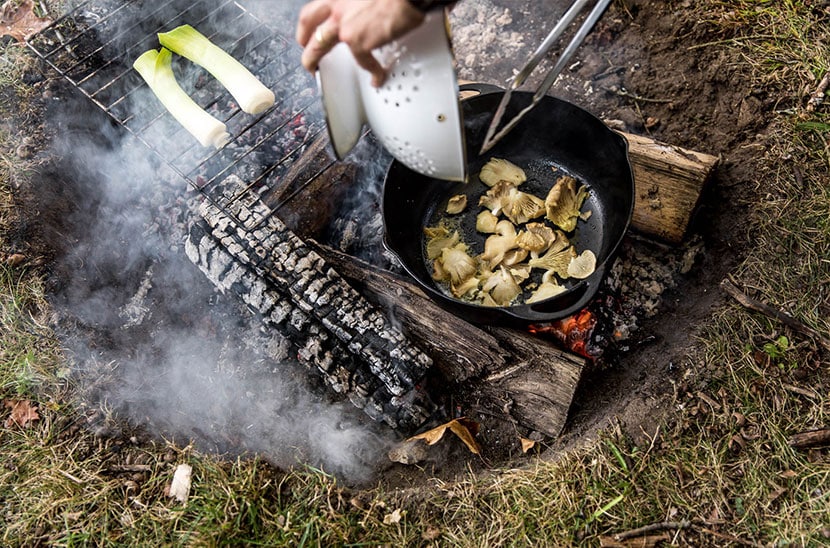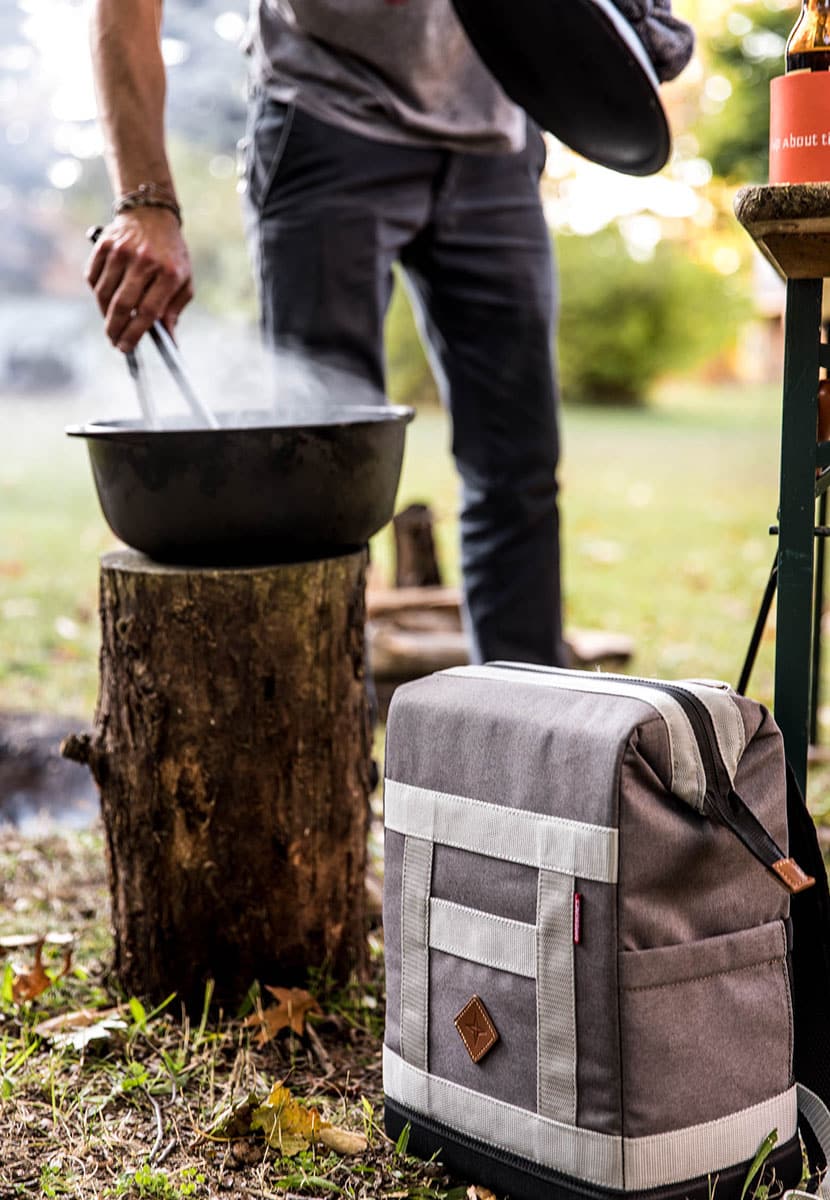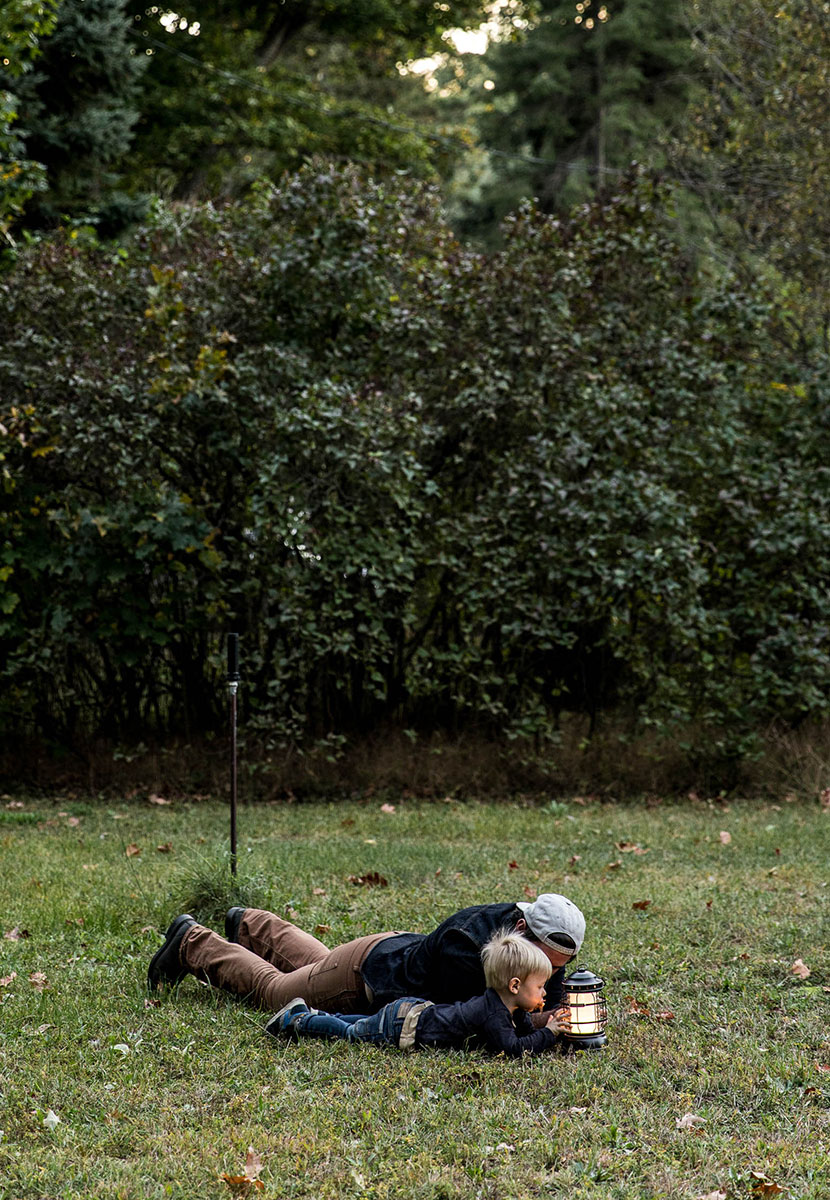 This was the first time Hayes had been around an outdoor fire. I was honestly rather freaked out about the whole thing, but he really loved it and embraced it. He is now at an age where he understands things are hot and what that means. So we talked him through the experience. He loved watching the fire and Sam cook. It ended up working better than I think any of us anticipated. Plus, the lanterns from Barebones resulted in great entertainment. The best part about them other than charging with a USB is that they have plastic over the light so they are less breakable, which is perfect for little ones who might carry them around.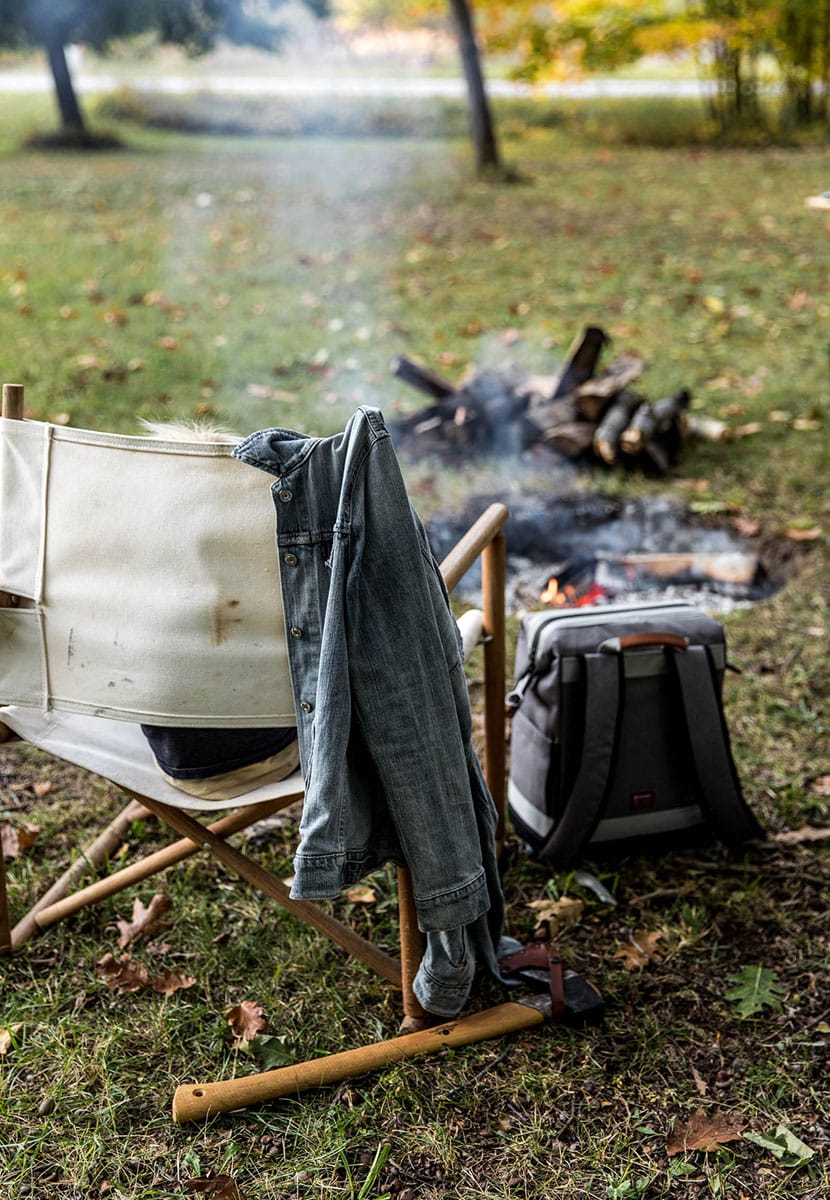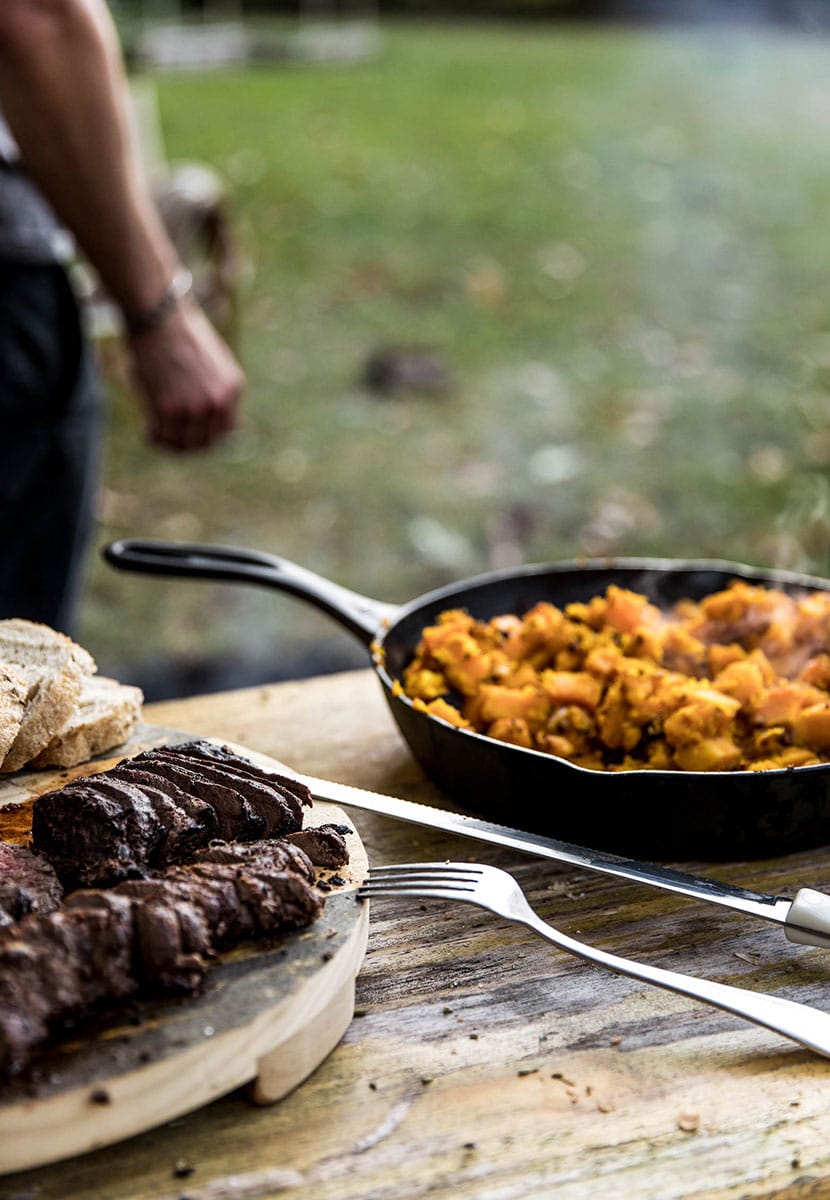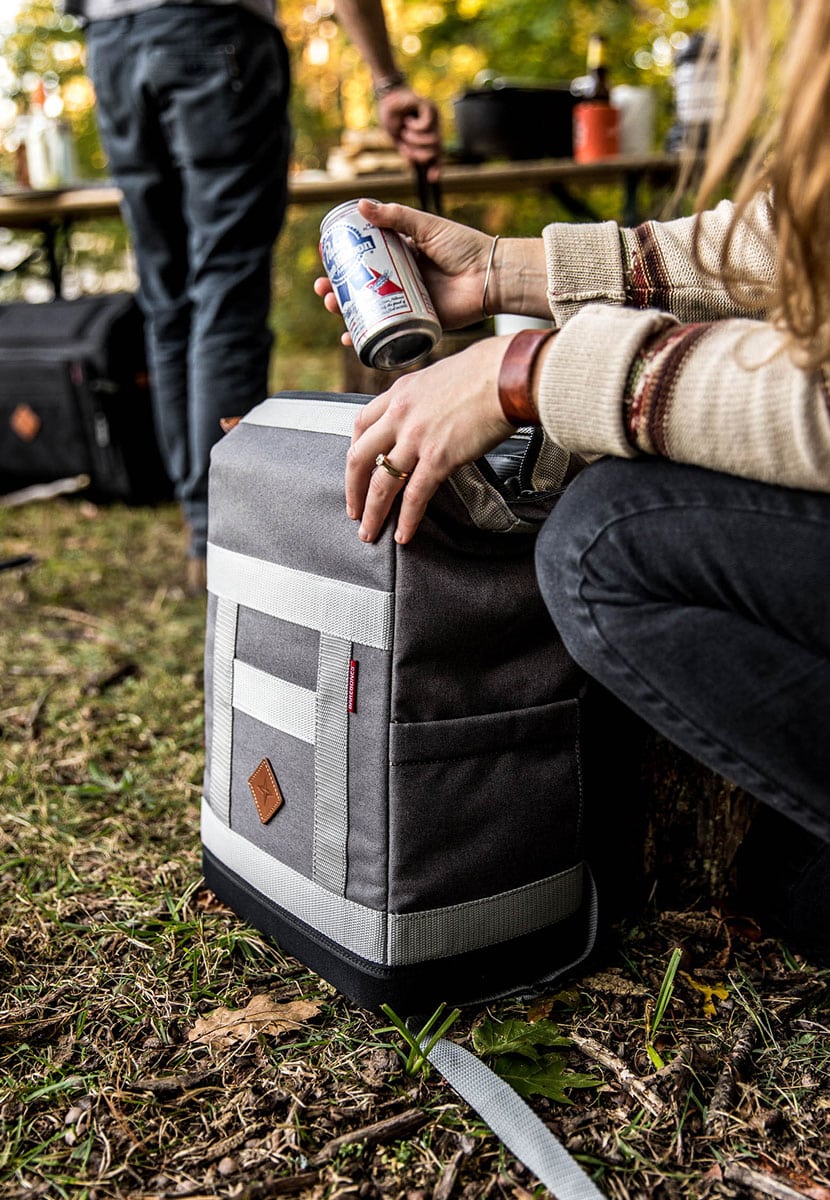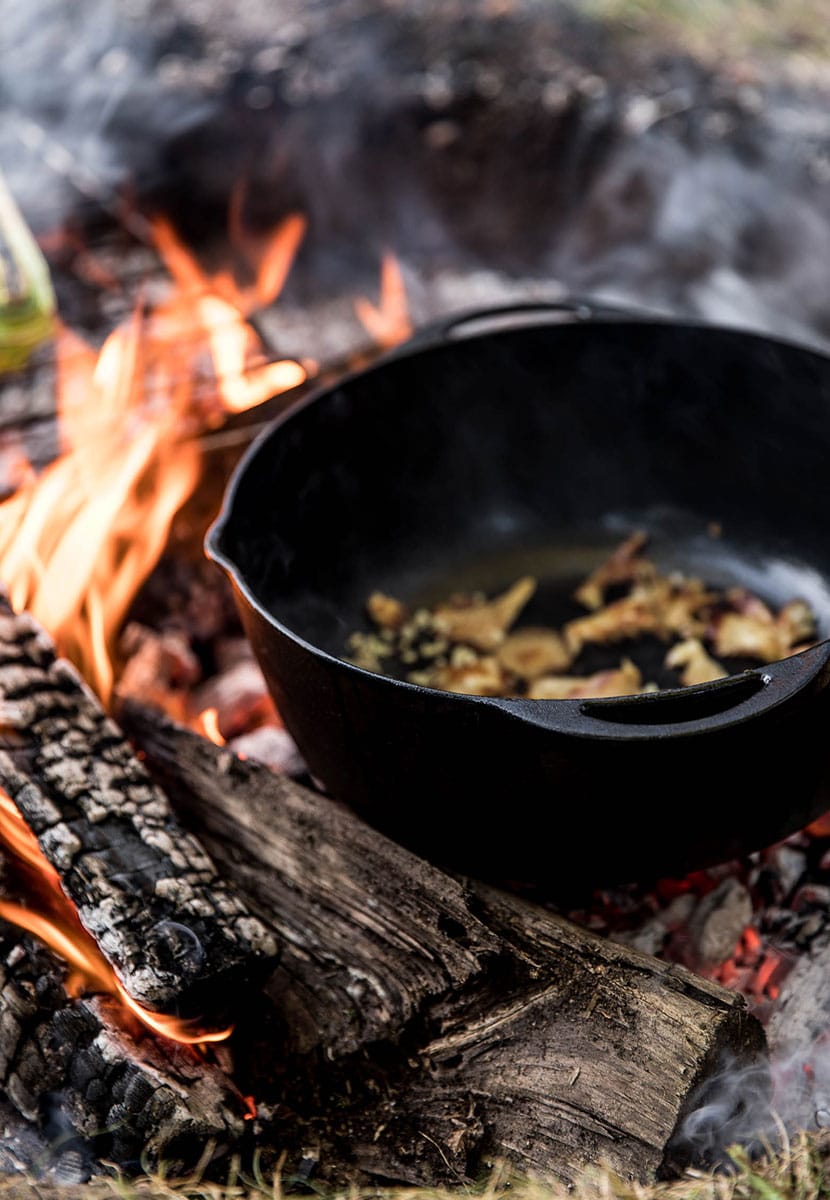 Eating outside is always tricky no matter how you toss it up, but this time of year it is really best. This evening we had some issues with flies. It was the first time in a while we have had a bug issue. This late in the season and the warm weather brought them out I assume, but we just continued to shoo them away and keep things covered while we waited for everything to cook over the flame.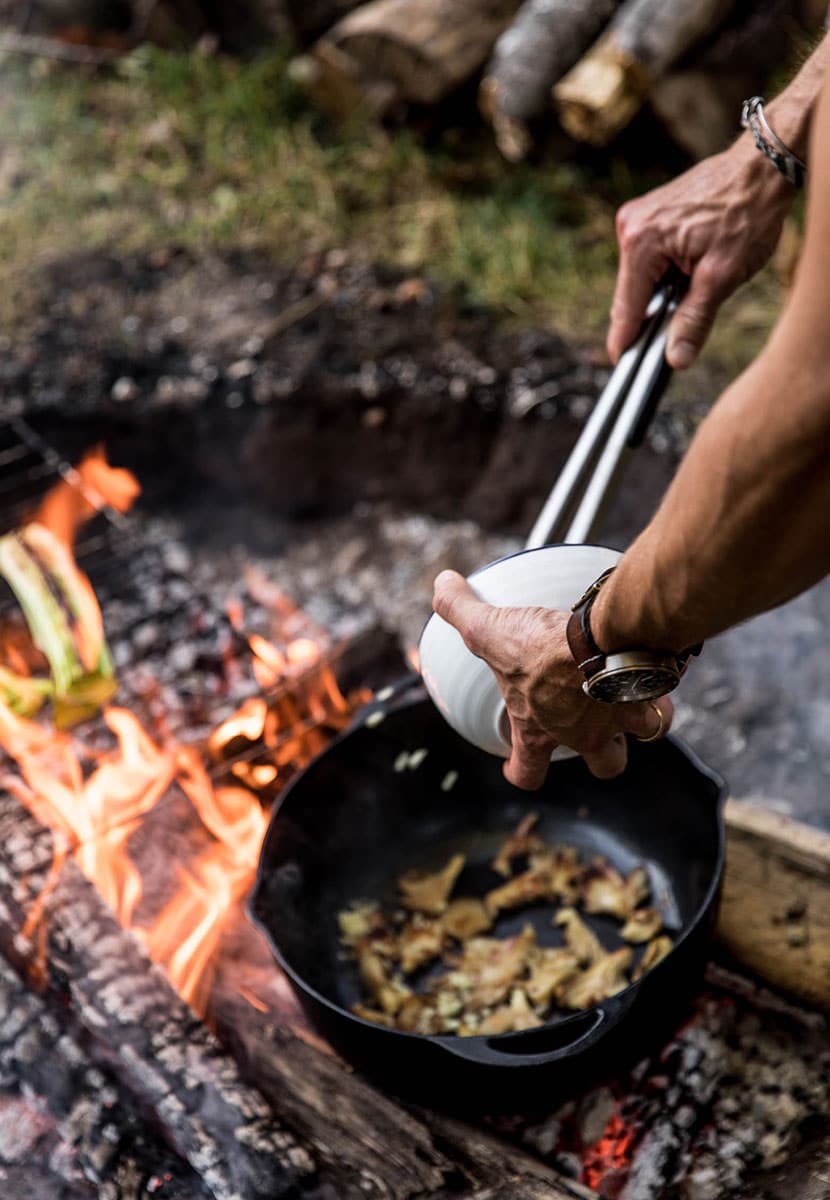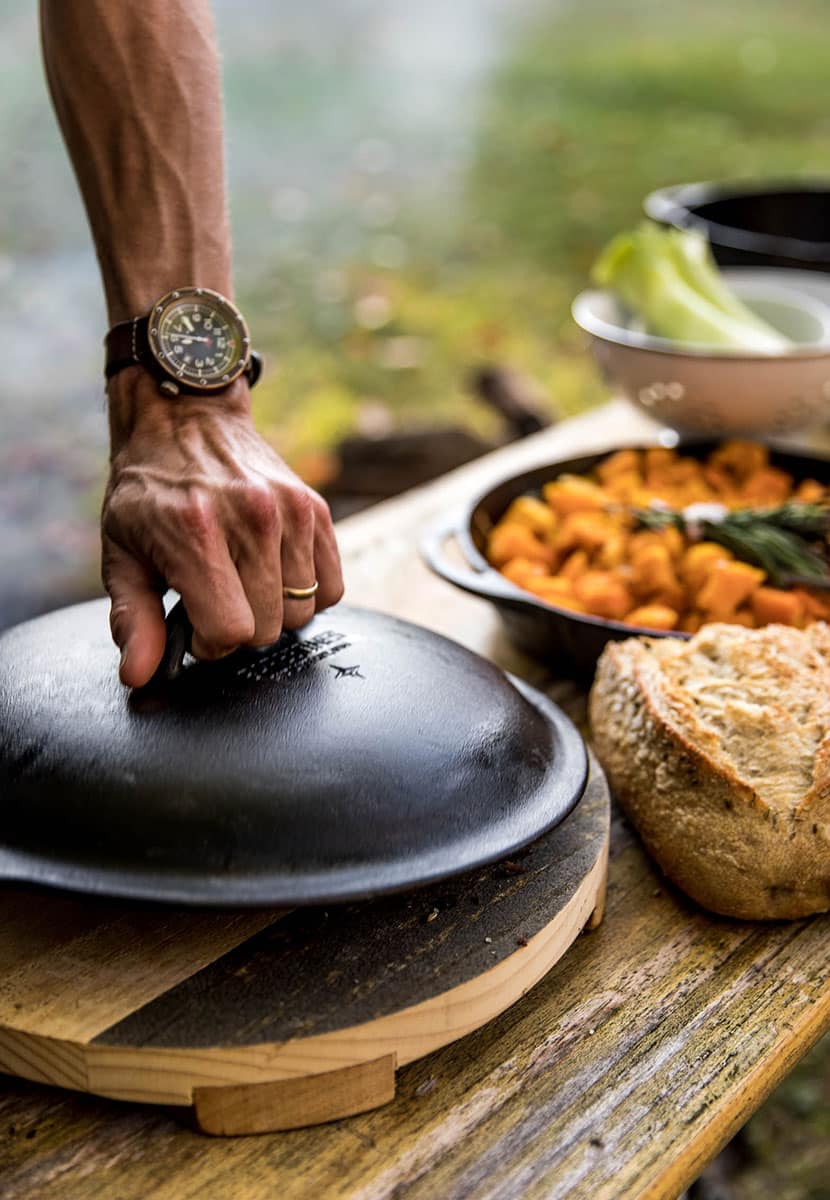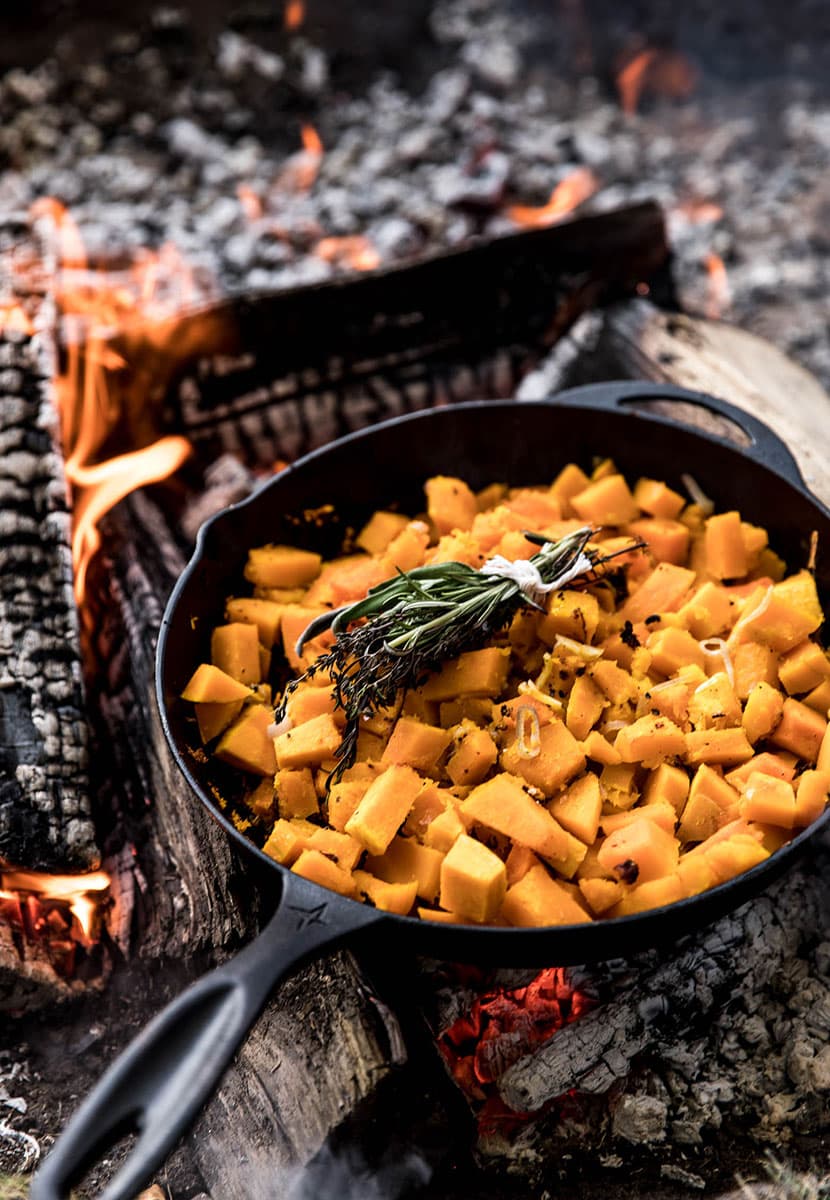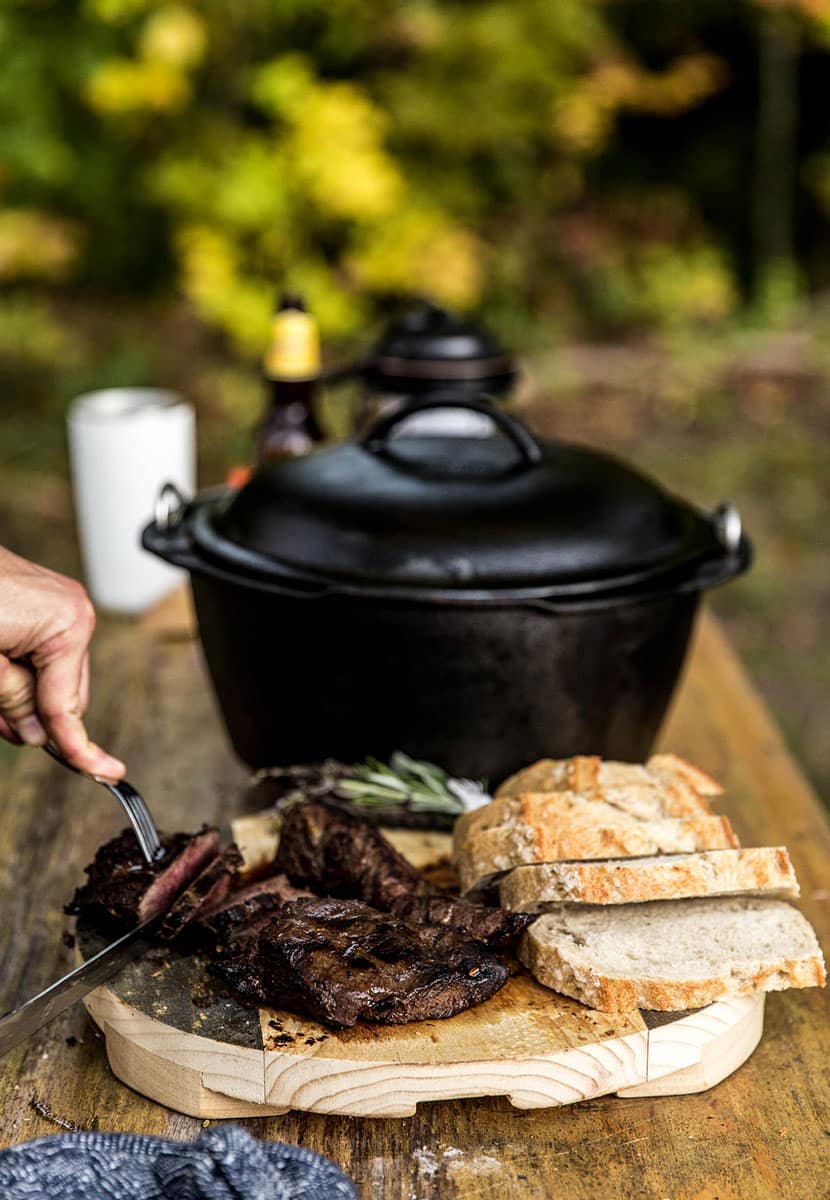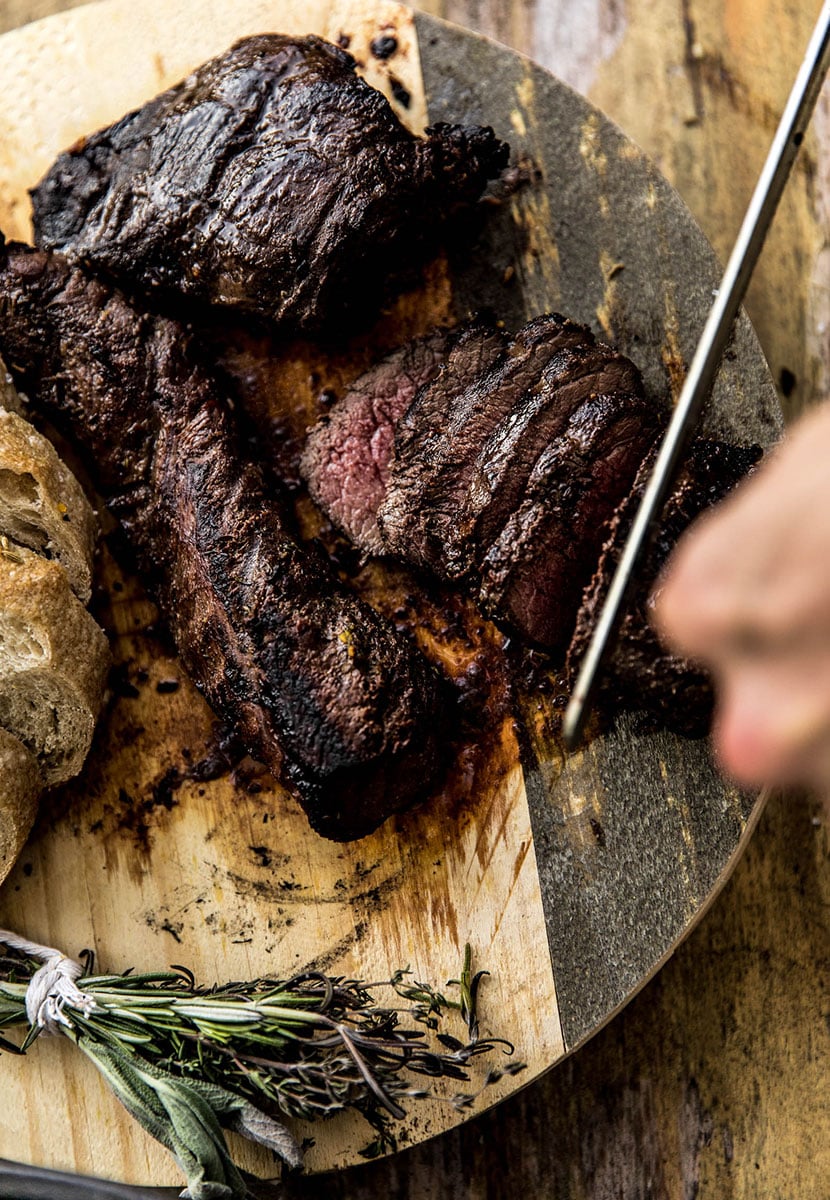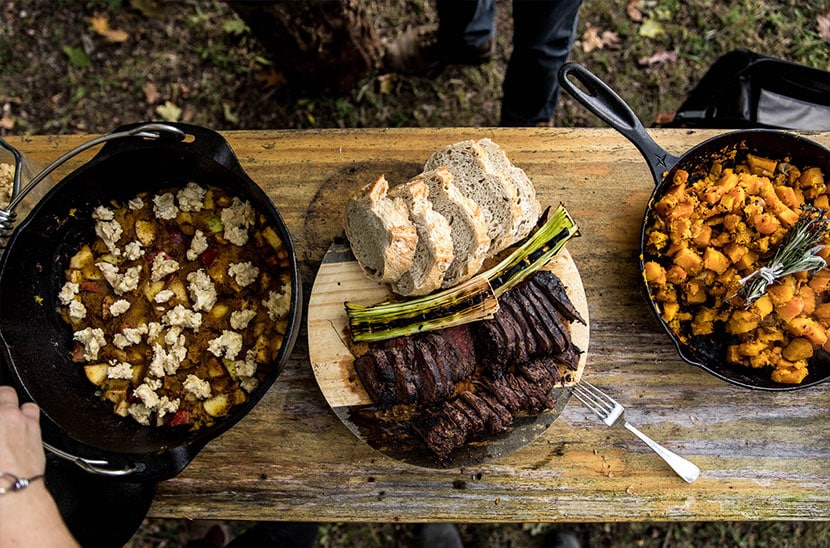 Once everything was cooked, we prepped the dessert crisp for cooking so it would be ready after we finished eating. I loved this dutch oven because it had guides for temperature on the lid and the handle is perfect for outdoor cooking. Laura and I gave a made up recipe a try of pumpkin and apple for our crisp. It wasn't bad, but let's just say it really needed that ice cream on it. If you give that a try I suggest adding much more Maple Syrup than we used. It needed to be sweeter. I always forget how plain Pumpkin can be at times.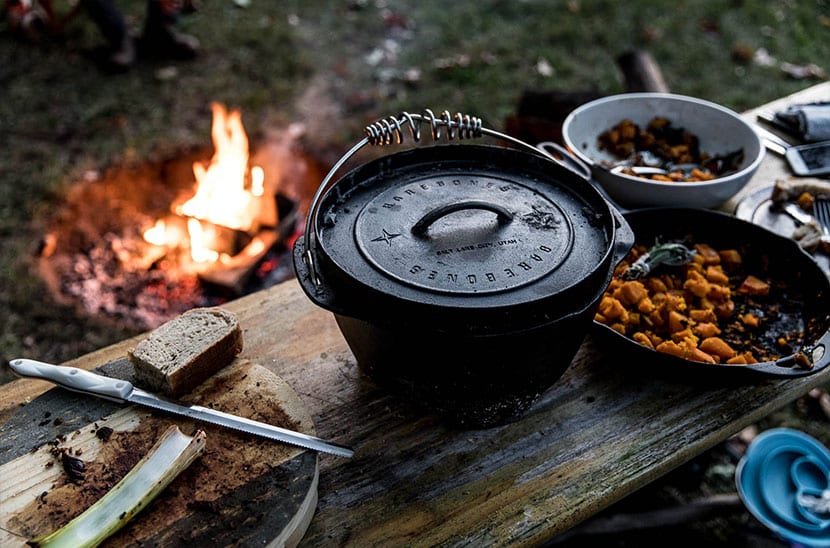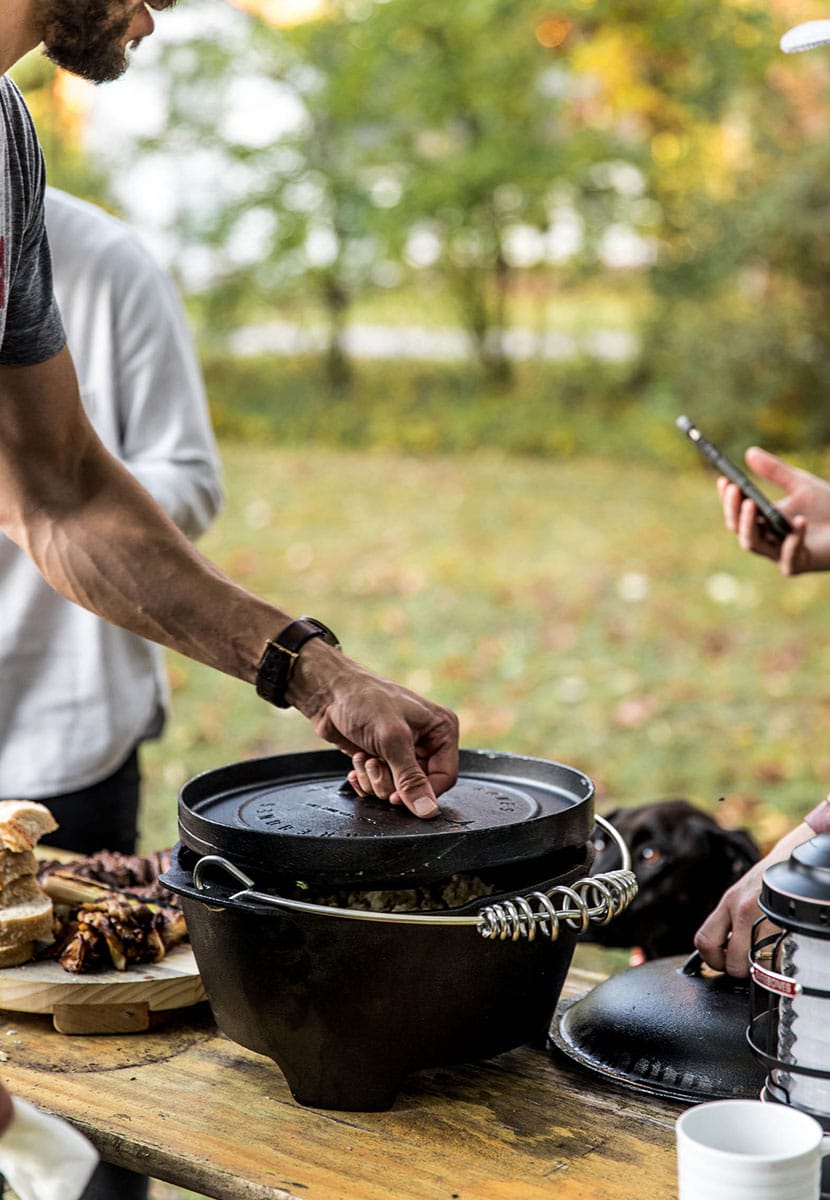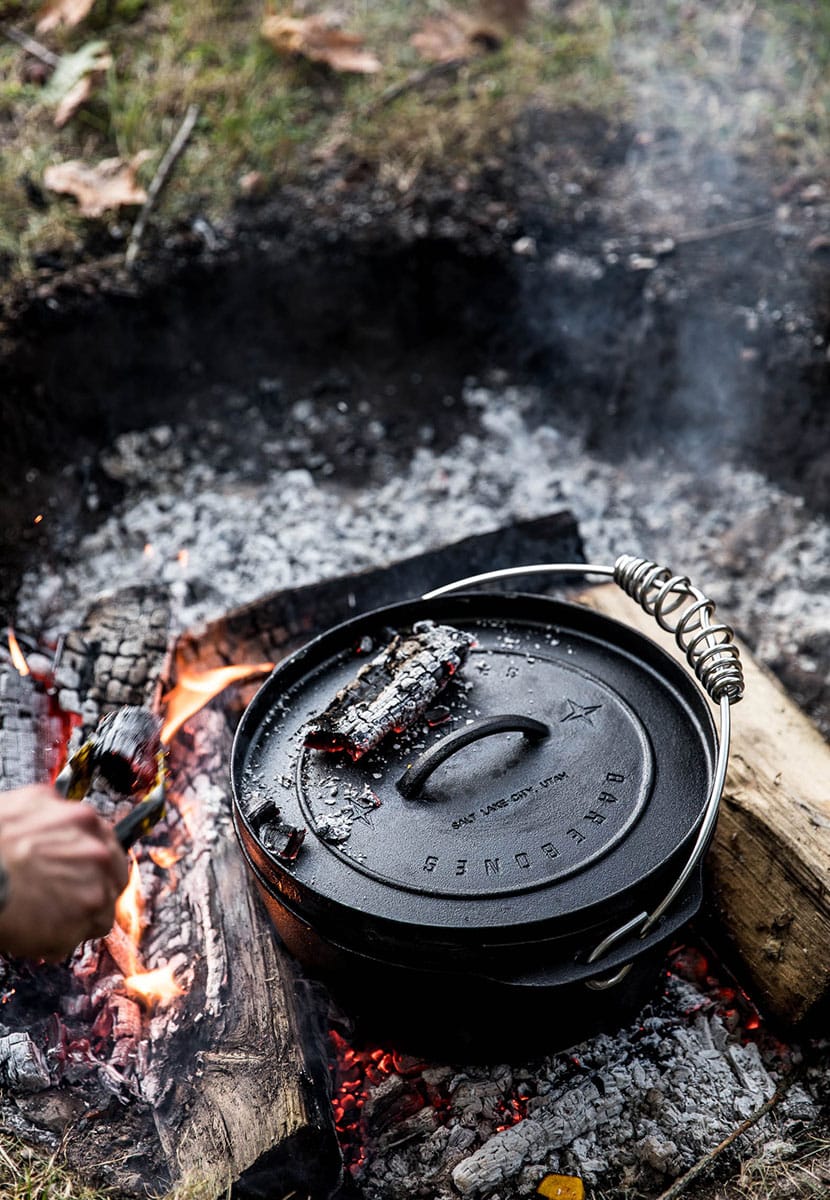 A trick that Sam taught us with the dutch oven on a fire was placing coals on top so it cooks all around and the heat is more even in the pot. It surprised me how quickly it cooked and was ready when we did this.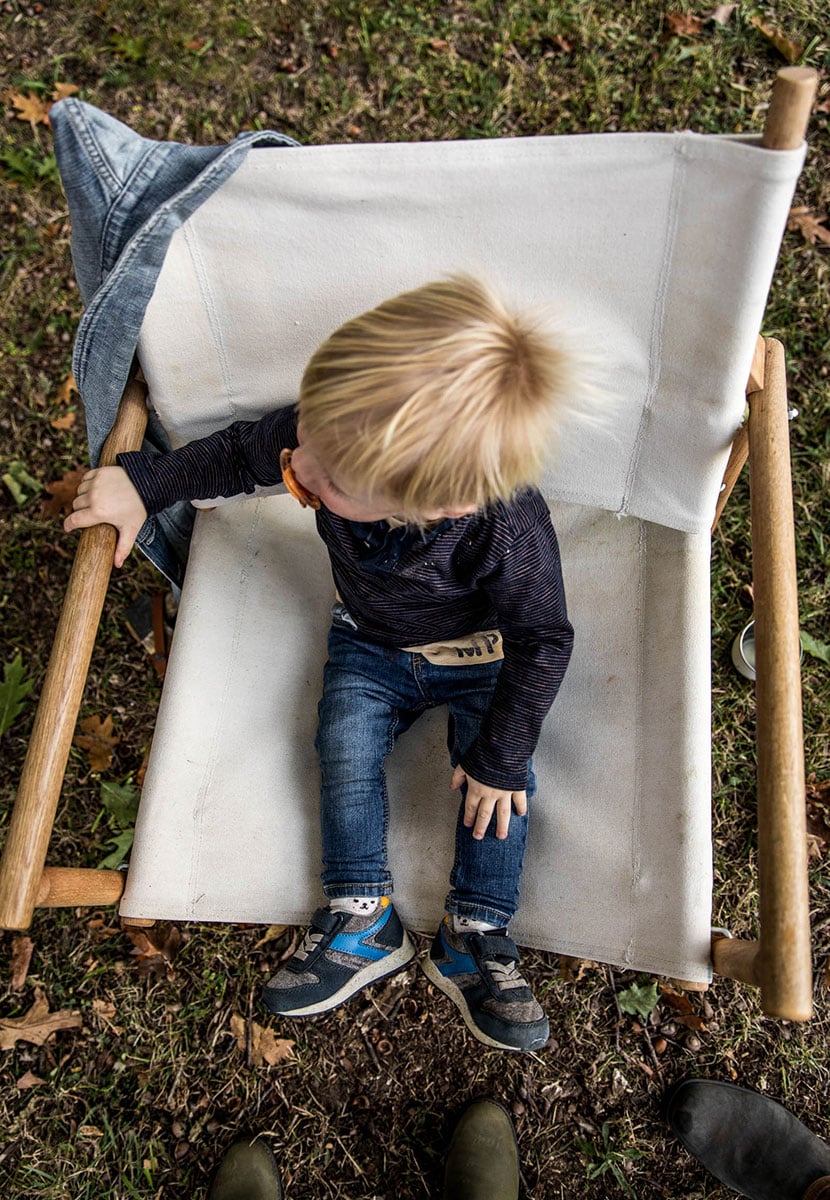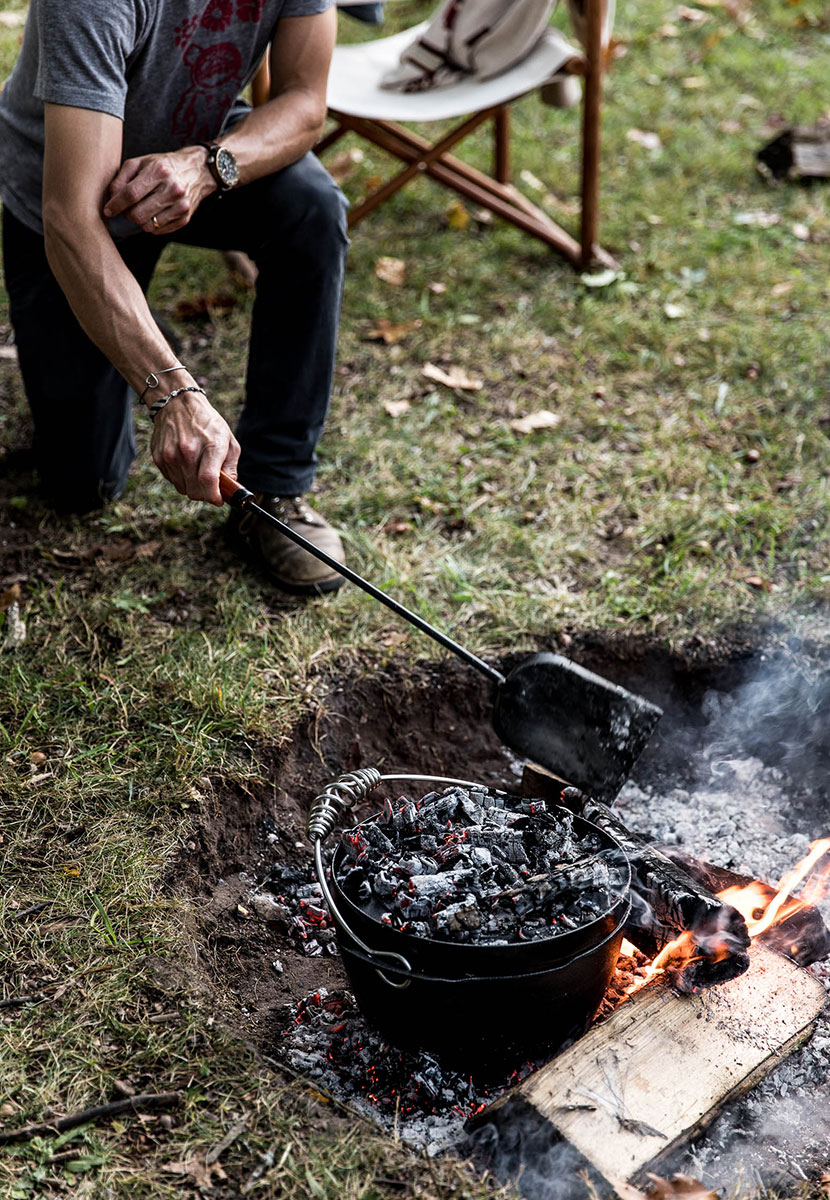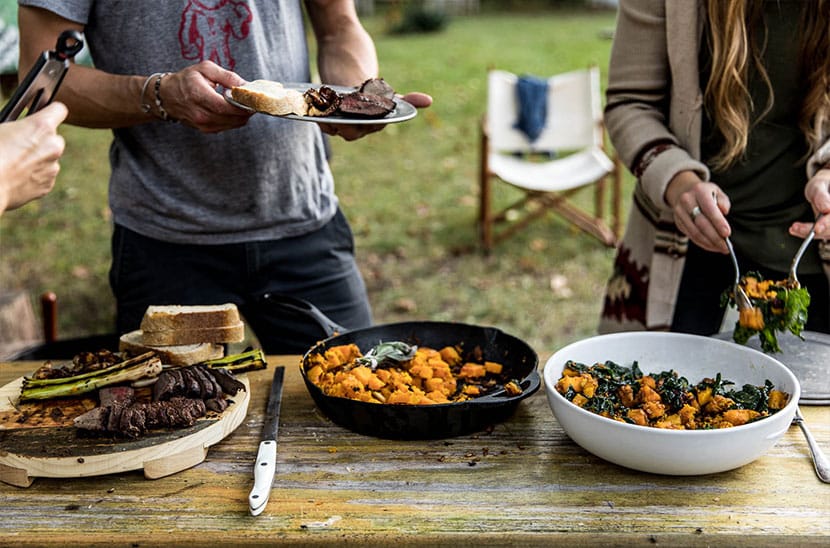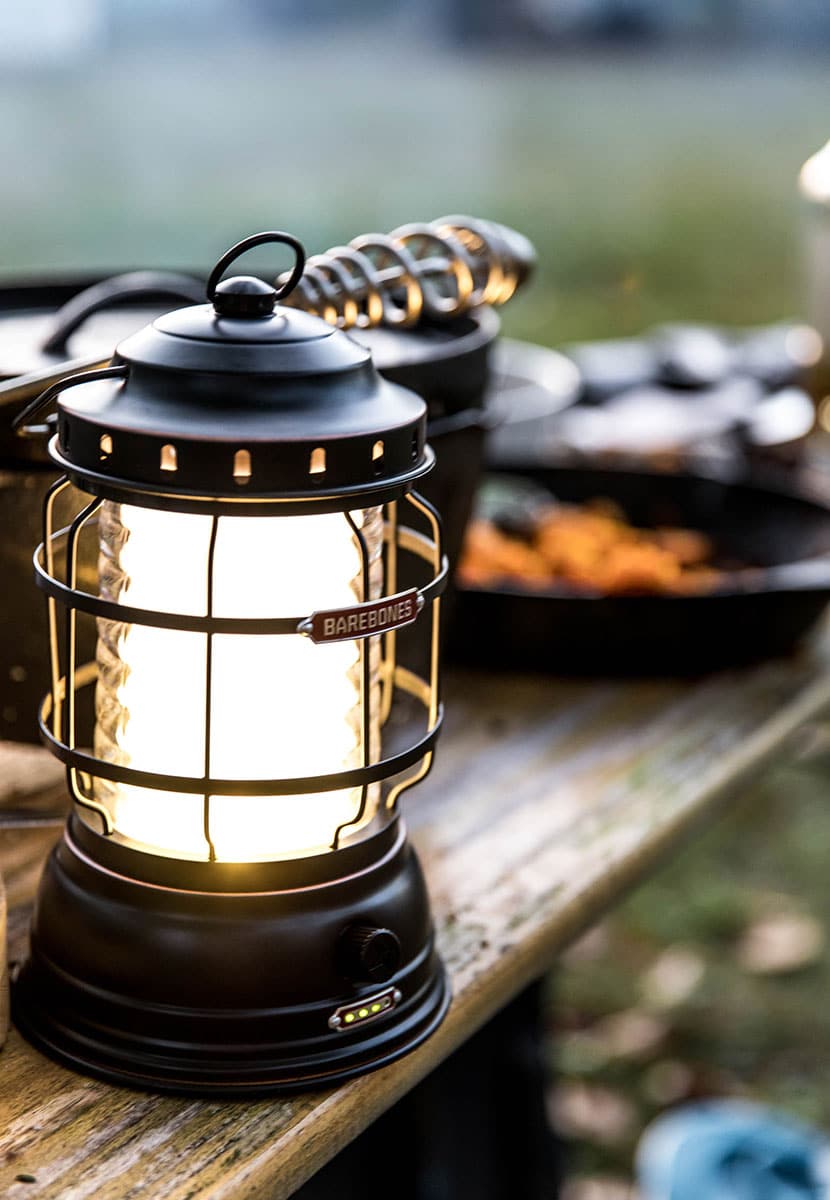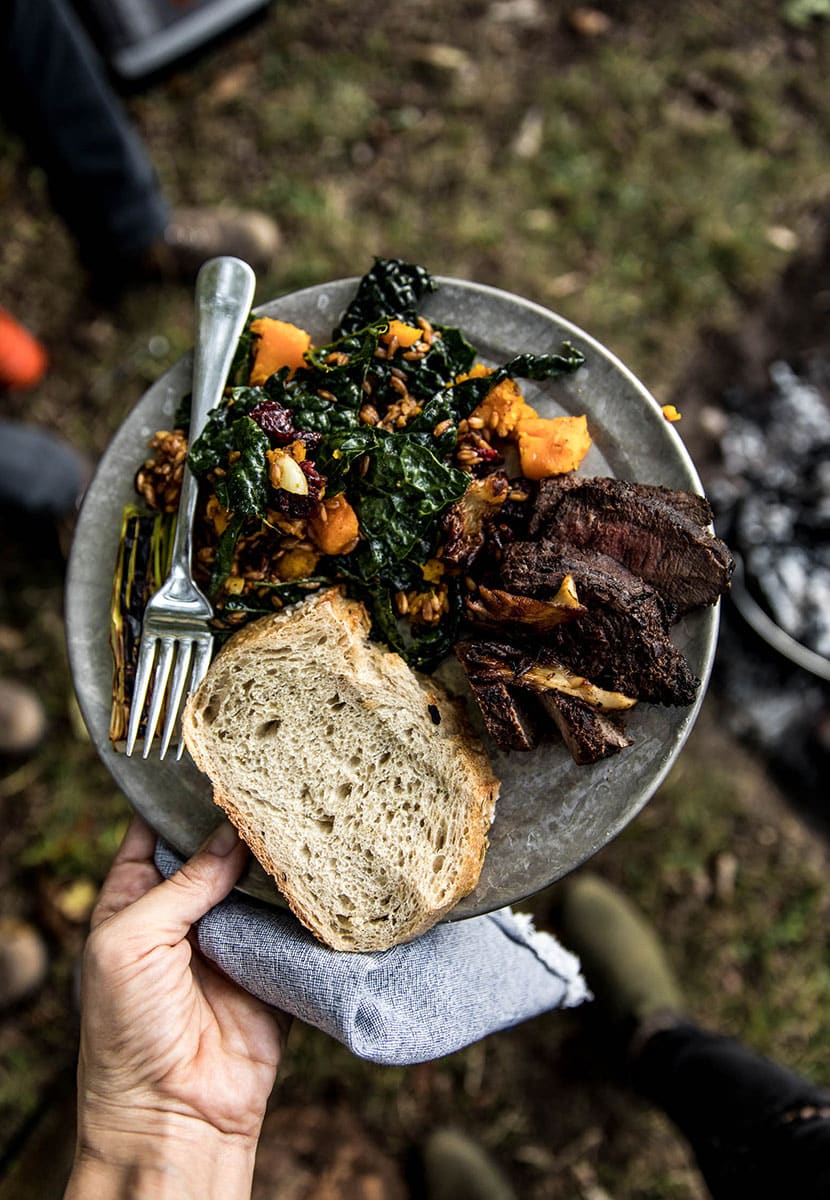 For plates we used some metal camping plates that I love for casual outdoor gatherings. They are easy to tote around and you don't have worry about them breaking. My favorite thing is something I don't have to worry about when gathering.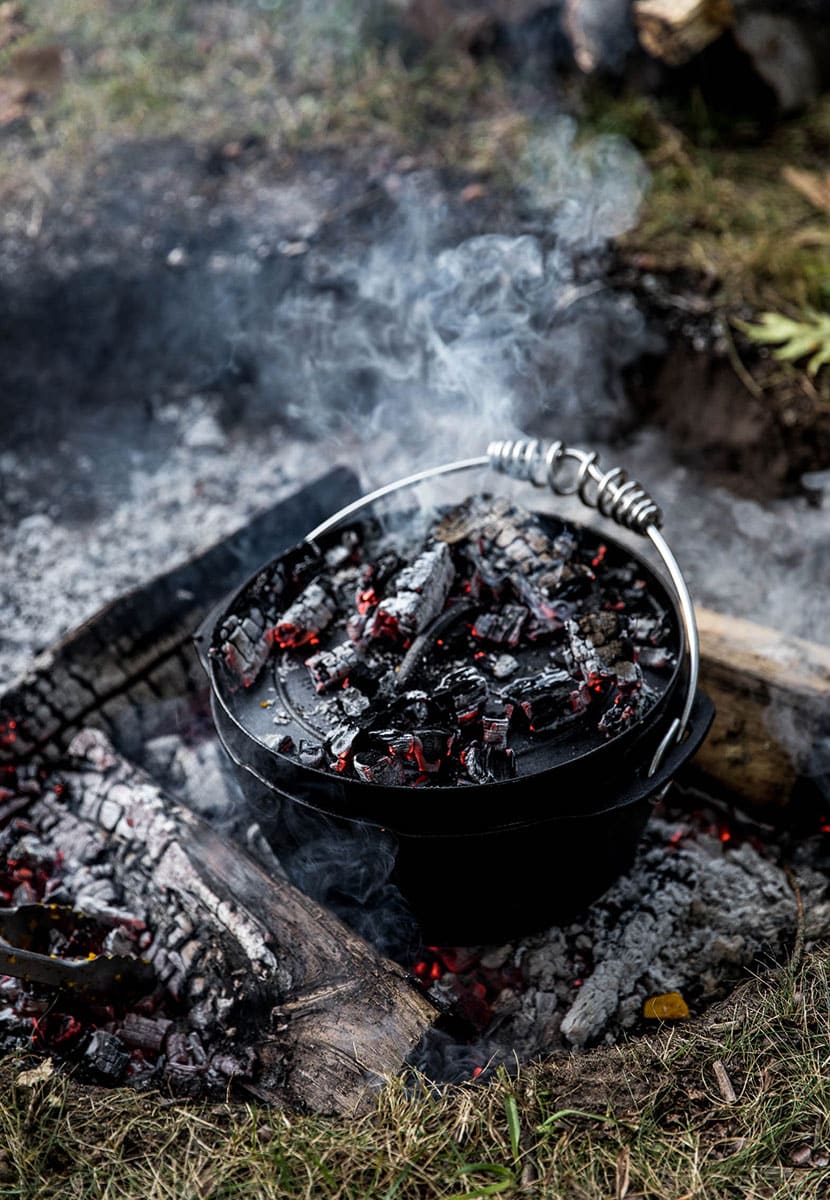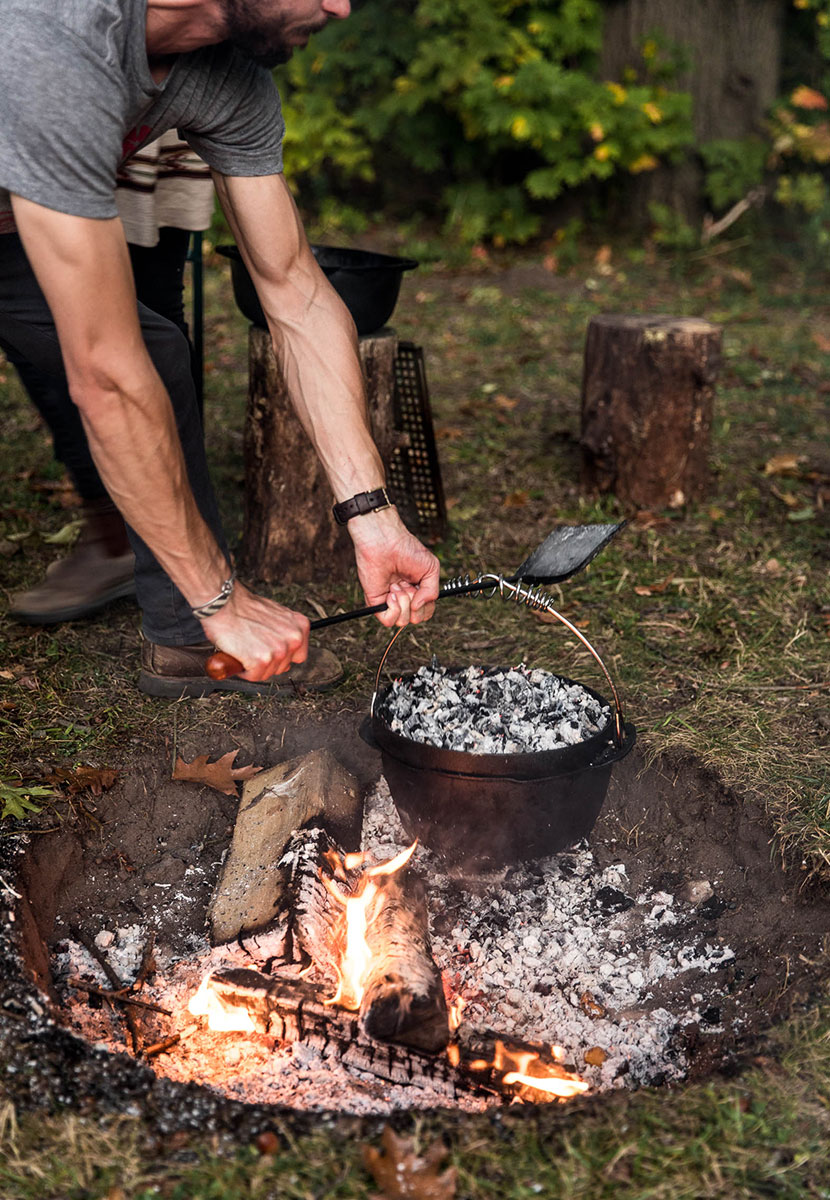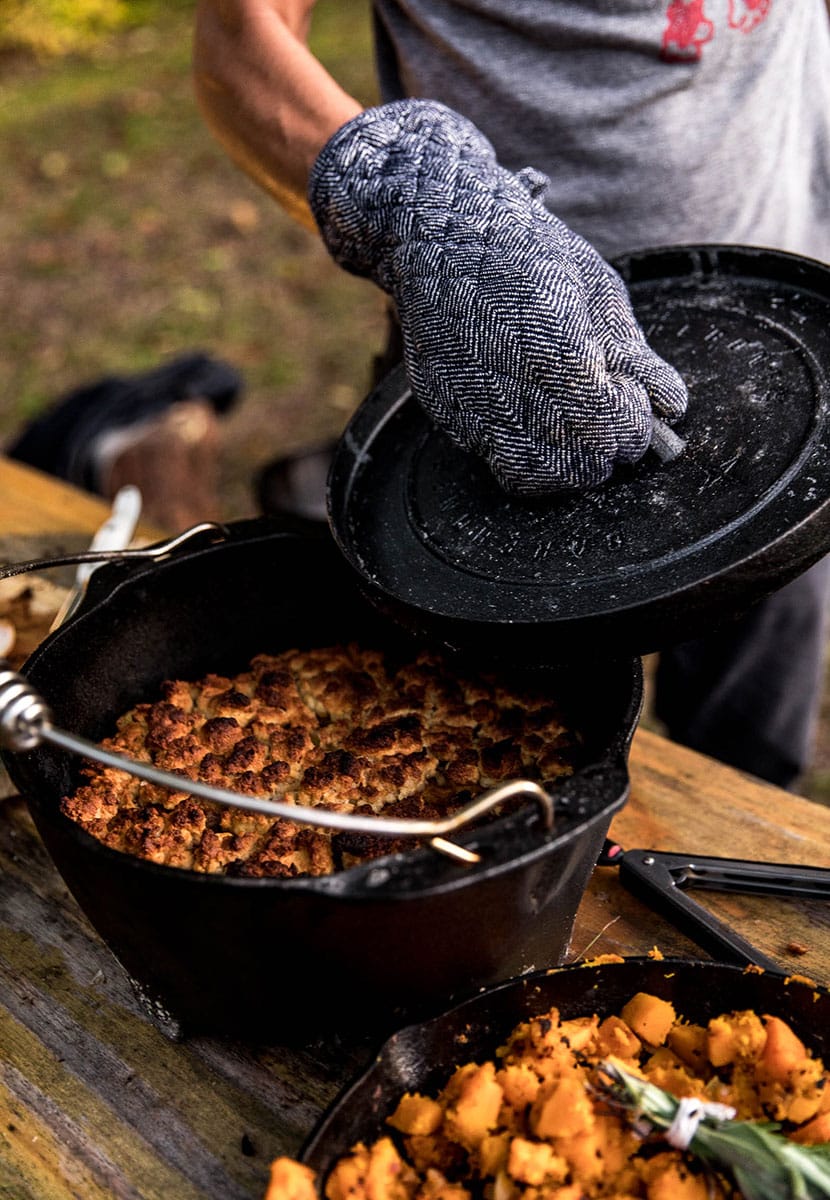 After eating all the yummy food, we dove right in to the crisp, which was now done. It was perfectly cooked and warm on that coolish evening.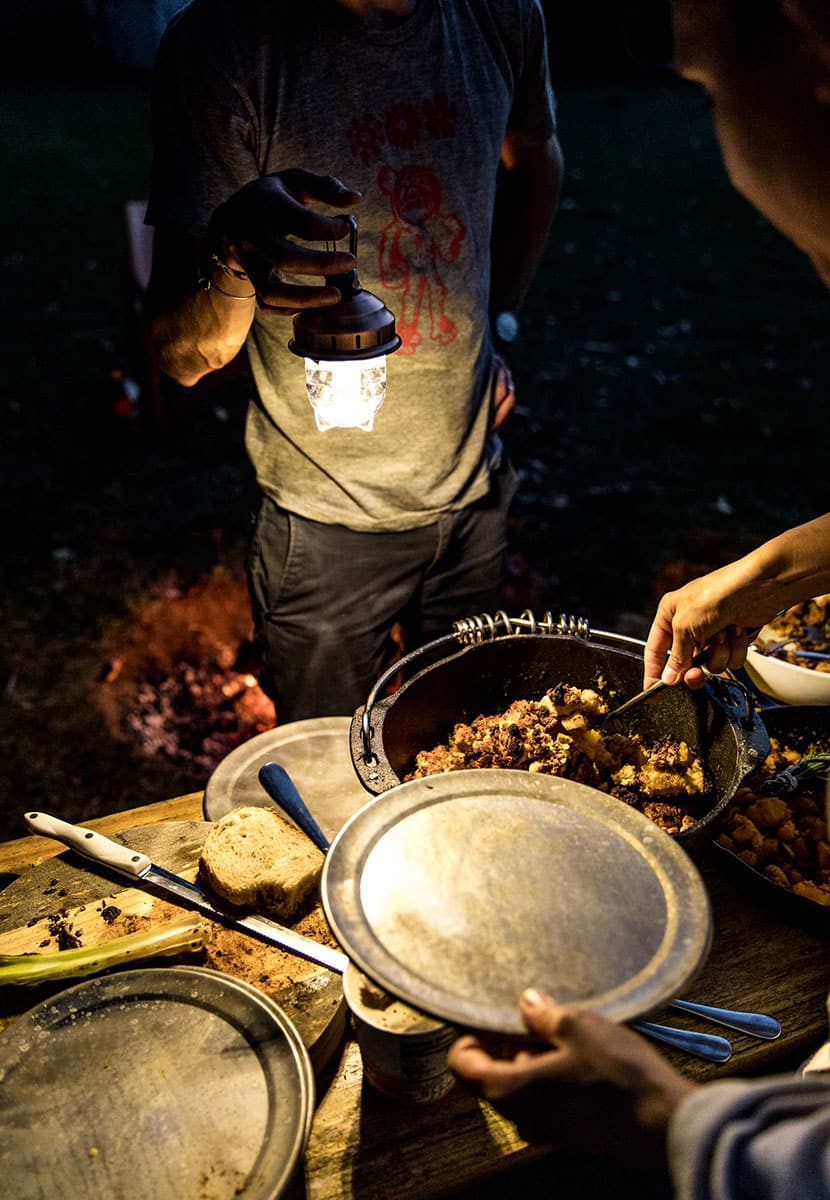 After we finished eating the crisp we went for clean up crew and I took Hayes to bed. He got the chance to eat a little dessert which is pretty rare in our house. I think he was a bigger fan of the crisp than we all were, but it was the perfect way to close out the dinner. It was fun to break the norm and eat out around the fire even if we couldn't get out that week and camp. We loved feeling like we had that night none the less.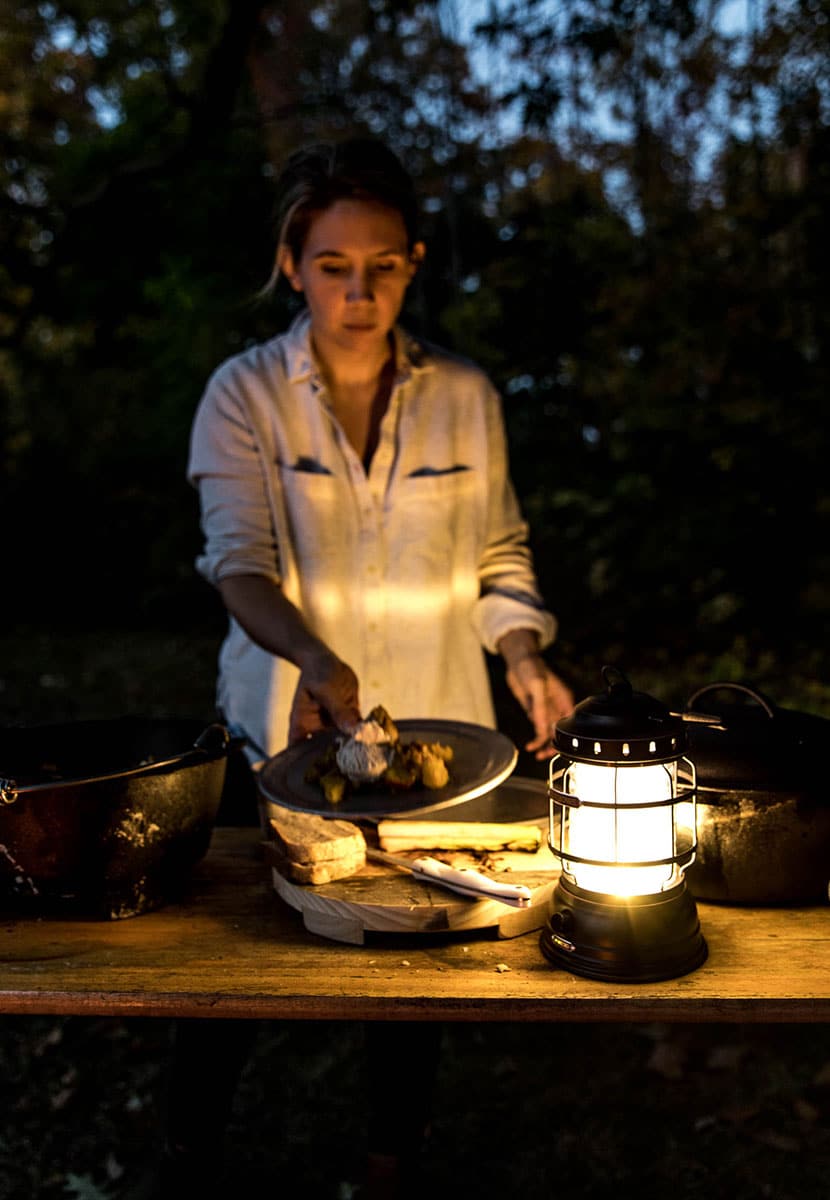 As we cleaned up the lanterns from Barebones lit our way from the backyard to the house with everything. The coolers made it easy to bring things inside from outside and our beers ended up still being cold the next morning even.
Needless to say it was one awesome experience to eat outside that night while the weather was still perfect for it.
To get the full look and details on verything from the evening you can see it all below.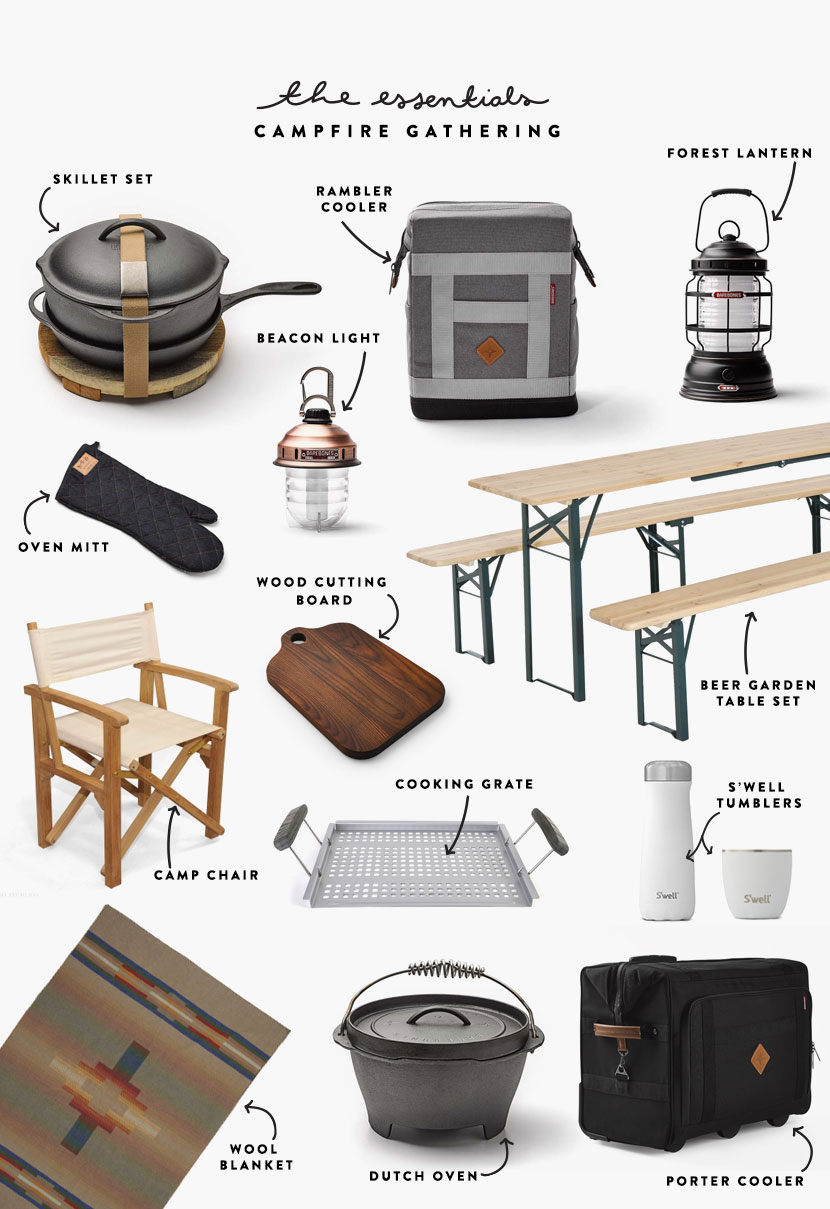 Skillet Set from Barebones Living  |  Rambler Cooler from Barebones Living  |  Forest Lantern from Barebones Living  |  Oven Mitt from Barebones Living  |  Beacon Light from Barebones Living  |  Beer Garden Table Set from Amazon  |  Wood Cutting Board from Barebones Living  |  Camp Chair from Golden Teak  |  Cooking Grate from Huckberry  |  Tumbler and Traveler from S'well  |  Wool Blanket from Woolrich  |  Dutch Oven from Barebones Living  |  Porter Cooler from Barebones Living
So tell me what are your favorite ways to eat outside? What do you like to cook? Are you someone who enjoys cooking meals over the open flame?
This post was an in-kind partnership with Barebones Living. Though compensation wasn't received for this post we were provided product to use to create our gathering. All thoughts and opinions are our own. Thank you for supporting the brands that support The Fresh Exchange every month.