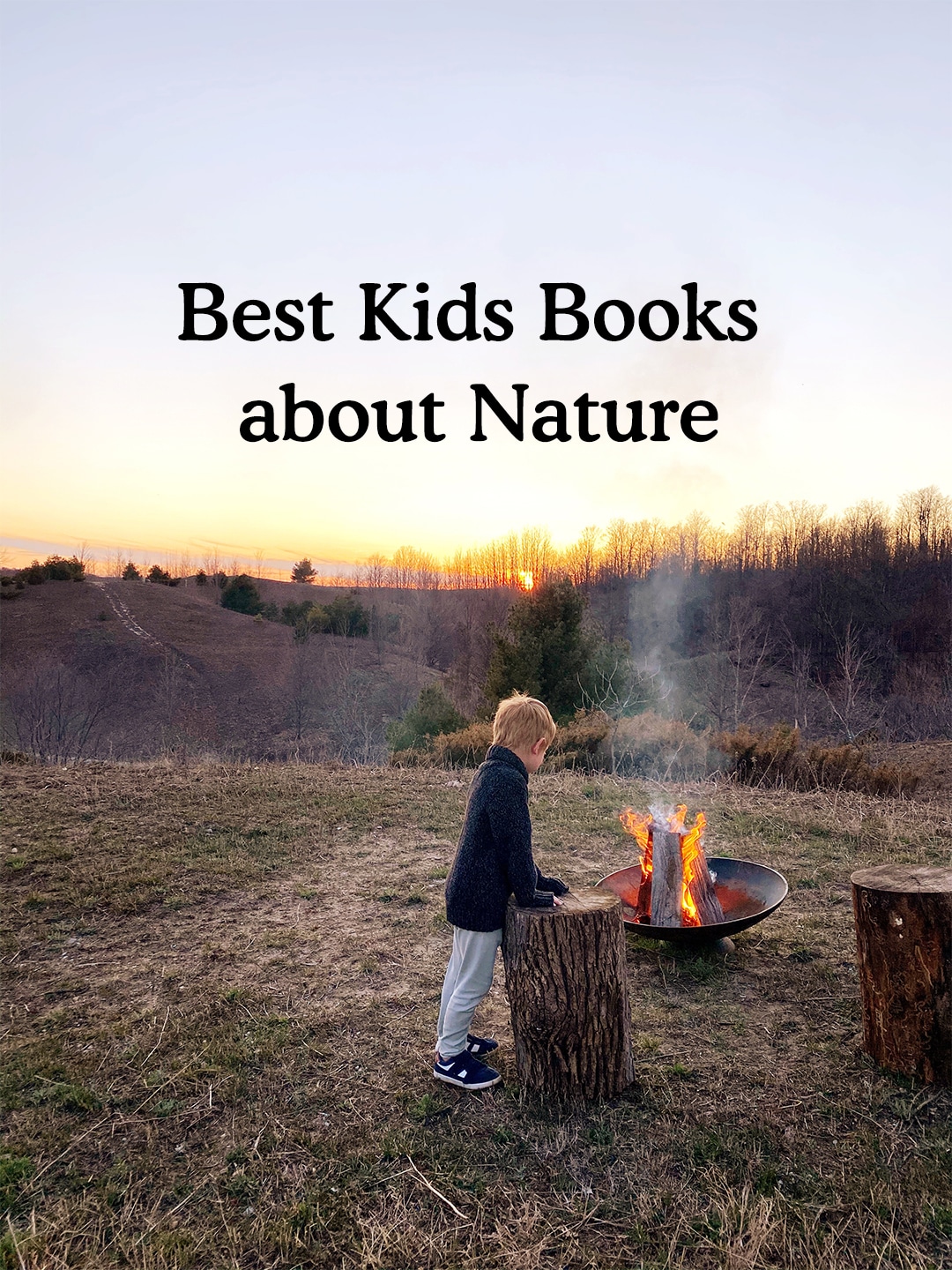 When we started a family, I knew one thing…I wanted my kids to know nature and the outdoors. The messy days in the mud and them to have sandy feet and eat out of a garden. I wanted them to know the value of a campfire on a cool night and the excitement of the first flower in spring. I know them as the biggest value in life and the rhythms they create are what present great peace over anything else in life.
We can control so little in our world, but what we can control is how we connect with the natural world. I wanted my children to understand it isn't nature that needs us, but us that need nature and when we commune with her and find our place amongst her not her place within our world we find a deeper peace and such great health that no matter what comes we will feel a sense of place and belonging.
That said, I have focused a lot of our reading in our home on nature. The ways we enjoy going out in it and chasing all pursuits of interest about bugs, reptiles, and more. Our shelves are full of books about nature and information about the seasons of our world.
Since many of you have asked about this I thought I would share some of my favorite ones. I know we are well past Earth Day, but we live on Earth and it is our home so shouldn't our whole life be focused on that? I think so. Teaching our kids about how to care for our world and to continually be enamored and in love with it is a wonderful thing to create in them.
That said, I hope you love these books as much as we do. I also hope that though I link to online sourcing you go and find them from your local sellers in your community. Small book stores need our money right now. They are treasures in our communities so spend money with them first!!! PLEASE!
I am only linking so you can read the descriptions of them further. If you live in our local area, please order from Brilliant Books in Downtown TC or Cottage Books in Glen Arbor. Both are doing shipping and delivery options.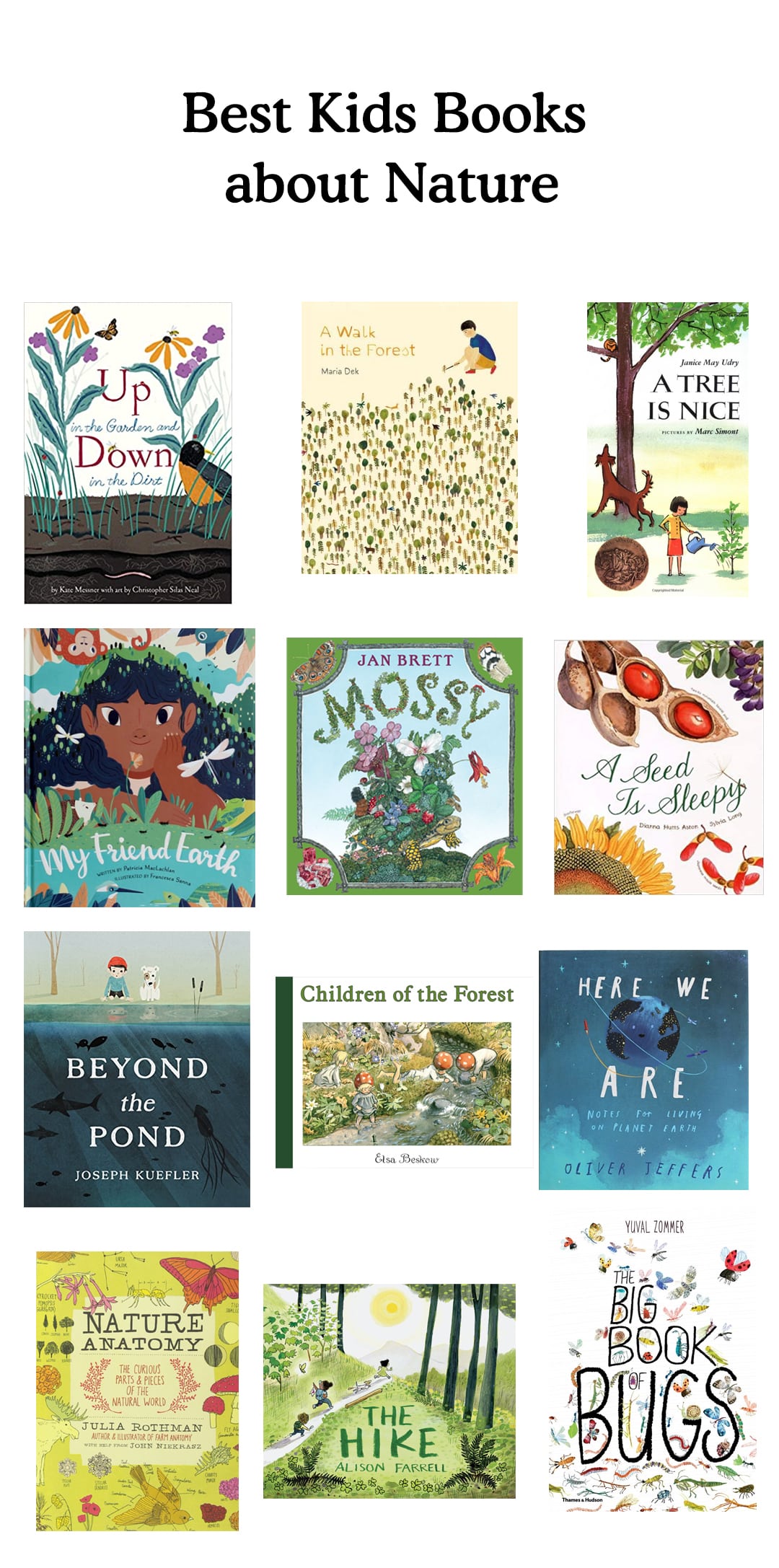 12 Awesome Nature Books for Kids
All about the seasons of the garden and the moments that are key parts of gardening as a child. It is beautiful and fascinating to see what is happening up and under the soil of the garden. This is one of the most loved books in our home. I say the words all the time I enter the garden and so does Hayes " I stand in the garden, my hand full of seeds and my head full of dreams…" How true is that in spring.
Something we do near daily here. I love how it captures the magic of the woods and the things we experience with simple and cute illustrations. It is really a simple yet beautiful expression of the natural world.
I love trees and I want my children to understand their magic. This book explains just that. It is simple and the illustrations are cute. But it shows how trees do so much for us and how we can spread their joy by planting more.
Has a Moana vibe but it is really beautiful and talks about all the amazing things about Mother Earth. I love the look of this book and there is a lot to discuss.
I am a HUGE Jan Brett fan. Her books are beautiful and the detail is magical in them. We have many, but most talk about wintery life and this one talks of the magic of growing things and also how the natural world can be easily disturbed by us but functions better without us. The magic of that turtle too is just too much to handle. We love this one!
This series of books is exceptional for understanding how things become in the natural world. There is a group of these books about how things grow and change. A wonderful way of explaining these processes to children.
A wonderful deep dive into the world of a pond and the places it can take us. The illustrations are cute and really fun too, which always sells me! One of the best nature books for kids!
A CLASSIC book about the natural world. I love the way this author writes and explains things. Another great one by her is The Sun Egg. The way she connects nature and shows it through the eyes of tiny people helps to make the natural world more mysterious and curious than ever before. Now Hayes looks at moss and asks what lives in this tiny world. Such a fascinating way to see what is under our feet.
This is the top book I give to new parents. This book is an amazing story of our life on this planet. The new Apple TV movie is also really beautiful as well. I cannot explain how good this book is…just trust me it is one your children and you will enjoy deeply!
We just ordered this one and we cannot wait to get it. I am excited to let Hayes explore it because he has so many questions and I think this will be fun to use to answer them all.
Is a beautifully illustrated book about the joys of going out into nature. In this case on a hike, but it has a wonderful curiosity to it that I love.
If your child is obsessed with bugs like mine is, this book is really fun and exciting. We love it and it is very well loved in our home.
Wrap Up…
This is by no means a complete list of nature books for kids, but hopefully these books give you some inspiration. I truly believe that introducing your kids to nature at an early age can make such a difference in their outlook on life and what they see as important later down the line!
For more book recommendations just like this list of some of the best nature books for kids, check out these articles below –