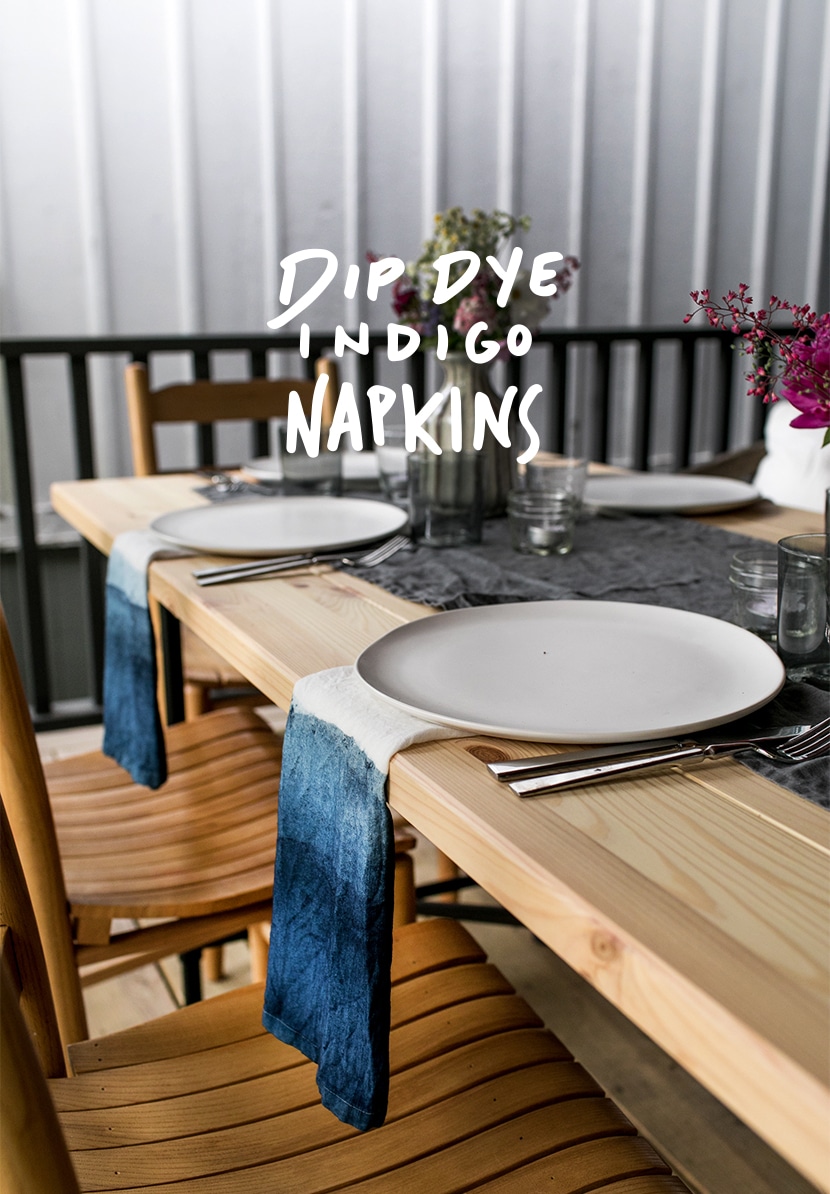 If you want to be more creative and have some fun, why not make your own dip dyed napkins? It's easy! All it takes is a few simple steps.
I have been thinking about starting to dye fabrics and napkins for years now. I have been so nervous for many reasons, but I have taken it as a challenge to start doing more crafts and making things myself. I find it both extremely rewarding and inspiring.
Personally, I learn best by doing and so how will I ever learn if I don't just do? When it came to dyeing I was worried about things looking like camp shirts from my high school days I would wear to soccer practice. I wanted things to feel more natural, organic, and chic.
So, I started doing a lot of research and following people who do dyeing the way I wanted to learn how to. Since we use so many different linens for our gatherings. I thought it would make sense to learn to dye fabrics ourselves and then eventually learn to sow them eventually. Needless to say, I have lofty dreams considering my DIY skills, but I figured dipping into Indigo may be the first step on this grand adventure.
DIY Dip Dye – Getting Started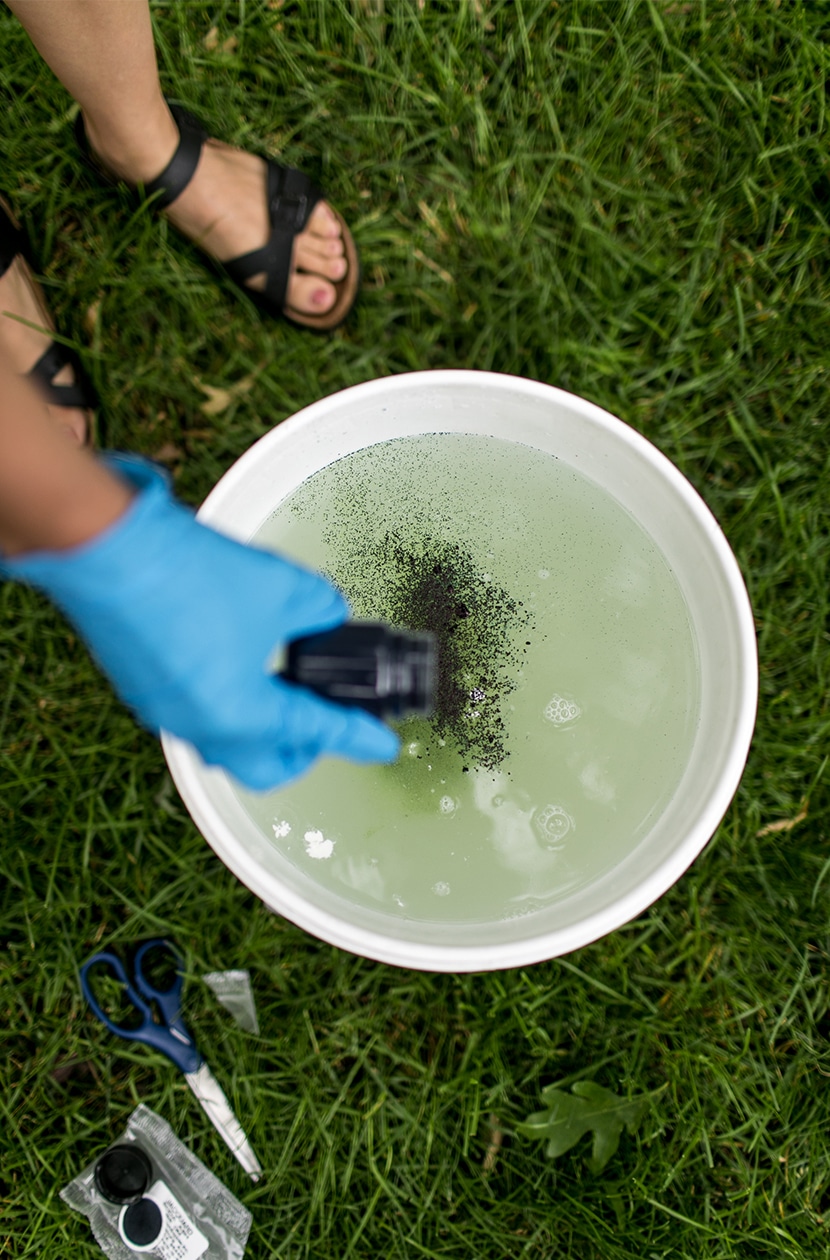 When I was planning this month's Simple Evening, I wanted to offer a simple summery DIY for you to achieve for your own gatherings and I took it as a sign to make these dip dye napkins I have been thinking about come to life. I love the look of dip-dyed indigo because it reminds me of the water.
On Lake Michigan, the water has these beautiful varying layers of blue that are so beautiful so to bring that feeling to the table in the summer felt really perfect. The dinner will post this next week, but I wanted to share this DIY before we showed them in complete action on the table.
This DIY is very easy considering it can be extremely messy. Since I was a first timer on this, I used a kit and it made it really easy but also taught me a lot at the same time. To get started this is what you will need:
Materials Needed
1 Indigo Dyeing Kit
1 5 gallon bucket (black is best if you can find one)
1 lid for the bucket of some kind
1 long stir stick that you won't use for food later on
1 clothesline
Clothespins
1 Garden Hose
1 outfit that can get splattered
1 pair of plastic gloves (I used the ones in the kit but you may want longer ones if you do more than just dip-dye)
2 packages of linen napkins (I did 10 total napkins). These ones or these ones are also great to use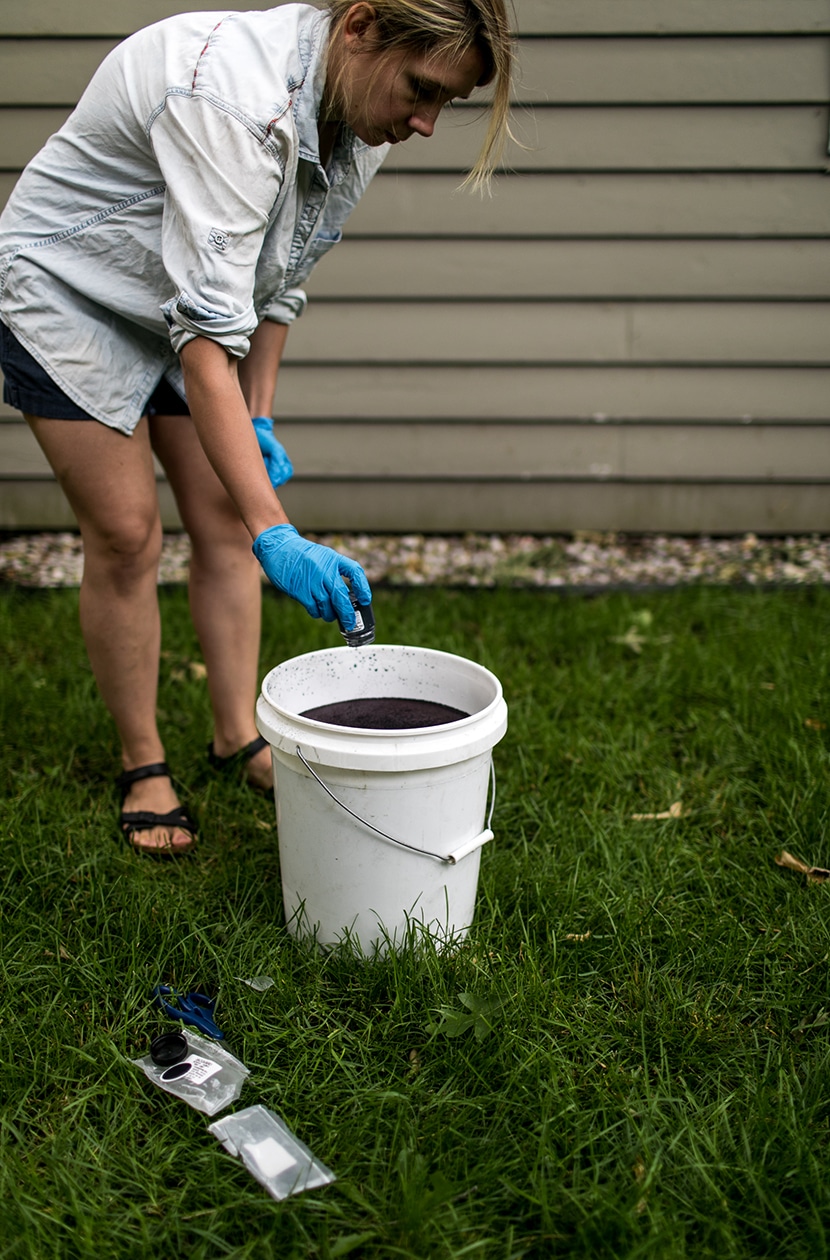 Steps to follow
1. Prepare the Indigo Vat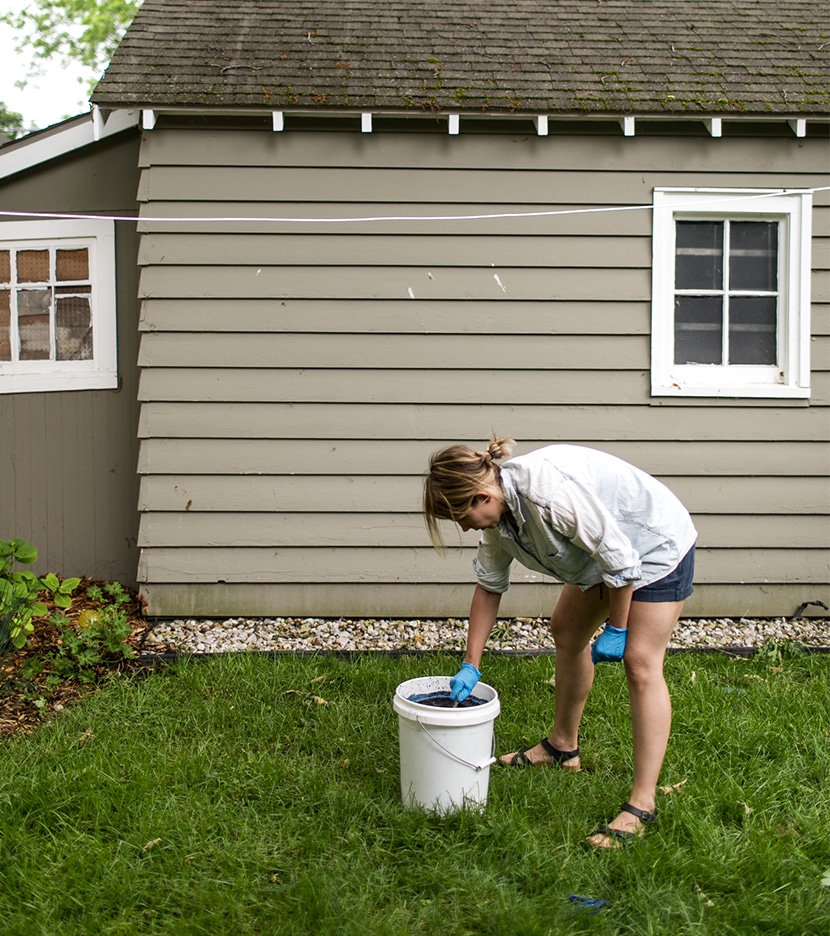 To start, follow the directions on your Indigo Kit. There will be directions of how to prepare your indigo vat for dyeing.
2. Set aside the foam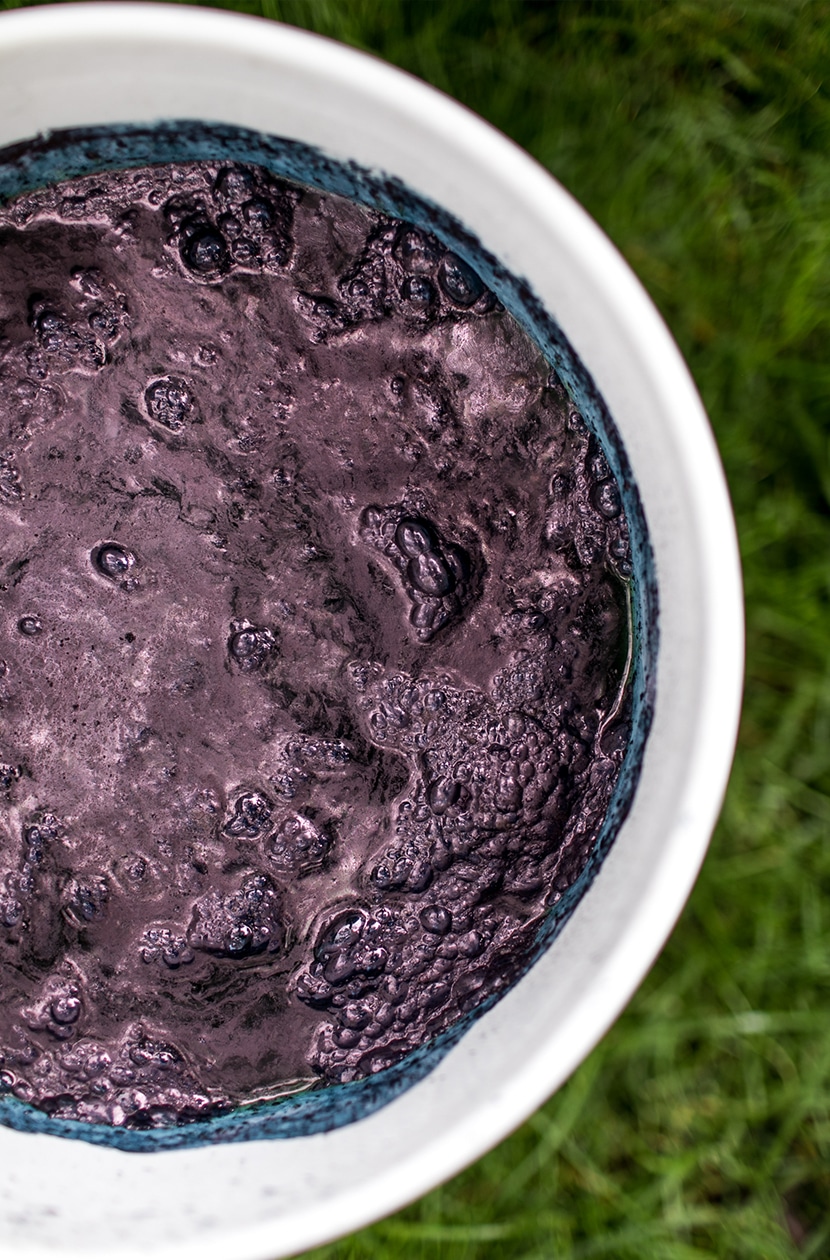 Once the dye is ready (15-20 minutes after mixing), push aside any foam to give you room to insert your napkins. The foam is important in the process. Note that the color of the dye will be green so do not worry. Part of how it works is that the Indigo has to be diluted in order to penetrate your fabric. It will turn blue as it oxidizes.
3. Wet the napkins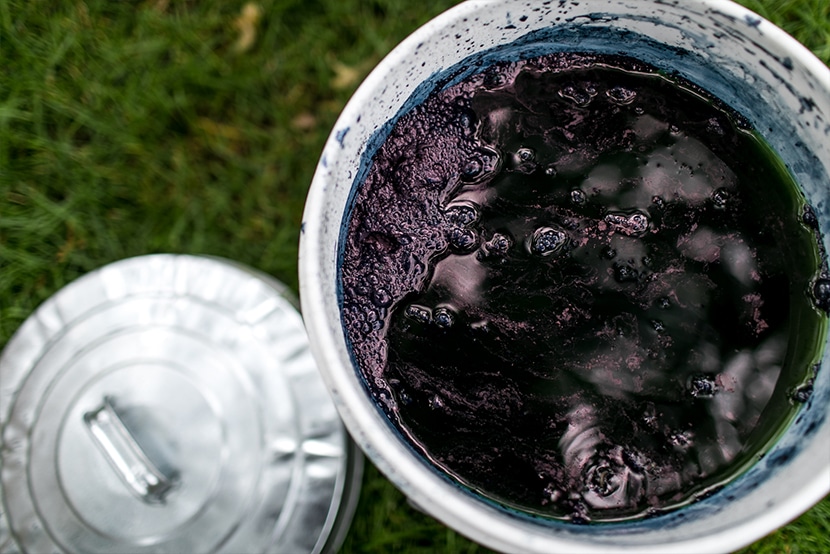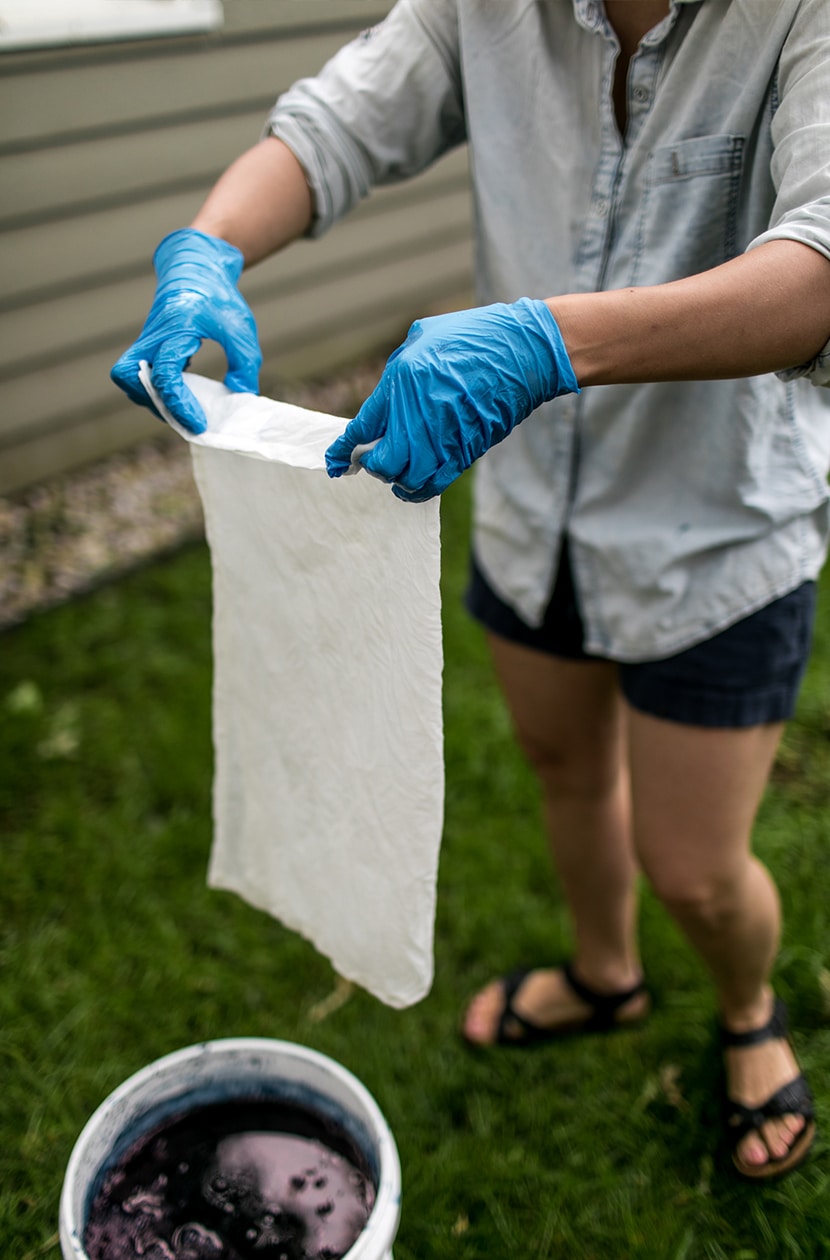 Before dipping your napkins, soak them using a garden hose. The wetter you leave them the more the dye will run up the napkin. I suggest ringing them out some and then opening them so they are still wet but not dripping. I then folded them long wise so they could easily fit into the bucket.
4. Start Dipping!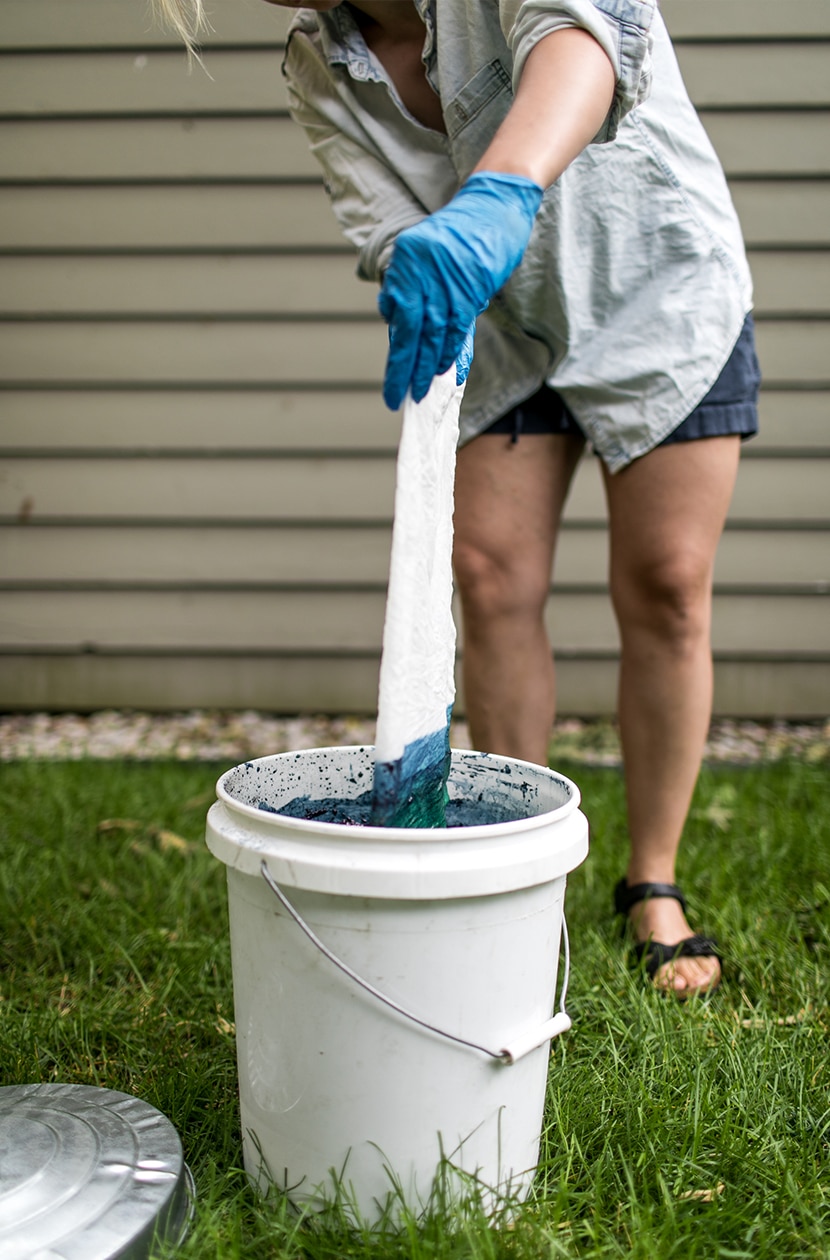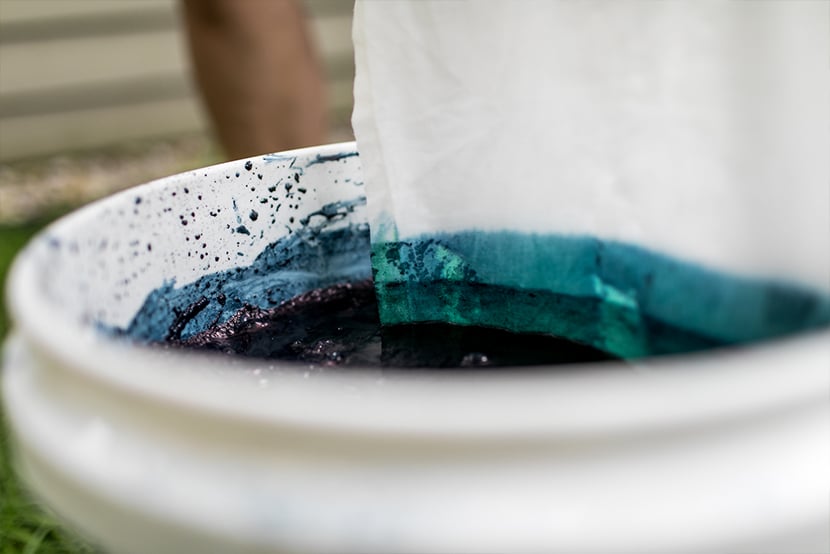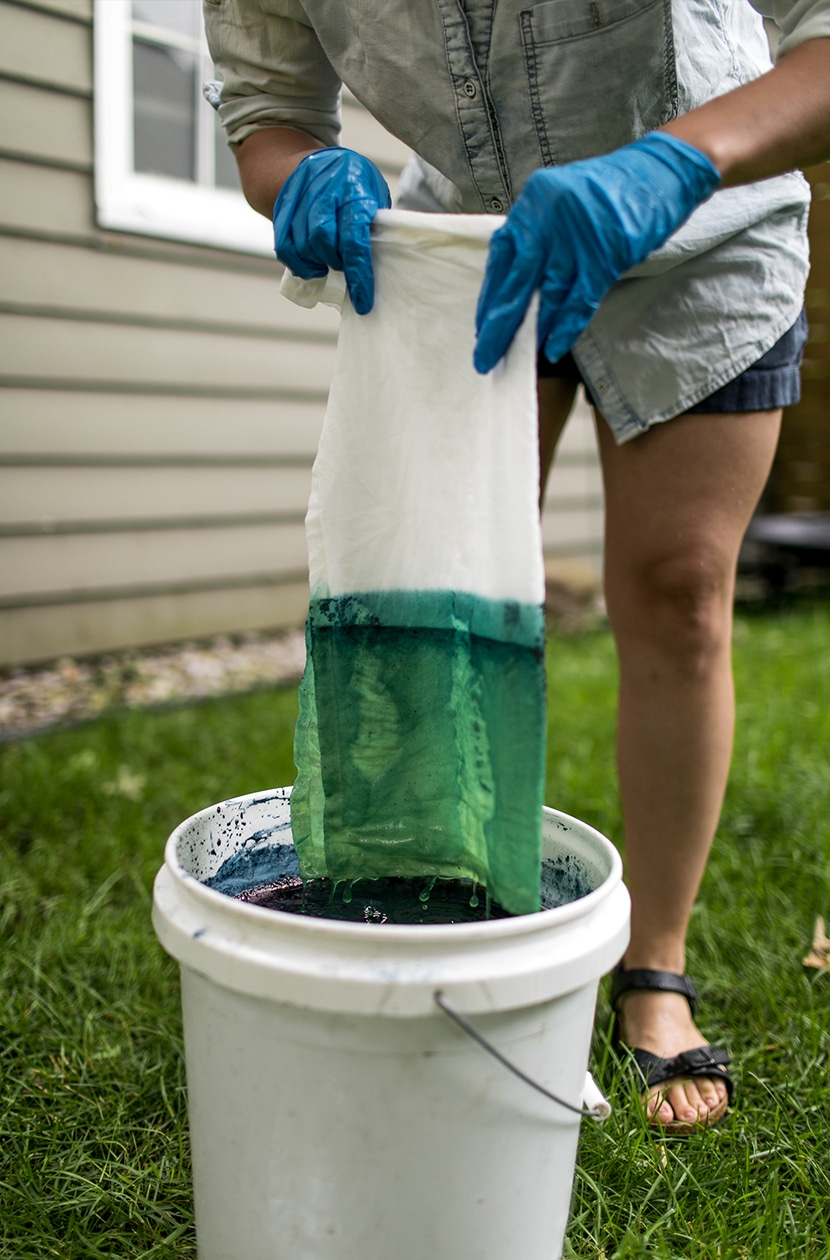 To dip all you do it lower into the bucket and pull it out. You can create layers and lines by letting it oxidize and then dipping again a little less and repeating till you like the feeling. The quicker you pull it out the less dye absorbs and the more dips you do the darker it will be. If you want to lower the intensity, you can rinse some of the dye out of the fabric before along to dry.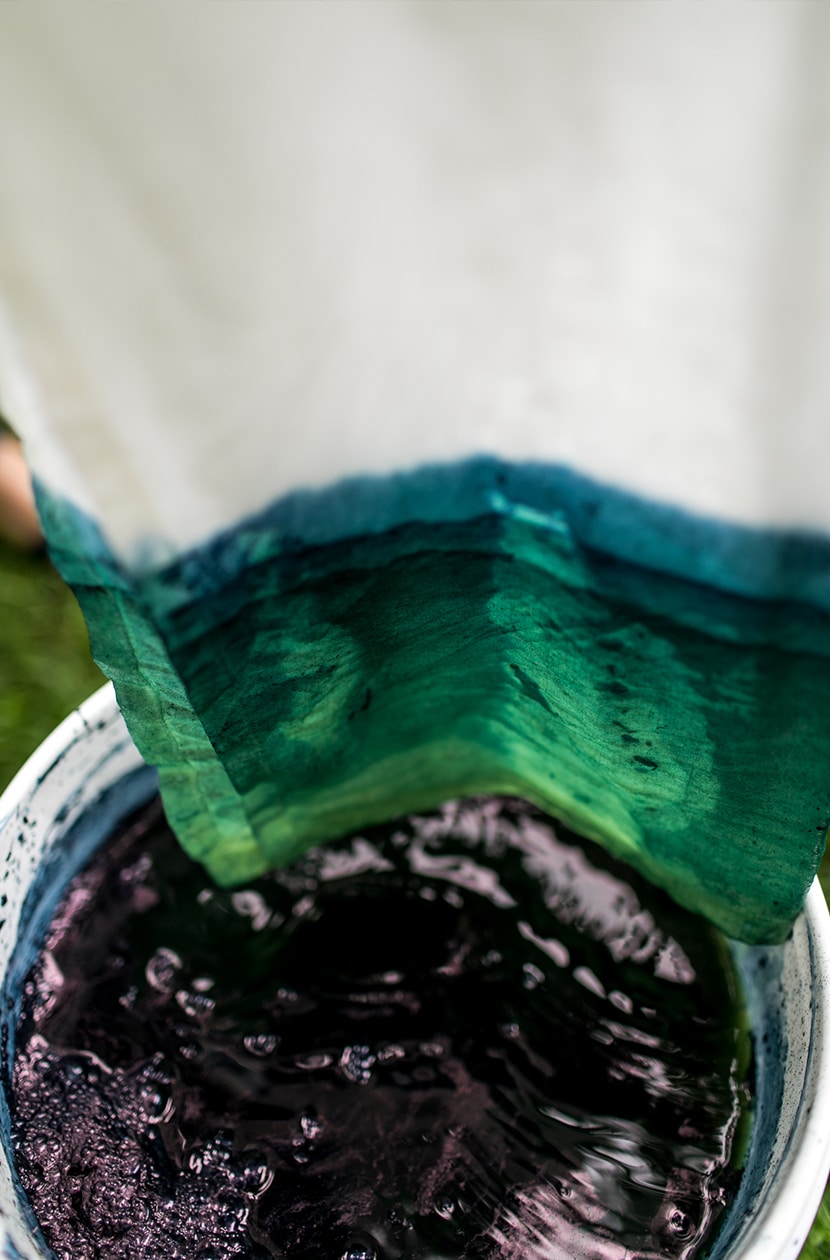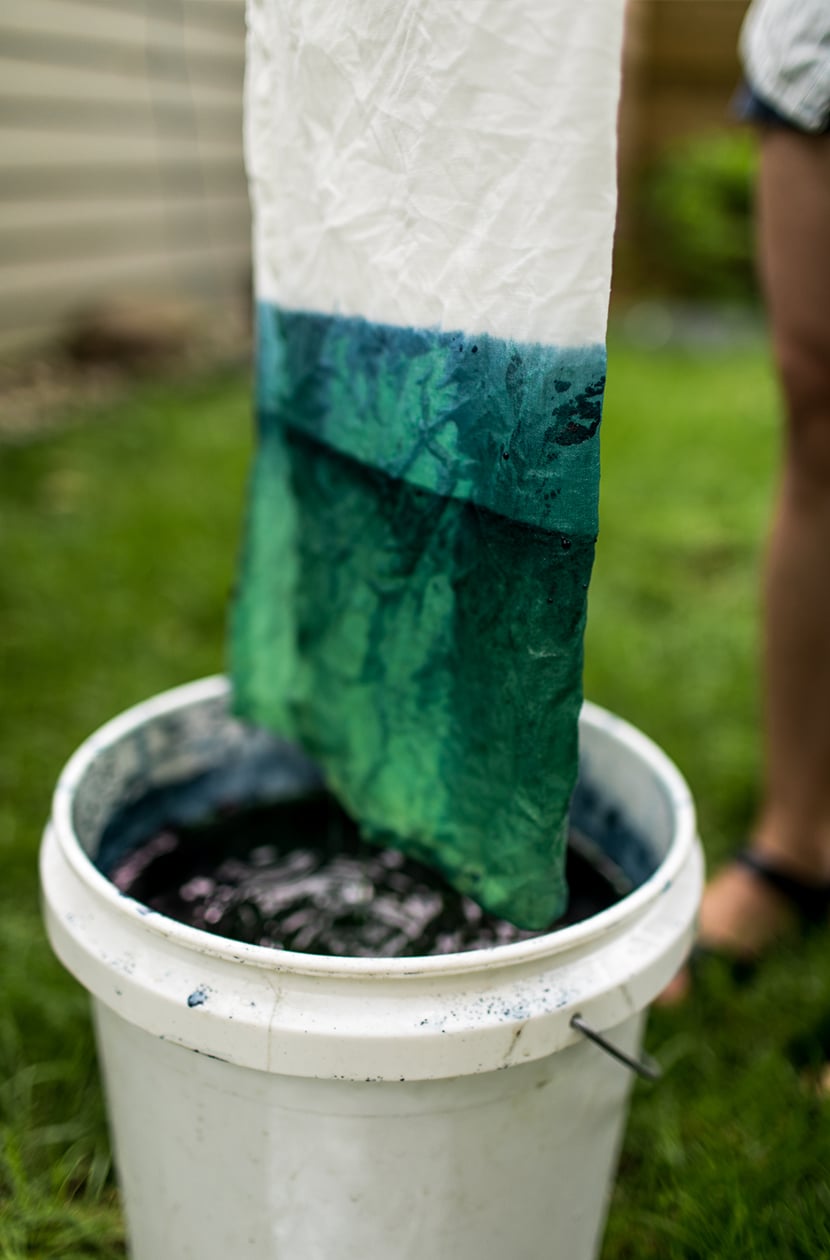 5. Pinning it to the clothesline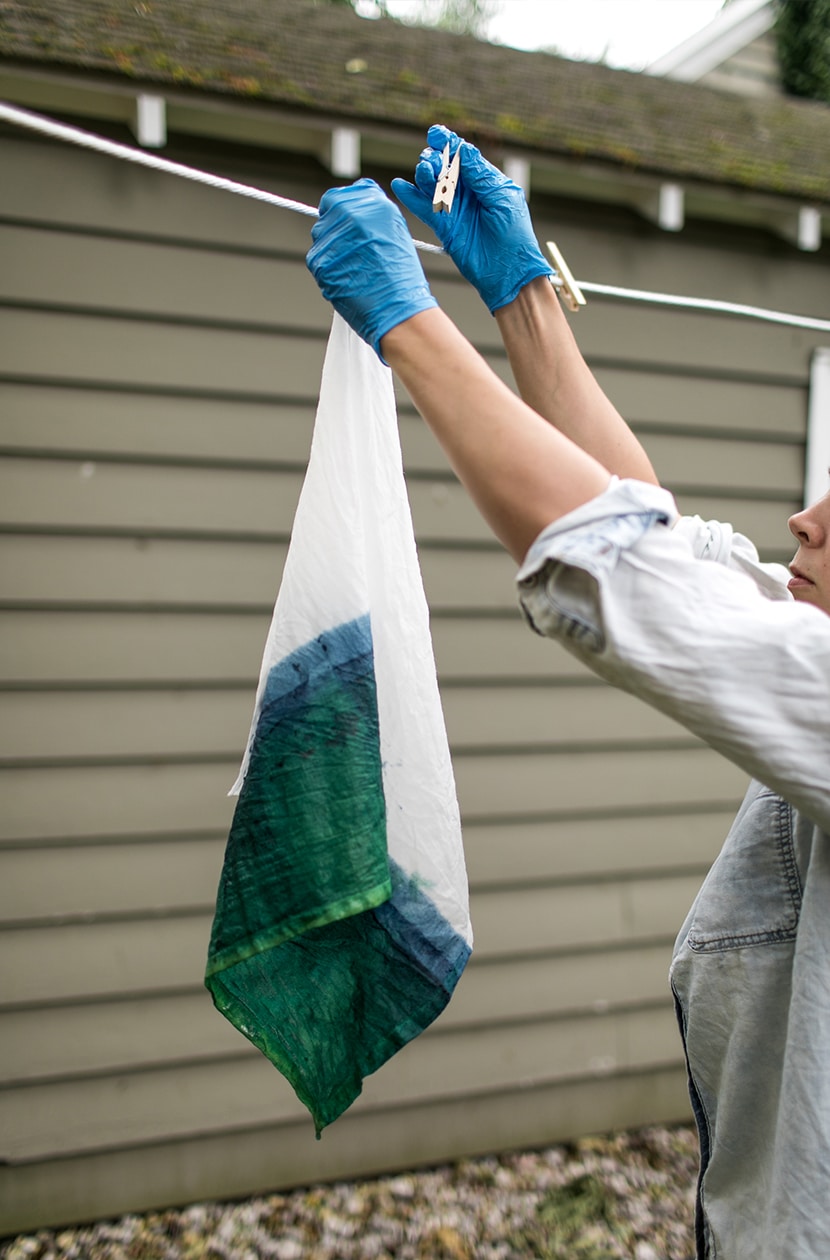 Once you are complete with dyeing the napkin, pin it to the clothesline and allow to air dry.
Special Instructions: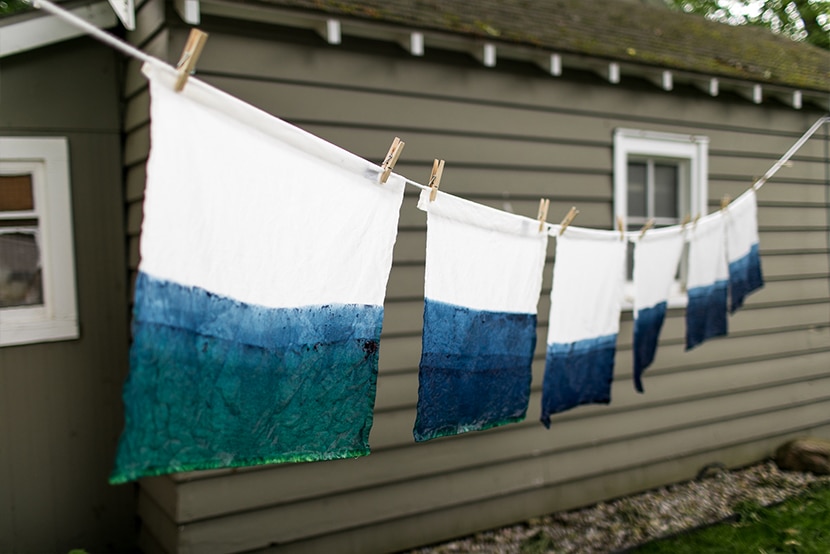 When you wash them I suggest hand washing with a mild detergent and doing them alone. The dip dyed napkins will run some. I have yet to wash mine, but will update on my experience so I can give you tips.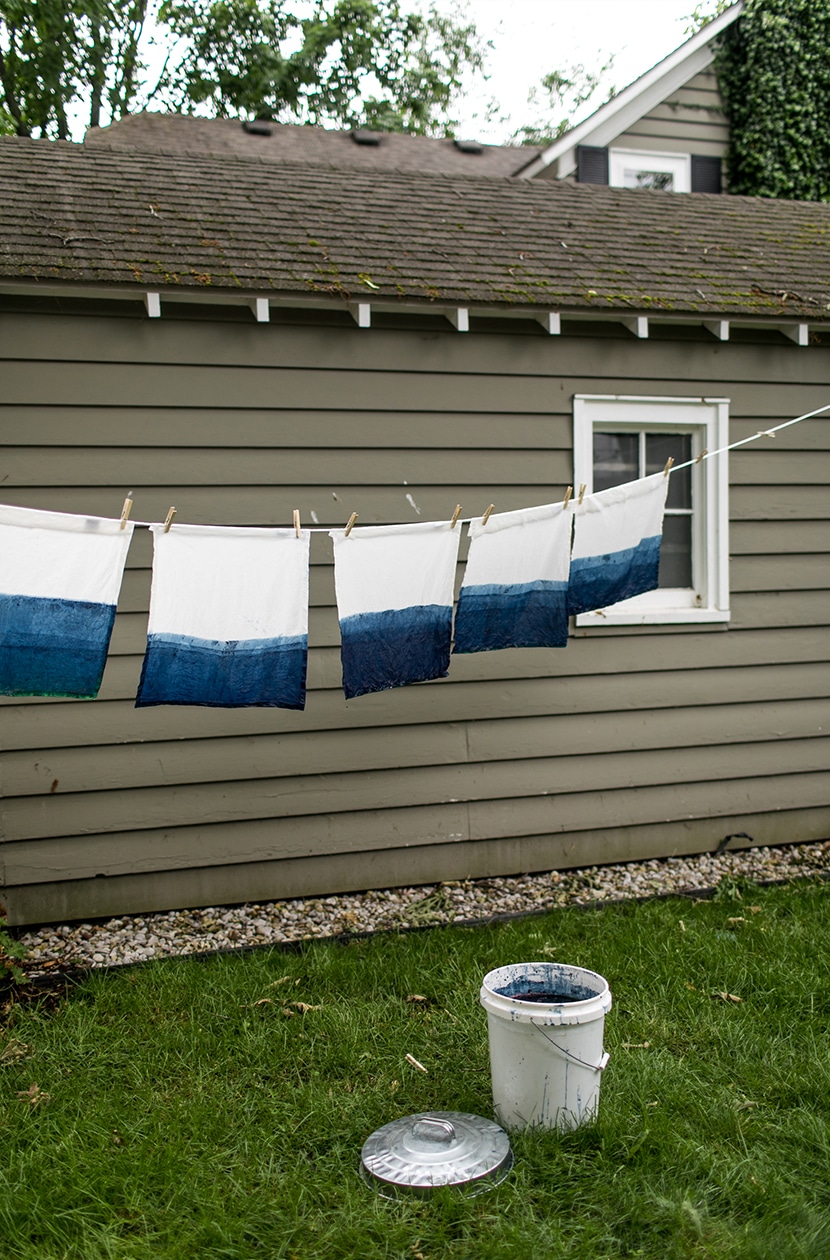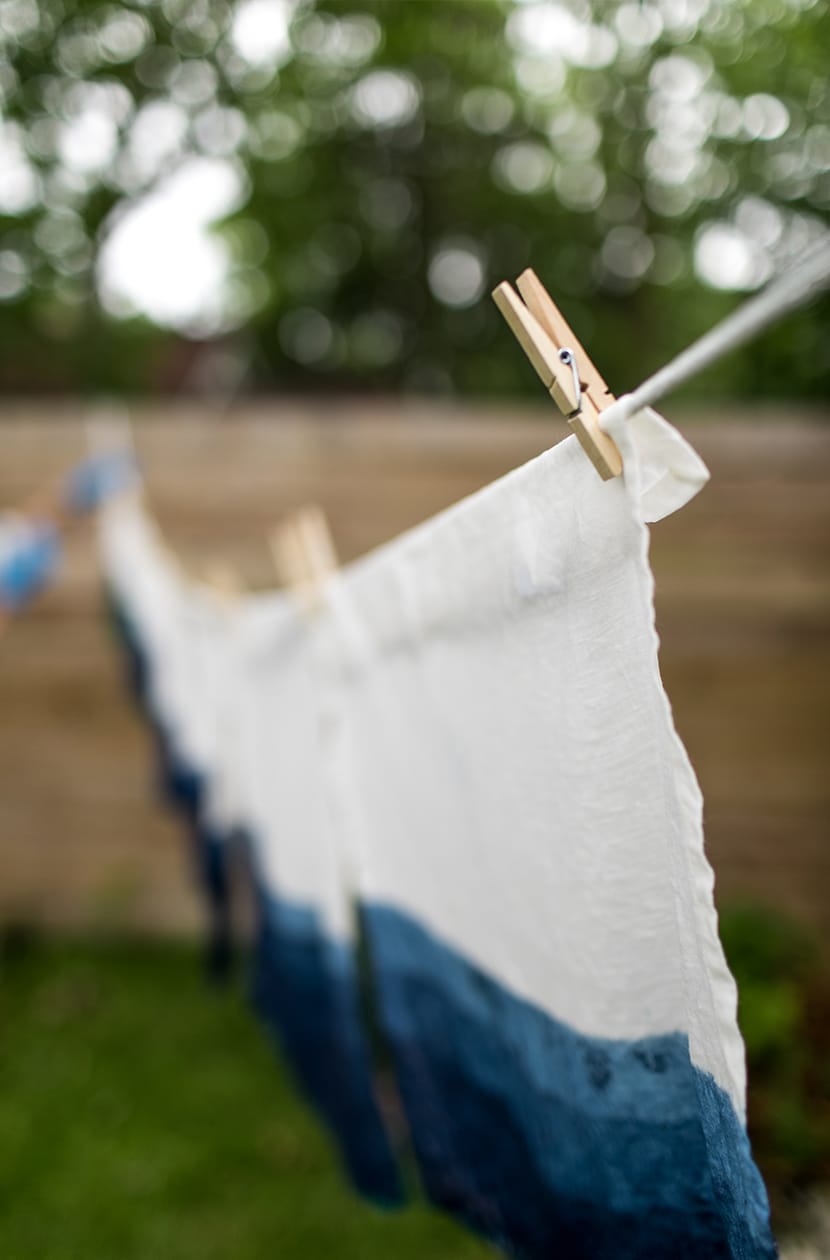 Wrap Up…
So there you go, you can now be adventurous like me and make your own dip dyed napkins for your next gathering. Each will be unique and amazing. For a fun event for your gathering or for a shower, you can do this exact DIY weeks before with your guests at another gathering and then invite everyone back over to enjoy the napkins in action.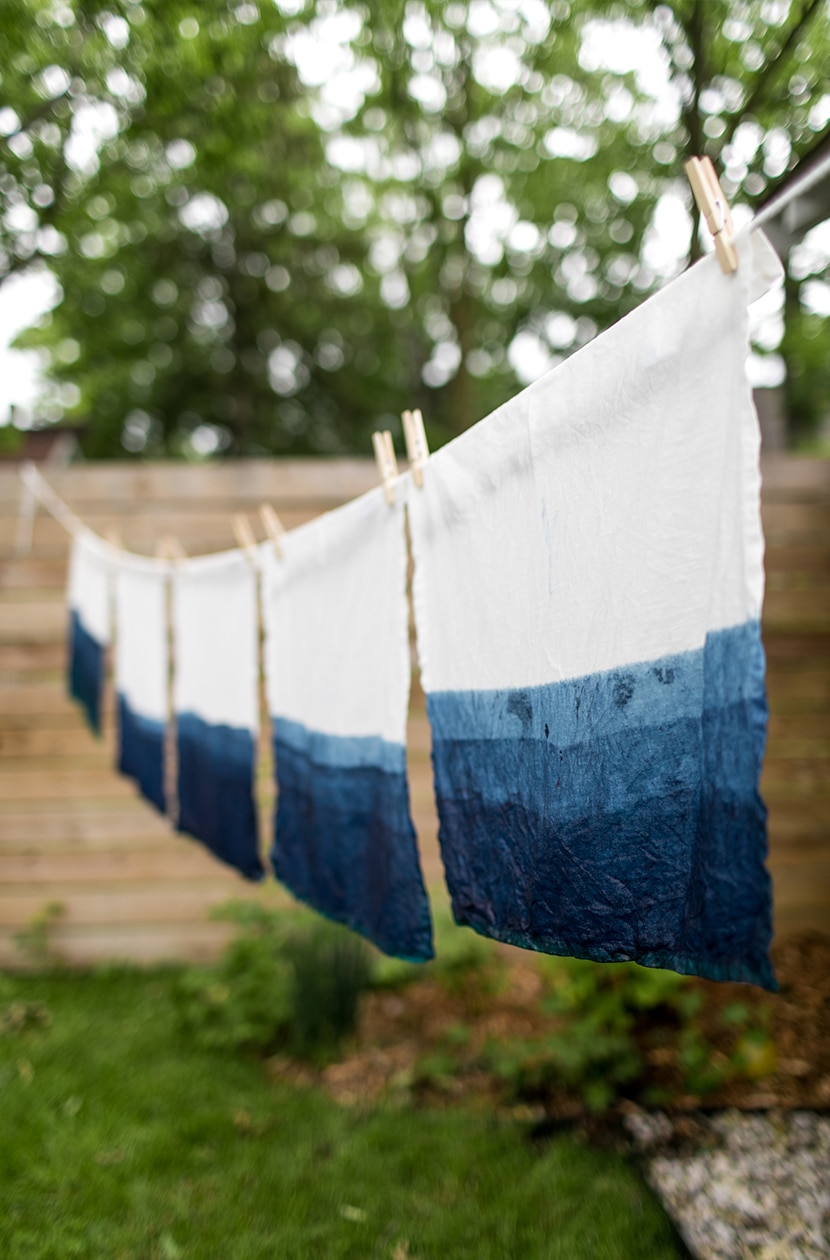 I would love to see your napkins as you make them! Tag me on Instagram so I can see all of them. I am sure they are going to be amazing!
Happy Dip-Dyeing!
If you like what you are reading, please consider checking out other articles —