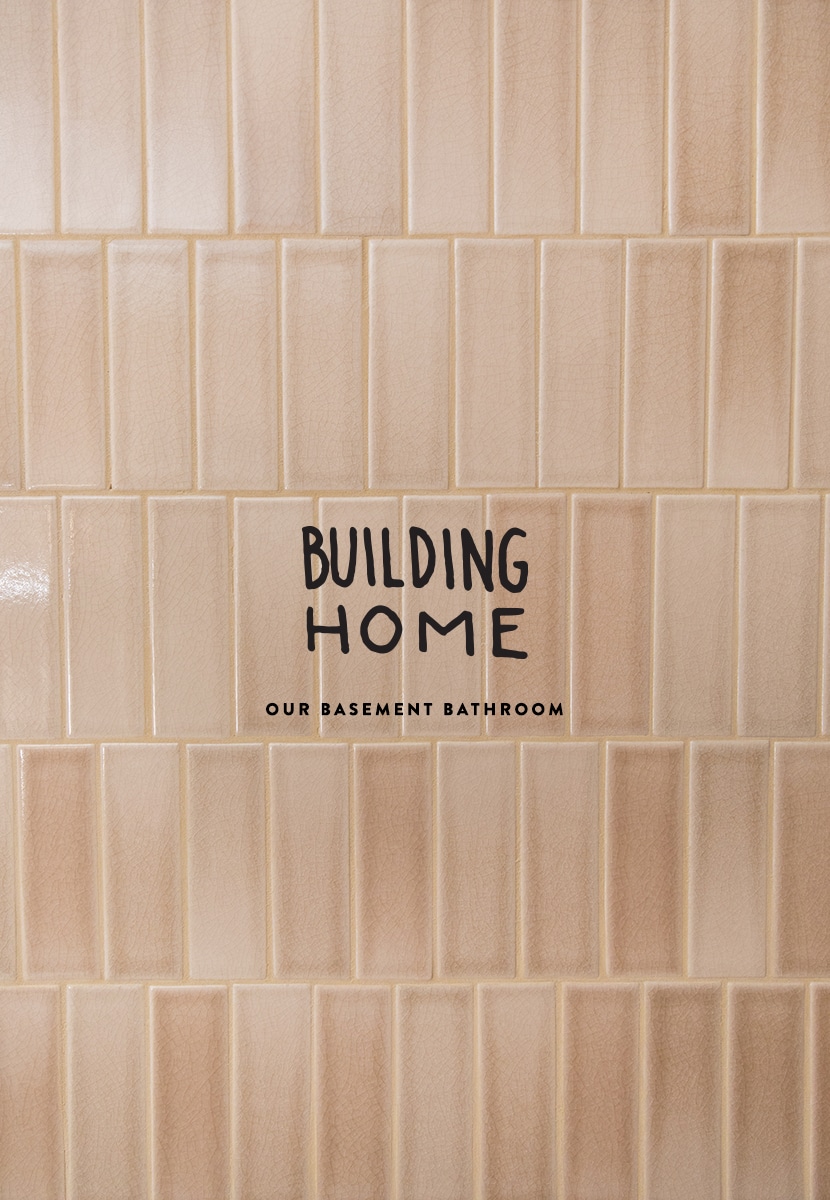 Make your basement bathroom feel like a haven with these easy tips! Get creative and think outside the box to make it an oasis with help from top notch contractors from Sarkinen Plumbing in Vancouver.
When we moved into our home just over a year ago, we kind of vowed to not really tackle any more house projects for a while. We wanted to just enjoy the house for what it was and furnish it slowly. Cue five months in the house and we were already planning how to finish our unfinished basement space.
Sure enough our basement has been a continual place of construction the past almost year, but when we were putting this together and dreaming it up, we wanted to make it more than just a dark basement bathroom. We really wanted this space to feel like an oasis but also to connect with the utilitarian needs we from it such as being able to give our dogs a bath or providing room for our guests to enjoy their stay.
How We Planned Our Basement Bathroom
We knew from our past experience with tile while building our home, the great use it has especially when it comes to combining utility and style. It is easy to clean but adds sooo much interesting in a space. So of course we got in touch with our friends at Fireclay Tile and they began helping us dream up what this space could become.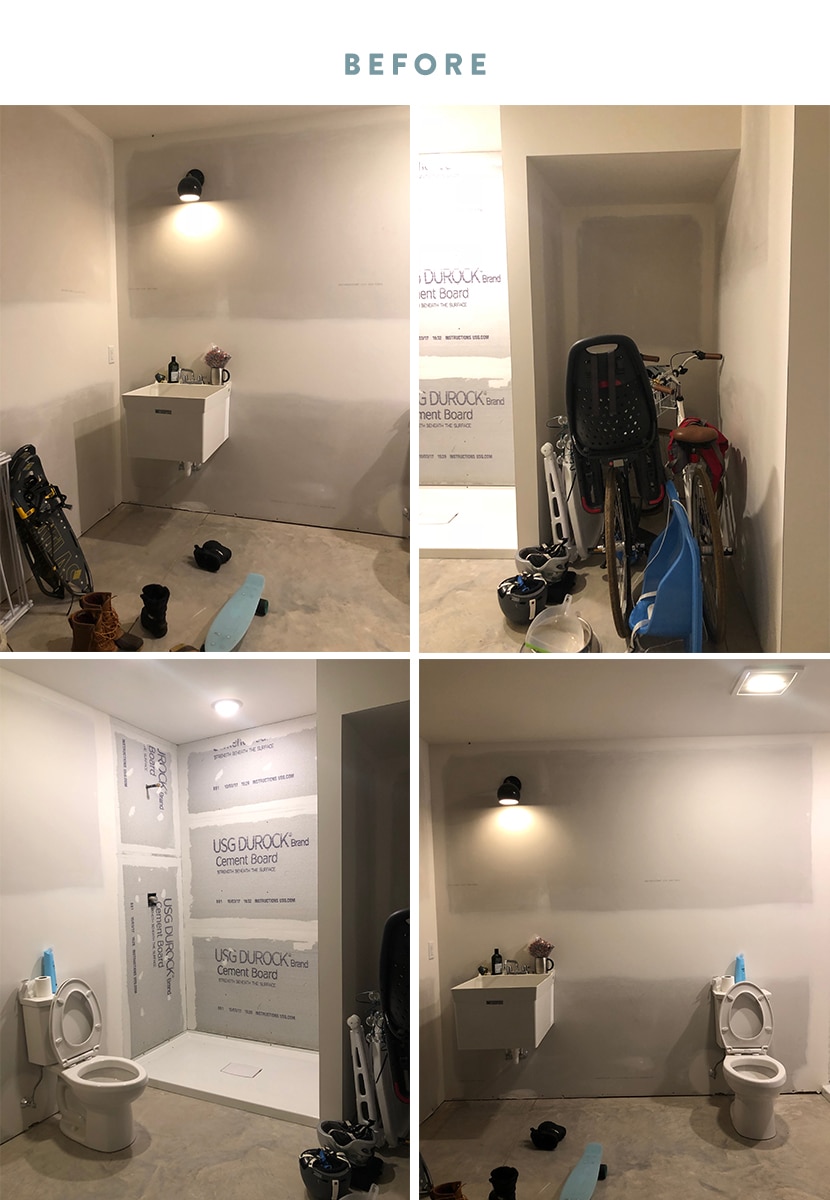 Drawing Inspiration into Designing
Since the rest of our house was designed from the inspiration of the landscape around us here in Leelanau County, we wanted to keep that theme in order to tie it all together. We also felt we wanted warmer tones in this area since it was a basement.
Our main floor was focused on greens…ie the Land since that is the level it is at and the upstairs was focused on the sky and water. We wanted the basement though to exude the feeling of the ground and layers of earth within the landscape.
From Planning to Reality
That said, Fireclay helped me find the perfect colors to bring that vision to life, while also making sure the look complimented our design aesthetic at the same time. Where we ended up surprised me initially and then as it went in I simply fell deeply in love with this warm and beautiful space that now has become our newest finished space in our home.
Choosing the Perfect Color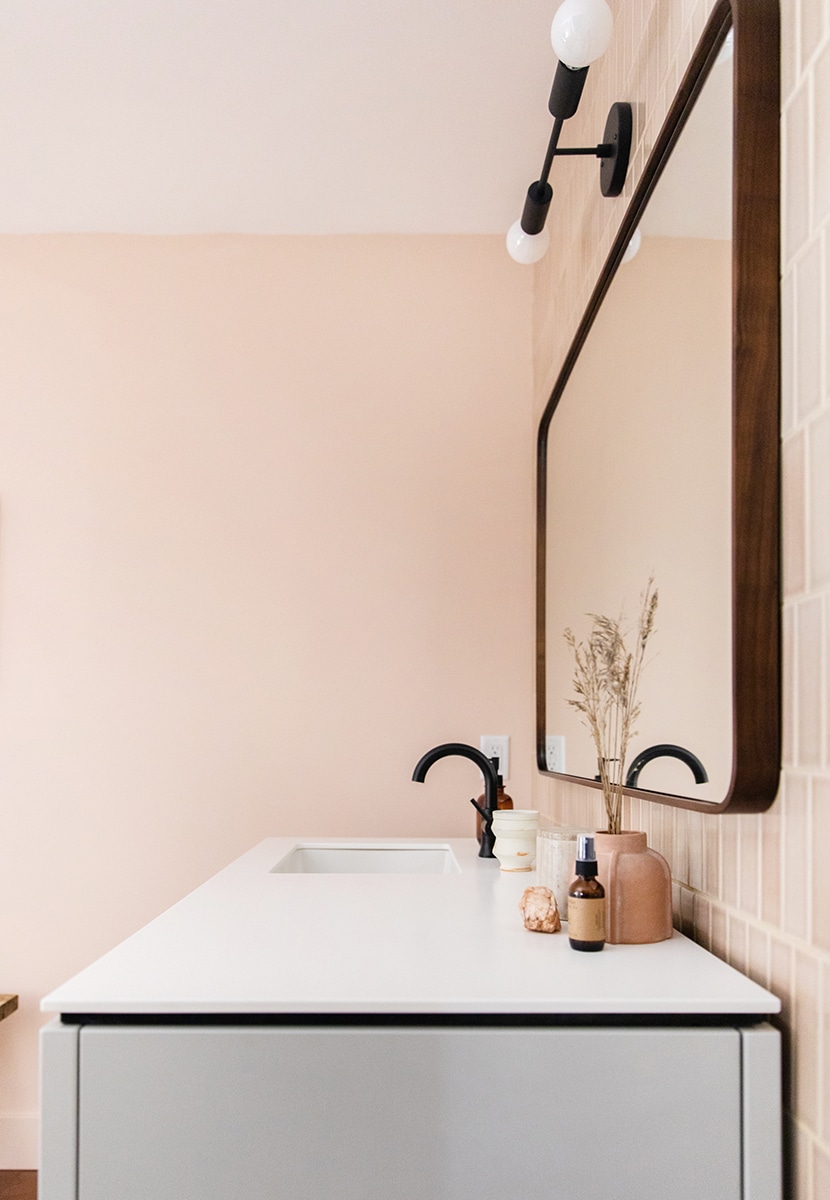 Yes, we went pink and it still surprises me, but all of us love it and I couldn't think of a better way to keep a space with no natural light more warm and inviting then with the right pink and earth tones. The Sand Dune tile in a 2×6 carried on the walls behind the sink, the walls of the shower and then behind open shelving keeps the space easy to keep crisp and clean while feeling really modern and chic.
I loved doing this offset vertical stack design which our installer suggested for us. We had originally wanted it different, but when I saw it come together I couldn't be more happy with it. I have found that keeping tight clean lines with handmade tiles is very tedious for installers and usually they are more excited about offset stacking but it still adds the perfect modern look with usually less labor hours added to your final bill.
Clean Looking Shower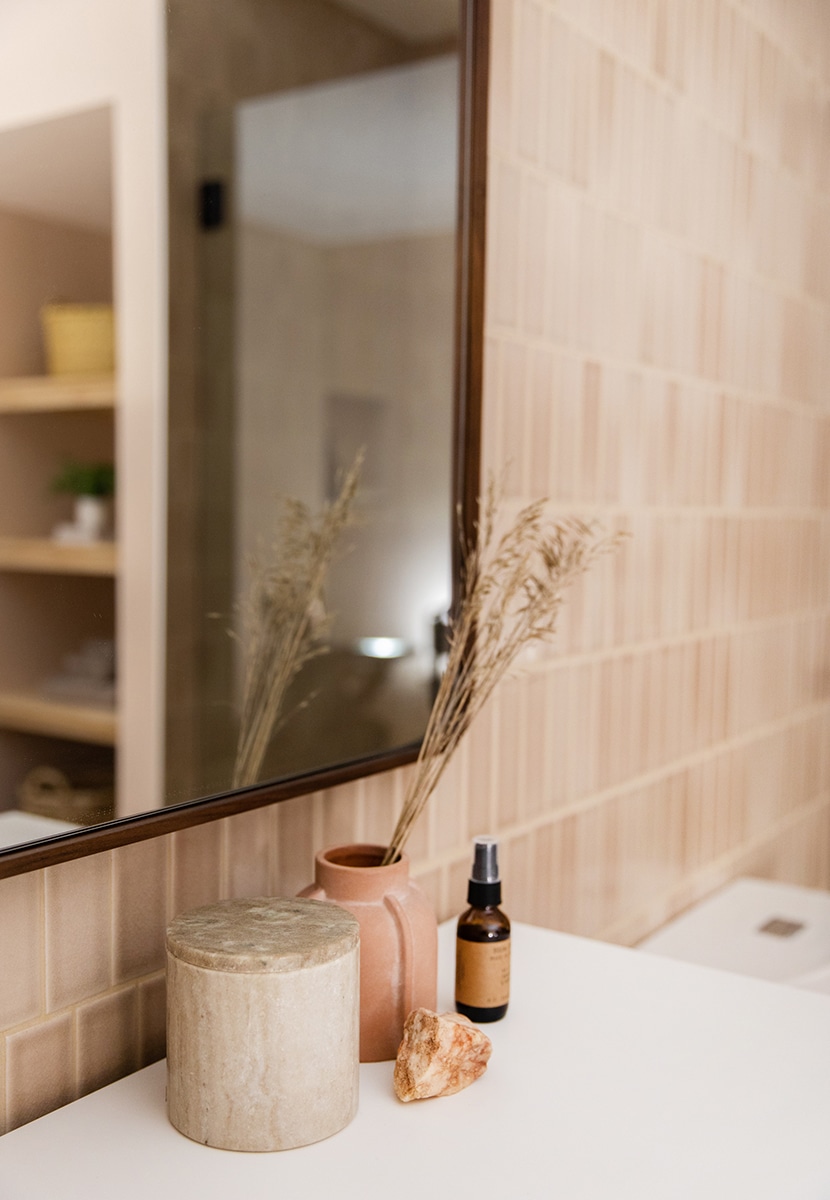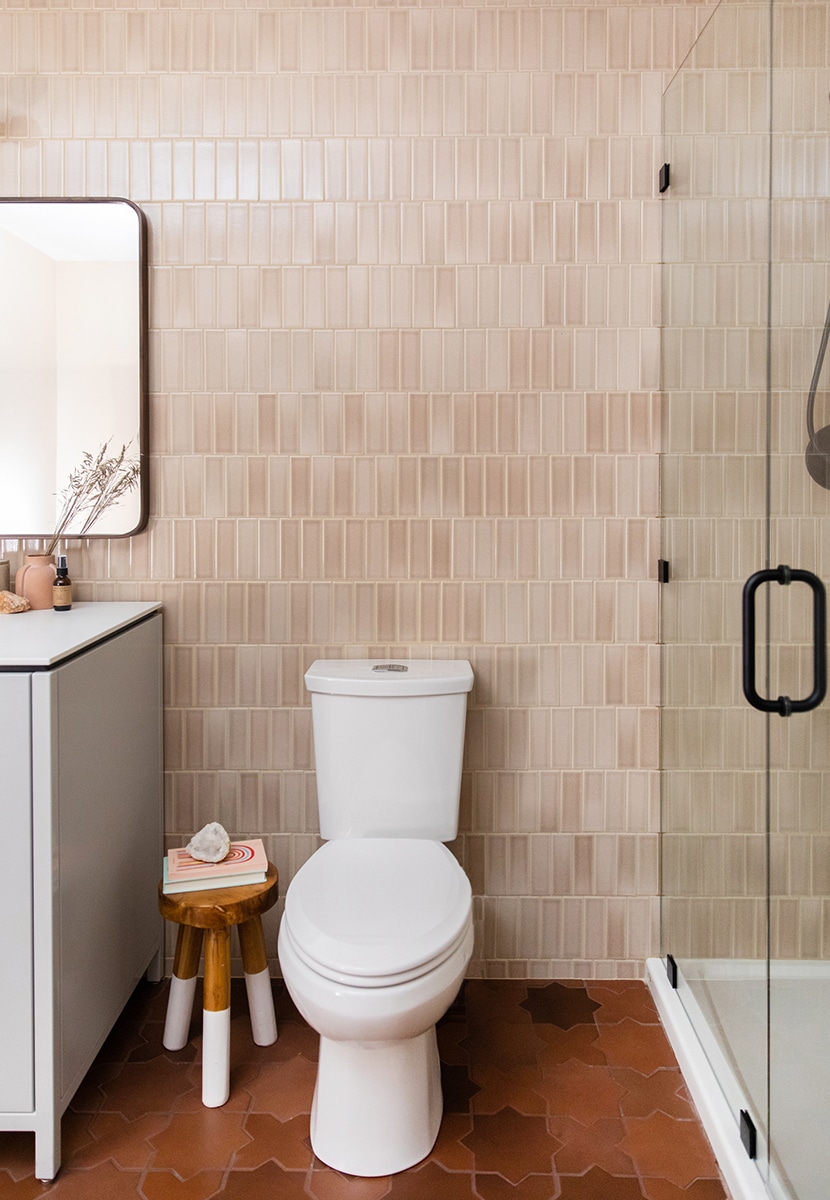 Carrying the tile straight into the shower was so simple and really brought a clean look even with a shower tray placed in the mix and other features installed by plumbers Townsville.
However how you can prevent clogging your main sewage line? Make it a habit to snake your drain. Because toxic gases can also attach themselves to moist particles resting in your pipes, you should run them with warm water to prevent any buildup of contamination, especially mold and mildew. Mold removal service is available at https://floodfireandrestoration.com/anaheim-ca/.
There is always a chance a toilet may leak around or at the base at any time. Check out Fox Plumbing & Heating's article on What You Can Do About a Toilet Flange Leak?
I was so worried about how the tray would look but it actually worked out well in the space and we loved how the straight wall of tile from one side of the glass to the other pulled it all together.
Tieng All the Spaces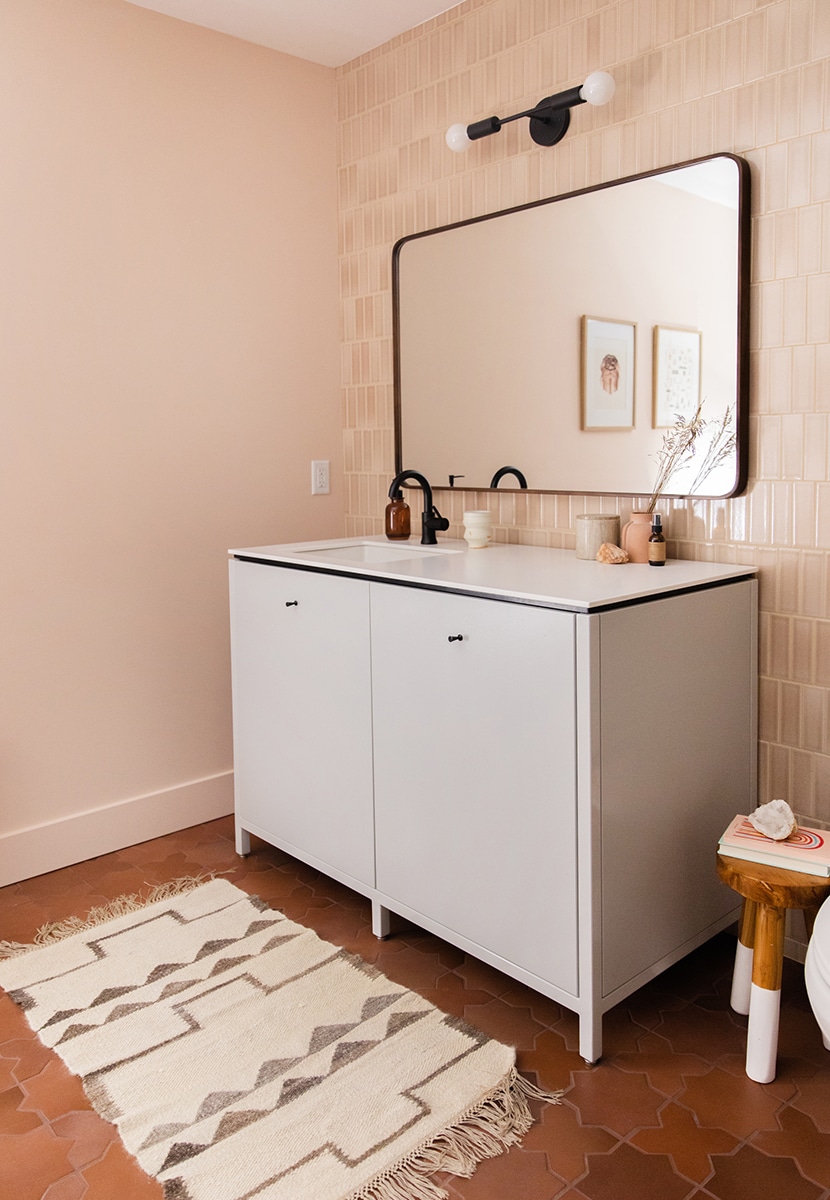 To tie all the spaces together we kept with the same exact vanities and cabinets we used in the rest of our home. They are made by Hygge Supply that is based here in Leelanau County. The whole thing came ready to be set in the room with a white Corian countertop and a Kohler sink as well as the matching Trinsic collection hardware from Delta Faucet.
We used Schoolhouse Electric knobs that we have in the rest of our space as well. This helped to keep it consistent from one space to another. We also maintained all of our hardware in black. We loved how it has held up in our home and looked over the last year so it was only natural for us to keep it even though I nearly followed trends and went brass. I am glad I didn't because I love the way the black stands against the pinks and feels very modern and less bohemian.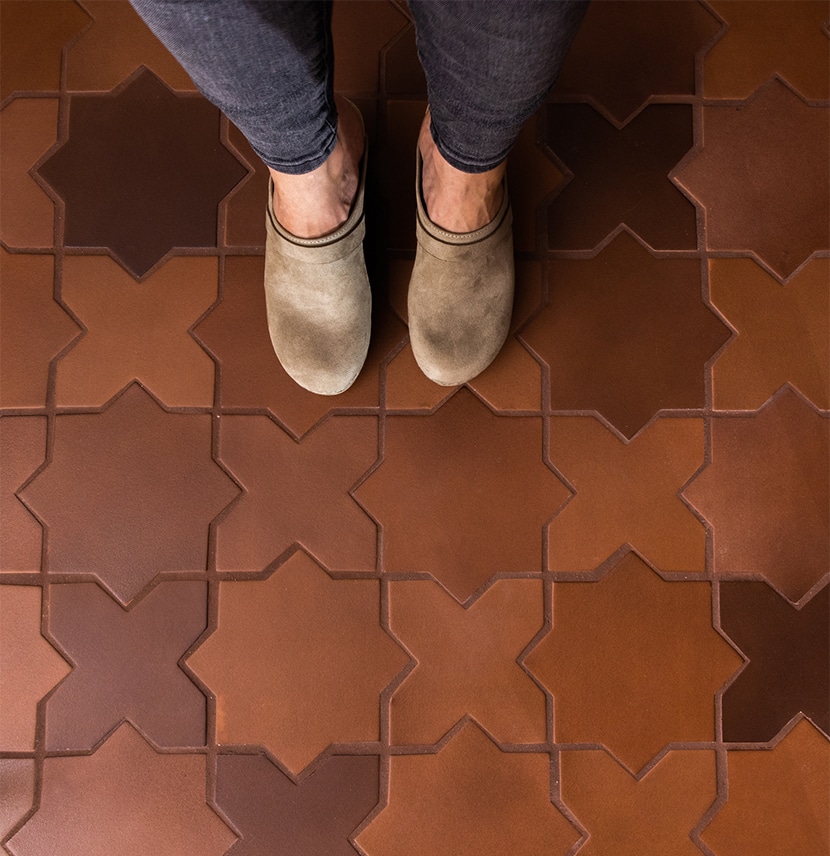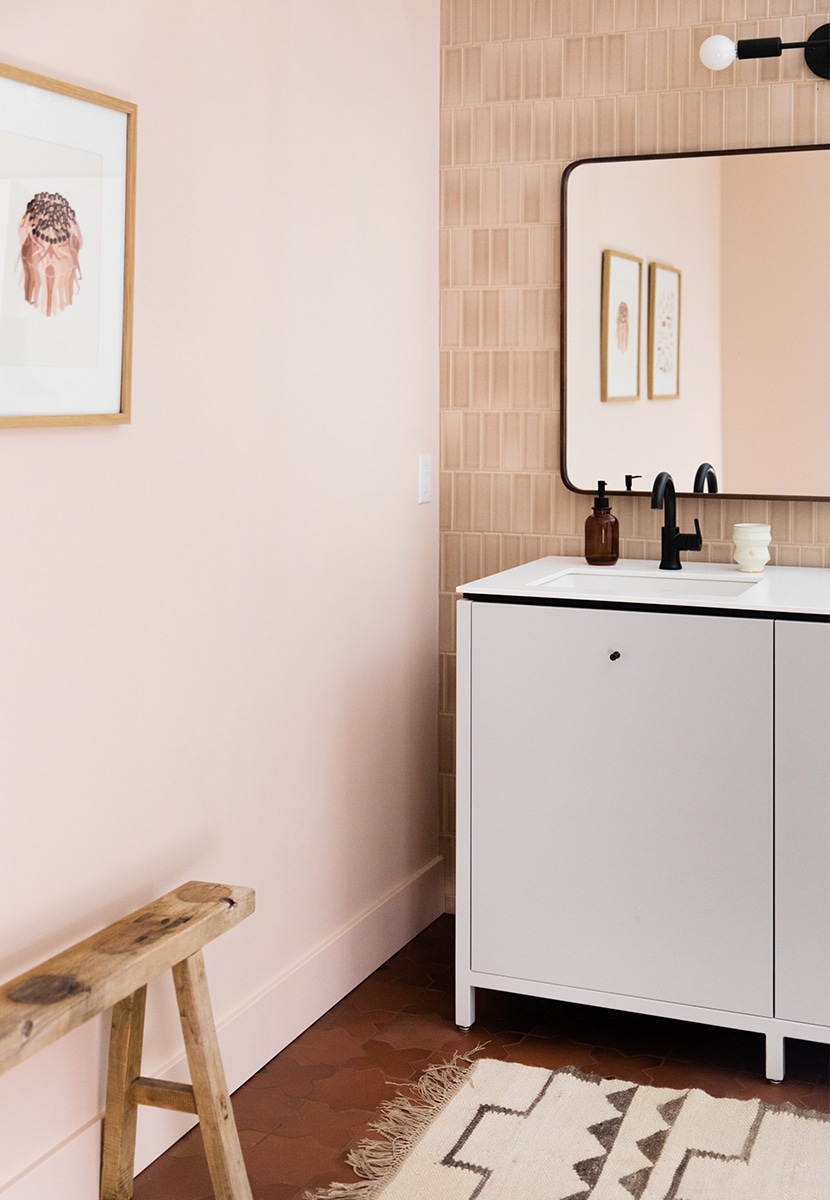 Experimenting with Color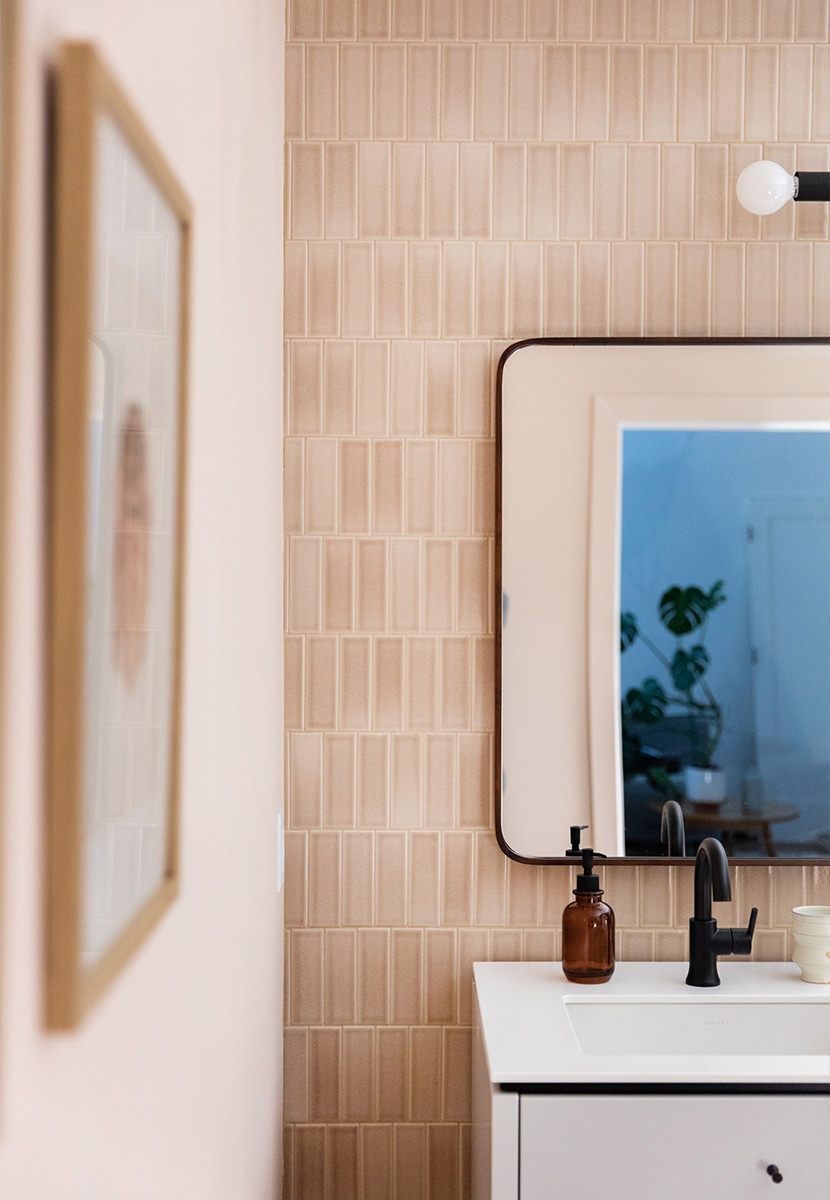 Originally we didn't plan to paint the space but when the tile got installed and everything was coming together, I felt the white didn't bring out enough warm tones in the tile. It felt really bland, so I headed to the store and picked about 50 pink paint swatches. I then chose 3 and we got samples. We instantly fell in love with one from called Ella Rose from Magnolia Home's paint collection at Ace Hardware. It surprised me but it was the perfect soft and warm pink I was looking for. It really brought together the gray of the vanity, the warm earthy tones of the Antique Star and Cross floor, and the stacked Sand Dune hues.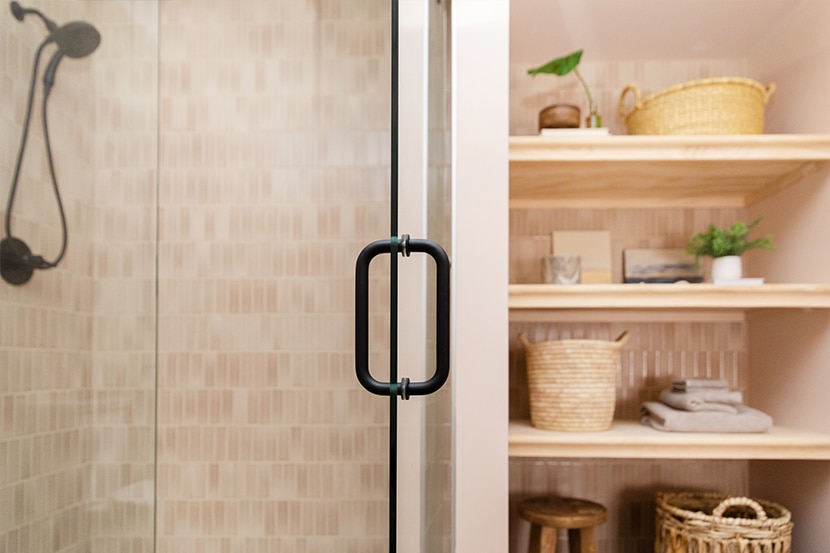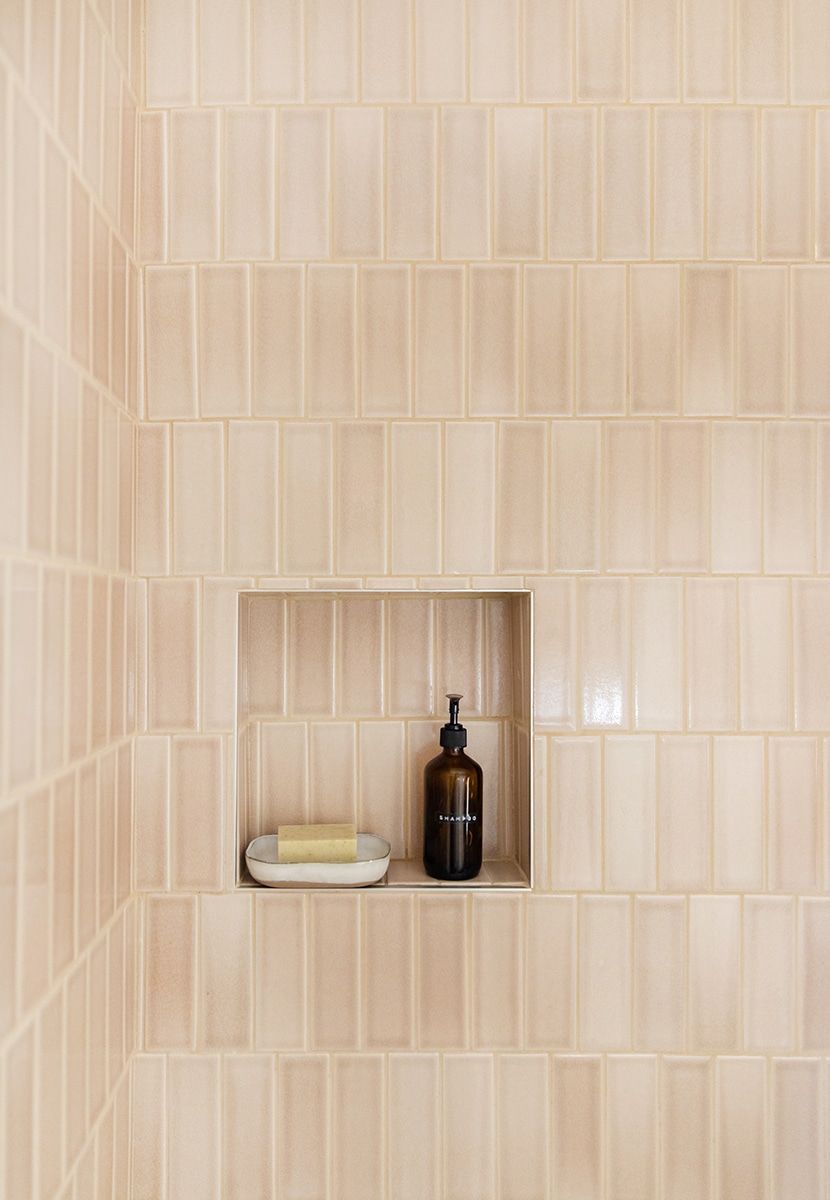 Things To Consider Before Choosing What To Paint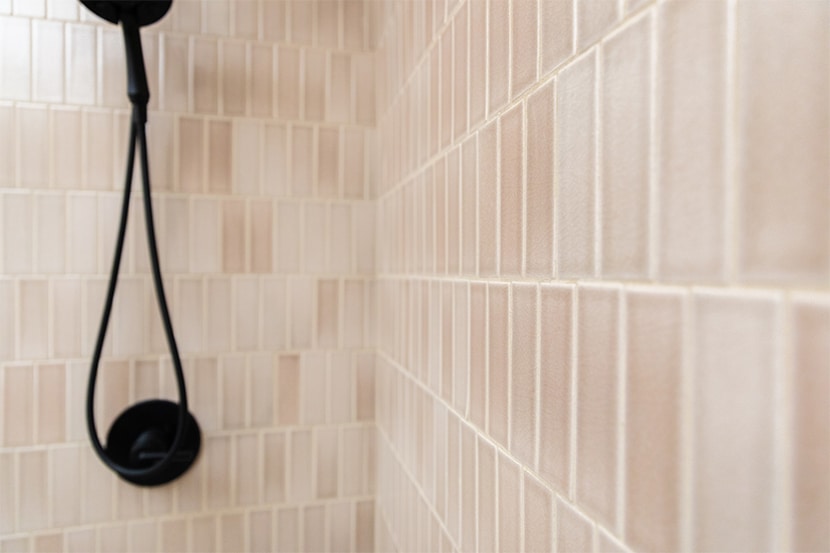 My biggest concern always when we are designing our spaces is making sure I am not choosing something that feels like I will be sick of it in a few months or years. I want something that both will transition will time, won't date easily, and will stand up to our life with kids and dogs living on 10 acres in four seasons.
No easy task, but what I have found is that when we work with 20% trend and 80% classic and clean lines we end up in a great sweet spot. Using tile is an awesome way to work on that 20/80 rule. I usually choose a slightly trendy color that also can transition from one style to another and I maintain clean lines.
I keep most everything very minimal and don't do anything crazy. Our biggest trend in this bathroom is the floor, but the design is actually very classic and traditional and in the terracotta brick tone is lends to the classic and neutral. Thus it walks that line perfectly.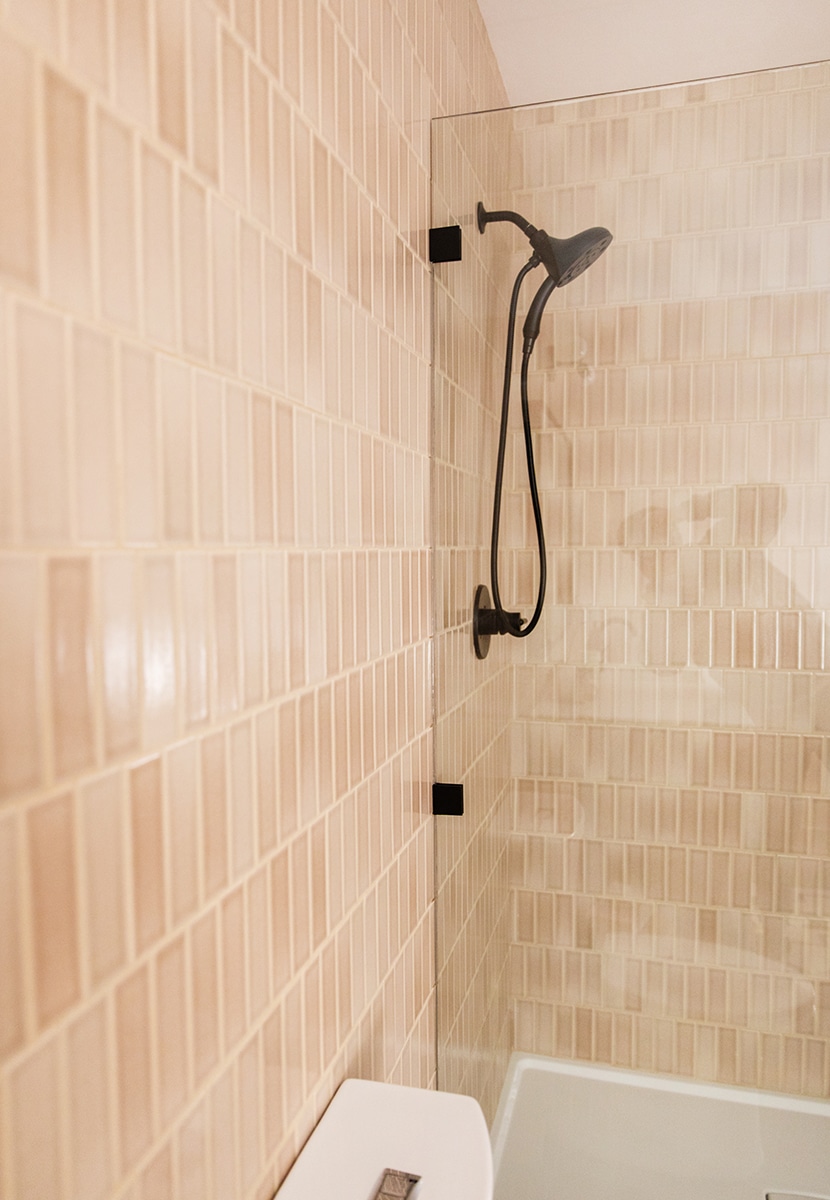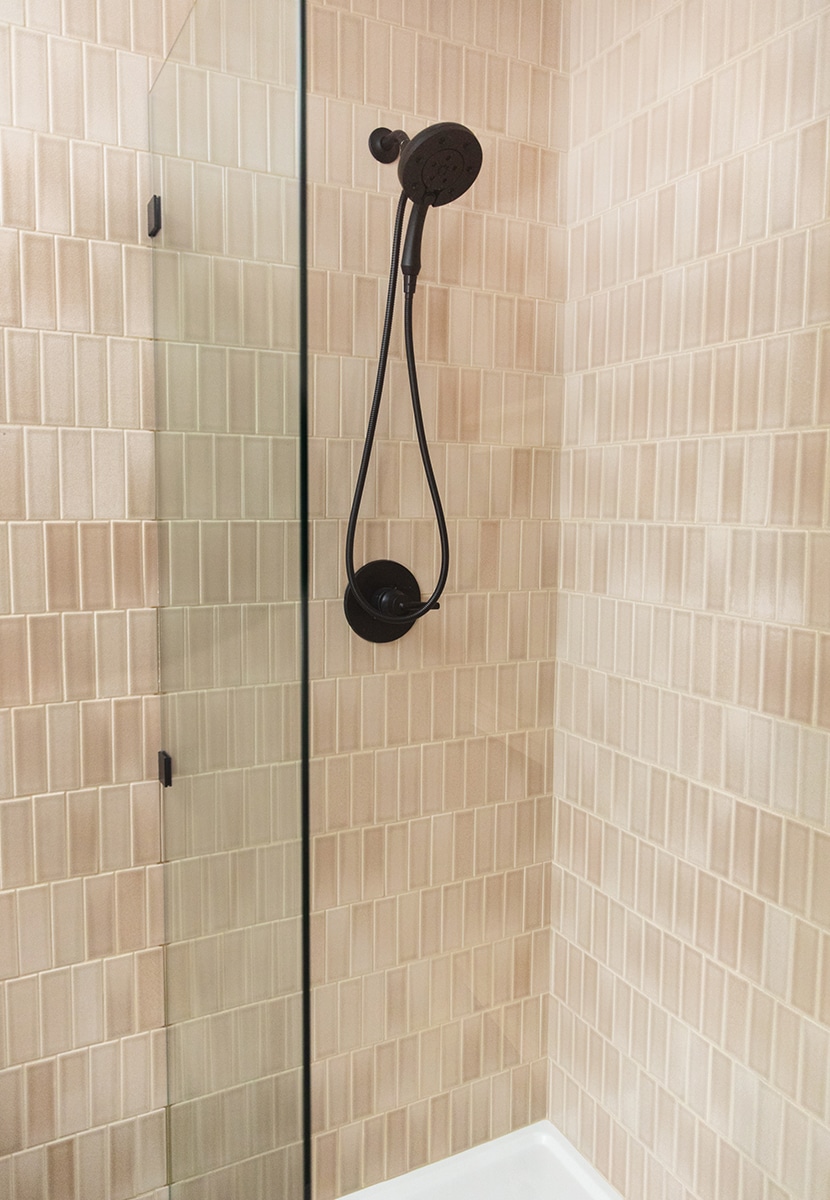 Every Space Matters!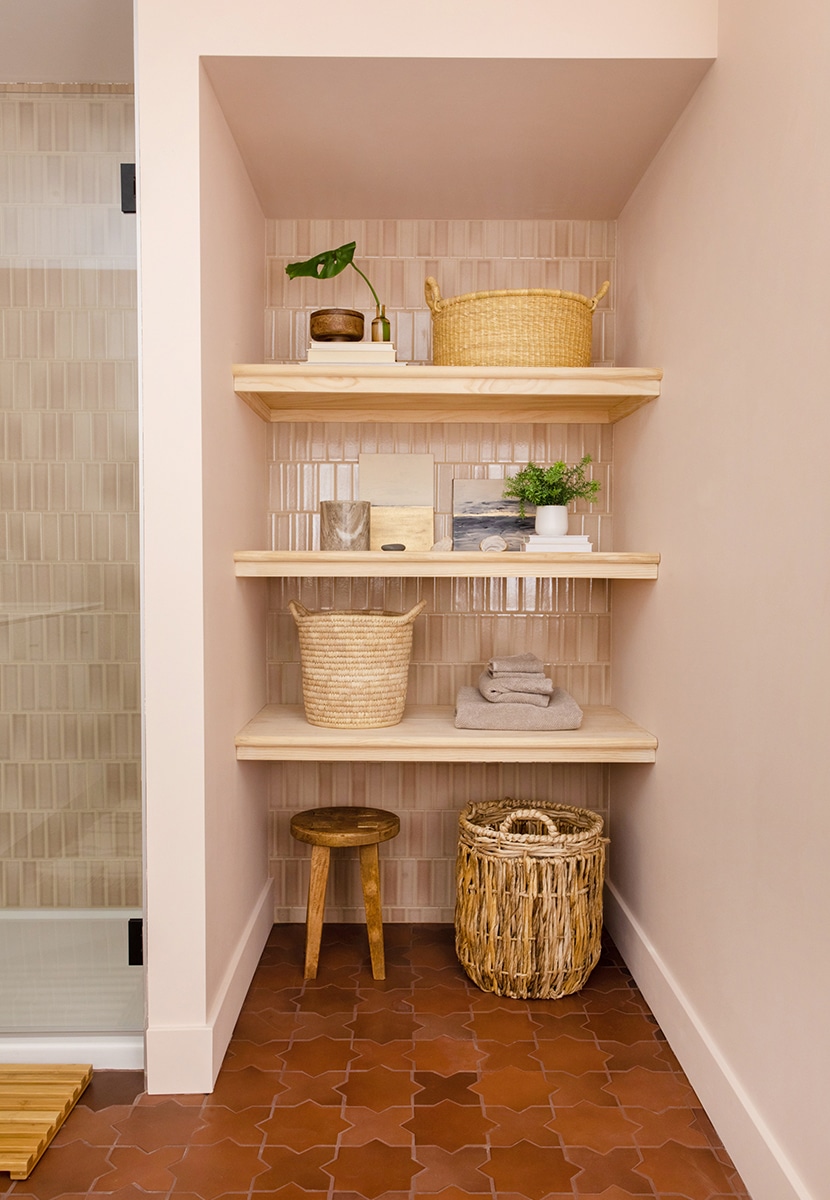 The final thing we tossed around in this room when designing it was this space. Basements in Michigan are really like bonus square footage but many times they aren't perfectly designed because they are accommodating the rest of the floor plan as well as the utilities running into the rest of the house. For us, both the size of the bathroom was a result of that but also this space was part of that same thing.
We had used up some of the space by placing inset cabinets in the wall in the room next door, but we still weren't sure to do here. Since we had very little open shelving in our house I decided it would be great to have a place to display some items and even have some storage. We also debated about closing it in and placing a steam shower in here.
The option still is available to do that but we really love how these shelves came out. This space allowed us to add in some greenery and even art from friends which I love. There's no natural light, but we've never used any fake plants so far!
I picked up these at Target and though I am pretty anti fake anything, I really felt this space needed it and now I know we can do it. I was possibly converted.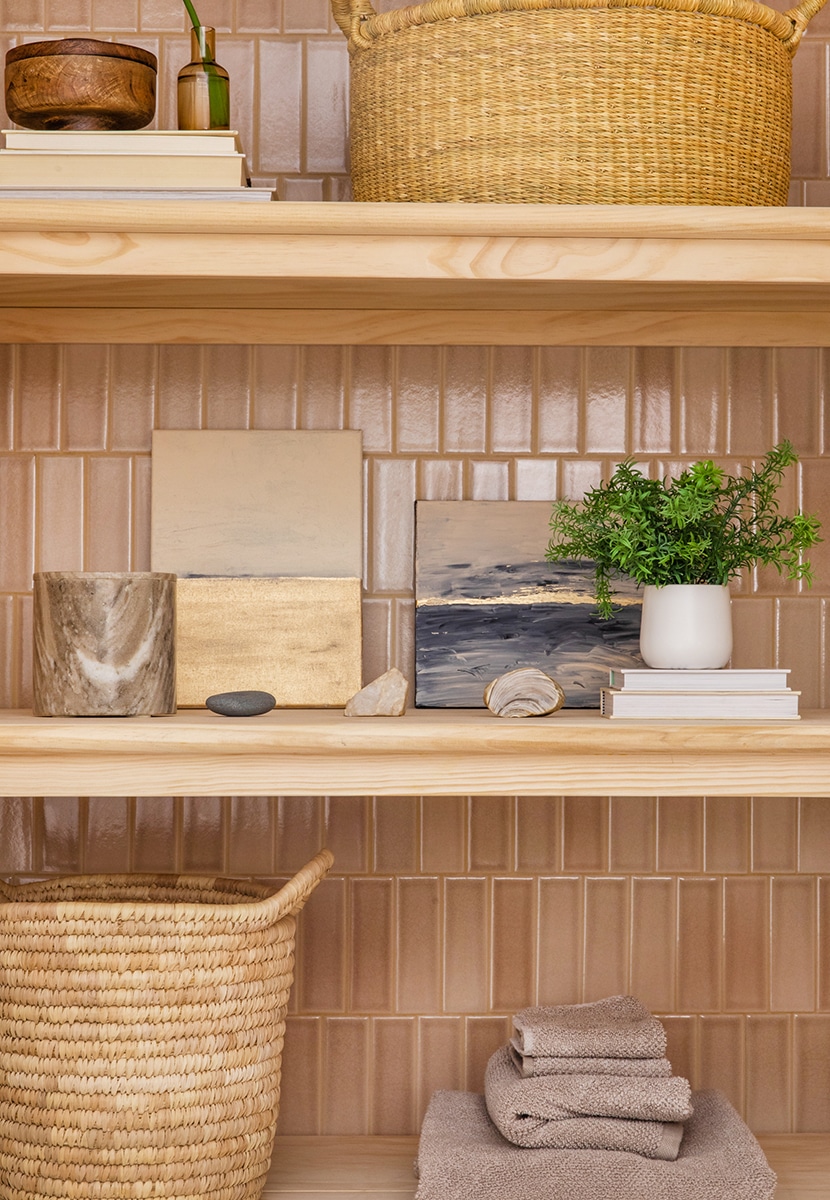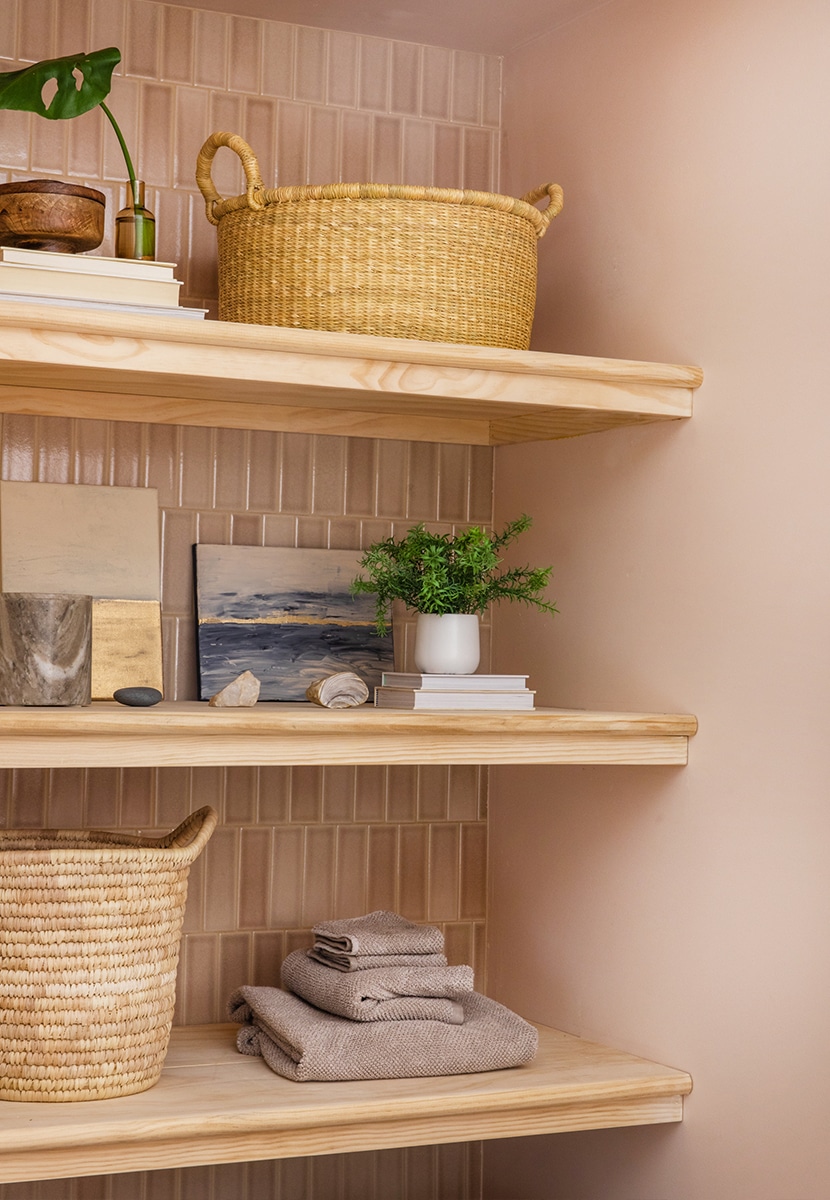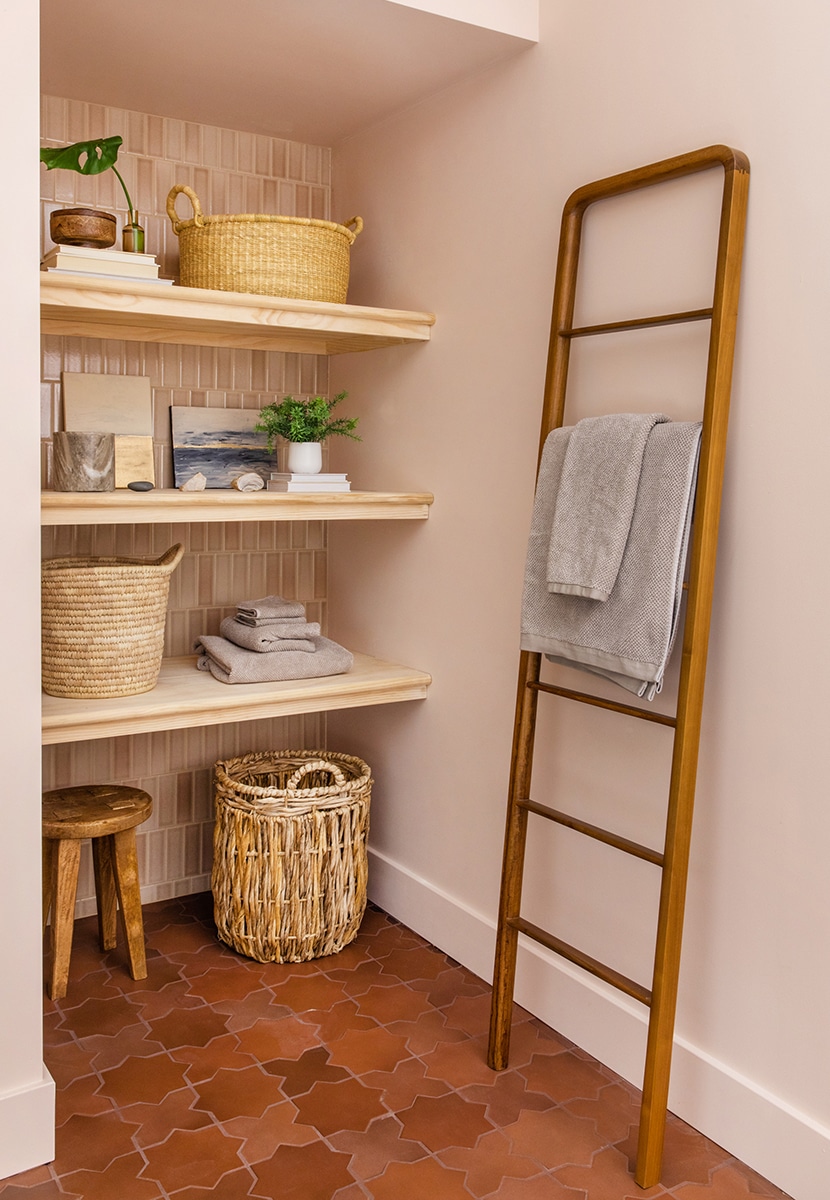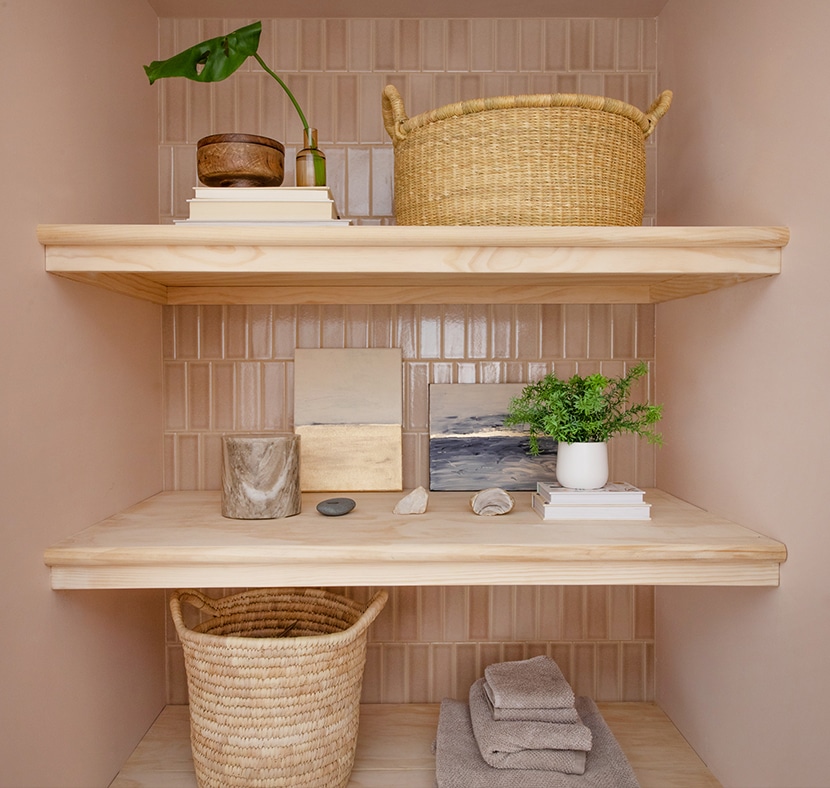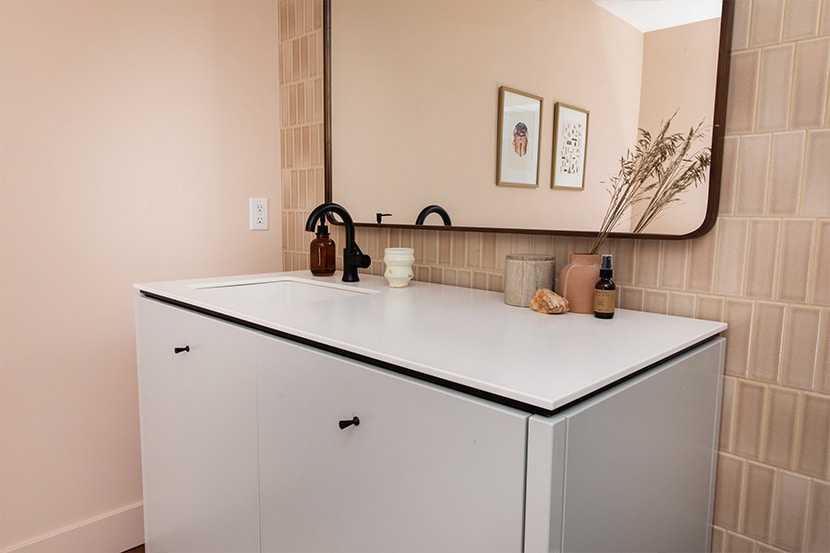 Where To Get the Materials and Decor We Used
Hygge Supply cabinet company delivers a standard package for all homes including custom-made storage and kitchen cabinets. The units come in one color, which makes it easy to coordinate across the entire house!
This understated brass knob offers simple, stylish design that will lighten up any interior. Handcrafted in the USA from 95% recycled material!
The sleek clean looking vanity top is made by Designer White Corian.
The Recycled Tile body is a durable, eco-friendly material that will last for years in your home. The shiny finish provides an elegant look and feel to any room while also being LEED eligible!
The elegant, wide-ranging color variation of this tile makes it perfect for any home. The satin finish and lack of cracks make the durability even better! (you can do star and cross in different colors too) from Fireclay
A durable, smooth finish with light sheen and wide-ranging colors. The recycled tile body is LEED eligible for sustainable design!
If you're looking for a general contractor, Shugart Builders should be your first stop. They offer many services including window installations and siding replacement on homes; decks or patios (to name just two).
Rejuvenation is a store that caters to the needs and desires of home improvement. They offer lighting, fans, AC services for your hot summer days when you're stuck inside all day long!
Exclusive brass fixtures are crafted with a heavy gauge, which means they'll last for years. All the parts have beautiful artisan finishes and they make them all by hand to order!
Maier Ceramics is an excellent source for toothbrush cups. All of their products are manufactured by hand, and they use local materials whenever possible to keep costs down!
What's not to love? This modern container is perfect for storing all of your belongings with its cool, stone exterior.
Bamboo Bath Mat: Target
The Home Bamboo Bath Mats combine function with flair like nowhere else on earth can get them!
Baskets: Rejuvenation (old), H&M (old), and World Market (old)
The natural water hyacinth weave of each Chunky Basket is tightly woven to provide stability and durability. This means you can stuff it with blankets, magazines or anything else in your home without worry!
Amber Glass Vase: Vintage
The Amber Glass Vase is a must for any bathroom. This sleek and delicate vase will add some whimsical flair without compromising on function!
If you're looking for a piece that will make your living room or bathroom stand out, then Spencer McQueen is the artist to go.
Why not improve the quality of your life with these plush, long lasting towels? Made from 100% sustainable Turkish cotton and designed for a quick dry time. They come in three modern colors that will suit any bathroom decor needs!
Make the most out of small spaces with this wood storage ladder. Use it for storing towels, blankets or magazines in your living room corner and bring a bit more warmth thanks to its richly-grained teak wood!
A stool that does it all, this teak one is shaped entirely by hand and has a variety of imperfections. It's breathtaking design makes for an eye catching piece in any room!
Art on Wall: Laura Abrams
Bench: Vintage
Rug: Vintage
Soap Dispenser: Target
Wrap Up…
Since this is the first of the projects we are finishing in our basement I am excited to share them. This spring we will be doing even more down in this area and are close to finishing it as liveable space for our family. Having this room done felt monumental and we learned so much in the process of making it come together.
Though we hired out the plumbing from professionals for glass, and tiling work, Mike installed the cabinets and build shelves with my dad and we also painted it all. Doing this with an active toddler was a challenge and thus why it has taken way longer then we hoped. We still want to add some hooks and more in here, but for now this space is finished and perfect for us! We couldn't be more excited to use this even more once we finish the rest of the space in the coming months.
A HUGE thank you to Fireclay Tile for providing us with tile and inspiring this space. We couldn't be more happy once again with their tiles and what they offer in a space. They are always even better then I dream they will be.
If you like what you are reading, please consider checking articles below —