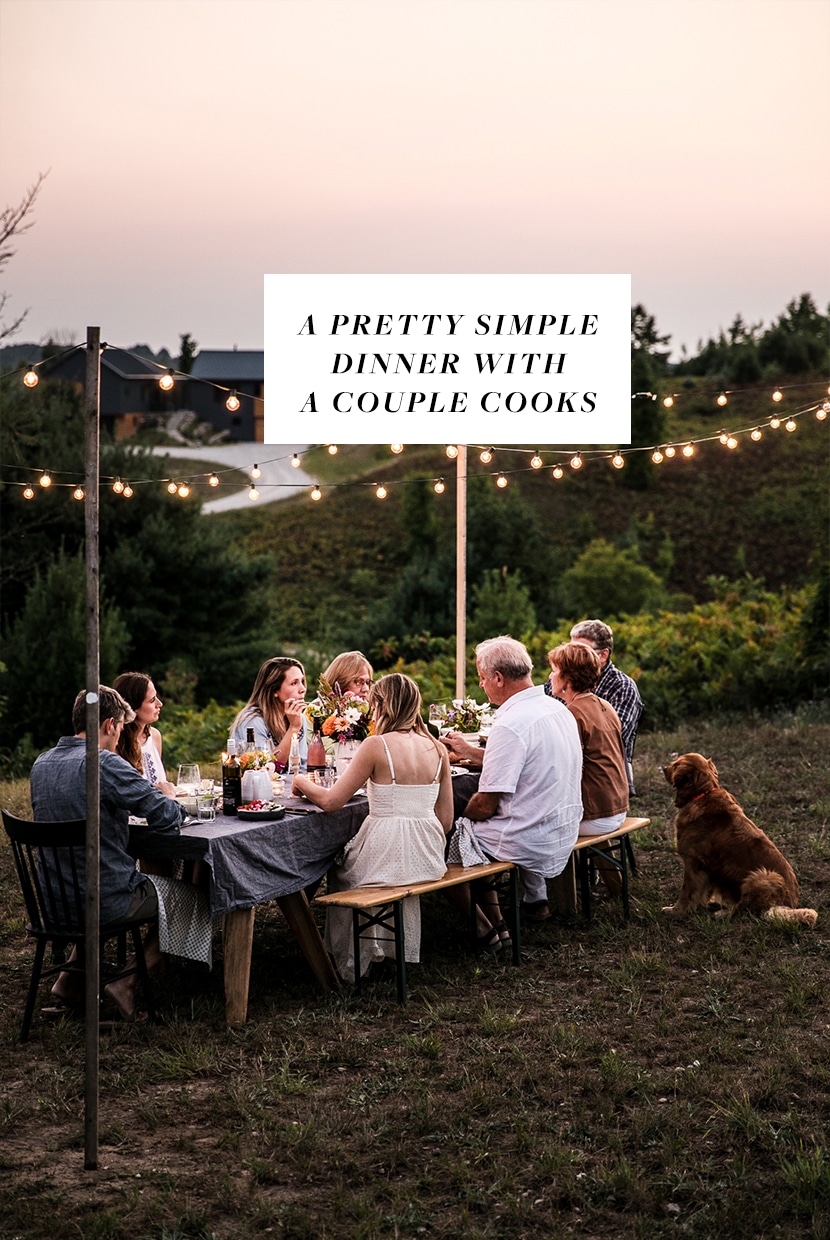 We had a dinner party with Sonja and Alex from Couple Cooks. Learn how to throw a dinner party and find out how it went!
I often ask how and why I keep blogging and I could give a lot of reasons but one of the top ones for me has been the relationships and opportunities it has brought into my life. The chance to travel the world ranks up there pretty high for my 20's, but the chance to create moments with people I admire and love that ultimately become memories may be the greatest one of them. Having a blog opens you to meeting new people, creating experiences, and inspiring people to hopefully do the same in their own way.
Getting to know A Couple Cooks
One of the many relationships I have made in this grand adventure of blogging as been Sonja and Alex Overhiser from A Couple Cooks. Sonja and Alex has been Midwest blogging buddies of our's for years.
I have loved their journey of going out on their own, adopting their son, and most importantly sharing the recipes they are creating. Their recipes are intended to be simple, vegetarian, and really great basics for people to use whether they are new to the kitchen themselves or just looking for some solid staple recipes for the everyday cook.
How We Ended Up Hosting a Dinner Party With Couple Cooks
So when they launched a book a year or so ago, I couldn't wait to read it. Since then it has become my highest suggested staple cookbook for the beginning cook. They also have focused their recipes to help people gather more as well, which I love!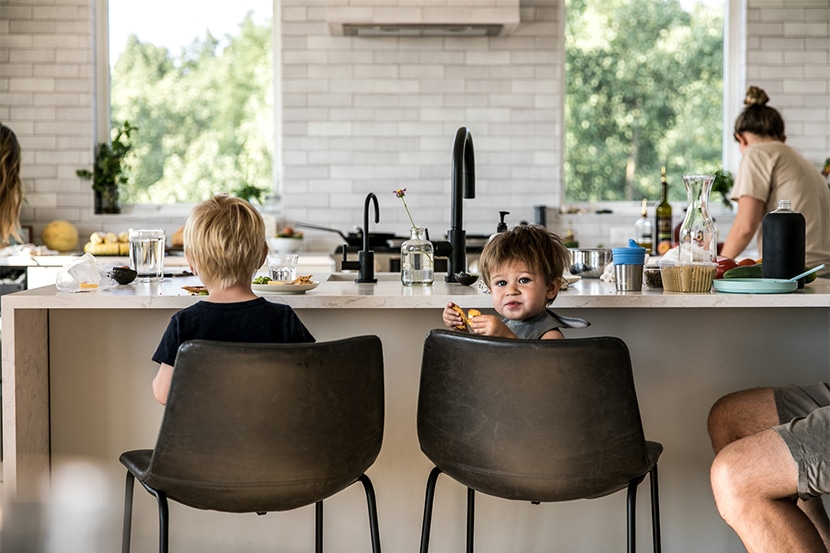 When I saw they were holding their A Pretty Simple Dinner Party virtually around the world with their followers, I offered to host them to do one at our new home in Michigan. So we planned the weekend and really just spent a few wonderful days together raising our kids and enjoying the area all while we prepped to host just 8 guests including ourselves to their Pretty Simple Dinner Party. We even bought staging blocks to build a central area for entertainment.
How We Decided the Menu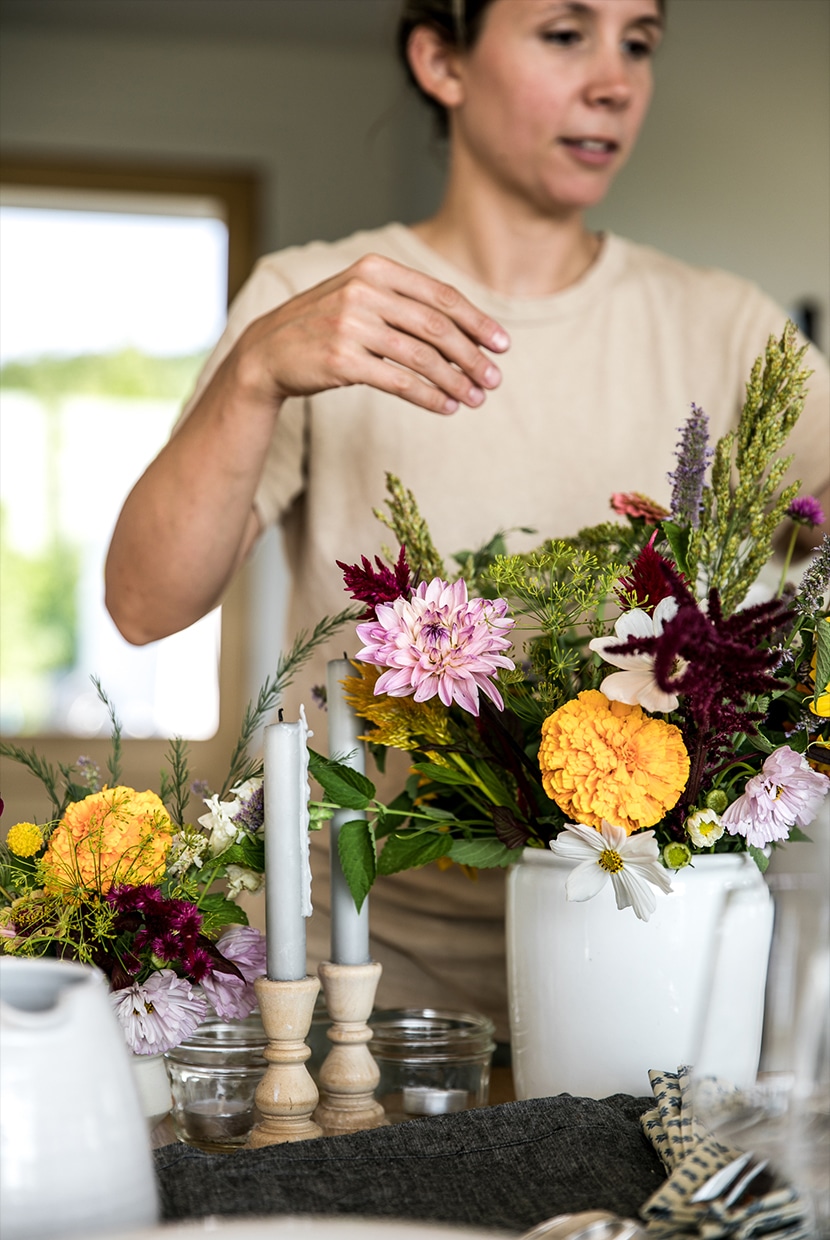 Creating a gathering can be a simple task if you allow it to be. Granted I have spent years gathering simple items that can lend to nearly any type of gathering. All these items coordinate and go together, but honestly it isn't much different than a cook and them planning a menu for the dinner.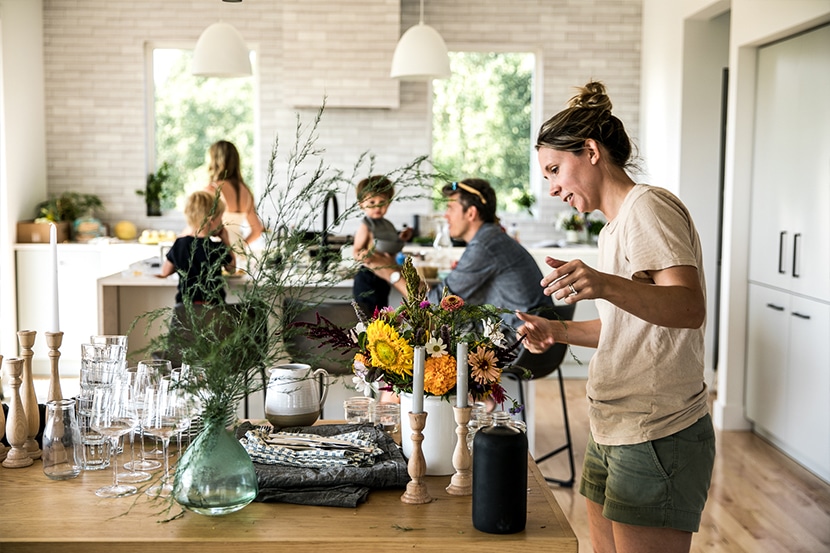 For this dinner party, we decided to do it Potluck style with Sonja and Alex making a few extra dishes as well. So each guest cooked a recipe from their Pretty Simple Cooking Cookbook. There were some improvising and simple substitutions because of the season and we did the same with the gathering. Everything about the dinner was collaborative.
In fact, the lights were put up by our neighbor John and Mike and Alex dragged the tables down. Mike shot the whole dinner and Alex and Sonja prepped the dinner and helped me style it all. Even friends who couldn't attend pitched in where they could. No gathering is ever a one man/woman show. I don't believe in those being enjoyable, but I do believe collaborative dinners are extremely enjoyable.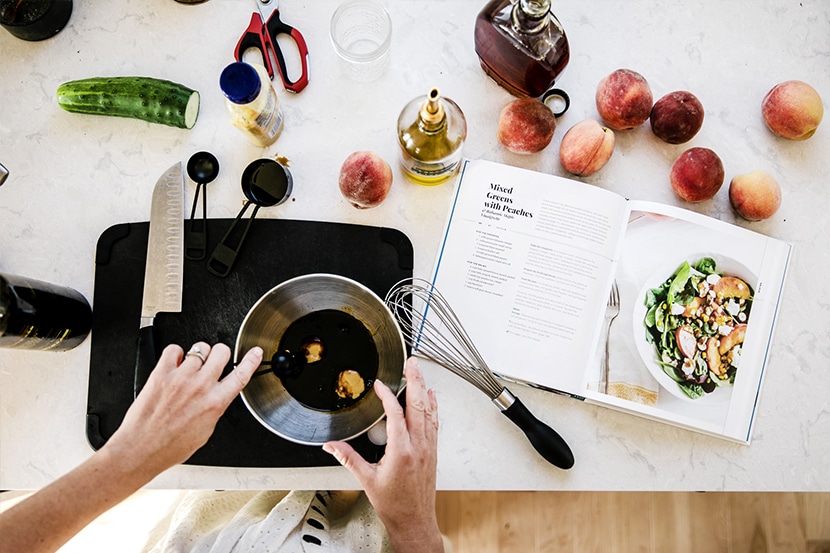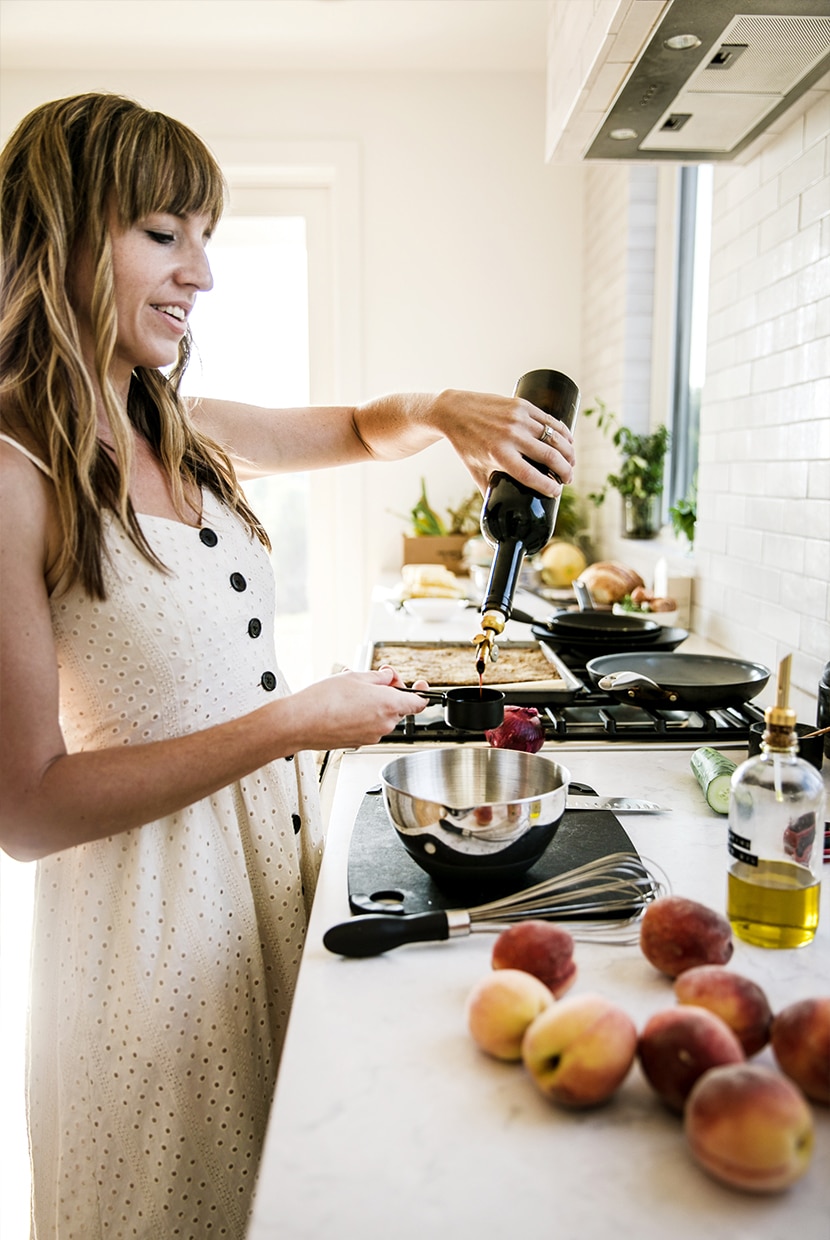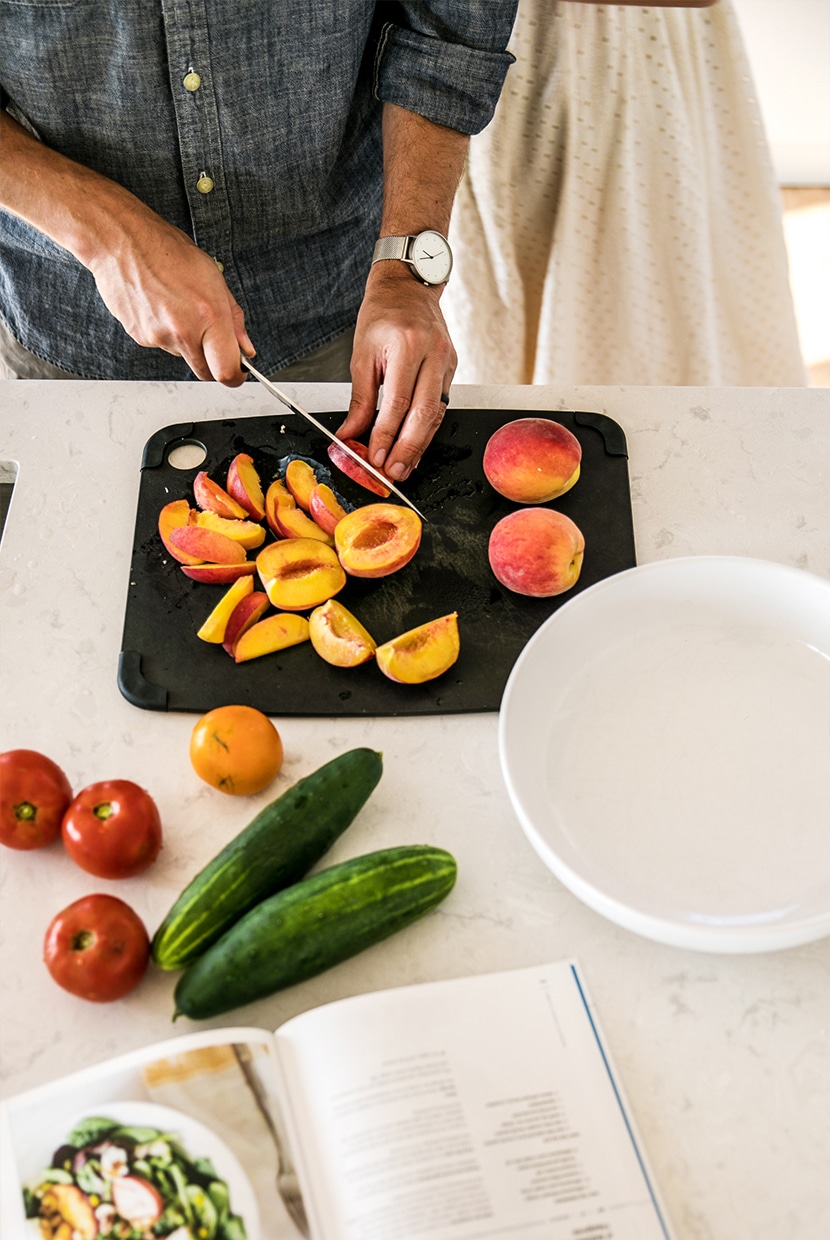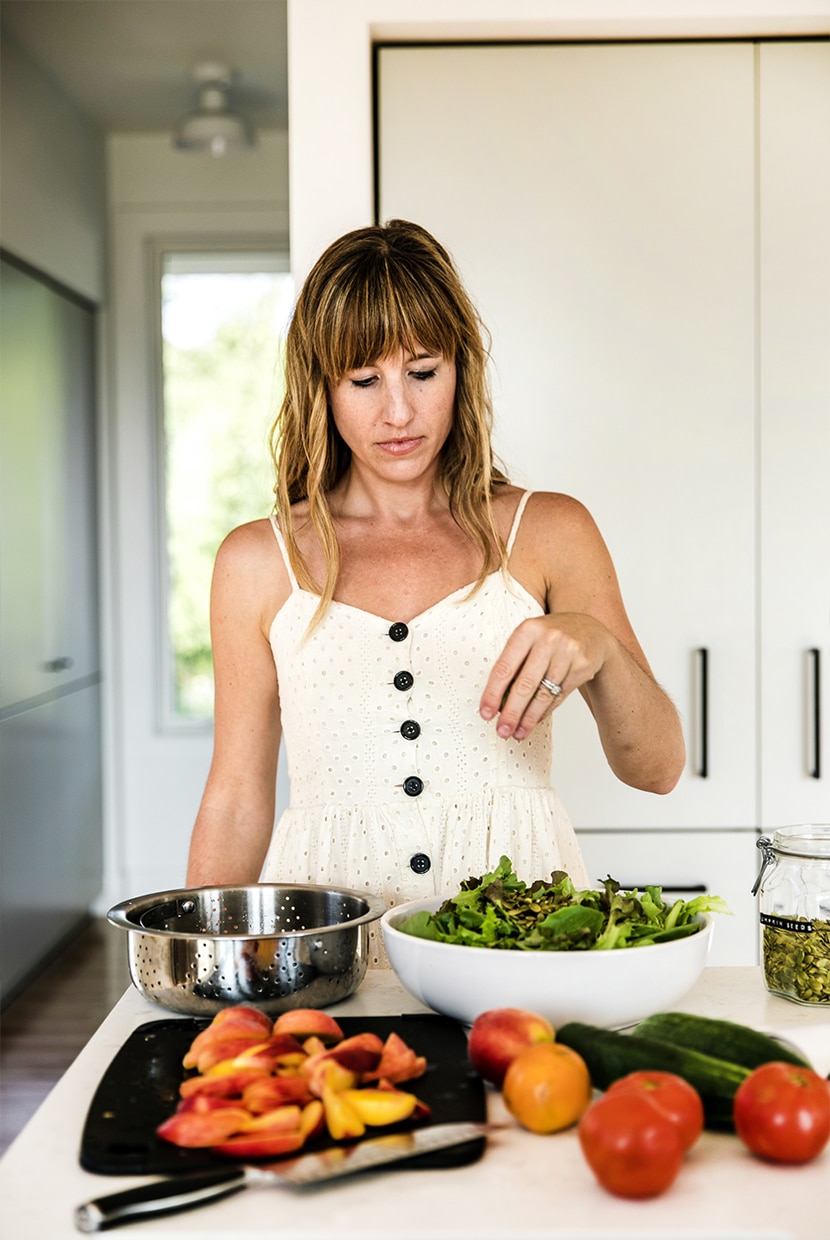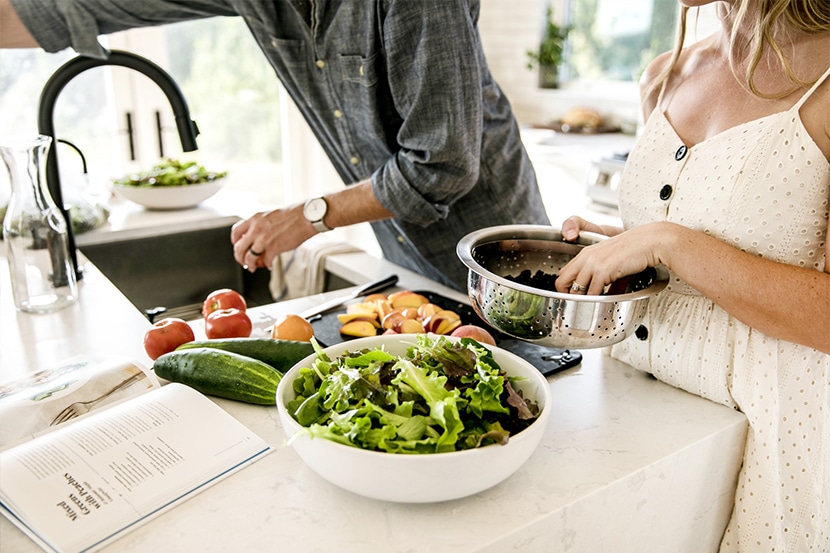 Dinner Party Preparations – How It Was Done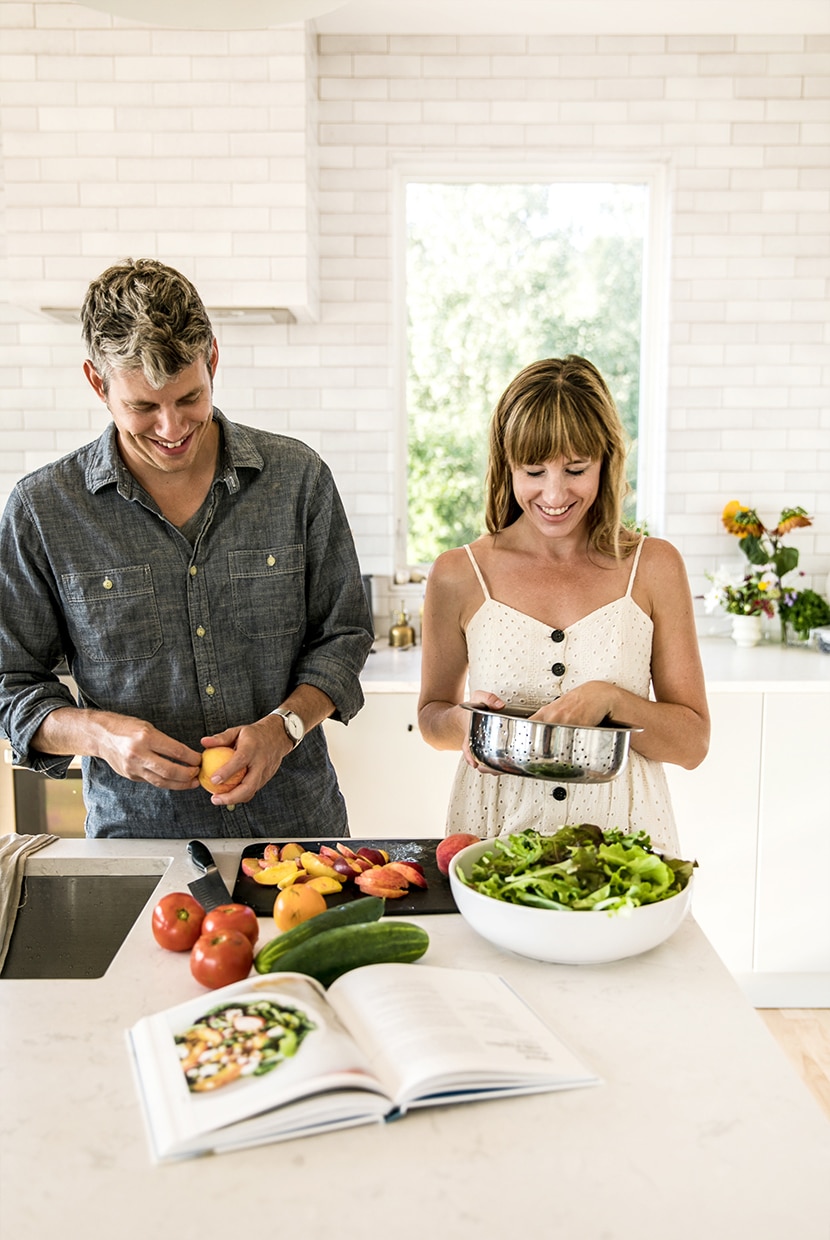 While Sonja and Alex prepped dishes from their cookbook, I setup the table, gathered blackberries, and got flowers from Loma Farm just over the hill from us. You can find the whole menu from the dinner party in their post they did about the dinner here.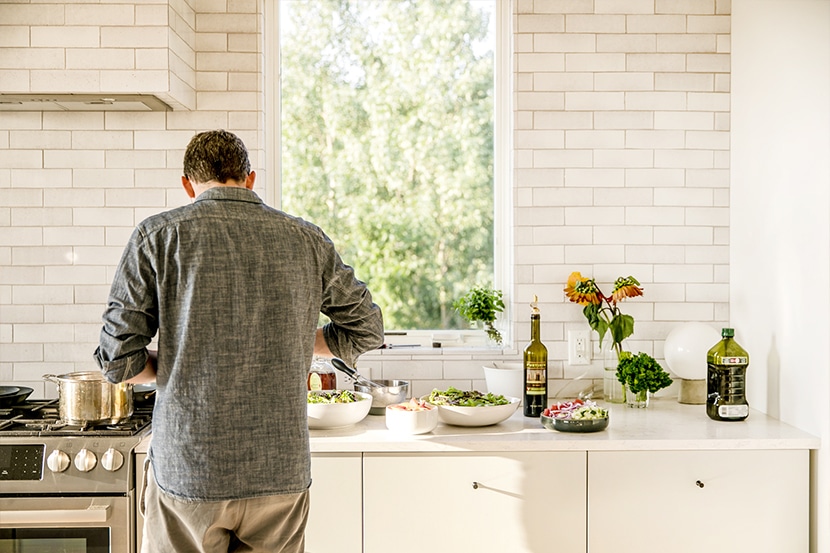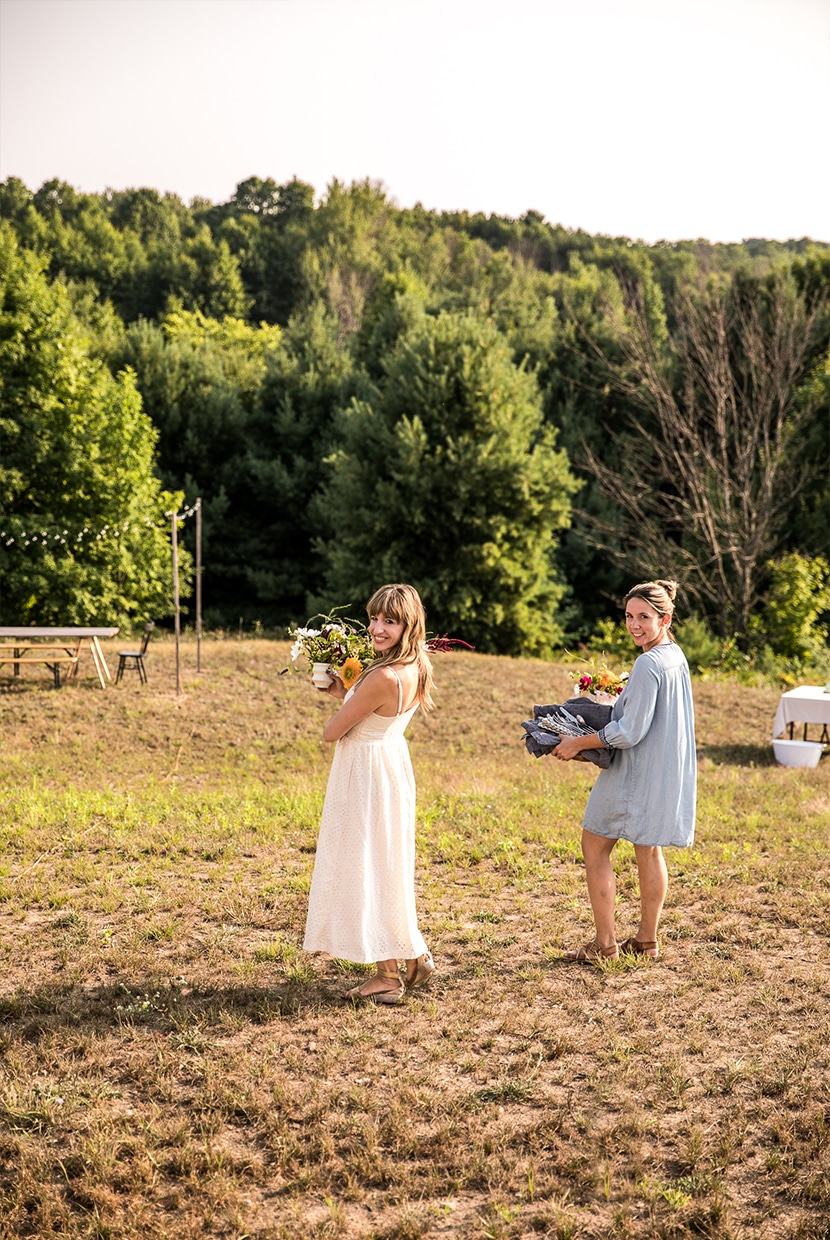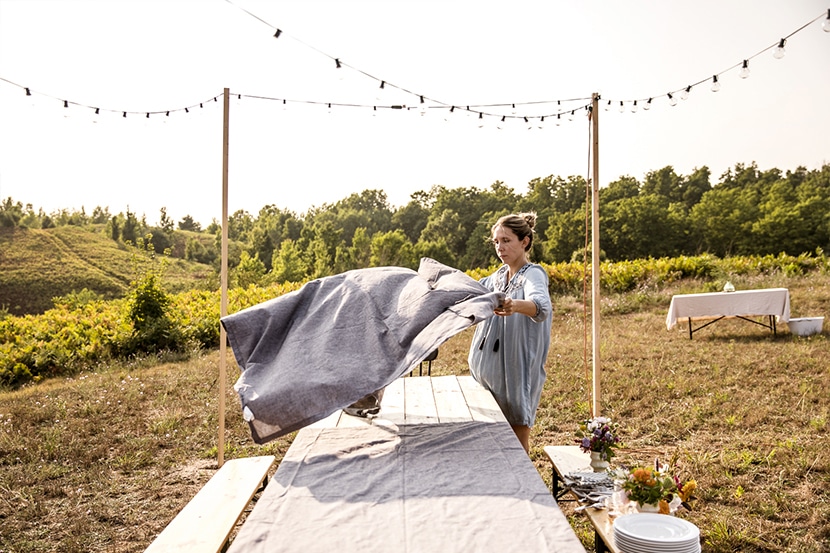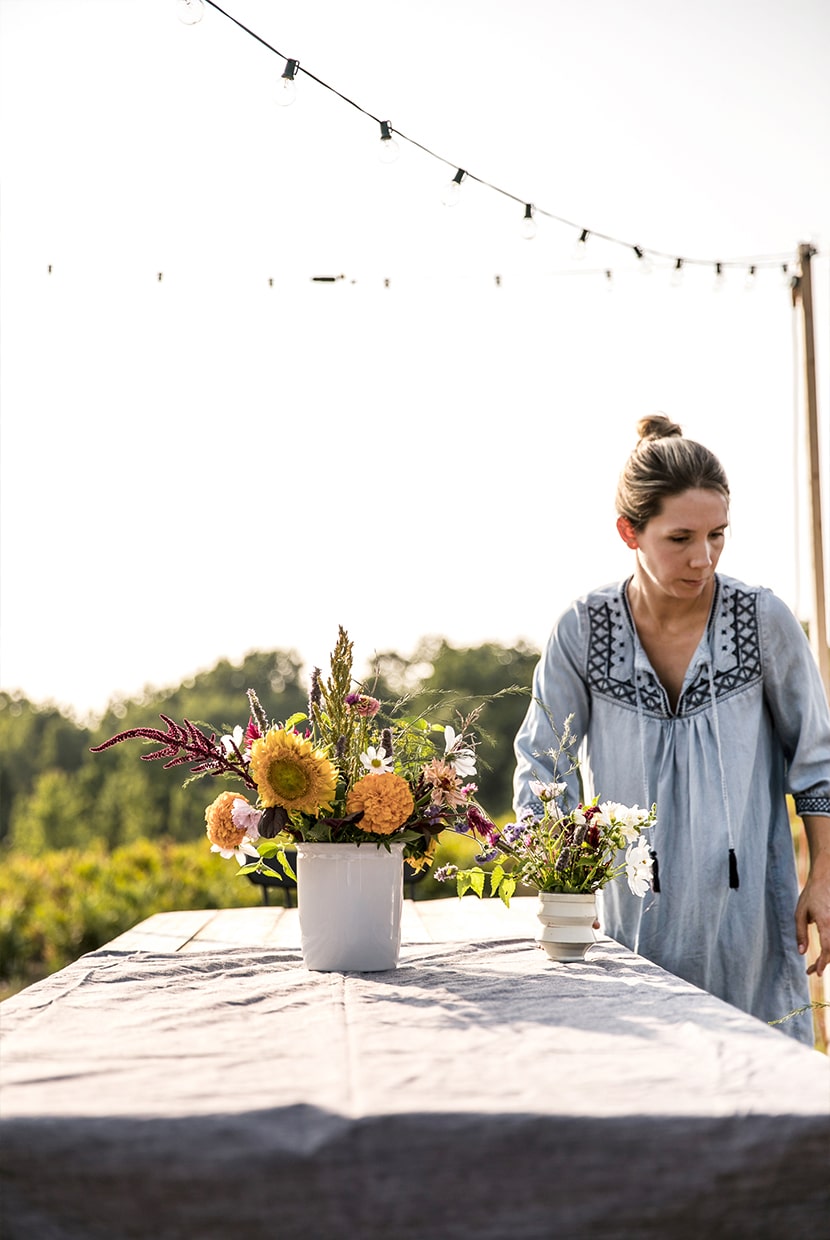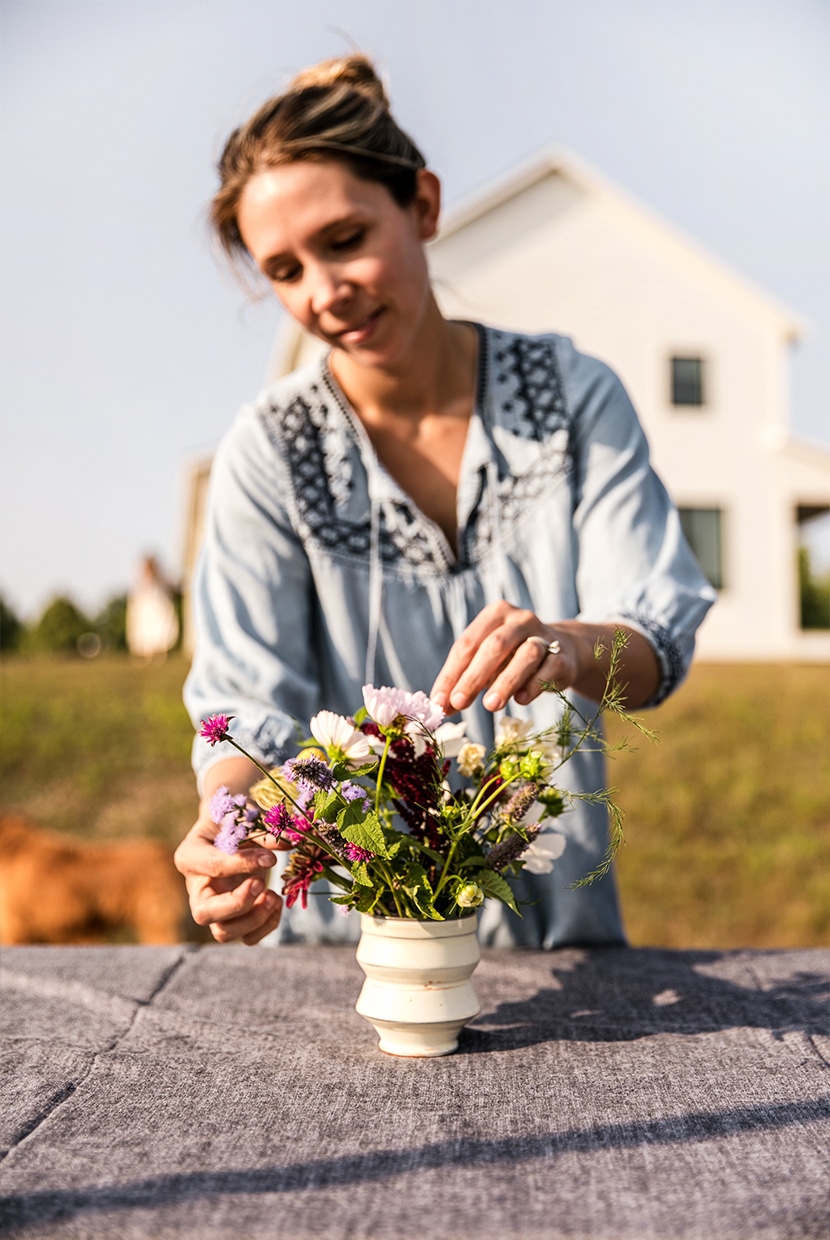 Gathering in the summer may be the simplest of all times to gather. Though the prep is usually quite sweaty and buggy at times during the summer months, I find that the evenings that are warm are well worth the effort of sweating to setup the dinner itself.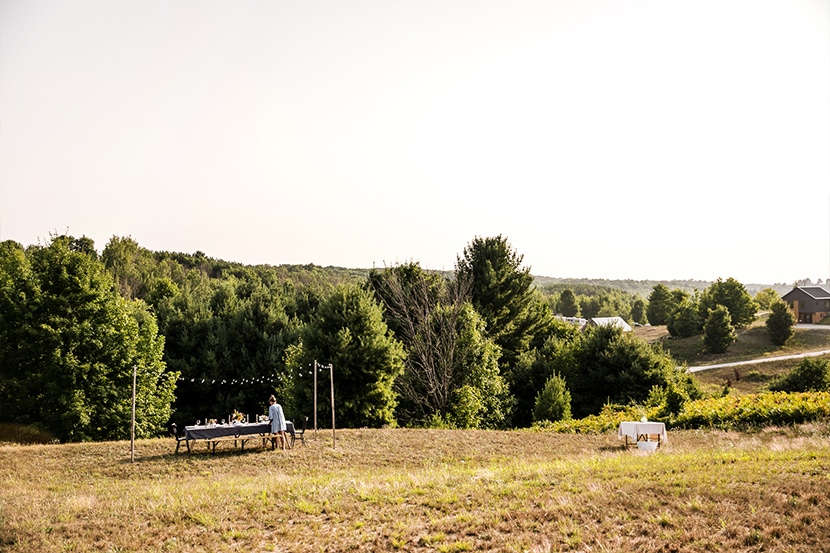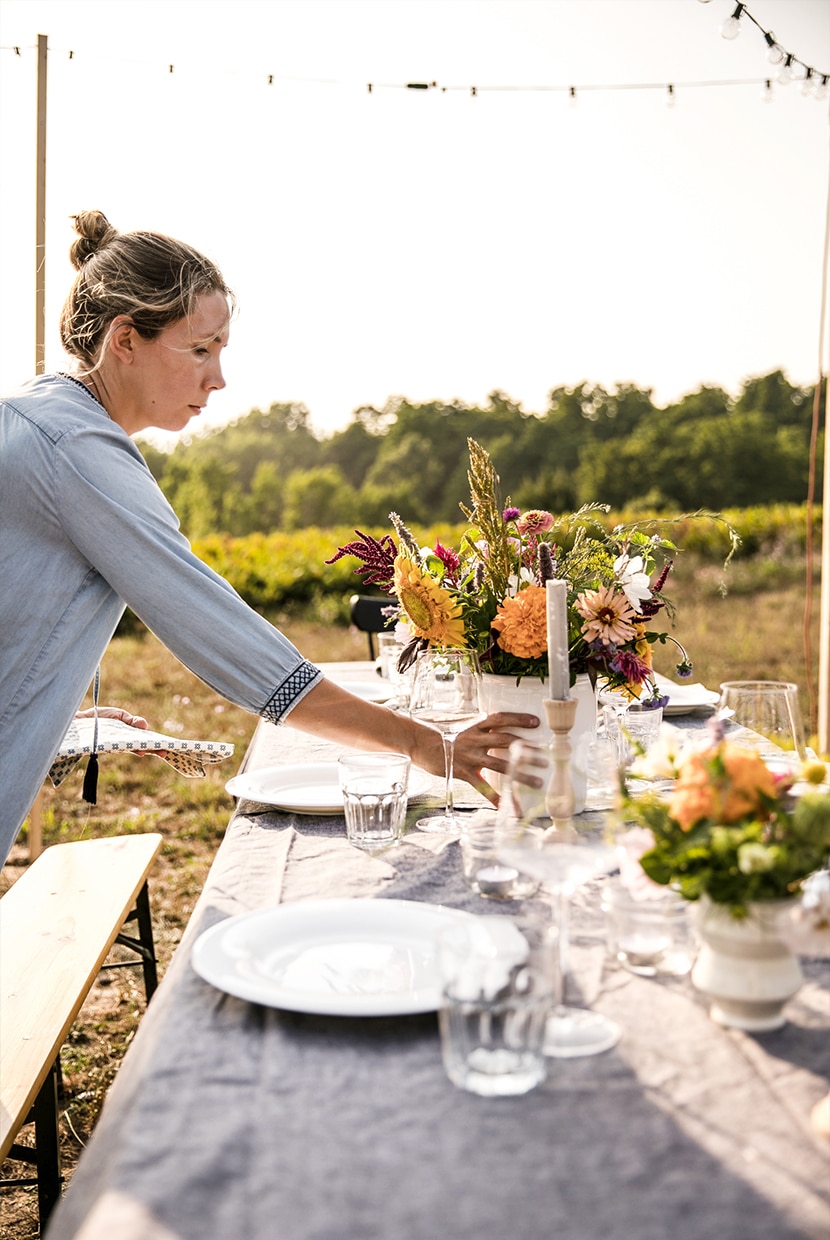 How We Decorated the Place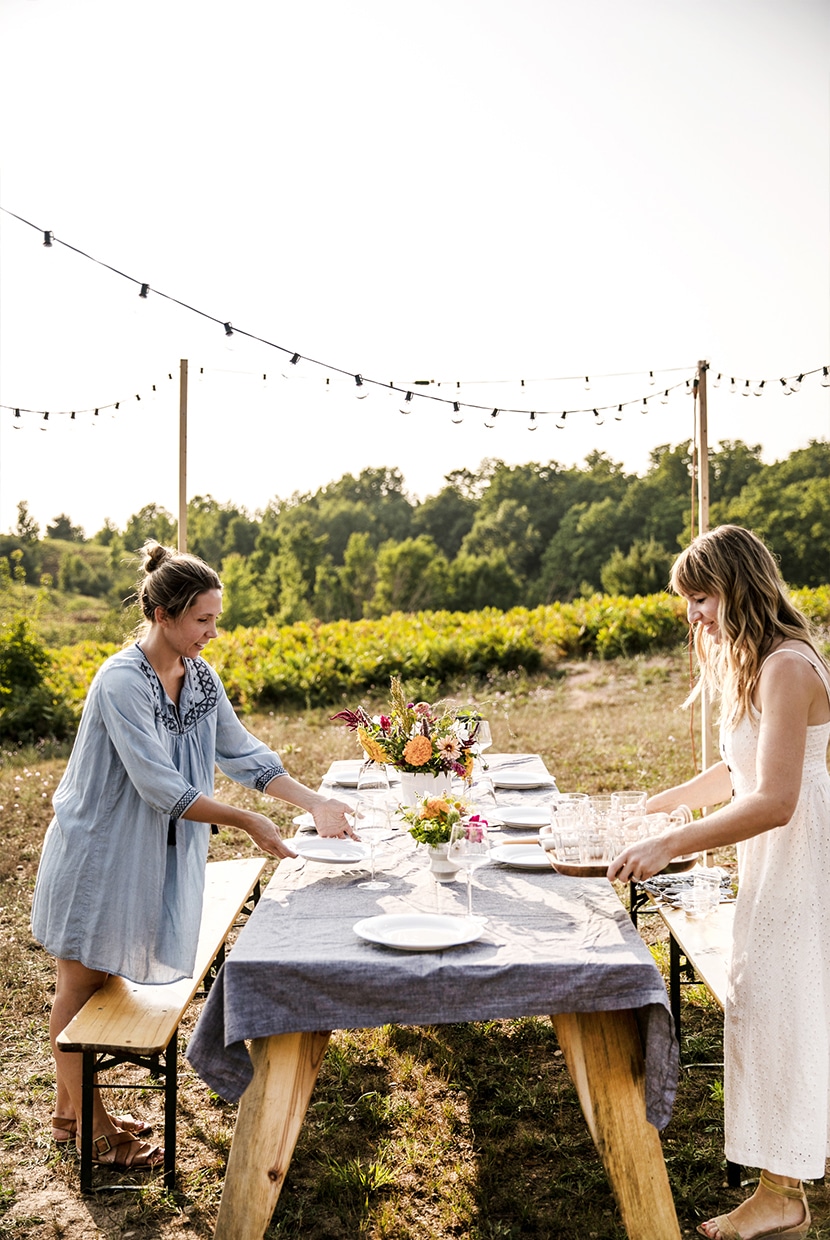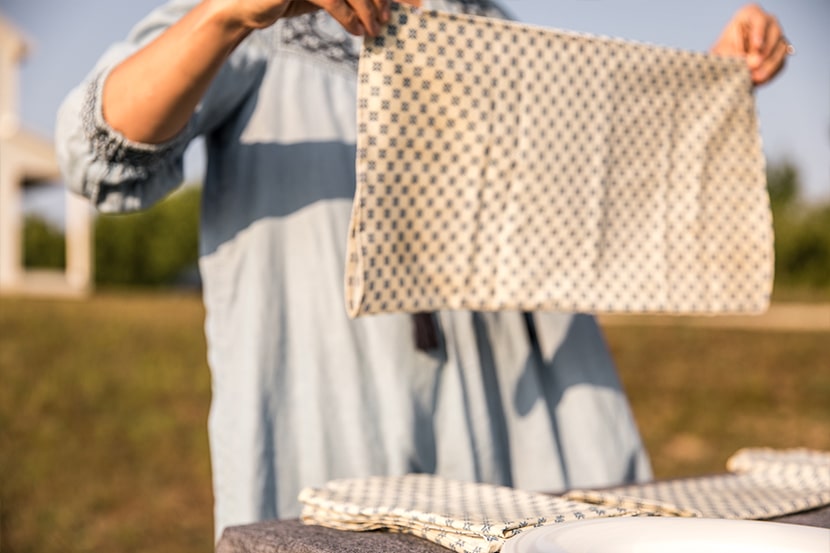 For this dinner though we set the table with all white dishware and our everyday silverware. I had sewn napkins from some scrap fabric for the dinner and loved how it played on a chambray table cloth. We then let the flowers shine on the table that I had gathered from Loma Farm. They were simple and in season during that midweek in August.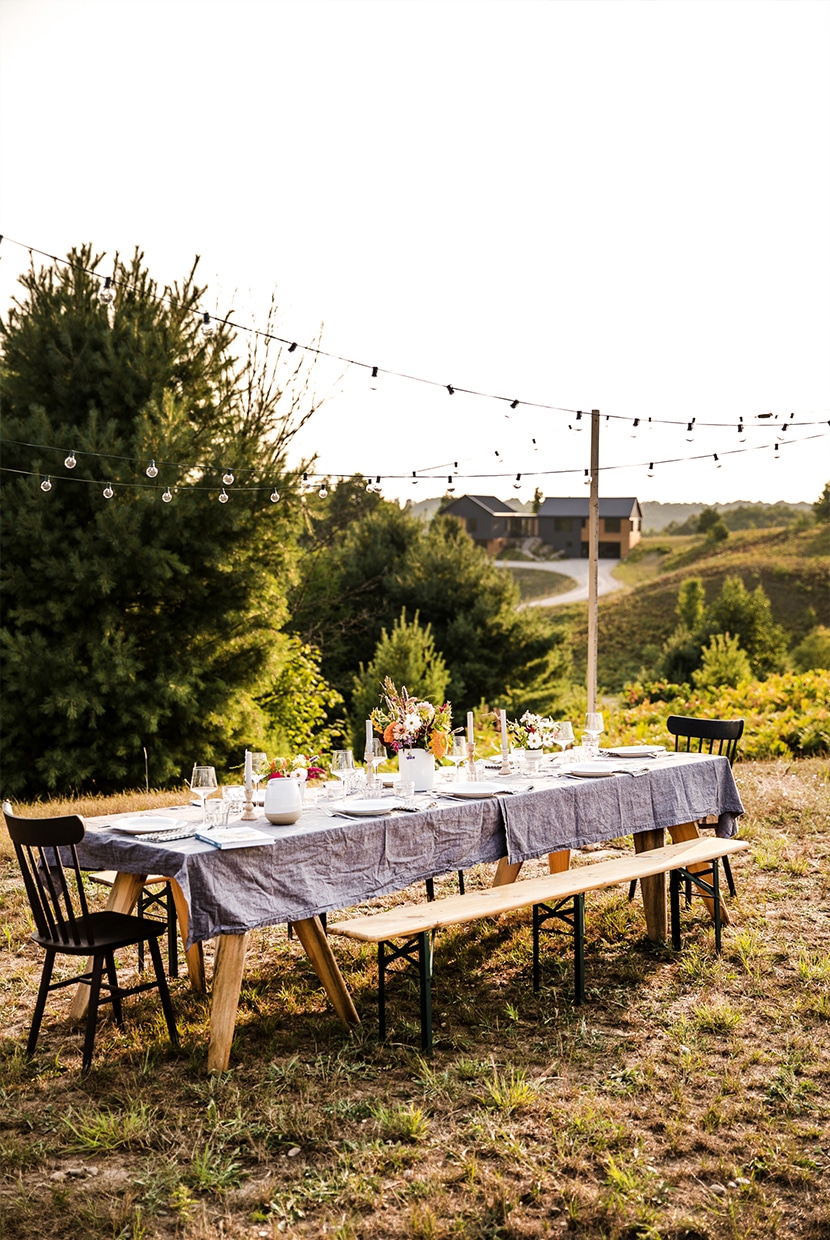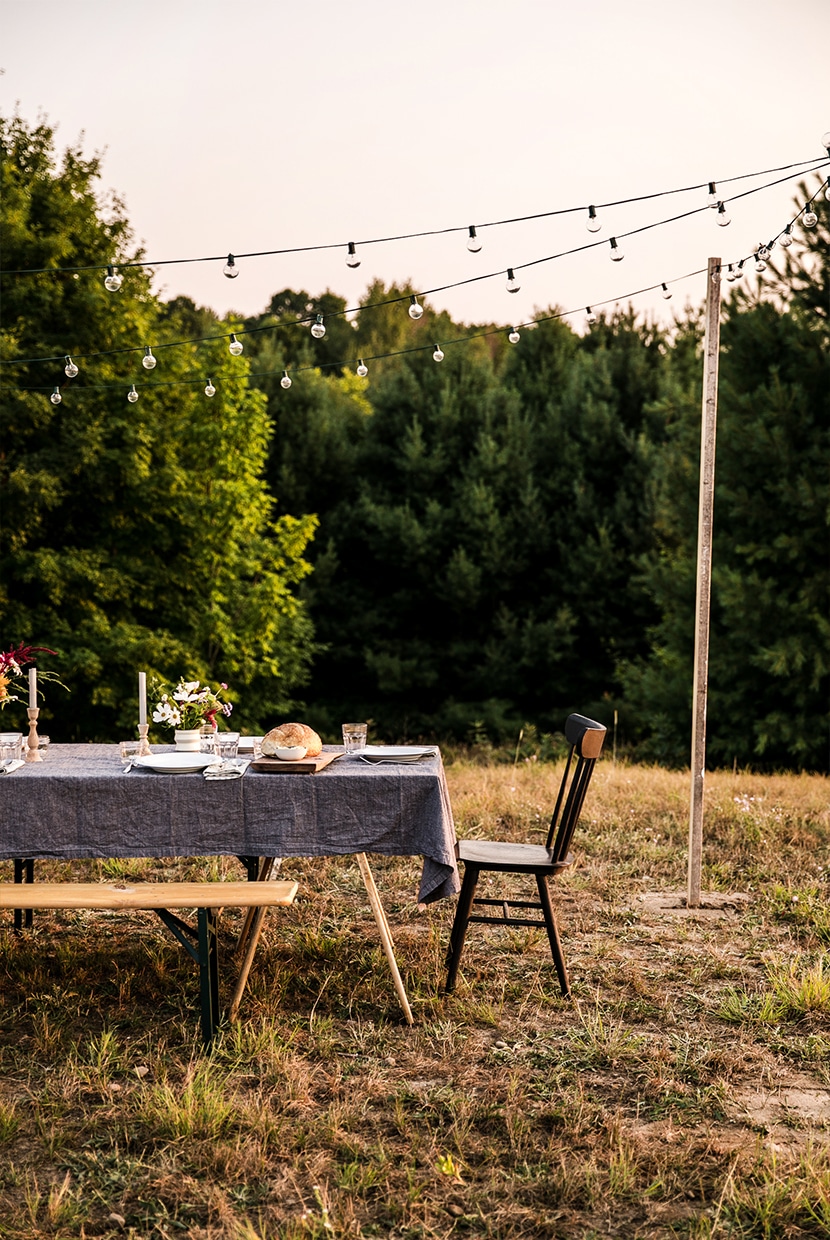 I then scattered tea lights and taper candles throughout the table and left proper room for glassware and the dishes we would be passing during the dinner.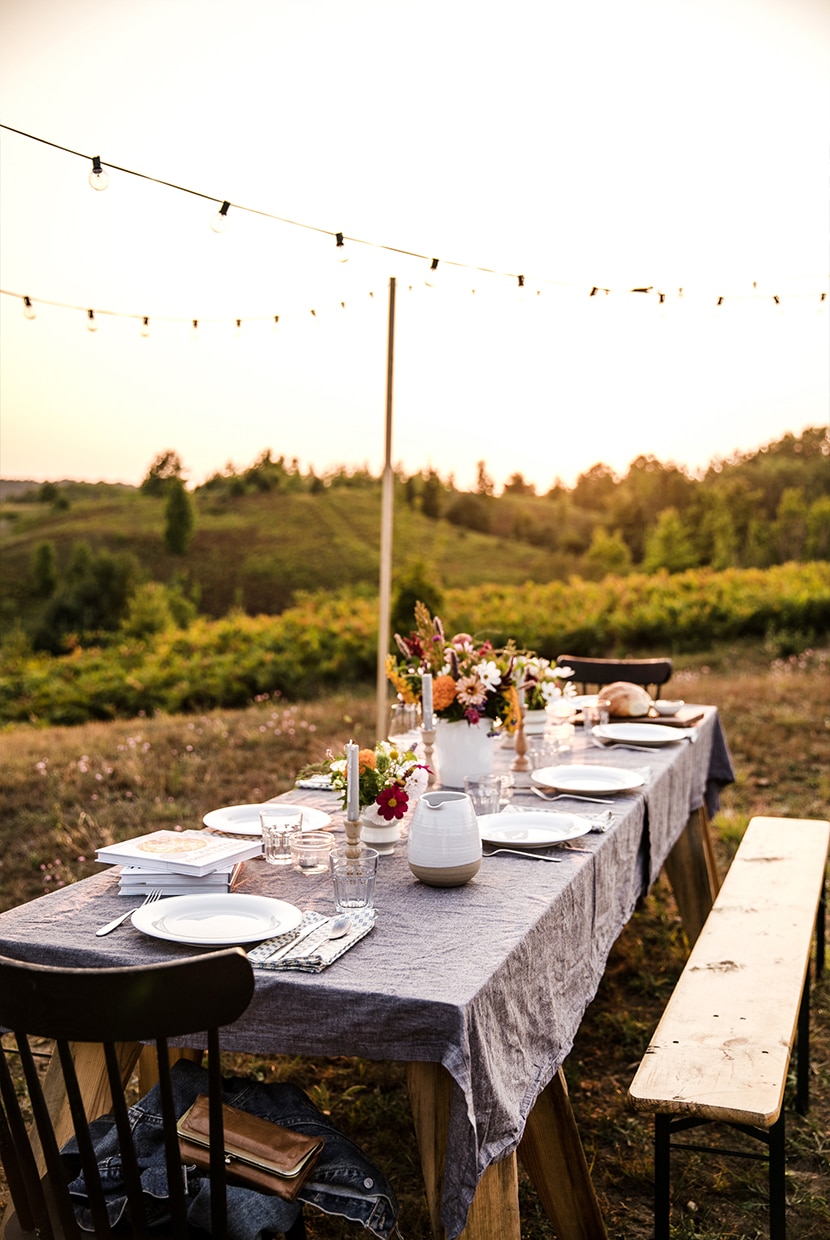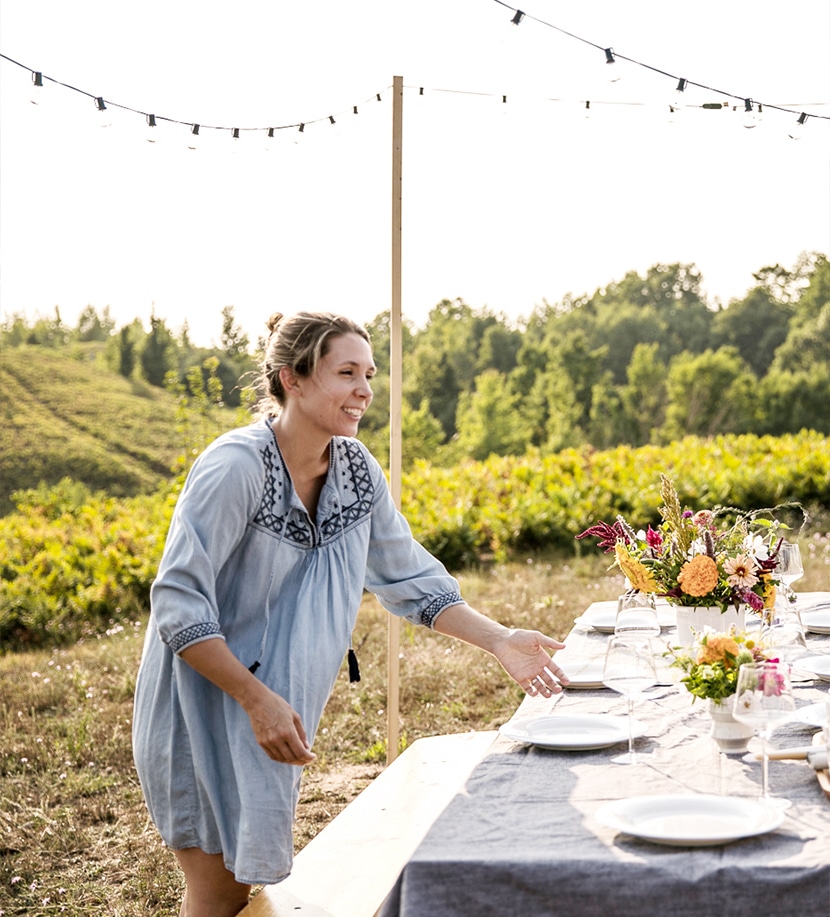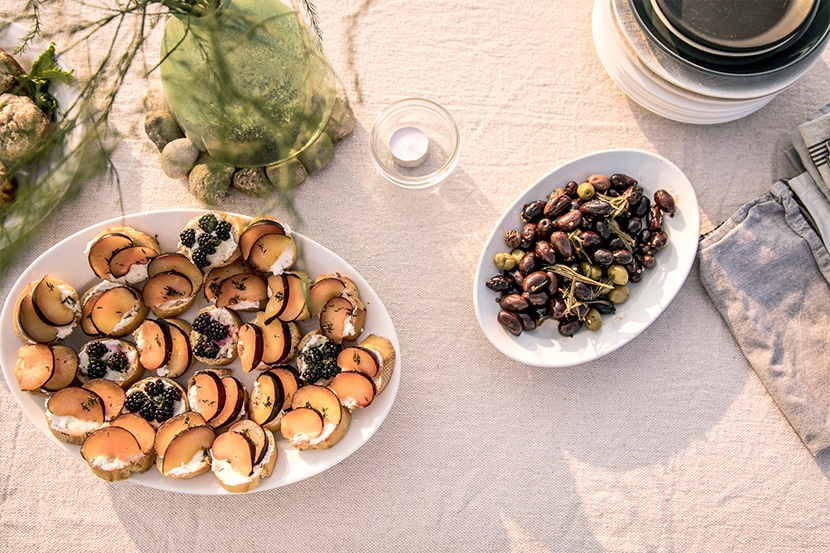 As the guests arrived we started setting out the apps they had brought that were made from the cookbook. My favorite were the warmed olives with rosemary…wow! Those were simple and amazing.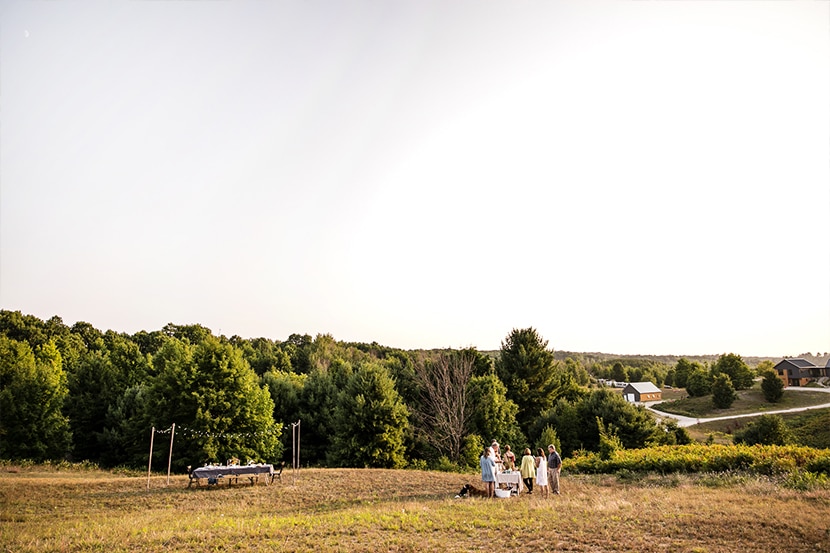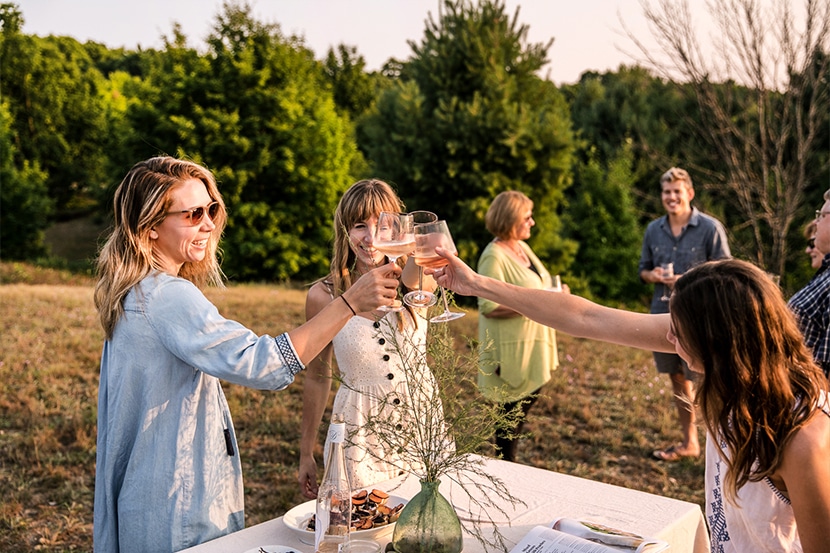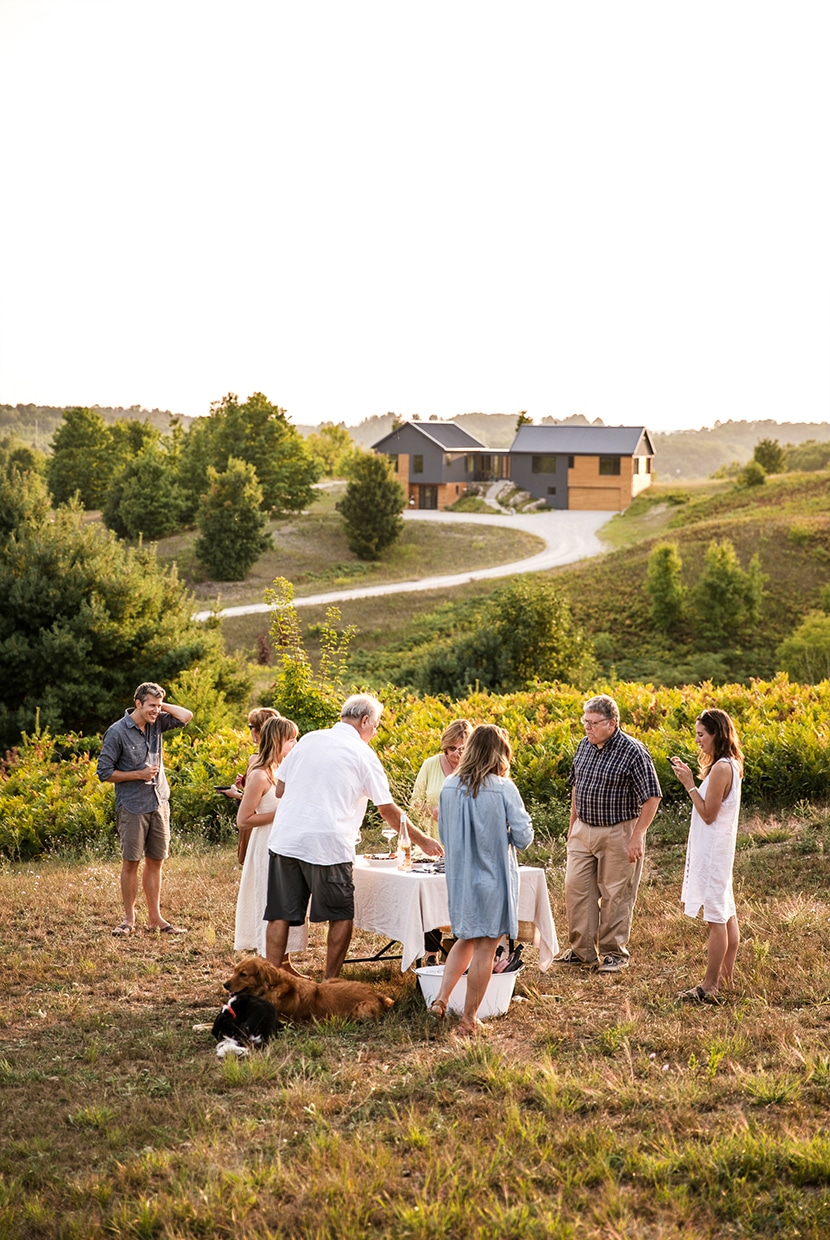 We drank wine and beer that we had available to guests and enjoyed the sunset while we waited for dinner to finish up.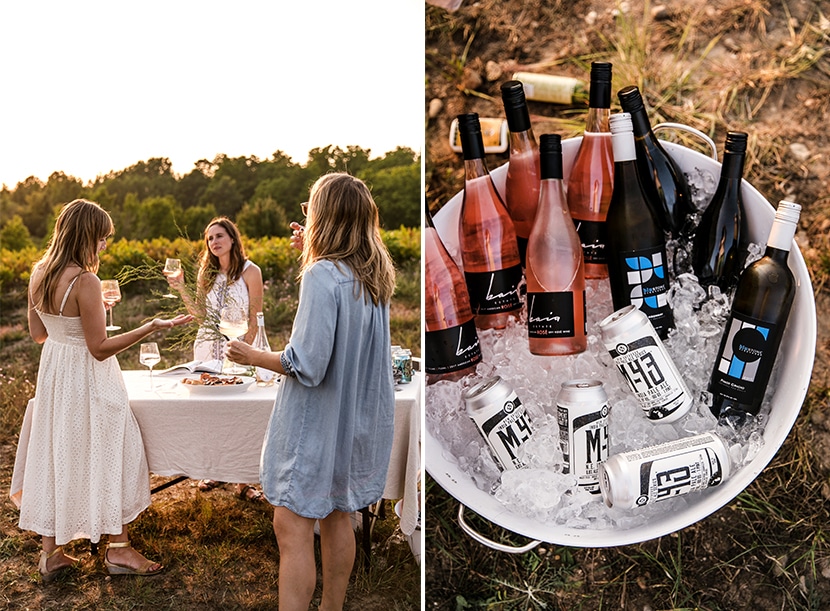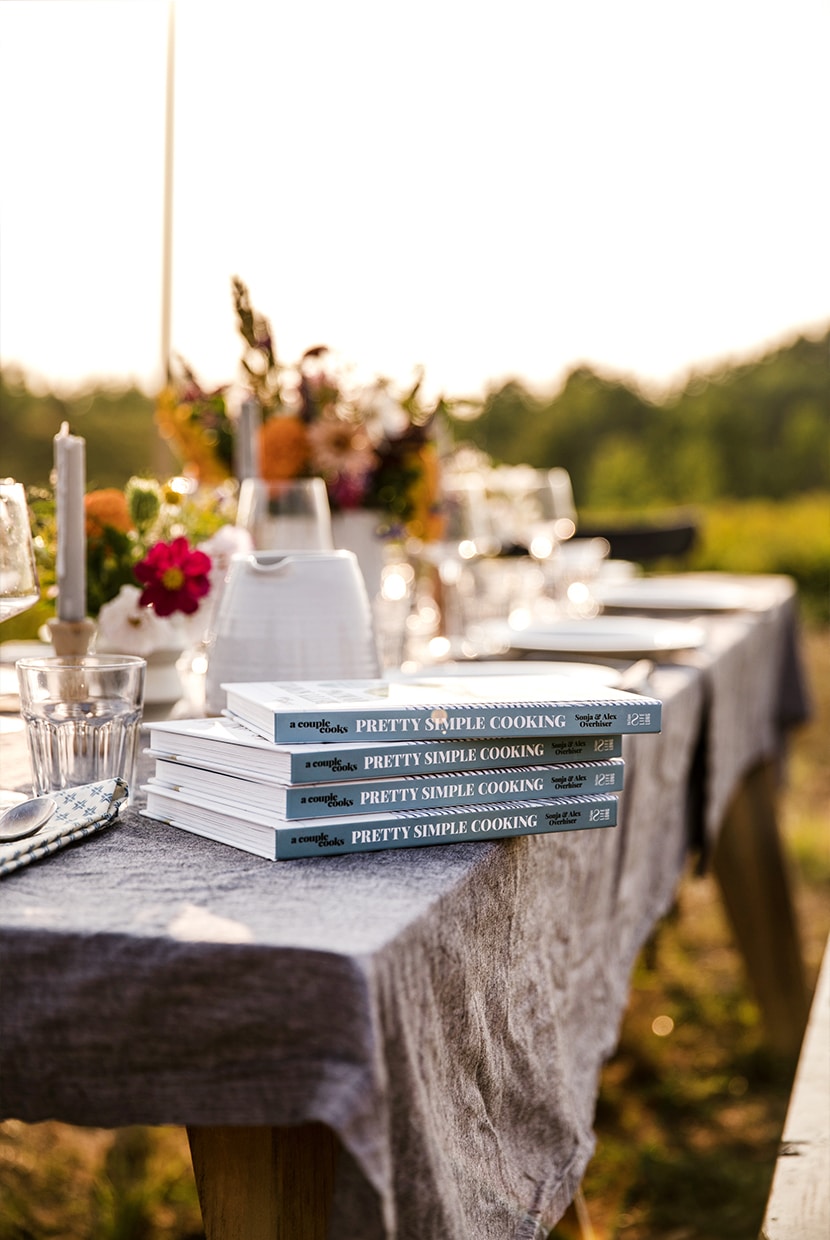 The First of Many To Come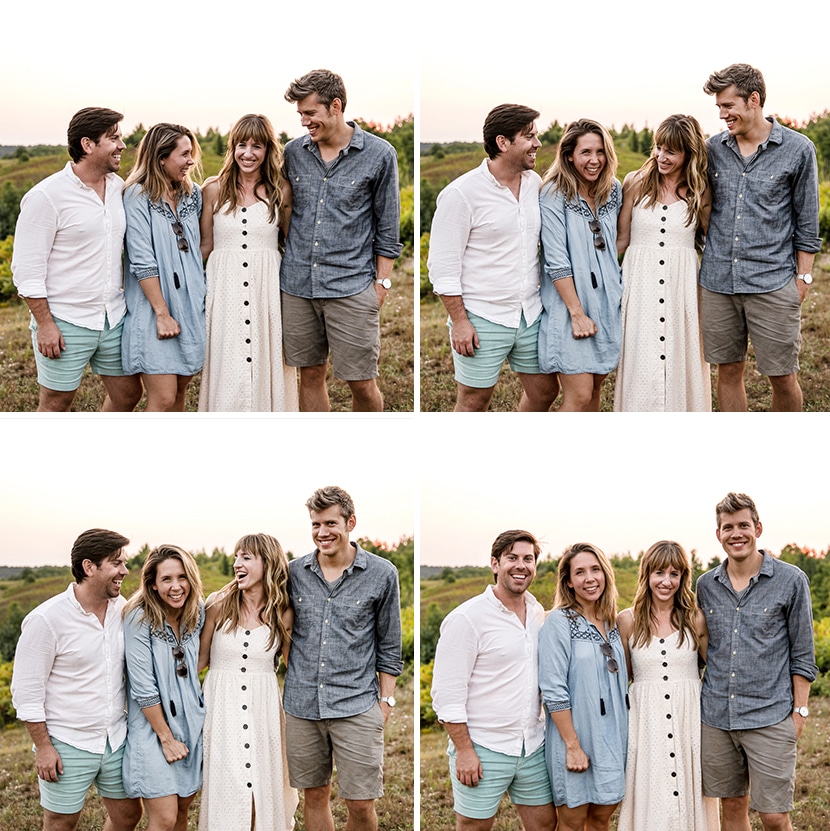 This is the first time we have gotten to spend a few dedicated days with Sonja and Alex, which was quite special considering we both had kids around the same age. We also don't get chances to hang with many other couples who do similar things to us so it is nice to be able to chat work and life with other people who get what it is like to work together and to run a blog as well. Not to mention it was wonderful to talk about raising kids amongst all of that.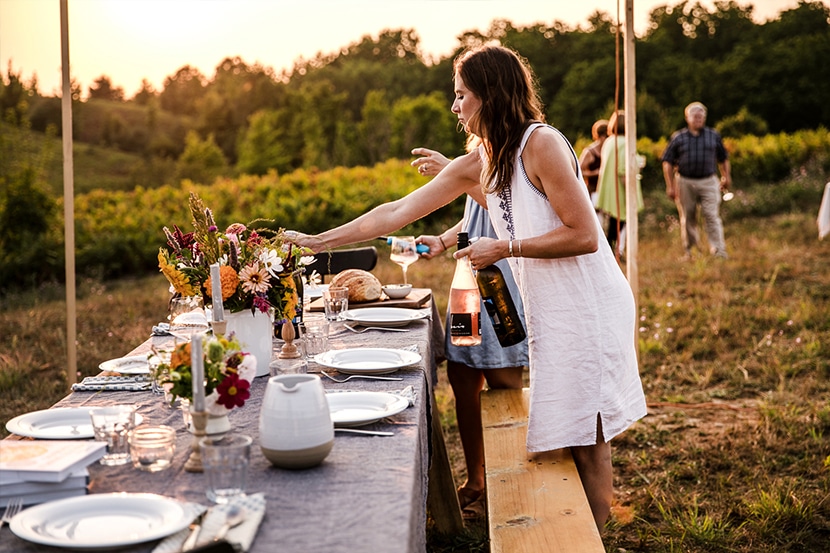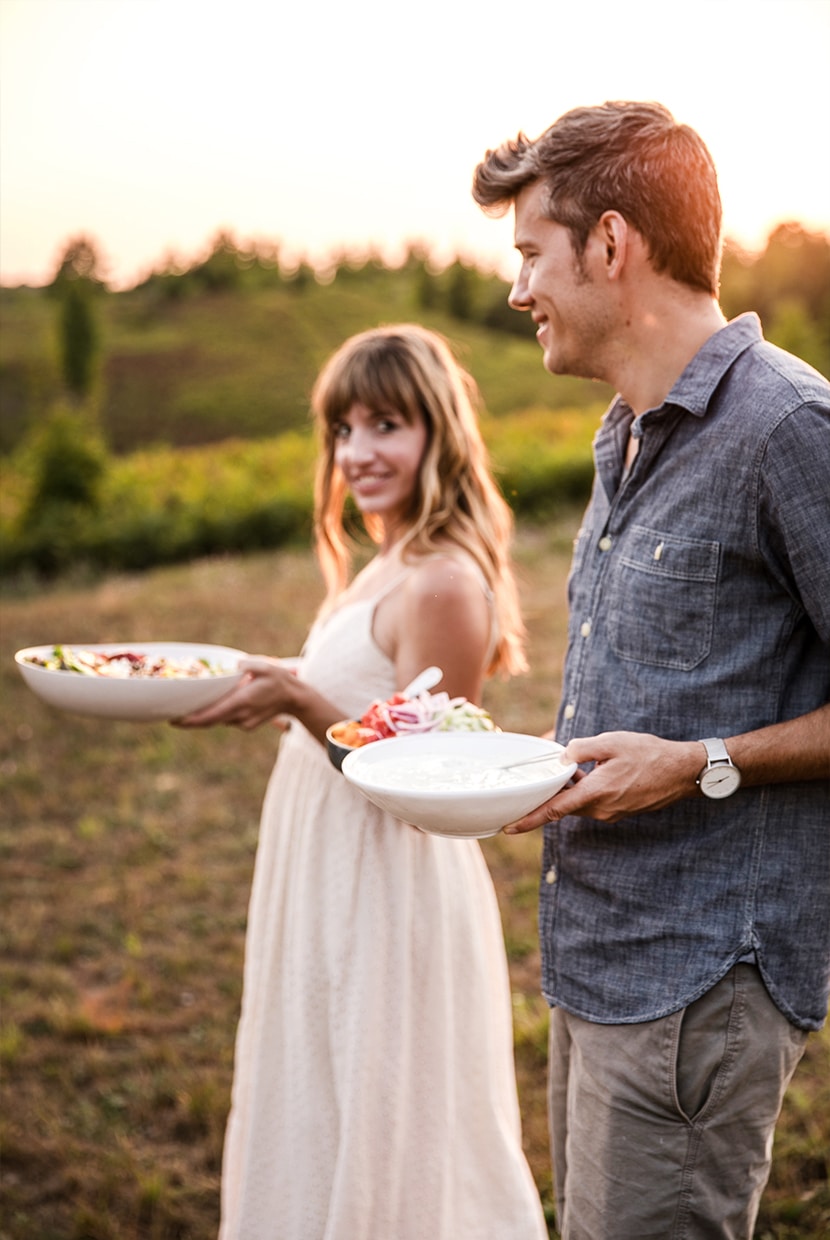 Sonja and Alex work so hard and have co-produced a podcast, written a cookbook, and have run a very successful blog and Instagram together full-time this last year. They worked for years with other jobs and one by one they left their full-time income to work together. Along the way they have tossed in these other pieces of their business little by little and I find that very inspiring to watch. If you haven't seen their blog I suggest checking it out if you want great simple recipes.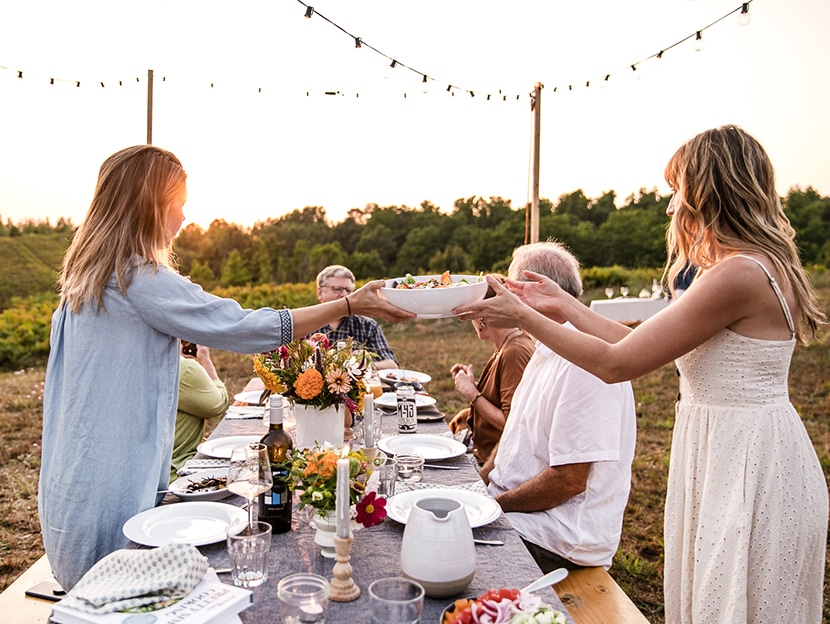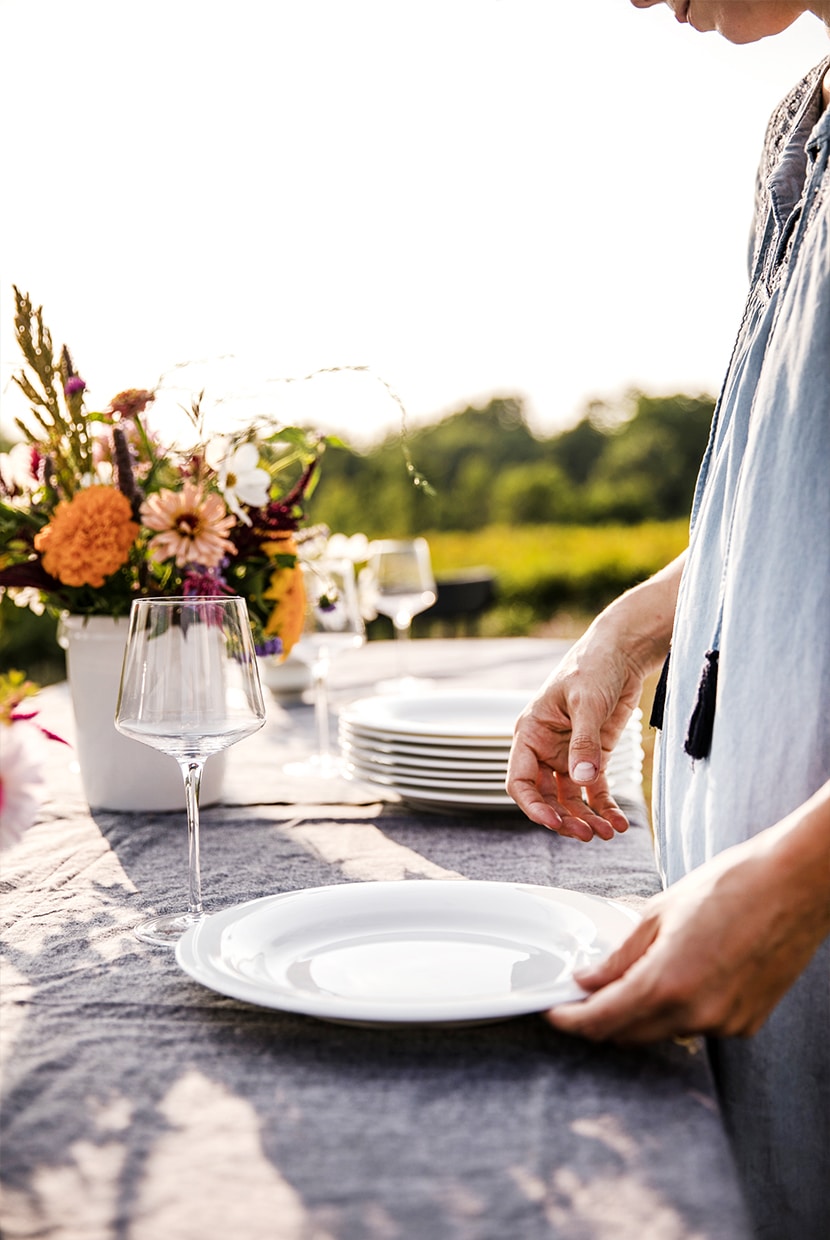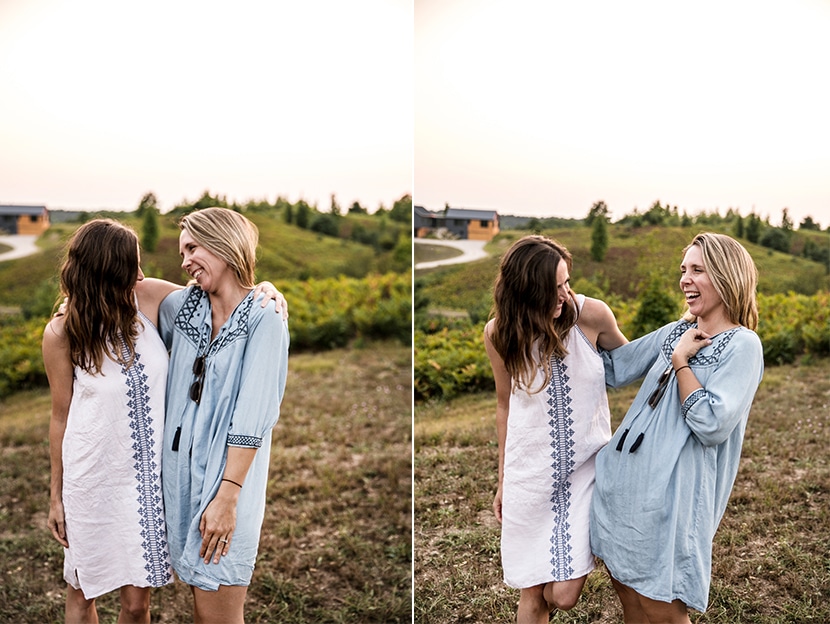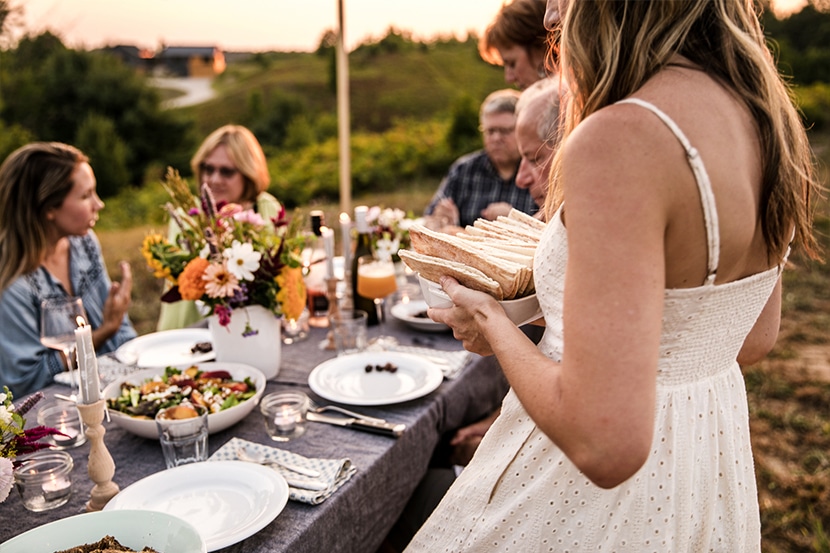 Making Friends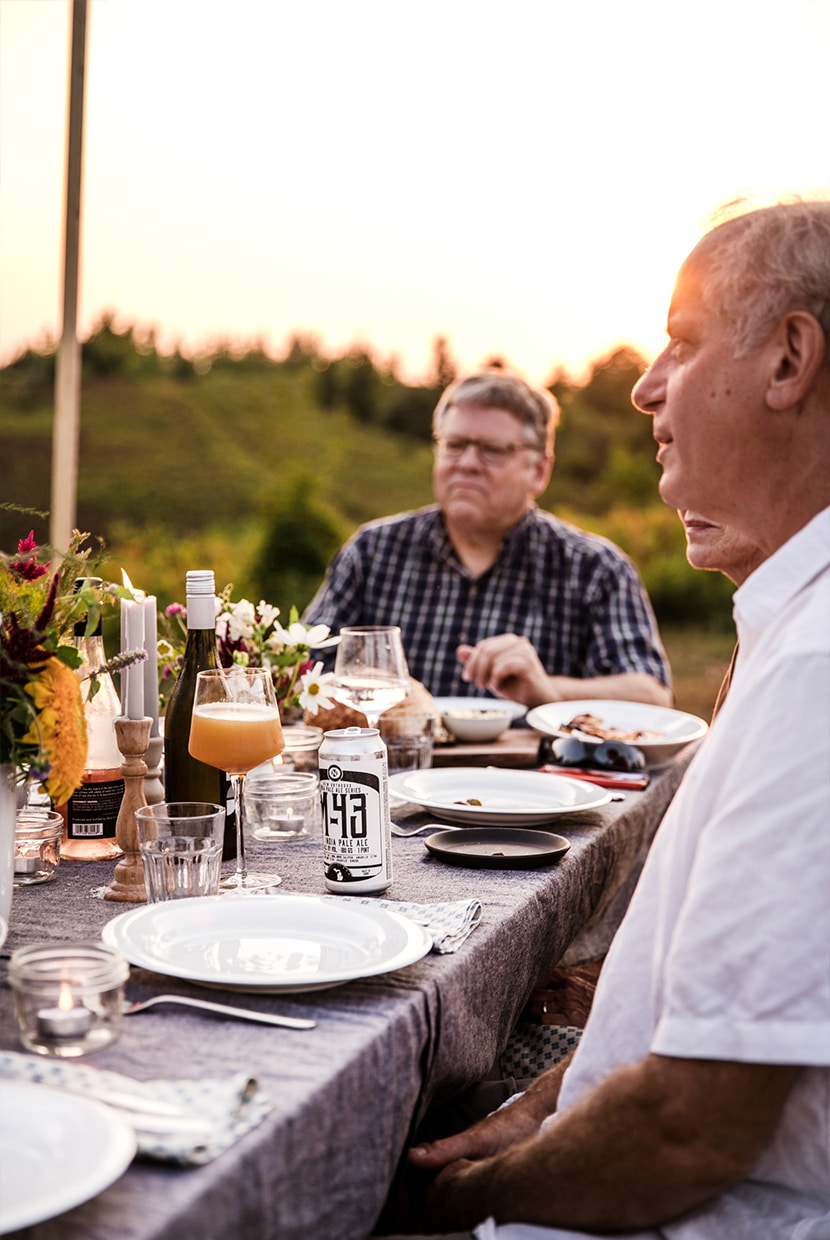 It was so wonderful to bring Sonja and Alex into our circle that night and letting them meet our neighbors who had brought friends as well as our good friend, Hillary, as well. They all connected and found common connections as we went around and introduced everyone. Another favorite part of these gatherings is seeing connections made between people we love.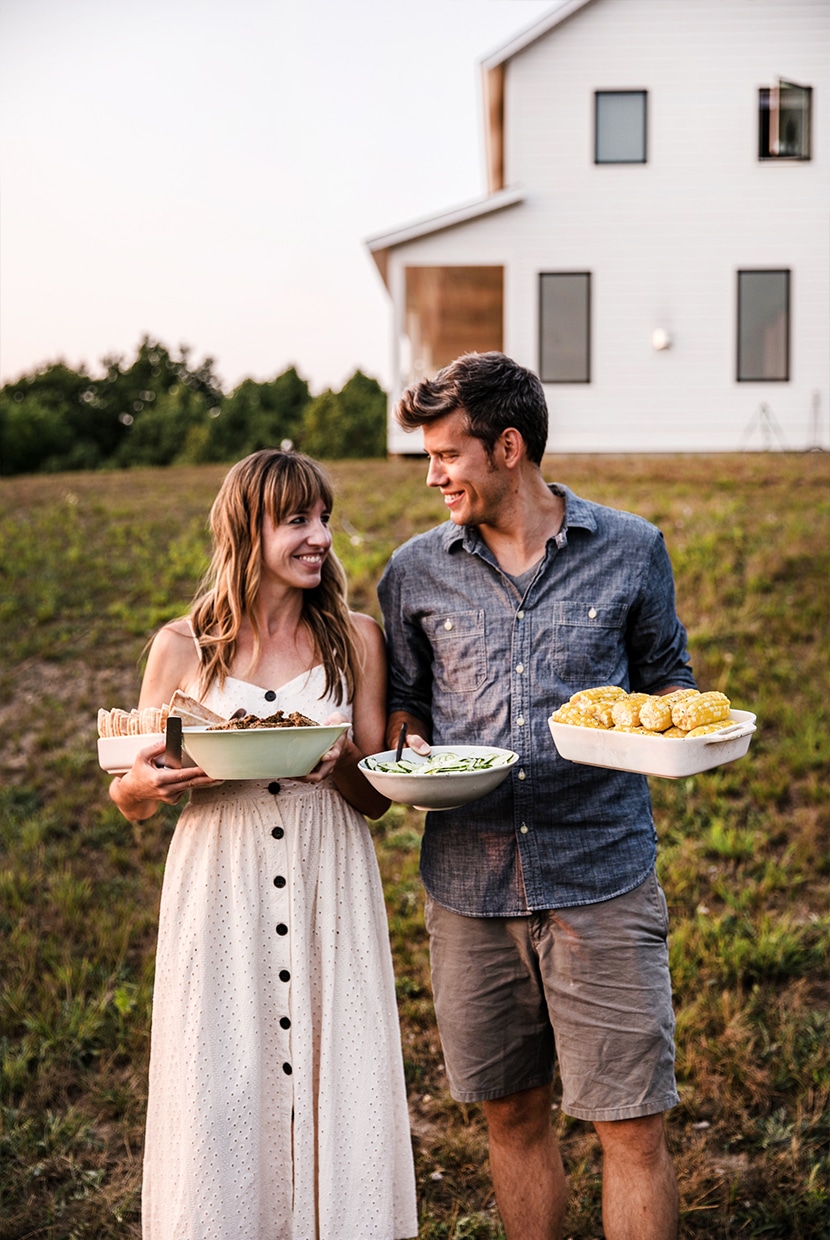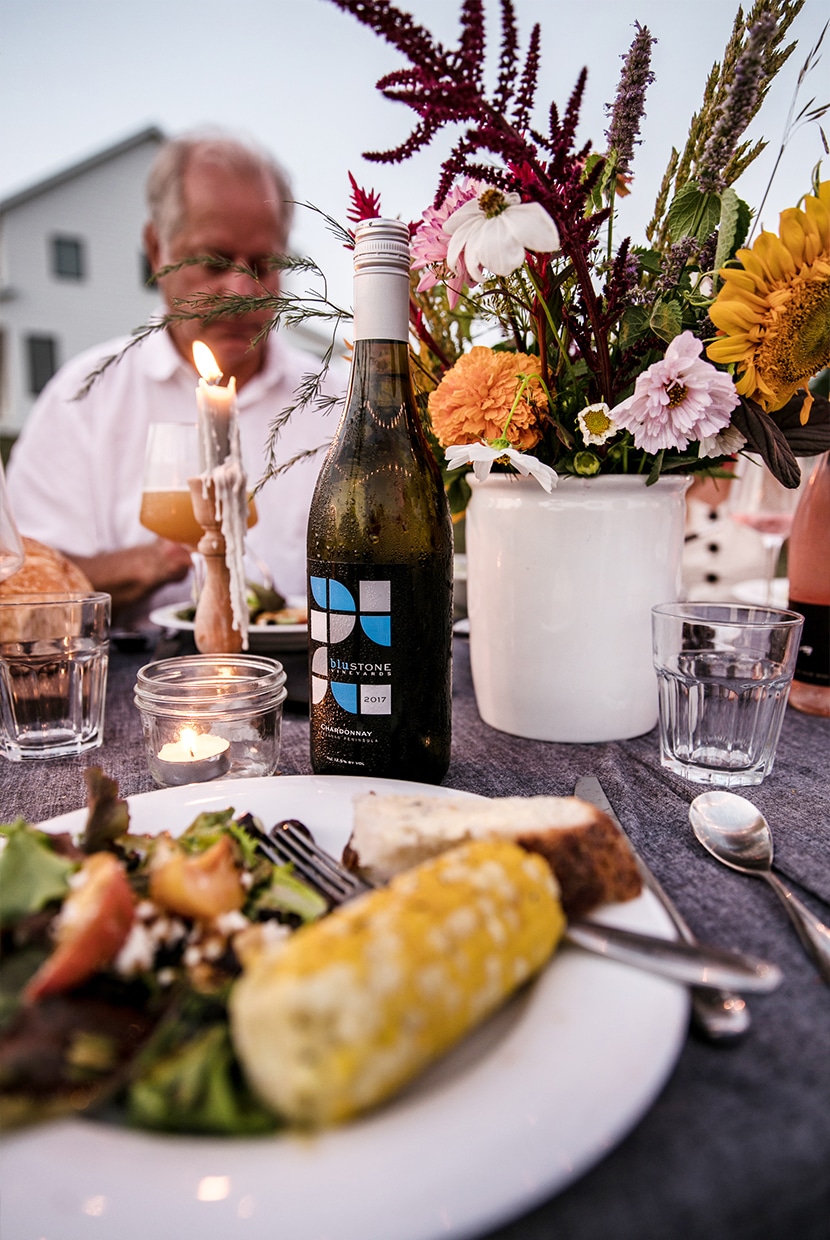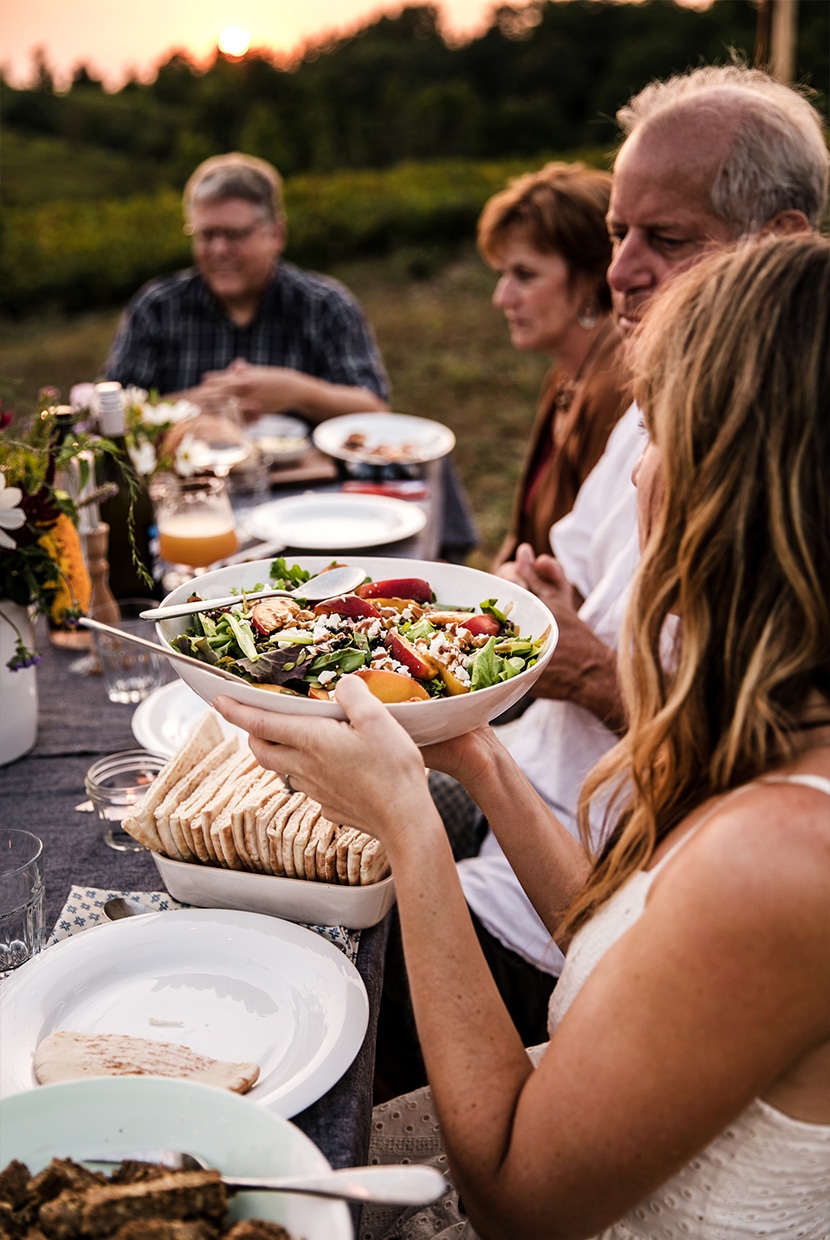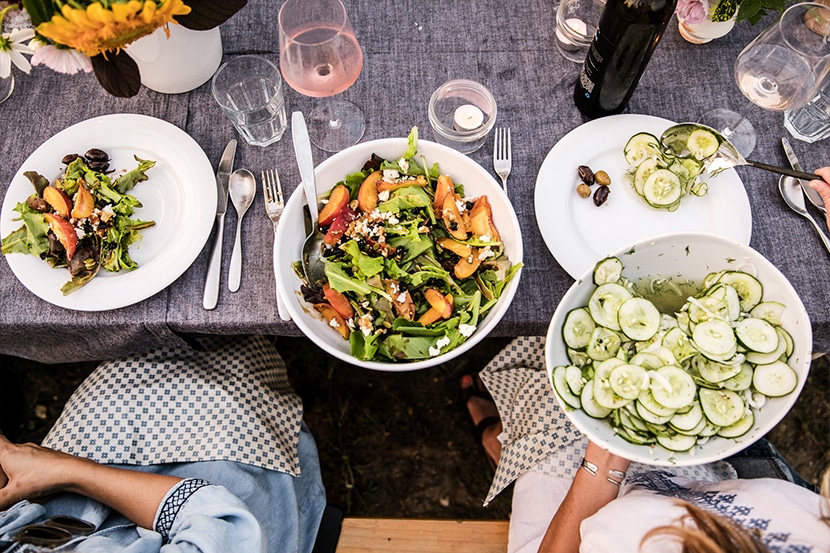 The Things I Love During the Dinner With The Couple Cooks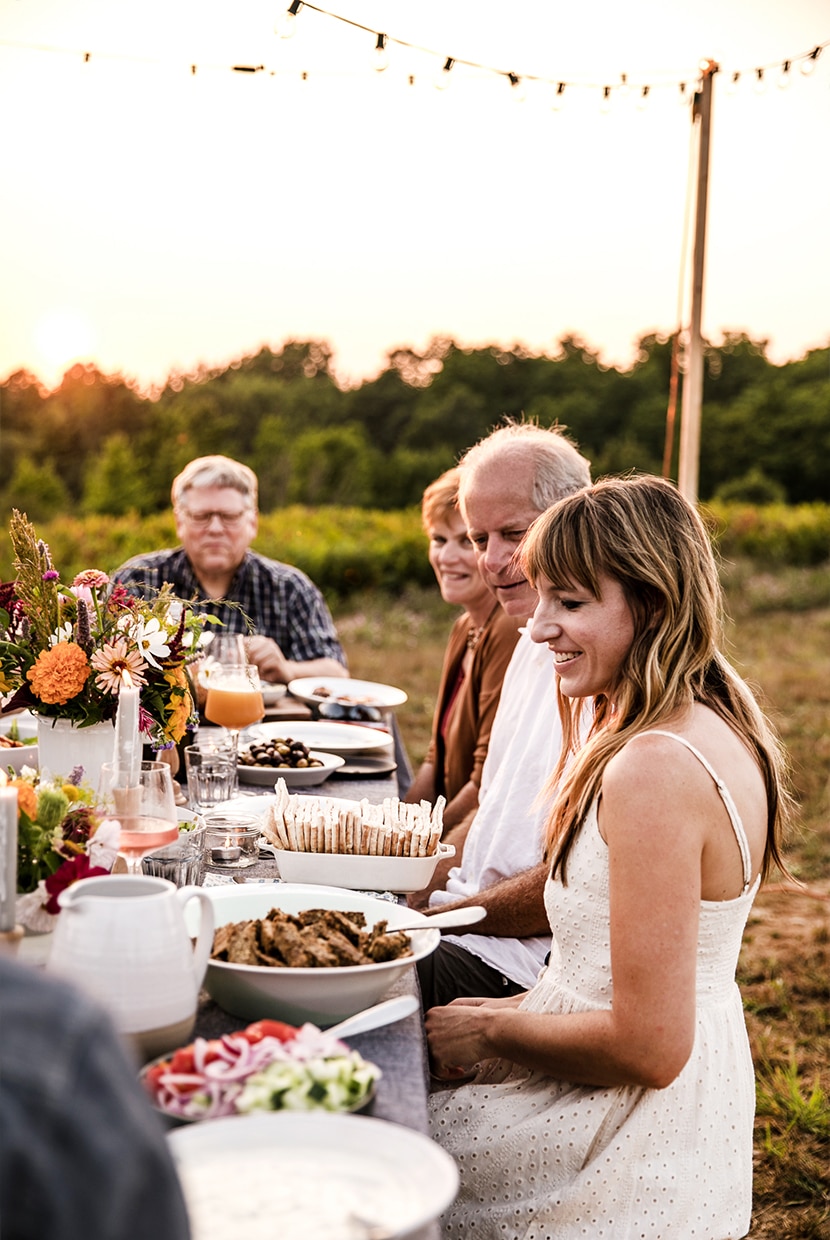 What I loved most about the dinner was how Sonja and Alex chose dishes that easily could be made locally. All the veggies and fruit we sourced locally as well as many of the dry goods we needed for the evening.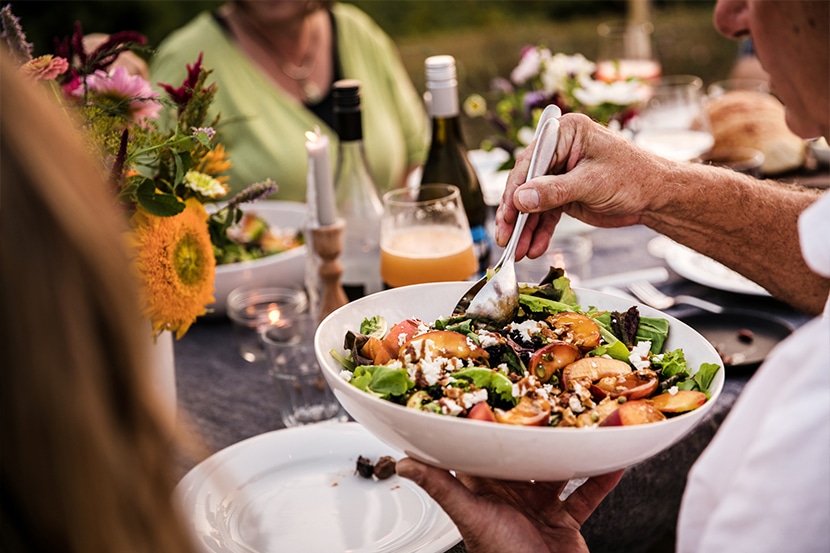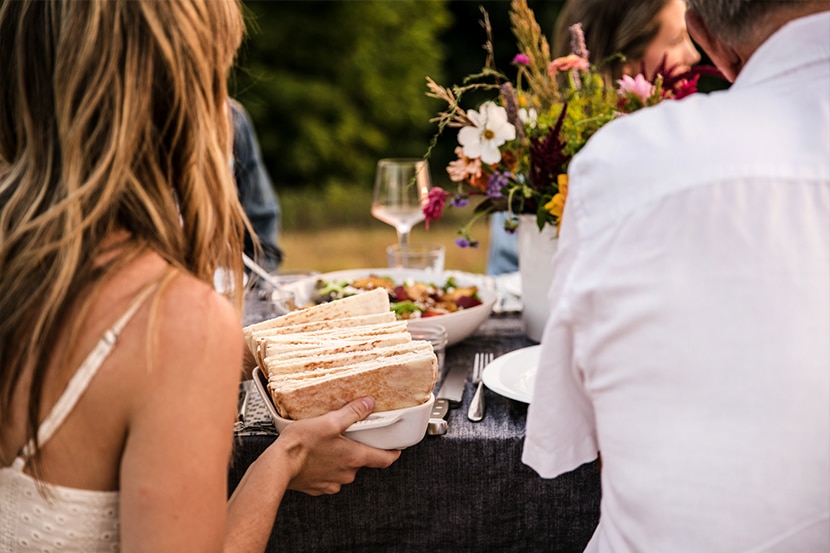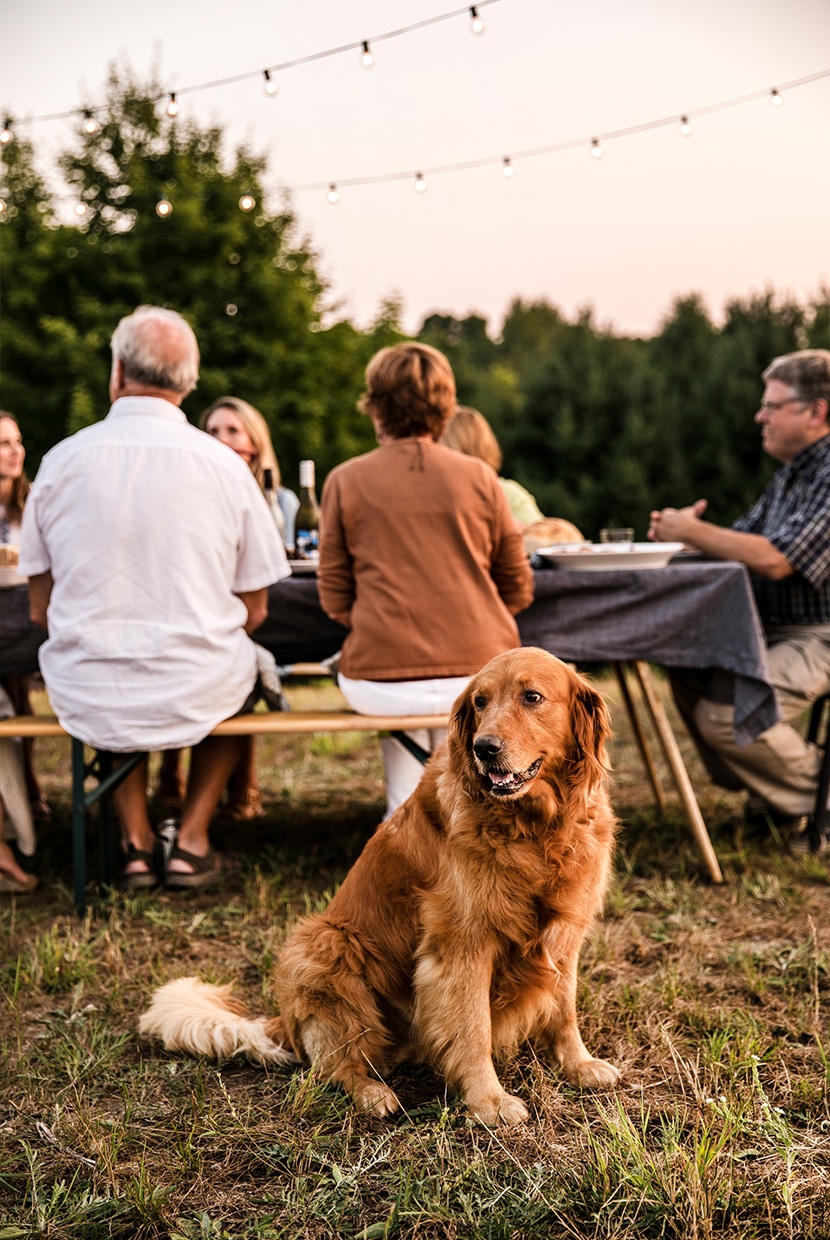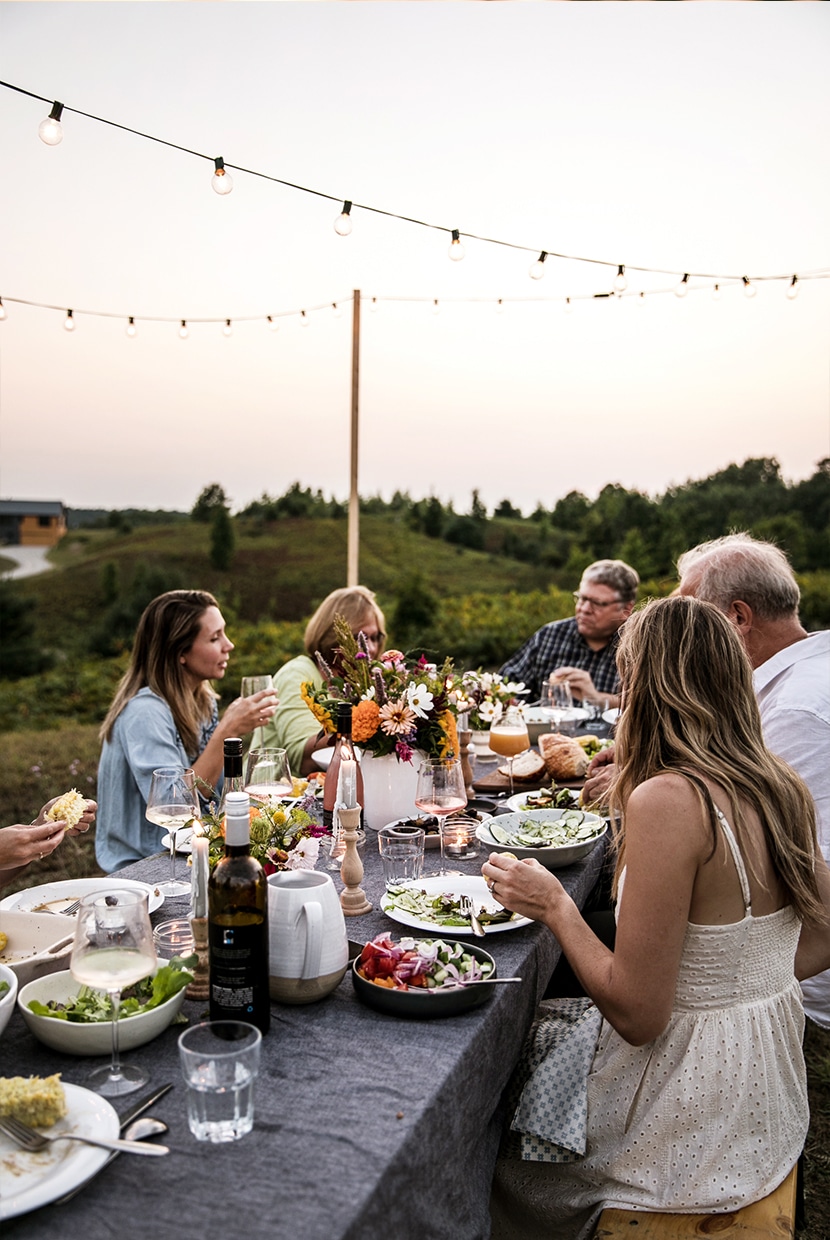 As dishes were passed and we watched the sunset we all talked about past dinner parties, greatest dishes, biggest flops, and what beauty there is in a shared meal.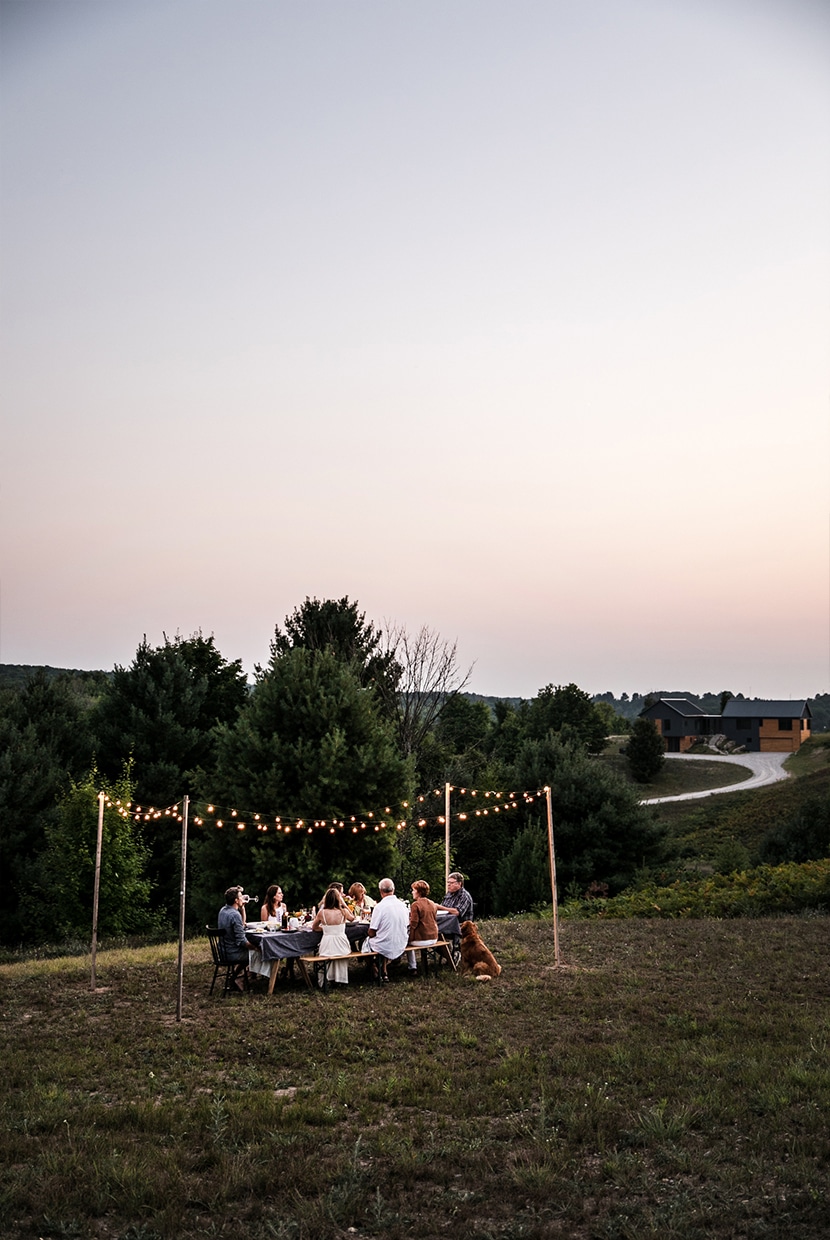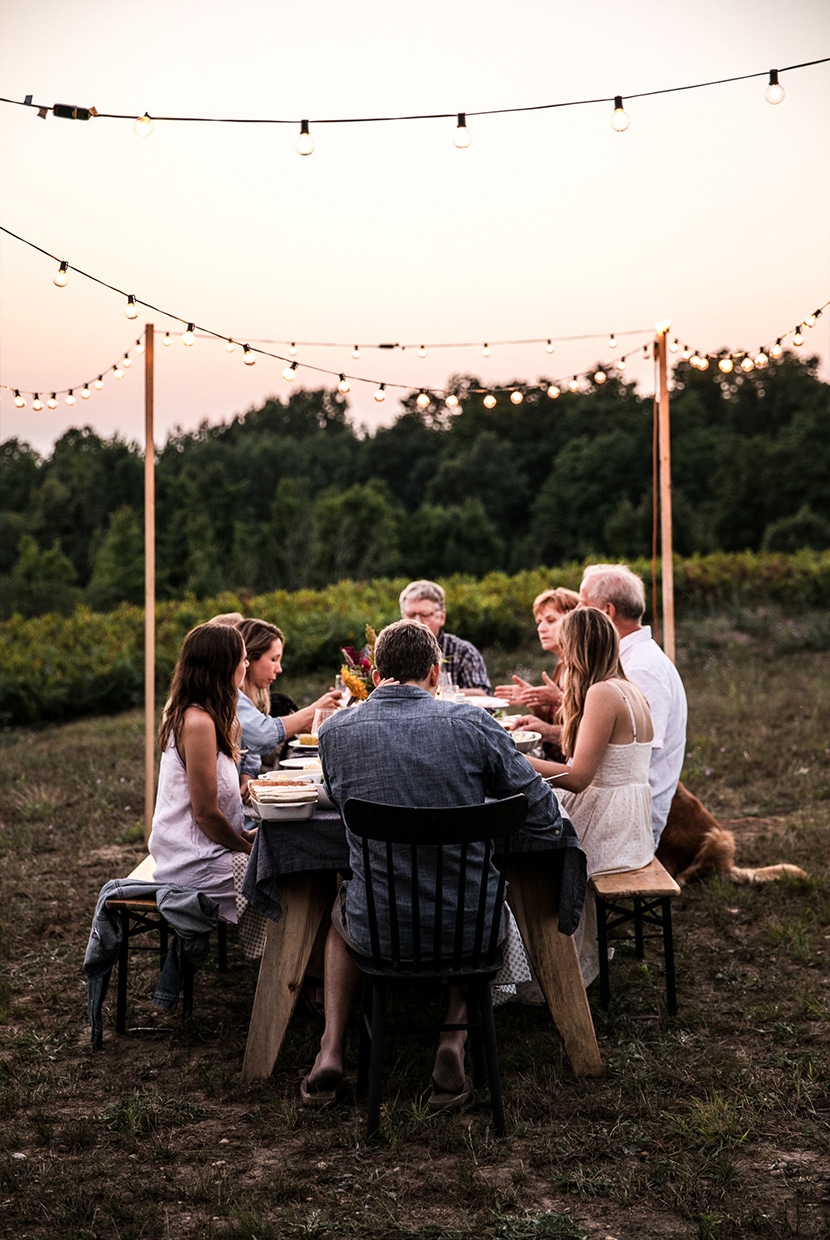 The thing about the evening was the most surprising this time around though were the bugs. Everyone asks me how we keep the bugs down during dinners, and I have yet to have a problem till this time.
I ended up using some homemade bug spray on the grass around the table which kept the mosquitoes away but as the evening settled in and the lights above us were the only ones, the bugs gathered over our heads.
The flames from the candles kept them above our heads but they were present. I believe this comes with the territory of eating outdoors and in the summertime especially in the height of summer.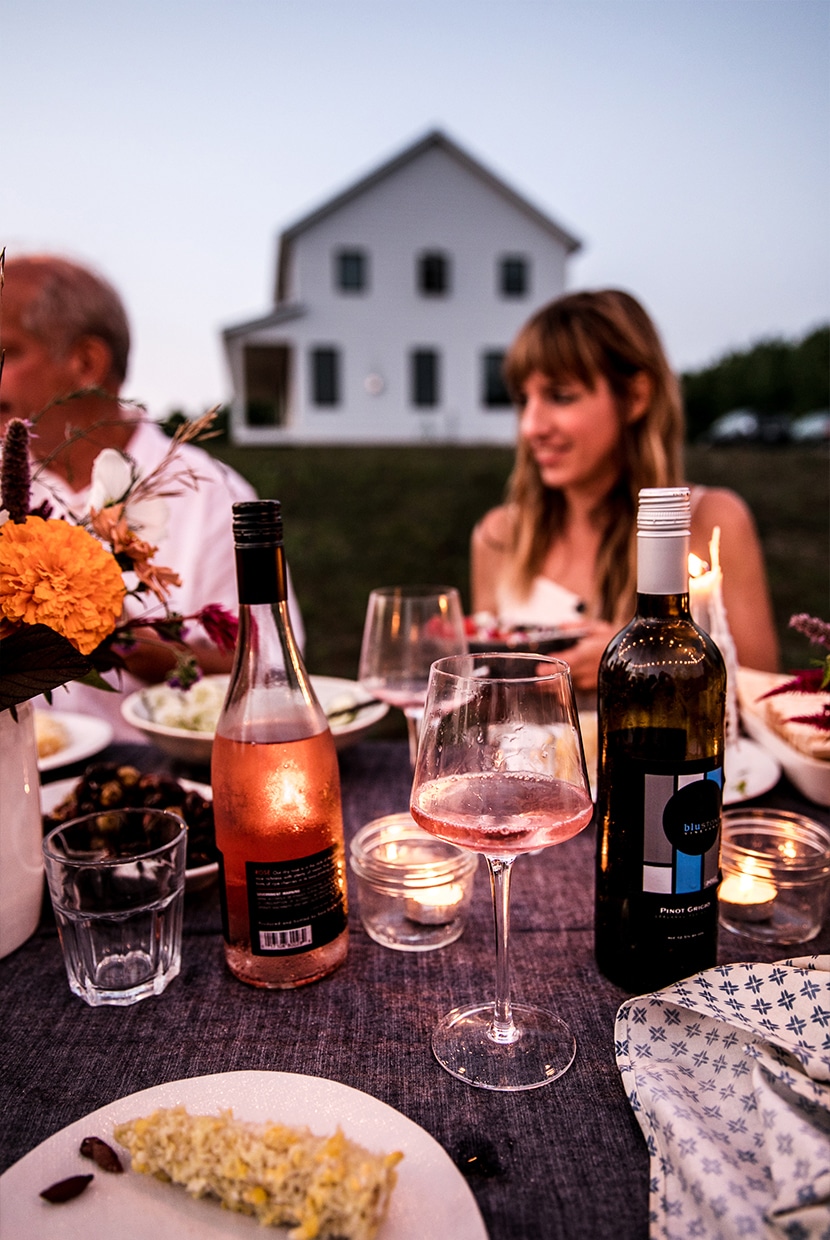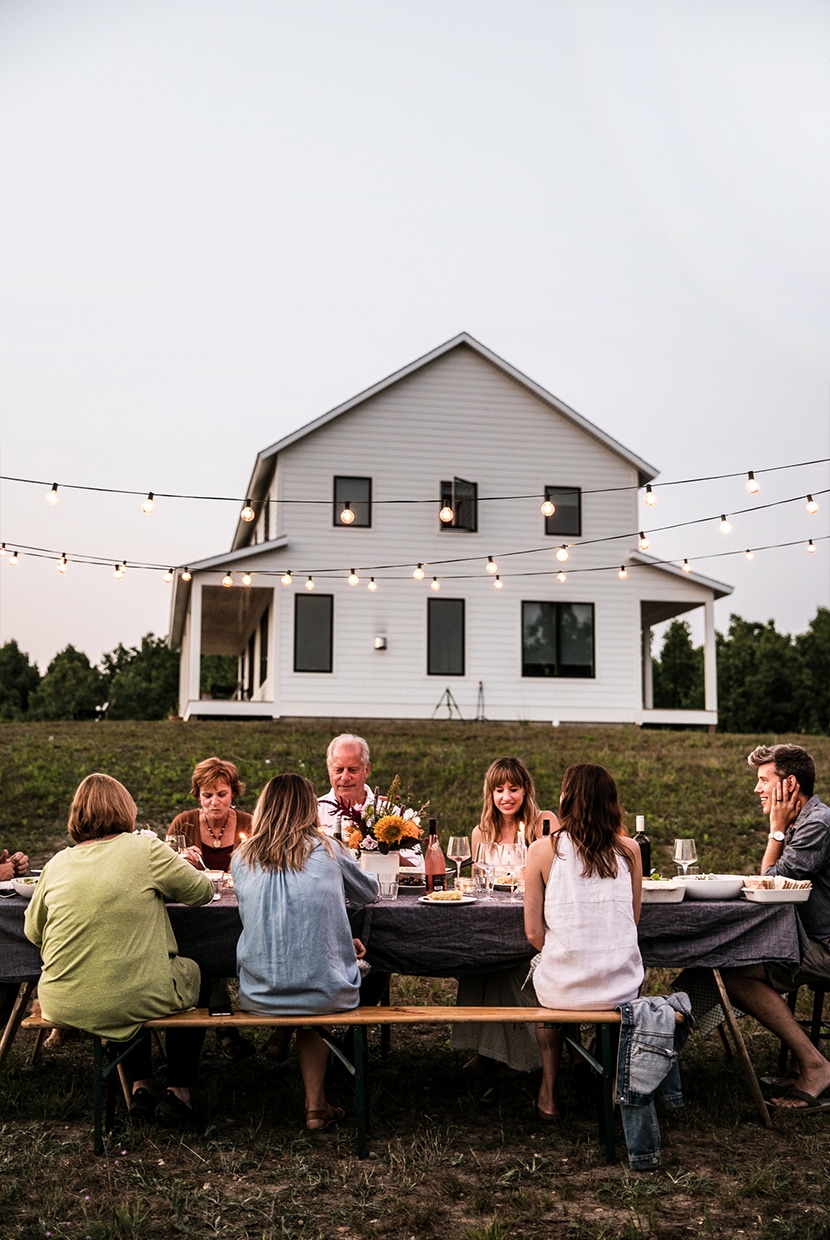 Dessert Time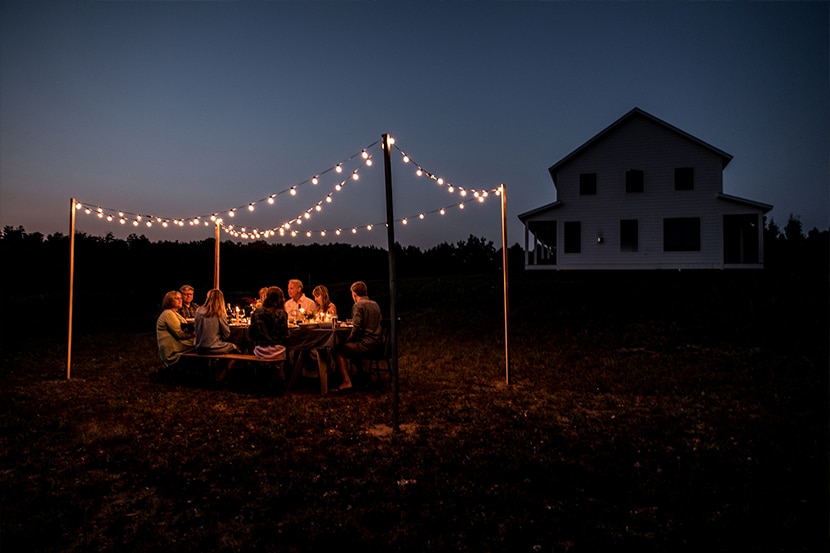 As our dinner plates cleared, we watched the sky turn dark and the moon become present above us. We served Blueberry shortcake for our final course of the night and we all decided it was the perfect summer dessert and in particular the muffins were just so perfect that Sonja and Alex have in their cookbook.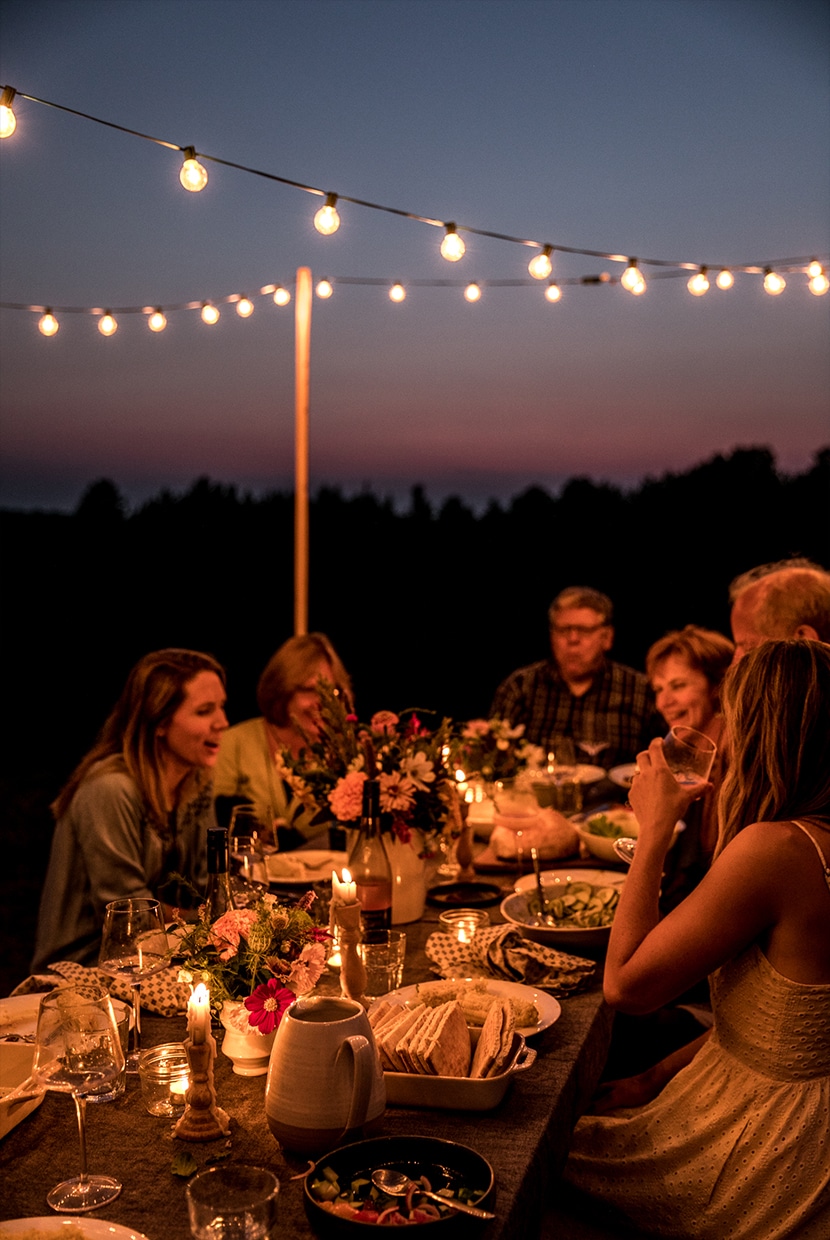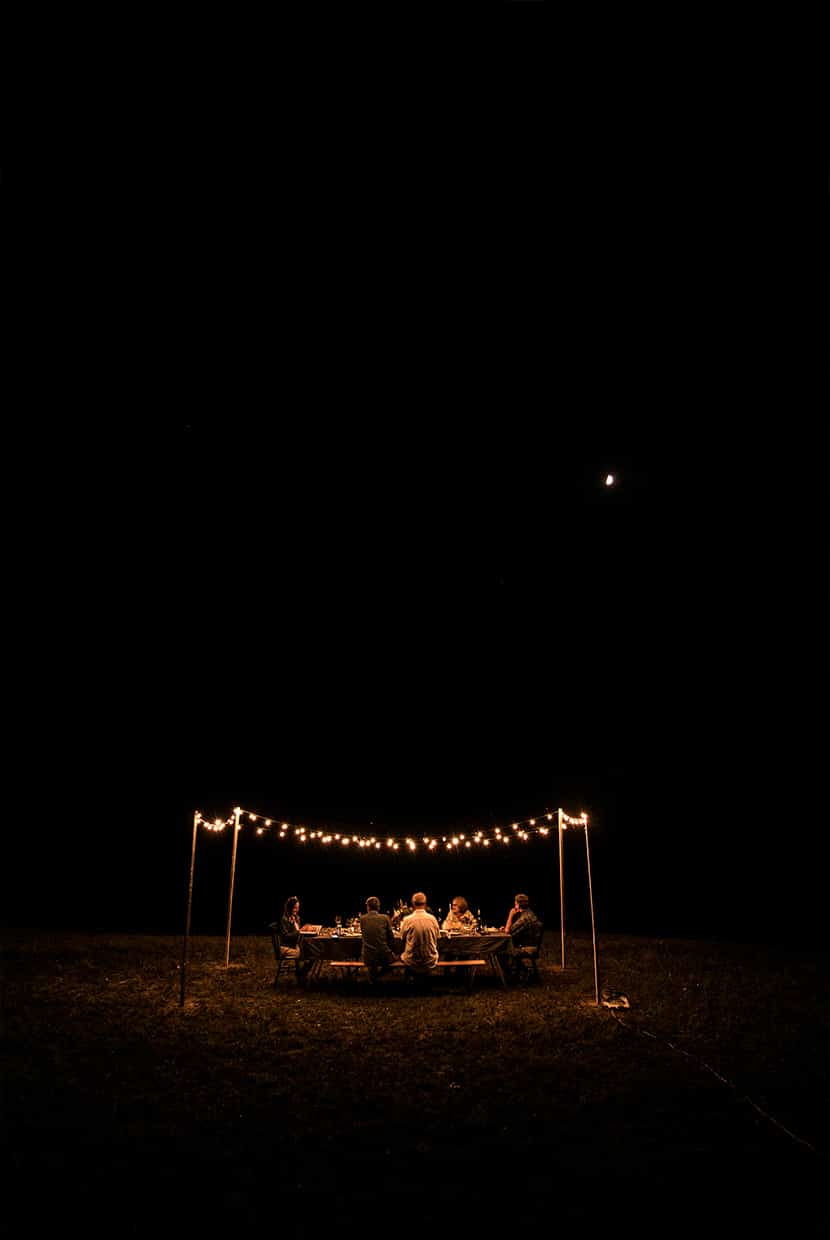 Wrap Up…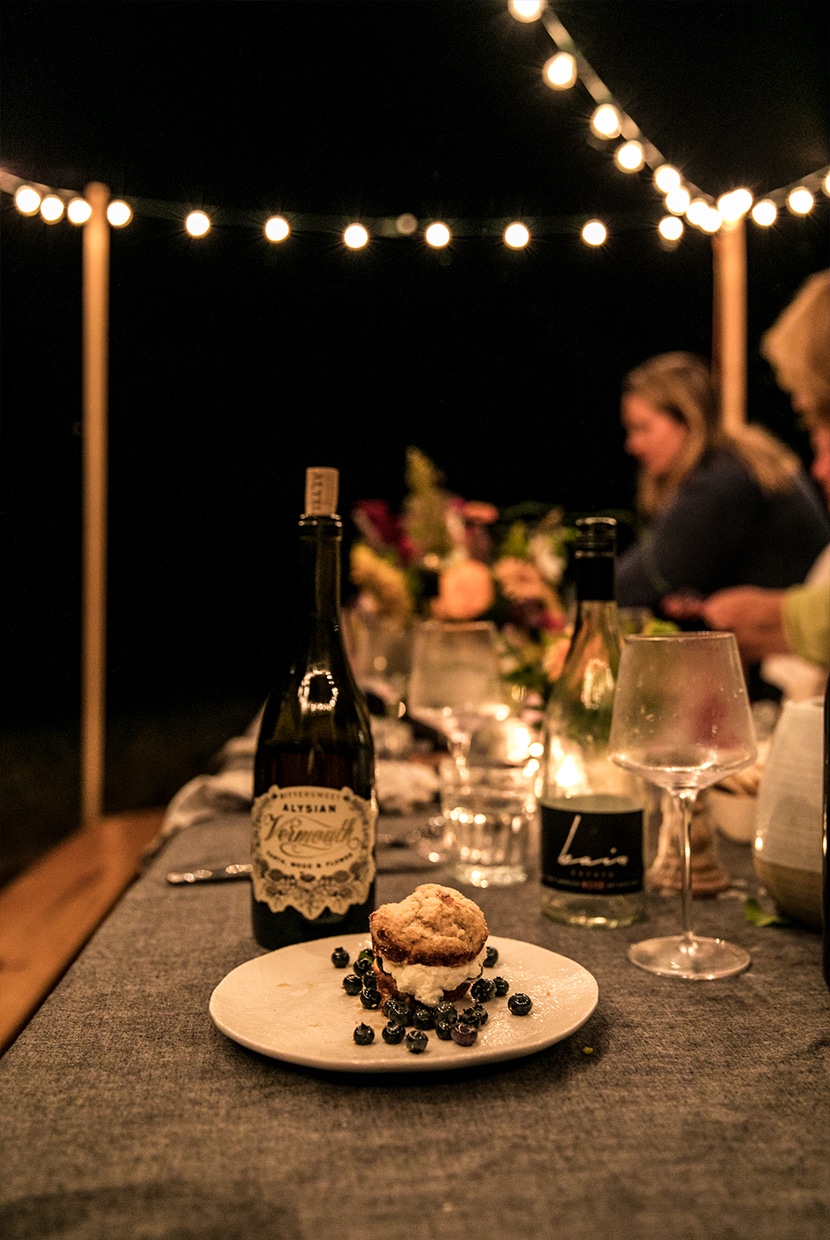 As the night ended and we cleared the dishes I thought about the huge gift to gather this way. How even with a kitchen full of dishes and things to be put up it is all soooo worth it to experience time like this with people in such a real and authentic way.
It can feel as if these moments aren't always possible these days, but they still hapen and it is worth making them happen when you have the chance to.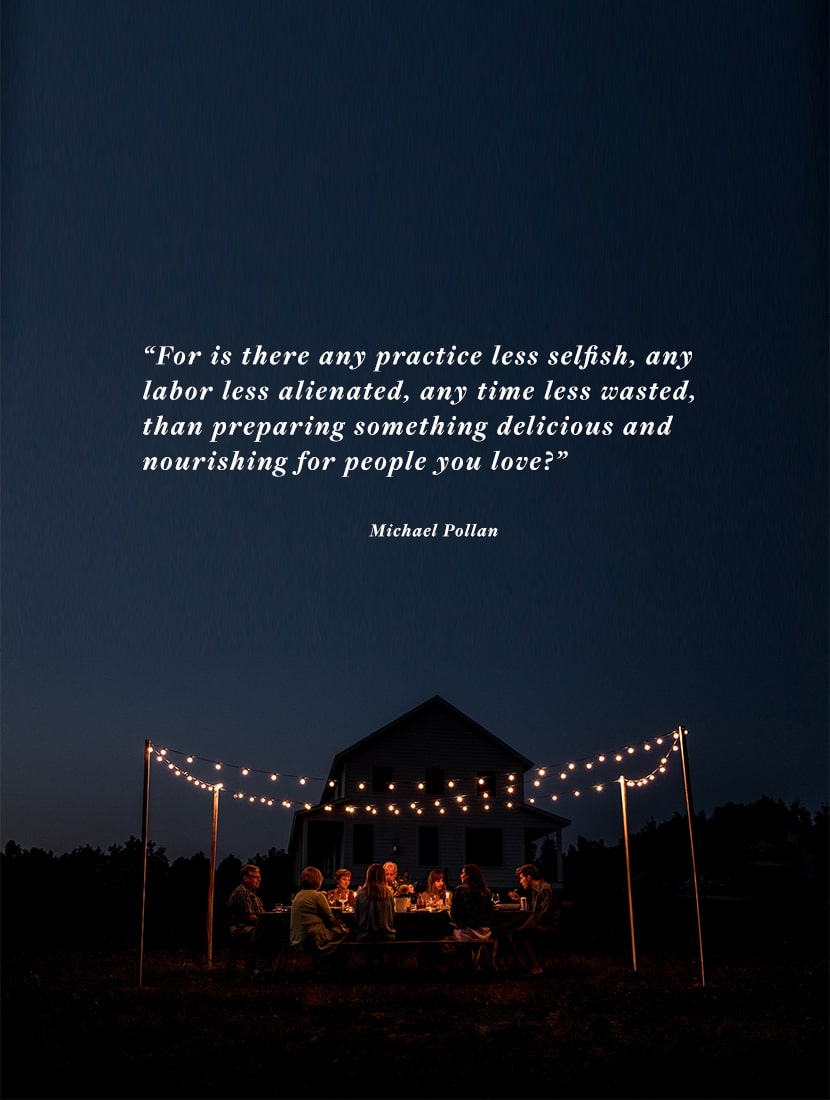 You can find more from the dinner and the menu we used that night from A Couple Cook's Cookbook, Pretty Simple Cooking all on their blog as well.
Once again, a huge thank you to Sonja and Alex for coming and letting us host you for such a memorable and gorgeous evening!
If you liked what you read, kindly check out the articles below —